Methodology article
Open Access
The cacao Criollo genome v2.0: an improved version of the genome for genetic and functional genomic studies
Received: 16 March 2017
Accepted: 6 September 2017
Published: 15 September 2017
Abstract
Background
Theobroma cacao L., native to the Amazonian basin of South America, is an economically important fruit tree crop for tropical countries as a source of chocolate. The first draft genome of the species, from a Criollo cultivar, was published in 2011. Although a useful resource, some improvements are possible, including identifying misassemblies, reducing the number of scaffolds and gaps, and anchoring un-anchored sequences to the 10 chromosomes.
Methods
We used a NGS-based approach to significantly improve the assembly of the Belizian Criollo B97-61/B2 genome. We combined four Illumina large insert size mate paired libraries with 52x of Pacific Biosciences long reads to correct misassembled regions and reduced the number of scaffolds. We then used genotyping by sequencing (GBS) methods to increase the proportion of the assembly anchored to chromosomes.
Results
The scaffold number decreased from 4,792 in assembly V1 to 554 in V2 while the scaffold N50 size has increased from 0.47 Mb in V1 to 6.5 Mb in V2. A total of 96.7% of the assembly was anchored to the 10 chromosomes compared to 66.8% in the previous version. Unknown sites (Ns) were reduced from 10.8% to 5.7%. In addition, we updated the functional annotations and performed a new RefSeq structural annotation based on RNAseq evidence.
Conclusion
Theobroma cacao Criollo genome version 2 will be a valuable resource for the investigation of complex traits at the genomic level and for future comparative genomics and genetics studies in cacao tree. New functional tools and annotations are available on the Cocoa Genome Hub (http://cocoa-genome-hub.southgreen.fr).
Keywords
Theobroma cacao Genome AssemblyMate Paired sequencesGBSCriollo B97–61/B2 genome
Background
Theobroma cacao L. is a tropical fruit tree endemic to the Amazonian basin. It is a diploid species (2n = 2× = 20), with a relative small genome: T. cacao genotypes range from 411 Mb to 494 Mb [1]. In the last decade, the genetic diversity and structure of the species has been deciphered using SSR markers resulting in 10 genetic clusters: Amelonado, Contamana, Criollo, Curaray, Guiana, Iquitos, Marañon, Nacional, Nanay and Purús [2]. Several projects have recently been conducted in Theobroma cacao genomics to speed up cocoa breeding and to better understand the molecular mechanisms involved in agronomic traits [1, 3, 4].
In 2011, the first T. cacao genome of the B97–61/B2 genotype, a member of the Criollo genetic group was released, providing a major source of candidate genes for T. cacao improvement and highlighting a genome structure with only slight rearrangements to that of the putative ancestor of the dicotyledon taxon [1]. This draft genome sequence was performed using a whole genome shotgun (WGS) strategy comprising Roche/454 reads for contig assembly, Sanger BAC end sequences for the scaffolding step and a genetic map of 1259 markers to anchor the scaffolds to chromosomes. The final assembly covered 76% of the estimated size of B97–61/B2 and comprised 4792 scaffolds. In addition, 97.8% of the unigenes assembled from the transcriptome data were recovered in the assembly.
Despite the fact that this standard quality draft genome assembly [5] was used as a useful reference, some improvements are still possible, including identifying misassemblies, and reducing the number of scaffolds, gaps, and sequences not anchored to the 10 chromosomes.
In 2013, another WGS project was released for the Theobroma cacao Matina1–6 genotype, covering 77% of the evaluated genome size of this member of the Amelonado genetic group [4].
Because they use short sequences from relatively short insert size libraries, any WGS-based de novo sequence assemblies suffer from redundancy due to common repeats such as transposable elements (TEs) and duplicated sequences [6]. As a result, WGS assembly algorithms collapse identical repeats into single regions thereby reducing genomic complexity. Moreover, these collapsed regions should be linked to many other genomic regions and the assembly process will either stop, resulting in a high number of genome fragments, or produce misassembled regions.
It has been found that 41.5% of the Matina1–6 assembled genome was covered by TEs, while B97–61/B2 comprises 35.4% TEs [4].
Today, new methods derived from next generation sequencing (NGS) data are available to improve genome assemblies. Current NGS platforms offer the possibility to produce long reads and positional information using mate-pair templates of large insert size libraries that are capable of spanning many repetitive or low complexity elements in the assembly process [7, 8]. Combined with an accurate gap closing procedure [9], this enables a significant increase in the size of contiguous genomic sequences, a reduction in the number of scaffolds and no discernable misassemblies [10]. NGS-based genotyping has also enabled the discovery of sequence polymorphisms segregating in mapping populations [11]. Recent reports described the use of genotyping by sequencing (GBS) methods to construct dense linkage maps to anchor assembly contigs or scaffolds to chromosomes [10, 12, 13].
In this work, we used a NGS-based approach and significantly improved the assembly of the Belizian Criollo B97–61/B2 genome. We combined four Illumina large insert size mate paired libraries with 52× Pacific Biosciences long reads to correct misassembled regions, to reduce the number of scaffolds and to upgrade their quality. We also used high SNP marker coverage derived from a GBS assay of a UF676 x ICS95 mapping population of 434 individuals and greatly increased the size of the genome sequences anchored to chromosomes.
Discussion
The rapid advances in NGS-based methods since the first draft genome sequence of Theobroma cacao Criollo B97–61/B2 was published in 2011 [1] offered an opportunity to update the quality of the genome assembly.
During the first steps of the scaffolding process, the four mate-paired libraries reduced the number of scaffolds to 980, which is 80% less than in the first published version of the genome (4792) and doubled the N50 size value (932 kb vs. 470 kb). The addition of BAC end sequences enabled us to reduce the number of scaffolds by almost 90% (from 4792 to 554) and increase the N50 size value 14 fold (from 0.47 to 6.5 Mb). Our result demonstrates the usefulness of large size mate pair templates to correct misassemblies and to reduce the number of scaffolds and consequently increase the size of contiguous sequences.
In the final assembly, we closed almost half the gaps (34.6 Mb vs. 18.5 Mb) with a combination of long read sequences and large insert size mate paired libraries. After error correction, gaps closed by Pacific Bioscience reads represent 4.4 Mb of sequence. The LR data would have had a bigger impact if they were generated with the P6-C4 chemistry, which yields longer average read lengths than C2 chemistry (average length of 2573 nucleotides of the corrected LR dataset used in this study). In addition, the absence of non-overlapped read pair regions in the gap filled scaffolds confirmed the efficiency of the gap closure step.
The cumulative size of the new assembly (324.7 Mb) is reduced by 2.2 Mb in comparison with the first genome assembly. This reduction is mainly due to the better efficiency of large size mate pair templates to evaluate gap size during scaffolding process.
The power of genotyping by sequencing methods to produce a high number of SNP molecular markers was used to increase the proportion of the assembly anchored to chromosomes to 96.7% compared to 66.8% in version 1. Moreover, 99% of the genes are now anchored to chromosomes compared to 82% in the first assembly. Many genes previously described to be involved in Theobroma cacao agronomical traits [1] and not assigned to chromosomes in version 1 of the genome are now located on chromosomes in version 2. For instance, in genome version 1, 49 disease resistance-related genes orthologous to Arabidopsis LRR-RLK genes were located to non anchored regions. In T. cacao genome version 2, only 8 genes remain located in unanchored regions. Similarly, among the 57 terpenoïd-encoding genes involved in biosynthesis pathway of aromas, only 2 genes in version 2 (14 in version 1) are not located to known chromosomes. Therefore, the improvement of the amount of sequences anchored to the chromosomes leads to a better genomic framework that could be used for a better elucidation of QTLs by mapping agronomical traits and identifying candidate genes within a region of interest.
Comparison of the sequences of this new version of the B97–61/B2 genome with the Matina1–6 genome revealed good collinearity between the two genome assemblies (Fig.
5
). The main observed differences were scaffold inversions located in peri-centromeric regions of chromosomes 2, 6, 7, 8 and 9.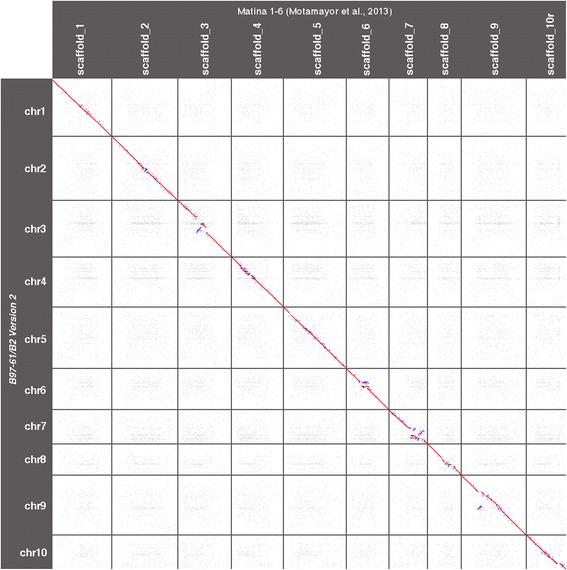 Because both assemblies were anchored to chromosomes using genetic information and because a low recombination rate is observed in centromeric regions (Additional file 1: Figure S1), these differences can be explained by the difficulty involved in ordering and orienting scaffolds in these regions where genotyping errors could be considered by the algorithm as recombination events.
This better chromosome-scale assembly of the Criollo genome could help to identify syntenic blocks shared between T.cacao genome and related species. Combined with genetic studies, comparative genomics studies could enable researchers to identify genes, regulatory elements, noncoding RNAs, and conserved sequences of unknown function involved in T. cacao agronomic traits.
Conclusions
Genome assembly is a dynamic and continuous process that can be improved by advances in sequencing technologies and methods. The correction of misassemblies, resolution of gaps, reduction in the number of scaffolds and non-anchored regions and updates of the functional and structural annotations we made to the first published Theobroma cacao genome sequence is an important step forward for future comparative genomics and genetic studies in cocoa.
Abbreviations
BAC:

Bacterial artificial chromosome
GBS:

Genotyping by sequencing
LPR:

Large insert size paired read
LR:

Long read
NGS:

Next generation sequencing
SNP:

Single nucleotide polymorphism
SR:

Short read
TE:

Transposable element
WGS:

Whole genome shotgun
Declarations
Acknowledgements
We thank the CIRAD - UMR AGAP HPC Data Center of the South Green Bioinformatics platform (http://www.southgreen.fr/) for their assistance and support.
Funding
We thank The French agricultural research and international cooperation organization (CIRAD) for funding the sequencing libraries. ER is supported by the Institut de Biologie Computationnelle (ANR-11-BINF-0002), the MASTODONS C3G projet, the ATGC bioinformatics platform, and France Génomique. In all cases the funders were not involved in any aspect of the design of the study and collection, analysis, and interpretation of data and in writing the manuscript.
Availability of data and materials
Datasets (contigs, scaffold assembly, chromosome assembly, marker matrix) are available through the Cocoa Genome Hub (http://cocoa-genome-hub.southgreen.fr).
Assembly is also available in the NCBI Assembly database (GenBank assembly accession: GCA_000208745.2 and RefSeq assembly accession: GCF_000208745.1).
Authors' contributions
XA and GM conceived and designed the study. XA performed the analysis and wrote the manuscript. GM, GD and ER contributed to the analysis. KL and JMA produced the sequencing data. OF performed DNA extractions and molecular experiments. XA, GM, GD, KL, JMA and CL edited the manuscript. CL coordinated the study. All authors read and approved the final manuscript.
Ethics approval and consent to participate
The T. cacao mapping population used in this study was planted at CIRAD experimental station of Paracou-Combi. The clones ICS95 and UF676 used as parents of the progenies came from the french Guiana CIRAD cocoa collection.
Consent for publication
Not applicable.
Competing interests
The authors declare that they have no competing interests.
Publisher's Note
Springer Nature remains neutral with regard to jurisdictional claims in published maps and institutional affiliations.
Open AccessThis article is distributed under the terms of the Creative Commons Attribution 4.0 International License (http://creativecommons.org/licenses/by/4.0/), which permits unrestricted use, distribution, and reproduction in any medium, provided you give appropriate credit to the original author(s) and the source, provide a link to the Creative Commons license, and indicate if changes were made. The Creative Commons Public Domain Dedication waiver (http://creativecommons.org/publicdomain/zero/1.0/) applies to the data made available in this article, unless otherwise stated.
Authors' Affiliations
(1)
CIRAD, UMR AGAP, Montpellier, France
(2)
Commissariat à l'Energie Atomique (CEA), Institut de Génomique (IG) Genoscope, Evry, France
(3)
Laboratoire d'Informatique, de Robotique et de Microélectronique de Montpellier (LIRMM), CNRS et Université de Montpellier, Montpellier, France
(4)
Institut de Biologie Computationnelle (IBC), Université de Montpellier, Montpellier, France