Research article

Open Access
Identification of 15 candidate structured noncoding RNA motifs in fungi by comparative genomics
Received: 6 February 2017
Accepted: 5 October 2017
Published: 13 October 2017
Abstract
Background
With the development of rapid and inexpensive DNA sequencing, the genome sequences of more than 100 fungal species have been made available. This dataset provides an excellent resource for comparative genomics analyses, which can be used to discover genetic elements, including noncoding RNAs (ncRNAs). Bioinformatics tools similar to those used to uncover novel ncRNAs in bacteria, likewise, should be useful for searching fungal genomic sequences, and the relative ease of genetic experiments with some model fungal species could facilitate experimental validation studies.
Results
We have adapted a bioinformatics pipeline for discovering bacterial ncRNAs to systematically analyze many fungal genomes. This comparative genomics pipeline integrates information on conserved RNA sequence and structural features with alternative splicing information to reveal fungal RNA motifs that are candidate regulatory domains, or that might have other possible functions. A total of 15 prominent classes of structured ncRNA candidates were identified, including variant HDV self-cleaving ribozyme representatives, atypical snoRNA candidates, and possible structured antisense RNA motifs. Candidate regulatory motifs were also found associated with genes for ribosomal proteins, S-adenosylmethionine decarboxylase (SDC), amidase, and HexA protein involved in Woronin body formation. We experimentally confirm that the variant HDV ribozymes undergo rapid self-cleavage, and we demonstrate that the SDC RNA motif reduces the expression of SAM decarboxylase by translational repression. Furthermore, we provide evidence that several other motifs discovered in this study are likely to be functional ncRNA elements.
Conclusions
Systematic screening of fungal genomes using a computational discovery pipeline has revealed the existence of a variety of novel structured ncRNAs. Genome contexts and similarities to known ncRNA motifs provide strong evidence for the biological and biochemical functions of some newly found ncRNA motifs. Although initial examinations of several motifs provide evidence for their likely functions, other motifs will require more in-depth analysis to reveal their functions.
Keywords
group I
ncRNA
ribozyme
self-cleaving
self-splicing
snoRNA
uORF
Background
The fungal kingdom is an abundantly represented division of the eukaryotic domain of life. It has been estimated that over 1.5 million fungal species could exist, although only about 74,000 have been documented [1, 2]. Numerous species of fungi are major contributors to the composition of many ecosystems where they play important roles in the environment ranging from the simple promotion of organic material decomposition to the formation of essential symbiotic relationships with bacteria, plants and animals [3]. Fungi also serve as important sources for certain human foods, medicines and industrial agents. However, fungi can also be pathogens of many important crop plants, agricultural animals, and of humans. Given the wide-ranging importance of fungal species, deeper explorations of their conserved genetic elements are warranted.
The emergence of inexpensive and efficient DNA sequencing methods has facilitated the determination of the genomic DNA sequences of many fungal species. The yeast Saccharomyces cerevisiae provided the first genome of a eukaryote to be completely sequenced [4]. This was followed quickly by the sequencing of additional fungal genomes, including Schizosaccharomyces pombe [5], and Neurospora crassa [6]. N. crassa was the first filamentous species to have its genome sequenced, and it is estimated to possess about double the number of genes predicted to be present in the 6,000-gene S. cerevisiae. So far more than 100 fungal species have been fully sequenced [7]. These genome sequences serve as excellent resources for conducting comparative genomics analyses to find common features among diverse fungal species.
Of particular interest to us are structured ncRNAs, such as riboswitches [8] and ribozymes [9], which perform gene regulation, RNA processing, or other important biochemical functions. Such ncRNAs are likely to remain hidden in the genomes of organisms because there is no simple strategy known that can be implemented to comprehensively predict their existence. By contrast, many protein-coding genes contain long open reading frames (ORFs) that are easily revealed by computer-assisted search algorithms. Initially, simple clues regarding the existence of ncRNAs were used to identify novel RNA motifs in bacteria. For example, large gaps between protein-coding regions along with high sequence conservation among closely related bacterial species typically are signatures of ncRNAs [10, 11]. Similarly, orphan promoter or terminator sequences not immediately associated with an ORF [10, 12], GC-rich regions in an organism with a high AT genomic sequence composition [13], and conserved RNA secondary structures [14–16] also have been used to identify structured ncRNAs.
A variety of complex approaches and algorithms that exploit these and other characteristics have since been developed to search for and annotate ncRNAs in species from all three domains of life [17, 18]. Some of these algorithms have been successfully applied to identify additional representatives of known ncRNAs and to discover novel classes present in fungal genomes [12, 19–23]. Even from the earliest computer-assisted searches for ncRNAs in fungi conducted in the 1990s, evidence emerged that many such RNAs remained to be discovered. For example, by detecting RNA polymerase III transcripts and analyzing large noncoding gaps present in the S. cerevisiae genome, 16 candidate ncRNAs were identified [12]. Soon thereafter, a total of 22 novel small nucleolar RNAs (snoRNAs) that guide RNA methylation were identified from this same genome by using comparative sequence analysis methods [19]. More recently, RNA transcriptomics methods have been used to identify dozens of additional ncRNAs from fungal species such as Aspergillus fumigatus [24] and Trichophyton rubrum [25]. These findings suggest that additional ncRNA classes remain to be discovered among the many diverse species of fungi.
Each of the previous computational searches noted above largely focused on a single fungal genome, or a few very closely related genomes. However, given the growth in fungal DNA sequence databases, we sought to identify structured ncRNA candidates that are present in a large diversity of fungal species. Most widely-distributed ncRNAs tend to carry only short stretches of conserved sequences interspersed among structural elements that are only poorly conserved at the nucleotide level [26]. As a result, some successful computational search strategies for structured ncRNA candidates use algorithms such as QRNA [15], RNAz [27], or CMfinder [28], which search for nucleotide covariation or other evidence of structure formation and conservation, rather than just searching for conserved sequence. A computational search across numerous fungal species increases the opportunity to observe nucleotide covariations indicative of structure conservation.
In the current study, we used a computational pipeline similar to that used previously to identify numerous structured ncRNAs in bacteria [29–32]. This pipeline relies on CMfinder [28], which uses an expectation maximization algorithm analogous to MEME [33] to identify probable RNA secondary structures from unaligned sequences via covariance models [26, 34]. To improve the accuracy of consensus secondary structure predictions, a thermodynamic model for base-pairing prediction is also included in CMfinder. Our searches were limited to noncoding regions of 2811 fungal genomes (see the databases for species names), including both intergenic regions and intronic regions. We believe this to be the ideal place to search because eukaryotic TPP riboswitches (the only riboswitch class found in fungi and plants) are commonly located in introns where they regulate alternative splicing upon binding this essential coenzyme [8].
Our pipeline revealed the existence of 15 classes of candidate structured ncRNAs (for a complete list of motifs and species, see Additional file 1: Table S1). These motifs include novel HDV ribozyme variants, non-typical snoRNAs, two structured antisense RNA motifs associated with the chromatin remodeling complex, and various other RNA motifs associated with genes coding for SAM decarboxylase, amidase, and Woronin body proteins. We experimentally confirmed that HDV variants are self-cleaving ribozymes that exhibit catalytic characteristics similar to known HDV ribozymes in other organisms. We also confirmed that the SDC motif is a translational repressor that coordinates the expression of a small upstream open reading frame (uORF) to regulate SAM decarboxylase biosynthesis. Reverse transcription and polymerase chain reaction (RT-PCR) analyses of intronic examples reveal that they likely are involved in the regulation of alternative splicing. These findings demonstrate that numerous well-conserved structured RNA elements are used by a diverse collection of fungi to serve important biochemical roles. Furthermore, this ncRNA discovery pipeline could be used to search through the genomes of other eukaryotic species to discover additional novel structured ncRNAs.
Results and discussion
Identification of candidate structured ncRNAs
Promising ncRNA motifs were identified by initially applying our computational pipeline to fungal genome sequences present in NCBI RefSeq Release 29 [35], and later data from RefSeq Release 62 were incorporated into this study. Refinement of the list of representatives, sequence alignments and conserved sequence/structural models were completed with the sequence database as updated in RefSeq Release 75.
Briefly, the workflow for discovering structured ncRNAs (Fig.
1
) involved extracting noncoding fungal DNA sequences as informed by pre-existing genome annotations, clustering of similar sequence regions by using BLAST [
36
], and filtering to remove clusters matching known ncRNAs present in Rfam [
37
] or to remove those with extensive protein-coding potential by using RNACode [
38
]. This process yielded many "pre-candidate" motifs that required further analysis to assess their relative likelihoods of functioning as common fungal ncRNAs. Each pre-candidate was subjected to analysis by CMfinder, which in part uncovers evidence for nucleotide sequence covariation that is indicative of secondary structure formation. If nucleotides in a predicted base-paired stem frequently co-vary in a manner that suggests conservation of the stem, then the cluster of RNAs was considered a strong candidate for having ncRNA function. Iterative analysis of conserved sequences and substructures, augmented by the discovery of additional representatives, was conducted using Infernal [
39
] to yield a refined sequence and structure model for the ncRNA candidate.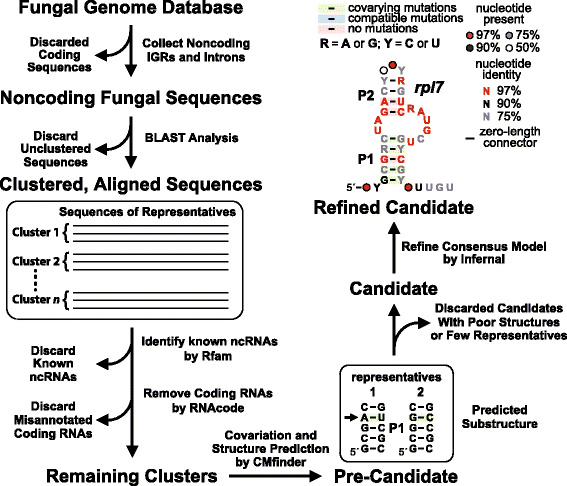 Analysis of candidate structured ncRNAs
Each ncRNA candidate was evaluated based on the complexity of its conserved sequence and structure model, its common genomic locations, and its phylogenetic distribution, among other features. Below are described the most promising candidate motifs that likely serve as functional ncRNAs. The alignments of these high-ranking motifs in Stockholm format are presented as supplemental material (Additional files 2, 3, 4, 5, 6, 7, 8, 9, 10, 11, 12, 13, 14, 15 and 16).
Conclusions
Comparative genomics is a powerful approach to evaluate the degree of conservation between even distantly-related genomic DNA sequences and has been widely applied to compare genes that encode proteins [94]. We have used such approaches to discover numerous novel RNA motifs in bacteria [29–32]. However, using comparative genomics to discover structured ncRNAs in eukaryotes has not been commonly pursued, particularly among evolutionarily distant species [20, 95, 96]. Technical advances in analyzing numerous large genomes, such as improvements in computer processing speeds and more effective computational pipelines [28, 39], have created new opportunities to efficiently discover novel eukaryotic ncRNAs. Another advance is the availability of many sequenced eukaryotic genomes, which overcomes the problems otherwise caused by examining only a few phylogenetically similar eukaryotes.
To identify novel fungal ncRNAs, we first extracted IGRs of fungal genomes using available genome annotations. The elimination of coding regions greatly diminishes the computational challenge, and yet enriches the sequence data searched for candidates because known structured RNAs such as ribozymes and riboswitches almost never overlap with large ORFs. Comparative sequence analyses on this select sequence dataset using our pipeline reveal both conserved sequence and secondary structure features that define each of the novel RNA motifs. The list of representatives of promising ncRNA candidates was further expanded by additional homology searches, which iteratively refine the consensus models and allow for additional representatives to be discovered [29].
Through these efforts, we have identified 15 classes of structured ncRNA motifs in fungal genomes, including variants of HDV self-cleaving ribozymes, non-typical snoRNA candidates, the SDC motif, two antisense structured RNAs (ies6 and SART-1), a motif including a uORF that might regulate a gene that is critical for cell survival, a motif involved in Woronin body formation, and six motifs likely involved in regulating ribosomal protein expression. Although the functions of some motifs have been analyzed by using biochemical or genetic methods, many additional experiments will be needed to precisely define the roles and mechanisms for these ncRNA candidates.
Already, it appears that the functional roles of these ncRNAs are diverse. For example, representatives of the variant HDV ribozymes were found to efficiently self-cleave (Fig. 2) by using the same mechanism for phosphoester transfer as other self-cleaving ribozymes. The SDC motif appears to function as a translation repressor that likely coordinates with a uORF in the same 5´ UTR to regulate SAM decarboxylase synthesis (Fig. 4). It appears that the amd motif also encodes a conserved oligopeptide wherein this uORF overlaps with a domain of extensive RNA sequence and structure conservation. Possibly, uORF expression regulates the formation of amd motif RNA structure bring about the desired biological effect. Finally, RT-PCR results indicate that the function of the ies6 motif might be performed as part of an antisense transcript (Fig. 5), and that the rpl7 motif is present in a pre-mRNA that undergoes splicing (Fig. 8).
These findings demonstrate how the analysis of multiple fungal genomes can be used to reveal the existence of numerous structured ncRNA candidates. Similar approaches could be used to reveal the existence of additional structured ncRNAs in other eukaryotic systems whose biochemical and biological functions are highly diverse.
Methods
Identification of candidate RNA motifs
Fungal genome sequences including annotations were initially downloaded from the RefSeq Release 29 obtained from NCBI [35] and The Fungal Genomics group at the Broad Institute (http://www.broadinstitute.org/science/projects/fungal-genome-initiative/current-fgi-sequence-projects). The fungal sequences available as of November 2013 (RefSeq Release 62) were incorporated into this study (see also Additional file 17: Table S2).
The procedure to discover structured ncRNAs is outlined in Fig. 1. Briefly, IGRs from all genomes and introns from each annotated gene were extracted. The sequences also were selected by considering alternative splicing information according to the fungal genome annotations. IGRs and introns were compared among species of fungi by NCBI BLAST (version 2.2.23) [36] using parameters –m8 –W7 –e 1e–5. Similar sequences were automatically grouped by BLAST and a PERL script to form different clusters. Each cluster was filtered using BLAST against the Rfam database to remove any known RNAs with parameters –m8 –W10 –e 1e–10. The resulting new candidate clusters were further filtered by RNAcode [38] to remove clusters whose score is greater than 15, indicating that they are potentially protein coding. The remaining clusters were fed into CMfinder [28] to predict RNA structures based on covarying mutations among RNA sequences. Clusters with little covariation or with very few examples (less than three sequences in a cluster) were discarded. Finally, Infernal [39] was used to search for more homologs according to both sequence and structure similarity and to refine the structure of the RNA if more examples were discovered. During the Infernal search, the information about the RNA motif location and associated upstream and downstream genes were also inspected.
Assessing the novelty of motifs
To determine whether the predicted structured RNA motifs were reported previously, we took out every sequence of each alignment and compared them to sequences in the Rfam database using default parameters [37]. Novel RNA candidates are those not found in Rfam, not highly homologous to RNAs in Rfam, or highly homologous to any known RNAs in other known databases such as NCBI gene bank databases. Notably, 11 sequences of putative HDV-like ribozymes were reported previously [44] and some of them overlapped with our collection, but the rest of the 223 HDV variant representatives were newly identified.
Ribozyme self-cleavage assays
Self-cleaving ribozyme assays were conducted using reaction conditions similar to those described previously [32]. Synthetic RNA substrates were purchased (Sigma-Aldrich), whereas the enzyme RNA strands were prepared by in vitro transcription [97]. Substrate RNAs were dephosphorylated, 5´-radiolabeled by using γ-32P ATP and T4 polynucleotide kinase (New England Biolabs), and purified by denaturing (8 M urea) 20% polyacrylamide gel electrophoresis (PAGE). 5 nM radiolabeled substrate and 100 nM enzyme RNA strands were combined in a reaction mixture containing 30 mM Tris-HCl (pH 7.5 at 23°C), 100 mM KCl, and 20 mM MgCl2, and incubated at 23°C for 30 min. The reaction was stopped by adding an equal volume of stop solution containing 90% formamide, 50 mM EDTA, 0.05% xylene cyanol and 0.05% bromophenol blue. Partial alkaline and RNase T1 digests of RNA samples were prepared for marker lanes T1 and –OH as described previously [32]. The reaction products were separated by denaturing 20% PAGE and imaged/quantitated by a PhosphorImager (GE Healthcare).
Mass spectrometry analysis of cleavage products
Twenty pmol each of the HDV substrate and enzyme RNAs were incubated as described above in a 20 μL reaction for one hour. The reaction products were assayed by monoisotopic (exact mass) spectrometry (Novatia LLC).
Plasmids and strains
Plasmid pLL07-2-1 was constructed as described previously [98]. To create an in-frame fusion of the luciferase reporter gene to the NCU01083 ORF, a DNA fragment of 967 base-pairs (including the first 62 base-pairs of the main ORF) was amplified by primers sdc-F and sdc-R (Additional file 18: Table S3), which include EcoRI and XbaI restriction sites, respectively. The fragment was sub-cloned into a pCR2.1-TOPO vector (Life Technologies). After confirmation by sequencing (Keck Foundation Biotechnology Resource Center at Yale University), the fragment was digested, purified by agarose gel electrophoresis, and inserted into the plasmid pLL07-2-1 at the EcoRI and XbaI sites. For mutant constructs, site-directed mutagenesis (Stratagene) and two-step PCR were used to make mutations at the appropriate sites.
N. crassa transformation and luciferase assay
Electroporation transformation into N. crassa 87-74 (bd; frq+ a; his-3) [99] and luciferase assays were performed as described previously [98].
Reverse transcriptase polymerase chain reaction (RT-PCR)
RT-PCR was carried out as described previously [98]. Primers that are complementary to exon sequences located immediately upstream or downstream of the intronic motifs were used to detect alternative splicing products. For antisense motif ies6 two pairs of primers were designed to detect antisense and sense transcripts independently. Sequences of primers and predicted sizes of RT-PCR products are listed in Additional file 18: Table S3. During the RT-PCR process, a negative control, in which the RT reaction lacked reverse transcriptase, was included to ensure there was no DNA contamination.
Abbreviations
IGR:

Intergenic region

ncRNA

noncoding RNA

ORF

Open reading frame

PAGE

Polyacrylamide gel electrophoresis
RP:

Ribosomal protein

rRNA

ribosomal RNA

RT-PCR

Reverse transcription – polymerase chain reaction

SAM

S-adenosylmethionine

SDC

S-adenosylmethionine decarboxylase

snoRNAs

small nucleolar RNAs

snRNA

small nuclear RNAs

tRNA

transfer RNA
Declarations
Acknowledgements
We thank Z. Weinberg, A. Roth, N. Sudarsan, K. Harris and other members of the Breaker laboratory for helpful discussions and recommended edits to the manuscript, Z. Weinberg for advice on computational searches, and N. Carriero and R. Bjornson for assistance with the Yale Life Sciences High Performance Computing Center. All authors have read and approved of the final version of this manuscript.
Funding
Funding was supplied by NIH grant RR19895 to the Yale Life Sciences High Performance Computing Center and NIH grant (GM022778 to R.R.B. R.R.B. is an Investigator with the Howard Hughes Medical Institute.
Authors' contributions
SL and RRB devised the study and SL conducted the computational, genetic and biochemical analyses. Both authors interpreted the results and wrote the manuscript. Both authors read and approved the final manuscript.
Authors' information
Not applicable.
Ethics approval and consent to participate
Not applicable.
Consent for publication
Not applicable.
Competing interests
The authors declare that they have no competing interests.
Publisher's Note
Springer Nature remains neutral with regard to jurisdictional claims in published maps and institutional affiliations.
Open AccessThis article is distributed under the terms of the Creative Commons Attribution 4.0 International License (http://creativecommons.org/licenses/by/4.0/), which permits unrestricted use, distribution, and reproduction in any medium, provided you give appropriate credit to the original author(s) and the source, provide a link to the Creative Commons license, and indicate if changes were made. The Creative Commons Public Domain Dedication waiver (http://creativecommons.org/publicdomain/zero/1.0/) applies to the data made available in this article, unless otherwise stated.
Authors' Affiliations
(1)
Institute of Genomics, School of Biomedical Sciences, Huaqiao University, Xiamen, China
(2)
Howard Hughes Medical Institute, Yale University, New Haven, USA
(3)
Department of Molecular, Cellular and Developmental Biology, Yale University, New Haven, USA
(4)
Department of Molecular Biophysics and Biochemistry, Yale University, New Haven, USA