Research article

Open Access
Wound healing, calcium signaling, and other novel pathways are associated with the formation of butterfly eyespots
Received: 30 May 2017
Accepted: 5 October 2017
Published: 16 October 2017
Abstract
Background
One hypothesis surrounding the origin of novel traits is that they originate from the co-option of pre-existing genes or larger gene regulatory networks into novel developmental contexts. Insights into a trait's evolutionary origins can, thus, be gained via identification of the genes underlying trait development, and exploring whether those genes also function in other developmental contexts. Here we investigate the set of genes associated with the development of eyespot color patterns, a trait that originated once within the Nymphalid family of butterflies. Although several genes associated with eyespot development have been identified, the eyespot gene regulatory network remains largely unknown.
Results
In this study, next-generation sequencing and transcriptome analyses were used to identify a large set of genes associated with eyespot development of Bicyclus anynana butterflies, at 3-6 h after pupation, prior to the differentiation of the color rings. Eyespot-associated genes were identified by comparing the transcriptomes of homologous micro-dissected wing tissues that either develop or do not develop eyespots in wild-type and a mutant line of butterflies, Spotty, with extra eyespots. Overall, 186 genes were significantly up and down-regulated in wing tissues that develop eyespots compared to wing tissues that do not. Many of the differentially expressed genes have yet to be annotated. New signaling pathways, including the Toll, Fibroblast Growth Factor (FGF), extracellular signal–regulated kinase (ERK) and/or Jun N-terminal kinase (JNK) signaling pathways are associated for the first time with eyespot development. In addition, several genes involved in wound healing and calcium signaling were also found to be associated with eyespots.
Conclusions
Overall, this study provides the identity of many new genes and signaling pathways associated with eyespots, and suggests that the ancient wound healing gene regulatory network may have been co-opted to cells at the center of the pattern to aid in eyespot origins. New transcription factors that may be providing different identities to distinct wing sectors, and genes with sexually dimorphic expression in the eyespots were also identified.
Keywords
Novel traits
Co-option
Transcriptome
Gene expression
Toll
T-box 6
Background
The evolution of novel traits and of their underlying gene regulatory networks remains a hot topic in the field in evolutionary biology. Some novel traits appear to have arisen via the qualitative modification of pre-existing traits with more primitive features [1, 2]. Examples of such novel traits include angiosperm flowers derived via the modification of the leaves into sepals and petals [3], the novel mammary gland derived from a skin gland that started secreting novel compounds [4], or of butterfly eyespots on the wing with concentric rings of color from simpler spots [5, 6]. When such evolutionary transitions take place, a fundamental question that follows pertains to the type and nature of the molecular modifications that took place to lead to the origin of the novel trait.
Proposed mechanisms for the origin of novel traits include the fusion of distinct cell types, as in the case of the insect wing [7–9], or the recruitment of pre-existing gene regulatory networks into novel developmental contexts [10–12]. In these latter cases, cells from tissues that build the novel trait generally display novel gene expression profiles due to the activation of new gene regulatory networks in those cells. Comparing the gene expression profile of these cells to those of cells serving distinct functions in the body can help identify ancestral and pre-existent gene regulatory networks that were recruited to help build the novel trait [13]. This type of research recently pointed to a novel adaptive trait "beetle horns" having likely been co-opted from the limb gene regulatory network [14], and to a novel lobe in the adult genitalia of Drosophila originating from the recruitment of a gene regulatory network involved in differentiating larval breathing spiracles earlier in development [11]. Hence, identifying the developmental origin of novel traits can begin with the identification of the underlying genes involved in building the novel trait.
In this study, we are interested in investigating the nature of the gene regulatory network underlying eyespot development. Eyespots are novel traits on the wings of butterflies that serve adaptive roles in both predator avoidance and sexual signaling [15–22]. Previous research suggested that nymphalid butterfly eyespots originated once via the co-option of pre-existing gene networks [5, 6, 23]. Network co-option was suggested because the expression of four out of five genes examined in association with eyespot development in 23 species of nymphalids and outgroups was inferred to have originated concurrently with the origin of eyespots [6]. These data suggest that these genes may not have been recruited gradually and individually to help build the novel trait, but appeared associated with the trait in a more abrupt way via the co-option of a gene regulatory network wherein the genes were already connected to each other. Previous work, however, had already hinted at co-option events being associated with eyespot origins by the type of gene being discovered in association with eyespots. For instance, the first gene ever to be visualized in eyespots, Distal-less, pointed at a possible limb network co-option event [24]. Later, the hedgehog regulatory circuit involved in patterning the anterior-posterior axis of insect wings was also proposed [25]. This was followed by the wound healing gene regulatory network [26], and a regulatory circuit involved in wing margin development [27]. For a clearer understanding of which, if any, of these circuits and/or networks may have been co-opted to aid in eyespot origins, as well as the discovery of new genes or networks that may have aided in eyespot origins, it is important to examine the complete set of genes involved in eyespot development.
Eyespot development in nymphalid butterflies has been studied since 1978 [28], but so far only 12 genes have been discovered associated with eyespots in two nymphalid model species, Junonia coenia and Bicyclus anynana (reviewed in Monteiro 2015) mostly developed against fly proteins. Thanks to innovations in gene expression profiling, such as transcriptome analysis on next-generation sequencing platforms, it is now possible to compare total gene expression across different cell types or tissues [29], and potentially identify the complete set of genes associated with eyespot development.
In this study, we used next-generation sequencing and transciptome analyses to identify the set of genes associated with eyespot development in the early pupal stage of
B. anynana
. This stage corresponds to an important signaling stage of eyespot development where cells at the center of the pattern signal to surrounding cells to differentiate the color rings [
30
–
32
]. In addition, this stage was chosen because of practical considerations. The fragile dorsal wing surface epidermis remains attached to the sturdier overlaying cuticle for a few hours after pupation, and this facilitates the dissection of very small pieces of epidermis containing the eyespot central cells, the pattern organizers. We used micro-dissections of wing epidermis from wild-type and from an eyespot mutant of
B. anynana
, Spotty, with additional eyespots on the wing, to compare the transcriptome of homologous wing sectors with and without eyespots (Fig.
1a
). In addition, this approach also allowed us to identify transcription factors differentially expressed between adjacent wing sectors of the forewing, and identify differential expression of genes in male and female eyespots.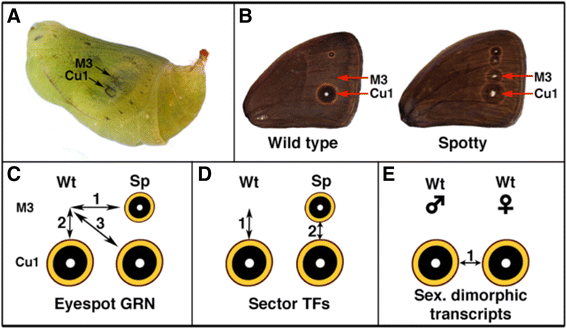 Conclusions
The genes associated with eyespot development identified in this work may contain some of the original genes involved in eyespot origins, 90 million years ago [6], as well as B. anynana lineage-specific co-options that are not shared across all nymphalid species with eyespots. These lineage-specific co-options are likely to have occurred given the span of time involved since eyespot origins. Genes likely to belong to this latter category include genes regulating eyespot phenotypic plasticity, a likely derived trait within nymphalid butterflies [17], as well as sexual dimorphism in dorsal eyespots. Future comparative transcriptomic experiments, performed across multiple nymphalid species with eyespots, will be required to identify the core set of genes likely associated with eyespot origins and necessary for eyespot development. Currently, our data lends additional support to the hypothesis proposing that eyespots co-opted the wound healing gene regulatory network to aid in their development [26]. The other three hypotheses were not as well supported by the current data because only fewer genes known to be associated with the proposed gene regulatory circuits and networks were also found associated with eyespots. This, however, may simply reflect our incomplete current understanding of these other developmental processes. Future studies should examine genes associated with eyespot development at earlier and later time points, although this may be experimentally challenging. Overall, our study identified many new additional genes associated with eyespot development, eyespot plasticity, and eyespot sexual dimorphism in B. anynana that can now be examined across species and also at the functional level.
Methods
Animal husbandry
Butterflies were reared in climate controlled chambers at 27 °C on a 12 L: 12D photoperiod. Humidity was kept at 80%. Larvae were fed with corn plants and adults with mashed banana.
Crossing wild-type individuals with mutant individuals
Wild-type and Spotty lines have been kept separate in the lab for many generations. As a consequence, they may have fixed distinct genetic variants that are not related to the wing pattern mutation. In order to homogenize the genetic background between these lines for the purpose of comparative transcriptomics, female Wt individuals were crossed with Spotty male individuals (Additional file 7: Figure S2). All F1 (first generation) offspring had phenotypes associated with Wt/Spotty heterozygous and displayed small intermediate eyespots in sectors M2 and M3. These F1 individuals were mated with each other to produce a F2 generation. Only wild-type and Spotty homozygous individuals were selected from the F2 generation and these were mated to individuals of the same phenotype to produce two pure-breeding F3 generation cohorts. Female and male wild-type and Spotty pupae from this generation were used for RNA extractions.
Collecting RNA from wing tissue
Samples from the eyespot centers on the dorsal pupal forewings were used to extract RNA for transcriptome analysis. Small squares of wing tissue of around 0.5 × 0.5 mm, containing the eyespot centers, were dissected between 3 and 6 h after pupation using home-made scalpels with small chips of a razor blade glued to a metal handle (see size of squares in Fig. 1a). Pupation time was estimated with time-lapse photography of pre-pupae, with 30 min intervals between photos, using a Kodak DC290 digital camera. These tissues were collected from two wing sectors, M3 and Cu1 (Fig. 1a). Dissected tissue samples were collected into an eppendorf tube containing RNAlater reagent (Qiagen) to stabilize the RNA. Around 30 pieces of tissue from the same wing sector and sex were pooled before RNA was extracted with a RNeasy Mini Kit (Qiagen), using a RNase-Free DNase (Qiagen) step. Each of these extractions had concentration between 4 ng/ul and 17 ng/ul in 70 ul of water and was used to make a separate library for RNA sequencing. Three separate libraries were made for each type of tissue to represent biological replicates. RNA concentration was measured with both a Nanodrop 1000 Spectrophotometer (NanoDrop/Thermo Scientific) and Qubit 2.0 Fluorometer (Life Technologies). RNA quality was controlled by agarose gel electrophoresis for RNA degradation and potential contamination, and Agilent 2100 bioanalyser for RNA integrity by AITbiotech. Dissections of M3 and Cu1 squares were performed in random order to avoid any gene expression biases caused by the operation.
Library preparation and RNA sequencing
RNA library construction was performed with Truseq stranded mRNA kit from Illumina by AITbiotech. mRNA was purified from equal amount of total RNA from each library using oligo(dT) beads to minimize bias for inter-library comparisons. The mRNA was fragmented randomly in fragmentation buffer, followed by cDNA synthesis using random hexamers and reverse transcriptase. After first-strand synthesis, a custom second-strand synthesis buffer (Illumina) was added, with dNTPs, RNase H and E. coli polymerase I to generate the second strand and AMPure XP beads were used to purify the cDNA. The final cDNA library was ready after a round of purification, terminal repair, A-tailing, ligation of sequencing adapters, size selection and PCR enrichment (Illumina). Library concentration was first quantified using a Qubit 2.0 fluorometer (Life Technologies), and then diluted to 1 ng/μl before checking insert size on an Agilent 2100 Bioanalyzer and quantifying to greater accuracy by quantitative PCR (Kapa Biosystems) (library activity >2 nM). Libraries were loaded into a Illumina Hiseq 2000 (next-generation sequencing machine) according to activity determined from qPCR and expected data volume of the instrument by AITbiotech. One lane was used to sequence a total 15 libraries from wild-type and Spotty lines. After sequencing, adaptors were removed from sequences and initial quality check reports for raw reads were provided by AITbiotech.
Transcriptome assembly
We first re-constructed transcripts from the short reads using a "de novo assembly" approach [107]. Around 400 million paired-end reads were used for de novo assembly. Both Trinity and CLC genomics workbench were used for the transcriptome assembly using different assembly and trimming parameters. The quality of the various assembled transcriptomes was assessed according to average transcript's length, the number of transcripts, and the coverage of aligned transcripts against the protein database of another lepidopteran, Bombyx mori. Transcriptomes were deemed to be of higher quality based on longest N50 value, fewer number of transcripts, and highest full-length coverage of all known proteins of Bombyx mori. According to these criteria, the best transcriptome was built using Trinity software using all 15 libraries and the following parameters: Quality trimming was performed with trimmomatic [108], which is integrated into Trinity software. Reads were trimmed at the start and the end of a read, if the threshold quality was below 5, and reads less than 30 bp were removed prior to the assembly (e.g., LEADING:5, TRAILING:5, MINLEN:30). After assembly, transcripts under 200 bp were removed from the final transcriptome.
Identifying differentially expressed genes
Differentially expressed genes were identified with the downstream applications of the Trinity software package [109]. These methods use RSEM software for estimating transcript abundance [110] and EdgeR Bioconductor package for identifying differentially expressed genes across samples after sample normalization for scaling library size using a weighted trimmed mean of the log expression ratios (trimmed mean of M values (TMM)) [111, 112]. A p-value of 0.05 was chosen as the threshold to identify statistically significant up and down-regulated genes between libraries.
Gene annotations and enrichment analysis
Differentially expressed genes were blasted against a non-redundant protein database with blastx using an E-value <1e-3 (E-value (expected value) shows the number of significant alignments expected to occur by chance) and were annotated for gene functions using Blast2GO software [113]. Afterwards, these transcripts were annotated using Blast2GO and were added into the list of previously annotated genes for further analyses. Gene ontology terms were found using non-redundant protein database in Blast2GO (E-value <1e-3). A test for functional enrichment of particular gene ontologies among the 186 eyespot associated genes was performed using Fisher's exact test and the Drosophila database as a reference on Blast2GO PRO plugin for CLC genomic workbench.
Co-option of the gene regulatory networks
All of the annotated eyespot associated genes were searched for their functions, related to the proposed co-opted gene regulatory network using keywords; "wound healing", "limb development", "anterior-posterior axis", "segment polarity" and "wing margin" in the Google Scholar search engine.
Candidate gene approach
First, the sequences of the previously identified candidate eyespot genes were downloaded from the nucleotide database of NCBI. Second, these sequences were aligned to the transcriptome with a Blastn command in BLAST+ (E-value <1e-20) and the longest transcript of the corresponding gene was selected from the Blastn results. Later, a p-value and a logFC value of the transcripts of the candidate eyespot genes were obtained from the M3 wing sectors comparison between wild-type and Spotty tissues.
Abbreviations
BMP:

Bone morphogenetic protein
ERK:

Extracellular signal–regulated kinase
FDR:

False discovery rate
FGF:

Fibroblast growth factor
FGFR:

Fibroblast growth factor receptor
GO:

Gene ontology
JNK:

Jun N-terminal kinase
logFC:

Logarithmic fold change
Wt:

Wild-type
Declarations
Acknowledgements
We thank Laurent Del Basso for training on the command line in an UNIX-like environment and scripting, Heidi Connahs for discussion, and Firefly farms for providing corn for larvae.
Funding
This work was supported by the Singapore International Graduate Award (SINGA) fellowship from A*STAR to NÖ and the Singapore Ministry of Education Awards MOE2014-T2-1-146, and MOE R-154-000-602-112 to AM and NUS award R154-000-587-133 to AM.
Availability of data and materials
Raw reads and the transcriptome were submitted to the National Center for Biotechnology Information (NCBI) database under BioProject PRJNA398486 (http://www.ncbi.nlm.nih.gov/bioproject/398486). Raw reads were deposited in the Sequence Read Archive under the accession number SRP116259. The transcriptome was deposited in the Transcriptome Shotgun Assembly (TSA) database under the accession number GFVN00000000 and the version described in this paper is the first version, GFVN01000000.
Authors' contributions
NÖ and AM designed the study. NÖ performed experiments and bioinformatics analysis. NÖ and AM wrote the manuscript. Both authors read and approved the final manuscript.
Ethics approval
Not applicable.
Consent for publication
Not applicable.
Competing interests
The authors declare that they have no competing interests.
Publisher's Note
Springer Nature remains neutral with regard to jurisdictional claims in published maps and institutional affiliations.
Open AccessThis article is distributed under the terms of the Creative Commons Attribution 4.0 International License (http://creativecommons.org/licenses/by/4.0/), which permits unrestricted use, distribution, and reproduction in any medium, provided you give appropriate credit to the original author(s) and the source, provide a link to the Creative Commons license, and indicate if changes were made. The Creative Commons Public Domain Dedication waiver (http://creativecommons.org/publicdomain/zero/1.0/) applies to the data made available in this article, unless otherwise stated.
Authors' Affiliations
(1)
Department of Biological Sciences, National University of Singapore, Singapore, Singapore
(2)
Yale-NUS College, Singapore, Singapore