Research article

Open Access
Ceratocystis cacaofunesta genome analysis reveals a large expansion of extracellular phosphatidylinositol-specific phospholipase-C genes (PI-PLC)
Received: 24 August 2017
Accepted: 8 January 2018
Published: 17 January 2018
Abstract
Background
The Ceratocystis genus harbors a large number of phytopathogenic fungi that cause xylem parenchyma degradation and vascular destruction on a broad range of economically important plants. Ceratocystis cacaofunesta is a necrotrophic fungus responsible for lethal wilt disease in cacao. The aim of this work is to analyze the genome of C. cacaofunesta through a comparative approach with genomes of other Sordariomycetes in order to better understand the molecular basis of pathogenicity in the Ceratocystis genus.
Results
We present an analysis of the C. cacaofunesta genome focusing on secreted proteins that might constitute pathogenicity factors. Comparative genome analyses among five Ceratocystidaceae species and 23 other Sordariomycetes fungi showed a strong reduction in gene content of the Ceratocystis genus. However, some gene families displayed a remarkable expansion, in particular, the Phosphatidylinositol specific phospholipases-C (PI-PLC) family. Also, evolutionary rate calculations suggest that the evolution process of this family was guided by positive selection. Interestingly, among the 82 PI-PLCs genes identified in the C. cacaofunesta genome, 70 genes encoding extracellular PI-PLCs are grouped in eight small scaffolds surrounded by transposon fragments and scars that could be involved in the rapid evolution of the PI-PLC family. Experimental secretome using LC–MS/MS validated 24% (86 proteins) of the total predicted secretome (342 proteins), including four PI-PLCs and other important pathogenicity factors.
Conclusion
Analysis of the Ceratocystis cacaofunesta genome provides evidence that PI-PLCs may play a role in pathogenicity. Subsequent functional studies will be aimed at evaluating this hypothesis. The observed genetic arsenals, together with the analysis of the PI-PLC family shown in this work, reveal significant differences in the Ceratocystis genome compared to the classical vascular fungi, Verticillium and Fusarium. Altogether, our analyses provide new insights into the evolution and the molecular basis of plant pathogenicity.
Keywords
Phosphoinositide-specific phospholipases C (PI PLC)Ceratocystis wilt of cacaoPlant pathogen
Background
Ceratocystis cacaofunesta (Phylum: Ascomycota; Class: Sordariomycetes) is the causal agent of Ceratocystis wilt of cacao (CWC), a disease responsible for significant losses suffered by the cacao industry in both Central and South America [1–3]. The genus Ceratocystis encompasses numerous plant pathogens, including the sweet potato pathogen Ceratocystis fimbriata [4, 5], the plane tree pathogen Ceratocystis platani [6] and the mango pathogen Ceratocystis manginecans [7]. Pathogens of Ceratocystis genus cause diverse diseases, such as root and tuber rot, canker stains and vascular wilt [8, 9] in a broad range of economically important crops around the world [5, 10]. CWC is a severe disease that begins with the fungus accessing the host tissue through wounds caused by beetles or by contaminated tools during pruning [11, 12]. Once inside the plant tissue, chlamydospores (aleurioconidia) germinate, probably triggered by exudates of the host plant [13]. On susceptible hosts, the fungus infects xylem parenchyma cells in a radial direction, from where generated hyphae reach and invade the xylem vessels [14]. C. cacaofunesta produces atypical smaller conidia which can pass through the cell wall pits and are probably involved in the rapid and massive plant colonization by the fungus [15]. As a necrotrophic fungus, C. cacaofunesta causes plant cell death during host colonization [2]. It can reproduce asexually, through vegetative propagation and conidia formation, and sexually [2, 16]. Ceratocystis species are homothallic due to an unidirectional mating-type switching mechanism resulting in the production of both self-sterile and self-fertile isolates [16, 17]. The ascospores are discharged by a long-necked perithecium and dispersed by insects from the genus Ambrosia [18, 19]. These insect vectors are attracted by volatiles compounds produced by the fungus [20].
Plant-fungal interaction studies have reported the formation of polysaccharide gels, tyloses, and phenolic compounds in the vascular vessels of plants infected by Ceratocystis species [15, 21]. CWC causes vascular obstruction that leads to wilting, vascular necrosis and tree death within a few weeks [2, 21]. However, in contrast to classical vascular fungi, such as Verticillium spp. and Fusarium spp., which infect only the plant vascular system causing wilt disease, Ceratocystis species can colonize all stem tissues [14, 22, 23]. Proteins secreted by fungal pathogens have an active role in host tissue colonization and plant symptoms development.
Fungal secretomes are comprised of a diverse group of proteins involved in nutrient acquisition, self-protection, or manipulation of the biotic and abiotic factors [24]. Among the major classes of enzymes commonly found in fungal secretomes are carbohydrate-active enzymes, proteases, lipases, and oxidoreductases [24]. The specific composition of a fungal secretome is closely related to the microorganism lifestyle and its phylogenetic history [25]. For instance, through comparison of the genomes of three fungi that cause plant wilt disease (V. dhaliae, V. albo-atrum and F. oxysporum), Klosterman and coworkers (2011) identified a set of genes likely involved in niche adaptation. The identified genes enable pathogens to deal with osmolarity fluctuations and low content of nutrients in the xylem [23]. Also, Verticillium species secrete a large number of carbohydrate active enzymes with important roles in plant roots penetration, overcoming the plant defense responses and further colonization [23].
In pathogenic fungi, a wide variety of secreted proteins are considered pathogenicity and virulence factors because of their involvement in the disease development and modulation of the infection intensity, respectively [26]. Extracellular phospholipases are considered universal pathogenic factors in pathogenic fungi [27]. This denomination is due to their hydrolytic activity on membrane phospholipids of the host cell, causing its functional impairment or physical disruption, facilitating the invasion of the host tissues [28].
Phospholipases C (PLCs) hydrolyze glycerophospholipids at the phosphodiester bond, linking the glycerol backbone to the phosphate head group. The phosphate head group is also linked to a polar moiety [29]. Phosphatidylinositol (PI)-specific phospholipase C (PI-PLCs) are PLCs that cleave glycerophospholipids containing phosphoinositides as a polar head [29]. PI-PLCs have been found both in prokaryotes and eukaryotes [30]. However, enzymes from each group differ greatly regarding their structural properties, specific phosphoinositide substrates, released products and putative functional role. The fact that PI-PLCs from prokaryotes and eukaryotes are so different but carry the same name has caused great misunderstanding within the scientific community.
Enzymes from the bacterial PI-PLC family (EC 4.6.1.13) are calcium-independent and contain a single domain [29, 31]. These proteins cleave phosphatidylinositol (PI), lyso-PI and glycosyl-PI (GPI) lipids present in cell membranes. In pathogenic bacteria like Staphylococcus aureus, Clostridium, Bacillus cereus and Listeria monocytogenes PI-PLC are secreted proteins, being considered virulence factors [27, 30, 32]. On the other hand, eukaryotic PI-PLCs (EC 3.1.4.11) are proteins organized into several distinct domains, including PH, X, Y, and C2 [29, 30, 33]. In eukaryotes, these enzymes play a key role on cell metabolism through the regulation of cell proliferation and differentiation [33]. Eukaryotic PI-PLCs can only hydrolyze phosphorylated inositide PI 4, 5- bisphosphate (PIP2) releasing diacylglycerol (DAG) and inositol 1, 4, 5-triphosphate (IP3). DAG and IP3 are important secondary messengers required to trigger signal transduction pathways through the activation of protein kinase and intracellular calcium release, respectively [30, 33].
Moreover, most fungal genomes contain only a few genes coding for PI-PLCs and they have been associated with different functions: signal transduction, fungal development, pathogenicity and release of glycosyl-PI (GPI)-anchored surface proteins from target membranes [34–36]. For instance, the Saccharomyces cerevisiae genome contains a single PI-PLC gene (Plc1p) which encodes a protein with sequence and domain arrangement similar to the delta isoforms of mammalian PI-PLC [23]. Plc1p is involved in nutritional and stress-related responses [34]. The plant pathogen Cryphonectria parasitica, which causes chestnut blight disease, encodes cplc1, a multi-domain PI-PLC protein associated with mycelial growth and morphology [35]. The genome of another plant pathogen, Magnaporthe oryzae, codifies five PI-PLCs-encoding genes. The coded proteins are involved in signaling pathways with distinct roles in fungal development, conidiation and appressorium formation [36]. Higher numbers of secreted PI-PLCs have been identified in the genomes of Fusarium oxysporum (15 genes) and Metharizium species (8 genes), with possible involvement in fungal pathogenesis [22, 37]. With regards to protein organization, fungal PI-PLCs are still poorly studied.
In the present work, we analyzed the whole genome content of the cacao pathogen C. cacaofunesta, with particular emphasis on its secretome. Comparative analysis between the gene families of the Ceratocystis species and other Sordariomycetes shows a large expansion of extracellular PI-PLCs genes in the Ceratocystis genome and, remarkably, almost all PI-PLC genes are clustered in the same region of the genome. Our findings suggest that the evolution of pathogenicity in the genus Ceratocystis correlates with the expansion of the PI-PLC family. Additionally, we performed the prediction of structure and homology modeling of Ceratocystis PI-PLCs which suggested that this family of proteins must have phospholipids hydrolytic activity. Finally, we discuss possible roles of PI-PLCs proteins in the context of CWC. Altogether, our analyses provide new insights into the evolutionary and genetic mechanisms of Ceratocystis pathogenesis.
Discussion
Ceratocystis wilt infection is classified as an emergent disease due to the sudden increase in the number of afflicted plant species and geographical areas [52, 53]. Little is known about the biology and molecular mechanisms of this disease. Therefore, here we present the genome analysis of C. cacaofunesta with focus on the identification of pathogenicity genes which might facilitate plant colonization and provide resistance against plant defense responses. More specifically, we describe the expansion and evolution of the PI-PLC protein family in C. cacaofunesta genome, as well as in the other three Ceratocystis genomes published to date [42–44]. We provide evidence that the expansion of this gene family correlates with the evolution of pathogenicity in the Ceratocystis genus.
C. cacaofunesta genome, as well as the other Ceratocystis genomes published so far, has a small size and low gene content when compared to other filamentous fungi (Fig. 1) [42–44]. The genome size reduction is proportional to the decrease in gene content for all species studied. This is also true, for Huntiella moniliformis, a related species that also belongs to Ceratocystidaceae family. Evolution analysis of gene families showed that Ceratocystis has the highest number of extinct proteins among the compared genomes. In addition, the Ceratocystis species have similar genome features and seem to share similar genetic content. Genome functional annotation and orthology results revealed high homology within the proteomes of C. cacaofunesta and C. fimbriata (Additional file 4). These similarities are in accordance with the short evolutionary distance among these species. A marked phenotypic difference between these species is that C. cacaofunesta, unlike C. fimbriata, has host specificity [1, 5]. Accordingly, slight differences between the proteomes of the two species were observed (Additional file 2) suggesting that this specialization might be due to some minor genetic variation. It has been described that in species with high genome similarity, host specificity might be related to variations in a single locus or in clusters of closely linked loci [54].
Interestingly, differences in TEs content between these species were observed. Our results show a five-fold expansion of TEs in the C. cacaofunesta genome compared to the C. fimbriata genome, suggesting that TE expansions may play a significant role in the structure, adaptation, and evolution of the C. cacaofunesta genome (Additional file 9). TE expansion may be involved in gene duplication, and gene loss inactivation [55, 56], all of which have worked to increase the genetic variability between the two species. Similar expansions have been reported in other Ascomycota fungal pathogens, such as M. graminicola [57], and they appear to accelerate the evolution of genes related to pathogenicity and host range [58, 59]. Genome functional annotation for these two Ceratocystis species revealed pathways related to thiamine and biotin metabolism (Additional file 2). These vitamins have been previously reported as being essential for the sexual reproduction of C. fimbriata [60]. Also, important pathways related to the biosynthesis of various terpenes and volatile compounds were found. The production of these compounds with fruity aromas has been reported for several Ceratocystis species [61].
In general, phytopathogenic fungi produce a variety of CAZymes during the plant colonization process. These enzymes are associated with plant cell wall degradation and perform crucial roles in the plant-pathogen interaction, being considered virulence factors [62]. Our results showed that the Ceratocystis species present the lowest numbers of CAZymes, when compared with other Sordariomycetes, including non-pathogenic species (Fig. 2). This difference was found to be related to the reduced gene content in the genomes of the Ceratocystis species, a trait that may be conserved within the genus. Nevertheless, the number of CAZymes observed for the pathogenic Ceratocystis species is still higher than that of their relative H. moniliformis, a saprotrophic species. Moreover, the composition of detected CAZyme families differs between the two genera. This would be expected given their different lifestyles. Many phytopathogenic fungi have even more CAZymes than do saprotrophic fungi, which are excellent degraders of plant biomass [63]. Furthermore, when compared to H. moniliformis, the Ceratocystis species have a higher number of CAZymes involved in the degradation of living plant tissues, such as pectinases. These enzymes are required for the degradation of pectin, a major component found between cells of living plant tissues [64]. Ceratocystis species have also a high number of genes classified in the AA4 CAZyme family, which contains vanillyl-alcohol oxidases that catalyze the conversion of a wide range of phenolic compounds. Histological studies involving Ceratocystis infection showed the production of these compounds via the plant mechanism of defense against Ceratocystis pathogens [21].
Another interesting fact discovered in the analyses of CAZymes is that there is a large difference when comparing the Ceratocystis species with the classical or true vascular wilt pathogens (TVPs) of Verticillium and Fusarium. Traditionally, the Ceratocystis species have been classified as vascular wilt pathogens due to the wilting disease they cause through the impairment of xylem vessels. However, recent reports showed differences related to the infected tissue; while TVPs infect xylem vessels, Ceratocystis infect xylem parenchyma [21, 22]. Also, some Ceratocystis species are able to infest other plant organs, suggesting that they are not true vascular pathogens (NTVPs) [14, 65]. This difference implies divergent pathogenesis strategies among TVPs and NTVPs. Ours analysis presents some molecular evidence that supports these differences. Klosterman and coworkers [23] identified the expansion of polysaccharide lyase (PL) in Verticillium species, which have an enhanced capacity to degrade plant pectins. Meanwhile, Ceratocystis have fewer pectin lyases and do not present PL11 homologs, which according to the authors were present only in the wilt pathogens [23]. Additionally, C. cacaofunesta (and C. fimbriata) predicted proteome does not contain homologous to the specific wilt proteins involved in the maintenance of osmotic stability and the adaptation of TVP to their ecological-niche [23] (Additional file 13).
Otherwise, important virulence factors were found in the secretomes of C. cacaofunesta and C. fimbriata (Table 2), including a unique cerato-platanin (CP), a known phytotoxic protein. CP induces necrosis in tobacco leaves [66] and it has also been proposed that it may allow the attachment of hyphae to hydrophobic surfaces during the formation of aerial structures [67]. Interestingly, Ceratocystis species do not have genes encoding class I and II hydrophobins suggesting that other proteins, such as CP, could be involved in cellular adhesion.
Additionally, two genes encoding proteins similar to NEP1-like proteins (NLPs) were identified. NLPs are classified as Type 1NLP when contain two cysteine residues in the primary sequence and as Type 2NLP when there are four cysteine-residues [68]. We identified that C. cacaofunesta and C. fimbriata have a copy of each type of NLP. The first identified NLP (NEP1) was isolated from a F. oxysporum culture filtrate. This protein was capable of producing necrosis and ethylene induction in the leaves of dicotyledonous plants [69]. Nowadays, NLPs are accepted as cytotoxic proteins, even though their mechanism of action is not well understood [70].
Among the CAZyme families detected in the secretome of C. cacaofunesta, GH5, GH11, GH16, GH43 and GH61 are related to deconstruction of cellulose and hemicelluloses (Additional file 5 and Additional file 6). Thus, we measured the cellulolytic activity on cultures of C. cacaofunesta and C. fimbriata and compared it to that of T. paradoxa, a sugarcane pathogen known as a cellulase producer [71]. Our results showed that C. cacaofunesta and C. fimbriata have cellulase activities when grown in conditions which reflect the cellulose:hemicellulose composition of the plant cell wall (Additional file 5). We also identified a single ligninase, suggesting that lignolytic activity is limited in these fungi, as described for Ophiostoma species [72].
Other important virulence factors required for plant colonization by fungi are effectors. An effector is defined as any secreted molecule that modulates the interaction between the pathogen and its host [73]. The C. cacaofunesta genome has a great variety of proteins with effector-like characteristics. Within this category we found proteins such as the allergen Asp and cyanovirin, which can elicit plant responses, and also proteins possibly involved in resistance to host-generated oxidative stress. Interestingly, many proteins with effector-like characteristics found in C. cacaofunesta did not match published sequences suggesting that these might be interesting targets for further studies.
The phylogenetic relationship within the Ceratocystis genus was also studied. The obtained results showed that this genus diverged very recently, when compared to other Sordariomycetes genera, such as Fusarium and Trichoderma (Fig. 4a). The relationships we observed are in agreement with de Beer (2014) phylogeny. The Bayesian phylogram of the mini-chromosome maintenance complex component 7 (MCM7) dataset revealed C. cacaofunesta as more divergent to C. fimbriata than C. manginecans. Besides their phylogenetic proximity, C. manginecans and C. fimbriata were described as different species [5]. However, in recent populational and phylogenetic investigations of the Latin American Clade of Ceratocystis, C. platani and C. cacaofunesta were proposed as individual species but C. manginecans was considered a lineage within C. fimbriata complex, implying that C. fimbriata would be a host generalist pathogen [74, 75]. As for many others pathogen where host specificity drives genetic drift and individualisation of species, such species delimitations are difficult issues.
Despite the short evolutionary time for divergence, significant genomic structural changes occurred in the Ceratocystis ancestral lineage. First, the genome of the Ceratocystis and Huntiella genera underwent a large reduction in size and gene number. A large proportion of genes was lost across gene families, many of which were involved in transport, detoxification and oxidation/reduction processes. Curiously, these processes are considered important for fungal plant pathogens, as they may play a crucial role in counteracting the oxidative stress generated by the host plant [58]. Despite the observed reduction in gene content, some gene families have shown a remarkable expansion in the Ceratocystis genome. This is especially true for the PI-PLC gene family (Fig. 5). Further analysis into the expansion and retraction of gene families showed that both the Ceratocystis and the H. moniliformis ancestors presented a large number of new genes. However, only the Ceratocystis ancestor displayed significant expansion of the PI-PLC gene family. The initial duplication of a PI-PLC enzyme, potentially surrounded by transposons, began a process of extensive transpositions in the genome, increasing the PI-PLC copy number in a short period of time. This expansion continued in the resulting Ceratocystis lineages (Fig. 5). All the transposition events and PI-PLC duplications created genomic clusters that might actually be connected in a large single fragment or even a chromosome. This large sequence was divided into different scaffolds by assembly issues with repetitive regions (Fig. 6).
The rapid expansion of the PI-PLC gene family is also indicated by the star-like phylogenetic relationships among 14 PI-PLC clades, contrasting with the well-defined branching pattern from those of Huntiella and those that diverged within the 14 clades. Many PI-PLC genes that are closely related in gene phylogeny are also positioned near each other in genomic clusters, suggesting an evolution by duplications in tandem (Fig. 7). Pathogenic filamentous fungi present effector proteins that evolved on genomic regions that are not required for saprotrophic growth. These regions are called conditionally dispensable chromosomes (CDCs), in contrast to chromosomes whose gene content is essential and conserved across species [22]. CDCs have been associated to pathogenicity and host-range delineation in Leptosphaeria, Alternaria, and Fusarium species [76–78]. We are now working on obtaining the chromosomal map of C. cacaofunesta in order to analyze the possibility of the PI-PLC genes being located on CDCs.
Expansion of secreted PLC proteins is not a rare event in the genomes of fungal plant pathogens. For instances, the wilt pathogen Verticillium dahliae carries 19 genes encoding Patatin-like phospholipases which are likely involved in pathogen growth, lipid metabolism and signaling. Interestingly, 15 of these genes are located in V. dahliae lineage-specific regions (LS), which are enriched in repetitive sequences [23]. This PLC family expansion could be related to pathogenic properties required for the development of Verticillium wilt disease [23]. Fusarium oxysporum also exhibits expansion of several protein families related to lipid metabolism [22]. Specifically, eight PI-PLC encoding genes were described, all of which are located in LS regions [22]. Moreover, the entomopathogenic fungus Metarhizium anisopliae presents 12 genes encoding secreted lipases, some of which are similar to PI-PLC and could be involve in pathogenicity [37]. Ceratocystis species have a remarkable number of secreted PI-PLC genes, well above the average found in other fungi. Also, unlike the proteins from other fungi, Ceratocystis PI-PLCs show a significant similarity to the protein domain of pathogenic bacteria, which are known virulence factors.
The extreme expansion in PI-PLC gene number and divergence in gene sequence, both in the ancestral genus of Ceratocystis and in current species, point toward a diversification process that might be adaptive for pathogen host infection. Considering that Huntiella species are not pathogenic, the genomic revolutions that expanded PI-PLC genes may have functioned as a pre-adaptation to the Ceratocystis lineages that evolved as necrotrophic pathogens. We obtained structural evidence that all of these newly duplicated proteins could be functional and that positive selection might be driving their evolution, with the accumulation of various non-synonymous substitutions in their sequences (Fig. 7). Pathogenicity-related proteins are expected to show high rates of non-synonymous substitutions. These changes are associated with the process of positive selection that drives the arms race established between the pathogen and its host [79]. Evidence of positive selection has been widely reported for plant pathogens in virulence genes, especially for effectors [80].
Because the new non-synonymous substitutions diverge greatly among Ceratocystis that infect different hosts, we infer that different selective pressures may be acting on each lineage, possibly as a result of specific interactions between the pathogen and its host. Considering that C. manginecans might be part of C. fimbriata species complex [74, 75], differences in PI-PLC numbers and evidences of selection would not be a species-specific feature but a lineage specific one.
PI-PLC proteins found in Ceratocystis species have structural features and domain organization similar to those of their homologue (LmPI-PLC) from the prokaryotic L. monocytogenes (Fig. 8a, b). According to the obtained structural model, genes from the C. cacaofunesta PI-PLC family are likely able to bind phosphatidylinositol molecules. Our data indicates that these PI-PLC proteins have all the structural features to perform typical functions of bacterial PI-PLC: (i) catalyze the cleavage of phosphatidylinositol (PI) (or its phosphorylated derivatives) to produce DAG and the water-soluble head group phosphorylated myo-inositol [31]; and (ii) catalyze the release of proteins tethered to membranes by GPI-anchor proteins [81]. It is important to emphasize that PI-PLC acts on a substrate that does not occur in solution, but is rather found in an aggregated state, as they are present in the cell membranes [82]. Therefore, PI-PLC from C. cacaofunesta might be able to hydrolyze phospholipids in cell membranes, leading to their disruption or dysfunction, similarly to their bacterial homologues. Moreover, functional analysis showed that LmPI-PLC, unlike classical bacterial PI-PLCs, has a very low hydrolysis activity on GPI-anchored proteins [83]. This protein feature was associated to the lack of a small beta-strand (Vb), which it is presents in all bacterial PI-PLC [83]. Our analysis showed that Ceratocystis PI-PLCs contain the 8 amino acids region capable of forming the small beta-strand (Additional file 12). Therefore, Ceratocystis PI-PLCs might also be able to release proteins anchored to membranes by glycosylphosphatidylinositol (GPI).
GPI-anchored proteins are ubiquitous and include enzymes, receptors, differentiation antigens and other biologically active proteins [84]. In fungi like Penicillium roqueforti, Paecilomyces variotii and Aspergillus niger, it has been found that GPI-anchored proteins are processed at the plasma membrane by a phosphatidylinositol-specific phospholipase C [85]. Many fungal cell wall proteins are covalently bound to β-1,6-glucan via a remnant of a GPI anchor. These proteins are involved in important cellular processes, such as adhesion, invasion, biofilm formation, and flocculation [86–92]. In C. cacaofunesta, a total of 97 putative GPI-anchored proteins were identified. These were found to have similarly with various proteins groups, including chitin synthases, GH16, GH72, pepsin-like proteinases, Alpha-L-arabinofuranosidase, permeases and cysteine rich proteins (Additional file 14). Therefore, C. cacaofunesta GPI-anchored proteins might be involved in fungal morphogenesis and invasion. On the other hand, GPI-anchored proteins in plants are involved in many processes [93]. For instance, Arabidopsis thaliana GPI-anchored proteins are related to cell wall deposition and remodeling, defense responses, and cell signaling [93].
Based on the data obtained throughout this work and the available information of the histopathology of the
C. cacaofunesta
- cacao interaction, we suggest a model that would explain the possible roles of the PI-PLC family of proteins in the wilt disease context (Fig.
9
). A histopathological study of the interaction between
C. cacaofunesta
and cacao showed plant responses to
C. cacaofunesta
infection in both resistant and susceptible plants [
15
]. Plant responses included the discoloration of the primary walls of infected xylem vessels and the surrounding parenchyma cells; the mobilization of polyphenols in parenchyma cells, the translocation and accumulation of starch in the xylem and the production of gums and tyloses [
15
]. The main differences between genotypes were the intensities and kinetics of the appearance of those responses being more pronounced in the susceptible varieties [
15
]. In susceptible plants, the mycelium penetrated cells that were adjacent to the xylem and reached the xylem and parenchyma cells, overcoming structural resistance barriers such as tyloses. Tyloses are saclike structures that develop when turgor pressure causes parenchyma cell outgrowths through vessel parenchyma pit pairs into the lumen of xylem vessels [
94
]. During tyloses formation, the primary wall component of the pit membrane is not pushed into the vessel. Instead, a fine protective layer containing pecto-cellulosic material is deposited between the protoplast and the pit membrane [
94
]. With regards to tyloses formation and
Ceratocystis
wilt of cacao, Santos and coworkers (2013) observed that in susceptible plants, vessels containing the fungus were almost clear of tyloses. Nevertheless, adjacent vessels were completely occluded with tyloses formed in a matrix of gum 7 days after the inoculation [
15
]. Here, we hypothesize that PI-PLC could be involved in cellular disruption and tyloses degradation aided by secreted proteins that degrade the cell wall. Also, PI-PLC might release proteins anchored to GPI, both in the fungal and in the plant cell walls, enhancing the process of tissue degradation and allowing the fungus to advance to regions more distant from the point of inoculation (Fig.
9
). Collin & Parke (2008) suggested that
Phytophthora ramorum
produces enzymes able to degrade tyloses [
95
].
C. cacaofunesta
PI-PLCs would contribute to amplify both, the signals produced by the pathogen and the host defense responses. We are currently gathering experimental data to support this model. In addition, necrosis in parenchyma cells may be assisted by other proteins reported in this work, such as different NEPs, cerato-platanin and the various types of CAZymes, which might assist in the degradation of the primary cell wall. All of the PI-PLCs hypothesized functions would contribute, together with the other secreted enzymes, to the development of wilt symptoms and the subsequent death of the host plant.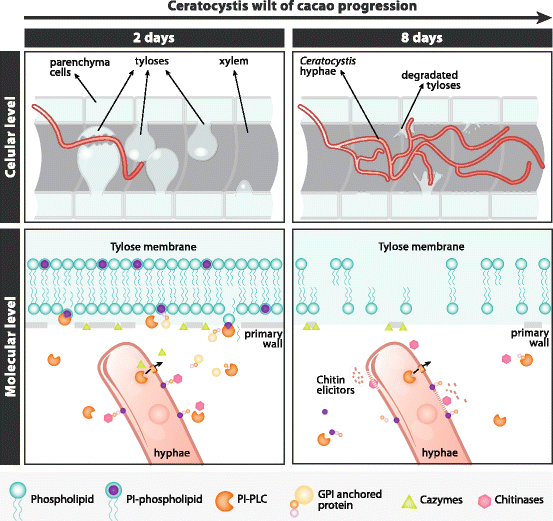 In this scenario, it must also be considered the significance of reaction products released from the hydrolysis of the membrane phospholipids by PI-PLCs during plant-fungus interaction. Myo-inositol and its derivatives have important roles in eukaryotic cells [96]. For instance, these compounds impact plant growth and development [97], sexual reproduction in some fungi like C. neoformans [98], and fungal cellular function and pathogenicity [99]. These examples suggest that the impact of PI-PLCs proteins on the development of Ceratocystis wilt of cacao is probably much greater than it is hypothesized here. Future investigations are aimed at elucidating experimentally the pathogenicity mechanisms related to PI-PLC.
The diverse arsenal of pathogenic genes present in C. cacaofunesta and C. fimbriata genomes supports the idea that CWC is produced by the synergistic effect of toxin activity with parenchyma degradation and their fast growth and sporulation, with the consequent destruction of the plants vascular system, as reported in histopathological studies [15]. All of these mechanisms might contribute to make of Ceratocystis species lethal pathogens.
Conclusions
Here, we presented the C. cacaofunesta whole-genome analysis. To our knowledge, this is the first work to report (i) the expansion of PI-PLC genes in C. cacaofunesta and other Ceratocystis species; (ii) PI-PLC genes distribution in Ceratocystis genome forming clusters in regions rich in TEs; (iii) their similarities with PI-PLC pathogenicity factors from bacteria; (iv) the evolutionary analysis of PI-PLC in Sordariomycetes suggesting that PI-PLCs in Ceratocystis are involved in pathogenicity; (v) the relationship between evolution of pathogenicity in this genus and the PI-PLC gene family expansion; (vi) molecular model of a fungal PI-PLC, from C. cacaofunesta, suggesting that they could be functional proteins, possibly involved in membrane dysfunction and release of GPI-anchored proteins like their bacterial homologues. Based on our data and histopathological information about C. cacaofunesta-cacao interaction, we proposed a model suggesting possible roles for the PI-PLC protein family in CWC. The ultimate result of their action would be the amplification of both pathogenic signal and host response. Still, the validation of the proposed mechanisms demands additional experimental studies. Lastly, we also identified other potential virulence factors in the C. cacaofunesta genome. Altogether, our work contributes to the understanding of the mechanisms underlying phytopathogenicity in tropical crops, providing new perspectives for interference with plant-pathogen interactions.
Abbreviations
AAs:

Auxiliary activities
BLAST:

Basic local alignment search tool
Bp:

biological process
CAZymes:

Carbohydrate-active enzymes
CBMs:

Carbohydrate-binding modules
Cc:

Cellular component
CDCs:

conditionally dispensable chromosomes
CDD:

Conserved domains
CEs:

Carbohydrate esterases
CMC:

Carboxymethyl cellulose
CWC:

Ceratocystis wilt of cacao
DAG:

Diacylglycerol
FPA:

Filter paper assay
GHs:

Glycoside hydrolases
GO:

Gene ontology
GPI:

Glycosylphosphatidylinositol
GTs:

Glycosyl transferases
In 1,4,5-P3:

Inositol 1,4,5-triphosphate
KEGG:

Kyoto Encyclopedia of Genes and Genomes
Mf:

molecular function
NCBI:

National Center for Biotechnology Information
NPP1:

necrosis-inducing protein
NR:

Non-Redundant GenBank Database
ORF:

Open read frame
PI 4,5-P2:

PI 4,5-bisphosphate
PI 4-P:

PI 4-phosphate
PI:

Phosphatidylinositol
PI-PLCs:

Phosphatidylinositol-specific phospholipases-C
PLs:

Polysaccharide lyases
RPKM:

Reads per kilobase of exons per million
SXM:

simulated xylem medium
TEs:

transposable elements
Declarations
Acknowledgments
The authors acknowledge the financial support from CNPq, CAPES and FAPESP grants for the present study. We would like to thank Dr. Thomas Harrington, from the Department of Plant Pathology at the Iowa State University, who generously donated C. cacaofunesta strain C1593 and contributed with information and very helpful discussions on the genus Ceratocystis. We also thank Lucas Salera Parreiras for his great contribution in the revision and correction of the manuscript. Finally, we would like to give posthumous thanks to Bruno Vaz de Oliveira, a dear friend who collaborated in the identification of secreted proteins using LC-MS / MS.
Funding
This work was supported by FAPESP - Fundação de Amparo à Pesquisa do Estado de São Paulo, Brazil – grants numbers 2009/50119-9 and 2009/18467-7; Center for Computational Engineering and Sciences - FAPESP/Cepid, grant number 2013/08293-7, CNPq - Conselho Nacional de Desenvolvimento Científico e Tecnológico- (CNPq), grant number 142357/2014-6 and CAPES - Comissão de Aperfeiçoamento de Pessoal do Nível Superior, grant number PNPD20131765.
Availability of data and materials
The genome sequence data are available with the GenBank access number PEJQ00000000. The transcriptome data are available in SAMN07835666.
Authors' contributions
EPLM: preparation of the manuscript, experimental secretome and data analysis; OGC: coordination of the molecular and bioinformatics analysis, data analysis as well as preparation and organization of the manuscript; JJ: evolutionary and bioinformatic analysis and made all the figures; LCN: performed bioinformatic analysis; MFC: supervised and made bioinformatic analysis; PJPLT: performed the DNA and RNA sequencing and revision of the manuscript; JCA: TEs and RIP analysis; RAT: collaboration in bioinformatics analysis; PMTF: collaboration in bioinformatics analysis; GMAL: performed the protein molecular modeling studies; RVCG: supervised the protein molecular modeling studies, TLRC: analysis of cellulases production by fungi; AFPL: collaboration in the generation of LC-MS/MS data; PM: collaboration in DNA and RNA sequencing; GAGP: Head researcher and project manager. All of the authors have read and approved the final version of the manuscript.
Ethics approval and consent to participate
Not applicable.
Consent for publication
Not applicable.
Competing interests
The authors declare that they have no competing interests.
Publisher's Note
Springer Nature remains neutral with regard to jurisdictional claims in published maps and institutional affiliations.
Open AccessThis article is distributed under the terms of the Creative Commons Attribution 4.0 International License (http://creativecommons.org/licenses/by/4.0/), which permits unrestricted use, distribution, and reproduction in any medium, provided you give appropriate credit to the original author(s) and the source, provide a link to the Creative Commons license, and indicate if changes were made. The Creative Commons Public Domain Dedication waiver (http://creativecommons.org/publicdomain/zero/1.0/) applies to the data made available in this article, unless otherwise stated.
Authors' Affiliations
(1)
Genomic and Expression Laboratory, Department of Genetics, Evolution and Bioagents, Institute of Biology, University of Campinas, Campinas, Brazil
(2)
Centro Nacional de Processamento de Alto Desempenho, Universidade Estadual de Campinas, Campinas, Brazil
(3)
Departamento de Ciencias Biológicas, Escuela de Ciencias, Universidad EAFIT, Medellın, Colombia
(4)
Centro de Biotecnologia Molecular Estrutural, Instituto de Física de São Carlos, Universidade de São Paulo, São Paulo, Brazil
(5)
Brazilian Biosciences National Laboratory (LNBio) CNPEM, Campinas, Brazil
(6)
High-Throughput Sequencing Facility, University of North Carolina, Chapel Hill, USA
(7)
Present Address: Department of Biology, University of North Carolina at Chapel Hill, Chapel Hill, USA