Methodology article
Open Access
A novel regulatory event-based gene set analysis method for exploring global functional changes in heterogeneous genomic data sets
Received: 14 November 2008
Accepted: 16 January 2009
Published: 16 January 2009
Abstract
Background
Analyzing gene expression data by assessing the significance of pre-defined gene sets, rather than individual genes, has become a main approach in microarray data analysis and this has promisingly derive new biological interpretations of microarray data. However, the detection power of conventional gene list or gene set-based approaches is limited on highly heterogeneous samples, such as tumors.
Results
We developed a novel method, the regulatory e vent-based G ene S et A nalysis (eGSA), which considers not only the consistently changed genes but also every gene regulation (event) of each sample to overcome the detection limit. In comparison with conventional methods, eGSA can detect functional changes in heterogeneous samples more precisely and robustly. Furthermore, by utilizing eGSA, we successfully revealed novel functional characteristics and potential mechanisms of very early hepatocellular carcinoma (HCC).
Conclusion
Our study creates a novel scheme to directly target the major cellular functional changes in heterogeneous samples. All potential regulatory routines of a functional change can be further analyzed by the regulatory event frequency. We also provide a case study on early HCCs and reveal a novel insight at the initial stage of hepatocarcinogenesis. eGSA therefore accelerates and refines the interpretation of heterogeneous genomic data sets in the absence of gene-phenotype correlations.
Keywords
Gene OntologyTranscriptomic ChangePartek Genomic SuitEarly HCCsPositive False Discovery Rate
Background
In the past decade microarray technology has become a popular tool for identifying differentially expressed genes (DEGs) associated with a given phenotype or sample classification. The biological interpretation of transcriptomic changes is commonly revealed by gene function annotation enrichment analysis based on a list of statistically selected DEGs. It is also called as Individual Gene Analysis (IGA) by Nam [1]. However, since only the most significant portion of DEGs was taken into account, the small set of genes might not perfectly represent the whole transcriptomic changes [1–5]. Indeed, Pan et al. showed that the selections of DEGs significantly affected the IGA results [6]. In addition, IGA usually tests functional changes by annotation enrichment methods such as hypergeometric test. These algorithms equally count each DEG so that the significance levels of gene-phenotype correlation are flattened [2].
Recently, gene set-based approaches have been proposed to overcome the drawbacks of IGA [1, 3, 7]. In principle, these approaches measure the gene-phenotype correlations (e.g. t-statistic) of every gene in a predefined gene set (GS), usually according to the Gene Ontology (GO) categories or the sets of genes representing biological pathways in the cell, and then give a GS score to represent its changes associated with the phenotype [1]. The statistical significance of the GS score can be determined by two different null hypotheses: competitive (Q1) and self-contained (Q2). In Q1 test, it assumes the genes in a gene set have the same level of association with the phenotype compared with the rest of the genes; in Q2 test, it assumes no gene in the gene set is associated with the phenotype. Although the gene set-based approaches are promising in deriving new information, their limitations and the underlying hypotheses have been discussed intensively. For example, Q1 approaches are very sensitive to correlation structure in gene sets that tend to give false positives [7]. Q2 approaches have low power of detection in highly varying samples such as clinical data sets [3]. Moreover, in Q2 test, it can be detected as significant by chance when the size of the gene set is large. Another approach, called gene set enrichment analysis (GSEA), which is a combination of two hypotheses (mixed model, Q3) has become one of the most mentioned and used gene set-based approaches [5, 8]. However, a series of reports have also shown that GSEA inherited the limitations from both null hypotheses [3, 8, 9].
Although many gene set-based approaches and gene-based approaches have been developed, all of them are based on the same rationale, i.e., the detection of gene-phenotype correlation (Figure
1
). This rationale is based on the assumption that samples with the same phenotypic change are homogenous and their gene expressions are correlated with their phenotypes. Such assumption is quite applicable for many cases, such as treatment versus control cell culture studies, but perhaps not always suitable for heterogeneous clinical samples, such as tumors versus normal tissues. Tumors are usually defined according to their common morphological and functional characteristics, such as abnormal growth, immortality, invasion etc. However, it is known that tumors have heterogeneous gene expression level even though they originated from the same tissue type and stage. This heterogeneity implies that those common characteristics could be regulated by various mechanisms. Thus, the functional changes might not be revealed by gene-phenotype correlation tests, and most gene-/gene set-based approaches based on this rationale cannot be applied on such data sets.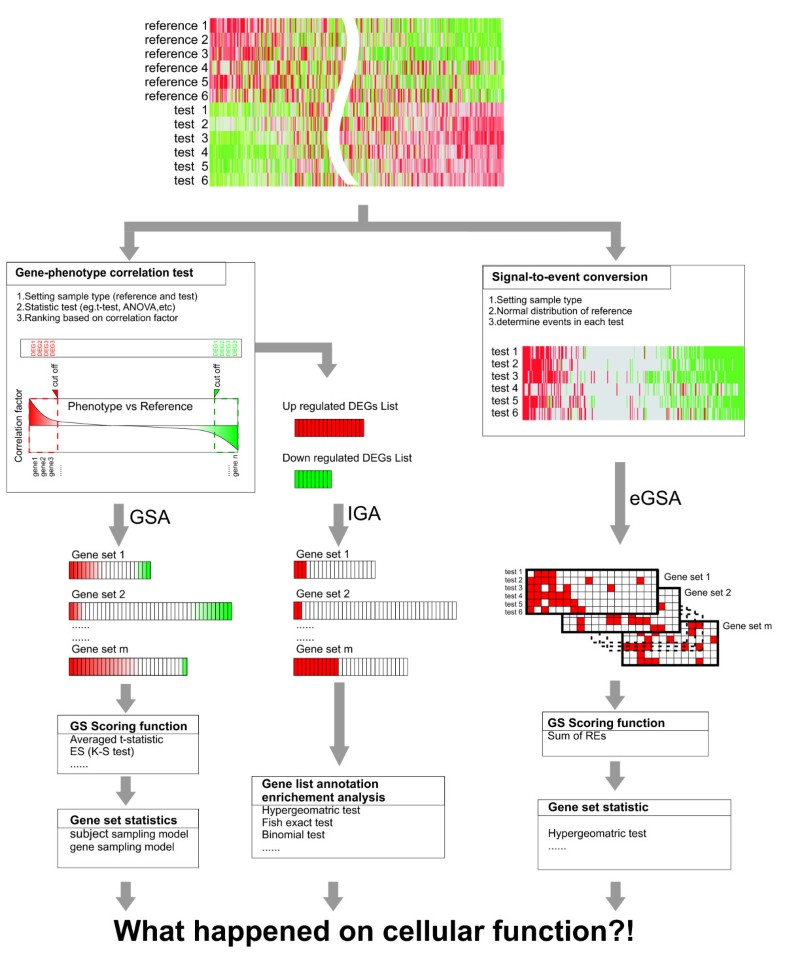 Here, we propose a novel method, called regulatory e vent-based G ene S et A nalysis (eGSA), to evaluate the significantly changed functions or pathways from diverse genomic data sets. eGSA is not based on the gene-phenotype correlations, but rather on gene expression regulatory events which are determined by comparing each gene expression level with the corresponding reference data set (Figure 1). Total regulatory events in a given gene set (GS) are counted as a GS score and then the significance of GS is tested by Q1 null hypothesis using hypergeometric test. Comparing with the approaches based on gene-phenotype correlation, we show in this study that eGSA can successfully derive new functional information from gene expression profiles that are very heterogeneous in nature.
Conclusion
The common transcriptomic heterogeneity of tumor reduces the detection power of gene-list or gene-set analysis to identify functional patterns of transcriptome profiles. We developed eGSA, a novel method based on regulatory events, to overcome such limitations. eGSA is insensitive to threshold bias and can provide more robust and precise results than IGA. These properties make eGSA an excellent approach to analyze complex tumor transcriptome profiles.
eGSA overlooks the highly heterogeneous regulatory mechanisms and directly targets the question "what happened on cellular functions?". Once functional issues are addressed, the regulatory event frequency can be applied to highlight potential regulatory routines in the gene network and to present their prevalent regulatory mechanisms. The identification of these regulatory routines will greatly accelerate the development of pharmaceutical targeting strategies and personalized therapy.
Along with this study, we also noticed a few limitations of eGSA. First, the determination of regulatory events is heavily dependent on a stable and highly correlated reference pool. This requirement cannot always be met in many cases, such as the comparison between two heterogeneous sample types. Second, the biological interpretation of eGSA relies heavily on the definition and composition of a gene set. Several unsolved problems, such as name-space issues, imprecise or incorrect annotations, will interfere with eGSA results. It still lacks an optimization process to avoid these problems so far. Finally, like most gene set-based analysis, eGSA counts the contribution of each gene in biological regulations equally. This equality is not always true in a cell because certain genes are more crucial in changing the whole cellular function than others. Hence, an advanced weighting algorithm of gene set definition remains to be developed for more precise biological function interpretation.
Methods
Data collections and preprocessing
Six independent data sets (Normal, HCC1, HCC2, Tumor1, Tumor2, Tumor3), including one normal tissue data set (GSE3526), two HCC data sets (E-TABM-36 and GSE6764), and data sets for other three tumor types: thyroid cancer (GSE3678), colon cancer(GSE4107) and lung cancer (GSE7670), were downloaded from two public archives (NCBI GEO [32] and ArrayExpress [33]). The sample accession numbers and tissue types are listed in Additional file 5. All data were implemented in Affymetrix U133A and U133 Plus 2.0 platform, and the raw data (.CEL) were normalized by RMA algorithm using statistic software Partek® Genomics Suite™ (Partek Inc., St. Louis, MO, USA). Affymetrix probe set IDs were converted to UniProt IDs before mapping onto the GO database. The expression level of each UniProt ID (gene) is the average of the corresponding probe set signals. In total, 26300 genes were summarized from 54675 probe sets of U133 plus 2.0 platform and 18033 genes were annotated in GO.
Gene set (GS) definition
GS is comprised of genes with the same GO term. By using the biological process category of GO, there are 4903 GSs encapsulated from the Affymetrix U133 Plus 2.0 platform. After excluding the GSs containing less than 10 genes, 1643 GSs were used for GS-based analysis. The GS mapping, gene ID converting and summarization were processed by Microsoft Access 2007 and VBA.
The measurement of sample heterogeneity
We measured the Pearson dissimilarity distance (defined as [1 - r]/2, where r is the Pearson correlation) to present the transcriptome difference between two samples. The heterogeneity of a sample type was presented by the mean of distances between paired samples. The transcriptomic change between two sample types was presented by the mean of all pairwise distances between members of the two groups concerned. Multidimensional scaling plot (MDS) was used to illustrate the distances among samples in a data set [10]. The calculation of Pearson dissimilarity distance and MDS plotting were performed using the statistical software Partek Genomic Suit.
The measurement of gene-phenotype correlation
In homogeneous data sets, the gene-phenotype correlations were measured by the Student's t-test. Alternatively, Welch's t test was applied for the heterogeneous data set due to the possible unequal variance observed in the two samples types. The t- statistic of each gene was applied for GSA scoring (average t-statistics) and t-distribution plot. For detecting differentially expressed genes, the multiple-test correction of p-value was performed by positive false discovery rate (q-value) [34] and genes were filtered by a given q-value threshold. The t- statistic of genes and positive false discovery rate (q-value) were calculated by the Partek Genomic Suit.
Signal-to-event conversion
In a data set, samples were classified into test and reference groups. The statistical significance of gene signal (x) in a test sample was estimated by the cumulative probability distribution of the normal distribution. The signal mean (μ) and standard deviation (σ) of reference sample pool were calculated and applied to cumulative probability distribution function in Microsoft Excel, NORMDIST(x, μ, σ, True). The multiple-test correction of p-values was performed by q-value. The significant signal change, as an expression regulatory event (RE), was determined by a given significance cut-off. According to the regulated direction, RE was defined as up-regulatory event (up-RE) or down-regulatory event (down-RE).
Event-based gene set analysis (eGSA)
eGSA contains two processes to estimate the significance level of a gene set (GS): (1) GS scoring and (2) Gene set statistic (Figure 1).
(1) GS scoring
In an event matrix, up-regulatory event (RE) frequency and down-RE frequency were calculated respectively as:
Gene RE frequency = ΣRE j /j,
where j is the sample number of a given test sample type. A GS score (k) is the sum of gene RE frequency in a GS and calculated as:
k = ΣRE ij /j,
where i is the gene number of a GS.
(2) Gene set statistic
The probability of observing at least
k
from a particular GS is tested by hypergeometric distribution.
where m is the total gene number in a GS, N is the total gene number in a microarray platform, and n is the average REs in a sample type. The calculations of hypergeometric test were performed by R packages http://www.r-project.org/.
Simulated null data set
We generated a null data set to mimic random variation of a testing data set. The null data set has the same sample number and gene number as the test data set but its signal values were randomly sampled from normal distribution. The simulated data set was generated by using a standard function, NORMSINV(RAND), in Microsoft Excel 2007.
Abbreviations
DEG:

differentially expressed gene
IGA:

individual gene analysis
GSA:

gene-set analysis
GS:

gene set
eGSA:

event-based gene set analysis
RE:

expression regulatory event
GO:

Gene Ontology.
Declarations
Acknowledgements
This work is supported by grants from the Nation Science Council (NSC), Taiwan (NSC95-3112-B-010-006, NSC 96-3112-B-010-012 and NSC 95-2321-B-010-005), in part by another grant from the Ministry of Education, Aim for the Top University Plan. We also acknowledge the efforts of Wurmbach, E., Roth, R.B., Boyault, S., Hong, Y., Ismael, R. and Su, L et. al. for their valuable microarray data.
Authors' Affiliations
(1)
Institute of Microbiology and Immunology, National Yang-Ming University, Taipei, Taiwan
(2)
VGH Yang-Ming Genome Research Center, Taipei, Taiwan
(3)
Institute of Biochemistry and Molecular Biology, National Yang-Ming University, Taipei, Taiwan
(4)
Medical Research & Education Division, Taipei City Hospital, Taipei, Taiwan
Copyright
© Tung et al; licensee BioMed Central Ltd. 2009
This article is published under license to BioMed Central Ltd. This is an Open Access article distributed under the terms of the Creative Commons Attribution License (http://creativecommons.org/licenses/by/2.0), which permits unrestricted use, distribution, and reproduction in any medium, provided the original work is properly cited.