Research article

Open Access
Statistical aspects of discerning indel-type structural variation via DNA sequence alignment
Received: 13 April 2009
Accepted: 5 August 2009
Published: 5 August 2009
Abstract
Background
Structural variations in the form of DNA insertions and deletions are an important aspect of human genetics and especially relevant to medical disorders. Investigations have shown that such events can be detected via tell-tale discrepancies in the aligned lengths of paired-end DNA sequencing reads. Quantitative aspects underlying this method remain poorly understood, despite its importance and conceptual simplicity. We report the statistical theory characterizing the length-discrepancy scheme for Gaussian libraries, including coverage-related effects that preceding models are unable to account for.
Results
Deletion and insertion statistics both depend heavily on physical coverage, but otherwise differ dramatically, refuting a commonly held doctrine of symmetry. Specifically, coverage restrictions render insertions much more difficult to capture. Increased read length has the counterintuitive effect of worsening insertion detection characteristics of short inserts. Variance in library insert length is also a critical factor here and should be minimized to the greatest degree possible. Conversely, no significant improvement would be realized in lowering fosmid variances beyond current levels. Detection power is examined under a straightforward alternative hypothesis and found to be generally acceptable. We also consider the proposition of characterizing variation over the entire spectrum of variant sizes under constant risk of false-positive errors. At 1% risk, many designs will leave a significant gap in the 100 to 200 bp neighborhood, requiring unacceptably high redundancies to compensate. We show that a few modifications largely close this gap and we give a few examples of feasible spectrum-covering designs.
Conclusion
The theory resolves several outstanding issues and furnishes a general methodology for designing future projects from the standpoint of a spectrum-wide constant risk.
Keywords
Structural Variation
Illumina Genome Analyzer
Fosmid Library
Insert Length
Physical Coverage
Background
The relevance of genomic structural variation (SV) to human medical disorders is well-known [1, 2] and efforts are starting to focus more systematically on characterizing SV and its implications [3]. Recent advances in technology [4], combined with the availability of the human genome sequence [5], are now opening dramatic new avenues of SV research [6–12]. These developments collectively point to the pending feasibility of investigating SV over its entire size spectrum. The most comprehensive projects will locate and identify variants, sequence them, and finally establish their statistical characteristics within a population [9].
Broadly speaking, SV encompasses translocations, inversions, and copy number variations and other types of inserted and deleted sequences (indels). Here, we focus on the last category, which is believed to occur the most frequently [
6
]. Historically, cytogenetic techniques were used to examine instances of SV that were sufficiently coarse so as to be visible under a microscope [
13
]. Array technologies were later used heavily, but these platforms were still not able to reliably capture alterations well below 40 kb [
14
]. More recently, Volik
et al
. [
15
] proposed a procedure based on paired-end sequences that can detect much smaller variants, depending upon the type of sequence insert one employs. The scheme is remarkably straightforward in concept, relying on the fact that if the subject genome contains an insertion or deletion structural variant (ISV or DSV, respectively), the length statistics of any paired-ends aligned to a reference genome will differ from those of the progenitor library. Specifically, inserts would appear to be longer and shorter on average, respectively, for DSV and ISV (Fig.
1
). The method basically furnishes a metaphorical caliper for observing the tell-tale length discrepancies that characterize SV.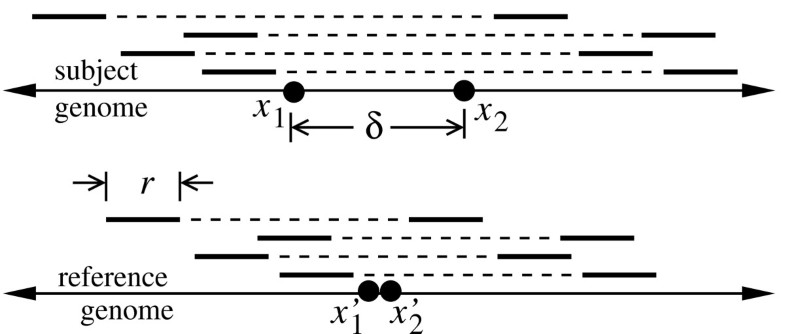 Although investigators are actively pursuing this technique [6–12], it is still somewhat new and its conceptual simplicity actually belies a number of latent complications. Alignment tasks are not trivial [16, 17], nor are accurate descriptions of a host of statistical issues. For instance, breakpoint localization has only been examined under the idealization of constant insert lengths [18]. Gaussian length distributions provide a much better empirical fit. Indeed, projects routinely invoke precisely this assumption, subsequently exploiting elementary Gaussian thresholds to define their SV detection framework. For example, a common rule has been to declare SV if the aligned average length differs from the library average by at least 3 standard deviations [6, 10, 11, 15]. This threshold implies a confidence interval of slightly better than 99%, or equivalently, the chance of committing a false positive classification error of α < 1%. Other procedures call for considering inserts more than 2 deviations from the average [17].
In actuality, the statistical aspects of this problem are rather more complicated than what the above practices would suggest. One of the outstanding issues is coverage, which current theory ignores entirely [
6
,
10
]. Traditional fixed-length processing models [
19
–
22
] are not particularly useful here because the local covering dynamics will depend upon the variation of insert lengths in the library. While the role of variability has actually been recognized for some time [
20
,
23
], it has not been formally investigated much beyond the elementary uniform distribution model [
24
,
25
]. Consequently, there is little understanding of how the main statistical classifiers,
α
and
β
(Table
1
), are affected by Gaussian variance through the mechanism of coverage. A subtext to this point is that the statistics of ISV versus DSV are not symmetric, as is commonly assumed [
6
,
10
,
11
,
15
]. Finally, it appears that there have been no comprehensive studies related to the statistical power of the method or to how the spectrum of SV sizes can be effectively managed in a project.
Table 1
Notation for Structural Variation (SV) statistics
| Variable | Meaning |
| --- | --- |
| Probabilistic Descriptors of SV Detection | |
| α | probability of false-positive errors |
| β | probability of false-negative errors |
| Genomic and Project Parameters | |
| λ | average insert length in a Gaussian library |
| σ | standard deviation in a Gaussian library |
| δ | length of an instance of structural variation |
| r | (constant) sequencing read length |
| τ | difference threshold specified for power analysis |
| N | number of inserts processed |
| G | haploid subject genome length |
| m | minimum admissible insert size (Eq. 5) |
| ρ | haploid physical coverage (≡ N λ/G) |
| Labels Defining Types of SV | |
| ISV | insertion SV |
| DSV | deletion SV |
| H t | heterozygous SV |
| H m | homozygous SV |
| Functions and Random Variables | |
| erf | Gaussian error function (see e.g. Ref. [28]) |
| exp | exponential function |
| | random number of inserts spanning an SV site |
| ℒ | random length of an individual insert |
| ℳ | random mean length of inserts spanning SV site |
All of these issues have important implications for the broader enterprise of SV research, from project planning and optimization to defining detection rules within SV algorithms. Here, we report the mathematical analyses that lead to a general a priori statistical characterization of ISV and DSV when using the length-discrepancy technique in conjunction with Gaussian libraries. We describe several novel aspects of SV detection revealed by this theory and comment on their implications for pending SV projects.
Results
Alignments to the reference genome for which one or more inserts seem either abnormally long or short may represent instances of SV (Fig. 1). In the theoretically ideal case of identical insert sizes, the task of SV identification is elementary. A single spanning insert is sufficient for an un-ambiguous assignment, i.e. α = 0, and the detection power is simply the local coverage probability, 1 - e-ρ, where ρ is the redundancy [19]. The actual problem is rendered more difficult by the natural length variability present in all libraries; It tends to obscure the ability to differentiate true SV-related length differences from those arising merely from the population sampling effect [26]. Although methodology-related artifacts can also arise, e.g. anomalous mappings of chimeric or extremely small reads, we do not explicitly investigate these second-order effects.
where λ and σ are the average and standard deviation of length, respectively, and exp is the exponential function. End-pair alignment of randomly selected inserts yields a sample whose members span a candidate SV region having a magnitude at least δ = |x2 - x1| (Fig. 1). The associated length statistics that we wish to describe are functions of several variables (Table 1) and are governed by what we call the sampling and covering problems. Their solutions can subsequently be combined in a number of ways to represent the various possibilities of considering SV.
The Sampling Problem
Let random variables

and ℳ represent the number of randomly selected inserts that span a candidate SV site and the mean length of these inserts, respectively. The sampling problem requires the determination of confidence intervals on ℳ with respect to the size of SV being examined. That is, if the probability of ℳ being within λ ± δ by virtue of random sampling effects is very high, then any actual average falling outside these limits would be significant. Such an observation would strongly imply an instance of SV of size at least δ.
Theorem 1 (Sampling Probability)
Define the null hypothesis,
h
0
, as the absence of SV of size
δ
. Given
k
inserts spanning

, the two-tailed test for
h
0
is
where erf is the Gaussian error function [
28
]. Eq.
2
gives the sampling probability that a perceived event of ISV
∪
DSV will actually fall within the established confidence interval due to random sampling effects. Conversely, the sampling probability of either type of SV event considered alone, i.e. as a one-tailed test is
where these represent ISV and DSV, respectively.
The Covering Problem
The covering problem addresses the question of how many inserts span

and is complicated by several factors. First, there are non-trivial difficulties in the alignment process [16], necessitating several simplifying, but reasonable assumptions. Given fixed sequencing read lengths of r (Fig. 1), we do not consider cases in which a read, rather than its progenitor insert, intersects the boundaries of

. Such instances would lead to read-splitting in DSV and read-truncation in ISV. This scenario is actually the basis of an altogether different kind of detection technique [29], which we do not discuss here. So-called "singleton reads" can arise if the missing mate originated entirely within an ISV, and we briefly discuss this possibility further below.
The second complication is that the statistics of ISV and DSV are not actually symmetric, as is commonly presumed [6, 10, 11, 15]. For example, in the strictest case, we do not admit singleton reads in ISV, meaning the placement constraints are much more restrictive than for DSV. Lastly, the Gaussian model itself introduces certain mathematical difficulties.
Lemma 2 (Bernoulli Covering Probability)
Consider the event S in which a single insert of length l (Eq. 1) spans a site of SV. Let H m and H t represent the status of the SV as homozygous and heterozygous, respectively. If the genomic source has a haploid length G, the Bernoulli probabilities of S are
is the minimum admissible insert size and l ≥ m (Eq. 11).
If singleton reads are allowed for ISV, then m would actually be smaller than the expression given in Eq. 5, however, there is no reliable basis for measuring insert length in such cases, even for perfect, un-ambiguous alignments [16]. Consequently, there is an irreconcilable mismatch between the numbers of covering and sampling inserts. In the interest of being able to make direct comparisons to the established symmetric models using a two-tailed test [6, 10, 11, 15], one could simply, though somewhat erroneously, take m = 2r for these cases.
Theorem 3 (Coverage Distribution)
is the general rate expression and N is the number of inserts that have been processed.
Statistical Models of SV
The classification problem for SV is characterized by the probabilities of incorrectly calling out an instance of SV (a false positive) or overlooking a true instance of SV (a false negative). Such scenarios are described by the traditional inference probabilities α and β, respectively [26], which can be constructed from the above components. We discuss some of the various combinations here, again taking the null hypothesis, h0, as the absence of SV of size at least δ.
Discussion
Here, we examine some of the consequent properties of the so-called length-discrepancy method that will have implications for future projects. This discussion is framed in terms of several insert types that are in either experimental or common use (Table
2
). We concentrate largely on the most conservative event from the standpoint of detection: heterozygous insertion.
Table 2
Representative insert types for discovery over the SV spectrum
| insert type | λ (kb) | COV (%) | r (bp) |
| --- | --- | --- | --- |
| Illumina GA short a | 0.25 | 12 | 50 |
| Illumina GA intermediate b | 3 | 12 | 50 |
| 454 c | 3.2 | 25 | 250 |
| Illumina GA long d | 10 | 12 | 50 |
| fosmid e | 39.9 | 7 | 600 |
| BAC f | 136.4 | 21 | 600 |
Conclusion
Our theory describes SV statistics in more general terms than currently available, though it still depends upon a number of idealizations for the sake of tractability. Specifically, the covering process is taken to be independently and identically distributed. We also presume genome size is known a priori, which may not be the case for tumors. Finally, we do not account for mapping or sequencing errors, library complexity, the ability of algorithms to distinguish between the reads covering both alleles of a heterozygous SV site [17], instances of singleton, split, and truncated reads, etc. The strength of any predictions should be taken with these limitations in mind.
Design optimization is clearly important and we have only considered it from the rudimentary perspective of eliminating gaps in the SV size spectrum. Indeed, there are numerous possible designs for any spectral chart, as well as numerous charts that could be plotted by varying the types and numbers of libraries, values for α, etc. It would be quite useful to optimize on the basis of total project cost, but variation in library production and sequencing costs among different insert types, lab environments, production methods, bio-economical feasibility of minimizing COV for inserts, etc. places this goal beyond the present scope. Results shown here suggest an intermediate number of libraries, i.e. three to five, will typically give the best results. Too few will incur extremely large per-library redundancies because of spectral gaps and the asymptotic nature of spectral coverage (Fig. 6), while too many will result in unacceptably high production costs. Very roughly speaking, each insert type should probably be responsible for up to an order of magnitude of SV size.
Aside from the project design aspects, our theory should also be useful for SV algorithms. Many algorithms still follow the symmetric assumption where DSV and ISV are considered to be simple opposites [17], though they clearly are not. Bayesian classifiers might invoke Thm. 3 in calculating prior probabilities. The theory might also be useful in helping to pick optimal threshold values, for example with respect to detection power, as mentioned above. Finally, the overall design space is enormous and certainly worth further exploration, especially in conjunction with better bio-economical information on the feasibility of reducing COV for Illumina GA libraries. Future projects could carry out such investigations for neighborhoods of interest in a fairly mechanical fashion.
Methods
This section furnishes proofs of the above theorems and describes the analytical and numerical methods used. These mathematical esoterica can be skipped by the uninterested reader.
Abbreviations
SV:

structural variation
COV:

coefficient of variation.
Declarations
Acknowledgements
Discussions of SV at the Philadelphia Thousand Genomes Meeting (November 2008) with Gonçalo Abecasis, Evan Eichler, Matthew Hurles, Gabor Marth, and Paul Scheet are gratefully acknowledged. The authors also wish to thank Mike McLellan and Ken Chen for additional discussions and comments on the draft manuscript and Elaine Mardis, who was one of the first to publicly pose the spectral design question. This work was partially supported by grant HG003079 from the National Human Genome Research Institute (R. K. Wilson, PI).
Authors' Affiliations
(1)
The Genome Center and Department of Genetics, Washington University, St Louis, USA
Copyright
© Wendl and Wilson; licensee BioMed Central Ltd. 2009
This article is published under license to BioMed Central Ltd. This is an Open Access article distributed under the terms of the Creative Commons Attribution License (http://creativecommons.org/licenses/by/2.0), which permits unrestricted use, distribution, and reproduction in any medium, provided the original work is properly cited.