Research article

Open Access
Complexity of the MSG gene family of Pneumocystis carinii
Received: 18 November 2008
Accepted: 7 August 2009
Published: 7 August 2009
Abstract
Background
The relationship between the parasitic fungus Pneumocystis carinii and its host, the laboratory rat, presumably involves features that allow the fungus to circumvent attacks by the immune system. It is hypothesized that the major surface glycoprotein (MSG) gene family endows Pneumocystis with the capacity to vary its surface. This gene family is comprised of approximately 80 genes, which each are approximately 3 kb long. Expression of the MSG gene family is regulated by a cis-dependent mechanism that involves a unique telomeric site in the genome called the expression site. Only the MSG gene adjacent to the expression site is represented by messenger RNA. Several P. carinii MSG genes have been sequenced, which showed that genes in the family can encode distinct isoforms of MSG. The vast majority of family members have not been characterized at the sequence level.
Results
The first 300 basepairs of MSG genes were subjected to analysis herein. Analysis of 581 MSG sequence reads from P. carinii genomic DNA yielded 281 different sequences. However, many of the sequence reads differed from others at only one site, a degree of variation consistent with that expected to be caused by error. Accounting for error reduced the number of truly distinct sequences observed to 158, roughly twice the number expected if the gene family contains 80 members. The size of the gene family was verified by PCR. The excess of distinct sequences appeared to be due to allelic variation. Discounting alleles, there were 73 different MSG genes observed. The 73 genes differed by 19% on average. Variable regions were rich in nucleotide differences that changed the encoded protein. The genes shared three regions in which at least 16 consecutive basepairs were invariant. There were numerous cases where two different genes were identical within a region that was variable among family members as a whole, suggesting recombination among family members.
Conclusion
A set of sequences that represents most if not all of the members of the P. carinii MSG gene family was obtained. The protein-changing nature of the variation among these sequences suggests that the family has been shaped by selection for protein variation, which is consistent with the hypothesis that the MSG gene family functions to enhance phenotypic variation among the members of a population of P. carinii.
Keywords
Core Sequence
Nonsynonymous Substitution
Expression Site
Plasmid Library
SYBR Green Fluorescence
Background
Pneumocystis carinii is a fungal microbe that is found in the lungs of laboratory rats [1–6]. P. carinii appears to be specific to rats because it is not found in other species of mammals and fails to establish itself when introduced into immunodeficient mice [7], which have their own species of Pneumocystis, called P. murina [8]. P. carinii is morphologically and phylogenetically closely related to P. murina, both of which are somewhat less closely related to the human pathogen, Pneumocystis jirovecii, which causes Pneumocystis pneumonia in individuals with impaired immune function, such as patients suffering from Acquired Immunodeficiency Syndrome (AIDS) [3, 9–15]. P. carinii and P. murina can cause pneumonia in their hosts, rats and mice, respectively, if these host animals lack a robust immune system [16–19].
While P. carinii can cause disease in the absence of a normal immune system, rats that lack such a system are probably not its normal ecological niche. It has been established that P. carinii organisms can persist for months in rats that are immunologically normal [20]. Normal laboratory rats are often colonized by P. carinii and show no obvious ill effects [5, 6]. Likewise, P. murina appears to be able to inhabit normal mice [16, 17, 21–23]. By analogy, P. jirovecii would be expected to make its home in normal humans, and data showing colonization of healthy people by P. jirovecii are accumulating [24–33].
None of the species of Pneumocystis that have been studied have been observed to proliferate much outside of the airway of the mammalian host in which they are found, and Pneumocystis DNA is very scarce in environments apart from mammals [34–38]. Thus, Pneumocystis species exhibit three features suggesting that they are obligate parasites of mammals: 1) They are extremely scarce outside of the mammalian lung. 2) They have fastidious growth requirements. 3) They can colonize immunocompetent hosts.
Parasites employ various methods to survive in the face of host defenses. One such method is programmed antigenic variation, which allows a population of parasites to quickly produce an organism whose surface differs from that of the others in the population. The VSG antigenic variation system in the protozoan parasite Trypanosoma brucei illustrates how gene families can be used to create phenotypic diversity within a population of eukaryotic parasites [39–46]. There are thousands of different VSG genes in the T. brucei genome [47]. These genes tend to be clustered together near telomeres. Only one VSG gene is transcribed in a given cell. The gene that is expressed changes frequently enough to make it probable that the host immune response, which is directed against the version of VSG present on the majority of parasites, does not destroy all of the parasites in the host. Changing which gene is expressed in T. brucei is often accomplished via DNA recombination, which alters an expressed VSG gene by replacing some or all of its DNA with DNA from a silent VSG gene [46, 48, 49].
The P. carinii MSG (Major Surface Glycoprotein) gene family is much smaller than the T. brucei VSG gene family, but exhibits structural and functional features similar to it. The P. carinii genome contains approximately 80 MSG genes, which are located at the ends of each of 17 chromosomes [50–55]. Pairwise comparisons of eleven complete P. carinii MSG showed that they are between 5 and 19% divergent, but share a number of features including a length of approximately 3 kb, a lack of introns and the presence of an invariant 5' sequence element called the CRJE, which is discussed further below [55]. Other short invariant sequence elements reside at multiple locations within the bodies of the 11 fully sequenced MSG genes, which tended to be least variable at their 3' ends. Most of the 11 genes have been shown to be members of gene clusters containing up to 3 MSG genes. The genes within a cluster were as different from one another as they were from genes in different clusters, suggesting that selection and or recombination has driven rapid diversification of P. carinii MSG genes [55].
MSG genes have been described in five other species of Pneumocystis, including the three that have received a species name other than " carinii", P. murina (found in the laboratory mouse) [56], P. wakefieldiae (found in the laboratory rat) [57] and P. jirovecii (found in human beings) [58, 59]. MSG sequences have also been reported from two additional presumptive Pneumocystis species (one from ferrets and one from a macaque) that do not yet have their own species name [60, 61].
Studies on restriction enzyme fragment length polymorphism have shown that there is considerable variation in the MSG gene families present in P. jirovecii organisms found in different human beings [59]. These finding are consistent with the idea that MSG genes evolve rapidly. Compared to P. jirovecii MSG genes, neither P. carinii nor P. murina MSG genes families exhibited much variation when studied by restriction enzyme analysis [59]. Nevertheless, it is possible that MSG gene families are evolving relatively quickly in each species of Pneumocystis, and that the more limited MSG diversity seen in P. carinii and P. murina reflects the isolation of laboratory rodents, a practice that would be expected to limit exposure to the populations of Pneumocystis that live in wild rodents. While keeping rodents in vivaria keeps exogenous microbes out, it would also tend to trap any endogenous parasites. It is common to find P. carinii at low levels in laboratory rats that have not been deliberately exposed to the fungus, indicating that a particular population of P. carinii can propagate within colonies of laboratory rats [5]. Therefore, the reason that P. carinii found in laboratory rats tend to be relatively genetically uniform may be that these microbes descended from those that were captured along with the rats that were used to establish laboratory colonies. By contrast, human beings would be expected to encounter multiple wild strains of P. jirovecii.
Expression of MSG gene families has been studied primarily in
P. carinii
, where several lines of evidence indicate that a single MSG gene is transcribed in a given
P. carinii
genome at a given time. Restricted transcription is accomplished via a cis-dependent mechanism that involves a unique telomeric site in the genome called the expression site. Only the MSG gene adjacent to the expression site is represented by messenger RNA [
52
,
53
,
62
,
63
]. The MSG protein on the surface of
P. carinii
organisms has been shown to vary and to be encoded by the MSG gene that is at the expression site [
64
,
65
]. The expression site contains the UCS (Upstream Conserved Sequence), a sequence found at the beginning of messenger RNAs encoding diverse MSG proteins [
62
,
63
] (Figure
1
). Immediately adjacent to and downstream of the UCS, there is short sequence, called the CRJE, which is conserved among all MSG genes, by definition [
52
,
62
,
66
].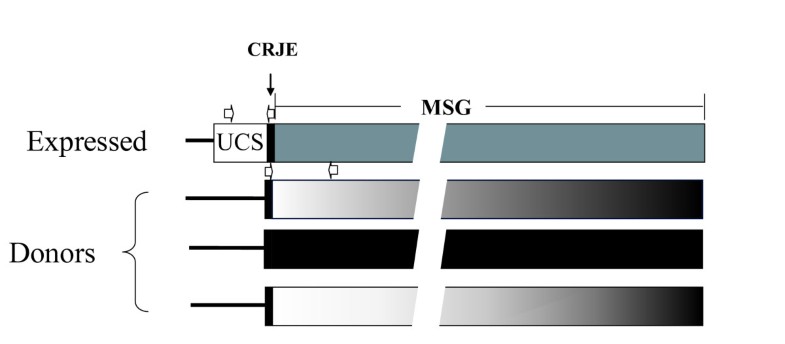 CRJE stands for "Conserved Recombination Junction Element" because it could be involved in recombination events that cause the MSG gene at the expression site to change [62]. The CRJE is present both at the expression site at the junction between the UCS and the expressed MSG gene, and in MSG genes that were not attached to the expression site (donor MSG genes) (Figure 1). The location and conservation of the CRJE suggests that it could function as a target of a site-specific event, such as a double-stranded break, which would be expected to increase recombination between the expression site and a donor MSG gene. However, there is no direct evidence for such events and the role of the CRJE in recombination is still a matter of speculation. Nevertheless, the CRJE serves to identify MSG genes, which otherwise resemble MSR genes, a P. carinii gene family that is not regulated by the MSG expression site [66–68].
A large variety of different MSG sequences have been observed at the expression site, indicating that recombination can install DNA from various silent donor MSG genes at this locus [52, 53, 69]. The types and frequencies of the inferred recombination events are not clear because the fastidiousness of P. carinii has prevented experiments in vitro, and experiments in rats are complicated by their tendency to be colonized by P. carinii, which has limited the utility of experiments that seek to observe phenotypic or genotypic switching by introducing into a rat a small population of P. carinii expressing a known MSG gene [69]. An alternative approach to understanding the MSG system would be to acquire a better understanding of the gene family. If all of the genes in the family are identified, it may be possible to infer how changes are produced at the expression site. For example, if recombination completely replaces the MSG gene at the expression site with an MSG gene from a donor site, then the sequences found at the expression site will match those in the donor gene database. However, if recombination were to alter a segment of the MSG gene that is at the expression site, then there will be sequences linked to the UCS that do not exactly match any of the donor genes.
Understanding the MSG gene family at the sequence level will also aid in assessing the function of this family. If its function is to confer variability, then MSG genes will have evolved under the influence of selection for variation in the proteins they encode (positive selection), a prediction that can be tested by sequence analysis.
Sequence data pertaining to the P. carinii MSG gene family are available, but the vast majority of the available data has not been analyzed [70]. Analysis of these data is challenging for several reasons. First, most of the data are in the form of shotgun reads which require assembly. However, standard assembly procedures are not designed to assemble genes from gene families, and might join reads that came from different genes. A second possible complication stems from the doubtful clonality of P. carinii populations. The organisms used to obtain genome sequence data came from the lungs of immunosuppressed rats that had been infected by constant exposure to other infected rats [63]. This system of obtaining infected rats has been in operation for decades. Hence, more than one genetic strain of P. carinii could have contributed to the DNA used to obtain genomic sequences, and a given MSG gene could be represented by more than one allele. Alleles are defined as different versions of the sequence located at a particular location on a chromosome (i.e., at a genomic locus). In absence of gene flow between two populations that were genetically identical at separation, mutation will cause allelic polymorphism to arise over time. The formation of allelic polymorphism would be accelerated if selection were to favor cells that sustained mutation, as could be the case for MSG genes given their probable role in generating phenotypic variation. P. carinii cells are thought to be haploid, and a given haploid cell can contain only one allele at each locus. Nevertheless, two strains might contain two different alleles of a particular gene at a particular locus. Therefore, if more than one genetic strain of P. carinii contributed to the sequence data, then a given MSG gene could be represented by more than one allele. Assembly programs would tend to amalgamate alleles into a single consensus sequence, thereby obscuring an important aspect of the sequence data.
A third problem is posed by the presence of MSR genes in the P. carinii genome. MSR and MSG genes are distinct, but highly related, and analysis of sequence data must be performed in a way that avoids sequence reads from MSR genes.
In the studies described herein, the first 300 basepairs of MSG genes were selected for analysis. Although MSG genes are more than 3000 basepairs long, analyzing the first 300 bps of MSG genes offered two important practical advantages. First, this segment of an MSG gene is specifically amplifiable using the CRJE as a primer-binding site (Figure 1). Hence, this approach avoids interference from MSR genes, which lack the CRJE. Second, the 300 bp amplicons are smaller than the average sequence read available in the largest database, that of the Pneumocystis genome project. Therefore, it seemed probable that sequence reads spanning the entire 300 bps would be numerous in the database, in which case it would be possible to cover the whole family without having to rely on assembly of contigs, which is problematic when dealing with gene families. Practical advantages aside, the 5-prime ends of MSG genes are of interest because recombination events that move DNA from donor genes to the gene at the expression site may be frequent in this region. Defining the full repertoire of donor MSG genes should allow this hypothesis to be tested in the future.
Discussion
The relationship between the 281 non-identical MSG sequences observed and the MSG gene family is subject to interpretation. The 281 sequences do not represent 281 different MSG genes because several lines of evidence indicate that there are only about 80 MSG genes in the genome. These lines of evidence include the results of previous quantitative hybridization experiments [50, 94] and the results of quantitative PCR experiments described herein. The 80-gene family model is also supported by analysis of telomeric regions, where MSG genes are clustered. There are 17 P. carinii chromosomes each with two telomeres. All 34 telomeres were observed to hybridize to an MSG probe suggesting that there is at least one MSG gene per chromosome end. If so, there must be at least 34 MSG genes in the genome [54]. Sequence data obtained from 6 large telomeric DNA segments cloned into cosmid vectors showed that the average number of MSG genes per sequenced chromosome end was 2.2 [55]. If the other 28 telomeres, which were not present in the cosmid library, adhere to the structures observed in the 6 cosmid clones, then the P. carinii genome contains approximately 75 MSG genes. While the exact number of MSG gene at the ends of 28 telomeres is not known, each of these locations in the genome appears to contain approximately the same number of MSG genes because all telomeric fragments emitted similar amounts of radiation after having been hybridized to a radioactive MSG probe [54].
Removing reads that could have contained an error reduced the number of different sequences to from 281 to 158, a number approximately 2 times larger than the estimated size of the gene family. Allelic variation would explain this apparent excess of sequence diversity. Allelic variation in P. carinii has been described before, but seems to be fairly rare among unique genes [95–98]. However, allelic variation would be expected to be more common in genes that are members of a family that confers the capacity to vary surface antigens at a high rate. Allelic variation would also explain the presence of majority and minority sequences in groups of sequences, and fits with the disproportionate presence of these sequences in different populations of P. carinii.
Grouping sequence reads that were 95% or more identical produced a set of 73 sequences that would appear to represent most if not all of the genes in the MSG family. This proposition is supported by three arguments.
First, the set of 73 sequences contained 13 of 13 previously obtained P. carinii MSG gene sequences [51, 55]. Obtaining this result would be improbable if the genome were to contain more than 91 different MSG gene sequences (p ≤ 0.047). However, if the gene copy-number is set at 77, then the observed result is ten times more probable (p = 0.5) (see Methods). Similarly, the proposition that the 73 core sequences describe all or nearly all of the MSG genes in the P. carinii genome was also supported by mark-recapture analysis [99], which produces an estimate of a gene family size from the number of sequences that are seen in two independently derived samples, which in this case were the ADAM and Lucigen libraries. The mark-recapture calculation suggested that the MSG gene family contains 85 genes. It should be noted, however, that the mark-recapture approach assumes that each MSG gene was equally likely to be observed. In fact, some MSG genes were observed numerous times while others were observed only once. The unevenness in the coverage of the gene family poses a major caveat when interpreting the accuracy of the results obtained with the mark-recapture analysis.
The second argument in favor of the proposition that the 73 sequences comprise a fairly complete picture of the family is that the methods used to produce the sequence reads would be expected to capture DNA segments from all MSG genes. The inserts in the plasmid libraries were generated by PCR that relied on priming from sequences (CRJE and C2) that are conserved among members of the gene family. By definition, MSG genes begin with a copy of the CRJE. Therefore, priming from the CRJE should amplify all MSG genes that contain a copy of the C2 region. Lack of the C2 region from one or more MSG gene is theoretically possible. However, analysis of sequences in the genome project database showed that the C2 primer binding site was present in all 448 sequence reads that contained the CRJE and were long enough to contain the C2 region. Therefore, if the genome contains MSG genes that would fail to be amplified by the primers employed, there are very few such genes. Even if the reliance on the presence of the C2 region had caused some genes to be excluded from the ADAM plasmid library, the genome project database would not be expected to be similarly deficient because this database was obtained by methods that did not rely on sequence conservation.
The third argument supporting the proposition that the 73 sequences comprise a fairly complete picture of the family is that the database of 581 sequence reads would seem to be large enough to virtually assure that all members of the family would be represented within it. Assuming that the gene family contains 80 genes, then the calculated probability of observing all family members by sampling 581 times is approximately 0.999. The exact size of the P. carinii MSG gene family is not known, but quantitative PCR experiments indicated that it contains no more than 90 genes. If there are 90 genes in the family, then the calculated probability of observing all family members by sampling 581 times is still very high, approximately 0.998. While the number of sequence reads obtained would seem to have been sufficient to produce a complete picture of the family, a caveat to this proposition arises from uncertainty about sample completeness. Sampling an 80-gene family 581 times should cover the family an average of 7 times. Therefore, the average coverage per gene should be approximately 7 fold. Yet, 31 of the different sequences in the set of 73 were seen only once, and the 10 largest groups of reads contained between 19 and 49 sequence reads each. These data depart significantly from expectations based on probability, which predict that no more than three of the genes would be represented less than twice or more than 14 times. Cloning bias is the probable cause of this deviation from expectation. It is commonly observed that some parts of genomes are relatively resistant to cloning in bacterial vectors. Another factor that probably contributed to the observed unevenness in coverage was that technical problems made it necessary to pursue the Pneumocystis genome project in a manner that would not be expected to produce equal coverage of the genome (See Methods). Whatever caused it, uneven coverage of the gene family would increase the chance of missing genes. New sequencing techniques that do not rely on cloning should help in addressing the possibility of missing data in the set of 73 sequences. Although control experiments showed that mis-incorporation of nucleotides and recombination during PCR are rare enough to discount these events as significant sources of the 31 sequences that were seen only once, the best way to confirm that a sequence is correct is to show that it can be reproducibly obtained. Therefore, more sequence data will be needed to confirm that the 31 singleton sequences are correct.
The set of 73 core MSG sequences contained three regions (CRJE, C1 and C2) where there was little to no variation in at least 16 contiguous nucleotide positions. Several other smaller regions (between 9 and 15 bp in length) also exhibited no variation among the 73 sequences. Conservation of these sequence elements cannot be ascribed to selection against changes in the encoded primary protein sequence because such selection would not prevent synonymous variation. Therefore, it would appear that the conserved nucleotides perform a function separate from and in addition to encoding an amino acid.
One possible function of conserved DNA sequence elements is to facilitate DNA recombination. Data described herein and previous studies indicate that donor MSG genes have recombined with each other [55, 59, 84]. Conserved sequence elements facilitate the DNA strand exchanges that occur during recombination. [100]. Conserved DNA sequence elements can also serve as targets for a site-specific nucleases, which generate a double stranded gap that is repaired via recombination with a related DNA sequences [101]. Such repairs are often called gene conversions because the DNA that fills the gap is copied from donor DNA while it is being inserted. Therefore the donor DNA remains unchanged. Sometimes gap repair also causes crossing-over [102]. Saccharomyces cerevisiae has several such nucleases including HO, Spo11 and I-Sce1 [103–106]. HO and Spo11 function in controlling mating type and meiotic recombination, respectively. Therefore, these types of enzymes are needed to perform fundamental functions, and it would not be surprising if P. carinii possesses site-specific nucleases. Another possible role for conserved sequence elements would be as sites for site-specific recombinases, which are enzymes that catalyze crossovers by facilitating breakage and reunion between two copies of the site recognized by the recombinase [107].
Comparing the MSG genes at the expression site to donor MSG genes might allow assessment of the roles of crossing-over and gene conversion in creating the sequence diversity at the expression site. For example, if the gene at the expression site were installed there by a reciprocal cross-over, then the gene that is at the expression site will have vacated its former locus and been replaced by the gene that was formerly at the expression site. On the other hand, if gene conversion causes a change at the expression site, then the same sequence will exist at both the expression site and the donor site.
While high conservation of nucleotide tracts in MSG genes might be needed to foster recombination, such conservation causes high conservation in certain parts of MSG proteins, which would seem problematic if the function of MSGs is to impart surface variation. However, the functional ramifications of diverse MSG proteins containing invariant regions will be influenced by other factors, such post-translational processing and three-dimensional structure. The region encoded by the UCS and CRJE appears to be present on the MSG proteins when they are first produced, but not present on MSG proteins on the cell surface [94]. The protein segments encoded by the C1 and C2 regions are rich in hydrophobic amino acids and are probably buried within the MSG molecule, it which case, they would be unlikely to be detected by the host immune system.
The nucleotides located between conserved regions varied to different degrees. The HV1 region was the most clearly delineated, being located between the CRJE and C1, which are both very highly conserved. Other hypervariable regions had less distinct borders. Sequence variation included base substitutions and INDELS. Substitutions often were nonsynonymous, a finding that suggests that selection has favored changes that change the MSG protein encoded [108]. Selection for variation is consistent with the idea that MSG genes confer the ability to deploy protective antigenic variation. High frequency protein-changing nucleotide variation has been observed to extend beyond the first 325 bps of MSG genes, and probably does so in most if not all MSG genes. Previous analysis of 11 complete MSG genes showed that they varied throughout their length and that positive selection caused much of this variation [55].
INDELS did not often alter the reading frame because the number of nucleotides involved in nearly all INDELS was divisible by 3. It is interesting to note that despite the great variation seen among the 581 sequence reads, nearly all of these reads contained an open reading frame encoding an MSG protein. These findings suggest that the entire gene family is under selective pressure to continue encoding intact MSG proteins that differ one from another.
Some of the regions in which INDELS were prevalent contained simple repeats, such as short run of A:T base pairs. Such mononucleotide repeats are more prone to change in size due to slippage of DNA polymerase during genome replication, repair and recombination [109]. However, most of the INDELS involved more complex sequences that did not appear to have been formed via interactions between short identical repeats.
Conclusion
A set of sequences that represents most if not all of the members of the P. carinii MSG gene family was obtained. The protein-changing nature of the variation among these sequences suggests that the family has been shaped by selection for protein variation, which is consistent with the hypothesis that the MSG gene family functions to enhance phenotypic variation among the members of a population of P. carinii.
Understanding the P. carinii MSG gene family at the sequence level provides an avenue through which to assess the function of this family, which is currently unknown, but presumably contributes to the ability of the fungus to parasitize its host, Rattus norwegicus. With the improved understanding of the family provided by the studies described herein, it should be possible to determine if changes at the expression site involve gene conversions, crossovers, or both. It should also be possible to learn more about the rate and mechanism of evolution of MSG genes, which would be expected to be occurring rapidly via selection for mutation and recombination.
Abbreviations
CRJE:

Conserved Recombination Junction Element
MSG:

Major Surface Glycoprotein
MSR:

MSG-related
UCS:

Upstream Conserved Sequence
HV1:

Hypervariable Region 1
VSG:

Variable Surface Glycoprotein
INDELS:

Insertions and/or deletions
Non syn:

non synonymous
Syn:

synonymous.
Declarations
Acknowledgements
This work was supported by grant R01AI36701 from the National Institutes of Health.
Authors' Affiliations
(1)
Department of Molecular Genetics, Biochemistry and Microbiology, University of Cincinnati College of Medicine, Cincinnati, USA
Copyright
© Keely and Stringer; licensee BioMed Central Ltd. 2009
This article is published under license to BioMed Central Ltd. This is an Open Access article distributed under the terms of the Creative Commons Attribution License (http://creativecommons.org/licenses/by/2.0), which permits unrestricted use, distribution, and reproduction in any medium, provided the original work is properly cited.