Research article

Open Access
Extending the models for iron and sulfur oxidation in the extreme Acidophile Acidithiobacillus ferrooxidans
Received: 17 May 2009
Accepted: 24 August 2009
Published: 24 August 2009
Abstract
Background
Acidithiobacillus ferrooxidans gains energy from the oxidation of ferrous iron and various reduced inorganic sulfur compounds at very acidic pH. Although an initial model for the electron pathways involved in iron oxidation has been developed, much less is known about the sulfur oxidation in this microorganism. In addition, what has been reported for both iron and sulfur oxidation has been derived from different A. ferrooxidans strains, some of which have not been phylogenetically characterized and some have been shown to be mixed cultures. It is necessary to provide models of iron and sulfur oxidation pathways within one strain of A. ferrooxidans in order to comprehend the full metabolic potential of the pangenome of the genus.
Results
Bioinformatic-based metabolic reconstruction supported by microarray transcript profiling and quantitative RT-PCR analysis predicts the involvement of a number of novel genes involved in iron and sulfur oxidation in A. ferrooxidans ATCC23270. These include for iron oxidation: cup (copper oxidase-like), ctaABT (heme biogenesis and insertion), nuoI and nuoK (NADH complex subunits), sdrA1 (a NADH complex accessory protein) and atpB and atpE (ATP synthetase F0 subunits). The following new genes are predicted to be involved in reduced inorganic sulfur compounds oxidation: a gene cluster (rhd, tusA, dsrE, hdrC, hdrB, hdrA, orf2, hdrC, hdrB) encoding three sulfurtransferases and a heterodisulfide reductase complex, sat potentially encoding an ATP sulfurylase and sdrA2 (an accessory NADH complex subunit). Two different regulatory components are predicted to be involved in the regulation of alternate electron transfer pathways: 1) a gene cluster (ctaRUS) that contains a predicted iron responsive regulator of the Rrf2 family that is hypothesized to regulate cytochrome aa3 oxidase biogenesis and 2) a two component sensor-regulator of the RegB-RegA family that may respond to the redox state of the quinone pool.
Conclusion
Bioinformatic analysis coupled with gene transcript profiling extends our understanding of the iron and reduced inorganic sulfur compounds oxidation pathways in A. ferrooxidans and suggests mechanisms for their regulation. The models provide unified and coherent descriptions of these processes within the type strain, eliminating previous ambiguity caused by models built from analyses of multiple and divergent strains of this microorganism.
Keywords
Blue Copper Protein
Quinone Pool
Basal Salt Solution
Heterodisulfide Reductase
petI Operon
Background
Acidithiobacillus ferrooxidans is an acidophilic, chemolithoautotrophic γ-proteobacterium that uses energy and electrons derived from the oxidation of ferrous iron (Fe(II)) and r educed i norganic s ulfur c ompounds (RISCs) for carbon dioxide and nitrogen fixation and other anabolic processes. It is a member of a consortium of microorganisms used for industrial copper recovery (bioleaching or biomining) and gold recovery (biooxidation) and contributes to the geobiochemical recycling of metals and nutrients in pristine and contaminated acid-rich environments.
When A. ferrooxidans requires reducing power it is confronted by a particularly challenging bioenergetic problem because the standard reduction half-potential of the Fe(II)/Fe(III) couple (+0.77 V at pH 2, the pH of the medium) is much more positive than that of the NAD(P)/NAD(P)H couple (-0.32 V at the cytoplasmic pH 7). This means that electrons have to be "pushed uphill" from Fe(II) to NAD(P) against the redox potential gradient (uphill pathway). The energy to accomplish this was proposed to come from the proton motive force that naturally occurs across the periplasmic membrane of A. ferrooxidans (outside = pH 2, inside = pH 7). It was further suggested that protons, entering the cell through a membrane associated ATP synthetase, could be consumed during the reduction of oxygen to water (2e- + 1/2 O2 + 2H+ → H2O) in which electrons for this reaction come from the oxidation of Fe(II) in a pathway that is thermodynamically favorable (downhill pathway). These ideas were first promulgated based upon theoretical considerations by Ingledew [1] but the model has been extended more recently and major parts of it are now supported by experimental evidence (reviewed in [2]).
According to the model (see Figure
1
), components involved in the downhill electron pathway from Fe(II) to oxygen include: an outer membrane high molecular-weight cytochrome
c
encoded by
cyc2
, a gene of unknown function (ORF1), a periplasmic soluble blue copper protein rusticyanin encoded by
rus
, a periplasmic membrane-bound dihemic cytochrome
c
4
encoded by
cyc1
and a terminal cytochrome oxidase of the
aa
3
-type encoded by the
coxBACD
gene cluster [
3
–
6
]. In
A. ferrooxidans
ATCC 33020 these genes are cotranscribed in an eight gene transcriptional unit, termed the
rus
operon that is upregulated in Fe(II)-grown cells [
5
,
7
]. Gene context analysis of the recently annotated genomic sequence of
A. ferrooxidans
type strain ATCC 23270 demonstrates that the
rus
operon is similarly organized in this strain [
8
].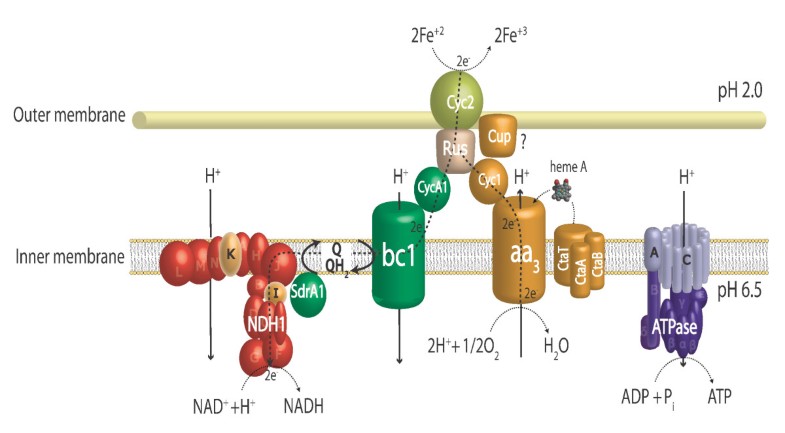 The uphill components include: a cytochrome bc1 complex (complex III, ubiquinol-cytochrome c reductase), the quinone pool and a NADH1 dehydrogenase complex (hereafter abbreviated to NADH complex) functioning in reverse [9–11]. Genetic and biophysical evidence obtained for A. ferrooxidans ATCC 19859 and ATCC 33020 support this view [11–13]. In these two strains, the genes encoding the bc1 complex have been shown to be part of a five-gene operon, termed the petI operon, mainly transcribed in Fe(II) conditions and organized as following: a diheme cytochrome c4 (cycA1), a short-chain dehydrogenase (sdrA1) of unknown function, a cytochrome b (petA1), an iron-sulfur protein Rieske (petB1), and a cytochrome c1 (petC1) [2, 12, 13]. Based on the cotranscription of the diheme cytochrome c4 gene (cycA1) with those encoding the bc1 complex, it was proposed that electrons from the diheme cytochrome c4 take a thermodynamically uphill pathway via the bc1 complex to a NADH complex driven energetically by proton motive force [2, 12–14] (see Figure 1). Adjacent to the petI operon, is a three gene (resBC and a hypothetical gene) operon in which ResBC are predicted to be chaperones involved in heme insertion in c-type cytochromes, possibly those involved in the maturation of the c1 cytochrome of the bc1 complex [12]. The petI operon is similarly organized and transcribed in A. ferrooxidans ATCC 23270 [14] supporting this model.
The bifurcation in the flow of electrons from Fe(II) to reduce either NAD (uphill) or O2 (downhill) has been proposed to occur at the level of rusticyanin, a small periplasmic blue copper protein [2, 13, 14] (see Figure 1). By adjusting the flow of electrons at this branch point, it was suggested that A. ferrooxidans could balance its requirements for NADH and ATP [9].
The components involved in both the uphill and downhill electron flow have been shown to form a Fe-oxidizing/O2-reducing supercomplex spanning both inner and outer membranes in an unnamed strain of A. ferrooxidans [15] supporting previous models. The supercomplex has also been suggested to include a copper containing protein (ORF1) physically associated with the periplasmic Cyc1 that is proposed to be involved in downhill electron flow. In addition, in vitro reconstitution of the iron oxidation system of the A. ferrooxidans type strain with rusticyanin, aa3-type cytochrome oxidase, the cytochromes c Cyc2 and Cyc1 has been reported recently [16].
Despite progress in understanding iron oxidation in the Acidithiobacillus genus, several lacunae in our knowledge persist, such as the identification of components involved in the proposed connection between the bc1/quinone complex and the NADH complex, the identification of the chaperones used for cofactor insertion into the relevant redox proteins, and the mechanisms and components regulating the electron flux via the downhill pathway to O2 versus the uphill pathway to the NADH complex.
Reduced inorganic sulfur oxidation is widespread in prokaryotes (reviewed in [17, 18]. However, in contrast to iron that occurs in only two oxidation states, sulfur exists in multiple states from -2 to +6, complicating identification of intermediates and relevant enzymes in sulfur oxidation. Also, some sulfur compounds can be oxidized abiotically adding further difficulties in resolving enzymatic steps from chemical changes. Despite these difficulties, several biological pathways for RISCs oxidation have been identified including the phylogenetically widespread sulfur oxidizing (sox) gene pathway (reviewed in [17]) and the archaeal type sulfur oxygenase reductase (sor) gene system (reviewed in [19]). However, neither sox, nor sor have been detected in the genome of A. ferrooxidans [2, 8], raising the question as to how this organism oxidizes RISCs.
Much of our knowledge of RISCs oxidation in A. ferrooxidans comes from enzyme assays performed many years ago on different strains, some of which await phylogenetic characterization or, in some cases, have not yet even been isolated as pure cultures [2]. Those that have been characterized form genetically diverse clusters with at least three phylogenetic groups [20–23]. This raises the possibility that current models of RISCs oxidation reflect a patchwork assemblage of predicted pathways and activities that may not exist in toto in any one A. ferrooxidans strains and perhaps more accurately reflect the pangenomic capacity of the genus Acidithiobacillus for RISCs oxidation.
Thus the current investigation was prompted by the need to generate a more comprehensive picture of iron and sulfur bioenergetics by searching for missing steps and predicting novel enzymatic and electron transfer components and to provide a coherent picture of these processes in one strain of A. ferrooxidans (type strain, ATCC 23270), facilitating the recognition of species variation in bioenergetic pathways.
Conclusion
Bioinformatic analysis coupled with gene transcript profiling extends our understanding of the iron and reduced inorganic sulfur compounds oxidation pathways in A. ferrooxidans.

Novel genes predicted to be involved in iron oxidation (Figure 1) include those potentially encoding: i) heme biosynthesis and insertion into the terminal electron acceptor cytochrome aa3 oxidase used in the downhill flow of electrons from Fe(II) to reduce oxygen to water, ii) subunits of the Fo ATP synthetase that may be an adaptation to extremely low pHs encountered during iron oxidation, iii) a copper-containing protein that may be involved in electron transfer or in copper insertion, iv) two subunits and one predicted accessory protein of the NADH complex that may promote the flow of electrons from the quinone pool to the NADH complex during uphill electron flow and v) two potential regulators of alternate electron pathways predicted to respond to iron and the status of the quinone pool respectively.

Novel genes predicted to be involved in RISCs oxidation (Figure 2) include those potentially encoding: i) three sulfurtransferases, ii) a heterodisulfide reductase complex, iii) an ATP sulfurylase and iv) a NADH complex accessory protein that may promote uphill electron flow from the quinone pool to the NADH complex during RISCs oxidation.

The models (Figures 1 and 2) provide unified and coherent descriptions of iron and RISCs oxidation and suggests mechanisms for their regulation within the type strain, eliminating previous confusion caused by models built from analyses of multiple and divergent strains of this microorganism.

The identification of differentially expressed genes of unknown function predicted to be involved in iron and RISCs oxidation direct the experimental biologist to future research.
Methods
Strains and culture conditions
A. ferrooxidans type strain ATCC 23270 was obtained from the American Type Culture Collection. A. ferrooxidans was grown at 30°C under oxic conditions with 200 rpm agitation in (i) Fe(II)-medium (62 mM FeSO4-7H2O in basal salts solution ((NH4)2SO4: 0.4 g. L-1, K2HPO4: 0.4 g. L-1, MgSO4-7H2O: 0.4 g. L-1 adjusted to pH 1.6 with H2SO4 or (ii) S0-medium (1% (w/v) elemental sulfur in basal salts solution ((NH4)2SO4: 0.4 g. L-1, K2HPO4: 0.4 g. L-1, MgSO4-7H2O: 0.4 g. L-1 adjusted to pH 3.5 with H2SO4). When reaching mid-logarithmic phase cells were harvested by centrifugation at 4°C and washed with basal salt solution (pH adjusted). To remove iron traces or sulfur particles before further treatment several cycles of washing and 1 minute low speed spin-centrifugations were performed. Clean cell pellets were frozen in liquid nitrogen and stored at -80°C until used for RNA extraction.
RNA isolation
Total RNA was extracted using a modified acid-phenol extraction method [88], including a preliminary TRIZOL® reagent (Invitrogen) extraction step. This RNA was used directly for cDNA synthesis and labeling. For real-time PCR, RNAs were additionally purified with the High Pure RNA isolation kit (Roche Applied Biosystem) and treated twice with DNAse I (Roche Applied Biosystem). The lack of DNA contamination was checked by PCR on each RNA sample.
Microarray production
A. ferrooxidans ATCC 23270 oligonucleotide microarrays were designed and produced in-house. Internal 50-mers targeting each of the 3037 putative ORFs predicted in the genomic sequence of A. ferrooxidans ATCC 23270 (TIGR release September 2003; 2.98 Mb) were selected using the Oligoarray software (Version 1.0), synthesized by MWG Biotech and spotted in duplicate on Gamma Amino Propyl Silane Corning UltraGAPS slides, according to the manufacturer's instructions, with a ChipWriterProarrayer (Bio-Rad, 1000 Alfred Nobel Drive Hercules, CA) at the Marseille-Nice Genopole (France). A special set of control oligonucleotides (negative, positive, tiled and antisense sequences) was included to evaluate probe specificity and adjust the hybridization conditions. 50-mer oligonucleotides corresponding to the CDS of the gfp gene from Aequorea sp. (L29345), the rad9 gene form Saccharomyces cereviciae (M26049) and the idi2 gene from human (AK303669) were used as negative controls. The array design and spotting protocol were deposited in ArrayExpress database [89] under the accession codes A-MEXP-1478 and A-MEXP-1479.
Microarray experimental design
This experiment consisted of 8 independent hybridizations using total RNA obtained from 2 different iron- (FeIIA and FeIIB) and 2 different sulfur-replicate cultures (S°A and S°B). Each RNA sample was labeled once with each dye (e.g. S0 A_Cy®5 and S0 A_Cy®3) and hybridized against a reciprocally labeled cDNA sample (e.g. FeIIA_Cy®3 and FeIIA_Cy®5). The cDNAs obtained for each biological replicate (e.i. A or B) were cohybridized against two different types of microarrays obtained in different spotting campaigns (Oligoarray v.1 or Oligoarray v.2). More details of the experimental design are available in the ArrayExpress database under the accession code E-MEXP-1990.
Labeling and hybridization
The ChipShot™ Labeling Clean-Up System (Promega-Corning) was used to generate fluorescently labeled cDNA via direct incorporation of Cy®3 and Cy®5-labeled nucleotides (Amersham Biosciences). The reverse transcription reaction was performed in the presence of 5 μg total RNA and random hexamers according to manufacturer's recommendations. Two independent cDNA preparations were labeled once with each dye (reverse dye labeling) to account for sampling differences, biases in dye coupling or emission efficiency of Cy®-dyes. Labeled cDNA was purified from contaminating fluorescent dNTPs and degraded RNA using the ChipShot Labeling Clean-Up System (Promega-Corning). Dye incorporation efficiency was determined by absorbance readings at 260, 550 and 650 nm and the frequency of incorporation (FOI, pmol of dye incorporated per ng of cDNA) was calculated according to Promega's instructions. Optimally labeled samples were combined, vacuum-dried and resuspended to a final volume of 40–50 μL in Corning Pronto! Universal Hybridization Buffer. The combined denatured target cDNA samples (95°C for 5 min) were hybridized to the spotted slides for 14 h at 42°C in the Corning hybridization chamber. Following hybridization, slides were washed in serial dilutions of Corning Wash Buffers as recommended by the manufacturer and dried by centrifugation at 1200 × g for 2 min.
Image acquisition and data analysis
Microarrays were scanned for the Cy®3 and Cy®5 fluorescent signals using the ScanArray 5000 Microarray Analysis System (PerkinElmer Life Sciences, Inc.). Scans stored as 16-bit TIFF (Tagged Information File Format) image files and then analyzed with the image quantification software package GenePix Pro 6.0 (Axon Instruments, Inc.). Saturated and low-quality spots (spots smaller than 60 μm or bigger than 160 μm in diameter, sub-circular in shape and/or exhibiting uneven fluorescence distribution) were flagged and filtered out. Local background was subtracted from the recorded spot intensities and median values for each spot were Log transformed (log2) and normalized by average intensity of each slide to account for any difference in total intensity between the scanned images using the Acuity microarray analysis software (Version 4.0, Axon Instrument Inc.). The processed Fe(II) and S0 signal intensities for each spot were used for calculating the expression ratio Fe(II)/S0. Twenty four replicate ratio values per gene, resulting from direct and reverse labeling, replicate spots and replicate experiments, were used for further statistical analysis of the data. The statistical significance of differential expression in Fe(II) or S0 grown cells, was assessed using Acuity package. The raw data, as well as the processed (filtered and Median normalized) data, for all hybridizations was submitted to the ArrayExpress database and is available under the accession code E-MEXP-1990. A 1.5 fold deviations from the 1:1 hybridization ratio was taken as indicative of differential gene expression in the two growth conditions analyzed. Hierarchical cluster analysis (Pearson correlation, average linkage) was performed using Genesis software suit [90]. Functional annotations were retrieved from Valdés et al. [8].
Real-time quantitative PCR
The relative abundances of a set of differentially expressed genes and a set of invariant genes, according to the microarray results obtained, were determined in Fe(II)- and S0-grown cells by real-time PCR. Specific primers for the genes of interest amplifying average products of 300 bp with about 50 GC% and about 55°C Tm were designed (Additional file 3). Equal amounts of A. ferrooxidans DNAseI-treated total RNA were retro-transcribed from these primers with the Superscript II™ RNase (Invitrogen Life Technologies) at 42°C for 50 min, and then treated at 70°C for 15 min to inactivate the enzyme. The real-time PCR quantifications were performed on the cDNA obtained, using the Light-Cycler instrument and the LightCycler Fast Start DNA master (plus) SYBR Green I PCR kit (Roche Applied Biosystems) with external standards as described in Roche Molecular Biochemicals technical note no. LC 11/2000. The real-time PCR experiments were performed twice, with both independent total RNA and cDNA preparations by the comparative threshold cycle method. The calculated threshold cycle (Ct) for each gene was normalized to Ct of the rrs gene.
Bioinformatic analysis
The sequence and annotation of the complete A. ferrooxidans strain ATCC 23270 genome was retrieved from GenBank/EMBL/DDBJ (CP001219). Functional assignments for hypothetical and predicted genes of interest were performed manually on a gene-by-gene basis. Amino acid sequences for these genes were used to query the following databases: National Center for Biotechnology Information (NCBI) nonredundant database, UniProt, TIGRFam, Pfam, PRIAM, KEGG, COG and InterPro. Comparative genomic analyses were performed using the Comprehensive Microbial Resource [91], Microbesonline [92] and String [93].
Declarations
Acknowledgements
We thank Jeanine Ratouchniak for technical assistance. We acknowledge the Institut de Pharmacologie Moléculaire et Cellulaire (CNRS, Sophia-Antipolis, France) for the oligonucleotides spotting on the slides. Work supported by Fondecyt grants 1050063, 11060164 and 1090451, DI-UNAB, 34-06, DI-UNAB 15-06/I, a Microsoft Sponsored Research Award, Ecos/Conicyt, Geomex and Puces à ADN from the Centre National de la Recherche Scientifique and Biomine European project (sixth PCRD n° NM2.ct.2005.500329). We wish to thank A-L. Reysenbach and the European project partners for their contributions and/or advice to the work presented here.
Authors' Affiliations
(1)
Center for Bioinformatics and Genome Biology, MIFAB, Fundación Ciencia para la Vida and Depto. de Ciencias Biologicas, Facultad de Ciencias de la Salud, Universidad Andres Bello, Santiago, Chile
(2)
Laboratoire de Chimie Bactérienne, Institut de Microbiologie de la Méditerranée, Centre National de la Recherche Scientifique, Marseille, France
(3)
Platforme Transcriptome, Institut de Microbiologie de la Méditerranée, Centre National de la Recherche Scientifique, Marseille, France
(4)
Cellular and Molecular Biology, Faculty of Medicine, University of Chile, Santiago, Chile
(5)
Institute for Food Research, Norwich Research Park, Norwich, UK
Copyright
© Quatrini et al; licensee BioMed Central Ltd. 2009
This article is published under license to BioMed Central Ltd. This is an Open Access article distributed under the terms of the Creative Commons Attribution License (http://creativecommons.org/licenses/by/2.0), which permits unrestricted use, distribution, and reproduction in any medium, provided the original work is properly cited.