Research article

Open Access
The pitfalls of platform comparison: DNA copy number array technologies assessed
Received: 18 June 2009
Accepted: 8 December 2009
Published: 8 December 2009
Abstract
Background
The accurate and high resolution mapping of DNA copy number aberrations has become an important tool by which to gain insight into the mechanisms of tumourigenesis. There are various commercially available platforms for such studies, but there remains no general consensus as to the optimal platform. There have been several previous platform comparison studies, but they have either described older technologies, used less-complex samples, or have not addressed the issue of the inherent biases in such comparisons. Here we describe a systematic comparison of data from four leading microarray technologies (the Affymetrix Genome-wide SNP 5.0 array, Agilent High-Density CGH Human 244A array, Illumina HumanCNV370-Duo DNA Analysis BeadChip, and the Nimblegen 385 K oligonucleotide array). We compare samples derived from primary breast tumours and their corresponding matched normals, well-established cancer cell lines, and HapMap individuals. By careful consideration and avoidance of potential sources of bias, we aim to provide a fair assessment of platform performance.
Results
By performing a theoretical assessment of the reproducibility, noise, and sensitivity of each platform, notable differences were revealed. Nimblegen exhibited between-replicate array variances an order of magnitude greater than the other three platforms, with Agilent slightly outperforming the others, and a comparison of self-self hybridizations revealed similar patterns. An assessment of the single probe power revealed that Agilent exhibits the highest sensitivity. Additionally, we performed an in-depth visual assessment of the ability of each platform to detect aberrations of varying sizes. As expected, all platforms were able to identify large aberrations in a robust manner. However, some focal amplifications and deletions were only detected in a subset of the platforms.
Conclusion
Although there are substantial differences in the design, density, and number of replicate probes, the comparison indicates a generally high level of concordance between platforms, despite differences in the reproducibility, noise, and sensitivity. In general, Agilent tended to be the best aCGH platform and Affymetrix, the superior SNP-CGH platform, but for specific decisions the results described herein provide a guide for platform selection and study design, and the dataset a resource for more tailored comparisons.
Keywords
Copy Number AlterationCopy Number AberrationHapMap SampleCopy Number AberrationMatched Normal Sample
Background
The accurate and high-resolution mapping of DNA copy number aberrations (CNA) has become an important tool for biological and medical research. From understanding the extent of natural genetic variation [1], to associations with diseases such as HIV [2], to elucidating the mechanisms of tumourigenesis [3], such research is dependent on the quality of the data generated.
Numerous reports on the use and comparison of copy number profiling platforms have appeared [4–10] and more recently an approach to perform meta-analyses across such platforms has been described [11]. Early studies [12] suggested a high level of concordance between BAC-based aCGH and SNP-based platforms (Affymetrix 10 K array) in detecting CNA, but did not formally compare them. Greshock et al. [5] performed the first systematic comparison of multiple platforms on melanoma cell lines and found that a high level of sensitivity and specificity was observed for the Agilent 185 K arrays and that the increased probe density of Affymetrix arrays (100 K and 500 K) results in increased confidence in detection for these platforms. These results were echoed by Gunnarsson et al. [8] who also examined the performance of several older copy number profiling platforms (a 32 K BAC array, the Affymetrix 250 K SNP array, the Agilent 185 K oligonucleotide array, and the Illumina 317 K SNP) array in 10 chronic lymphocyte leukaemia (CLL) samples. They concluded that all platforms performed reasonably well at detecting large alterations, but that BAC probes were too large to detect small alterations. While Agilent offered the highest sensitivity, the increased density of SNP-CGH platforms (Affymetrix and Illumina) compensated for their increased technical variability, with Affymetrix detecting a higher degree of CNA compared to Illumina. A further aCGH study did not compare platforms, but did investigate the influence of cellularity on copy number detection [13] and concluded that modern high-resolution arrays could cope with high levels of contamination.
To attempt a fair and formal comparison of copy-number profiling platforms in a general setting is an almost futile exercise. Quantification of performance is difficult even with idealized data, and while measurements have been proposed such as the theoretical power to discover a single copy loss or gain [7], or the 'functional resolution' of the platform [6], these tend either to measure a very specific aspect of the platform, or appear flawed under close examination. Such idealized data are, in any case, difficult to obtain, as one has to ask what is fair in terms of numbers entering the experimental design. Should one Illumina array be compared to one Nimblegen array or should the two-channel Nimblegen array be compared to two arrays from the single colour technology? Should the two-colour platform be penalized by an inefficient design to allow easier comparison, or the SNP-based platform credited for the additional information that it brings? If, as often is the case, the main experimental constraint is financial, then comparing $1000 of one technology to $1000 of another technology would seem sensible. However, the relative costs of platforms will vary from laboratory to laboratory and with time, and such an approach would foist the authors' view of microarray economics on the reader.
Additionally, the results from such an exercise are only as good as the analysis methods used and in that regard one has two options, both flawed. Naturally, the platforms will require different pre-processing strategies, but if different methods of analysis are also used for segmentation, then the performance of the technology will be confounded with the adequacy of the algorithm. This then punishes newer technologies for which analytical methodologies are not yet mature. The alternative, to use a common approach for the analysis of all platforms, is undesirable firstly because that approach is likely to have been developed for one of the technologies and may thus introduce bias, and secondly because the deliberate use of a sub-optimal analysis does not provide useful information to inform decisions in the real world. Nonetheless, informative qualitative comparisons can be made without performing segmentation that illuminate the relative strengths and weaknesses of each platform. We acknowledge that some users will be primarily interested in a comparison based on using existing analytical tools, rather than concerning themselves with the potential of each platform, but that is not the purpose of this study.
This study differs from previous comparative assessments of copy number profiling platforms in that we have attempted to characterize the strengths and weaknesses of various platforms in as unbiased a fashion as possible by avoiding measures that cannot be fairly computed, highlighting areas of potential bias, and emphasizing a graphical assessment of performance that provides insight about the underlying technology as well as the specific platform. Inevitably, despite considerable effort, these comparisons will be shaped by our own prejudices concerning copy number analysis, but we have made the raw data available for others to draw their own conclusions.
Due to the speed of platform development, it is typical for a platform to be superseded by one with a greater number of features before comparisons involving it are published. The generation of platforms described here have not yet been the subject of an in-depth comparison, but have indeed already been superseded since this study was performed. Nonetheless, the underlying technologies are similar and a comparison is still informative. Implications for the new generations are discussed in the New Platforms section.
Herein we describe a comparison based on the analysis of two cell lines, six primary breast tumours, including matched normal samples, and two HapMap individuals. The SUM159 and MT3 cell lines and HapMap samples were selected based on the presence of known chromosomal aberrations, while the tumours are highly heterogeneous and hence present additional complexity for copy number analysis, not least with regard to their varying degrees of cellularity.
Here we present an analysis of probe coverage on each of the microarray platforms and a technical description of their reproducibility, sensitivity, and noise. We also provide an in-depth visual assessment of the ability of the different platforms to identify a range of sizes of copy number aberration. Lastly, we provide a publicly available dataset resulting from the processing of a range of samples (chosen to evaluate different abilities) on each platform. This information will allow interested parties to make decisions based on their own circumstances, preferences, and constraints.
Results
Theoretical and technical performance
Qualitative assessment of copy number aberration detection
The platforms investigated in this study differ substantially in their design, the number of probes, and their experimental utility. To obtain an overview of platform performance, the ability to detect several types of common chromosomal changes was assessed. In particular, the following alterations were considered based on raw copy number changes: whole chromosome gains or losses, chromosome arm gains or losses, high amplitude focal amplifications as well as subchromosomal gains and losses, small regions of gain or loss as exemplified by normal copy number variation.
Detection of characterized copy number aberrations
We address other measures of performance by making use of aberrations that have previously been reported to occur in the cell lines or have been broadly described to manifest in breast cancer. An examination of the six tumour samples (Table
5
) reveals that there is little difference in the ability of the platforms to spot the large aberrations associated with cancer, with the exception that changes are harder to spot in Nimblegen that with the other platforms. The tumours themselves differ substantially, with T2704, T2706 and T2707 exhibiting far fewer aberrations, although we note that this may be a reflection of the sample's cellularity. Figures
7
,
8
, and
9
highlight some of the aberrations observed in these tumours. For example, Figure
7
depicts Chromosome 17 for Tumour 7214 on all four platforms. Figure
8
reveals for Tumour 7207, the area surrounding the ADAM3A gene and Figure
9
the ERBB2 gene is shown. While none of the tumours here exhibits amplification of ERBB2, it is surprising to note how poorly represented this frequently amplified cancer gene is on the Illumina platform, although coverage is greater in the latest generation of the array.
Table 5
Detection of anticipated aberrations across platforms for the 6 tumour samples
| | T1975 | T2701 | T2704 | T2706 | T2707 | T2714 |
| --- | --- | --- | --- | --- | --- | --- |
| Gain 8p | possibly 8q (all) | also 8q (all) | none | none | none | none, but gain on 8q (all but Nimb) |
| Gain 1q | all | all | | all | none | all but Nimb |
| Loss 16q | partial (all) | and gain 16p (all) | none | and gain 16p (all) | none | none |
| Amp 8q24 | all | all | none | none | none | all but Nimb |
| Amp 11q13 | none | all | none | none | none | none |
| Amp 17q12 | none | none | none | none | none | all |
| Amp 20q13 | all | Affy and Agil | none | none | none | none |
| Del 13q14 | all | all | none | none | none | none |
| Del 9p21 | all but Nimb | all | none | none | none | none |
| Del 17p13 | none | all | all | none | none | all |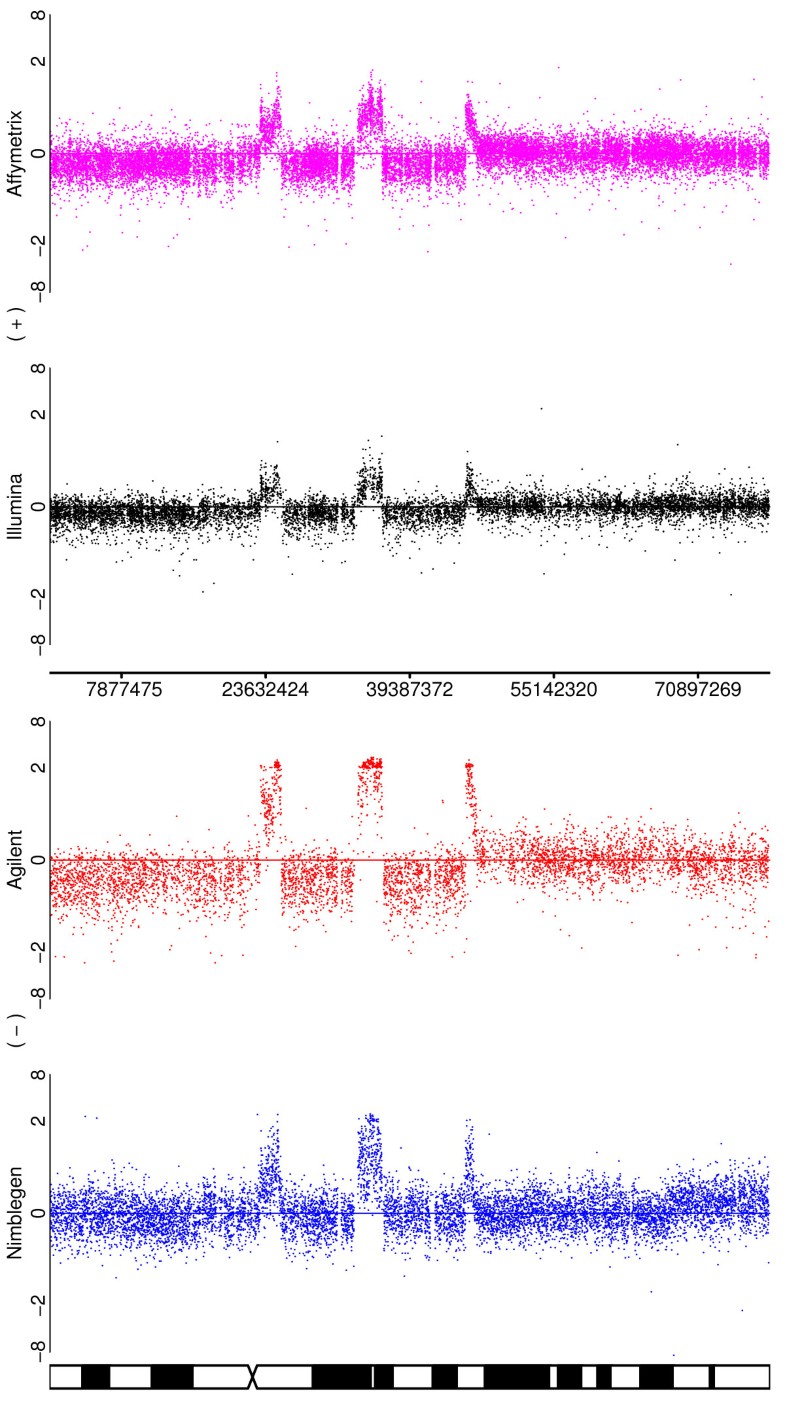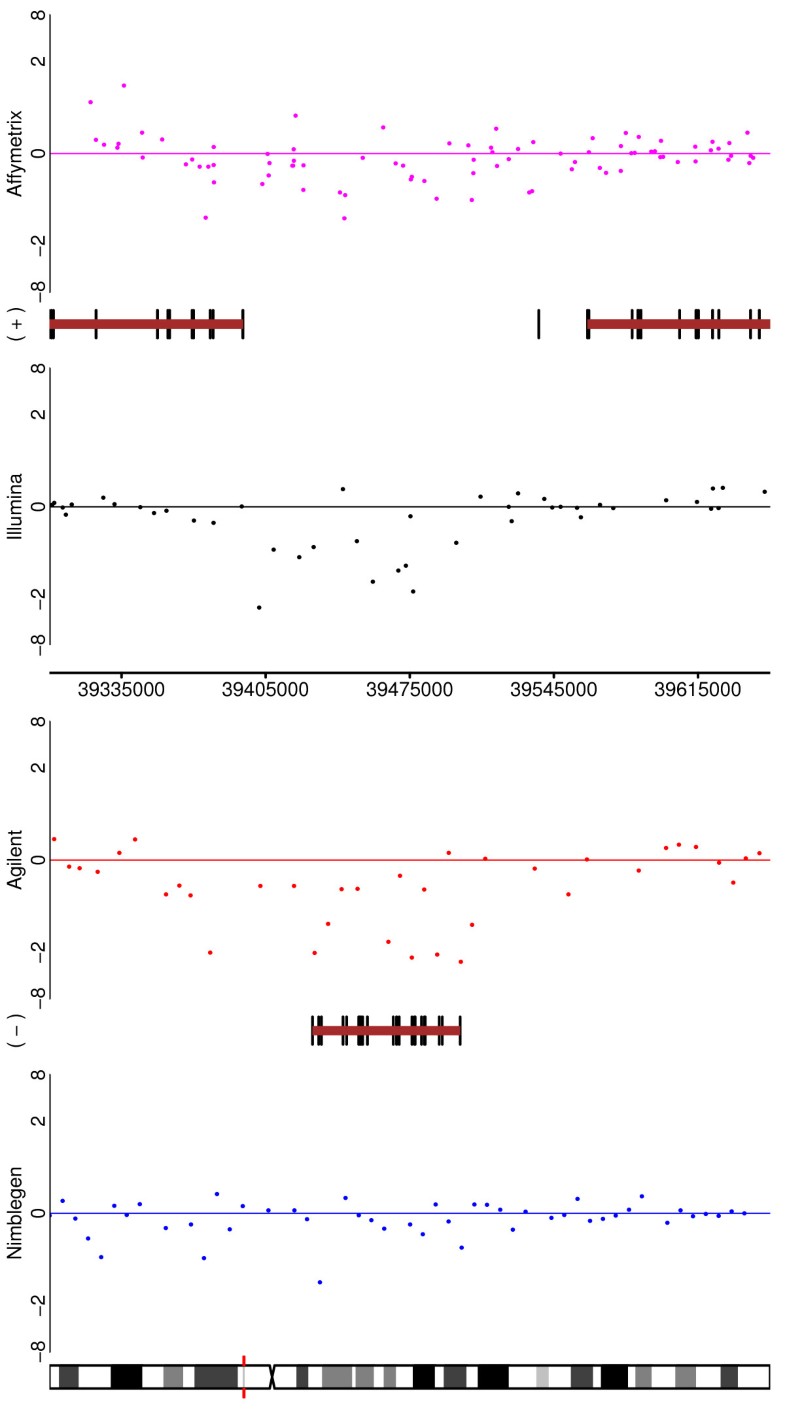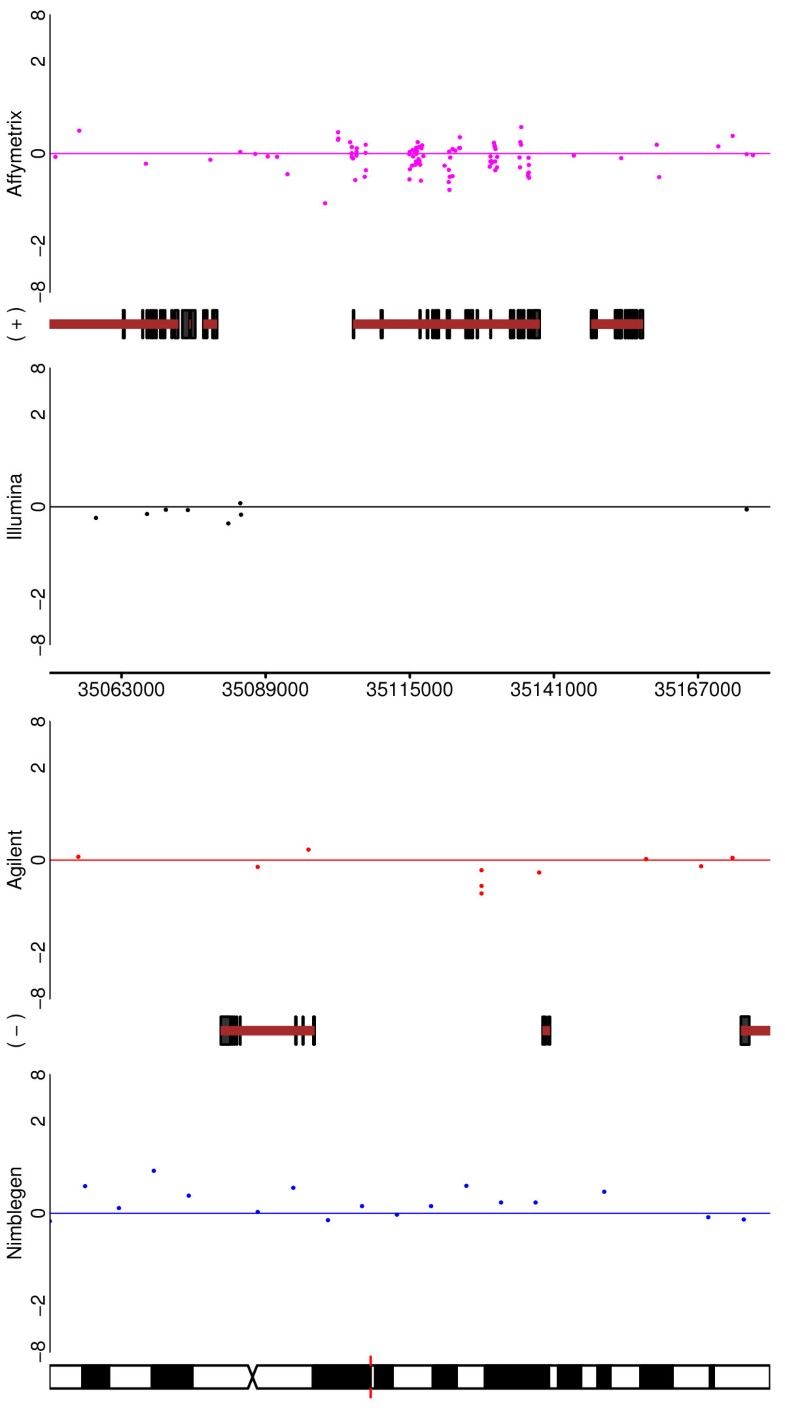 Cellularity
The data set we present allows for the realistic comparison of platforms when considering copy-number changes in tumours. Tumour samples are often affected by stromal contamination [13] and to represent this, not only do we present 6 tumour samples of varying degrees of cellularity (see Additional File 5 for cellularity and clinical information for all samples), but a number of samples with simulated stromal contamination. Essentially, two of the tumour samples were diluted with their respective matched normal samples (7206: 30% tumour, 70% normal; 7207: 50% tumour, 50% normal) and two cancer cell lines were similarly treated (MT3 and SUM159: 30% tumour, 70% normal 7214).
We again consider the MT3 cell-line, this time in dilution, to see whether the anticipated copy number aberrations are visible (details of the expected copy number alterations for the cell-lines are given in Additional File
6
). In Figure
10
, equivalent to Figure
2
but for simulated 70% stromal contamination, the benefits of direct competitive hybridization are seen. The two CGH platforms provide much clearer evidence of copy number differences between the chromosomes (as might be anticipated following previous studies [
13
]), and of the two, Agilent outperforms Nimblegen. It is not unreasonable that a direct comparison is better able to detect small changes such as those anticipated here. Note that as in Figure
2
, no allowance has been made for probes targeting pseudoautosomal regions, which may explain the odd behaviour of the Y chromosome.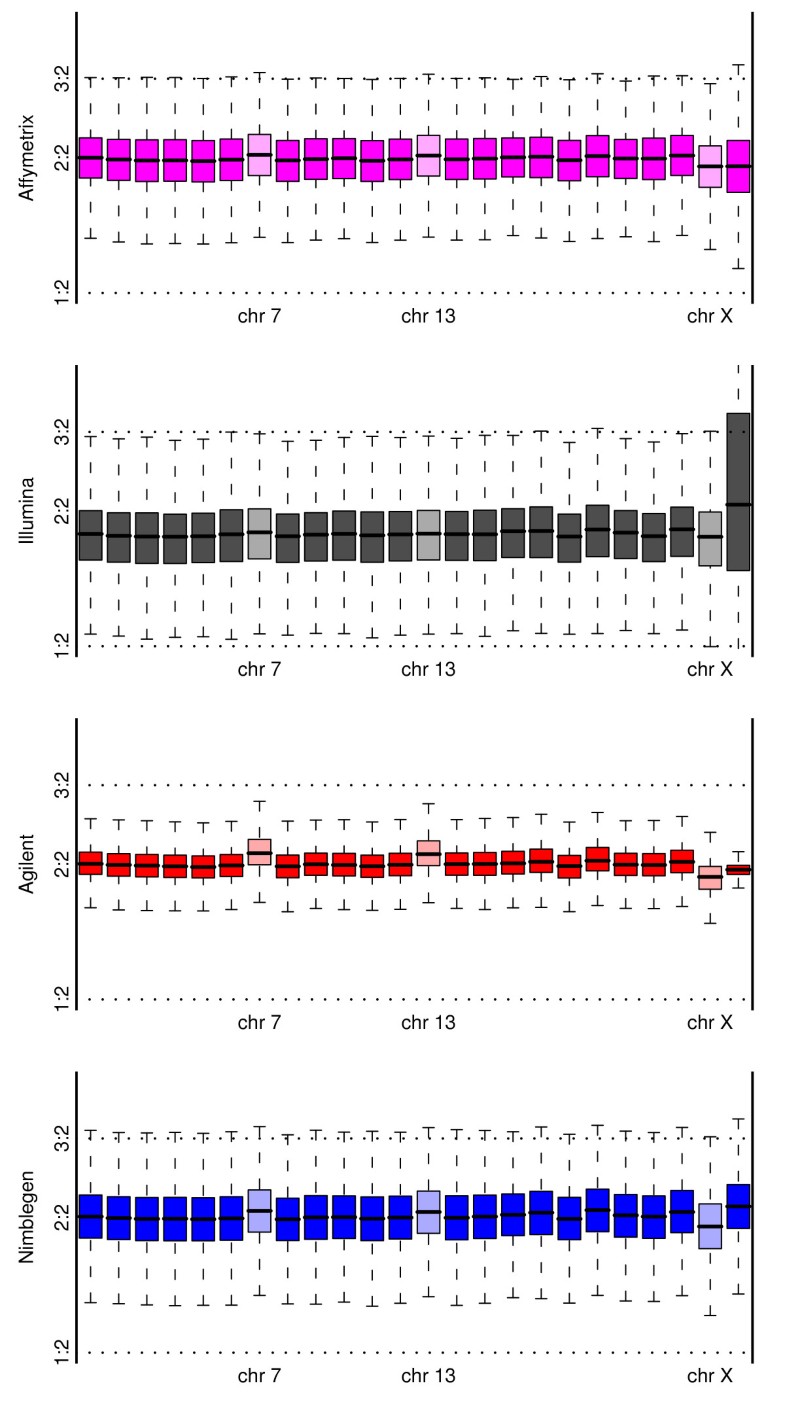 Figure
11
illustrates a zoomed-in region of chromosome 8q for a SUM159 dilution, similar to Figure
4
for the undiluted samples. As expected, all of the platforms exhibit some signal attenuation, but each is still able to detect the amplification. Notably, Agilent is clearly the least affected and in fact robustly detects the alteration at nearly the same level as the undiluted case, attesting to the sensitivity of this platform. In contrast, all of the platforms struggled to detect a moderate loss in the same sample.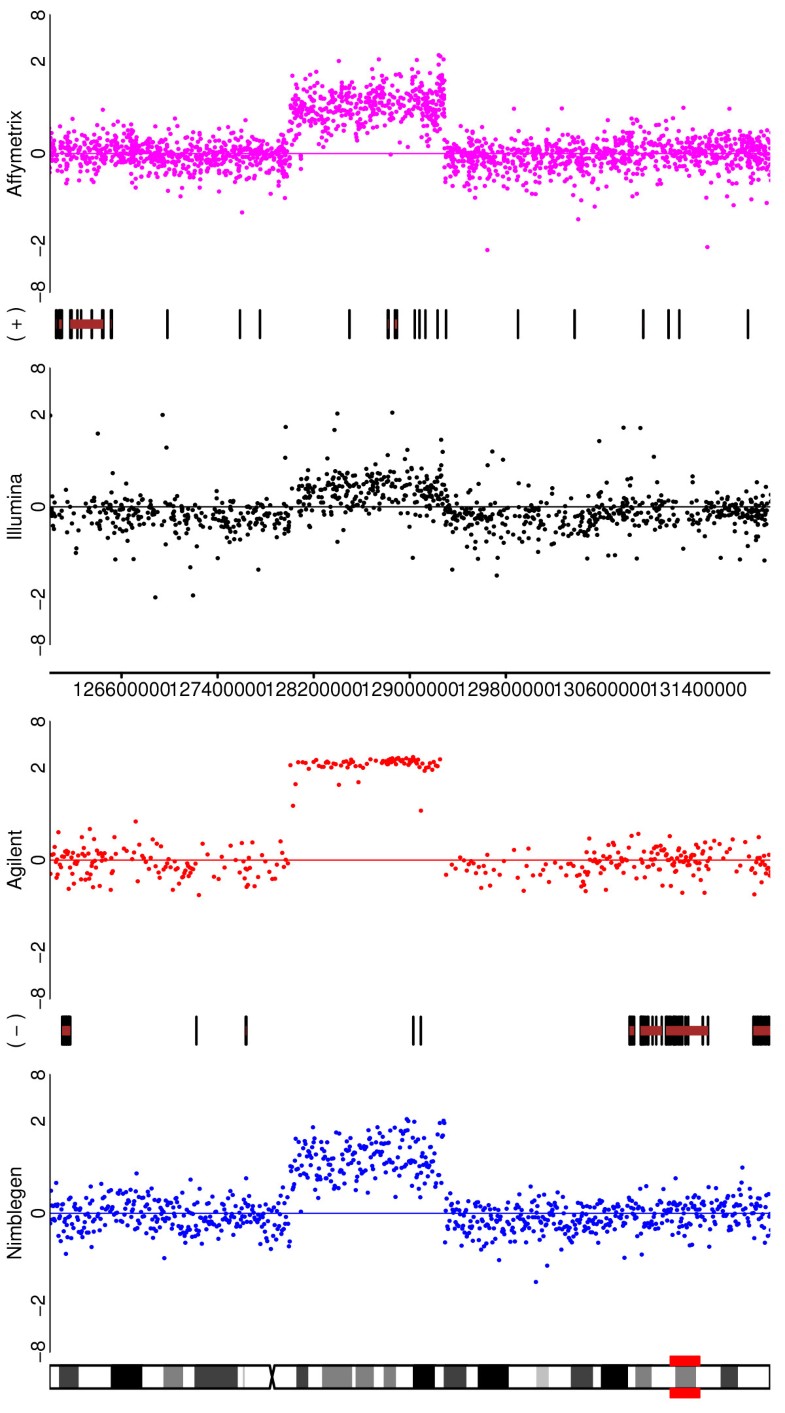 Conclusion
It is important to stress that there is no straightforward way to compare fairly copy number profiling platforms in a general manner. As such, the results presented here describe the detection and qualitative comparison of raw copy number alterations across four platforms in tumour samples for which both matched and pooled normal DNA were available and in two established cell-lines. Copy number variation in normal HapMap individuals was also compared using the same platforms. Whilst we have sought to avoid analytical techniques that are objective, but that we deem undesirable for the stated reasons, we have focused on graphical comparisons that are, of course, prone to subjectivity. In any case, the competing platforms have different merits, and users need to make subjective decisions based on their individual requirements.
Although there are substantial differences in the design, density, and replicate structure of the probes, the comparison indicates a generally high level of concordance between platforms. As expected, all platforms were able to detect large aberrations in a robust manner. However, some focal amplifications and deletions were only detected on a subset of the platforms. In particular, Nimblegen failed to detect numerous aberrations that were clear in the other platforms even when probes were tiled in the region of interest. This finding is perhaps not surprising given that this platform exhibits 2-4 fold greater variance amongst replicate probes and variances an order of magnitude greater for replicate array comparisons. In general, for the aCGH-based platform Agilent was the best performer and for the SNP-CGH platform, Affymetrix tended to outperform Illumina. An added bonus is that both Affymetrix and Agilent require only 0.5 μg DNA as starting material, thus removing this consideration from the platform decision. Another potential consideration is the quality or source of DNA (e.g. the use of paraffin-embedded samples [13]), for which some platforms may be more forgiving.
Our study differs from previously published ones in that we employ primary breast tumour samples rather then cell-lines. As noted previously, this introduces additional complexity due to the possibility of stromal contamination [13]. Further to this, we have also made use of cell-line dilutions and well-characterized HapMap samples to evaluate copy number alterations across platforms. That we also conclude that Agilent performs best on a single-probe comparison is of interest because we are comparing newer platforms, yet we must keep in mind that the performance of platforms from generation to generation cannot be assumed to be constant.
In the new generation of arrays, Agilent have addressed their primary weakness by increasing probe coverage. Similarly, Nimblegen have modified their probe design in order to improve performance. Both Affymetrix and Illumina have increased probe coverage with Affymetrix introducing slight modifications to probe design. If Agilent have maintained probe quality, it seems likely they will remain the leader, but Nimblegen may close the observed gap. For the SNP-CGH arrays, it seems likely that Affymetrix will continue to perform well. The availability of data from these new platforms will enable comparisons with previous generations of arrays for the purposes of meta-analyses and the like.
Obtaining reproducible, high-resolution copy number data with high sensitivity and few false positives is the gold-standard objective for any such study. However, there are always tradeoffs and a critical assessment of the goals of the project and underpinning biological questions can help select the most suitable platform. For example, breakpoint precision, which is dependent on the local resolution, is likely more critical for mapping novel tumour suppressor genes and oncogenes, than for a more general survey of aberrations where little follow-up validation is planned. Additional considerations that might influence the choice of platform include probe coverage (whether gene-centric or uniformly spaced, targeting non-coding elements) and the ability to assay genotypic information, and hence allele-specific copy number and copy neutral loss of heterozygosity. If matched normal samples are available, it might be advantageous to exploit the direct comparison design offered by dual-channel technologies. In large-scale studies, it may also be useful to validate the higher-density SNP-CGH findings using a subset of samples on a lower-density, but more sensitive, platform. The results described here provide a guide for platform selection and study design, and the dataset a resource for more tailored comparisons.
Declarations
Acknowledgements
We acknowledge the support of the University of Cambridge, Cancer Research UK, and Hutchinson Whampoa. ST is a Royal Society-Wolfson Research Merit Award holder. MJD was supported in part by a grant from the Medical Research Council. We thank Michelle Osborne and Sarah Moffatt for technical assistance with the Agilent and Illumina hybridizations. We also thank Andrew Teschendorff and Sergii Ivakhno for constructive discussions, Gulisa Turashvili for pathological expertise, and Matthew Hurles for access to CNV validation data.
Authors' Affiliations
(1)
Department of Oncology, University of Cambridge, Addenbrooke's Hopsital, Cambridge, UK
(2)
Cancer Research UK Cambridge Research Institute, Li Ka Shing Centre, Cambridge, UK
(3)
Department of Human Genetics, University of Chicago, Chicago, USA
Copyright
© Curtis et al; licensee BioMed Central Ltd. 2009
This article is published under license to BioMed Central Ltd. This is an Open Access article distributed under the terms of the Creative Commons Attribution License (http://creativecommons.org/licenses/by/2.0), which permits unrestricted use, distribution, and reproduction in any medium, provided the original work is properly cited.