MINER: exploratory analysis of gene interaction networks by machine learning from expression data
BMC Genomics
2009
10(Suppl 3):S17
Published: 3 December 2009
Abstract
Background
The reconstruction of gene regulatory networks from high-throughput "omics" data has become a major goal in the modelling of living systems. Numerous approaches have been proposed, most of which attempt only "one-shot" reconstruction of the whole network with no intervention from the user, or offer only simple correlation analysis to infer gene dependencies.
Results
We have developed MINER (Microarray Interactive Network Exploration and Representation), an application that combines multivariate non-linear tree learning of individual gene regulatory dependencies, visualisation of these dependencies as both trees and networks, and representation of known biological relationships based on common Gene Ontology annotations. MINER allows biologists to explore the dependencies influencing the expression of individual genes in a gene expression data set in the form of decision, model or regression trees, using their domain knowledge to guide the exploration and formulate hypotheses. Multiple trees can then be summarised in the form of a gene network diagram. MINER is being adopted by several of our collaborators and has already led to the discovery of a new significant regulatory relationship with subsequent experimental validation.
Conclusion
Unlike most gene regulatory network inference methods, MINER allows the user to start from genes of interest and build the network gene-by-gene, incorporating domain expertise in the process. This approach has been used successfully with RNA microarray data but is applicable to other quantitative data produced by high-throughput technologies such as proteomics and "next generation" DNA sequencing.
Keywords
Gene Regulatory Network
Regulatory Relationship
Network Inference
Tree Learning
Gene Interaction Network
Background
The development of high-throughput technologies for measuring RNA levels and estimating gene expression for large sets of genes has provided a new window into transcriptional regulation. RNA species that vary together under a range of conditions are likely to be under common regulation, and indeed, sets of "co-expressed" genes generated by clustering of microarray expression values have proven useful for identifying potential regulatory elements and transcription factor binding sites [1–5].
This type of analysis has been extended to look for patterns of expression correlation between genes resulting from regulatory relationships, for example increased RNA levels for a transcription factor leading to an increase in the RNA levels of the genes whose transcription is activated by this factor. Several approaches have been proposed to identify potential regulatory relationships, including [6–9]. These regulatory relationships can be visualised as a gene regulatory network graph [10], and this graph, in turn, can be further analysed in terms of global properties [11] and to identify network motifs such as feedforward loops, feedback loops etc [12].
A large number of algorithms based on machine learning and reverse engineering principles have been proposed to infer gene regulatory interactions from microarray data (reviewed in [13–15]). However none of these methods has been very successful, in part due to the large amount of experimental noise in microarray data, which can be particularly problematic for "black box" batch learning methods that infer the most likely gene regulatory network from microarray data with little or no consideration for additional biological information, and keep the human biologist out of the loop. Methods that integrate multiple sources of information (expression levels, biological annotation, protein levels etc) [16–18] are promising but face difficulty in capturing and integrating all the relevant biological information, and their complexity can be prohibitive for the biologist user.
We are proposing an alternative approach based on the philosophy of putting users in control of the process of exploring possible regulatory relationships in an interactive fashion and being able to integrate their biological knowledge with machine learning-based predictions of potential regulatory relationships. The standard paradigm is to visualize the very large networks implicit in high-throughput interaction data, then study sub-network interactions in detail. We invert this, going from individual interactions with target genes to construct a larger network centred on those genes, in an interactive process under biologist control. This approach is used in MINER (M icroarray I nteractive N etwork E xploration and R epresentation), a web browser-based framework that integrates machine learning of potential regulatory relationships from microarray data, presentation of biological relationships based on Gene Ontology (GO) annotations [19], and integration of multiple analyses into a gene regulatory network model that can be the basis for new hypotheses and experiments. This combination of dependency learning, GO annotation distance and interactive visualisation provides a novel approach for investigating potential regulatory relationships in expression data which can complement standard approaches. MINER has been used by our collaborators to explore different data sets, leading to the identification of potential relationships that were subsequently validated experimentally.
Results
Interactive exploration of potential regulatory relationships
MINER is a web-based framework that analyses microarray data to suggest likely hypotheses regarding regulatory relationships between genes surveyed in the dataset. The system-level data flow of MINER is shown in Figure
1
. The system is fully user-driven and provides a convenient interface and visualisation paradigm that allows the biologist to explore the dependencies and relationships of genes of interest. A typical user workflow is shown in Figure
2
. The user uploads normalised microarray data in tabular or colon-delimited format, and then selects one or more target genes of interest in the dataset to launch the analysis. MINER applies decision tree, model tree or regression tree learning [
20
] to identify genes in the dataset whose expression can predict the expression of the target gene, and displays the result in the form of a decision tree for the user to explore. The user can mouse-over the nodes of the trees to display potential relationships based on common Gene Ontology [
19
] annotations between the node and other nodes in the tree, in the form of an overlaid graph (figure
3
). This visualisation is based on the ArcTree paradigm [
21
]. "Distances" between genes are calculated based on the graph distance between their GO annotation terms calculated using the Czekanowski-Dice formula [
22
]. The distance between two genes is represented by the thickness of the line connecting the two corresponding nodes in the tree, and the colour of the line represents the GO category (Molecular Function, Biological Process, Cellular Compartment) represented. Clicking on a node allows the user to display linked annotations in the Kyoto Encyclopaedia of Genes and Genomes (KEGG) database [
23
] or to launch a new analysis using the selected node as target gene, to build a new tree for this gene.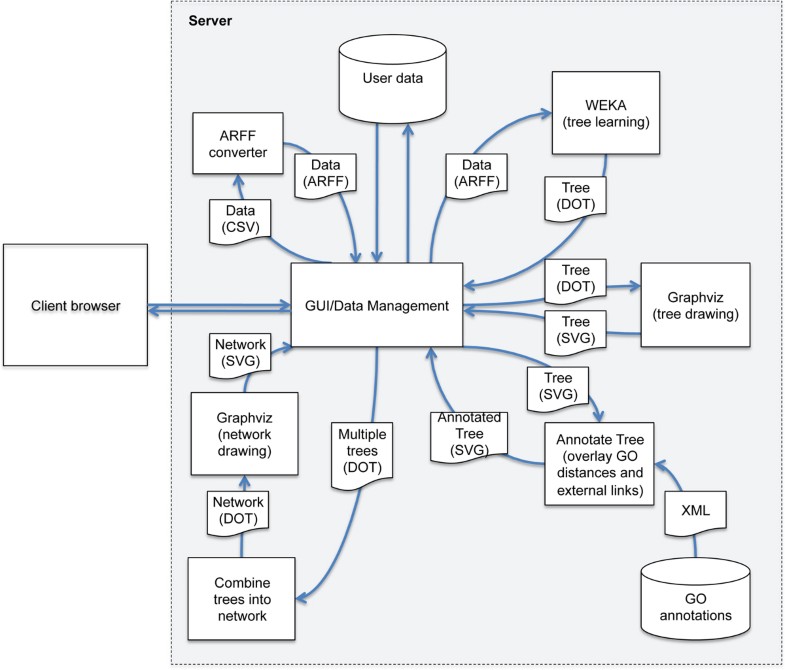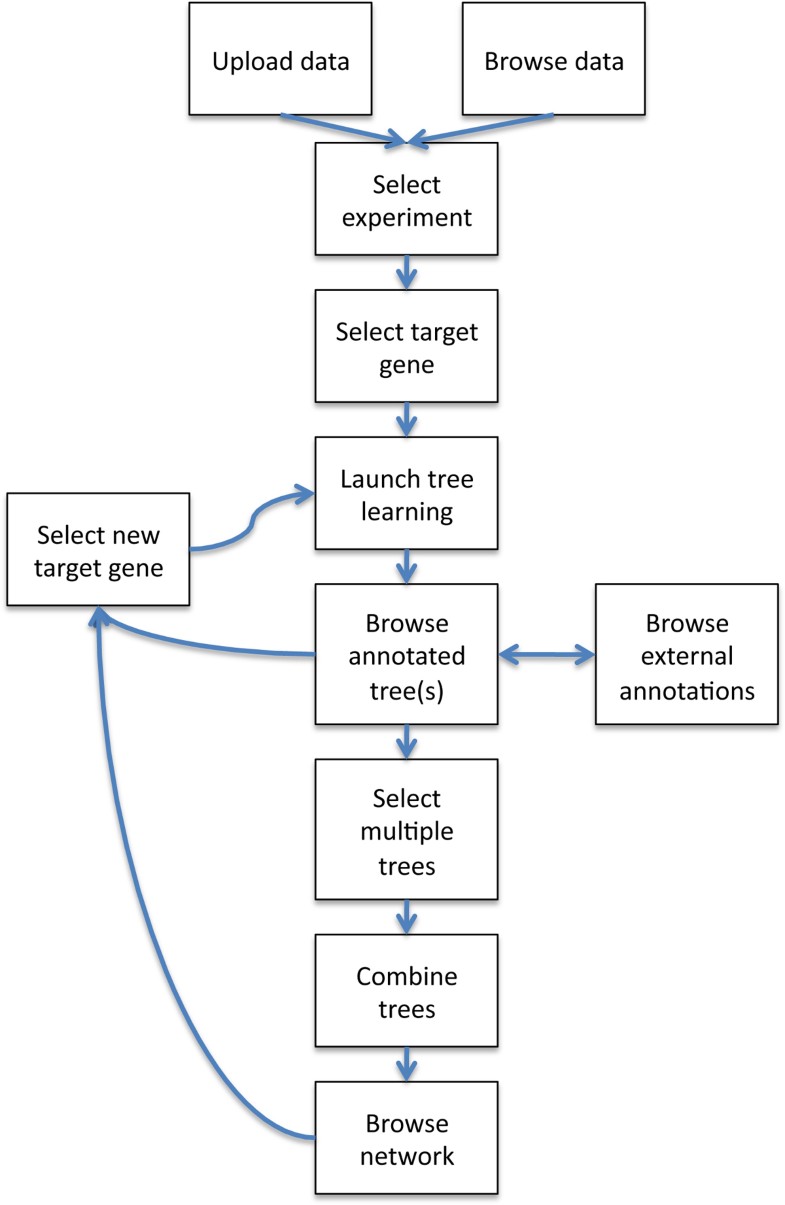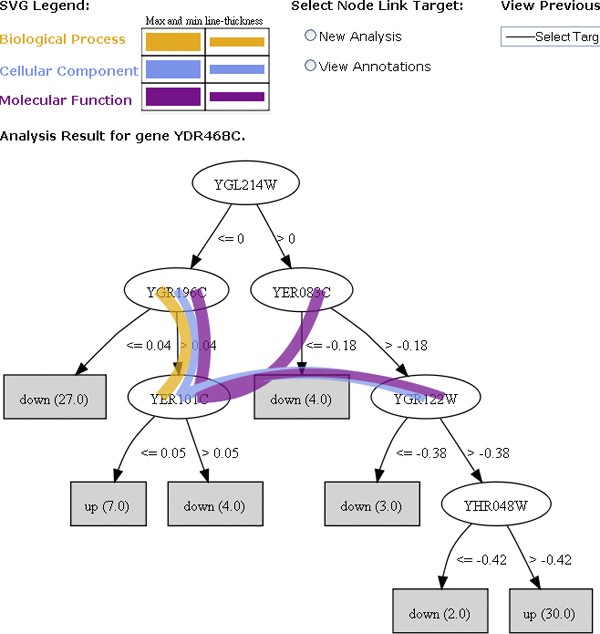 After decision trees have been built for multiple genes, MINER allows summarising the multiple trees into a network graph, by representing each potential regulatory relationship seen in a decision tree as an edge in a graph (figure
4
), based on the algorithm given in figure
5
. These decision trees, networks and overlaid annotations can assist the user in the formulation of new hypotheses regarding the regulation of the target gene, which can be subsequently tested experimentally.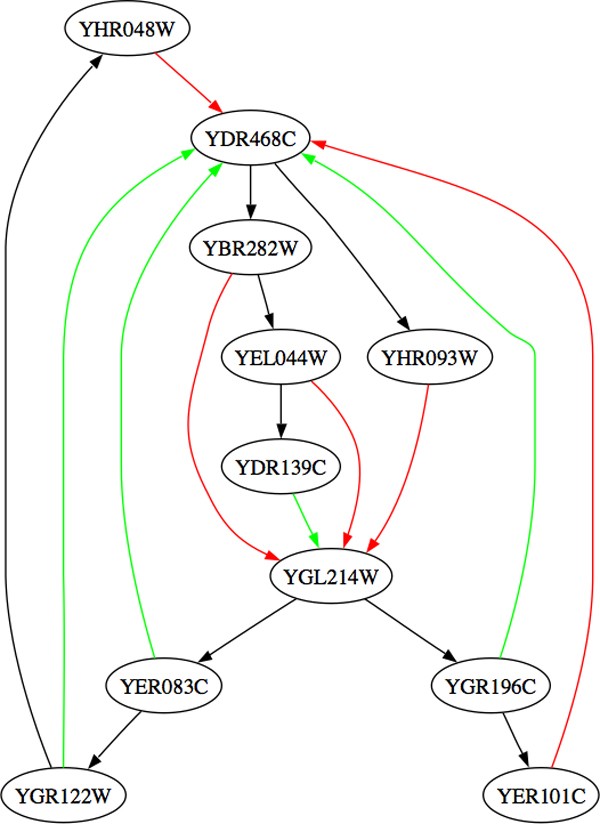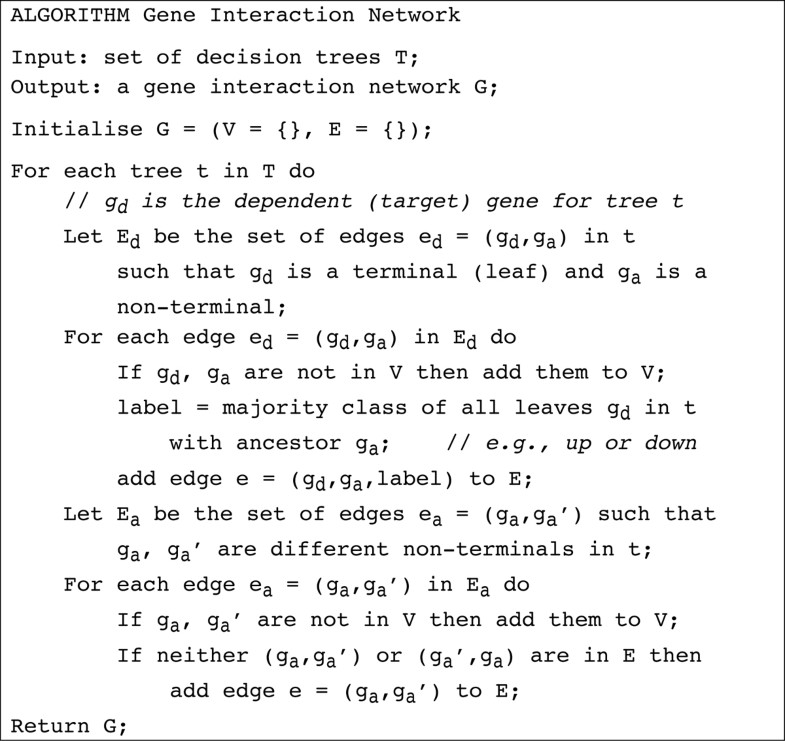 The tree-learning approach was inspired by the work of Brazma and others [24] and was extended by us to work on real-valued data using regression and model trees [25] where it was applied to yeast microarray data. Further extensions, particularly the use of a relational database, graphical user interface, support for gene interaction network construction and Gene Ontology distance functions were implemented in a number of follow-up projects.
Evaluation
Due to the large data requirements the MINER system is currently not publicly available on the web but it has been implemented for two of our collaborators, in one case for S. cerevisiae data, and in the other for an acute lymphoblastic leukaemia microarray dataset [26]. In the latter case, MINER suggested a new significant regulatory relationship in leukemic cells that was subsequently validated experimentally (Guo D, O' Sullivan M, Henry M, Fong A, Kiiveri H, Stone G, Randeni H, Gaeta B, Bain M and Catchpoole D - manuscript in preparation).
MINER relies on human intervention to guide the network-building process and as such cannot be evaluated in comparison to fully automated "one-shot" network inference algorithms. However, as part of previous work [25] we evaluated the tree learning methods used in MINER on the standard yeast cell cycle microarray data set [27]. In our study three methods of tree learning were used: decision tree learning, where the dependent variable is discrete-values, and two methods of numeric prediction, regression and model trees. All systems were implemented in the WEKA toolkit [20] and learning performance was estimated using 10-fold cross-validation. Tree learning was performed for each of the twenty target genes identified by Soinov et al. [24].
For decision tree learning we found a mean accuracy of 72%, with twelve out of twenty trees scoring above 70% accuracy, and all scoring above 50%. Correlations were above 0.7 for five (resp. eight) out of twenty for regression (resp. model) trees, with mean correlations of 0.5 (resp. 0.6) over all twenty target genes. Given that the data is noisy with a low number of samples, high number of genes, and many missing values, these results are as expected.
Subsequent experiments (unpublished data) using a network simulator to generate synthetic microarray data with artificial noise has shown that the tree learning in MINER can recover the gene dependencies embedded in simple network motifs such as feed-forward loops. In [25] we also found network links between genes across different trees, as would be discovered in automatic construction of gene interaction networks.
Conclusion
MINER combines advanced machine learning techniques with a "bottom-up" interactive approach to inferring gene interaction networks from gene expression data. This approach differs from most methods that attempt to reconstruct the whole network in one operation and are not very transparent to the end user, and from interactive methods that are based on relatively simple expression correlation and clustering. The MINER approach allows biologists to examine the program's hypotheses as they are generated and incorporate their own biological knowledge into the interaction network exploration process. The tree learning paradigm provides explicit descriptions of regulatory dependencies with supporting evidence for the user to examine. This interactive exploration approach has already resulted in the discovery of new regulatory relationships that were subsequently validated experimentally. MINER has been used with gene expression data obtained from microarray experiments but can be applied to any high-throughput molecular abundance data including those resulting from new sequencing technologies and from proteomics analyses.
Methods
Component packages
MINER is implemented using PHP [35] with some components in Perl [36] It uses the MySQL RDBMS [37] for storing user data, results and GO annotations and relationships. The decision tree learning component of MINER uses the J48 algorithm implemented in WEKA (version 3.4.8) [20] with default parameters (C = 0.25, M = 2). Regression and model tree learning uses WEKA's M5Prime implementation with default parameter settings. Tree and network diagrams are produced using the Graphviz package [38]
Data formats
Microarray data can be uploaded to MINER in tabular or comma-delimited format, and are converted into ARFF (Attribute-Relation File Format) for input into WEKA. Trees are produced by WEKA in DOT format and converted by Graphviz into images in SVG (Scalable Vector Graphics) format [39] for interactive visualisation. Since MINER's graphical outputs (trees and networks) are in the SVG format, a suitable browser rendering component is required for visualization. Current versions of all major web browsers except Microsoft's Internet Explorer have built-in support for rendering SVG graphics. Users of Internet Explorer can download a plugin to enable SVG support.
User interface design methodology
The MINER graphical user interface was developed using standard UI development methodology. A range of visualisation paradigms were proposed and non-functional mock-ups were developed. The mockups were presented to a focus group of potential end users whose feedback guided the selection and refinement of the final visualisation paradigm. The design process applied human-computer interaction and ergonomics principles. For example, colours were selected to be easily distinguished even by most colour-blind users.
Note
Other papers from the meeting have been published as part of BMC Bioinformatics Volume 10 Supplement 15, 2009: Eighth International Conference on Bioinformatics (InCoB2009): Bioinformatics, available online at http://www.biomedcentral.com/1471-2105/10?issue=S15.
List of abbreviations used
GO:

Gene Ontology
KEGG:

Kyoto Encyclopaedia of Genes and Genomes
ARFF:

Attribute-Relation File Format
SVG:

Scalable Vector Graphics.
Declarations
Acknowledgements
Part of the work on MINER by SRK and DRC was funded by The Australian Rotary Health Research Fund, the Oncology Children's Foundation and Kayaking for Kemo Kids.
This article has been published as part of BMC Genomics Volume 10 Supplement 3, 2009: Eighth International Conference on Bioinformatics (InCoB2009): Computational Biology. The full contents of the supplement are available online at http://www.biomedcentral.com/1471-2164/10?issue=S3.
Authors' Affiliations
(1)
School of Computer Science and Engineering, The University of New South Wales, Sydney, Australia
(2)
School of Biotechnology and Biomolecular Sciences, The University of New South Wales, Sydney, Australia
(3)
The Tumour Bank, The Oncology Research Unit, The Children's Hospital at Westmead, Westmead, Australia
(4)
The Oncology Department, The Children's Hospital at Westmead, Westmead, Australia
Copyright
© Kadupitige et al; licensee BioMed Central Ltd. 2009
This article is published under license to BioMed Central Ltd. This is an open access article distributed under the terms of the Creative Commons Attribution License (http://creativecommons.org/licenses/by/2.0), which permits unrestricted use, distribution, and reproduction in any medium, provided the original work is properly cited.