Comparative study of protein-protein interaction observed in PolyGalacturonase-Inhibiting Proteins from Phaseolus vulgaris and Glycine max and PolyGalacturonase from Fusarium moniliforme
BMC Genomics
2009
10(Suppl 3):S19
Published: 3 December 2009
Abstract
Background
The PolyGalacturonase-Inhibiting Proteins (PGIP) of plant cell wall limit the invasion of phytopathogenic organisms by interacting with the enzyme PolyGalacturonase (PG) they secrete to degrade pectin present in the cell walls. PGIPs from different or same plant differ in their inhibitory activity towards the same PG. PGIP2 from Phaseolus vulgaris (Pv) inhibits the PG from Fusarium moniliforme (Fm) although PGIP1, another member of the multigene family from the same plant sharing 99% sequence similarity, cannot. Interestingly, PGIP3 from Glycine max (Gm) which is a homologue of PGIP2 is capable of inhibiting the same PG although the extent of similarity is lower and is 88%. It therefore appears that subtle changes in the sequence of plant PGIPs give rise to different specificity for inhibiting pathogenic PGs and there exists no direct dependence of function on the extent of sequence similarity.
Results
Structural information for any PGIP-PG complex being absent, we resorted to molecular modelling to gain insight into the mechanism of recognition and discrimination of PGs by PGIPs. We have built homology models of Pv PGIP1 and Gm PGIP3 using the crystal structure of Pv PGIP2 (1OGQ) as template. These PGIPs were then docked individually to Fm PG to elucidate the characteristics of their interactions. The mode of binding for Pv PGIP1 to Fm PG considerably differs from the mode observed for Pv PGIP2-Fm PG complex, regardless of the high sequence similarity the two PGIPs share. Both Pv PGIP2 and Gm PGIP3 despite being relatively less similar, interact with residues of Fm PG that are known from mutational studies to constitute the active site of the enzyme. Pv PGIP1 tends to interact with residues not located at the active site of Fm PG. Looking into the electrostatic potential surface for individual PGIPs, it was evident that a portion of the interacting surface for Pv PGIP1 differs from the corresponding region of Pv PGIP2 or Gm PGIP3.
Conclusion
van der Waals and eletrostatic interactions play an active role in PGIPs for proper recognition and discrimination of PGs. Docking studies reveal that Pv PGIP2 and Gm PGIP3 interact with the residues constituting the active site of Fm PG with implications that the proteins bind/block Fm PG at its active site and thereby inhibit the enzyme.
Keywords
Docking StudySubstrate Binding SiteSolvent Accessible Surface AreaFusarium MoniliformeElectrostatic Surface Potential
Background
Plants are under constant threat of infections caused by pathogens that range from viruses, bacteria, fungi to nematodes and insects. The efficacy of plant defense depends on its ability to recognize a pathogen and mount the appropriate defense response. Plants often employ cell surface and intracellular receptors to detect a pathogen associated molecular pattern (PAMP) and trigger immune response against the invader. PolyGalacturonase-Inhibiting Protein (PGIP) is one among the pathogenesis-related (PR) proteins that is found at the cell surface of plant cells. It binds and inhibits the enzyme PolyGalacturonase (PG) from the invading pathogen which could be fungus, insect or bacterium, thus preventing its colonization in the host cell and hence the progress of the disease [1, 2]. PolyGalacturonases (PG) are a class of pectinolytic enzyme secreted by the pathogen at the early stages of infection to depolymerize homogalacturonan (HGA), the main component of pectin in the plant cell wall [3]. HGA is the 1, 4 linked alpha-D-galactosyluronic acid polymer found in the plant cell which forms the first line of barrier and thereby plays a critical role in controlling pathogen invasion [4–7].
The interaction of the plant protein PGIP with the fungal or insect PG limits the destructive potential of the PG and leads to the accumulation of elicitor active oligogalacturonides as shown by in vitro studies [8]. Hence PGIP seems to exert a dual role during fungal attack. It limits pathogen penetration and tissue colonization by inhibiting PG activity, this in turn, favours the accumulation of oligogalacturonides, which activate a prompt defense response [9].
PGIPs belong to the Leucine-rich Repeat (LRR) super family of proteins [
10
] containing tandem repeats of a 20-30 amino acid stretch of the extracytoplasmic type with a consensus that bear a conserved part [LxxLxLxxNxL or LxxLxLxxCxxL (L = I, L, V, F; N = N, T, S, C; C = C, S; x = any amino acid)] and a variable part [
11
,
12
]. The LRR-fold (Figure
1
) which is believed to be specialized in protein-protein interaction is quite extensively used for the immune functions and for the recognition of non-self molecules by plants. The crystal structure of the only PGIP (PGIP2 from
Phaseolus vulgaris
) as well as the first LRR protein belonging to the plant-specific subfamily [
13
] ([ILVF]xx[ILVF]xx[ILVF]x[ILVF]xx[NTSC]x[ILVF] [TS]GxIPxx[ILVF]Gx) reveals a typical curved and elongated shape. Eight β strands (with one long β strand, B1, at the N-terminal end) comprise the inner concave face of the curved surface. On the opposite side of the β sheet, there are nine 3
10
helices that are almost parallel to the β sheet. The concave surface is known to bear residues necessary for binding and recognition specificity in this class of protein [
14
].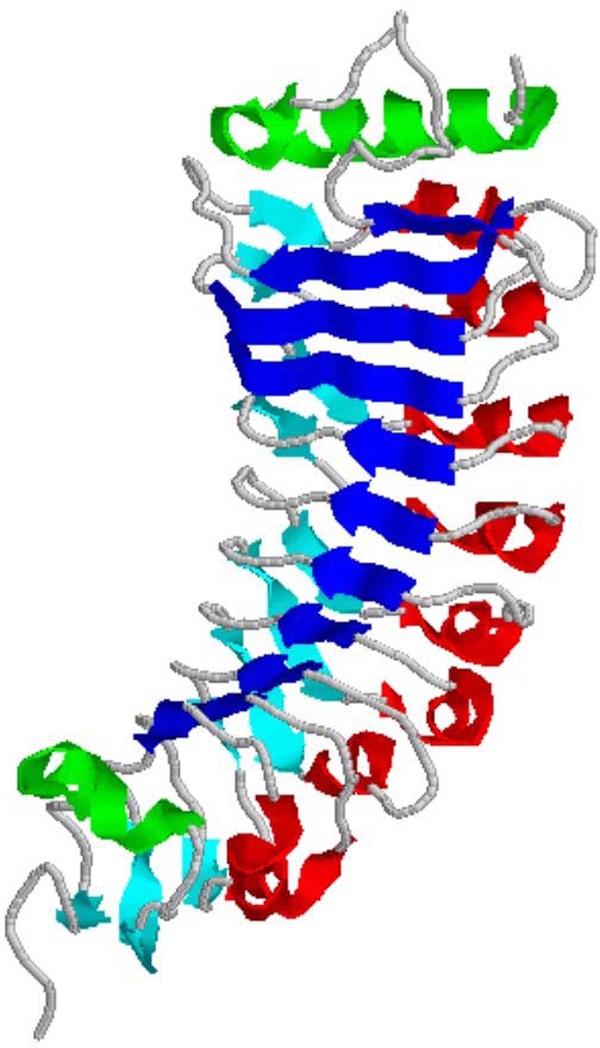 PGIPs function as very specific inhibitors [15]. PGIP from a particular plant that is able to inhibit the PG from a certain pathogen might not be able to inhibit PGs from other pathogens. Besides, for cases when a PGIP is able to inhibit PGs from different pathogens, the percent inhibition differs. Thus in plants, small gene families encode PGIP isoforms that differ in affinity and specificity for PGs secreted by different pathogens [1]. Recognition specificity results from a few variations in the amino acid sequence of the PGIPs [16]. Plants successfully defend themselves from the attack of a wide range of PGs from pathogenic microorganisms through the role played by protein-protein interaction involving these PGIP proteins.
Significant contributions have been made with experimental studies on the different isoforms of PGIP from a variety of plants. It has been seen that the overexpression of two PGIP genes, Atpgip1 and Atpgip2 genes from Arabidopsis thaliana limits the colonization by B. cinerea and also reduces the disease symptoms [17]. In transgenic tomato and grapevine plants, a significant increase of PG-inhibitory activity and a decrease in susceptibility to B. cinerea have been observed. Plant resistance have been successfully enhanced by the overexpression of pear PGIP in tomato [18] and Vitis vinifera [19], and also bean PGIP in tobacco [20]. Accumulation of information on several of the properties exhibited by PGIPs have generated an interest in exploiting them as tools for enhancing plant resistance. In this regard, PGIPs of bean plant (Phaseolus vulgaris) needs special mention.
Bean PGIPs are encoded by a family of genes [21], the products of which are Pv PGIP1, Pv PGIP2, Pv PGIP3 and Pv PGIP4. All of these show distinct regulation and specificity exhibiting different inhibitory capabilities against the PGs of Botrytis cinerea, Colletotrichum gloeosporioides, Stenocarpella maydis, Fusarium moniliforme and Aspergillus niger [21]. The four mature products of the pgip genes have a very high extent of sequence similarity differing between 8 to 81 amino acids. Phylogenetic analysis indicates that Pvpgip1-Pvpgip2 groups with Gmpgip3 of soybean (Glycine max), a species of the Phaseoleae tribe close to bean, which suggests that these two genes are probably closer to the ancestral gene than are Pvpgip3 and Pvpgip4 [7]. Interestingly, although PGIP1 and PGIP2 from Phaseolus vulgaris share 99% sequence similarity, Pv PGIP2 has been reported to inhibit PG from Fusarium moniliforme (Fm) while Pv PGIP1 does not [16]. Strikingly, Gm PGIP3 of soybean (Glycine max), shares a much lesser similarity of 88% with Pv PGIP2 and yet has the ability to inhibit FmPG with an inhibition kinetics similar to that of Pv PGIP2 [22]. It is thus evident that the ability of PGIP molecules to defend plants against infection is not buried in the extent of similarity shared between the sequences alone. Probable implications could be the presence of key structural features important for the necessary protein-protein interaction that need to be conserved to preserve the function.
It would be interesting to study the molecular interaction of different PGIPs sharing different range of sequence variation, with the same PG molecule to elucidate the relation between the extent of sequence similarity and the corresponding ability/inability to inhibit PG. Three PGIPs, Pv PGIP1 and Pv PGIP2 from Phaseolus vulgaris and Gm PGIP3 from Glycine max have been chosen for this purpose keeping in mind that they share a high level of sequence similarity and yet show distinct difference in their function as expressed through their ability/inability to inhibit the same PG from Fusarium moniliforme (Fm PG). In this study, homology models of two PGIP molecules namely Pv PGIP1 and Gm PGIP3 have been built using the crystal structure of Pv PGIP2 as the template. The crystal structure of Fm PG being available, the three PGIPs have been subsequently docked to Fm PG. In order to elucidate the mechanism underlying and the strategy undertaken by the plants in utilizing the different isoforms of PGIP, a comparative study of the interaction between these three pairs namely Pv PGIP1 and Fm PG, Pv PGIP2 and Fm PG and Gm PGIP3 and Fm PG have been accomplished. A comparison of the binding modes, the interacting residues and the electrostatic potential surface along the interface of the PGIP-PG complex have been investigated. Change in intermolecular distances, hydrogen bond formation and electrostatic surface potential upon in silico mutation of Pv PGIP2 have also been explored.
Conclusion
It has been noted from our study on sequence analysis that 50% of the sequence variation between Pv PGIP1 and Pv PGIP2 fall in the non-LRR region whereas only 15% of the variation in Gm PGIP3 with Pv PGIP2 fall in the non-LRR region. This observation suggests specific regions in PGIPs favourable for the introduction of variation in recognition of the pathogen molecules. Structural studies involving docking techniques suggest the mode of binding of the fungal enzyme Fm PG by PGIP2 from Phaseolus vulgaris to be similar to that of its homologue PGIP3 from Glycine max. In each case of binding, the active site of the enzyme from Fusarium moniliforme is being blocked by the PGIP molecule, supporting the experimentally observed phenomenon of these PGIP molecules being able to inhibit the fungal enzyme upon invasion. PGIP1 from the same plant Phaseolus vulgaris which is incapable of inhibiting Fm PG, binds to Fm PG in an evidently different mode, although Pv PGIP1 and Pv PGIP2 share a higher degree of sequence similarity compared to Pv PGIP2 and Gm PGIP3. Electrostatic surface potential reveals considerable difference in the interacting surface of Pv PGIP1 when compared to Pv PGIP2 or Gm PGIP3. Thus, electrostatic and van der Waals interactions may play a significant role in PGIPs for proper recognition and discrimination of PGs.
Note
Other papers from the meeting have been published as part of BMC Bioinformatics Volume 10 Supplement 15, 2009: Eighth International Conference on Bioinformatics (InCoB2009): Bioinformatics, available online at http://www.biomedcentral.com/1471-2105/10?issue=S15.
List of abbreviations used
LRR:

Leucine-rich repeat
PGIP:

PolyGalacturonase Inhibiting Protein
pgip:

PolyGalacturonase Inhibiting Protein coding gene
PG:

PolyGalacturonase
Pv PGIP Phaseolus vulgaris:

PolyGalacturonase Inhibiting Protein
Gm PGIP Glycine max:

PolyGalacturonase Inhibiting Protein
Fm PG Fusarium moniliforme:

PolyGalacturonase
PAMP:

pathogen associated molecular pattern
HGA:

homogalacturonan
PS_LRR:

plant specific Leucine-rich Repeats
SASA:

Solvent Accessible Surface Area
APBS:

Adaptive Poisson-Boltzmann Solver
PBE:

Poisson-Boltzmann equation
PIC:

Protein Interaction Calculator.
Declarations
Acknowledgements
AM is grateful to Department of Biotechnology, Government of India for providing her with fellowship. The authors deeply acknowledge Dr. Ansuman Lahiri and Dr. Anindita Seal for their critical reading of the manuscript and useful discussion.
This article has been published as part of BMC Genomics Volume 10 Supplement 3, 2009: Eighth International Conference on Bioinformatics (InCoB2009): Computational Biology. The full contents of the supplement are available online at http://www.biomedcentral.com/1471-2164/10?issue=S3.
Authors' Affiliations
(1)
Department of Bioinformatics, School of Biotechnology, West Bengal University of Technology, Kolkata, India
Copyright
© Maulik et al; licensee BioMed Central Ltd. 2009
This article is published under license to BioMed Central Ltd. This is an open access article distributed under the terms of the Creative Commons Attribution License (http://creativecommons.org/licenses/by/2.0), which permits unrestricted use, distribution, and reproduction in any medium, provided the original work is properly cited.