Research article
Open Access
The Alveolate Perkinsus marinus: Biological Insights from EST Gene Discovery
Received: 21 August 2009
Accepted: 7 April 2010
Published: 7 April 2010
Abstract
Background
Perkinsus marinus, a protozoan parasite of the eastern oyster Crassostrea virginica, has devastated natural and farmed oyster populations along the Atlantic and Gulf coasts of the United States. It is classified as a member of the Perkinsozoa, a recently established phylum considered close to the ancestor of ciliates, dinoflagellates, and apicomplexans, and a key taxon for understanding unique adaptations (e.g. parasitism) within the Alveolata. Despite intense parasite pressure, no disease-resistant oysters have been identified and no effective therapies have been developed to date.
Results
To gain insight into the biological basis of the parasite's virulence and pathogenesis mechanisms, and to identify genes encoding potential targets for intervention, we generated >31,000 5' expressed sequence tags (ESTs) derived from four trophozoite libraries generated from two P. marinus strains. Trimming and clustering of the sequence tags yielded 7,863 unique sequences, some of which carry a spliced leader. Similarity searches revealed that 55% of these had hits in protein sequence databases, of which 1,729 had their best hit with proteins from the chromalveolates (E-value ≤ 1e-5). Some sequences are similar to those proven to be targets for effective intervention in other protozoan parasites, and include not only proteases, antioxidant enzymes, and heat shock proteins, but also those associated with relict plastids, such as acetyl-CoA carboxylase and methyl erythrithol phosphate pathway components, and those involved in glycan assembly, protein folding/secretion, and parasite-host interactions.
Conclusions
Our transcriptome analysis of P. marinus, the first for any member of the Perkinsozoa, contributes new insight into its biology and taxonomic position. It provides a very informative, albeit preliminary, glimpse into the expression of genes encoding functionally relevant proteins as potential targets for chemotherapy, and evidence for the presence of a relict plastid. Further, although P. marinus sequences display significant similarity to those from both apicomplexans and dinoflagellates, the presence of trans-spliced transcripts confirms the previously established affinities with the latter. The EST analysis reported herein, together with the recently completed sequence of the P. marinus genome and the development of transfection methodology, should result in improved intervention strategies against dermo disease.
Keywords
HemocyteTriclosanPfam DomainEastern OysterFosmidomycin
Background
The protozoan parasite Perkinsus marinus is a facultative intracellular parasite of mollusks, and the causative agent of "dermo" disease in both wild and farmed Eastern oyster (Crassostrea virginica) populations along the Atlantic and Gulf coasts of the USA [1–4]. Since its initial description, P. marinus has generated substantial controversy with regards to its taxonomic placement [5, 6]. A close relationship with the Apicomplexa was initially proposed based on the ultrastructural analysis of the zoospore, which revealed the presence of organelles resembling an apical complex [7]. Molecular evidence gathered over the following years revealed affinities with the Dinozoa [8], and even suggested this group to be its closest extant taxon [9, 10]. More recently, however, ultrastructural similarities and molecular phylogenetic affinities to Parvilucifera sp., a parasite of microeukaryotes, led to the establishment of the phylum Perkinsozoa, which like the Apicomplexa, is only comprised of endoparasites [11]. This new phylum is considered to be one of the earliest diverging groups from the lineage leading to dinoflagellates, albeit close to the ancestor from which the ciliates, dinoflagellates, and apicomplexans originated [12–14].
Together with the various emerging diseases in the estuarine and marine environment [15], infections by P. marinus and other Perkinsus spp. are responsible for devastating losses in shellfisheries of economically relevant mollusk species worldwide, including oysters, clams, and abalone [16]. Further, given the critical role that oysters and other filter-feeding bivalves play in maintaining environmental water quality, the dramatic declines in bivalve populations, caused by dermo disease, have had correspondingly detrimental impacts on the estuarine environment. Although several intervention strategies have been implemented to control dermo disease, they have had little or no success [17]. During the early 1990s, however, the development of in vitro culture methods for P. marinus[18–20] provided a key resource that enabled studies leading to the identification of new targets for intervention [16]. These studies ranged from fundamental cellular, biochemical, molecular and genetic studies of P. marinus biology to the direct in vitro testing of potential chemotherapeutic drugs that might suppress its proliferation [21–27].
The life cycle of P. marinus includes a free-living motile stage (zoospore) and a non-motile vegetative stage (trophozoite). The parasite is ingested by the host during filter-feeding, and is then phagocytosed by hemocytes present in the alimentary canal. Although the infection mechanism has not been fully elucidated, once inside the host, P. marinus trophozoites are recognized via a galectin present on the surface of phagocytic hemocytes [28, 29], internalized, and localize inside phagosome-like structures. The phagocytosed trophozoites remain viable by abrogating the host's respiratory burst through their effective antioxidative machinery [30, 31], and retain their proliferative capacity [32]. Hemocyte migration throughout host tissues leads to systemic infection and eventually death [6, 33]. Therefore, in addition to those genes that mediate intrahemocytic survival, the trophozoite is likely to express additional genes that are involved in nutrient acquisition, proliferation, and pathogenesis.
Expressed sequence tag (EST) surveys [34] have proven to be a viable approach for gene discovery and therapeutic target identification in a variety of microbial pathogens and parasites [35–38]. EST analysis offers a rapid and valuable first glimpse of gene expression at a particular life cycle stage or under certain environmental conditions. The number of gene sequences published or available in GenBank for the genus Perkinsus is very limited, and mostly consist of ribosomal RNA (rRNA) sequences. In this study, we analyzed 31,727 ESTs generated from trophozoites from two different P. marinus strains, one of which was studied in both the presence and absence of oyster serum. Grouping of the ESTs into clusters and singletons resulted in 7,863 unique sequences. Together, they provide the first broad-based molecular view into the basic biology and cellular metabolism of this protozoan parasite of unique phylogenetic position.
Methods
Parasite cultures
All P. marinus strains were maintained in DME: Ham's F12 (1:2) supplemented with 5% fetal bovine serum (FBS) as reported elsewhere [39]. Two cultured strains of P. marinus trophozoites, CB5D4-ATCC PRA-240 (the strain used for the sequencing the P. marinus genome; [40]) grown in standard medium, and TXsc-ATCC 50983 [18] grown in both standard medium and medium supplemented with C. virginica serum (50%), were used for RNA isolation and subsequent cDNA library and EST generation.
RNA extraction and library construction
A total of four (non-normalized) libraries were constructed using P. marinus trophozoites. Three libraries were constructed from strains propagated in standard culture medium (TXsc and CB5D4), and one from the TXsc strain propagated in medium supplemented with C. virginica oyster serum (50%). Oyster serum was prepared as reported earlier [41]. Briefly, shells were notched at the posterior end and dorsal side of the shells, cleaned with ethanol and hemolymph drawn from the adductor muscle (approximately 2 ml hemolymph per individual oyster) with a sterile syringe fitted with a 19-gauge needle. Hemolymph samples were centrifuged at 800 × g at 4°C for 10 min, the supernatant serum separated from the cell pellet, mixed at equal parts with P. marinus culture medium and used for the experimental cultures described above.
Perkinsus marinus TXsc cultures were centrifuged for 5 min at 490 × g, and RNA extracted from the pellets (1.5-2.0 ml packed P. marinus trophozoites) by the guanidine isothiocyanate method [42]. One mg of total RNA was used for Poly A+ isolation and 5 μg of Poly A+ enriched P. marinus RNA was used to construct each P. marinus TXsc Lambda ZAP library following the manufacturer's instructions (Stratagene, La Jolla, CA). Each library was amplified once through Escherichia coli XL1-Blue MRF and stored at -80°C. Total RNA from the strain CB5D4 was extracted as above. A commercial service (Express Genomics, Frederick, MD) was used to construct the cDNA libraries. Since the libraries were not normalized and to avoid redundancy of the ESTs, a large-insert library (average insert size 2.4 kb) and a small-insert library (average insert size 1.4 kb) were constructed in pExpress 1 (Not I-Eco RV cloned into T1 phage-resistant DH10B E. coli).
DNA sequencing
P. marinus TXsc ESTs were obtained using two methods. First, 308 individual recombinant phage were selected randomly and cored out from the LB agar plates into micro-centrifuge tubes containing 400 μl of TMG (Tris-magnesium-gelatin) buffer and two drops (~50 μl) of chloroform. cDNA inserts were amplified with T3 and T7 primers, resolved in a 1.5% agarose gel (w/v), recovered using the QIAex II kit (QIAGEN, Valencia, CA), and used for direct sequencing. Second, pBluescriptKS(-) phagemid from the Lambda ZAP vectors was mass excised from both libraries and individual colonies grown for 24 h in a volume of 3 ml for plasmid preparations. In both cases, single-pass sequencing of the 5' end of the cDNA clone was carried out to generate the ESTs. P. marinus CB5D4 ESTs were sequenced using the M13 primers.
Clustering and assembly of EST/mRNA sequences
EST sequences were pre-processed to determine the sequence quality and to remove cloning vector sequences from the reads using the Phred and Cross-match software http://www.phrap.org. Poly-A/T tail trimming was done using the 'EMBOSS' Trimmest program [43] before submission to GenBank (accessions #EH059339 - EH090757; GR954914-GR955219; GR955352-GR955353). Sequence assembly was performed by first clustering the ESTs into groups of similar sequences, using TIGR's TGICL [44]. Subsequently, each cluster was separately assembled into consensus sequences consisting of the longest non-redundant stretch of multiple aligned ESTs, using the CAP4 algorithm (Parcel Inc.; http://www.paracel.com). The sequences that did not cluster were treated as singletons. The cluster consensus and singleton sequences are named Pm00001-Pm07863 and are available in Additional File 1.
Annotation of the P. marinus EST sequences
Consensus sequences of the EST assemblies and singletons were compared with the NCBI non-redundant (nr) protein database (May 2009) using the BLASTX algorithm and the GenBank dbEST database (May 2009) using the TBLASTX algorithm [45] with the default parameters and with a cut-off E-value ≤ 1e-5. P. marinus ESTs were removed from dbEST to avoid self hits during screening. Determination of the taxonomic affinities of hits was based upon an NCBI taxonomic trace-back of best hits. For ease of presentation we have grouped the red and green algae together with the plants, and the brown algae with the Stramenopiles.
The PLAN web system (Personal BLAST Navigator, Noble Foundation) was used to assign functional annotation based on the top BLASTX hit and the gene ontology (GO) sequence database [46]. To identify poorly conserved, or short fragments of genes contained in the ESTs, six-frame translations of the sequences were generated. This resulted in 23,888 open reading frames (ORFs) that are ≥ 75 amino acids. We searched the ORFs with Pfam (Protein Families Database) (ver. 22.0) with an E-value threshold of 0.1 to identify protein family domains. Putative signal peptides were identified using SignalP 3.0 server http://www.cbs.dtu.dk/services/SignalP/ and SecretomeP 2.0 server http://www.cbs.dtu.dk/services/SecretomeP/ using default parameters.
Analysis of orthology
We used the annotated proteins from 21 genomes [Additional file 2: Supplemental Table S1] from diverse organisms across the tree of life together with the P. marinus proteome (ORF translations of ESTs) to identify orthologs with the OrthoMCL algorithm [47]. The OrthoMCL parameters used for the analysis were: BLASTP E-value > 1e-25 and an inflation parameter of 1.5. Multiple sequence alignment (MSA) was performed on ortholog groups that are shared by ≥ 4 taxa including P. marinus. MSA was carried out using ClustalW [48] enabling the 'TOSSGAPS' option and using the default values for all other parameters. The regions that contained gaps or were highly divergent were removed from the MSA by GBLOCKS [49] using its default settings. Phylogenetic analysis was performed on the filtered multiple sequence alignments using Seqboot, Protdist, Neighbor and Consense Tree (Phylip) [50], and the nearest neighbor of each P. marinus sequence was determined.
Searches for spliced leaders
The first 22 bp from the 5' end of each of the consensus ESTs were extracted and analyzed with the de novo pattern-finding algorithm MEME to identify over-represented patterns. The width for patterns was set at 22 nt and the zoops (zero or one per sequence) mode of occurrence was specified. Patterns that contained similarity or partial similarity to previously identified spliced leader (SL) sequences in dinoflagellates and Perkinsus marinus were examined in further detail. ESTs that contain potential partial SL sequences at the 5' end were enumerated, and the draft sequence of the P. marinus genome (GenBank Project ID: 12736) was searched using regular expressions to find exact SL consensus sequences. Genomic sequence (+/- 200 nt) flanking each of the putative SL loci was obtained, compared, and used to search the P. marinus ESTs.
Conclusions
By providing a first glimpse into expression of genes encoding proteins associated with important metabolic pathways in other parasitic protozoa, such as proteases, oxidative stress enzymes, fatty-acid synthesis and isoprenoid metabolism, the sequences generated from the
P. marinus
cDNA libraries are extremely informative. The identification of proteins implicated in glycan assembly, protein folding and secretion, and parasite-host interactions, and those that participate in biochemical pathways associated with a putative relict plastid, suggest that potential chemotherapy targets that have been proven to be effective in other protozoan parasites are also expressed in
P. marinus
and could lead to novel intervention strategies for dermo disease (Figure
4
).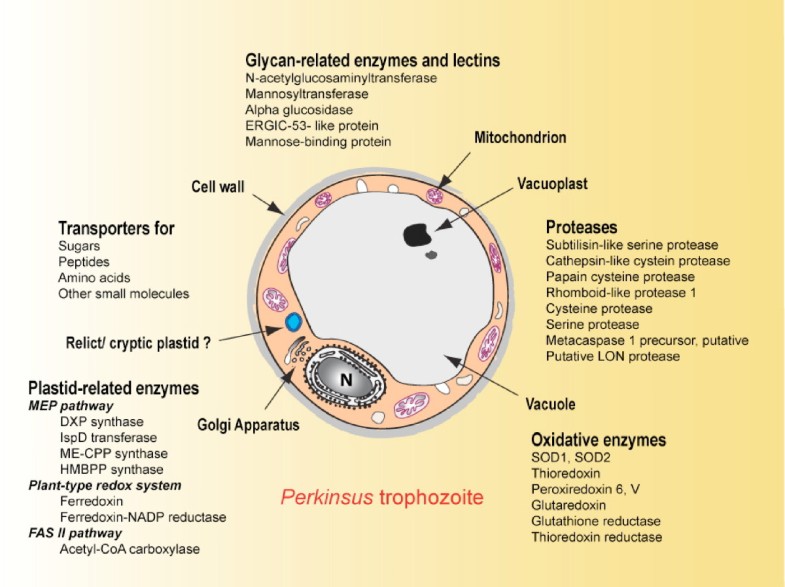 P. marinus sequences display the greatest similarity to EST sequences from dinoflagellates. No significant differences were observed between EST populations obtained from parasites propagated under standard conditions and those exposed to oyster serum. This finding is a consequence of the small number of ESTs sampled, and a more rigorous analysis should be carried out by expanding both sample size and incorporating additional experimental strategies. Concerning the latter, to gain a better understanding P. marinus virulence, approaches such as subtractive techniques [112, 113] and microarray analysis will be very useful. Although our results are a first step in that direction, the application of subtractive techniques should result in ESTs overlooked in our study due to the limitations of non-normalized libraries. The libraries and ESTs generated here, however, may find further use in the production of microarrays to visualize changes in gene expression, such as expression of parasite genes related to defense against the oyster's immune system.
As indicated above, P. marinus expresses sequences with significant similarity of dinoflagellates followed by the apicomplexans. Although the fraction of P. marinus transcripts that are trans-spliced is still unknown, the identification of a SL in >14% of the ESTs confirms the previously established affinity with dinoflagellates. It also suggests that PCR amplification based on the Perkinsus variant of the SL would provide a rapid and efficient method of amplifying and cloning full-length transcripts in the future.
The EST analysis reported herein, together with the recently completed P. marinus genome sequencing project (GenBank Project ID: 12736), and the development of a transfection system for Perkinsus trophozoites [40] will enhance the community's ability to improve the status of both natural and farmed oyster stocks by identifying gene products suitable for drug targeting, which will lead to therapeutic applications that may be effective in closed (especially hatchery) systems. The genes relevant to host-parasite interactions, particularly those involved in host-cell entry and/or pathway signaling may lead to genetically-selected or -engineered oysters that either block the entry of the parasite or enhance the response of the oyster defense against P. marinus. Production of seed oysters that remain disease-free and reach marketable size will be critical for full recovery of wild eastern oyster populations, which provide irreplaceable environmental services. Disease-resistant oysters would also form the basis of a viable shellfishery, as well as sustainable production of farmed oysters.
Declarations
Acknowledgements
Funding for this work was provided by NOAA - MD Sea Grant SA7528068-I to G.R.V and J.C.K, and in part by the NSF/USDA-CSREES Microbial Sequencing Program (Award NSF/USDA 0333240) to M.J.G and N.M.E.S (JCVI), and G.R.V and J.A.F.R. (SOM/IMET) and by NSF Award IOS-0618409 to G.R.V. We thank Adam G. Marsh for making the initial P. marinus Lambda ZAP libraries, Dr. Jeremy DeBarry for useful discussions and Ganesh Srinivasamoorthy for help with PERL scripts and data parsing.
Authors' Affiliations
(1)
Center for Tropical and Emerging Global Diseases, University of Georgia, Athens, USA
(2)
Department of Genetics, University of Georgia, Athens, USA
(3)
Department of Microbiology and Immunology, University of Maryland School of Medicine, IMET, Baltimore, USA
(4)
J. Craig Venter Institute, formerly Institute for Genomic Research, Rockville, USA
(5)
Department of Medicine, Division of Infectious Diseases, Emory University School of Medicine, Atlanta, USA
(6)
Seattle Biomedical Research Institute, Seattle, USA
(7)
Department of Cell Biology and Molecular Genetics, University of Maryland, College Park, USA
(8)
Department of Chemistry and Biochemistry, University of Arizona, Tucson, USA
(9)
University of Maryland Center for Environmental Science, IMET, Baltimore, USA
Copyright
© Joseph et al; licensee BioMed Central Ltd. 2010
This article is published under license to BioMed Central Ltd. This is an Open Access article distributed under the terms of the Creative Commons Attribution License (http://creativecommons.org/licenses/by/2.0), which permits unrestricted use, distribution, and reproduction in any medium, provided the original work is properly cited.