Research article

Open Access
De novo sequence assembly and characterization of the floral transcriptome in cross- and self-fertilizing plants
Received: 6 January 2011
Accepted: 7 June 2011
Published: 7 June 2011
Abstract
Background
The shift from cross-fertilization to predominant self-fertilization is among the most common evolutionary transitions in the reproductive biology of flowering plants. Increased inbreeding has important consequences for floral morphology, population genetic structure and genome evolution. The transition to selfing is usually characterized by a marked reduction in flower size and the loss of traits involved in pollinator attraction and the avoidance of self-fertilization. Here, we use short-read sequencing to assemble, de novo, the floral transcriptomes of three genotypes of Eichhornia paniculata, including an outcrosser and two genotypes from independently derived selfers, and a single genotype of the sister species E. paradoxa. By sequencing mRNA from tissues sampled at various stages of flower development, our goal was to sequence and assemble the floral transcriptome and identify differential patterns of gene expression.
Results
Our 24 Mbp assembly resulted in ~27,000 contigs that averaged ~900 bp in length. All four genotypes had highly correlated gene expression, but the three E. paniculata genotypes were more correlated with one another than each was to E. paradoxa. Our analysis identified 269 genes associated with floral development, 22 of which were differentially expressed in selfing lineages relative to the outcrosser. Many of the differentially expressed genes affect floral traits commonly altered in selfing plants and these represent a set of potential candidate genes for investigating the evolution of the selfing syndrome.
Conclusions
Our study is among the first to demonstrate the use of Illumina short read sequencing for de novo transcriptome assembly in non-model species, and the first to implement this technology for comparing floral transcriptomes in outcrossing and selfing plants.
Keywords
Gene Ontology
Floral Development
Transcriptome Assembly
Floral Trait
Heterozygous Locus
Background
Among the most prevalent evolutionary transitions in plants is the shift from cross-fertilization to predominant self-fertilization among numerous angiosperm lineages [1]. This change in mating system has important consequences for many aspects of the biology of selfing taxa including population genetic structure, colonizing ability, genome evolution and the morphology of flowers [2–5]. The loss of floral mechanisms that reduce the incidence of self-fertilization results in high rates of autogamous selfing, leading to the evolution of the 'selfing syndrome' [6–8]. Although studies of the causes and consequences of cross- and self-fertilization in flowering plants have a long and venerable history, beginning with Darwin's seminal work [9], relatively little is known about the underlying molecular changes that accompany the transition from outcrossing to selfing [10, 11] and genomic analyses of related outcrossing and selfing plants are in their infancy.
Recent technological advances in DNA sequencing technology have removed several limitations associated with gathering large amounts of genomic data from non-model organisms [12], providing opportunities for detailed investigation into the genomics of mating-system variation and evolution. Although assembling large eukaryotic genomes, de novo, may not yet be practical (see [13]), sets of expressed genes or transcriptomes present a viable and attractive alternative to population genetic analyses of whole genome sequences. Transcriptomes represent a fraction of the total genome in size, contain fewer repetitive elements, and by selecting specific tissues they can be enriched for genes relevant to the particular aims of the research. In addition, if the RNA sample is not normalized the relative abundance of different reads has been shown to accurately reflect the expression level of transcripts in the tissue (reviewed by [14]). Despite these potential advantages there remain a number of challenges for de novo transcriptome assembly, including gene duplication or paralogy, heterozygosity and alternative splicing, each of which require careful consideration.
There are relatively few studies to date involving de novo transcriptome assembly in non-model organisms. So far the majority have used the Roche 454 GS platform (currently 200-400 bp/read, 2-4 × 108 bp/run) which has the advantage of longer reads, but produces a fraction of the total amount of sequence produced per instrument per run compared with the Illumina GAII platform (currently 38-100 bp/read, 10-20 × 109 bp/run) (but see [15–17]). Therefore, to maximize the coverage for rare transcripts, cDNA samples are typically normalized. As a result, studies using 454 are not able to estimate expression levels of different ESTs, as this requires deep sequencing of non-normalized cDNA. Further, due to lower sequencing depth many transcripts are represented by a single read, and others by very few reads. This can create problems in accurately distinguishing SNPs from errors, and in retrieving orthologous transcripts for sequence comparisons across experiments or species. Therefore, new methods are required to generate and assemble large datasets, many of which currently consist of substantially shorter reads.
Here, we present de novo floral transcriptome assemblies using short read sequencing of four individual plants of neotropical Eichhornia (Pontederiaceae) species that vary in floral morphology and mating system. The samples include three individuals of E. paniculata, including two from independently derived selfing populations and the third an outcrosser. Eichhornia paniculata is an annual diploid that has been the subject of detailed studies over the past two decades on the ecology and genetics of mating-system variation (reviewed in [18]). Populations of E. paniculata are largely concentrated in northeastern Brazil, with smaller foci in Jamaica and Cuba and isolated localities in Nicaragua and Mexico. Populations in Brazil are largely outcrossing and possess the sexual polymorphism tristyly, which promotes cross-pollination among the three floral morphs (reviewed in [19]). Morphological, genetic and biogeographical evidence indicates that tristyly in E. paniculata has broken down on multiple occasions resulting in independently derived selfing populations [18, 20, 21]. Populations in Jamaica are largely composed of selfing variants of the mid-styled morph (M-morph) in which short-level stamens are elongated to a position adjacent to mid-level stigmas resulting in autonomous self-fertilization. In contrast, plants in Mexico and Nicaragua are selfing variants of the long-styled morph (L-morph) with a different arrangement of their sexual organs (see figure two in [18]). Although both variants possess the selfing syndrome, comparisons of molecular variation at 10 EST-derived nuclear loci indicate a high level of differentiation consistent with their separate origins from different outcrossing ancestors (see figure three in [18]). Our analysis included both of these selfing variants, an individual of an outcrossing L-morph from northeastern Brazil, and a selfing individual of E. paradoxa, the sister species of E. paniculata[22, 23]. We included E. paradoxa to serve as an additional selfing phenotype and as an outgroup for future studies of molecular evolution. The approaches we describe demonstrate the utility of short-read sequencing for quantifying variation in gene expression among related samples.
Results
Assembly & consensus transcriptome generation
De novo
assemblies of each sample using Oases resulted in an average of 56,791 (50,581 - 61,922) contigs per sample, totaling approximately 21.3 Mbp of sequence for each individual. Many of the sequences were small, resulting in an
N50
size of 611 bp and mean contig size of 374 bp (Figure
1
). After removing very similar sequences and contigs that were shorter than 100 bp, the mean number of contigs per sample was 44,614, totaling on average 17.6 Mbp/sample.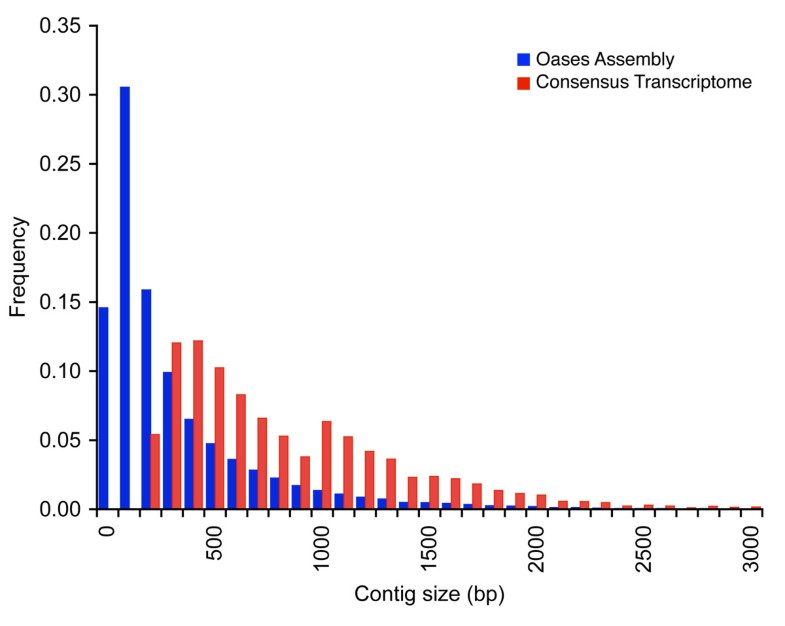 The four-way reciprocal BLAST scheme returned consensus sequences of all contigs present in at least two samples. This resulted in a nearly two-fold reduction in the total number of contigs to 22,630, along with an increase in the N50 to 807 bp and only a slight decrease in the total amount of sequence in the transcriptome, relative to each individual Oases assembly (15.9 Mbp). We attempted to improve our consensus transcriptome by incorporating the remaining contigs into the consensus and by joining contigs that were fragments of the same protein. These steps had only a minor effect on our consensus, increasing the N50 to 819 bp, the total length to 16.0 Mbp and decreasing the total number of contigs to 22,282.
BLAST identified all the unincorporated contigs that had similarity to known proteins. 5624 contigs over 1000 bp had BLASTx hits with
E
< 1 × 10
-15
to known proteins and were added to the consensus transcriptome. After we removed all remaining redundancy, the final consensus transcriptome consisted of 26,994 contigs, representing 23.9 Mbp of sequence with an
N50
of 1129 bp and a mean contig size of 884 bp. The final consensus transcriptome resulted in a nearly two-fold increase in the
N50
, was comprised of ~30,000 fewer contigs than any of the original assemblies, and represented a slightly larger total transcriptome length (Table
2
).
Table 2
Summary statistics for reference transcriptome through progressive stages of assembly.
Assembly stage

N50

Mean

contig size

Total

length

Number

of contigs

Oases assembly

611

374.1

21,311,238

56,971

Reciprocal BLAST

807

703.5

15,919,812

22,630

Contig elongation

812

709.9

16,065,194

22,630

Reduced fragmentation

819

717.8

15,995,086

22,282

Final (including singletons)1

1,129

884.3

23,869,762

26,994
Genotype calling & SNP detection
Using our consensus transcriptome as a reference, we mapped the original short sequence reads for each sample with the software bwa-0.5.7. On average there was 22.0 reads covering each position in the reference with a standard deviation of 32.0 (Table
3
). We generated, on average, 23,543 contigs for each sample. 18,063 of the 26,994 original contigs were found in all four samples and only 139 of the reference contigs were not recovered in any of the samples, likely due to low coverage. Few loci were unique to any single
E. paniculata
genotype, 5254 sequences were shared by all
E. paniculata
samples and not found in
E. paradoxa
. Moreover, 1392 loci were unique to
E. paradoxa
.
Table 3
Summary statisitcs for read mapping.
Sample

Number

of loci

Mean coverage

(per bp ± S.D.)

Number of

heterozygous loci

Total sequence

(bp)

E. paradoxa - Brazil

20,653

21.8 ± 33.7

3,994

17,308,982

E. paniculata - Brazil

24,849

24.3 ± 34.1

4,979

21,362,493

E. paniculata - Jamaica

24,527

21.7 ± 32.1

1,659

20,943,070

E. paniculata - Nicaragua

24,142

20.5 ± 27.9

895

20,603,010
We identified heterozygous loci and potential read mapping errors as loci with one or more bases called as heterozygotes. Assuming that selfing genotypes are largely homozygous, the presence of heterozygous sites in multiple samples of selfers may indicate errors in read mapping (see Discussion). We identified 15,962 loci where there was no evidence of read mapping errors, 8469 loci with some evidence for read mapping errors, and 2563 loci were expressed in either one or zero selfers, precluding the application of this test. For the loci in which there was no evidence for read mapping errors, the number of heterozygous loci was highest in the outcrossing
E. paniculata
genotype (4979) compared to the two selfing genotypes from Jamaica (1659) and Nicaragua (895).
Eichhornia paradoxa
had an intermediate number (3994) of heterozygous loci. To detect the number of SNPs between pairs of genotypes, we selected a conservative set of 5,011 loci (4.2 Mbp) that were expressed in all four individuals and were homozygous in all selfers (Table
4
). The outcrossing Brazilian and selfing Nicaraguan genotypes had the fewest divergent sites (36,998). Intraspecific variation in
E. paniculata
was substantially lower than the divergence of each
E. paniculata
sample to
E. paradoxa
.
Table 4
Number of single nucleotide polymorphisms (SNPs) between pairs of Eichhornia genotypes.
Sample

E. paradoxa

E. paniculata

Brazil

Jamaica

Nicaragua

E. paradoxa - Brazil

-

0.048

0.048

0.047

E. paniculata - Brazil

202,687

-

0.014

0.009

E. paniculata - Jamaica

200,576

58,410

-

0.012

E. paniculata - Nicaragua

195,967

36,998

51,409

-
Functional annotation
23,476 of 26,994 contigs (86.97%) had similarity to known proteins in the NCBI NR database, with a cutoff of
E
< 1 × 10
-10
. 6329 loci had alignments which covered more than 80% of the top protein hits and 10,323 of the query sequences were at least 80% covered by their best protein hit (Figure
2
). BLAST2GO assigned a functional annotation to 21,779 of the loci (80.68%). Within the broad GO category 'cellular components', over a third of the sequences were localized to the plastid, 23.4% to the mitochondrion and 17% to the nucleus (Figure
3
). A number of other cellular components made up the remaining 25.4 % of the annotated loci. Within the broad GO category 'biological process' the two most common type of genes were those involved in cellular (32.5%) and metabolic (31.4%) processes (Figure
3
). 812 genes that were identified are involved in reproductive processes including flower development (269 genes) and pollination (60 genes).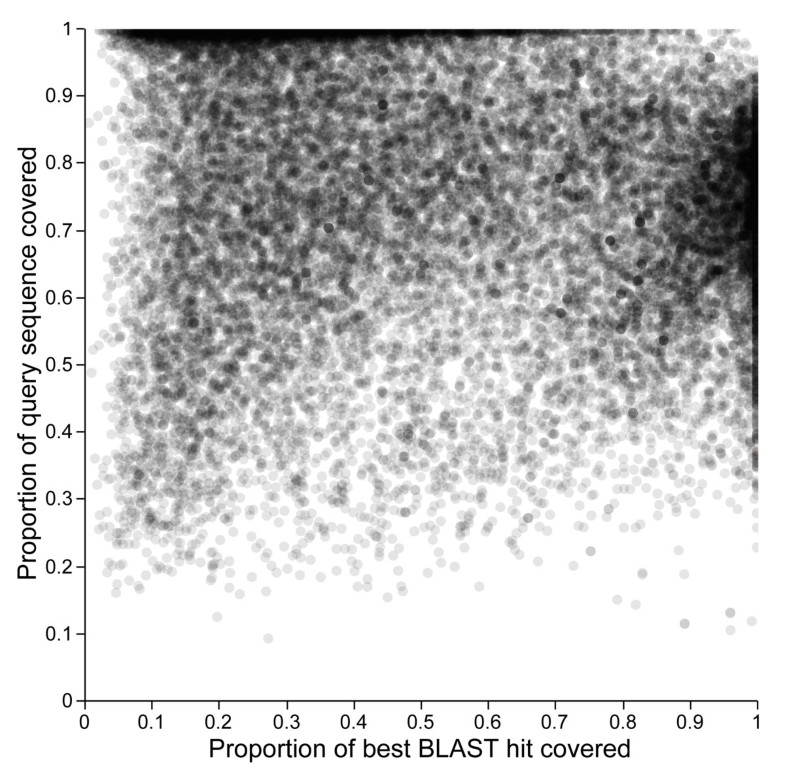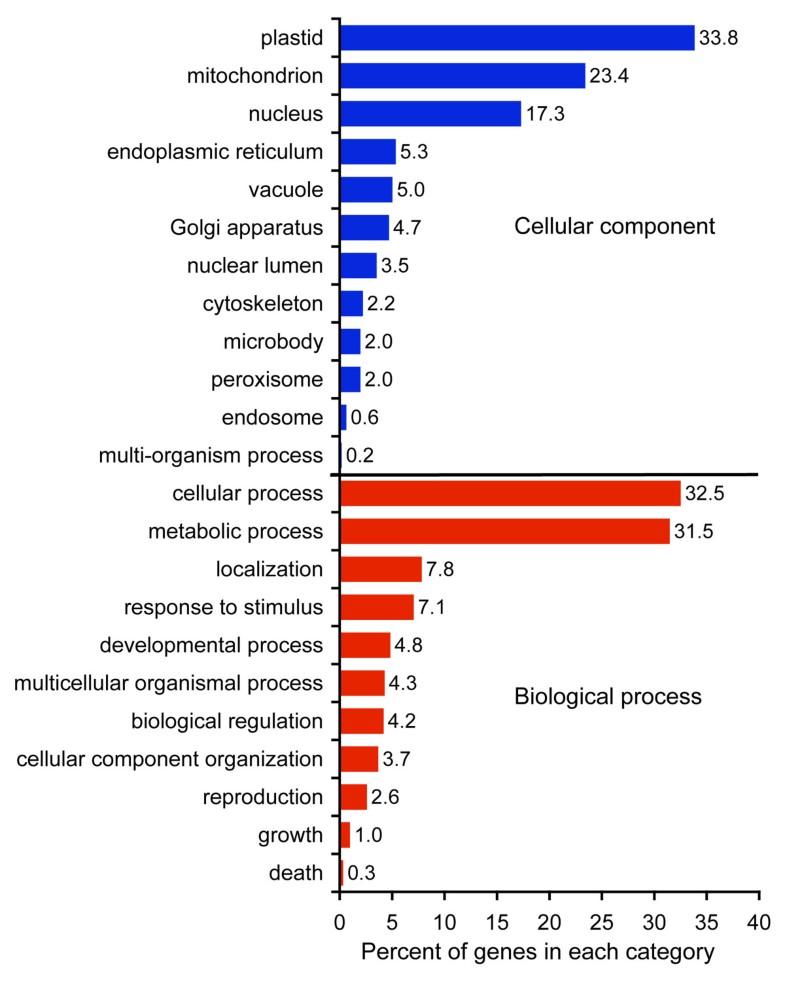 Gene expression
Using FPKM to measure gene expression, we found significant correlation in expression among our samples (Figure
4
). As expected, the correlation of each of the three
E. paniculata
samples with
E. paradoxa
was lower (
r
from 0.60 - 0.63) compared with the correlation of
E. paniculata
genotypes with one another. The two independently derived selfing genotypes were slightly more correlated (
r
JAM-NIC
= 0.93), but not significantly more so than either was to the outcrossing genotype from Brazil (
r
BRA-JAM
= 0.91,
r
BRA-NIC
= 0.92). There were 147 genes that were significantly up-regulated in all three selfing genotypes compared with the outcrosser, 12 of which were involved in reproduction. A similar number of genes (134) were down-regulated in the selfers relative to the outcrosser, 10 of these genes were involved in pollination or flower development (Table
5
).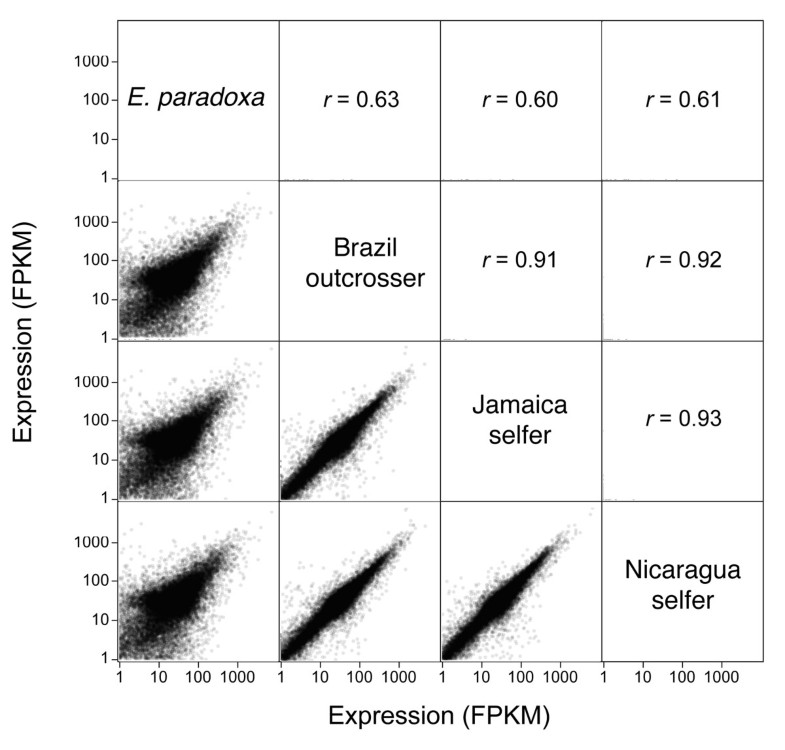 Table 5
Pollen and flower development genes that were differentially expressed in both independently derived selfing genotypes of Eichhornia paniculata and were also identified from selfing Eichhornia paradoxa.
| Homolog name | Fold expression change1 |
| --- | --- |
| 2Gibberellin receptor (GID1c) | 0.51**** |
| 2Peptide transport protein (PTR1) | 0.62**** |
| 2ERECTA-like 1 (ERL1) | 0.64* |
| 2DICER-like1 dsrna-specific nuclease (DCL1) | 0.77** |
| 2Exocyst complex component (SEC5) | 1.29* |
| 2SHK1 binding protein 1 (SKB1) | 1.38** |
| 2REBELOTE (RBL) | 1.64** |
| 2Cellulose synthase (CSLD3) | 0.55*** |
| Pollen-pistil incompatibility 2 (POP2) | 0.62**** |
| ECERIFERUM 1 (CER1) | 0.70*** |
| Auxin signaling F-box 2 (AFB2) | 0.71**** |
| Transport inhibitor response 1 (TIR1) | 0.89* |
| Beta-amylase (BAM1) | 0.99**** |
| Auxin response factor 8 (ARF8) | 1.08**** |
| PEPPER nucleic acid binding protein (PEP) | 1.15** |
| Suppressor of FRIGIDA4 (SUF4) | 1.18* |
| Phosphoglucose isomerase (PGI1) | 1.35** |
| Auxin response factor 6 (ARF6) | 1.50** |
| Regulatory particle non-atpase 10 (RPN10) | 1.50* |
| Phosphatidylglycerolphosphate synthase 1 (PGP1) | 1.60* |
| myb transcription factor (myb24) | 1.79**** |
| Glutaminyl-tRNA synthetase (OVA9) | 1.93**** |
Gene ontology enrichment tests
We investigated whether there was an excess or paucity of particular gene classes that were differentially expressed in the two selfing genotypes of E. paniculata compared to the outcrosser. In the up-regulated genes of the E. paniculata selfers there were 146 GO categories that were significantly enriched. However, using a two-tailed Fisher's exact test we found that only genes involved in photosynthesis (photosynthesis GO:0015979, thylakoid GO:0009579, plastid GO:0009536) were significantly over-represented and the remaining 145 classes of genes were under-represented. In the genes that were expressed at a lower level or were completely absent in the selfers, 12 of 106 and 8 of 62 GO classes were significantly over-represented. Significantly, of the 12 classes of genes in the two E. paniculata selfers that were over-represented among the down-regulated genes, five are related to the regulation of cellular structure and development (regulation of cell morphogenesis GO:0022604, regulation of cellular component organization GO:0051128, regulation of developmental process GO:0050793, regulation of anatomical structure morphogenesis GO:0022603, regulation of cell size GO:0008361). In the E. paniculata selfers, the genes involved in flower development were significantly under represented in both higher and lower expression genes.
Assessment of EST assembly accuracy
Comparisons of our consensus transcriptome ESTs to a set of 217 Sanger sequenced ESTs revealed 11 Illumina ESTs (5.1%) that conflicted with their best Sanger EST match. These 11 ESTs each had regions that could not be aligned with the full length of the best BLAST hit from the Sanger ESTs and also did not have full-length BLAST hits to known proteins in NR. However, all 11 had highly significant hits to proteins in NR. None of the 11 ESTs appeared to be chimeric assemblies of distinct proteins that may have resulted from errors during assembly. Moreover, 9 of the 11 ESTs had sequence flanking their protein-coding region with significant similarity to known 5' and 3' untranslated regions from other monocot genomes.
Discussion
We assembled ~24 Mbp of transcriptome sequence in each of four individuals of two species of Eichhornia. The data represent an important genetic resource of nearly 27,000 transcripts, many of which are common to all four samples. Further, using read mapping to a consensus transcriptome we have generated statistically informed genotypes for each individual in our study. By choosing to extract RNA from buds and mature flowers we were able to recover many genes involved in reproduction and floral development, some of which are likely to provide future insights on genetic changes to floral traits governing mating-system variation. We now compare our assembly and analysis with previous de novo transcriptome sequencing projects and briefly review some of the challenges and interpretations specific to our assembly. In addition, we also discuss the utility of short-read sequencing for characterizing genetic changes in transcriptomes and the expression level of different loci.
Conclusions
We have shown that short-read sequencing can be used to characterize the transcriptomes of multiple individuals for use in comparative studies. We were able to assemble as many contigs as other sequencing methods by de novo assembly, but our contigs were on average substantially longer. By comparing sequences from related individuals we generated a consensus transcriptome. This allowed us to make SNP genotype calls and provided a method for detecting paralogous sequences. Discerning among copies of paralogous sequences presents a major challenge to the current technology and requires either technological or analytical solutions to discern among different members of gene families or duplicates. However, despite these complications we annotated > 80% of contigs and identified thousands of putative orthologs, many of which are differentially expressed. We identified 22 genes that were differentially expressed in selfers and which have developmental functions that suggest a role in the evolution of the selfing syndrome. This sequencing effort has generated a valuable resource of coding DNA for a non-model species. The transcriptome sequences will help in future studies of changes in the genetic architecture involved in the transition from outcrossing to selfing and also for identifying the genes controlling heterostyly.
Declarations
Acknowledgements
We thank William Cole for assistance with population sampling, Justin Giancola and Stéphane De Mita for invaluable advice on computer programming, Stephen Wright, Asher Cutter, David Guttman and John Stinchcombe for helpful discussion. Sequencing was conducted at the Center for Analysis of Genome Evolution and Function (CAGEF) with the help of Pauline Wang, Pauline Fung and Yunchen Gong. The research was supported by grants to SCHB from the Natural Sciences and Engineering Research Council of Canada (Discovery Grant) and a Premier's Discovery Award in Life Sciences and Medicine from the Ontario Government. RWS was supported by student fellowships from the University of Toronto and MS by a post-doctoral fellowship from the Canada Research Chair's Program to SCHB.
Authors' Affiliations
(1)
Department of Ecology & Evolutionary Biology, University of Toronto, Toronto, Canada
(2)
Centre for the Analysis of Genome Evolution & Function, University of Toronto, Toronto, Canada
Copyright
© Ness et al; licensee BioMed Central Ltd. 2011
This article is published under license to BioMed Central Ltd. This is an Open Access article distributed under the terms of the Creative Commons Attribution License (http://creativecommons.org/licenses/by/2.0), which permits unrestricted use, distribution, and reproduction in any medium, provided the original work is properly cited.