Correspondence
Open Access
SNOntology: Myriads of novel snornas or just a mirage?
Received: 23 March 2011
Accepted: 3 November 2011
Published: 3 November 2011
Abstract
Background
Small nucleolar RNAs (snoRNAs) are a large group of non-coding RNAs (ncRNAs) that mainly guide 2'-O-methylation (C/D RNAs) and pseudouridylation (H/ACA RNAs) of ribosomal RNAs. The pattern of rRNA modifications and the set of snoRNAs that guide these modifications are conserved in vertebrates. Nearly all snoRNA genes in vertebrates are localized in introns of other genes and are processed from pre-mRNAs. Thus, the same promoter is used for the transcription of snoRNAs and host genes.
Results
The series of studies by Dahai Zhu and coworkers on snoRNAs and their genes were critically considered. We present evidence that dozens of species-specific snoRNAs that they described in vertebrates are experimental artifacts resulting from the improper use of Northern hybridization. The snoRNA genes with putative intrinsic promoters that were supposed to be transcribed independently proved to contain numerous substitutions and are, most likely, pseudogenes. In some cases, they are localized within introns of overlooked host genes. Finally, an increased number of snoRNA genes in mammalian genomes described by Zhu and coworkers is also an artifact resulting from two mistakes. First, numerous mammalian snoRNA pseudogenes were considered as genes, whereas most of them are localized outside of host genes and contain substitutions that question their functionality. Second, Zhu and coworkers failed to identify many snoRNA genes in non-mammalian species. As an illustration, we present 1352 C/D snoRNA genes that we have identified and annotated in vertebrates.
Conclusions
Our results demonstrate that conclusions based only on databases with automatically annotated ncRNAs can be erroneous. Special investigations aimed to distinguish true RNA genes from their pseudogenes should be done. Zhu and coworkers, as well as most other groups studying vertebrate snoRNAs, give new names to newly described homologs of human snoRNAs, which significantly complicates comparison between different species. It seems necessary to develop a uniform nomenclature for homologs of human snoRNAs in other vertebrates, e.g., human gene names prefixed with several-letter code denoting the vertebrate species.
Keywords
Host GeneNorthern HybridizationsnoRNA GeneVertebrate ClassisRfam Database
Background
Small nucleolar RNAs constitute one of the largest groups of ncRNAs. They guide 2'-O-methylation and pseudouridylation of target RNAs, mainly rRNAs. SnoRNAs are divided into two groups according to the modification type: C/D box snoRNAs guide 2'-O-methylation, while H/ACA box snoRNAs guide pseudouridylation [1, 2]. To date, ~200 RNAs of both groups have been described [3]. C/D box snoRNAs contain conserved C (UGAUGA) and D (CUGA) boxes brought together by complementary interactions between the snoRNA termini [4]. In addition, their (often imperfect) copies C' and D' are located internally [5]. Four core proteins bind these boxes, NOP56, NOP58, 15.5 kDa protein, and fibrillarin that catalyzes 2'-O-methylation [6]. Upstream of the D and/or D' box there is an antisense element of 9-20 nucleotides that is complementary to one of the cellular RNAs and is able to interact with it. A nucleotide in the cellular RNA located four nucleotides from the D/D' box in the resulting RNA/RNA duplex is 2'-O-methylated [2, 7]. H/ACA box snoRNAs carry boxes H (ANANNA) and ACA (ACA) located at the base of two hairpins. The hairpins contain the antisense elements that are complementary to the target RNAs and are capable to interact with them. Four core proteins bind the H and ACA boxes, NHP2, NOP10, Gar1, and dyskerin; the latter catalyzes pseudouridylation [1, 8]. Some C/D and H/ACA RNAs called scaRNAs are localized to Cajal bodies rather than to the nucleolus and guide modification of the snRNAs [9]. According to the new nomenclature accepted for human snoRNAs and scaRNAs, C/D snoRNAs, H/ACA snoRNAs, and scaRNAs are designated as SNORD, SNORA, and SCARNA, respectively [10].
Nearly all snoRNAs and scaRNAs genes in vertebrates are located within introns of other genes called host genes. The small RNAs are processed from pre-mRNAs of host genes [6, 11]. Only SNORD3, SNORD13, SNORD118, SCARNA2, and SCARNA17 are transcribed from intrinsic promoters [3]. Most snoRNAs guide rRNA modifications. These modifications are essential for the ribosome function and probably contribute to rRNA folding, maturation, and stability [12, 13]. The modification pattern is conserved in vertebrates: most 2'-O-methylation sites are identical between Xenopus laevis and human [14]. Homologous snoRNAs in different vertebrate species share the same antisense elements.
Recently, vertebrate snoRNAs have attracted the attention of several research groups [15–18]. In particular, our study of C/D snoRNAs in vertebrates demonstrated a trend towards low copy numbers of C/D snoRNA genes in placental mammals [16]. We have also demonstrated that the set of C/D snoRNAs is well conserved among vertebrates and that species-specific snoRNAs guiding rRNA modifications are extremely rare. Shortly after this publication, Zhu and coworkers reported opposite results [18, 19]. Here, we demonstrate that their conclusions are incorrect due to a number of technical errors. We have mainly focused our criticism on their paper in BMC Genomics [18]; however, we also considered two other recent publications from the same group which are based on the same erroneous approaches [19, 20].
Methods
Homologs of human C/D box snoRNA genes in vertebrate genomes were searched as follows. First, homologs of human host genes were found in vertebrate genomes using the Comparative Genomics panel of UCSC Genome Browser at http://genome.ucsc.edu[39]. Then, the introns of the host genes were manually searched for the presence of snoRNA genes. If unsuccessful, snoRNA sequences were searched by WU-BLAST 2.0 http://www.ensembl.org/Multi/blastview with increased sensitivity parameters: high sensitivity (search for distant homologies) was chosen; W (word size for seeding alignments) = 3 and Q (cost of first gap character) = 1 were set. The intronic location of the search hits was checked using the mRNA and EST databases integrated into the UCSC Genome Browser. The hits with intact C, D/D' boxes, and the antisense element, flanked by short inverted repeats and located within introns of host genes were considered as snoRNA genes. Finally, extra copies of snoRNA genes were searched in the host gene introns.
NcRNAs discussed in [18–20] were analyzed using the UCSC Genome Browser and snoRNABase and Rfam databases [3, 21]. Pairwise and multiple alignments were generated by Clustal V and Clustal W [40, 41]. RNA secondary structures were analyzed using the mfold program [42, 43].
Conclusions
Several recent publications reported numerous lineage-specific snoRNAs in vertebrates. However, the myriads of novel snoRNAs are just a mirage. The approaches used allowed no identification of human homologs of these "new" RNA species. Despite substantial sequence variation in snoRNA homologs in different vertebrates, they can be easily identified by the same antisense elements. The conclusion of elevated numbers of snoRNA genes in mammalian genomes relative to other vertebrates also proved erroneous, since no distinction was made between snoRNA genes and pseudogenes and no thorough analysis of recently sequenced genomes of non-mammalian vertebrates was conducted. The reported evidence for the transcription of many snoRNA genes from their own promoters is inconclusive.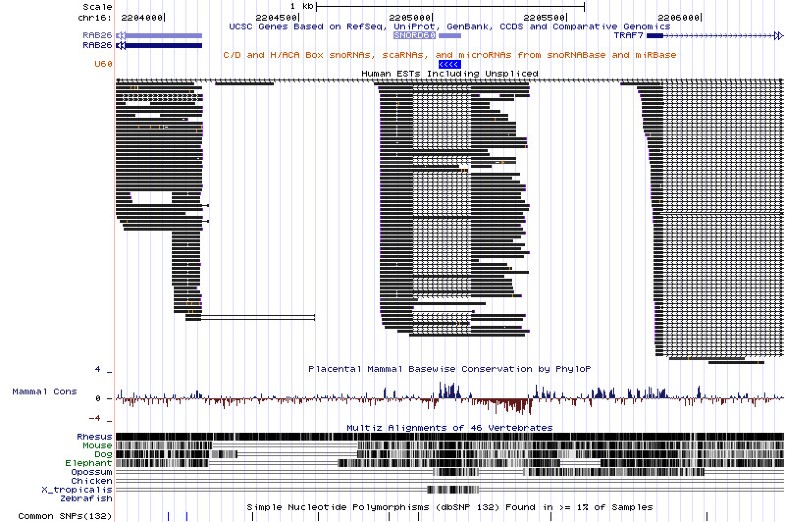 Table 3
Summary of C/D box snoRNA numbers predicted by M&K in 16 vetebrate genomes (data from additional file five of M&K)
| Species | Predicted snoRNA number |
| --- | --- |
| stickle-back | 1 |
| horse | 2 |
| medaka | 9 |
| human | 20 |
| cow | 27 |
| rat | 27 |
| fugu | 53 |
| dog | 64 |
| tetraodon | 82 |
| chicken | 118 |
| lizard | 129 |
| mouse | 143 |
| opossum | 156 |
| platypus | 166 |
| zebrafish | 167 |
| frog | 188 |
| TOTAL | 1352 |
Table 4
Numbers of C/D box snoRNAs in human genome reported by different groups
| Data resourse | Number of C/D box snoRNA | Released year | References |
| --- | --- | --- | --- |
| snoRNA-LBME-db | 269 | 2006 | [3] |
| The HUGO Gene Nomenclature Committee | 272 | 2011 | [53] |
| Rfam (release 10.0) | 223 | 2010 | [44] |
| ENSEMBL (release 63) | 460 (593)* | 2011 | [54] |
| ENSEMBL (release 50)** | 387 (502)* | 2008 | [27] |
| Reported by M&K | 141 | 2009 | [16] |
| Reported by M&K | 20 | 2011 | Additional file four of M&K |
Declarations
Acknowledgements
The work was supported by the Molecular and Cellular Biology Program of the Russian Academy of Sciences and the Russian Foundation for Basic Research (project no. 11-04-00439-a).
Response to: SNOntology: Myriads of Novel SnoRNAs or Just a Mirage?
By Dahai Zhu
Institute of Basic Medical Sciences, Chinese Academy of Medical Sciences, 5 Dong Dan San Tiao, 100005, Beijing, China
dhzhu@pumc.edu.cn, dhzhusara@gmail.com
The work presented by Makarova and Kramerov (M&K) examined our previous studies on chicken and monkey snoRNAs, as well as our work on snoRNA promoter analysis [18–20], and raises some questions. We appreciate the attention given to our work. However, although some of the points raised are reasonable, many of the conclusions are based on biased information, misinterpretation of our results, or analysis of inconsistent datasets.
First, many basic concepts on snoRNAs presented in the M&K manuscript are outdated. For example, in the background section, the authors claim that 'To date, ~200 RNAs of both groups have been described', but the reference cited was published in 2006. The current non-coding RNA collection (in Rfam, release version 10.0) includes 519 snoRNA families and a total of 108, 332 snoRNAs [44]. The authors state that "nearly all snoRNAs and scaRNAs genes in vertebrates are located within introns of other genes. In fact, there are only five exceptions". This point also serves as support for the criticisms on our analysis of independently transcribed snoRNAs. However, this statement must be updated, because the reported number of human intergenic snoRNAs has been far exceeded that given by the authors, and some are indeed independently transcribed, even if intronically encoded, as reviewed in [28]. The recently discovered regulatory functions of snoRNAs [45, 46] are also overlooked.
The authors criticize our analysis of lineage- or species-specific snoRNAs, and give the following reasons. First, "all snoRNAs cloned from rhesus monkey have been previously found in human"; second, "the pattern of rRNA modifications as well as the set of snoRNAs guiding these modifications are conserved in vertebrates"; and third, "the failure to detect the expression of some snoRNAs is due to the sequence divergence among species". Our answers to these questions follow. In terms of the first statement, as we mentioned in our paper, we indeed identified homologous snoRNA genes or pseudogenes for all the rhesus monkey snoRNAs that we cloned. However, as the human snoRNAs used in our study, as well as those to which M&K refer [16], have been identified by both cloning and computational prediction methods, the presence of a monkey snoRNA homologous sequence in the human genome does not directly indicate that those snoRNAs are expressed in human cells. In terms of the second statement, we do not understand why functional conservation of rRNAs within a large family can be used to support the notion that lineage- or species-specific snoRNAs are absent, especially given the increasing body of evidence indicating the regulatory roles played by snoRNAs in humans [6, 7]. In terms of the third statement, it is possible that the lack of detectable signals from some snoRNAs in the chicken is attributable to sequence divergence. However, we speculate that this may not be the major reason as we were able to obtain positive northern blot hybridization signals for some sequences with as low as 12% conservation, but failed to obtain signals for some sequences with 100% conservation. We plan to gather further experimental data using species-specific probes to update our conclusion.
We think that the authors' criticism of our 'novel' chicken ncRNA work is very misleading. In the cited report, we identified 125 chicken ncRNAs including 102 snoRNAs, using a direct cloning method. Compared with the chicken snoRNAs predicted by Rfam, we found 25 snoRNAs that were not reported in chicken, and termed these molecules "novel snoRNA candidates". We also mentioned that 12 of the novel snoRNA candidates that we cloned had also been independently identified by Qu's group [17]. Although the snoRNAs identified by us in chicken have homologs in other vertebrates (Supplemental File 1 of our original work), majority of them have very low levels of sequence similarity as compared to human snoRNAs. When we conducted the analysis just mentioned, the human snoRNA homologs listed in Table two of M&K were not included in the ENSEMBL and Rfam datasets. Therefore, we could not find human homologs of those snoRNAs. Similarly, the snoRNA homologs listed in Figure six of M&K were also not included in the versions of the ENSEMBL datasets that we used for monkey snoRNA analysis, but are indeed included in the current release. As it is well-known that the human genome annotation is consistently being updated, we think it is inappropriate and misleading to compare results obtained using different datasets.
We admit that our snoRNA target prediction methods may not be perfect; we were aware of this possibility when we conducted our work, but no better snoRNA target prediction software was available at that time. Thus, in our paper, we reported only the comparative conservation of putative snoRNA target sites between human and rhesus monkey. To render comparisons consistent among snoRNAs, we did not refine our predictive results using known targets, because correction in one species may lead to biased results in the conservation analysis. We did emphasize that the target sites that we listed were all putative.
The authors question the accuracy of the numbers of snoRNAs in different species contained in the ENSEMBL and Rfam databases. They have designed a snoRNA prediction tool based on refined sequence similarity search and have identified 1, 352 C/D box snoRNAs in 16 vertebrate species (Additional File five of M&K). Based on that result, they claim that the copy number of C/D box snoRNA genes is lower in mammals than in other vertebrates. We have analyzed the 1, 352 C/D box snoRNAs used in their study (Table 3). To our surprise, only 20 human snoRNAs were included in the list, and the numbers of snoRNAs of other mammals were also very low. However, the current numbers of recorded human C/D box snoRNAs deposited in several major databases range between 230~460 (Table 4), and at least 270 such predictions are supported by EST evidence (Data not shown). Therefore, the number of snoRNAs predicted (by M&K) in vertebrate genomes is obviously far less than the numbers of known snoRNAs supported by experimental evidence.
The authors use SNORD87 as an example to demonstrate the presence of 'a trend towards low copy numbers of C/D snoRNA genes in placental mammals'. However, many opposing examples could be given. One such is the SNORD115 and SNORD116 C/D box snoRNA families which are absent in non-eutherian vertebrate genomes but present as 30~50 tandem repeat copies on human chromosome 15q11-13. Mutations in these snoRNA clusters have been shown to be the cause of autism spectrum disorder and Prader-Willi syndrome [47, 48]. However, these clusters were omitted from the M&K analysis.
The authors suggest that the numbers of snoRNAs obtained in our analysis are overestimates, given that some mammalian snoRNAs may be pseudogenes. We mentioned the possible existence of pseudogenes in our original work. However, as we reported (Figure 4A & B of our original paper), the numbers of snoRNAs and snoRNA families can be seen to have increased during evolution even when only intronic snoRNAs are considered. In addition, the expansion of snoRNA pseudogenes could also be considered to reflect snoRNA duplication.
M&K also question our snoRNA promoter prediction results [20]. In that work, we integrated the manual snoRNA dataset of Dieci et al. [28] with the Ensembl dataset (Release 53) [49] to perform promoter predictions for human snoRNAs. As a result, we proposed five transcriptional models for human snoRNAs. M&K challenge our models II and III by arguing that several snoRNA loci with putative independent promoters reported in our study might be pseudogenes because of the presence of short sequence deletions or sequence variations. However, their claim of SNORD3 as a pseudogene for the lack of 100% sequence conservation at functional regions is not convincing. As shown in our earlier work [20], the detected DNase I-hypersensitive sites and the Pol II binding site are all located within 500 bp of the predicted TSS of SNORD3, strongly supporting the idea that the SNORD3 locus is transcriptionally active.
Although snoRNAs function mainly as modulators of ribosomal RNAs, snoRNAs may have broader functions than previously appreciated. One possibility is that snoRNAs may serve as precursors of microRNAs and may possess microRNA-like functions [46, 50]. Some snoRNAs are known to regulate alternative splicing of their target mRNAs [45, 51, 52]. Therefore, genomic loci harboring snoRNA variants might have non-canonical functions different from those of typical snoRNAs, although transcriptional activity must be experimentally proven. Moreover, active transcription of pseudogenes actually plays an important role in gene expansion during genome evolution. Overall, it is inadequate and illogical for M&K to point to potential pseudogenes to challenge snoRNA transcription models II and III.
M&K argue that some intergenic snoRNA examples used by us in our snoRNA promoter study were indeed of intronic origin. As illustrated in Figure Four b of M&K, SNORD60 lie in the intronic region of some ESTs, however, many unspliced ESTs were omitted in their figure (Figure 8). Similar cases are SNORD104 and SNORA76 shown in additional file six of M&K. Previous studies have demonstrated that SNORD104 and SNORA76 are independently transcribed [28], which is in agreement with our results. For another example SNORD93, it is located within an intergenic region according to the RefSeq and UCSC gene models (hg18) used in our previous work [20], but was reannotated as an intronic snoRNA in the hg19 release. Such information update should not be classified as analysis errors.
In summary, because of the nature of computational prediction work, it is very unlikely that bioinformatic analysis data will ever be error-free. We welcome updated analysis of our data using improved methods and enriched reference sources. However, the work presented in the report by M&K is characterized by the drawing of conclusions based on biased information, and misinterpretation of both their own and our results, which may add more confusions to the field.
Authors' Affiliations
(1)
Engelhardt Institute of Molecular Biology, Russian Academy of Sciences, Moscow, Russia
Copyright
© Makarova and Kramerov; licensee BioMed Central Ltd. 2011
This article is published under license to BioMed Central Ltd. This is an Open Access article distributed under the terms of the Creative Commons Attribution License (http://creativecommons.org/licenses/by/2.0), which permits unrestricted use, distribution, and reproduction in any medium, provided the original work is properly cited.