Research article
Open Access
The MetJ regulon in gammaproteobacteria determined by comparative genomics methods
Received: 18 August 2011
Accepted: 14 November 2011
Published: 14 November 2011
Abstract
Background
Whole-genome sequencing of bacteria has proceeded at an exponential pace but annotation validation has lagged behind. For instance, the MetJ regulon, which controls methionine biosynthesis and transport, has been studied almost exclusively in E. coli and Salmonella, but homologs of MetJ exist in a variety of other species. These include some that are pathogenic (e.g. Yersinia) and some that are important for environmental remediation (e.g. Shewanella) but many of which have not been extensively characterized in the literature.
Results
We have determined the likely composition of the MetJ regulon in all species which have MetJ homologs using bioinformatics techniques. We show that the core genes known from E. coli are consistently regulated in other species, and we identify previously unknown members of the regulon. These include the cobalamin transporter, btuB; all the genes involved in the methionine salvage pathway; as well as several enzymes and transporters of unknown specificity.
Conclusions
The MetJ regulon is present and functional in five orders of gammaproteobacteria: Enterobacteriales, Pasteurellales, Vibrionales, Aeromonadales and Alteromonadales. New regulatory activity for MetJ was identified in the genomic data and verified experimentally. This strategy should be applicable for the elucidation of regulatory pathways in other systems by using the extensive sequencing data currently being generated.
Keywords
MethionineHomocysteinemetERegulonHomoserine
Background
The advent of fast sequencing techniques over the past few decades has led to an exponential increase in the number of fully sequenced organisms, particularly bacteria with their smaller genomes. Although a great deal of data is being generated, much of it is in the form of annotations based on automated similarity searches. It is important to validate these annotations and extend the use of the databases by organizing the genes into coherent pathways.
Here sequenced bacterial genomes were used to determine the full extent of the MetJ regulon in gammaproteobacteria. This regulon is controlled by the transcription factor MetJ which represses genes involved in methionine biosynthesis and transport [
1
–
4
]. Figure
1
shows various metabolic pathways involving methionine and Table
1
gives the functions of the genes. To date, the MetJ regulon has been studied almost exclusively in
E. coli
and the closely-related
Salmonella
, but it is likely that the complement of repressed genes extends beyond that known in these organisms.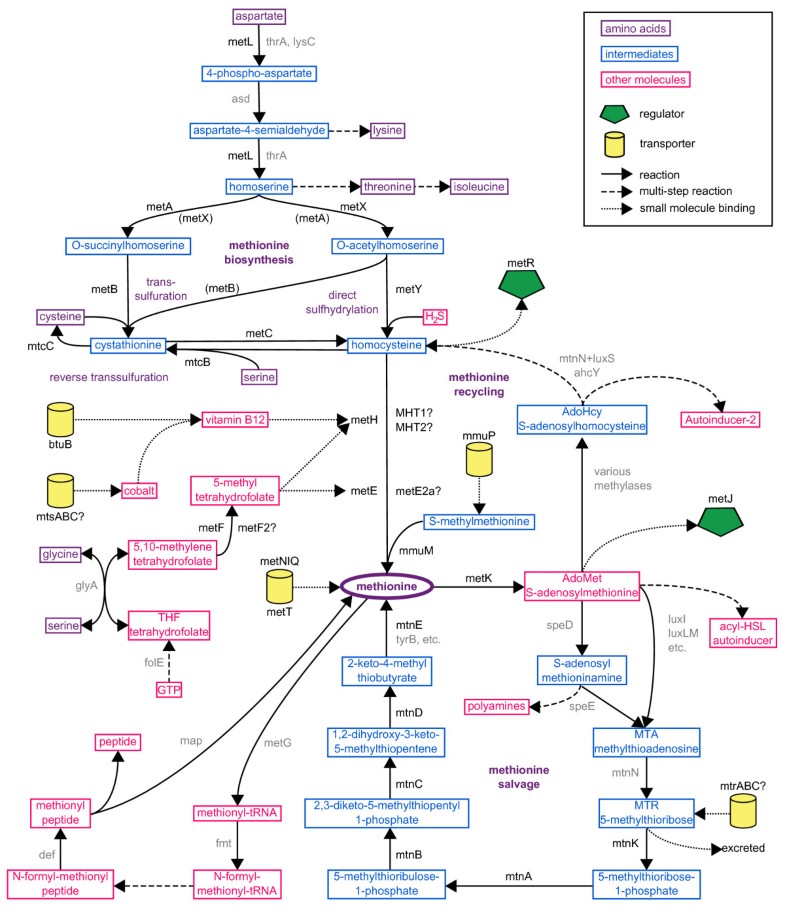 Table 1
Functions of the genes involved in methionine utilization
gene

function1

Regulators

metJ

AdoMet-dependent transcriptional repressor

metR

homocysteine-dependent transcriptional activator

Biosynthetic enzymes

metL

aspartokinase II/homoserine dehydrogenase II

metA

homoserine O-succinyltransferase

metX

homoserine O-acetyltransferase

metY

~O-acetylhomoserine sulfhydrylase

metB

cystathionine gamma-synthase

metC

cystathionine beta-lyase

metF

5,10-methylenetetrahydrofolate reductase

metH

methionine synthase (B12-dependent)

metE

methionine synthase (B12-independent)

metK

S-adenosylmethionine (AdoMet) synthetase

Methionine salvage pathway genes

ybdH

~alcohol dehydrogenase

mtrA

~MTR transporter (ATPase subunit)

mtrC

~MTR transporter (permease subunit)

mtrB

~MTR transporter (substrate-binding subunit)

mtrY

~function unknown

mtnK

5-methylthioribose (MTR) kinase

mtnA

S-methyl-5-thioribose-1-phosphate isomerase

mtnD

1,2-dihydroxy-3-keto-5-methylthiopentene dioxygenase

mtnC

2,3-diketo-5-methylthio-1-phosphopentane phosphatase

mtnB

methylthioribulose-1-phosphate dehydratase

mtnE

methionine aminotransferase

mtnU

~nitrilase

Transporters

metN

methionine transporter (ATPase subunit)

metI

methionine transporter (permease subunit)

metQ

methionine transporter (substrate-binding subunit)

metT

~methionine transporter (Na+/H+ antiporter family)

btuB

vitamin B12 (cobalamin) outer membrane transporter

mtsA

~cobalt transporter (substrate-binding subunit)

mtsB

~cobalt transporter (ATPase subunit)

mtsC

~cobalt transporter (permease subunit)

nhaP

~Na+/H+ antiporter

Other regulated genes

mmuP

S-methylmethionine permease

mmuM

S-methylmethionine : homocysteine methyltransferase

MHT1

~homocysteine S-methyltransferase

dppA

~transporter (substrate-binding subunit)

dppB

~transporter (permease subunit)

dppC

~transporter (permease subunit)

dppD

~transporter (ATPase subunit)

MHT2

~homocysteine S-methyltransferase

arcD

~amino acid permease

metE2a

~methionine synthetase (B12-independent)

mtcB

cystathionine beta-synthase

mtcC

cystathionine gamma-lyase

megL

~methionine gamma-lyase

pcbC

~oxygenase

Various unregulated genes

ahcY

adenosylhomocysteinease

asd

aspartate semialdehyde dehydrogenase

def

peptide deformylase

fmt

10-formyltetrahydrofolate : L-methionyl-tRNAfMet N-formyltransferase

folE

GTP cyclohydrolase I

glyA

serine hydroxymethyltransferase

luxS

S-ribosylhomocysteine lyase

map

methionine aminopeptidase

metG

methionyl-tRNA synthetase

mtnN

methylthioadenosine (MTA) nucleosidase/S-adenosylhomocysteine (AdoHcy) nucleosidase
Previously, genes in the regulon were recognized on an individual basis by identifying DNA binding sites for MetJ, called metboxes, or by showing regulation via MetJ, methionine or its derivative S-adenosylmethionine (AdoMet) which is the co-factor for MetJ. Efforts to do large-scale, undirected searches for MetJ-regulated genes have been limited to E. coli [5, 6]. By expanding our search to all sequenced bacteria, the dataset we had available for this study included 206 sequenced organisms representing 41 genera in 5 orders.
In this study, we have identified the conserved members that form the core of the regulon in all the organisms. While each species has a unique spectrum of regulated genes, the over-all regulon includes all the genes involved in methionine biosynthesis, salvage and transport. We have identified some previously unknown members of the regulon and, in addition, have experimentally confirmed that some of these are regulated by MetJ in vivo.
Discussion
The various regulons
The genes in the MetJ regulon in E. coli make up the core of the regulon that is consistently repressed in other gammaproteobacteria species. This includes all the genes involved in methionine biosynthesis and transport, although not every gene is regulated in every species. In addition, comparative genomics methods have identified other genes, such as the methionine salvage pathway, which does not occur in E. coli, but which is consistently regulated in all the species where it is found. With only a few exceptions, the methionine utilization genes that form the MetJ regulon in gammaproteobacteria are the same as those in Gram-positive bacteria, despite major differences in regulatory mechanisms [26].
Novel members of the regulon that we were able to verify experimentally are btuB (vitamin B12 transporter), metX (homoserine O-acetyltransferase), metY (possible O-acetylhomoserine sulfhydrylase), metH (B12-dependent methionine synthase), metE2a (possible methionine synthase), mtnKADCB (methionine salvage pathway enzymes), and the transporters mtrACB, metT and nhaP. We also identified some potential members that we were not able to test at this time: metF2 (possible 5,10-methylenetetrahydrofolate reductase), MHT1 and MHT2 (possible methionine synthases), mtcBC (reverse transsulfuration enzymes), megL (possible methionine gamma-lyase) and mtsABC (metal transporter). These novel genes highlight one of the major advantages of genomics-based methods since most of these genes do not exist in E. coli, and the others, like btuB and metH, are not regulated by MetJ.
There are some genes that appear never to have metboxes in the species we studied. These include asd, glyA and folE which are peripheral genes in the methionine biosynthetic pathway; mtnN, luxS and ahcY which are involved in recycling S-adenosylhomocysteine back to homocysteine; metG, fmt, def and map which generate methionyl-tRNA, formylate it, deformylate it and remove initial methionine from translated proteins; and the genes involved in cysteine metabolism. We note that folE was previously identified as a possible target for MetJ based on microarray data [6]. We could not identify metboxes for any of the folE homologs in the five orders and a gel-shift assay performed with E. coli folE showed no binding under our conditions (Figure S1). However, in the ONPG assay folE had weak repression so it may be indirectly regulated.
The various organisms
The spectrum of regulated genes is undoubtedly related to the particular environments these organisms live in, as sulfur, and thus methionine, concentrations can vary a great deal [19]. One observation we can make from this study is that organisms which have developed an endosymbiotic (e.g. Buchnera aphidicola and Sodalis glossinidius) or obligate pathogenic (e.g. Haemophilus ducreyi and Yersinia pestis) lifestyle tend to lose regulon genes, as well as MetJ itself and the metbox sites. There are a variety of patterns of loss that likely reflect the degree of symbiosis as well as the time-scale involved. For instance the Ent symbiotes which lack MetJ have also lost all their metboxes and most regulon genes, while Yersinia pestis has a largely intact regulon with loss of only a few genes and no change in metbox distribution.
For free-living organisms there is likely to be a synergistic effect from the environmental niche in which the bacteria find themselves. For instance many Enterobacteria have a methionine salvage pathway which can utilize MTR as a sulfur source. In addition to endogenous production of MTR, these species likely can transport it from organisms like E. coli which excrete it into the common milieu. Likewise, S-methylmethionine is commonly produced by plants, and organisms with the mmuPM genes, like the plant pathogen Pectobacterium, can utilize this as a substrate for methionine synthesis.
The various pathways
There are a variety of biosynthetic pathways on display in Figure 1, but there is clearly an ancestral pattern for methionine biosynthesis via MetA, MetB, MetC and the synthases MetE and MetH. Some organisms have replaced these with alternate pathways, such as MetX and MetB2 in Pas, or have acquired additional genes that may function in parallel, such as the many transsulfuration enzymes with unknown specificities. In particular, the spectrum of present, absent, regulated, and unregulated genes in Table S2 provides a rich resource for identifying non-canonical pathways or filling gaps in known ones. Alternate routes for methionine production may include reliance on transport of precursors, such as MTR and S-methylmethionine as well as homocysteine, or recycling pathways, such as methionine salvage which regenerates methionine molecules that derive their backbone from ribose rather than aspartate. For each species, a delineation of the full pathway would be necessary to understand the place of methionine biosynthesis within the metabolism of the whole organism. Such system-wide information is useful in metabolic engineering for production of organic molecules [40], as well as in the development of drugs for prokaryotic-specific proteins such as those of the methionine salvage pathway [41] and the cobalamin-independent methionine synthase MetE [42].
Conclusions
This study is designed to use data from bacterial genome sequencing projects to gain a more complete understanding of the regulon controlled by MetJ in all the organisms in which it is found. We have identified over 2000 binding sites for ~35 genes and operons from 206 gammaproteobacteria species. Among these are genes expected from the E. coli MetJ regulon, as well as some new ones. For some of these genes we were also able to verify their regulation by MetJ experimentally.
Methods
Bioinformatics analysis
The genomes (and plasmids) for all sequenced species within the five orders containing MetJ homologs (Enterobacteriales, Pasteurellales, Vibrionales, Aeromonadales and Alteromonadales) were accessed from the Genome Information Broker [43, 44] website in January, 2011. This was a total of 206 species. Orthologous genes were identified using BLAST searches [45], as well as consideration of the genomic environment. In most cases this identification was straight-forward since we were only interested in a subset of the gammaproteobacteria. However in some cases, particularly metR (part of the LysR family) and btuB (part of the TonB family), it was not always possible to confidently identify orthologs. For determining entire gene families (e.g. metE and metH in Figure 7), an e-value of e-25 was used as the threshold. Gene alignments were made using ClustalW within MEGA5 [46]. Trees were made in MEGA5 using Neighbor-Joining with 500 bootstrap replicates. Data for the phylogenetic tree of gammaproteobacteria in Figure 2 was downloaded from the Orthologous Matrix Project [7, 47] and manipulated in MEGA5.
Metbox identification
An initial information weight matrix [
48
] was made using known metboxes for genes of the
E. coli
MetJ regulon (
metA
,
metJ/BL
,
metC
,
metE/R
,
metF
,
metK
,
metNIQ
, and
mmuPM
). The matrix is based on the information content of each base in each position of the metbox using the equation:
Since the binding site is palindromic the data was symmetrized for each half-metbox.
This matrix was used to do a preliminary scan for metboxes in the 400-bp upstream of genes homologous to the
E. coli
MetJ regulon since those were likely to be real hits. One representative species from each genus was queried to reduce bias. To determine potential metboxes, a bit score was calculated for each 8-bp sequence by summing the values for the actual base at each position using the values in the matrix. Although each MetJ homodimer binds to a single 8-bp sequence, functional repression requires two or more adjacent sites [
49
]. A single metbox was required to have a bit-score greater than or equal to 1/4 the value of the consensus sequence, while the total site was required to have a bit-score greater than or equal to the value of the consensus sequence. These thresholds are arbitrary but were empirically found to be good at identifying known metboxes while reducing the number of false positives. The searches were performed using custom perl scripts. The 832 half-metboxes identified this way were used to create the final matrix (Table
3
). This was then used to look for metboxes in the operators of all annotated genes in all species. The searches were not restricted to intergenic regions because of the possibility of incorrect automated annotation of genes. In practice, most of the high-confidence sites were located in intergenic regions, typically within ~75 bp of the start of translation. For determining whether particular metbox sequences are conserved or not, the metboxes were aligned and the percent of identical bases was determined relative to a reference species. The DNA compared include the metboxes as well as 8 basepairs on both sides since the flanking DNA is expected to vary more than the MetJ binding sites.
Table 3
Information weight matrix used to search for metboxes
Count1

Riw (bits per base)2

1 (8)

2 (7)

3 (6)

4 (5)

1 (8)

2 (7)

3 (6)

4 (5)

A

634

156

721

37

1.61

-0.42

1.79

-2.49

C

6

25

84

573

-5.12

-3.06

-1.31

1.46

G

135

560

27

4

-0.62

1.43

-2.95

-5.70

T

57

91

0 > 13

218

-1.87

-1.19

-7.70

0.07
lacZ reporter and ONPG assay
A reporter plasmid was made from pBR322 [50] by: removing the ampicillin resistance gene; making a silent mutation in the tetracycline resistance gene to remove an NheI site; and adding NsiI and KpnI sites by primer-amplification of the plasmid. The full-length E. coli lacZ gene sequence was amplified from strain W3110 with flanking NheI and KpnI sites, then cloned into the modified pBR322. This construct is referred to as pBZT. Operator sequences were cloned between the NheI and NsiI sites.
The candidate operators were cloned from one of eight bacteria: Escherichia coli W3110 and Haemophilus influenzae Rd KW20 (both courtesy C. Raetz, Duke University), Klebsiella pneumoniae and Yersinia pestis KIM (both courtesy S. Abraham, Duke University), Yersinia pseudotuberculosis YPIII and Yersinia enterocolitica 8081 (both courtesy V. Miller, University of North Carolina at Chapel Hill), Vibrio cholerae N16961 (courtesy M. Kuehn, Duke University) and Shewanella oneidensis MR-1 (courtesy J. Frederickson, Pacific Northwest National Laboratory).
When necessary, genomic DNA was prepared by centrifuging an overnight culture of bacteria (1.5 ml) and resuspending the cells in 500 μl buffer containing 100 mM Tris, pH 8 and 50 mM EDTA. SDS was added to 1% to lyse the cells. 250 μl of 7.5 M ammonium acetate was added, then 500 μl phenol-chloroform. After spinning the sample down, the top 500 μl was removed and 1 ml isopropanol was added to precipitate the DNA. The DNA was washed with 70% ethanol, air-dried, then resuspended in 50 μl TE (10 mM Tris, pH 8, 1 mM EDTA).
Operator sequences were amplified by PCR from the genomic DNA using PfuUltra II HotStart 2× (Stratagene) with primers that produced flanking NsiI and NheI sites. (For operators which contained these sites, PstI and SpeI, respectively, were used instead to produce compatible ends.) These operators were cut and gel-purified then inserted into pBZT. All insertions were verified by sequencing. In cases where the insertion differed from the published sequence, a second independent construct was prepared to verify the polymorphism. In no case were these changes in the proposed metboxes. We note that our Klebsiella strain does not match any of the published genomes, but is most similar to K. pneumoniae NTUH-K2044.
Reporter plasmids were transformed into
E. coli
strain MC4100 (Δ(
argF-lac
)169) [
51
,
52
], which is missing the entire
lac
operon, and TK4100 (MC4100
metJ::cam
r
), a
metJ
knock-out strain (courtesy R. Greene, Duke University). Expression from the operator was measured using a β-galactosidase assay [
53
]. In brief, overnight cultures of the transformed strains were diluted 1/100 into fresh LB and grown for 2 hours at 37°C to mid-log phase (OD typically between 0.3 and 0.6). Aliquots of the cells were diluted into assay buffer (50 mM phosphate, pH 7, 100 mM NaCl and 1 mM DTT) and permeabilized with 10% toluene for at least 15 minutes at room temperature. ONPG was added to a final concentration of 1 mg/ml and the samples were then incubated at 37°C until they turned yellow, at which point they were quenched with an equal volume of 100 mg/ml sodium carbonate. Samples were spun down 5 min at max speed in a microcentrifuge, and the absorbance at 420 nm was then measured. The spectrometer was blanked against a parallel reaction made with untransformed MC4100. Miller units were calculated using the following equation:
For each construct in each strain, at least two colonies were chosen, and triplicate samples were assayed for each colony. Results are represented as the ratio of the activity during repressed conditions (MC4100) to that during derepressed conditions (ΔmetJ), and shown with the standard deviation for the six measurements.
Gel shift assay
Operators were tested directly for MetJ binding using a gel-shift assay. For each plasmid, primers in the vector were used with MangoMix (Bioline) to amplify a 636-bp fragment incorporating the 400-bp operator. 50 μl PCR reactions were cleaned up using SureClean Plus (Bioline) and the precipitated DNA was resuspended to the same starting volume with TES Buffer (20 mM Tris, pH 8, 1 mM EDTA, 150 mM NaCl). 1 μl of the PCR mix (approximately 10 ng DNA) was used in a 30 μl reaction with 0 or 50 nM MetJ. Samples were run on a 7.5% TGE gel (25 mM Tris, 192 mM glycine, and 2 mM EDTA) containing 250 μM AdoMet, then stained with Vistra Green (GE Healthcare) and imaged with a Typhoon 9410 phosphorimager using a 520 BP 40 fluorescence filter.
Declarations
Acknowledgements
We thank Drs. S. Abraham, J. Frederickson, R. Greene, M. Kuehn, V. Miller, and C. Raetz for generously providing bacterial strains or genomic DNA. Financial support for this work was in part from NIH Grant RR-022854 and Duke University.
Authors' Affiliations
(1)
Department of Biochemistry, Duke University, Durham, USA
(2)
Department of Radiology, Duke University, Durham, USA
Copyright
© Augustus and Spicer; licensee BioMed Central Ltd. 2011
This article is published under license to BioMed Central Ltd. This is an Open Access article distributed under the terms of the Creative Commons Attribution License (http://creativecommons.org/licenses/by/2.0), which permits unrestricted use, distribution, and reproduction in any medium, provided the original work is properly cited.