Research article
Open Access
Segmental duplication as one of the driving forces underlying the diversity of the human immunoglobulin heavy chain variable gene region
Received: 23 June 2010
Accepted: 27 January 2011
Published: 27 January 2011
Abstract
Background
Segmental duplication and deletion were implicated for a region containing the human immunoglobulin heavy chain variable (IGHV) gene segments, 1.9III/hv3005 (possible allelic variants of IGHV3-30) and hv3019b9 (a possible allelic variant of IGHV3-33). However, very little is known about the ranges of the duplication and the polymorphic region. This is mainly because of the difficulty associated with distinguishing between allelic and paralogous sequences in the IGHV region containing extensive repetitive sequences. Inability to separate the two parental haploid genomes in the subjects is another serious barrier. To address these issues, unique DNA sequence tags evenly distributed within and flanking the duplicated region implicated by the previous studies were selected. The selected tags in single sperm from six unrelated healthy donors were amplified by multiplex PCR followed by microarray detection. In this way, individual haplotypes of different parental origins in the sperm donors could be analyzed separately and precisely. The identified polymorphic region was further analyzed at the nucleotide sequence level using sequences from the three human genomic sequence assemblies in the database.
Results
A large polymorphic region was identified using the selected sequence tags. Four of the 12 haplotypes were shown to contain consecutively undetectable tags spanning in a variable range. Detailed analysis of sequences from the genomic sequence assemblies revealed two large duplicate sequence blocks of 24,696 bp and 24,387 bp, respectively, and an incomplete copy of 961 bp in this region. It contains up to 13 IGHV gene segments depending on haplotypes. A polymorphic region was found to be located within the duplicated blocks. The variants of this polymorphism unusually diverged at the nucleotide sequence level and in IGHV gene segment number, composition and organization, indicating a limited selection pressure in general. However, the divergence level within the gene segments is significantly different from that in the intergenic regions indicating that these regions may have been subject to different selection pressures and that the IGHV gene segments in this region are functionally important.
Conclusions
Non-reciprocal genetic rearrangements associated with large duplicate sequence blocks could substantially contribute to the IGHV region diversity. Since the resulting polymorphisms may affect the number, composition and organization of the gene segments in this region, it may have significant impact on the function of the IGHV gene segment repertoire, antibody diversity, and therefore, the immune system. Because one of the gene segments, 3-30 (1.9III), is associated with autoimmune diseases, it could be of diagnostic significance to learn about the variants in the haplotypes by using the multiplex haplotype analysis system used in the present study with DNA sequence tags specific for the variants of all gene segments in this region.
Keywords
Gene SegmentSegmental DuplicationPolymorphic RegionParalogous SequenceSingle Sperm
Background
The human immunoglobulin heavy chain variable region (IGHV) is highly polymorphic [reviewed in [1]]. It is believed that no chromosomes share the same set of IGHV gene segments in the human population. However, the extent of the polymorphisms, their impact on antibody diversity and the mechanisms underlying the formation of these polymorphic regions remain unclear as studying polymorphisms in this region is a daunting task. The high degree of sequence identity among the repetitive sequences makes it extremely difficult to distinguish between allelic and paralogous sequences. Because the region is highly polymorphic, it is necessary to separate individual allelic variants or haplotypes for study of this region while the commonly available and analyzable samples are usually diploid. To overcome these barriers, we have developed a suite of innovative techniques. By using single sperm cells, the haplotypes in the polymorphic regions can be analyzed individually and precisely. Since paralogous sequences are present in the same sperm and allelic sequences always segregate into different gametes, these sequences can be readily distinguished in this way. Our high-throughput multiplex DNA sequence detection technique can detect a large number of genetic markers and DNA sequence tags in single haploid cells [2–4]. These techniques allowed us to indentify several polymorphic regions in the IGHV gene complex ([5–9], Pramanik et al., manuscript in preparation).
One of these polymorphic regions, designated as Region II, identified in our earlier studies is of particular interest. Region II was initially noticed when we mapped the gene segments in IGHV1 and IGHV4 families in two haplotypes [7]. Interestingly, all IGHV1 and IGHV4 gene segments were not detectable in a large block between IGHV gene segments, 4-4 and 4-31 in one haplotype, and three gene segments between 1-24 and 4-31 were missing in the other. Later, this region was detected again by Chimge et al. [5]. Surprisingly, in that study, only two gene segments (3-29P and 4-28.1P) were undetectable in one of the ten haplotypes in this region. Segmental duplication and deletion in this region were implicated for gene segments 1.9III/hv3005 (possible allelic variants of IGHV3-30) and hv3019b9 (a possible allelic variant of IGHV3-33) [10–14]. Later, additional gene segments DP46 and two copies of DP49 (possible allelic variants of IGHV3-30), and DP65 and DP78 (possible allelic variants of IGHV4-31) were shown to be located within the duplicated region [15]. All these gene segments fall into Region II detected in the present studies. Results from the above studies raise several questions: (1) why is the polymorphic region detected with different sizes and different frequencies in these studies; (2) if the segmental duplication underlies the polymorphism, what is the size of the duplicated region, and how are the duplicated blocks organized; (3) how many gene segments are affected by the duplication/deletion; (4) how much have the gene segment variants diverged; and (5) what is the biological impact of this polymorphism. The present study was designed to answer these questions.
Results
DNA sequence tags (≤ 225 bp, n = 17), with an average spacing of ~5 kb were selected from the previously described polymorphic region, Region II, including certain flanking sequences on both sides, spanning 89,839 bp in the GRCh37 Human Genome Reference Assembly
http://www.ncbi.nlm.nih.gov/genome/guide/human/release_notes.html
(Table
1
). Genotypes (detectable/undetectable) of the tags were determined by analyzing 49 to 60 single sperm samples from each of six sperm donors after multiplex PCR amplification and microarray detection. Microarray images for two single sperm samples of different parental origins from Donor AB027 are shown in Figure
1
. Table
2
summarizes the results.
Table 1
Sequences of primers and probes
Tag

Primer (5' to 3')

Location

Probe (5' to 3')

Name

from

to

Forward

Reverse

Nested

VHS429

428971

429130

ATATATACAAGATTAGTCCCACAATA

ATACCAGCTCTACTATATATGAAAGTC

TATGCAAGCATTAGATACCCATA

AAACCATGCTGTCGCAGGGTC

VHS437

437246

437398

CACAAAATGCAGATTCACACTC

AGCCTGTTCTAGTCATGGAATCTC

GAAAAGTCCTCAACTGTGGTCA

CCAGGAACGCCTGAGATTCCT

VHS444

444731

444867

CACCCCTTCACAACTGGGGAT

TGGTAGCGCTGTGAGGTGATA

TGGGGCAGGACACAAATCCAA

TACCTGACCACCATGCGTATT

VHS449

449260

449427

GAACAGACAACCTGTGAATGGT

ATTTCTGTTGAACACTTGTATGTCT

AAATGTGCAGTCTATTCATCAAAT

TATCTCGTTTTTGCTCACTCT

VHS454

454027

454155

TATTACCAGGAGACCAAAATCTC

AAAGGAAGGTTGCTGGTAAGG

ATACAGACAAACAGGCGAAGG

GATTGCCTTTCGCCACATAGA

VHS458

458073

458214

CGAAATATAATTCTTGCTCTTCTG

CAGGAGAATTATGAACATTGAGAG

AGCACATCCTAGCATCCCTGT

CATCGGCGTGTTTACATCTAC

VHS462

462778

462952

CGTTAGCTCTGTGAAAGCAGC

TGATTTGTTCCCTTAGTTTCTGG

CAGGTTTACTGTTAAGGAGGTCA

TGGCTACTCAGCGTGCAAATG

VHS468

468656

468843

TTAGCATCTCCTATTTGAGTAGATTT

TCTAGATATTCAGGAGGCTAATACA

TGTTCCACAGCTTAAAGTACAGTT

TGAGTCCGGAGCTCAAAATTA

VHS475

475730

475892

TGTAGTTTCCTTTATTGTGGTGC

AATTCTTCCCAACAGAAAAGTG

TTACTGGTAATACTATCATGGTAGTC

AGGTAGTCTGCCATACACCTT

VHS479

479662

479810

GAAGCAAATTGATTAGTGTGCAG

CAGCTGAATCGCTTTTGGTC

TCTGCTTTGCCTGCTATTCAT

TGAGAAACACACGGGTCTTAT

VHS485

485677

485819

GCTGTCTCCTAAGTAAGTCACAGG

AGGGATTCAGTGCAAATTGAG

ACACACCAACATCACCAACAT

TCTATAGTTCGTTCGAGGAAGT

VHS493

493051

493239

GAGTGAGCCTTAAGTAATCAACAG

CCCATCCCCTCCTTCTTTCTC

TGACAACTTATTCTAGGTAGCAAGA

CTGGGTCTTGTCCATCGATAC

VHS499

499270

499449

CTGAAGCTGCTTAATCACCGT

TGTGTATTGATTTGACAAAACACTA

TCTGCTCTGATGGAATCAGGG

ATCGGTTGACTCTATGTTAGG

VHS504

504031

504171

TGTGGGTTGTTCTCACCATAATA

ACAACTGGATGCACCTCCATA

CCACCAGACACCCTCCAATAC

CACTCCGACACATTATAAGAGA

VHS510

509963

510127

GTCGTGTATCTCACTTTCCACTA

TTTAGTGGGATTTTAGAGAGTACAA

GATGGAGTCCTGATCCCTGCC

TTTCTGTGACCGTGTGTCACT

VHS514

514084

514235

GAGTGTGGACTGATCCATTGC

ATACCATGTGCTGCTGACACC

ATAGAATCCTTGCTTGGGGTCT

CTAAACTGGCCGTAGGAAAGC

VHS518

518664

518809

CAAACCTGTCAGGGCACTTAG

TGACAGTAAACCAGCCTCTCAT

TCCAGGAAGACTCAAGACCAC

CCCCAAGTGGTCGTGAGTCCC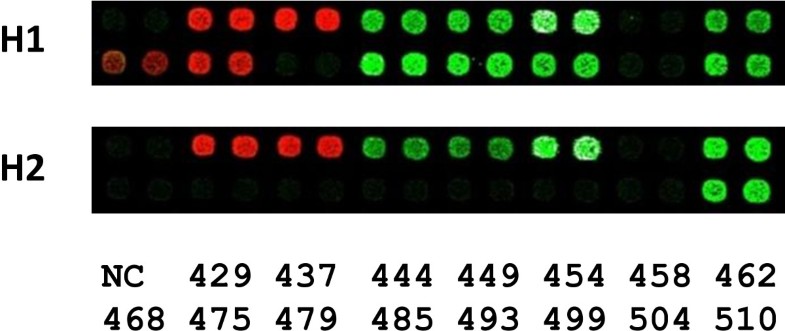 Table 2
Genotypes of the DNA sequence tags
Donor and Haplotypes**

Repeat

Tag(s)*

#002

#12

AB005

AB027

AC09

D18

Name(s)

No.

H1

H2

H1

H2

H1

H2

H1

H2

H1

H2

H1

H2

VHS429 to 454

5

+

+

+

+

+

+

+

+

+

+

+

+

VHS458

1

ud

ud

ud

ud

ud

ud

ud

ud

ud

ud

ud

ud

I

VHS462

1

+

+

+

+

+

+

+

+

+

+

+

+

VHS468

1

+

+

ud

ud

+

+

+

ud

+

+

+

+

VHS475

1

+

+

ud

ud

+

+

+

ud

+

+

ud

+

VHS479

1

ud

ud

ud

ud

ud

ud

ud

ud

ud

ud

ud

ud

II

VHS485

1

+

+

ud

+

+

+

+

-

+

+

+

+

VHS493

1

+

+

ud

+

+

+

+

-

+

+

+

+

VHS499

1

+

+

ud

+

+

+

+

-

+

+

+

+

VHS504

1

ud

ud

ud

ud

ud

ud

ud

ud

ud

ud

ud

ud

VHS510

1

+

+

ud

+

+

+

+

+

+

+

+

+

VHS514 & 518

2

+

+

+

+

+

+

+

+

+

+

+

+
Conclusion
Using single sperm as subjects, we identified the haplotype variants in a large region marked by a group of polymorphic DNA sequence tags. Detailed sequence comparison between human genomic sequence assemblies revealed underlying large duplicate sequence blocks. The variants show unusually high level of divergence in their sequences and in IGHV gene segment number, composition and organization, indicating limited selection pressure in general. The underlying mechanism could be one of the major mechanisms responsible for IGHV region diversity. Significant difference between the levels of divergence in the gene segment regions and intergenic region may imply difference in selection pressure on these regions and the functional importance of these IGHV gene segments. Our experimental system with unique sequence tags, single sperm and highly sensitive multiplex DNA sequence detection may be used for study of complex chromosomal regions similar to the IGH region.
Methods
Briefly, after sperm lysis, the tags were amplified in a single reaction using our high-throughput multiplex PCR amplification procedure [4] with regular primers for all tags. A small aliquot (~2 μ l) of the resultant PCR product was then used as template for single-strand DNA (ssDNA) generation using only the N (nested) primers for all tags. Resulting ssDNA was hybridized to the probe sequences arrayed onto a glass slide. Probes were designed in such a way that its 3'-end was next to an A or G base in the ssDNA templates. In the single-base extension assay, two dideoxynucleoside triphosphates, ddUTP and ddCTP conjugated to a fluorescent chromophore (Cy3 or Cy5, respectively) were added so that the chromophores could be incorporated specifically into the probes hybridizing to the templates. The reason for using two dyes instead of one was to monitor the incorporation specificity. Results from microarray analysis are summarized in Table 1.
Tag sequence selection
Seventeen DNA sequences with an average spacing of ~5 kb were selected based on the sequence published by Matsuda et al. [18] which was used to build the GRCh37 assembly and its earlier versions in the IGH region on chromosome 14. All the DNA sequence tags were chosen from non-coding sequences and designated as "VHS" followed by a number which is the proximal location in "kb" with respect to the first base in the GenBank http://www.ncbi.nlm.nih.gov/Genbank/ sequences of AB019439. The uniqueness of the tags was confirmed by subjecting the sequences containing these tags to the NCBI Blast search program http://www.ncbi.nlm.nih.gov/BLAST/Blast.cgi.
Design of PCR primers and microarray probes
Three primers were designed for each tag (Table 1). Two primers, forward (F) and reverse (R), were used for multiplex PCR amplification. A nested (N) primer, internal to the F primer in the same direction was designed for generating ssDNA. In addition, a microarray probe (P) internal and close to the nested (N) primer but in the reverse direction, was also designed for each tag. The 3'-ends of the probe sequences were designed next to either an A or G nucleotide in the amplified template sequences so that in the single-base-extension assay (see below), the probes can be labeled by either of the two fluorescently labeled nucleotides, ddUTP or ddCTP. Uniqueness of all the primer and probe sequences was checked using the NCBI Blast search program. Sequences that were not unique were adjusted until they were unique. A primer compatibility test was performed for all the primers by using the software developed in our laboratory [4, 45] to avoid primer-primer interactions during multiplex PCR. All oligonucleotides were synthesized by Integrated DNA Technologies, Inc. (Coralville, Iowa). Primer pairs for each tag were tested individually before pooling them together into the multiplex assay. Some primer sequences were reselected as they failed to generate a PCR product with good yield or specificity. All the experiments related to optimizing the conditions for multiplex PCR were performed with 1 ng human genomic DNA before amplifying the tag sequences from single sperm samples.
Single sperm sample preparation
Semen samples used in the present study were the remains of the specimens used for in vitro fertilization and infertility tests. All six donors (002, #12, AB005, AC09, AB027 and D18) were Caucasians and unrelated. They were healthy and normal in fertility. These samples were collected anonymously for a previously unrelated project approved by the Internal Review Board. So, use of these samples should be considered as no human subjects involved according to the US HHS human subjects regulations (45 CFR Part 46).
Sperm cells were purified from semen samples, fixed and stained with propidium iodide [9]. Single sperm were sorted into wells of 96-well V-bottom plates using a fluorescence activated cell sorter. The sorted single sperm samples were lysed in 3 μl of lysis buffer (50 mM dithiothreitol and 200 mM KOH) by incubating at 65°C for 10 min, The lysates were neutralized with 3 μ l of neutralization buffer (200 mM HCl, 900 mM Tris-HCl [pH 8.3], and 300 mM KCl) [46]. The samples were then used for multiplex PCR amplification.
Multiplex PCR amplification
In the first round, all pairs of F and R primers were used to amplify the target sequences from single sperm in a single reaction. Each sample contained 1× PCR buffer (50 mM KCl, 100 mM Tris-HCl, pH 8.3, 1.5 mM MgCl2, and 100 μg/ml gelatin), the four dNTPs (200 μM each) (Invitrogen, Carlsbad, California), F and R primers (100 nM each) and 3 units of HotStar Taq DNA polymerase (Qiagen, Valencia, California). The final volume for each reaction was 30 μl. The samples were first heated to 94°C for 15 min to activate the Taq DNA polymerase followed by 40 PCR cycles. Each PCR cycle consisted of 40 seconds at 94°C for denaturation and 2 minutes at 55°C, followed by 5 minutes of ramping from 55°C to 70°C for annealing and extension. A final extension was carried out at 72°C for 3 min at the end of the 40th cycle. All PCR amplifications were performed with a Biometra T3 Thermocycler (Goettingen, Germany). A small aliquot (2-3 μl) of the first-round PCR product was used as template for generation of ssDNA with only the nested (N) primers. Each sample contained 1× PCR buffer (same as above), four dNTPs (each 100 μM), N primers (50 nM each) and 3 units of Taq DNA polymerase with a final volume of 30 μl. The same cycling conditions used in the first round of multiplex PCR were followed.
Microarray detection of DNA sequence tags in single sperm samples
Gold Seal Micro slides (Becton Dickinson) were soaked in 30% bleach with shaking for 1-2 h, followed by rinsing with MilliQ water. The slides were then sonicated in 15% Fisher brand Versa-Clean liquid concentrate with heat for 1-2 h, rinsed with shaking in MilliQ water and dried by centrifugation at 1000 rpm for 5 min in a Beckman GS-6 centrifuge. It was then baked at 140°C in a vacuum oven for 4-6 h. Each probe was mixed with microarray printing solution for a final concentration of 36 μM in the wells of a 384-well plate. Probes were spotted onto washed glass slides using a microarray spotter, Omnigrid Accent (GeneMachines, San Carlos, California), under a humidity of 50-55% and at a temperature of 22-25°C. The ssDNA was hybridized to the probes in the microarray in 1× hybridization solution (5× Denhardt's solution, 0.5% SDS, and 5× SSC) sealed in a Hybridization Chamber (Corning, NY) at 56°C for 4 h. Before opening, the chambers were immersed in iced water for 30 sec. The slide was then washed in 1× SSC and 0.1% SDS for 10 min, followed by two times in 0.5× SSC for 30 sec, and two times in 0.2× SSC for 30 sec. Probes on the glass slide were then extended by the single base extension assay [46–48]. The assay was carried out using two single dideoxynucleoside triphosphate (ddNTP) (Perkin Elmer, Boston, Massachusetts) conjugated to different fluorescent chromophore (Cy3 or Cy5) using the ssDNA as template. The labeling reaction was done in a solution containing 1/7 volume of Sequenase buffer, 0.5 units/uL Sequenase (Amersham Pharmacia Biosciences, NJ) and 750 nM each of Cy3-ddUTP and Cy5-ddCTP at 70°C for 10 min. After labeling, everything but the labeled probe was washed off as described above. The microarray was then ready for scanning.
Microarrays were scanned with a Genepix 4000B microarray scanner (Axon Instruments, CA). Resulting images were analyzed with the Genepix Pro (Axon Instruments) software. Genotypes were determined by using a computer program developed in our laboratory [4].
Result validation for the undetectable tags
To further confirm that the undetectable tags were not caused by artifacts, aliquots of the first-round multiplex PCR products from single sperm (9-10 for each tag) of individual AC09 were used for separate re-amplification of undetectable tags using the nested (N) and reverse (R) primers. Two sperm with the detectable tags and tags adjacent to the polymorphic regions were used as positive controls. The amplified products were analyzed by gel electrophoresis. All results were consistent with those from the microarray analysis.
Declarations
Acknowledgements
We thank Dr. Paul Manowitz for his comments and suggestions on the manuscript. This work was supported in part by grants RO1 AI45956 and R01 GM 081878 to H.L. from the National Institute of Allergy and Infectious Diseases and the National Institute of Medical Sciences, National Institutes of Health, U.S.
Authors' Affiliations
(1)
Department of Molecular Genetics, Microbiology, and Immunology, University of Medicine and Dentistry of New Jersey-Robert Wood Johnson Medical School, Piscataway, USA
(2)
State Key Laboratory of Oncology in South China, Cancer Center, Sun Yat-Sen University, Guangzhou, China
(3)
Environmental Health Division, National Environmental Engineering Research Institute, Nagpur, India
Copyright
© Pramanik et al; licensee BioMed Central Ltd. 2011
This article is published under license to BioMed Central Ltd. This is an Open Access article distributed under the terms of the Creative Commons Attribution License (http://creativecommons.org/licenses/by/2.0), which permits unrestricted use, distribution, and reproduction in any medium, provided the original work is properly cited.