Research article
Open Access
Changes in predicted protein disorder tendency may contribute to disease risk
BMC Genomics
2011
12(Suppl 5):S2
Published: 23 December 2011
Abstract
Background
Recent studies suggest that many proteins or regions of proteins lack 3D structure. Defined as intrinsically disordered proteins, these proteins/peptides are functionally important. Recent advances in next generation sequencing technologies enable genome-wide identification of novel nucleotide variations in a specific population or cohort.
Results
Using the exonic single nucleotide variations (SNVs) identified in the 1,000 Genomes Project and distributed by the Genetic Analysis Workshop 17, we systematically analysed the genetic and predicted disorder potential features of the non-synonymous variations. The result of experiments suggests that a significant change in the tendency of a protein region to be structured or disordered caused by SNVs may lead to malfunction of such a protein and contribute to disease risk.
Conclusions
After validation with functional SNVs on the traits distributed by GAW17, we conclude that it is valuable to consider structure/disorder tendencies while prioritizing and predicting mechanistic effects arising from novel genetic variations.
Keywords
Amino Acid ChangeSingle Nucleotide VariationGenetic Analysis WorkshopProtein DisorderStructure Tendency
Background
"Sequence → Structure → Function" is the traditional view that amino acid sequences determine the structure of a protein molecule and that a definite protein structure is a prerequisite to biological function. This view has been amended by the finding that more and more proteins possess no definite ordered three-dimensional structure but are still involved in key biological processes, including cell cycle and gene regulation, molecular recognition, assembly of complexes, and signalling in general [1, 2]. Indeed, over 33% of eukaryotic proteins contain structure-lacking regions. This kind of protein is often named "intrinsically disordered proteins" (IDPs). Several studies have shown a strong correlation between disease-associated proteins and proteins containing significant amounts of intrinsic disorder [3], leading to the D2 concept of "disorder in disease" [4]. Complex diseases such as cancer, neurodegenerative diseases, cardiovascular diseases, and diabetes are often associated with IDPs [3], likely because errors in signalling and regulation arising from IDPs are important for these disease associations. It was found that mutations that cause disorder tendencies to flip to structure tendencies are the most likely mutations in disordered regions to be disease-causing [5].
Recent advances in genetic studies enabled the discovery of many genetic regions linked or associated to complex diseases, using array-based genotyping technology, or more recently, next generation sequencing technology. Many known or novel single nucleotide variations have been identified, and their potential roles on disease pathogenesis are unknown. Many bioinformatics tools including FastSNP [6], Panther [7], PolyPhen2 [8], SIFT [9], SNPs3D [10] and SPOT [11], have been developed; many of them prioritize the SNV functions based on their roles in affecting protein structures.
Of particular interest here is that one study reported that 114 out of 122 (93%) single amino acid polymorphisms (SAPs) located in disordered regions are associated with disease. Thus SAPs occurring in disordered regions are highly likely to affect the functions of the proteins and be associated with disease [12].
In the present study, we systematically evaluate the potential disease risk on the SNVs whose resultant amino acid changes, SAPs, can change their structure/disorder tendencies, based on the single nucleotide variants derived from the 1,000 Genome Project and distributed by the Genetic Analysis Workshop (GAW17).
Methods
The overall analysis workflow includes three major steps (Figure
1
): 1. retrieving protein sequences for the genes of interest; 2. mapping genetic variations in nucleotide level into proteomic variations in amino acid level; and 3. assessing the capability of a genetic variation to change the disorder/structured tendencies. This workflow integrates different levels of bioinformatics approaches, and allows understanding how single nucleotide variations can change the predicted structure/disorder estimate of the stability of the protein structures, and how these changes affect disease risk.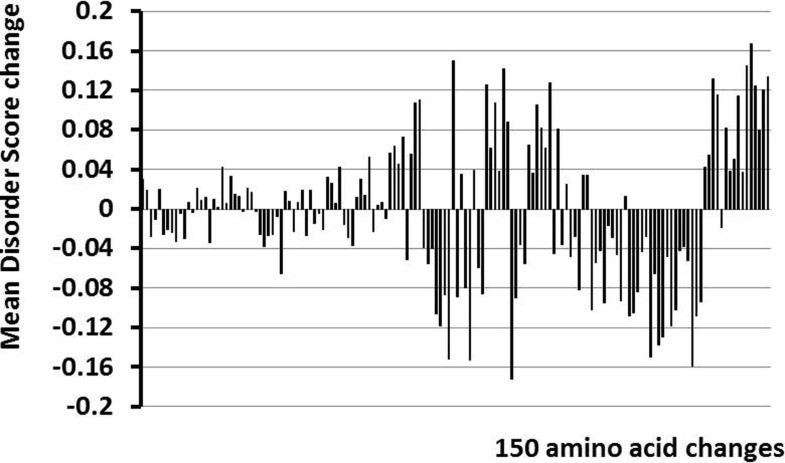 Conclusions
The use of mutation-induced changes in disorder prediction scores, called ΔDS, has been studied here. The overall idea is that a significant change in the tendency of a protein region to be structured or disordered could lead to malfunction of such a protein. The initial findings on the data provided by GAW17 give insight with regard to the directions to explore on real data. For example, with real data one could explore whether some particular threshold for ΔDS would give significant separation of harmless versus harmful mutations. If the data of reference [18] turns out to be a general finding, or even if only applicable to certain diseases, this observation, the discovery of which came out of this work, certainly points towards important new directions to try.
There are some limitations for the study. Single SNV may not change the disorder properties too much, since changes of disorder score depend more on changes of a segment than an individual mutation. So in our further work, we would try to investigate the combination or pattern of SNVs nearby the high ΔDS spot.
Declarations
Acknowledgements
The authors thank the valuable discussion and suggestion from Dr. Iakoucheva at University of California San Diego. This work was supported in part by the grants R01 LM007688 (to AKD), GM071714 (to AKD), R21 AA017941 (to YL) and P01 AG018397 (to YL) from the US National Institute of Health, the grant EF 0849803 (to AKD) from the US National Science Foundation. The Genetic Analysis Workshops are supported by NIH grant R01 GM031575. Preparation of the Genetic Analysis Workshop 17 Simulated Exome Data Set was supported in part by NIH grant R01 MH059490 and used sequencing data from the 1000 Genomes Project (http://www.1000genomes.org).
Authors' Affiliations
(1)
Center for Computational Biology and Bioinformatics, Indiana University School of Medicine, Indianapolis, USA
(2)
School of Computer Science and Technology, Harbin Institute of Technology, Harbin, China
(3)
Department of Medical and Molecular Genetics, Indiana University School of Medicine, Indianapolis, USA
(4)
Center for Medical Genomics, Indiana University School of Medicine, Indianapolis, USA
(5)
Department of Biochemistry and Molecular Biology, Indiana University School of Medicine, Indianapolis, USA
Copyright
© Hu et al. licensee BioMed Central Ltd 2011
This article is published under license to BioMed Central Ltd. This is an open access article distributed under the terms of the Creative Commons Attribution License (http://creativecommons.org/licenses/by/2.0), which permits unrestricted use, distribution, and reproduction in any medium, provided the original work is properly cited.