Research article

Open Access
A second generation framework for the analysis of microsatellites in expressed sequence tags and the development of EST-SSR markers for a conifer, Cryptomeria japonica
Received: 12 September 2011
Accepted: 16 April 2012
Published: 16 April 2012
Abstract
Background
Microsatellites or simple sequence repeats (SSRs) in expressed sequence tags (ESTs) are useful resources for genome analysis because of their abundance, functionality and polymorphism. The advent of commercial second generation sequencing machines has lead to new strategies for developing EST-SSR markers, necessitating the development of bioinformatic framework that can keep pace with the increasing quality and quantity of sequence data produced. We describe an open scheme for analyzing ESTs and developing EST-SSR markers from reads collected by Sanger sequencing and pyrosequencing of sugi (Cryptomeria japonica).
Results
We collected 141,097 sequence reads by Sanger sequencing and 1,333,444 by pyrosequencing. After trimming contaminant and low quality sequences, 118,319 Sanger and 1,201,150 pyrosequencing reads were passed to the MIRA assembler, generating 81,284 contigs that were analysed for SSRs. 4,059 SSRs were found in 3,694 (4.54%) contigs, giving an SSR frequency lower than that in seven other plant species with gene indices (5.4–21.9%). The average GC content of the SSR-containing contigs was 41.55%, compared to 40.23% for all contigs. Tri-SSRs were the most common SSRs; the most common motif was AT, which was found in 655 (46.3%) di-SSRs, followed by the AAG motif, found in 342 (25.9%) tri-SSRs. Most (72.8%) tri-SSRs were in coding regions, but 55.6% of the di-SSRs were in non-coding regions; the AT motif was most abundant in 3′ untranslated regions. Gene ontology (GO) annotations showed that six GO terms were significantly overrepresented within SSR-containing contigs. Forty–four EST-SSR markers were developed from 192 primer pairs using two pipelines: read2Marker and the newly-developed CMiB, which combines several open tools. Markers resulting from both pipelines showed no differences in PCR success rate and polymorphisms, but PCR success and polymorphism were significantly affected by the expected PCR product size and number of SSR repeats, respectively. EST-SSR markers exhibited less polymorphism than genomic SSRs.
Conclusions
We have created a new open pipeline for developing EST-SSR markers and applied it in a comprehensive analysis of EST-SSRs and EST-SSR markers in C. japonica. The results will be useful in genomic analyses of conifers and other non-model species.
Keywords
Gene OntologyPolymorphism Information ContentGene IndexGenomic SSRsTranscriptome Shotgun Assembly
Background
With the advent of the second generation sequencing technologies [1], more and more sequences are being generated on a daily basis from various organisms in order to analyze genome sequences, whole transcriptomes, molecular evolution, and metagenomes (reviewed in [2–7]). The availability of genome and/or reference sequence data for a specific organism greatly facilitates the study of DNA-protein interactions, epigenetics and single nucleotide polymorphisms (SNPs). Second generation sequencing has thus triggered a revolution in many areas of biology. While there are many non-model organisms whose genomes have not yet been fully sequenced, the decreasing costs of sequencing have prompted qualitative changes in research strategies, including those relating to the development of molecular markers (which are indispensible for breeding studies) and diagnostics in the agricultural and medical sciences.
Microsatellites, or simple sequence repeats (SSRs), are tandem repeat sequences with a repeating unit of one to six base pairs that are abundant in most genomes and exhibit high levels of polymorphism. They are therefore useful molecular markers, although the process of developing SSR markers originally involved laborious screening, cloning and sequencing steps [8]. Together with increases in the throughput of commercial sequencers, the availability of a large body of data demonstrating that SSRs are abundant in expressed sequence tags (ESTs) [9], has made it viable to develop EST-SSR markers using traditional Sanger sequencing. In recent years, the use of second generation sequencing machines has become increasingly common in EST-SSR marker development [10–13]. The longer reads produced by the Roche Genome Sequencer using the pyrosequencing method are preferred for this purpose, especially when working with non-model organisms for which comparatively few genomic resources and reference sequences are available. In such cases, the ability to sequence longer fragments increases the uniqueness of the sequences obtained, reducing the computational challenges associated with their analysis.
There are several automated pipelines for cleaning up and assembling reads, detecting SSRs, and designing primers that target the detected SSRs [14–16]. These pipelines are integrated systems; as such, in the absence of expert knowledge, they are not readily customized to meet any additional needs the user might have. To address this issue and to facilitate the ongoing development of analytical software at a pace that matches the rapid evolution of sequencing systems, it would be beneficial to create modular pipeline systems for the analysis of SSRs in ESTs and the development of EST-SSR markers. Such modular systems would be more flexible than current solutions and could be readily upgraded or adjusted in response to new developments in sequencing technology.
In this paper, we explicitly describe a framework for analysing EST-SSRs and designing primers to target them using transcriptome shotgun assembly (TSA), on the basis of reads collected using the Sanger and pyrosequencing methods. The model organism used was sugi (Cryptomeria japonica D. Don), Japanese cedar, which is an industrially important coniferous species growing in Japan. We have previously collected ESTs (some of which are full-length and enriched) from several tissue libraries for this species [17–20], used them to develop cleaved amplified polymorphic sequence (CAPS) [21–23], SSR [24, 25] and EST-SSR [26] markers, and constructed genetic linkage maps [27]. The advantage of using C. japonica in genomic studies rather than other conifer species is that the estimated C-value for C. japonica is 11 pg [28], meaning that its genome is approximately half the size of those of Pinus or Picea[29, 30]. While Cryptomeria is one of the Cupressease, Pinus and Picea belong to the Pinaceae. The gap between these two families is the deepest phylogeneitc split in the conifers [31], and may affect genomic composition of both family members. Features identified by analyzing EST-SSR can be referenced to study phylogenetic relationships among conifers. In the present study, TSA was performed using around 118 k Sanger and 1.2 M pyrosequencing reads, resulting in 81,284 contigs that served as an important central hub for downstream analysis. The characteristics of the SSRs in the ESTs were analyzed in terms of frequency, GC percent, location, and gene ontology. We then used gene indices to compare the results obtained for C. japonica to those observed in other plant species. Comparative analysis was used to identify the distinguishing features of this species, showing that much less amount of AT motif in C. japonica than in two Pinaceae species. EST-SSR markers were developed using an open pipeline, and factors affecting PCR success and the level of polymorphisms were analyzed using a generalized linear model. This is the first comprehensive analysis of SSR-containing ESTs and EST-SSR markers in C. japonica; the results obtained will be useful in future genomic analyses of conifers and other non-model species.
Methods
A web link to programs/resources that were used in the present study is provided in Additional file 1: Table S1.
Results and discussion
Figure
1
shows an analysis scheme for the work reported in this paper. The scheme is divided into 5 sections, each of which is shown in a different colour and corresponds to a specific step in the analytical process; cleaning is shown in yellow, assembly in red, comparative analysis in purple, location (UTR or coding) analysis on the basis of peptide prediction in orange, gene ontology-based analysis in blue, and EST-SSR primer design in green.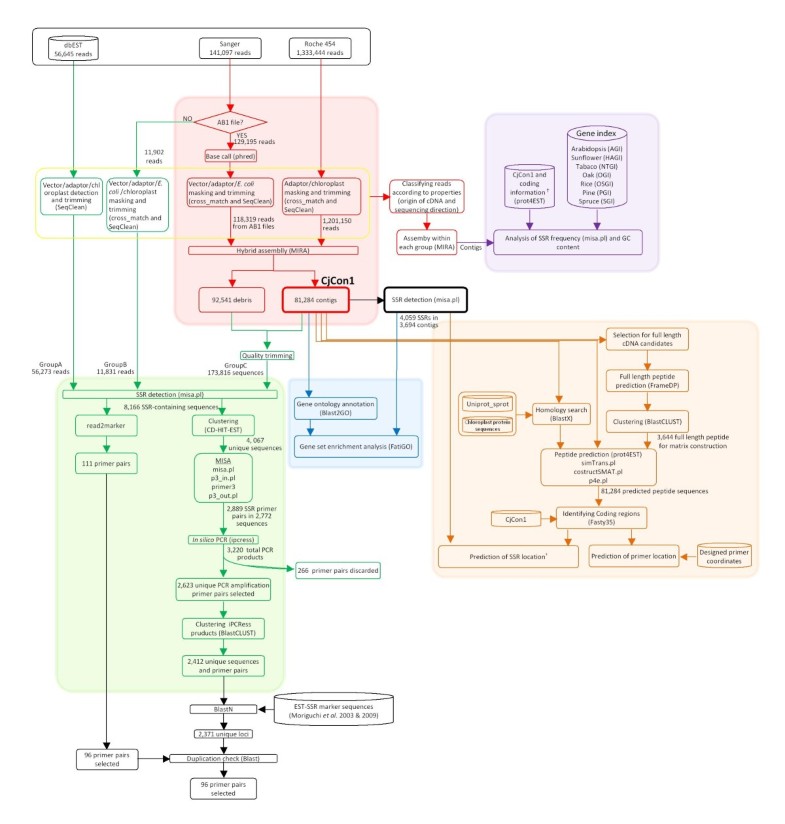 Conclusions
We have developed an open scheme for analysing EST-SSRs and developing EST-SSR markers. All the tools and data used in this scheme are freely available. We collected around 141 k ESTs by Sanger sequencing and 1.3 M ESTs by pyrosequencing from C. japonica, an important forestry species in Japan whose genome is significantly smaller than those of other conifers. Assembly using the MIRA program produced 81,284 contigs; 3,694 (4.54%) of these were found to contain SSRs, and 4,059 SSRs were identified in total. The frequency of SSRs was lower than that in seven other species with gene indices. The most common SSRs identified were tri-SSRs; the most common motifs observed were AT and AAG for di- and tri-SSRs, respectively. Tri-SSRs were preferred in coding regions, while di-SSRs were more common in non-coding regions. More SSRs were found in 5′ ESTs than 3′ ESTs. Seven gene ontology terms were found to be overrepresented in the data set. It is expected that further analysis of these characteristic features of EST-SSRs in C. japonica will provide useful evolutionary insights.
We developed 44 EST-SSR markers from 192 randomly-selected primer pairs designed using two pipelines, read2Marker [15] and CMiB; the latter of these combines several freely-available tools. Markers resulting from the two pipelines exhibited similar PCR success rates and levels of polymorphism, confirming the utility of the CMiB pipeline.
The analytical scheme and results presented here provide an important foundation for further studies on the genomic and evolutionary analysis of conifers and other non-model species in the age of second generation sequencing.
Declarations
Acknowledgements
Authors would like to thank Y. Komatsu for his help with the laboratory experiments. This work was partly supported by a Grant-in-Aid (Development of Technologies for Control of Pollen Production by Genetic Engineering) from the Forest Agency of Japan and the Program for Promotion of Basic and Applied Researches for Innovations in Bio-oriented Industry. It was also supported by the Research grant #201119 from Forestry and Forest Products Research Institute. Authors would like to express sincere thanks to anonymous reviewers, which greatly improved the earlier version of this paper.
Authors' Affiliations
(1)
Department of Forest Genetics, Forestry and Forest Products Research Institute, Tsukuba, Japan
(2)
Department of Molecular and Cell Biology, Forestry and Forest Products Research Institute, Tsukuba, Japan
(3)
Integrated Genome Informatics Research Unit, Plant Science Center, RIKEN Yokohama Institute, Yokohama City, Japan
Copyright
© Ueno et al.; licensee BioMed Central Ltd. 2012
This article is published under license to BioMed Central Ltd. This is an Open Access article distributed under the terms of the Creative Commons Attribution License (http://creativecommons.org/licenses/by/2.0), which permits unrestricted use, distribution, and reproduction in any medium, provided the original work is properly cited.