Research article
Open Access
The genomic basis for the evolution of a novel form of cellular reproduction in the bacterium Epulopiscium
Received: 3 December 2011
Accepted: 21 June 2012
Published: 21 June 2012
Abstract
Background
Epulopiscium sp. type B, a large intestinal bacterial symbiont of the surgeonfish Naso tonganus, does not reproduce by binary fission. Instead, it forms multiple intracellular offspring using a process with morphological features similar to the survival strategy of endospore formation in other Firmicutes. We hypothesize that intracellular offspring formation in Epulopiscium evolved from endospore formation and these two developmental programs share molecular mechanisms that are responsible for the observed morphological similarities.
Results
To test this, we sequenced the genome of Epulopiscium sp. type B to draft quality. Comparative analysis with the complete genome of its close, endospore-forming relative, Cellulosilyticum lentocellum, identified homologs of well-known sporulation genes characterized in Bacillus subtilis. Of the 147 highly conserved B. subtilis sporulation genes used in this analysis, we found 57 homologs in the Epulopiscium genome and 87 homologs in the C. lentocellum genome.
Conclusions
Genes coding for components of the central regulatory network which govern the expression of forespore and mother-cell-specific sporulation genes and the machinery used for engulfment appear best conserved. Low conservation of genes expressed late in endospore formation, particularly those that confer resistance properties and encode germinant receptors, suggest that Epulopiscium has lost the ability to form a mature spore. Our findings provide a framework for understanding the evolution of a novel form of cellular reproduction.
Keywords
Developmental processEndosporeSporulationSporeEndospore-forming bacteriaBinary fissionIntracellular offspring
Background
Endospore formation is an ancient and complex developmental process exclusive to certain bacteria within the Firmicutes [1, 2]. Endospores endure environmental conditions that would kill most other bacterial cells, including prolonged periods of insufficient nutrients, moderate levels of organic solvents, exposure to phage, extremes in pH, proteases and cell wall degrading enzymes, freezing, desiccation and excessive heat or radiation [3, 4]. This form of sporulation preserves the genome in a remarkably dispersible and dormant cell type that can resume vegetative growth when the environment improves. While most sporulating species of Firmicutes produce a single endospore, some have the ability to produce multiple endospores [5]. For example, Clostridium oceanicum regularly forms two endospores, one at each end of the mother cell [6]. Others include the Segmented Filamentous Bacteria, a group of uncultivated inhabitants of the intestinal tract of animals [7]. These multicellular filaments live attached to the lining of the small intestine, and to disperse or reposition itself in the gut, each cell in a filament forms either an endospore containing two cells or two non-dormant intracellular offspring [7, 8].
Other lineages within the Firmicutes use multiple endospore formation as a reproductive strategy. The guinea pig intestinal symbiont Metabacterium polyspora may undergo binary fission but the regular formation of multiple endospores, up to nine from a single mother cell, is a significant form of reproduction [9, 10]. The life history of M. polyspora may be selecting for this unusual mode of reproduction, which could improve survival as the bacteria cycle in and out of the host gastrointestinal tract [10]. A large and diverse group of surgeonfish intestinal symbionts related to M. polyspora display an array of reproductive modes that involve binary fission and/or sporulation [11]. Like M. polyspora, the identified morphotypes and phylotypes of these surgeonfish symbionts show host-specific distributions, and an individual fish acquires the symbionts by the ingestion of feces or detritus [11, 12]. The type C Epulopiscium-like fish intestinal symbionts, rely solely on the formation of two endospores for reproduction and appear to have abandoned binary fission altogether [12]. The largest members of this group of symbionts, Epulopiscium spp. type A and type B, are phylogenetically distinct from the smaller endospore-forming C morphotypes. Epulopiscium spp. type A and B appear to have taken the developmental process one step further and reproduce by the daily production of two or more intracellular offspring that are not dormant [11, 13]. The phylogenetic relationship between multiple endospore formers and lineages that produce non-dormant intracellular offspring, and the morphological changes shared between these processes, suggest that the latter developmental process is related to endospore formation [13].
The stages of endospore formation (Figure 
1
) are described in the model organism
Bacillus subtilis
[
14
,
15
] and these morphological transitions appear conserved in other endospore formers [
16
]. Cells that exhibit no overt signs of sporulation are defined as stage 0. After initiation of sporulation, the chromosome replicates and replication origins become tethered to opposite poles of the cell. This unusual nucleoid conformation is called the axial filament and these cells are said to be in stage I [
17
]. Instead of dividing at the midcell, the sporulating cell divides near one pole, producing the forespore and larger mother cell, which marks stage II. Division traps approximately one-third of one of the chromosomes in the forespore [
18
]. The rest of the chromosome, still within the mother cell, is translocated into the forespore so that the spore contains a complete genome [
19
]. Enzymatic degradation of peptidoglycan between the mother cell and forespore results in curvature of the septum [
20
,
21
]. The mother-cell membrane then wraps around the forespore to completely engulf the forespore, which marks stage III [
22
]. In stage IV, a modified peptidoglycan called the cortex is synthesized in the space between the mother-cell and forespore membranes. In stage V, a complex proteinaceous coat is applied to the developing spore [
23
,
24
]. Stage VI is defined as endospore maturation, when the spore gains many of its resistance traits [
3
]. Lastly, the mother cell lyses to release the mature spore, in stage VII.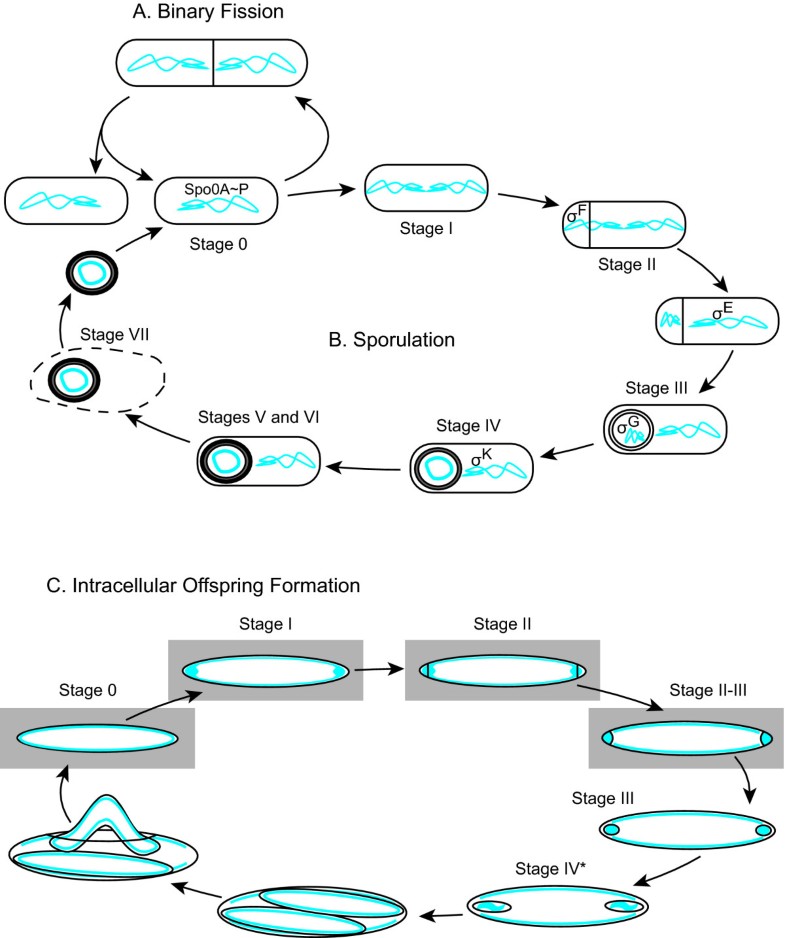 The sequential activation of stage-specific transcription factors controls the proper timing and location of gene expression to ensure the progression of cell-specific developmental events. In B. subtilis, a network of kinases and phosphatases conveys information about intracellular and extracellular conditions to the phosphorelay, which ultimately determines the phosphorylation state of the transcription factor Spo0A [25–27]. While Spo0A is considered the master regulator of sporulation, it also regulates a number of alternative cellular reactions to environmental change [28]. In its active form, Spo0A ~ P either directly or indirectly affects the transcription of more than 500 genes [29]. Spo0A activation is essential for entry into sporulation.
After asymmetric division, gene expression is regulated by four sporulation-specific sigma factors: σF, σE, σG, and σK (Figure 1) [30, 31]. σF and σG are activated only in the forespore while σE and σK are activated only in the mother cell. Both σF and σE are expressed prior to asymmetric division [32], but σF is held inactive in a complex with two peptides of its anti-sigma factor SpoIIAB [33] and σE is synthesized as an inactive pro-peptide [34]. The forespore sigma, σF, is the first to be activated. SpoIIE phosphorylates SpoIIAA (the σF anti-anti-sigma factor), which binds SpoIIAB leading to the release of σF[35–37]. SpoIIR, part of the σF regulon [38], is produced in the forespore and inserted into the sporulation septum, where it activates SpoIIGA in the mother cell [39]. SpoIIGA then cleaves pro-σE thus releasing mature σE to the cytoplasm [40]. Likewise, the late-sporulation sigma factors, σG and σK, are not immediately functional when expressed and activation of each entails factor-specific intracellular signaling cascades and release mechanisms [41–48].
Tighter control of particular genes in each regulon is provided by additional transcription factors [49–53] that form both coherent and incoherent feed-forward loops with their associated sigma factor [1]. Coherent feed-forward loops occur when a sigma factor regulates expression of a gene and then combines with that gene product to up-regulate more genes. Incoherent feed-forward loops come about when such a combination leads to the down-regulation of additional genes [1, 53]. For example, rsfA and spoIIR are both expressed from σF promoters [38, 49]. However, RsfA combined with σF turns off transcription of spoIIR, so only a brief burst of spoIIR expression is seen immediately following asymmetric division. Such feed-forward loops allow the cell to modulate the timing, duration and location of expression of subsets of genes within a regulon. The combination of all central transcriptional regulatory mechanisms modulates the expression of more than 700 genes during sporulation.
The B. subtilis model can serve as a foundation for exploring mechanistic modifications required to support the formation of multiple endospores or intracellular offspring [13]. For example, Epulopiscium sp. type B are intestinal symbionts of the unicornfish Naso tonganus and can reach lengths of 200–300 μm and widths of 50–60 μm [11, 54]. While the production of endospores has been observed in related morphotypes [12], Epulopiscium sp. type B does not produce endospores and does not reproduce by binary fission (Figure 1). Instead, each cell forms two or more intracellular offspring in a process that repeats daily [54–56].
The formation of these offspring has been described in stages that parallel stages of endospore formation [54–56]. Stage 0 mother cells contain large offspring (daughter cells) that show no signs of the initiation of the next generation of offspring (i.e. granddaughter cells). Stage I is defined as offspring cells that have coalesced DNA at the poles. Stage II cells have straight polar septa, but not all polar DNA is inside the newly formed offspring. Stage II-III includes cells with curved polar septa, indicating the start of polar cell engulfment, and all polar DNA has been translocated into the offspring. Stage III cells contain small, fully engulfed offspring, with a length-to-width ratio of less than 2:1 while the offspring in stage IV* cells have a ratio greater than 2:1. After engulfment, the two processes diverge and changes occurring in Epulopiscium are not well understood so later stages are not indicated in this model. Offspring continue to grow until they fill the mother-cell cytoplasm. In time, the mother-cell envelope splits open and the offspring are released.
Previous work has shown that the division protein FtsZ localizes to the poles of an Epulopiscium cell in a similar way to FtsZ in B. subtilis during endospore formation [54]. In B. subtilis, both potential division sites appear fully functional and a second, partial polar septum occasionally forms at the forespore-distal pole although the second septum eventually regresses [57, 58]. With Epulopiscium, rapid sequential or simultaneous bipolar division occurs [54]. Putative homologs for SpoIIE, SpoIIAA, SpoIIAB and σF also have been identified in the Epulopiscium genome [55]. Moreover, the expression pattern of spoIIE in Epulopiscium during offspring formation [55] is very similar to that seen in sporulating B. subtilis[59]. These results suggest that Epulopiscium uses cell-specific activation of alternative sigma factors in offspring development.
Here we sequenced and examined the draft genome of Epulopiscium sp. type B to determine the extent of conservation of the sporulation genetic program. A list of conserved "core" sporulation genes was assembled and used to determine which of the core sporulation genes are conserved in the Epulopiscium genome and its spore-forming relative Cellulosilyticum lentocellum DSM 5427. As predicted, we found a number of homologs to genes with sporulation-specific functions in Epulopiscium and even more of the core genes conserved in C. lentocellum. These results begin to define the genetic mechanisms that may be used for offspring production and development in Epulopiscium.
Conclusions
The comparative analysis of the draft Epulopiscium sp. type B genome with the complete C. lentocellum genome substantiates our hypothesis that the production of intracellular offspring in Epulopiscium evolved from endospore formation. All of the genes identified in C. lentocellum that function in engulfment as well as the core transcriptional regulatory cascade, and the associated intracellular communication network that coordinates sigma factor activation, were found in the Epulopiscium genome. While we could identify homologs of late sporulation genes, a large proportion of these were not recovered from Epulopiscium. Since we used a draft genome to explore the conservation of sporulation genes in Epulopiscium, it is possible that we did not recover all of the sporulation genes retained in this genome, however, we would not expect a functional bias in the distribution of genes recovered. Therefore the fewer late genes recovered in Epulopiscium probably reflect the reduction of this class of genes in the evolution of its genome.
Although Epulopiscium sp. type B is closely related to surgeonfish intestinal symbionts that form multiple endospores to reproduce [12], it appears that type B cells may no longer have the genetic capacity to form a dormant and fully resistant endospore. Many intestinal anaerobes, from harmful pathogens to benign commensals, use endospores for effective dispersal between vertebrate hosts [8, 10, 92]. The ability of an intestinal bacterium to produce an endospore should be valuable to survival. Why then would Epulopiscium sp. type B lose this trait? We speculate that the perpetuation of large cell size and the ability to maintain a longer residence in an individual host may be factors that contributed to the loss of dormancy and associated resistance traits in offspring development in this lineage. The large size of Epulopiscium sp. type B cells may be important to maintain their position in the gut and to avoid predation by the ciliate predators that cohabitate the N. tonganus intestinal tract [61]. The growth and development of offspring within a metabolically active mother cell may be essential for maintaining these benefits throughout the life cycle of an individual. It is also possible that the manifestation of some resistance traits may simply be impossible for a cell as large as an Epulopiscium sp. type B offspring. For example, the formation of a flawless spore coat may be physically impossible for this size of cell.
In the study outlined here, we generated the first genome sequence for any Epulopiscium species and use it to provide insight into the evolution of a novel form of cellular reproduction in the Epulopiscium lineage. Based on its phylogenetic position among endospore-forming lineages, we reason that formation of active intracellular offspring in Epulopiscium sp. type B is a recent modification of the sporulation program. Given the number of sporulation gene homologs found in the Epulopiscium genome, we consider it highly unlikely that the developmental program was assembled through multiple horizontal transfer events. Our comparative study reveals that genes essential for physical (e.g. engulfment of the offspring cell) and regulatory mechanisms (e.g. alternative sigma factors and intracellular communication) have been maintained in a live-offspring-bearing cell. We also found that genes involved in the synthesis of a modified form of peptidoglycan have been conserved. These may be important for offspring growth and intracellular development. Clearly further functional studies are required to test the above models and identify additional mechanisms acquired or modified during evolution of offspring formation in Epulopiscium. The findings presented here will provide a framework to begin to assess genetic programs expressed during development in Epulopiscium.
Declarations
Acknowledgements
We thank the staff and directors of the Lizard Island Research Station and Howard Choat for advice and assistance in the field. We also thank Ian Hewson for advice with batch BLAST analyses and John Helmann for help with promoter identification and analysis, and three anonymous reviewers for their comments and suggestions. This research was funded by the National Science Foundation grant 0721583. Collections were carried out under GBRMPA Permit number G03/3871.1 and James Cook University Ethics Approval No. A503.
Authors' Affiliations
(1)
Department of Microbiology, Cornell University, Ithaca, USA
(2)
Department of Bacteriology, University of Wisconsin-Madison, Madison, USA
(3)
School of Biological Sciences, University of Auckland, Auckland, New Zealand
Copyright
© Miller et al.; licensee BioMed Central Ltd. 2012
This article is published under license to BioMed Central Ltd. This is an Open Access article distributed under the terms of the Creative Commons Attribution License (http://creativecommons.org/licenses/by/2.0), which permits unrestricted use, distribution, and reproduction in any medium, provided the original work is properly cited.