Research article

Open Access
Transcriptional regulation of the operon encoding stress-responsive ECF sigma factor SigH and its anti-sigma factor RshA, and control of its regulatory network in Corynebacterium glutamicum
Received: 9 February 2012
Accepted: 22 August 2012
Published: 3 September 2012
Abstract
Background
The expression of genes in Corynebacterium glutamicum, a Gram-positive non-pathogenic bacterium used mainly for the industrial production of amino acids, is regulated by seven different sigma factors of RNA polymerase, including the stress-responsive ECF-sigma factor SigH. The sigH gene is located in a gene cluster together with the rshA gene, putatively encoding an anti-sigma factor. The aim of this study was to analyze the transcriptional regulation of the sigH and rshA gene cluster and the effects of RshA on the SigH regulon, in order to refine the model describing the role of SigH and RshA during stress response.
Results
Transcription analyses revealed that the sigH gene and rshA gene are cotranscribed from four sigH housekeeping promoters in C. glutamicum. In addition, a SigH-controlled rshA promoter was found to only drive the transcription of the rshA gene. To test the role of the putative anti-sigma factor gene rshA under normal growth conditions, a C. glutamicum rshA deletion strain was constructed and used for genome-wide transcription profiling with DNA microarrays. In total, 83 genes organized in 61 putative transcriptional units, including those previously detected using sigH mutant strains, exhibited increased transcript levels in the rshA deletion mutant compared to its parental strain. The genes encoding proteins related to disulphide stress response, heat stress proteins, components of the SOS-response to DNA damage and proteasome components were the most markedly upregulated gene groups. Altogether six SigH-dependent promoters upstream of the identified genes were determined by primer extension and a refined consensus promoter consisting of 45 original promoter sequences was constructed.
Conclusions
The rshA gene codes for an anti-sigma factor controlling the function of the stress-responsive sigma factor SigH in C. glutamicum. Transcription of rshA from a SigH-dependent promoter may serve to quickly shutdown the SigH-dependent stress response after the cells have overcome the stress condition. Here we propose a model of the regulation of oxidative and heat stress response including redox homeostasis by SigH, RshA and the thioredoxin system.
Keywords
Corynebacterium glutamicum ECF sigma factorAnti-sigma factorPromoterMicroarray analysis
Background
Corynebacterium glutamicum is a gram-positive, non-sporulating soil bacterium that belongs to the order Actinomycetales, which also includes genera like Mycobacterium and Streptomyces. C. glutamicum has been studied extensively because of its biotechnological application in the production of various amino acids. Besides this, it is of increasing importance as a model organism for other corynebacteria with biotechnological or medical significance, as well as for the species of related genera [1–3]. The data provided by the complete C. glutamicum genome sequence [4–6] enabled genome-wide analyses and the application of comparative genomics to assign functions to uncharacterized genes and to compare the genetic make-up with that of other bacterial species. Although the functions of the genes encoding transcriptional regulators or sigma factors of RNA polymerase may be assigned using comparative genomics, their role and connections in cell regulatory networks could hardly be deduced on the basis of genome sequences alone. Comparative transcriptome analyses of wild-type and mutant strains provide extensive sets of data enabling the connections between the nodes of the regulatory network to be determined.
Transcription initiation, in which an RNA polymerase (RNAP) holoenzyme plays the key role, is a major step in the regulation of bacterial gene expression. The RNAP core enzyme responsible for its catalytic activity consists of five subunits (α2ββ`ω) and associates with the σ subunit (factor), which is responsible for specific recognition of the promoter, to complete the fully functional RNAP holoenzyme. The majority of bacteria possess several sigma factors, which direct RNAP to different groups of promoters. The sigma factors thus form a specific class of regulators, which may affect the expression of large gene groups.
σ70-family sigma factors are categorized into four different classes [7]. The essential (primary) group 1 sigma factors are responsible for the transcription of housekeeping genes, group 2 contains the primary-like sigma factors, group 3 sigma factors control genes involved in specific functions in some bacteria and group 4 sigma factors (also called ECF for extracytoplasmic function) are involved in responses to external stresses.
In C. glutamicum, SigA, the primary sigma factor (group 1), SigB, a primary-like sigma factor (group 2), and SigC, SigD, SigE, SigH and SigM, all of them ECF-type sigma factors, were found [8]. SigB, SigE, SigH, and SigM are the only C. glutamicum sigma factors that have been studied so far. The genes included in their regulons were found to be involved in various stress responses [9–12].
Sigma factors are controlled by modulating their availability and activity. Anti-sigma factors bind to their cognate sigma factors in some cases, inhibiting their binding to the RNAP core enzyme. Controlling their activity by the reversible binding of an anti-sigma factor to the sigma factor in C. glutamicum was up to now only described for SigE by CseE [10]. The activity of SigH or its orthologs is tightly controlled by anti-sigma factors in various actinobacteria. This has been demonstrated for M. tuberculosis RshA (a regulator of SigH) and S. coelicolor RsrA (a regulator of SigR, a SigH ortholog) that bind to their cognate sigma factors in a redox-responsive manner [11, 12]. Upon the oxidation of specific cysteine residues these anti-sigma factors change conformation, the respective bound sigma factor is released and can thus bind to RNAP, thereby activating its sigmulon (regulon of a sigma factor). After the cessation of the oxidative stress conditions, the reduced state is regenerated by the action of thioredoxins, and the anti-sigma factors regain their SigH-binding ability. The conserved cysteine residues have a conserved arrangement, the ZAS (zinc-containing anti-sigma factor) domain and the anti-sigma factors from different organisms can functionally replace each other [13].
It has been shown that C. glutamicum SigH is involved in responses to heat shock [14] and oxidative stress [15]. The crucial role of SigH in the heat-shock response by controlling the expression of the ATP-dependent Clp protease, chaperones and heat-shock regulators was demonstrated in a number of studies [14–18]. The SigH-driven response to oxidative stress in actinobacteria generally includes the upregulation of the thioredoxin system (trxB and trxC) and at least one gene (mtr) of the mycothiol system, which are major antioxidant systems in these bacteria [19].
In addition to its involvement in the expression of a number of heat-shock response genes, C. glutamicum SigH was found to control the expression of genes encoding various stress regulators, such as HspR [18], ClgR [16], SufR [14], WhcA [20] and WhcE [21]. Moreover, transcription of the genes encoding the sigma factors SigB and SigM is controlled by SigH [22–24]. Since SigH was found to be a major player in response to heat shock and oxidative stress, a regulatory network integrating the sigma factors SigH, SigB and SigM is apparently operative in C. glutamicum.
In this work, we demonstrate that the genes sigH and rshA, coding for the stress-responsive sigma factor and its putative anti-sigma factor, respectively, form an operon in C. glutamicum and are transcribed from multiple promoters of different classes. The SigH-dependent genes were defined on the basis of their enhanced transcription in the ΔrshA strain in the absence of environmental stimuli by DNA-microarray analysis and by q-RT-PCR. These results validated the assumption that RshA acts as an anti-SigH factor. We propose a model of the SigH-RshA regulatory network underlining the central role of SigH in the stress response of C. glutamicum.
Discussion
The sigH-rshA operon in C. glutamicum exhibits complex transcriptional organization including autoregulation
In this study we demonstrated the upregulation of the majority of the known SigH-dependent genes in the absence of an applied stress by removing its putative anti-sigma factor RshA. The gene encoding RshA was only annotated in the genome of C. glutamicum ATCC 13032, reported by Kalinowski et al.[5]. The rshA gene in two other sequenced C. glutamicum strains, in C. glutamicum ATCC 13032, reported by Ikeda and Nakagawa [4], and C. glutamicum strain R, reported by Yukawa et al.[6], is not annotated, probably because of its small size of 89 amino acids. However, the deduced RshA protein sequences are identical in the three genome sequences and similar to other anti-sigma factors from M. tuberculosis (RshA; [12]) or S. coelicolor (RsrA; [11]). RshA from C. glutamicum shares the conserved cysteine residues in the ZAS domain with its counterparts. These residues modulate the interaction with the SigH protein, a fact that has been experimentally determined for RshA and SigH in M. tuberculosis[12], RsrA and SigR in S. coelicolor[11], as well as for other members of the ZAS-domain containing protein family in actinobacteria [13]. The clear upregulation of all previously determined SigH-dependent genes in the constructed rshA mutant provides further proof that in C. glutamicum, RshA functions as an anti-sigma factor similar to M. tuberculosis RshA and S. coelicolor RsrA.
The sigH-rshA gene organization is also conserved in all sequenced Corynebacterium strains available in NCBI database e.g. C. glutamicum, C. efficiens, C. jeikum[8], and in the more distantly related S. coelicolor. M. tuberculosis exhibits a similar organization, but a gene encoding a protein of unknown function is inserted between the sigH and rshA genes.
The transcriptional organization of the sigH-rshA operon in C. glutamicum is similar but not identical to that of M. tuberculosis and S. coelicolor. In C. glutamicum, four promoters upstream of sigH-rshA resemble house-keeping promoters which are recognized by SigA. The reason for having multiple promoters might ensure fine-tuning, either by the action of additional transcription factors or by the differing affinities of these promoters to SigA and SigB, the non-essential sigma factor of C. glutamicum that also targets house-keeping promoters [9]. Experimental observations are in line with this assumption: it was shown by a reporter fusion analysis (P-sigH::cat) that the activity of the sigH promoter rose in the stationary phase and after oxidative stress [15], whereas no significant changes in sigH transcript levels were detected after heat shock [18] or in the transition phase of growth [24]. In S. coelicolor, the sigR-rsrA operon is also transcribed from multiple promoters. There is one transcriptional start of sigR dependent on the housekeeping sigma factor SigA and another one dependent on SigRSc itself [25]. In M. tuberculosis, sigH is apparently only autoregulated by SigH [12].
A possible additional regulation of SigH in C. glutamicum might operate via the SigA-dependent promoter that was found in the 5´-UTR of the sigH gene, overlapping with a putative SOS-box [27] and therefore most likely blocked by the LexA repressor in the absence of a DNA-damaging agent.
The main difference from the related bacteria S. coelicolor and M. tuberculosis was the finding that in C. glutamicum, the rshA gene is transcribed by an additional promoter as a monocistronic transcript. We showed by Northern blotting and by PEX analysis that this transcription is SigH-dependent. It can be speculated that this transcriptional organization evolved to guarantee an excess of RshA protein over SigH at all times and therefore a fast shut-down of SigH-dependent transcriptional activation as soon as stress conditions end.
Expression analysis of the rshA mutant strain validated and extended the known SigH regulatory network
SigH is one of the major regulators, especially during heat stress, which also involves a number of different transcriptional regulators [
8
]. In contrast to studying the action of SigH in the presence of stress, we choose to uncouple SigH from RshA in order to assess its regulon without a possible stress-induced background. Using microarray analyses, we observed an induction of all SigH-dependent genes described by Ehira and coworkers in the
rshA
deletion mutant, with the exception of the
dnaK-grpE
operon,
clpC, sigB
and most genes of the
suf
cluster. Like Ehira and coworkers, working with overexpressing and deleting the
sigH
gene, we were unable to show a differential transcription of
clgR
. The rather weak transcriptional induction of some of the SigH-dependent heat-shock genes and the apparent absence of induction of the above-mentioned genes is explained by dominant effects exerted by known transcriptional regulators such as ClgR, HrcA, HspR, and/or SufR [
14
,
16
,
18
] (Figure
8
). The additional action of these regulators might increase SigH activity under heat and/or oxidative stress. This might also hold for the
sigB
gene encoding the non-essential sigma factor of
C. glutamicum
. SigB is involved in gene expression in the transition phase of growth, and in our experiments sampling took place in the exponential phase of growth. Again, additional factors might be necessary to trigger the transcriptional activation of
sigB
by SigH.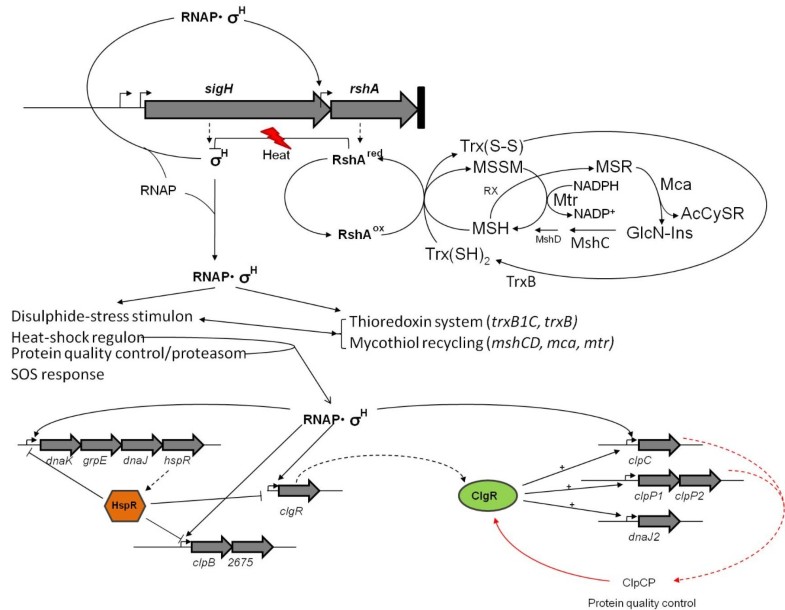 Genes hitherto not described as being part of the SigH regulon included genes involved in mycothiol (MSH) synthesis and recycling. Besides thioredoxin (Trx), MSH is the major low-molecular mass thiol in corynebacteria, mycobacteria and streptomycetes [36]. The biosynthesis of MSH in C. glutamicum and two essential genes, mshC and mshD involved in the biosynthetic pathway have been described [37]. In our approach, we observed a SigH-dependent upregulation of mshC, coding for the second gene in mycothiol (MSH) synthesis, and mca as well as mtr, involved in mycothiol recycling (Figure 8).
Mca is the first gene in MSH recycling and was already shown to be transcribed in a SigH-dependent manner [14]. It encodes mycothiol S-conjugate amidase (Mca), which cleaves adducts (MSR) from the reaction of MSH with electrophiles to produce a mercapturic acid (AcCySR) and 1-O-(2-amino-2-deoxy-a-D-glucopyranosyl)-D-myo-inositol (GlcN-Ins) [30, 31]. GlcN-Ins is the substrate of MshC, and MSH is synthesized from the subsequent enzymatic reaction with MshD [37]. As was mentioned above, mshD was not observed to be transcribed in a SigH-dependent manner, but its transcription was induced by disulphide treatment in C. glutamicum (our unpublished results), indicating that mshD is transcriptionally regulated. In M. tuberculosis, all the genes of MSH synthesis seem to be transcribed constitutively [30]. There is a similar mechanism in S. coelicolor, with the difference that besides mca, mshA is transcriptionally induced as a direct target of SigR and the genes mshB, mshC and mshD are SigR-dependent, but apparently induced indirectly [38].
The SOS regulon of many bacteria, including E. coli, is involved in various cellular processes, e.g. nucleotide excision and recombination repair [39]. By deleting the gene encoding the SOS response regulator LexA in C. glutamicum, Jochmann and coworkers [27] defined the SOS response in C. glutamicum, with only one of the uvr genes, namely uvrC, showing up in the microarray as differentially transcribed.
In our approach we observed a SigH-dependent induction of three uvr genes (uvrA, uvrC, uvrD3). The induction of uvrC transcription was quite low in our experiments, most likely because of an additional repression by LexA. As mentioned in [27], the degree of induction of SOS gene expression depends on at least four parameters: (i) the affinity of LexA for the SOS box, (ii) the location of the SOS box relative to the promoter, (iii) the promoter strength, and (iv) the presence of any additional constitutive promoters [39–41]. In this context, it is apparent that SigH is involved in the SOS response in C. glutamicum, integrating it with the heat stress and thiol-oxidative stress defense systems into a general stress response network.
This is in accordance with a proposal made by Barreiro et al.[18]. The regulation of sigH in cases of severe stress (probably causing DNA damage) would release LexA from the SOS boxes and thereby activate an additional SigA-dependent sigH promoter.
The SigH regulatory network appears to also control other functions. An interesting novel finding was the enhanced transcription of components of the proteasome. The actinobacterial proteasome consists of functions for pupylation (a process similar to eukaryotic ubiquitinylation, which marks proteins that are to be degraded) and proteases. Our study connects the recently identified pupylation component Pup (prokaryotic ubiquitin-like protein) and PafA2 (proteasome acessory factor, responsible for Pup conjugation; [14]) with the SigH regulon and underlines that SigH also plays a significant role in protein quality control.
Based on the results obtained in this study and in previous studies, we propose an extended model of the SigH regulon in C. glutamicum (Figure 8) including the direct control of the stress reponse to disulphide and heat stress by RshA, involving the thioredoxin system and the mycothiol-recycling system to cope with thiol-depleting conditions. In an unstressed state, SigH is inhibited by the reduced form of RshA. The disruption of the SigH–RshA complex in C. glutamicum appears under severe heat shock or disulphide stress via a change in the conformation through the oxidation of RshA. The released SigH forms a functional RNAP holoenzyme with the core enzyme and induces the stress response by transcribing SigH-dependent genes, including those involved in disulphide and heat stress response. The feed-forward induction of the anti-sigma factor RshA enables the cell to quickly shut down the stress response, based on SigH-dependent transcription, after the stress ends. RshA, as the stress-sensing redox switch, is one of the targets of the biochemical pathways encoded by genes of the SigH network, namely those of the reducing compounds thioredoxin (Trx) and mycothiol (MSH). Direct induction of trxB1C generates the thiol Trx and the gene products of trxB, mtr, mca, and mshC reduce and/or recycle Trx and MSH, respectively, which are able to restore, together with other reductases and reducing compounds, the thiol redox balance and reverse the oxidation of cysteine residues in RsrA. In this closed loop, RshA is reduced to regain its functionality and binds SigH after redox homeostasis is reached. A similar model was developed for the thiol-depleting stress response in S. coelicolor by Newton and coworkers in 2008 [30, 31]. The transcriptional regulatory network controlled by SigH is highly connected to other regulators, modulating gene expression in response to other physical or chemical triggers. The heat-shock regulatory network that includes the regulators HspR and ClgR is an example of such a level of control.
Conclusions
In this study, we approached the SigH regulatory network in C. glutamicum from another angle. In the absence of stress, the SigH regulon was induced by removing its cognate anti-sigma factor RshA. Our findings on the regulatory network on the one hand extended the known functions controlled by SigH, and on the other hand demonstrated that stress most likely imposes further actions that modulate the transcriptional control of apparently stress-related or unrelated genes. In the end, sigma factor competition at the RNAP determines whether an effect on the transcription of a certain gene is exerted as well as how strong it will be. In addition, factors like RNA degradation and proteolysis will surely have significant influences on all aspects of the network. Hence, a considerable amount of work lies ahead before we can claim that a single sigma factor network in C. glutamicum is understood.
Declarations
Acknowledgements and funding
The authors wish to thank J. Nešvera for critical reading of the manuscript. This work was supported by grant Ka1722/1-1 from the Deutsche Forschungsgemeinschaft (DFG) and by Grant 204/09/J015 from the Scientific Council of the Czech Republic and by Institutional Research Concept No. AV0Z50200510.
Authors' Affiliations
(1)
Centrum für Biotechnologie, Universität Bielefeld, Bielefeld, Germany
(2)
Institute of Microbiology, Academy of Sciences of the Czech Republic, Vídeňská, Czech Republic
Copyright
© Busche et al.; licensee BioMed Central Ltd. 2012
This article is published under license to BioMed Central Ltd. This is an Open Access article distributed under the terms of the Creative Commons Attribution License (http://creativecommons.org/licenses/by/2.0), which permits unrestricted use, distribution, and reproduction in any medium, provided the original work is properly cited.