Research article
Open Access
Bio-crude transcriptomics: Gene discovery and metabolic network reconstruction for the biosynthesis of the terpenome of the hydrocarbon oil-producing green alga, Botryococcus braunii race B (Showa)*
Received: 13 April 2012
Accepted: 19 October 2012
Published: 30 October 2012
Abstract
Background
Microalgae hold promise for yielding a biofuel feedstock that is sustainable, carbon-neutral, distributed, and only minimally disruptive for the production of food and feed by traditional agriculture. Amongst oleaginous eukaryotic algae, the B race of Botryococcus braunii is unique in that it produces large amounts of liquid hydrocarbons of terpenoid origin. These are comparable to fossil crude oil, and are sequestered outside the cells in a communal extracellular polymeric matrix material. Biosynthetic engineering of terpenoid bio-crude production requires identification of genes and reconstruction of metabolic pathways responsible for production of both hydrocarbons and other metabolites of the alga that compete for photosynthetic carbon and energy.
Results
A de novo assembly of 1,334,609 next-generation pyrosequencing reads form the Showa strain of the B race of B. braunii yielded a transcriptomic database of 46,422 contigs with an average length of 756 bp. Contigs were annotated with pathway, ontology, and protein domain identifiers. Manual curation allowed the reconstruction of pathways that produce terpenoid liquid hydrocarbons from primary metabolites, and pathways that divert photosynthetic carbon into tetraterpenoid carotenoids, diterpenoids, and the prenyl chains of meroterpenoid quinones and chlorophyll. Inventories of machine-assembled contigs are also presented for reconstructed pathways for the biosynthesis of competing storage compounds including triacylglycerol and starch. Regeneration of S-adenosylmethionine, and the extracellular localization of the hydrocarbon oils by active transport and possibly autophagy are also investigated.
Conclusions
The construction of an annotated transcriptomic database, publicly available in a web-based data depository and annotation tool, provides a foundation for metabolic pathway and network reconstruction, and facilitates further omics studies in the absence of a genome sequence for the Showa strain of B. braunii, race B. Further, the transcriptome database empowers future biosynthetic engineering approaches for strain improvement and the transfer of desirable traits to heterologous hosts.
Keywords
BiofuelTerpene biosynthesisFatty acid biosynthesisTriacylglycerol biosynthesisStarch biosynthesisABC transporterAutophagyTranscriptomeBotryococcus brauniiBotryococcene
Background
Excessive reliance on fossil hydrocarbons for world energy and synthetic chemistry needs has led to environmental degradation such as global warming, economic imbalances, and their associated national and geopolitical risks for producing and exporting nations alike. The problem is most acute in the liquid fuel sector (itself responsible for about two thirds of the global energy demand, [1]), where renewable sources of energy made the least impact up until now. Microbial conversion of feedstocks (simple sugars, starches and other polysaccharides, and total biomass) to biofuels (primarily ethanol as of now, but preferably other alcohols and fatty acid esters in the future) promises a renewable and potentially globally distributed source of transportation fuel. "Photosynthetic biofuels" directly link the biosynthesis of energy-rich, storable, transportation-friendly, and fuel infrastructure-compatible metabolites to photosynthesis, using land plants, eukaryotic microalgae or cyanobacteria as cell factories to yield a sustainable and potentially carbon-neutral source of fuels. Microalgae may be especially advantageous as they can be grown on marginal or even non-arable land, and may use water sources not directly utilizable in traditional agriculture [2–5]. In addition, microalgae grow faster, have higher photosynthetic productivity [1, 5], and accumulate biofuel feedstocks to a much higher percentage of their total biomass than land plants [6, 7]. These advantages translate to 15–60 times higher annual oil productivity as compared to soybean, the main US oil crop, grown on the same area of land [2, 4, 5].
Oleaginous algae accumulate storage carbon and energy in the form of neutral lipids, mainly triacylglycerols (TAG), which need to be extracted from intracellular oil bodies by disrupting the cells. TAG conversion to biofuel crude usually involves transesterification of the constituent fatty acids with alcohols before the resulting bio-crude is refined to transportation fuels [8]. In contrast, the cosmopolitan green colonial microalga Botryococcus braunii (Chlorophyta, Trebouxiophyceae) stores photosynthetic carbon in the form of liquid hydrocarbons which need no chemical conversion to provide biofuel crude. This ready-made bio-crude is compatible with, and can be directly processed by the existing petrochemical refinery and distribution infrastructure to yield jet fuel, gasoline, and diesel with little coke formation [9]. Further, this liquid hydrocarbon bio-crude is stored in an extracellular polymeric matrix material surrounding the individual cells of the colony [10]. This may permit relatively mild extraction procedures that use nondisruptive, nontoxic solvents, thus allowing the recycling of "de-fatted" algal biomass ("milking" [1]).
B. braunii strains belong to three races defined by the chemical nature of their liquid hydrocarbon products. Race A strains accumulate C23-C33 alkadienes and alkatrienes derived from very long chain fatty acids (VLCFA) [10, 11]. Race B and race L strains produce triterpenoids (C30-C37 botryococcenes and methylated squalenes) or tetraterpenoids (C40 lycopadiene), respectively [10, 11]. B race strains of B. braunii typically accumulate hydrocarbons at 30-40% of their dry cell weight, although their hydrocarbon content can reach as high as 86% [12]. Hydrocarbon accumulation apparently does not require specific metabolic triggers like nitrogen starvation as seen in TAG-accumulating microalgae [9–11]. Hydrocarbons originating from all races of B. braunii have repeatedly been isolated from fossil crude oils and coal deposits in significant amounts, indicating a possible role for this alga in the formation of our current petroleum reserves [9, 13] (and references therein).
The genomes of about a dozen photosynthetic algae, including model organisms such as Chlamydomonas reinhardtii, Chlorella variabilis and Volvox carteri have been sequenced and annotated (http://genome.jgi-psf.org) to gain insight into unique aspects of algal biology [14–16]. These investigations also led to the reconstructions of metabolic pathways and networks for selected biological processes of interest, including those that govern lipid production [17–19]. Multiple homologs of enzymes involved in triacylglycerol biosynthesis, such as diacylglcyerol acyltransferases, phospholipid diacylglycerol acyltransferase and phosphatidate phosphatases, have been identified in algae [19, 20]. Next-generation sequencing of transcripts from algal cultures grown under various conditions was used to discover regulated genes that are critical in key biochemical processes and biological pathways [21, 22]. Next-generation sequencing has also been utilized to assemble the complete transcriptome of the microalgae Dunaliella tertiolecta and Chlorella vulgaris, and to discover pathways involved in TAG biosynthesis [23, 24].
Functional annotation, the process of assigning biological meaning to genomic and transcriptomic data, is an important step in extracting useful information from genomic and transcriptomic projects. The annotation process involves assigning biological pathway, ontology, and protein domain data to genes and transcripts. In the case of de novo assembly of genomes and transcriptomes, sequence similarity is a common basis for assigning annotations [23]. Sequences from primary annotation databases, such as KEGG [25], Gene Ontology [26], and Pfam [27], can be used to assign biological function to the assembled transcripts, and further manual curation can be used to validate and extend the annotations derived from sequence similarity. To provide the most utility from a collection of functional annotations, data mining environments are commonly used to facilitate the analysis of large-scale datasets and to provide a public repository of functional data. Several such tools are available for algae, including the Algal Functional Annotation Tool, which allows visualization of sets of transcripts on pathway maps and provides for statistically rigorous functional analysis of large sets of transcripts [28].
Economic viability demands significant improvements in biofuel feedstock yields from microalgae [
5
]. This necessitates a much better understanding of cellular metabolic networks, in particular those that are directly implicated in the production of biofuel feedstocks and their metabolic inputs. While this manuscript was in preparation, a series of pioneering articles from the Watanabe lab provided the first global picture of the transcriptomes of
B. braunii
strains, based on assemblies of limited cDNA end sequencing (11,904 reads for the race B strain BOT-70) and next generation sequencing data (185,936 reads for the race A strain BOT-88-2, and 209,429 reads for the race B strain BOT-22) [
29
–
32
]. Simultaneously, the Chappell, Okada, and Devarenne laboratories published several articles on the characterization of selected key enzymes and their encoding genes for triterpene hydrocarbon biosynthesis (squalene synthase like-1, 2, and 3; triterpene methyltransferase-1, 2, and 3; and deoxyxylulose phosphate synthase-I, II, and III) from
B. braunii
, race B, strain Showa [
33
–
35
]. In the current study, we have extended these findings to provide a detailed global picture of the biosynthesis of the terpenome of the
B. braunii
Showa strain (Figure
1
), using transcriptomic information in the absence of a genome sequence. Exploiting an extensive next-generation sequence read dataset generated by the Department of Energy Joint Genome Institute (JGI), we have performed a
de novo
assembly and annotation of the transcriptome of
B. braunii
Showa, and successfully identified and manually curated the genes for the key enzymes in the biosynthesis of liquid triterpenoid compounds. We describe here reconstructed pathways for the production of terpene precursors from photosynthetic 3-phosphoglycerate, the biosynthesis of terpene backbones, and the conversion of these scaffolds into liquid hydrocarbons and phytosterols. We discuss competing terpenoid pathways that channel photosynthetic carbon into tetraterpenoid carotenoids, diterpenoids, and the prenyl chains of meroterpenoid quinones and chlorophyll. We also provide an inventory of machine-annotated contigs that represent genes for the biosynthesis of competing storage compounds, including fatty acids and triacylglycerols (TAGs), and carbohydrates like starch (Figure
1
). Inventories are also presented for genes whose putative protein products are predicted to be involved in
S
-adenosylmethionine regeneration, and those that may take part in the extracellular localization of the hydrocarbon oils by active transport and possibly by autophagy.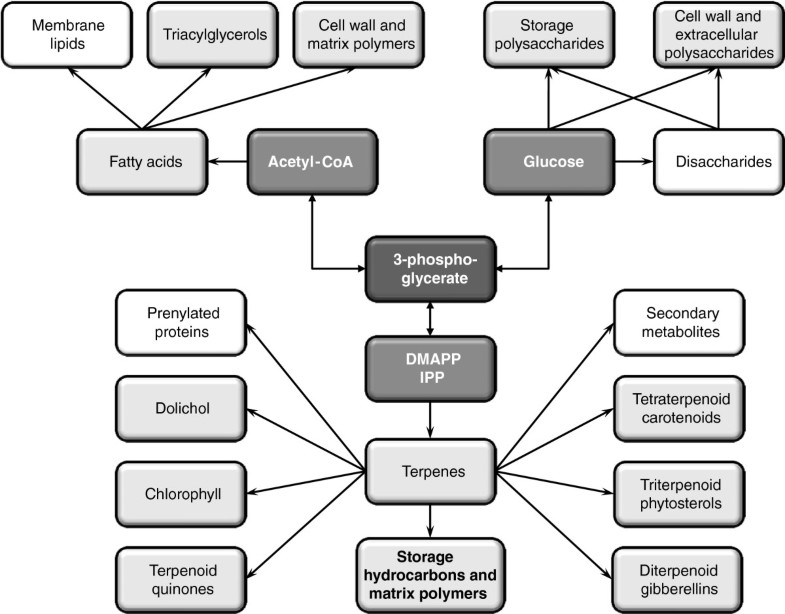 Conclusions and outlook
Functional annotation of the transcriptome of the B. braunii race B, strain Showa uncovered diverse biological processes operational in this hydrocarbon-producing green alga. Global comparisons with other algal transcriptomes reveal similar degrees of annotation coverage, with the number and the range of annotations supporting a strong degree of conservation between algal genomes and transcriptomes. The level of annotation coverage in B. braunii is supported by the identification of the majority of predicted enzymes within diverse biological pathways, for example within those related to the production of terpenes and lipids.
This study describes reconstituted metabolic pathways related to the biosynthesis of terpenoid hydrocarbons in the non-model green microalga B. braunii Showa, following the fate of photosynthetic carbon from 3-phosphoglycerate to the general terpenoid precursors IPP and DMAPP, the production of linear polyprenyl backbones, the biosynthesis of triterpenoids, the decoration/tailoring of botryococcene and squalene to yield liquid hydrocarbon compounds and matrix structural materials, and possible routes for the extracellular localization of these compounds. A recurrent theme is the expansion of particular gene families. This allows the adaptation of the paralogs to structurally orthogonal substrates (botryococcene methyltransferases), and permits neofunctionalization to support novel biochemical reactions (botryococcene synthase). Paralogs may yield increased metabolic flux, or may provide additional flexibility in terms of regulation, compertmentalization, and biochemical properties (deoxyxylulose phosphate synthase, and possibly ABC transporters for hydrocarbon export). Metabolic pathways leading to other terpenoids have also been reconstructed, and anabolic pathways for competing storage compounds (TAG and polysaccharides) were similarly mapped.
The reconstructed metabolic networks, their participating enzymes and the corresponding cDNA sequences provide a genetic and metabolic framework that should empower biosynthetic engineering approaches targeting the increased production of hydrocarbons in B. braunii, or the mobilization of these pathways into genetically tractable photosynthetic (algal or land plant) hosts or heterotrophic microbial strains [50, 120–122]. In particular, increasing the flux of photosynthetic carbon towards terpene precursors in the chloroplast or the cytosol of B. braunii by transplanting the cytoplasmic mevalonate pathway, or by fine tuning the expression of DXR (deoxyxylulose phosphate reductase) and Idi (isopentenyl-diphosphate delta-isomerase) may be interesting approaches [60, 120, 123]. Further experiments should investigate the importance of the pentose phosphate cycle as an anaplerotic pathway feeding into the MEP/DOXP pathway, and clarify the actual metabolite(s) and enzyme(s) connecting these two routes [62]. Conversely, tuning down, or blocking the biosynthesis of competing storage carbons (like that of starch in Chlamydomonas[20, 124, 125]) may also increase the accumulation of liquid hydrocarbons. Varying the level and timing of the expression for the two-component botryococcene synthase [34, 38] and various storage hydrocarbon decorating enzymes (including the recently described methyltransferases for C32 triterpenoids [33], the still unknown methyltransferases for C34 triterpenoids, and the various oxidases that yield oxidized (methyl)squalenes, ether polymers and matrix materials) should help to tailor liquid hydrocarbon biosynthesis for particular biofuel applications. Investigations into the export of hydrocarbons into the extracellular matrix of B. braunii should uncover a particularly valuable trait that may have a widespread application to increase yield, reduce end product toxicity and simplify product recovery during biofuel manufacture by fermentation. Interesting questions are presented by the interconnection of the biosyntheses of terpenoid hydrocarbons and very long chain fatty acids with the formation of the extracellular matrix materials in B. braunii that provide the building blocks for an extracellular carbon storage organ, but also the physical basis for colony organization in this organism. Further transcriptomic, proteomic, metabolomic, and metabolic flux analyses that compare varied growth conditions influencing hydrocarbon accumulation would shed light on the regulatory networks and pathway interactions channeling carbon and energy flow in algal cells.
In addition to biofuel biosynthetic pathway discovery, the integrated data-mining environment offered by the publicly available web annotation tool described here allows researchers to query the B. braunii transcriptome for any specific transcript sets to rapidly and efficiently extract biologically relevant information related to different contexts. As the transcriptome dataset is revised and supplemented with addtional manually curated annotations, the most current functional data will be made available to the community via the public portal and annotation tool.
Methods
Algal cell cultures
A near axenic culture of B. braunii B race, Showa strain (a.k.a the Berkeley strain) [126] was obtained as previously described [36]. Briefly, cultures were diluted with sterilized media, individual colonies were isolated under a microscope, and transferred to fresh, sterile media for growth. The resulting cultures were grown in modified Chu 13 media [66] at 22.5°C under a 12:12 light:dark (L:D) cycle using 13 W compact fluorescent 65 K light bulbs at a distance of 7.62 cm, which produced a light intensity of 280 μmol photons · m-2 · s-1. The cultures were continuously aerated with filter-sterilized, enriched air containing 2.5% CO2. Fifty milliliters of culture was used to inoculate 750 ml of subsequent subcultures every 4 weeks. Bacterial contamination of the cultures was routinely monitored by inoculating LB plates with 100 μl of undiluted media from a B. braunii culture that has had the algae removed by filtration (see below), and incubating the plates at 37°C for 4 days. This routinely yields an average of 5 bacterial colonies.
Sample collection and RNA isolation
B. braunii samples for total RNA isolation were collected at seven time points (days 0, 3, 5, 8, 14, 18, and 22) representing the four-week culture cycle. For days 0, 3, and 5, cells were collected from a full culture flask (750 ml) each, yielding a biomass of approximately 0.5 g (days 0 and 3) and 1 g (day 5) of wet cell weight. For all other time points, one half of a flask culture (375 ml) was harvested, yielding a biomass of approximately 1.5 g (day 8) and 3 g (day 22) of wet cell weight. Thus, a total of 5 separate culture flasks were used for the biomass collection (1 flask each for days 0, 3, and 5; 1 flask for days 8, and 14; one flask for days 18 and 22), and each of these 5 flasks originated from a single 4-week-old B. braunii culture. Samples were harvested by vacuum filtration using 35 μm nylon mesh (Aquatic Ecosystems Inc., Apopka, FL). The harvested colonies were rinsed with sterilized deionized water, frozen in liquid nitrogen, and stored at −80°C for RNA extraction.
Total RNA from each sample was extracted by pulverizing liquid nitrogen-frozen algae using a Tissuelyser II (Qiagen, Valencia, CA). Approximately 200 mg of the pulverized frozen tissue was added to 1 ml of TRIzol reagent (Life Technologies, Grand Island, NY) and total RNA was extracted following the protocol of the manufacturer. The resulting RNA pellet was washed with 75% EtOH, dried in a SpeedVac, and the RNA was selectively precipitated from contaminating polysaccharides by resuspending the RNA in 500 μl of 2M LiCl and incubating at room temperature for 5 min. The sample was centrifuged at 12,000 x g for 15 min to pellet the RNA and the supernatant (containing the polysaccharides) was discarded. The LiCl precipitation steps were repeated until the size of the RNA pellet appeared constant. The final RNA pellet was resuspended in 1x TE, extracted against an equal volume of phenol/CHCl3/isoamyl alcohol (25/24/1) and centrifuged at 10,000 x g. The aqueous supernatant containg the RNA was extracted with CHCl3 and centrifuged at 10,000 x g. The RNA in the aqueous supernatant was then precipitated by adding 0.1 volumes of 3M sodium acetate and 2.5 volumes 100% EtOH, incubating at −20°C for 20 min, and centrifuging at 10,000 x g for 15 min. The RNA pellet was washed with 70% EtOH, dried, and dissolved in 50 μl RNase free dH2O. The RNA was quantified by absorbance at 260 nm (A260), and the A260/A280 (protein contamination) and A260/A230 (polysaccharide contamination) ratios were determined. An A260/A280 ratio of 1.8 or higher and an A260/A230 ratio of 2.0 or higher were deemed as suitable. The later time points (days 18 and 22) contained higher amounts of polysaccharides that were not completely removable by repeated LiCl precipitation and the A260/A230 ratios for these samples were in the range of 1.5 to 1.6. The RNA from each sample was then pooled into one sample and treated at 37°C for 30 min with 1 unit of RQ1 RNAse-free DNAse (Promega, Fitchburg, WI) for each μg of RNA. After phenol/CHCl3/isoamyl alcohol and subseaquent CHCl3 extractions, the RNA was again precipitated with 3M sodium acetate/100% EtOH as above. The resulting RNA was resuspended in 100 μl RNAse-free dH2O and the RNA quantified and protein and polysaccharide contamination determined as above. Finally, the RNA was sent to the DOE Joint Genome Institute (JGI) for library construction and 454 sequencing.
RNA quality assessment
In addition to the A260/A280 and A260/A280 ratios, the quality of the isolated RNA was analyzed by several methods. The RNA from days 0, 3, and 5 were analyzed by RT-PCR for the presence of several cDNAs including squalene synthase (SS) [37], squalene synthase-like-1 (SSL-1) [34], β-actin [36], ferredoxin-1, and ferredoxin NADPH reductase ( Additional file 1: Figure S2). The pooled RNA was analyzed for the presence of active nucleases by incubating one 5-μg aliquot of RNA at 37°C and one 5-μg aliquot of RNA at 0°C for 1 hr, followed by visual inspection for degradation of the RNA on a denaturing agarose gel.
Sequence assembly
The data were assembled using an in house cleaning, clustering, and assembling pipeline developed for 454 transcriptome sequences [39]. This pipeline uses a combination of assembly methods, which has been shown to produce assemblies that are superior to any single method, resulting in fewer contigs with shorter cumulative length [40]. Raw reads were first cleaned using SnoWhite v1.1.3 (http://dlugoschlab.arizona.edu/software.html) with the TagDust cleaning step implemented [127]. The cleaned reads were clustered using the wcd EST clustering tool with an error threshold value of 5 [128]. Based on the wcd output, a perl script split the dataset into multiple fasta and associated quality files based on cluster sizes. These cluster sizes correspond to read depth (i.e. expression level) allowing the assembly parameters to be tailored for the expression level of transcripts. In this way, transcript contigs are initially assembled in separate bins according to their expression level, ameliorating the effects of large differences in sequence representation in transcriptome datasets. The multiple files were assembled separately using Mira v3.0.0 [129]. The Mira outputs were assembled a second time using CAP3 with an overlap percent identity cutoff of 94 [130], creating an "assembly of assemblies". Coverage and read depth in this final assembly were determined by mapping the reads to the assembly in CLC Genomics Workbench (v4.9). The quality of the assembly was benchmarked against the core set of eukaryotic genes using the Core Eukaryotic Genes Mapping Approach (CEGMA) algorithm [41]. Transcript contigs were deposited into the GenBank Transcriptome Shotgun Assembly Sequence Database and were assigned accession numbers KA089548 - KA133805 and KA659919 - KA660048. The number of contigs that might have originated from transcripts of other organisms were estimated using the Metagenomics RAST server [48] from the taxonomical distribution of the top BlastX hits to proteins in GenBank with the transcripts of the B. braunii Showa database.
The Botryococcus braunii web-based annotation tool and data depository
Contigs were annotated using Blast2GO to assign Gene Ontology classifications [131]. KEGG annotation was done with the KAAS annotation server (http://www.genome.jp/tools/kaas/) using the bi-directional best hit method [132]. Custom Perl sripts (avalible from JDH by request) were used to generate the Venn diagram in Figure 3 to compare KEGG annotations for Chlorophyta genomes and the B. braunii transcriptome, using predicted proteins from the genomes of Chlamydomonas reinhardtii (v3.0, http://genome.jgi-psf.org/Chlre3/Chlre3.download.ftp.html), Chlorella variabilis NC64A (http://genome.jgi-psf.org/ChlNC64A_1/ChlNC64A_1.download.ftp.html) and Micromonas sp. RCC299 (v3.0, http://genome.jgi-psf.org/MicpuN3/MicpuN3.download.ftp.html).
To assign pathway annotations, unique transcript sequences were aligned using the BlastX alignment program to a target database containing KEGG proteins with pathway annotations as described in [28]. Alignments were filtered using an E-value threshold of 10-5, and the top KEGG protein hit for each transcript meeting the threshold was kept. KEGG pathways assigned to the protein in the target database were subsequently assigned to the corresponding transcripts. MetaCyc, Panther, and Reactome pathways were assigned by performing BlastX alignments against UniProt entries with annotations in the respective databases and filtering using an E-value threshold of 10-5. Gene Ontology, MapMan Ontology, and KOG annotations were assigned by identifying orthologous proteins in the model alga C. reinhardtii and the plant Arabidopsis thaliana using reciprocal BlastX and tBlastN alignments and keeping alignments that were pairwise best hits. Annotations assigned to orthologous proteins in those organisms were subsequently transferred to Botryococcus transcripts. Pfam annotations were assigned using the publicly available web-based batch search feature of the Pfam database.
Manual curation of selected transcripts and pathways
Contigs with automated annotations related to terpenoid biosynthesis were extracted from the dataset and confirmed by reciprocal BlastX searches using the non-redundant protein sequences at NCBI as comparators. Further contigs representing target genes were collected by exhaustive Blast searches of the B. braunii Showa contig and singleton databases using BlastStation-Free v 1.1 (TM Software, Inc.). Machine-identified B. braunii Showa contigs and representative proteins from plants were used as sequence baits. Further gene candidates were identified by searching for appropriate conserved domains and enzyme name keywords using the B. braunii Showa web-based annotation tool (http://pathways-pellegrini.mcdb.ucla.edu/botryo1). Contigs and singletons that may overlap and extend contigs of interest were collected by BlastN searches using BlastStation-Free v1.1. Overlapping sequences were assembled into isotigs using Sequencher 5.0 (GeneCodes Corp.) implementing Tablet v1.11 (The James Hutton Institute). Protein models were built by identifying protein-coding regions in "noisy" sequences using FrameDP (http://iant.toulouse.inra.fr/FrameDP/cgi-bin/framedp.cgi) that integrates protein similarities and probabilistic models into a single prediction. Translational start sites were further evaluated using the NetStart 1.0 Server (http://www.cbs.dtu.dk/services/NetStart/). Predicted frameshifts were corrected by scrutinizing the assemblies for the questionable regions using Tablet. Contigs and curated contigs whose deduced protein products showed the highest similarities to fungal, animal or bacterial proteins with no or very low similarities to plant proteins were flagged, and their codon usage frequencies were plotted against those of B. braunii (http://www.kazusa.or.jp/codon/index.html) using the Graphical Codon Usage Analyser (http://gcua.schoedl.de/). Flagged contigs and isotigs whose mean differences of codon usage frequencies and relative adaptiveness values significantly exceeded (by 30% or more) those of non-flagged contigs and isotigs of the same pathway were treated as potentially originating from a different organism. Subcellular localization of deduced proteins with protein models covering the N-terminus were predicted using the TargetP 1.1 Server (http://www.cbs.dtu.dk/services/TargetP/).
Endnote
Dedicated to the memory of Prof. Michael Cusanovich (1942–2010).
Declarations
Acknowledgements
The work in the authors' laboratories is supported by the Department of Energy (contract DE-EE0003046 to the NAABB consortium). We are thankful to Andrew Koppisch (Northern Arizona Unviersity), Joe Chappell and Tom D. Niehaus (University of Kentucky), and Shigeru Okada (University of Tokyo) for their expertise and their efforts of initiating the B. braunii sequencing project as part of JGI Program CSP 2009, and to the scientists at the JGI who carried out the sequencing and publicly released their data into the NCBI Sequence Reads Archive. We are also grateful to the three anonymous reviewers for their comprehensive and constructive comments that strenghthened this manuscript.
Authors' Affiliations
(1)
Natural Products Center, School of Natural Resources and the Environment, The University of Arizona, Tucson, USA
(2)
Bio5 Institute, The University of Arizona, Tucson, USA
(3)
Department of Molecular, Cell and Developmental Biology, University of California Los Angeles, Los Angeles, USA
(4)
Department of Ecology and Evolutionary Biology, The University of Arizona, Tucson, USA
(5)
Department of Biochemistry and Biophysics, Texas A&M University, College Station, USA
Copyright
© Molnár et al.; licensee BioMed Central Ltd. 2012
This article is published under license to BioMed Central Ltd. This is an Open Access article distributed under the terms of the Creative Commons Attribution License (http://creativecommons.org/licenses/by/2.0), which permits unrestricted use, distribution, and reproduction in any medium, provided the original work is properly cited.