Research article

Open Access
Genomics analysis of potassium channel genes in songbirds reveals molecular specializations of brain circuits for the maintenance and production of learned vocalizations
Received: 10 December 2012
Accepted: 19 June 2013
Published: 11 July 2013
Abstract
Background
A fundamental question in molecular neurobiology is how genes that determine basic neuronal properties shape the functional organization of brain circuits underlying complex learned behaviors. Given the growing availability of complete vertebrate genomes, comparative genomics represents a promising approach to address this question. Here we used genomics and molecular approaches to study how ion channel genes influence the properties of the brain circuitry that regulates birdsong, a learned vocal behavior with important similarities to human speech acquisition. We focused on potassium (K-)Channels, which are major determinants of neuronal cell excitability.
Starting with the human gene set of K-Channels, we used cross-species mRNA/protein alignments, and syntenic analysis to define the full complement of orthologs, paralogs, allelic variants, as well as novel loci not previously predicted in the genome of zebra finch (Taeniopygia guttata). We also compared protein coding domains in chicken and zebra finch orthologs to identify genes under positive selective pressure, and those that contained lineage-specific insertions/deletions in functional domains. Finally, we conducted comprehensive in situ hybridizations to determine the extent of brain expression, and identify K-Channel gene enrichments in nuclei of the avian song system.
Results
We identified 107 K-Channel finch genes, including 6 novel genes common to non-mammalian vertebrate lineages. Twenty human genes are absent in songbirds, birds, or sauropsids, or unique to mammals, suggesting K-Channel properties may be lineage-specific. We also identified specific family members with insertions/deletions and/or high dN/dS ratios compared to chicken, a non-vocal learner. In situ hybridization revealed that while most K-Channel genes are broadly expressed in the brain, a subset is selectively expressed in song nuclei, representing molecular specializations of the vocal circuitry.
Conclusions
Together, these findings shed new light on genes that may regulate biophysical and excitable properties of the song circuitry, identify potential targets for the manipulation of the song system, and reveal genomic specializations that may relate to the emergence of vocal learning and associated brain areas in birds.
Keywords
Learned vocalizations
Songbird
Potassium channel
Genomics
Gene expression
In situ hybridization
Song system
Background
With the recent availability of a large number of genome sequences for higher vertebrates, there are growing opportunities for understanding how genes have contributed to the evolution and functional organization of brain circuits for complex learned behaviors. Among genes that may have evolved to shape the physiological properties of such circuits, ion channel genes represent highly compelling candidates. Potassium Channel (K-Channel) genes, in particular, are one of the largest and most structurally diverse families of ion channels genes and are known to regulate a wide array of neuronal functions, from resting membrane potential and intrinsic excitability to action potential repolarization and propagation [1–3]. Whereas the fruit fly (Drosophila melanogaster) has ~30 K-Channels genes [4, 5], in the human genome more than 100 distinct loci have been identified that encode either the structural determinants (i.e. alpha-subunits) or accessory modulatory components (i.e. beta-subunits, channel tetramerization proteins). This vast expansion in vertebrates has been suggested as being related to the evolution of complex organs whose function requires the precise control of membrane excitability, such as the heart and the central nervous system.
Here we describe our use of songbirds to investigate the relationship between the K-Channel gene family and the emergence of a complex learned behavior. Song is a learned vocal behavior that shares many important features with speech and language capabilities in humans [6–9]. The connectivity, physiology and pharmacology of specialized brain areas for vocal learning and production (i.e. song system) have been extensively characterized in male zebra finches, the most tractable model organism for studying the neurobiological basis of vocal learning (see reviews in [10, 11]). The recent completion of the zebra finch genome sequence [12], the second avian genome to be sequenced after the chicken [13], has made it possible to search for molecular mechanisms that may have evolved in association with song learning. Furthermore, vocal learning and associated neural circuits are generally lacking in most other vertebrate groups, including the majority of avian orders (e.g. chicken, pigeon, owls, shorebirds, etc.), rodents, and non-human primates. Thus, a comparative genomics approach offers unique opportunities for revealing genomic features and specializations that may relate to the emergence and/or maintenance of vocal learning.
In songbirds, vocal learning requires a unique set of forebrain nuclei and projections that are noticeably absent in birds that do not learn to vocalize (Figure
1
; [
10
,
11
]. This so-called song control system is typically divided into two interconnected pathways: (1) a direct motor pathway (DMP) [
14
,
15
], which is essential for the production of learned birdsong (Figure
1
, black); and (2) an anterior forebrain pathway (AFP), which forms a cortico-basal ganglia-thalamo-cortical loop, and is essential for song learning [
16
–
18
] and adult vocal plasticity [
19
–
22
]. This latter pathway is connected to the DMP through projections from HVC to X and LMAN to RA [
23
–
25
]. The anatomical separation of these circuits and the discrete nature of their component nuclei greatly facilitate correlating gene expression to specific electrophysiological properties that may underlie various aspects of sensorimotor learning and singing.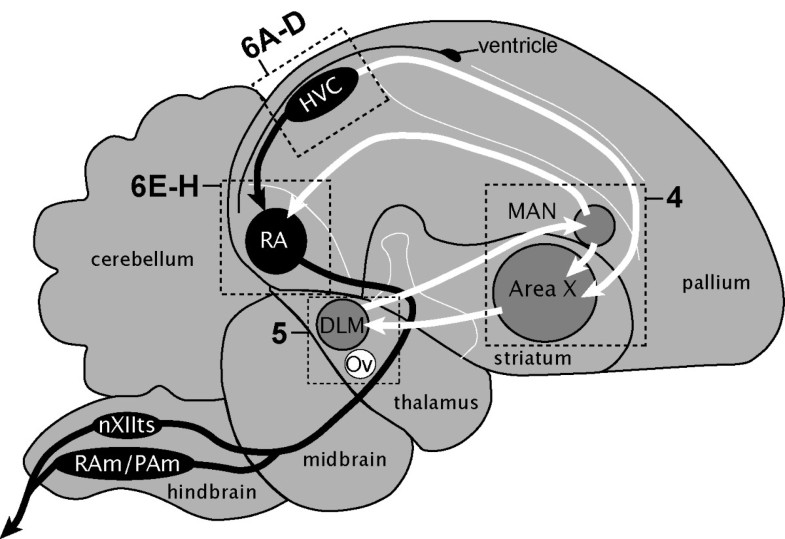 Several lines of evidence suggest that K-Channel genes may play important roles in controlling vocal production and learning in songbirds. For example, KCNC2, which encodes a delayed-rectifier type K-Channel that is typically expressed in fast spiking GABAergic interneurons in mammals [26], has been reported as being under strong positive selection in zebra finches as compared to chicken, a non-vocal learning avian species [6, 12]. Furthermore, a microarray screening [27] has revealed that specific K-Channel transcripts (e.g. KCNA1, KCNC2, KCND2, KCNF1) are differentially expressed in HVC, a nodal nucleus that provides input into the two main pathways in the song system (Figure 1) and is involved in both the acquisition and production of learned song. Indeed, intracellular recordings can readily discriminate interneurons and projection neurons within HVC based upon differences in membrane resting potential, input resistance, sub-threshold responses, cell excitability, action potential after-hyperpolarization, and synaptic inhibition [28–31]. Nearly all of these properties are likely to be influenced by expression of K-Channel genes.
We reasoned that a comprehensive survey of K-Channel genes in the zebra finch genome and their expression patterns in the brain would provide important insights into the properties of the circuits for production and maintenance of the adult song, indicating molecular targets for the pharmacological and/or genetic manipulation of singing behavior. Starting with the complete complement of K-Channel genes in the human genome, we identified 107 zebra finch loci that encode either structural components of K-Channels (i.e. alpha-, beta-subunits), or channel-specific modifiers. Our analysis revealed some previously unrecognized K-Channel genes that may be unique to non-mammalian vertebrate lineages, as well as others that appear to have been lost in birds or are possibly unique to mammals. We also identified K-Channel genes that possess either songbird-specific protein insertions/deletions compared to chicken and mammals, or that are under high selective pressure (i.e. high dN/dS values). Finally, in situ hybridization analysis revealed the broad distribution of K-Channel genes in the zebra finch brain, as well as molecular specializations of key nuclei of the song system, indicating possible roles for K-Channels in production and/or maintenance of adult birdsong. Our study represents the first comprehensive analysis of a family of ion channels in an avian genome and identifies molecular components that likely regulate the biophysical and excitable properties of the song control circuitry. More broadly, our demonstrate that a combined genomics and molecular approach can provide compelling evidence for the involvement of specific gene families in the shaping of brain circuits for complex learned behaviors.
Discussion
We have applied a comprehensive genome analysis strategy to identify the full complement of K-Channels and related genes in the zebra finch genome, and in situ hybridization to determine their brain expression, focusing on nuclei involved in birdsong production and learning. We chose humans as a starting point for K-Channel identification because they possess the largest and most completely described set of K-Channel genes. Furthermore, songbirds and humans share vocal learning, a rare trait that requires specialized vocal control brain structures that have been identified in both species. Our analysis revealed that a very large cohort of human K-Channel genes is also present in zebra finches, supporting a high degree of conservation across the two species, but we also identified several human genes that are missing in finches and some novel K-Channel genes that are present in finches but absent in humans, most of the latter representing conserved genes in non-mammalian vertebrates. Strikingly, nearly every major K-Channel sub-family (e.g. KCNA, KCNC, KCNQ, etc.) had at least one gene member that showed some degree of differential expression (higher or lower) within a song nucleus compared to its surround, supporting the notion that targeted gene regulation within this family may help shape the differential biophysical and excitable properties of vocal control areas in songbirds. Here we discuss the implications of our findings in the context of songbird biology and the evolution of circuitry for learned vocalizations.
Conclusions
One of the largest and most structurally diverse families of ion-selective channels in vertebrates, K-Channels participate in a wide array of neuronal functions, ranging from resting membrane potential and intrinsic excitability to action potential repolarization and synaptic plasticity. Our genomics and in situ analyses have shed new light on a rich diversity of molecular components that are highly likely to shape biophysical and excitable properties of neurons in the songbird brain. Our findings indicate that K-Channels are expressed in various combinations in the song system, and point to specific genes that may play instrumental roles in the specialized physiological properties of individual song nuclei. This suite of K-Channels provides a battery of new targets for future research utilizing pharmacological and genetic techniques to manipulate brain nuclei, functional circuits, or even specific cell types. Understanding how these channels shape the properties of the song control circuitry will go a long ways towards improving our understanding of the neuronal requirements for vocal learning in songbirds and other vocal learners.
Abbreviations
A:

Arcopallium
AFP:

Anterior forebrain pathway
BLAT:

Blast-like alignment tool
Cb:

Cerebellum
CMM:

Caudomedial mesopallium
CO:

Optic chiasm
DLM:

Medial part of the dorsolateral nucleus of the anterior thalamus
DMP:

Direct motor pathway
Gcl:

Granular cell layer of the cerebellum
GIRK:

G-protein coupled inward rectifying K-Channel
GP:

Globus pallidus
H:

Hyperpallium
HVC:

HVC proper name
lHb:

Lateral habenula
K(Na+):

Na+-sensitive K-Channels
LMAN:

Lateral magnocellular nucleus of the anterior nidopallium
M:

Mesopallium
Mcl:

Molecular layer of the cerebellum
mHb:

Medial habenula
N3:

Oculomotor nerve
N:

Nidopallium
NCM:

Caudomedial nidopallium
nXIIts:

Tracheosyringeal portion of the nucleus of the hypoglossal nerve (XII)
OM:

Occipitomesencephalic tract
OMt:

Tract of the oculomotor nerve
Ov:

Nucleus Ovoidalis
PAm:

Nucleus para-ambiguus
Pcl:

Purkinje cell layer of the cerebellum
RA:

Robust nucleus of the arcopallium
RAm:

Nucleus retroambiguus
St:

Striatum
TeO:

Optic tectum
V:

Ventricle
VTA:

Ventral tegmental area
X:

Striatal area X.
Declarations
Acknowledgements
The authors wish to thank the Songbird Neurogenomics Initiative for making available the zebra finch cDNA clones that were used in this study, Tessa Marzulla for assistance with clone preparation and in situ hybridization, and Partha Mitra for help with scanning selected images on a nanozoomer. We also thank Dave Burt for helpful feedback concerning the calculation and interpretation of dN/dS ratios. This study was supported by the NIH, initially through a pilot grant from the NINDS (R03-NS059755) to CVM, and currently through a resource grant from the NIGMS (R24-GM092842) to CVM.
Authors' Affiliations
(1)
Department of Behavioral Neuroscience, Oregon Health and Sciences University, Portland, USA
Copyright
© Lovell et al.; licensee BioMed Central Ltd. 2013
This article is published under license to BioMed Central Ltd. This is an Open Access article distributed under the terms of the Creative Commons Attribution License (http://creativecommons.org/licenses/by/2.0), which permits unrestricted use, distribution, and reproduction in any medium, provided the original work is properly cited.