Methodology article
Open Access
Pseudo-Sanger sequencing: massively parallel production of long and near error-free reads using NGS technology
Received: 28 June 2013
Accepted: 7 October 2013
Published: 17 October 2013
Abstract
Background
Usually, next generation sequencing (NGS) technology has the property of ultra-high throughput but the read length is remarkably short compared to conventional Sanger sequencing. Paired-end NGS could computationally extend the read length but with a lot of practical inconvenience because of the inherent gaps. Now that Illumina paired-end sequencing has the ability of read both ends from 600 bp or even 800 bp DNA fragments, how to fill in the gaps between paired ends to produce accurate long reads is intriguing but challenging.
Results
We have developed a new technology, referred to as pseudo-Sanger (PS) sequencing. It tries to fill in the gaps between paired ends and could generate near error-free sequences equivalent to the conventional Sanger reads in length but with the high throughput of the Next Generation Sequencing. The major novelty of PS method lies on that the gap filling is based on local assembly of paired-end reads which have overlaps with at either end. Thus, we are able to fill in the gaps in repetitive genomic region correctly. The PS sequencing starts with short reads from NGS platforms, using a series of paired-end libraries of stepwise decreasing insert sizes. A computational method is introduced to transform these special paired-end reads into long and near error-free PS sequences, which correspond in length to those with the largest insert sizes. The PS construction has 3 advantages over untransformed reads: gap filling, error correction and heterozygote tolerance. Among the many applications of the PS construction is de novo genome assembly, which we tested in this study. Assembly of PS reads from a non-isogenic strain of Drosophila melanogaster yields an N50 contig of 190 kb, a 5 fold improvement over the existing de novo assembly methods and a 3 fold advantage over the assembly of long reads from 454 sequencing.
Conclusions
Our method generated near error-free long reads from NGS paired-end sequencing. We demonstrated that de novo assembly could benefit a lot from these Sanger-like reads. Besides, the characteristic of the long reads could be applied to such applications as structural variations detection and metagenomics.
Keywords
Next-generation sequencingGap fillingGenome assembly
Background
The next generation sequencing (NGS) technology has scaled up DNA sequence acquisition by several orders of magnitude [1, 2]. However, the short read sequences (SRS) from NGS, generally 100 bp or so in length, have only limited uses without further bioinformatic processing [3, 4]. Sequences obtained by the conventional Sanger sequencing methods, generally >600 bp in length, are much more useful but the throughput is too low and the cost is too high. Therefore, an efficient method for increasing the read length from NGS should be valuable.
A major advance in NGS is the development of paired-end (PE) library construction, which generates two short reads from a single DNA fragment separated by an insert of a known size. In principle, longer sequences could be produced post-hoc, if the gap between the paired-ends could be filled correctly. Several attempts have been made to extend the length of short reads by merging the paired-end reads from small fragments into longer single end reads [5–7] and proved the advantages of longer reads in metagenomics and genome assembly. However, due to the requirement of library insert size less than twice of read length, merging of overlapped reads could only increase the read length by a small fraction. The merged reads are often less than doubling the read length. GapFiller tried to fill the gaps but not repetitive sequences within a longer insert based on 'seed-and-extend' strategy in bacteria genomes [8], but its performance in large genomes might decrease due to the largely existing repetitive sequences. ALLPATHS[9] is a standalone genome assembler. It efficiently utilized paired-end information by filling the inner gaps using extension, but also suffered much from extensions from one end to the other end of paired-end reads in global graph of reads overlaps. Successive multiple libraries were used in the long march [10] and SubAssembly[11]. They used the paradigm of clustering and local assembly, to avoid the repetitive sequences and computing complex in overlap extension. In general, read pairs from the same DNA fragment were indexed with sophisticated unique tags so that they could be locally assembled. However, the application of these methods to large genomes has two major limitations. First, the experiments are complex and cannot be consistently executed. For example, SubAssembly requires the dilution of DNA to obtain a desired number of DNA molecules, but the amount obtained may vary by orders of magnitude. Second, the sequencing costs are equivalent to 454 sequencing, which produces long reads directly without a complicated third-parity library preparation. The goal of this study is to fill in the gap between paired-end reads from large DNA fragments (600 or 800 bp), and produce sequences like Sanger reads even when the sequence of gaps is repetitive.
We have now developed a new computational approach, referred to as pseudo-Sanger (PS) sequencing (Figure
1
), which can generate long reads from paired-end SRS. Unlike previous methods, we sequence successive multiple libraries prepared with standard protocols, take two reads in a pair of large-insert PE reads as a tag, cluster other PE reads that have one end overlapped with it as local reads group, and locally assemble them to fill in the inner gap of the large-insert PE reads. The nested set of libraries are composed of paired-end reads with decreasing insert sizes (e.g. 600 bp, 400 bp, 300 bp, and 200 bp) (Additional file
1
: Note S1). The paired-end reads from the library with the largest inserts serve as anchor reads (ARs, Figure
1
c). The nested reads with shorter inserts are referred to as supporting reads (SRs, Figure
1
c) and are local assembled to fill the gap between the two ARs to create contiguous PS sequences. Because SRs are strongly associated with their AR, the advantage of PS method lies in its local assembly which is less impeded by repetitive sequences. Another advantage of the PS method lies in its operational simplicity and low cost, both only marginally higher than the current practices in generating SRS.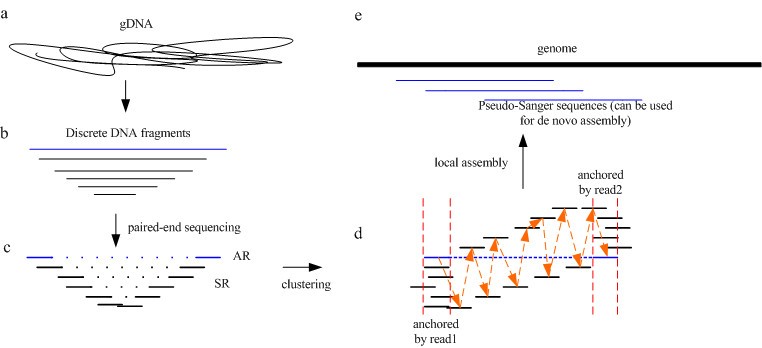 The PS approach is a general computational method that provides the insert sequence between paired-end or mate-pair reads. Since the current end sequences are roughly 100 bp in length, the resulting filled-in sequences happen to approach the length of the conventional Sanger reads. As the paired short reads increase in size, the insert between them can be increased correspondingly and the pseudo-Sanger sequences can be expected to greatly exceed the Sanger reads in length (super-Sanger reads). Besides the increase in read length, PS sequencing corrects most of sequencing errors and tolerates heterozygous sites. With these advantages, PS sequencing can have applications for many problems requiring long and error-free DNA sequences. For example, PS sequences are sufficiently long for the detection of chromosomal structural variations at the base-pair resolution. Furthermore, the analysis of metagenomic diversity by NGS is often hampered by the paucity of species markers due to the absence of long reads, which PS sequencing can rectify. Finally, an obvious application and a stringent test of PS sequencing is whole-genome de novo assembly, which will be reported below.
Discussion
We presented the Pseudo-Sanger sequencing (PS) method to produce long and near error-free sequences with high throughput by filling the gaps between the paired-end short reads produced by NGS platforms. Compare to other gap-filling method, the PS method presented advantages on the aspects of read accuracy and repeat tolerance.
One obvious advantage of the PS method is that the error rate of the produced long sequences is extremely low. By local assembly of highly redundant reads, almost all the errors in the original short reads were corrected with very few remained in constructed long reads, and the allele of heterozygote with relatively higher frequency is kept as reference allele. In our simulation, the assembly of less repetitive genome was improved significantly due to error correction and heterozygote merge.
Another advantage of pseudo-Sanger method is that the structure of repetitive elements shorter than the insert size of anchor reads (~600 bp in the case) can be solved spontaneously. We used both end of anchor reads as a tag, supporting reads have one end match the tag are clustered to do local assembly. This strategy is like SubAssembly [11], which uses one of paired-end reads as tag, and local assembly of the other ends to build a contig of long DNA fragment. Nevertheless, our two short reads tag has more sensitivity and specificity over SubAssembly's 17-base single end tag. Even when our two paired reads tag are repetitive, we are able to correctly recover full-length sequences theoretically by carefully examining the multiple paths connecting two ends of AR. However, when both ends of AR lie in highly repetitive regions, there will be too many SRs involved in the local assembly process, which makes local assembly extremely slow and it is difficult to distinguish the correct PS sequences from thousands of possible paths. In practice, we calculate the repetitiveness of ARs and refuse to do local assembly on highly repetitive regions.
In comparison with other methods of long read construction [5–8], the PS method takes advantages of the length space of the genomic fragments and generates long reads about five times longer than the original short reads, which outperforms the existing methods. For example, SHERA[5], FLASH[6] and COPE[7] could at most double the length of single short reads by identifying the overlapped part of paired reads sequenced from short DNA fragments. Although GapFiller produces long reads up to 3.5 kb in size [8], it can hardly resolve repeats, which largely restricts its application in large eukaryotic genomes.
Continuous insert sizes libraries are upmost ideal for pseudo-sanger method. However, the cost of library construction should be in consideration. For small genomes, at least two libraries must be provided (Additional file 1: Note S1).
The potential applications of the PS method are extensive. Because of the possibility of routine usage, most problems that require long and error-free sequences in high throughput can benefit from this method. We chose de novo genome assembly for a demonstration. Although next generation sequencing (NGS) techniques have been used successfully to assemble large genomes [19], the direct de novo assembly of SRS often leaves many gaps in the scaffolds and assemblies of questionable quality [3]. By first converting short reads into pseudo-Sanger sequences, we show that whole genome assembly using NGS sequencing platforms can be done efficiently. The contigs generated from the PS sequences are much longer than from SRS directly (Table 2). It can be reasoned that longer contigs would generate longer scaffolds if given long jump reads, and thus contribute to better genome assembly. Interestingly, our results were at least as good, if not slightly better, than assemblies based on 454 sequencing but come at a fraction of the cost.
The pseudo-Sanger method is a general approach that fills in the sequence between paired-end or mated-pair reads. Because the expected number of SRs for one AR is linearly correlated with read length times sequencing depth, PS sequences longer than the Sanger-sequence length have not been practical to obtain. Now that paired reads are becoming much longer, the distance between the pairs can be increased correspondingly. The resulting pseudo-Sanger (or super-Sanger) sequences of a few kb with errors corrected may greatly expand the general utility of NGS sequencing.
Conclusions
By paired-end sequencing of a series of stepwise insert size libraries, we are able to recover the full length sequences of the largest DNA fragments using computational method. Smaller DNA fragments are aligned to the largest DNA fragments by one of their two-ends. Thus, the other ends can be used to fill the un-sequenced regions in the largest DNA fragments. Our local assembly enable to remove partial matched DNA fragments (small repeats), correct sequencing errors, and tolerate heterozygote. By recovering full length sequences of paired-end sequencing, de novo assembly can be improved significantly. Besides, PS sequences can be applied for many other problems requiring long DNA sequences, such as the detection of structural variations and the analysis of metagenomics diversity.
Methods
Evaluation of pseudo-Sanger sequencing
We performed pseudo-Sanger sequencing on both simulated and experimental data. In the simulations, a series of libraries with stepwise decreasing insert size were generated using a modified version of wgsim (https://github.com/lh3/wgsim). We then employed a two-step process: 1) assembly of pseudo-Sanger sequences using our software anytag and 2) whole genome assembly into contigs using a long reads assembler. As a proof of concept, we also sequenced the Drosophila melanogaster line w 1118 . Comparisons of contigs were carried out between the pseudo-Sanger method and other software and sequencing platforms. For short read assembly, we tested against velvet[20], ABySS[21], MSR-CA (ftp://ftp.genome.umd.edu/pub/MSR-CA/) and SOAPdenovo[22] using the same dataset. For long read assembly, we used publicly available 454 reads in our comparisons. Besides basic contig statistics (total length, mean, N50, and N90), we also evaluated the accuracy of the contigs. We also evaluated the performance of pseudo-Sanger sequencing on a large genome (2.74 Gb), the Naked Mole Rat genome. A detailed evaluation can be found in the supplementary material (Additional file 1).
Simulation of reads
wgsim from Samtools[23] was modified to simulate data with a wide-range of insert sizes and various levels of heterozygosity (http://sourceforge.net/projects/anytag/files/). The simulated reads contained random sequencing error uniformly distributed across the read. We did not simulate genomic coverage bias or chimeric reads.
Pseudo-Sanger assembly
A series of paired-end read libraries with stepwise decreasing insert sizes were indexed using blocked spaced seeds. The paired reads from the largest insert size library (ARs) were then used to query the spaced seed index to find all possible overlapping SRs from the smaller insert size libraries. For each AR, a localized group of SRs were found. Next, a local assembly was performed to build a consensus sequence for each AR.
Long reads assembly
Pseudo-Sanger sequences and 454 reads were assembled using Newbler. The general parameters used in this study were "-large –m –nobig –noace –cou 16". "-het" was added in assembly of both the simulated data and the short read of the non-isogentic line w 1118 . If pseudo-Sanger sequences cover the genome at greater than 20X coverage, we shuffle the pseudo-Sanger sequences into multiple groups (each about 8X). Newbler was then used to assemble the small parts into contig sets. Minimus2 was used to get the consensus contigs. When the genome size is big, such as with human chromosome1 or Naked Mole Rat, minimus2-blat was used instead of minimus2.
Short sequence reads assembly
MSR-CA was executed with default parameters except the JF_SIZE value was set to be large enough for jellyfish. For ABySS, velvet and SOAPdenovo, the k-mer size was iteratively selected from 21, 25, 31, 41, and 51. The special parameters in velvet were "-exp_cov 60 –cov_cutoff auto". The special parameters in SOAPdenovo were "-M 3 -d 2 -D 2 -R -F". We used substring scaffolds without any N (the arbitrary base) as contigs.
Library construction
Here we outline the experimental procedures. Genomic DNA was extracted using Phenol-Chloroform from freshly frozen Drosophila melanogaster of the line w 1118 and subsequently sonicated to create fragments ranging from 200–600 bp in size. Multiple size selections were performed using electrophoresis, and bands corresponding to sizes of 200, 300, 400, and 600 bp were excised and purified from a single continuous DNA smear. Each group of size-selected fragments was then blunted, A-tailed, and ligated to Illumina Paired-End adaptors. A second round of size selection was performed on each group of adaptor-ligated libraries, and target fragments with the added adaptors were chosen. 9–12 cycles of PCR amplification were then performed with standard Illumina primers on each group of libraries. After PCR amplification, a third round of size selection was conducted to extract amplified target segments and remove redundant fragments such as PCR primers. After PCR amplification, each sub-library was then quantified using Qubit qPCR and subsequently size-validated using Agilent Bioanalyzer 2100.
Illumina sequencing
Each of the libraries in the series of insert sizes was treated as a standard library, and their respective sizes were used for calculating the molar mass needed for cluster generation. 100 × 100 bp paired-end reads were generated using an Illumina HiSeq2000 instrument according to the manufacturer's standard specifications.
Sequencing error estimation
The alignment program BWA[24] was used to directly map the short reads while BWA-SW[25] was used to map the longer pseudo-Sanger and Sanger reads back to the reference genome dm3, using default parameters. SAM files from bwa or bwasw were then processed by SAMtools[23] for further analysis.
Estimation of w 1118 's heterozygosity
SAMtools was used to pileup sequences along the reference genome dm3. The variants calling parameter from the short reads alignment was set as "samtools mpileup –C50 –E –u" to generate a BCF file. Then "vcfutils.pl varFilter –D200" was run to generate a VCF file of final variants. A SNP dataset called from the short reads was regarded as w 1118 's germline polymorphisms. The heterozygosity of the w 1118 line was also estimated using this information.
Evaluation of contigs
Contigs were evaluated by evaluator from GAGE[14]. Large mis-assemblies including Inversions, relocations and translocations were summed as assembly errors.
Availability of supporting data
The raw Illumina sequence reads used in this study have been submitted to the NCBI Short Reads Archive (http://www.ncbi.nlm.nih.gov/sra) under accession number SRA101397. The raw Illumina sequence reads, pseudo-Sanger sequences, 454 reads, and genome assemblies are also freely available at a public FTP server ftp://ftp.big.ac.cn/pub/pseudo-sanger-demo/. Software implemented for this approach is available at http://sourceforge.net/projects/anytag/files/.
Declarations
Acknowledgements
This study is supported by the National Nature Science Foundation of China Grant 31000588 and 91131904, National S&T Major Project of China Grant 2009ZX08010-017B, Chinese Academy of Sciences Grant KSCX1-YW-22 and Major Program of International Cooperation and Exchanges of National Natural Science Foundation of China (Grant No. 31161120358). CHC was supported by a grant from the Yunnan Province High-end Technical Talent Recruitment Program (09SK051).
Authors' Affiliations
(1)
Laboratory of Disease Genomics and Individualized Medicine, Beijing Institute of Genomics, Chinese Academy of Sciences, Beijing, People's Republic of China
(2)
Broad Institute of Harvard and MIT, Cambridge, USA
(3)
Department of Ecology and Evolution, University of Chicago, Chicago, USA
(4)
Ecological Evolution Group, Xishuangbanna Tropical Botanic Garden, Chinese Academy of Sciences, Menglun, Mengla, People's Republic of China
(5)
Department of Biological Sciences, Texas Tech University, Lubbock, USA
Copyright
© Ruan et al.; licensee BioMed Central Ltd. 2013
This article is published under license to BioMed Central Ltd. This is an open access article distributed under the terms of the Creative Commons Attribution License (http://creativecommons.org/licenses/by/2.0), which permits unrestricted use, distribution, and reproduction in any medium, provided the original work is properly cited.