Methodology article

Open Access
Predicting tissue specific transcription factor binding sites
Received: 30 October 2013
Accepted: 6 November 2013
Published: 15 November 2013
Abstract
Background
Studies of gene regulation often utilize genome-wide predictions of transcription factor (TF) binding sites. Most existing prediction methods are based on sequence information alone, ignoring biological contexts such as developmental stages and tissue types. Experimental methods to study in vivo binding, including ChIP-chip and ChIP-seq, can only study one transcription factor in a single cell type and under a specific condition in each experiment, and therefore cannot scale to determine the full set of regulatory interactions in mammalian transcriptional regulatory networks.
Results
We developed a new computational approach, PIPES, for predicting tissue-specific TF binding. PIPES integrates in vitro protein binding microarrays (PBMs), sequence conservation and tissue-specific epigenetic (DNase I hypersensitivity) information. We demonstrate that PIPES improves over existing methods on distinguishing between in vivo bound and unbound sequences using ChIP-seq data for 11 mouse TFs. In addition, our predictions are in good agreement with current knowledge of tissue-specific TF regulation.
Conclusions
We provide a systematic map of computationally predicted tissue-specific binding targets for 284 mouse TFs across 55 tissue/cell types. Such comprehensive resource is useful for researchers studying gene regulation.
Keywords
Transcription Factor Binding
Transcription Factor Binding Site
Lasso
Binding Probability
phastCons Score
Background
To reconstruct and model transcriptional regulatory networks (TRNs) we need to know the genome-wide binding sites of transcription factors (TFs)[1, 2]. Chromatin immunoprecipitation(ChIP) followed by microarray (ChIP-chip)[3] or sequencing (ChIP-seq)[4] has been extensively used to study the in vivo binding locations of individual transcription factors and cofactors in a wide range of species and tissues[1, 2, 5–9]. Despite their popularity, such methods can only study a single TF in a single cell type, under a specific condition, in each experiment. Thus, it is difficult to use these methods to obtain a comprehensive understanding of the complicated mammalian TRNs. These networks can involve hundreds or thousands of TFs whose activities change across different tissues and conditions. Using computational methods to integrate other genomic resources in order to predict tissue-specific transcription factor binding is therefore an important research challenge.
Several methods have been developed to use in vitro data characterizing TF binding specificities to identify TF binding sites across the genome. Specifically, data from universal protein binding microarray (PBM)[10, 11] is often used for such analysis. PBM is capable of analyzing the interaction of a sequence-specific TF with tens of thousands of short DNA sequences (probes) in a single experiment, and thus provides a highly detailed picture of TF-DNA interactions. It has been successfully applied to reveal the binding profiles of hundreds of TFs in yeast[12], worm[13], mouse[14] and arabidopsis[15]. Some of the proposed methods for using PBM data represent TF binding preference by position weight matrices (PWMs)[11, 16, 17]. However, PWMs, although popular due to their simplicity, assume independence between positions, an assumption which may not hold in many cases[14, 18, 19]. In contrast, more sophisticated models (e.g. using k-mers) may better represent the full binding profiles of TFs, without loss of information from using PWM. For instance, it has been suggested that many TFs have more than one binding preference[14] and these are easier to represent using k-mers.
While in vitro data provides important information regarding binding specificities, such data is context independent. Actual binding is highly dependent on tissue-specific conditions including chromatin accessibility, the presence of co-factors, etc[20]. Recently, a number of studies have reported that epigenetic information including certain histone modifications and hypersensitivity to DNase I cleavage correlate with TF binding in vivo[21, 22]. Moreover, functional TFBSs tend to be under stronger negative selection, leaving a "phylogenetic footprint" in the genomic sequences. Several methods for predicting in vivo TF binding sites have attempted to combine such information with PWMs to predict global binding preferences[23–26]. However, as mentioned above, PWM may not be the best representation of TF binding. As we show, by using a model that retains the dependence between positions in the motif we can improve upon methods that integrate epigenetic and PWM data. In addition, none of these methods have so far been applied to elucidate the complete set of targets for TFs across a large number of tissues.
To predict accurate tissue-specific TFBS, we integrate multiple types of genomic data. The first part of our model is a biophysically-motivated k-mer based method for analyzing PBM data, which allows secondary binding profiles and nucleotide dependencies in different positions of the TF binding sites. Next, we develop a new method, PIPES (p robabilistic i ntegration of P BM, e pigenetics and s equence data), to combine the results from the PBM model with DNase I hypersensitivity (DHS) data and evolutionary conservation data to predict tissue-specific TFBS in vivo. We demonstrate that such an integrative model significantly boosts context specific prediction results compared with using PBM data alone. We also show that PIPES improves upon other methods developed for integrating data to predict TFBS[24, 26], in some cases significantly so. Finally, we created a resource for tissue-specific TRNs using PBM data for 284 mouse TFs from UniPROBE[27] and DNase I hypersensitivity data for 55 mouse tissue/cell types from the mouse ENCODE project[28]. We predict the activities of TFs across different tissues, and, as we show, many of these predictions agree with current knowledge regarding tissue-specific roles of TFs. Our tissue specific activity predictions are also supported by global analysis of TF expression data. The comprehensive resource of TF binding sites we built thus provides a reference map for understanding complex gene expression patterns.
Results
An overview of our PIPES method is shown in Figure
1
. Our model has two components: the left part of the figure shows our model for the PBM data, and the right part our model of epigenetics and conservation data. Starting with raw fluorescent intensities measured by PBM, we first infer binding probabilities to each individual
k
-mer with a biophysically-motivated model (Figure
1
a). This information, based on PBM alone, can be used to score a sequence for potential TFBS (Figure
1
b). Next, we use tissue specific DNase I hypersensitivity data to determine chromatin accessibility (Figure
1
c, d), and combine such information with sequence conservation and the PBM derived scores to predict
in vivo
binding sites (Figure
1
e).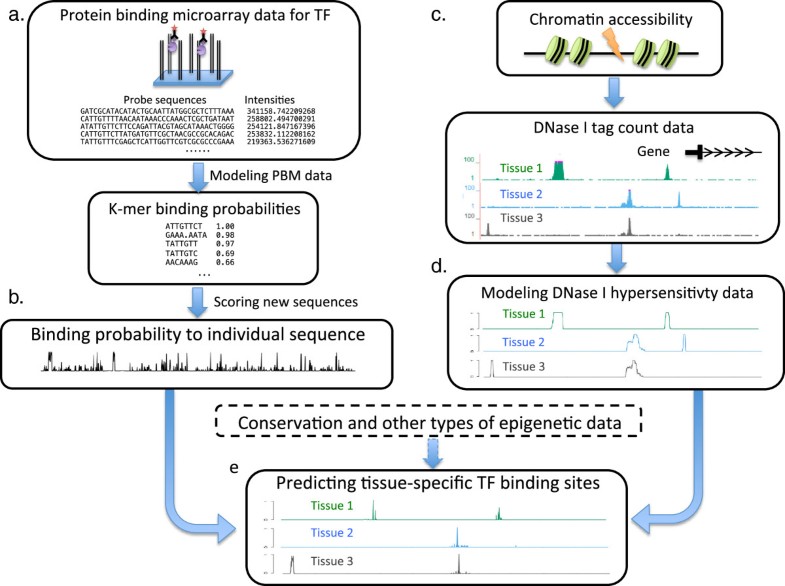 Discussion
A number of recent projects including ENCODE[53], modENCODE[54, 55] and the Roadmap Epigenomics Project[56] have generated large amounts of genomic data. An important research goal is to translate these resources into accurate, tissue and condition-sensitive, molecular-level networks. Constructing tissue-specific maps of TF binding sites is a central part of this overall research effort. Using several different datasets and a novel computational strategy, PIPES, we demonstrated that such high-quality computational predictions can be obtained. We used PIPES to compile a resource that includes comprehensive predictions for more than 200 TFs across 50 tissues.
A recent benchmark study that compared many methods for analyzing PBM data concluded that PWM-based methods work as well as other models for predicting TFBS[69]. Our results differ from these previous studies. This could either be the result of the Lasso based method we have used or the specific dataset we used for the comparison. Additional work is required to reach a definitive conclusion regarding the importance of independence assumption used by PWMs when modeling TFBS. Here we focused on integrating a number of datasets for predicting TFBSs. For our biophysical approach, using a k-mer based method allowed us to capture both the dependency among positions within the binding site as well as multiple different motifs for a single TF. Such method worked well in classifying bound and unbound sequences from in vivo ChIP-seq data for many TFs. Moreover, integrating PBM data with chromatin accessibility from DNase I HS data greatly improves the accuracy of TF binding predictions. Several recent papers explored related ideas. Chromia[70] used a hidden Markov model to combine sequence-specific TF binding with histone modification data, but their predictions were based on PWM scoring and only focused on a dozen of TFs in mouse embryonic stem cells. Ernst et al.[23] combined experimental data from a number of tissues to generate a single (global) TF-target prediction map. However, that method has also relied on PWMs and no tissue specific predictions were made. CENTIPEDE[24] used unsupervised methods to integrate TF-DNA interaction, epigenetic and evolutionary data, and is most similar to our efforts. However, CENTIPEDE relies on a footprint in the DNase data that TFs leave. Such DNase footprints are the actual locations where the TF binds and are therefore protected from DNase cleavage within the DNase HS site. Unfortunately, DNase footprint data is expensive to obtain (indeed, it was not available for most of the tissues we analyzed) since it requires very high coverage when sequencing. In addition, CENTIPEDE uses a stringent cutoff (based on PWM matching) to define putative binding sites, and thus may lose significant information in relatively weak binding sites, which have been shown to be collectively important for TF binding[71]. Neph et al.[26, 72] also combined DNase footprints with PWMs to predict TF-TF interactions (though not TF-gene interactions) across a large number of human tissues, using a simple method to intersect motif matches with DHS sites. Such hard cutoffs may miss sites that score high (but just below the cutoff) for both types of data which are found by our method.
In general, we find that binding sites for the TFs we looked at are only modestly conserved when compared with controls (using PhastCons scores alone classifies ChIP-seq sequences quite poorly, see Additional file4). This is largely consistent with the recent findings that functional non-coding sequences evolve rather rapidly[9]. As a result, adding PhastCons in the integrated model does not lead to improvements in AUC values. Nevertheless, there are a number of advantages for models that can incorporate sequence conservation. First, when DNase data is not available, adding conservation in the model leads to slight improvement over models that only use PBM data (Additional file4). Second, the conservation of binding events can vary greatly among tissues. For example, enhancers in brain are far more constrained than those in the heart[73]. Thus it is quite possible that sequence conservation would be more informative for other ChIP-seq studies.
The application of PIPES to predict tissue specific TFBS led to results that agree well with existing knowledge regarding TF roles in specific tissues. The overall results are significantly correlated with independent gene expression data measured for these TFs across tissues even though such expression data was not used at all in our analysis.
Several extensions of our current work are possible. Recently Jiang et al.[74] reported the interesting phenomenon of sticky k-mers: these are k-mers that appear to bind to TFs with relatively high affinities in a large number of PBM experiments. The sticky k-mers likely represent background noises in the PBM experiments and an interesting research direction is to expand our regression method to remove such noises. In another recent study, Ballare et al.[75] reported that functional TFBSs are not always associated with high chromatin accessibility, an assumption implicitly made by us and other related methods. Rather, nucleosomes may occupy TFBSs at basal conditions, and are only remodeled or displaced upon change of cellular conditions (e.g. by hormone stimulation). Despite this unexpected relationship between TFBS and chromatin states, the paper does report that such sites, while associated with high nucleosome occupancy before stimulation, often overlap with DNase HS sites. It remains to be seen how common such cases are and what is the impact on methods such as ours that rely on DNase data to predict condition specific TF binding. Moreover, our integrative framework for utilizing additional information sources when predicting binding events on a genome wide scale could also be used for large scale comparison of different PWM methods and methods that use more complicated models to represent TF binding preferences[76–78]. This requires a detailed study and is left for future work.
Conclusions
Combining PBM and DNase data, we presented the first major effort to provide a systematic map of computationally predicted tissue-specific targets for hundreds of TFs across a large number of tissues in mouse. We complied a resource that provides TF-target predictions for all 284 TFs studied across the 55 tissue/cell types (Supplementary Methods and Supplementary Website in Additional file4). We believe that such comprehensive resource would be useful for both biology and computation-oriented researchers studying gene regulation[79–82].
Availability of supporting data
The genome-wide tissue-specific TFBS predictions for 284 mouse TFs and 55 tissue/cell types and codes for the k-mer based PBM modeling method are available from the supporting website athttp://www.sb.cs.cmu.edu/PIPES.
Authors' information
Shan Zhong and Xin He: Co-first author.
Declarations
Acknowledgements
Work supported in part by NIH grant 1RO1 GM085022 and NSF DBI-0965316 award to Z.B.J.
Authors' Affiliations
(1)
Lane Center for Computational Biology, School of Computer Science, Carnegie Mellon University, Pittsburgh, USA
Copyright
© Zhong et al.; licensee BioMed Central Ltd. 2013
This article is published under license to BioMed Central Ltd. This is an Open Access article distributed under the terms of the Creative Commons Attribution License (http://creativecommons.org/licenses/by/2.0), which permits unrestricted use, distribution, and reproduction in any medium, provided the original work is properly cited.