Research article
Open Access
Growth rate-coordinated transcriptome reorganization in bacteria
Received: 6 August 2013
Accepted: 15 November 2013
Published: 20 November 2013
Abstract
Background
Cell growth rate reflects an organism's physiological state and largely relies on the ability of gene expression to respond to the environment. The relationship between cellular growth rate and gene expression remains unknown.
Results
Growth rate-coordinated changes in gene expression were discovered by analyzing exponentially growing Escherichia coli cells cultured under multiple defined environments, in which osmotic pressure, temperature and starvation status were varied. Gene expression analyses showed that all 3,740 genes in the genome could be simply divided into three clusters (C1, C2 and C3), which were accompanied by a generic trend in the growth rate that was coordinated with transcriptional changes. The direction of transcriptional change in C1 indicated environmental specificity, whereas those in C2 and C3 were correlated negatively and positively with growth rates, respectively. The three clusters exhibited differentiated gene functions and gene regulation task division.
Conclusions
We identified three gene clusters, exhibiting differential gene functions and distinct directions in their correlations with growth rates. Reverses in the direction of the growth rate correlated transcriptional changes and the distinguished duties of the three clusters indicated how transcriptome homeostasis is maintained to balance the total expression cost for sustaining life in new habitats.
Keywords
Transcriptional ChangeConstant Growth RateTranscriptional NetworkRegular ConditionEarly Exponential Growth Phase
Background
The growth rate of cells represents their physiological status, and cellular physiology largely relies on gene expression. Consequently, gene expression is believed to be related to growth rate [1]. In bacterial cells, growth rate-associated gene expression is known to be related to ribosome biosynthesis [2, 3] and the level of RNA polymerase [4, 5], and growth rate-related gene expression has been reported in relation to carbon, nitrogen and sulfur utilization [6–8]. In yeast cells, growth rate-coordinated gene expression has been reported to be affected by the interplay between the stress signal of SAPK (stress-activated protein kinase) and the growth signal of TOR (target of rapamycin) [9], which both antagonistically regulate the expression of growth- and stress-related genes [10]. In addition, yeast cell transcriptome analyses identified genes that are correlated with growth rate, with both positive and negative associations [11–14]. Despite intensive study, the conclusions reached thus far have been limited to describing a number of genes with particular functions, and the studies have been restricted to examining experimental conditions under which cells were grown with depleted resources.
Nevertheless, a correlation between growth rate and gene expression has been assumed universal across the genome regardless of environmental variations. That is, the patterns of global transcriptional changes could be independent of the types of environmental stresses. This assumption was partially supported not only by the observation of negative epistasis in bacterial transcriptome reorganization in response to environmental and genetic perturbations [15], but also the finding of hundreds of overlapped genes with core stress responses in yeast [16–18]. However, global transcriptional changes have been investigated to establish the rules of stress responses (i.e., pulse-like transcriptome reorganization), and the results have provided fruitful insights into the specific patterns of gene expression that occur in response to particular external perturbations [19–24], but without any linkage to the growth rate. Thus, it remains necessary to determine the general relationships between growth rate and global gene expression (i.e., by screening the transcriptome).
To correlate the transcriptome with the growth rate, it is crucial to analyze the gene expression in cells that are growing exponentially at a constant growth rate rather than in responsive cells during stress response. Intermediate changes in gene expression in response to stress were accompanied by decreased growth, and this response might differ from the changes in gene expression that correspond to constant growth at a reduced rate (Additional file 1: Figure S1). Transcriptional changes in response to pulse-like perturbations, such as heat shock, osmotic shock, and peroxide, did not show any significant correlation to growth rate [25]. The dissimilarity among these studies is believed to be caused by divergent time scales; in particular, differences in the time exposure to changed environments (i.e., stress), the speed of gene regulation in response to stressors, and the lag time between changes in transcription and growth (Additional file 1: Figure S1). Differences in environmental controls and/or experimental design (e.g., in timing measurements) could lead to contradictory results.
To investigate the potential relationship between gene expression and growth rate, exponentially growing Escherichia coli cells were cultured in multiple types of defined environments and examined. The regulatory mechanisms corresponding to gene expression and stress conditions are generally highly related, such as the heat shock activated rpoH regulation [26], the general stress response induced rpoS[27, 28], and the stringent response mediated by ppGpp [29, 30]. Because these mechanisms generally involved different genes and varied regulatory network sizes, the following environmental controls were varied osmotic pressure, temperature and starvation. These environmental conditions contribute to cell growth and proliferation, and accordingly affect global gene expression greatly. Investigating the gene expression pattern responsible for constant growth rate rather than changes in response to stress would further promote strategies for achieving cell sustainability under changing environments. In brief, our analyses successfully linked the global architectures involved in transcriptional changes and exponential growth rate (i.e., the magnitude of physiological activity), and presented an evident correlation between changes in gene expression and positive or negative growth rates. The results emphasize not only the reorganized gene expression patterns that are responsible for sustainable growth under varied environments but also offer valuable hints to understanding how the cell transcriptome is adjusted in a universal manner when organisms expand their ecological niche.
Discussion
This study reports that 3,740 genes in an exponentially growing cell adjusted their expression levels in accordance with the cell division rate, either positively or negatively (Figure
5
). Balanced transcriptional changes were observed among the gene clusters (Figure
6
). The direction of transcriptional changes in C1 was environment-specific (Figure
6
A); that is, the amount of C1 expression (yellow) was altered depending on the environmental type (Figure
6
B). Changes in the C2 (blue) and C3 (green) expression levels ran counter to one another, regardless of environmental variation. Increased C2 expression was accompanied by decreased C3 expression and was coordinated with a reduction in growth rate (Figure
6
B). The coherent dynamics of the C3 gene upregulation and the C2 downregulation indicated co-operation between gene clusters. No specialized mechanisms have been reported in bacterial cells to explain this phenomenon as yet, although the specific pathways initiated by SAPK and TOR are known in eukaryotic cells [
9
,
10
]. The new finding of a balanced relationship in bacterial gene expression indicates the existence of an energy saving and/or resource conservation strategy in transcriptome reorganization, which may help to maintain the homeostatic framework in cellular physiology, as predicted by in silico biochemical networks [
38
].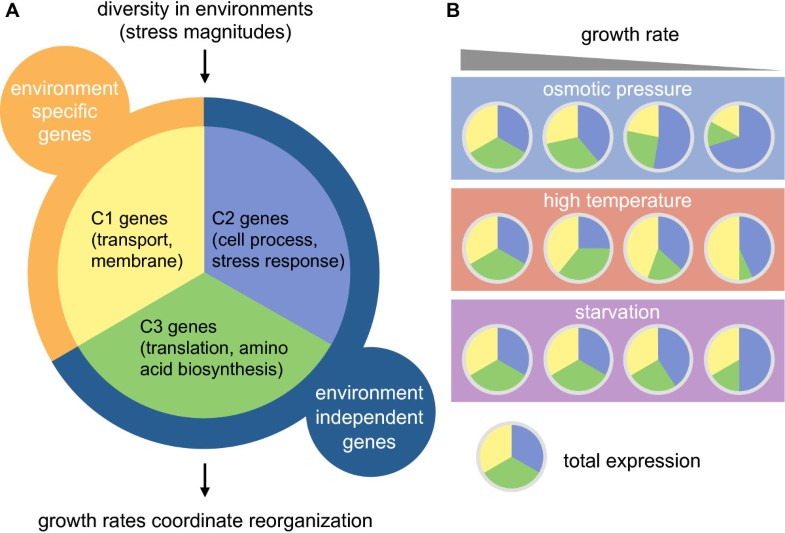 This balanced lifestyle (Figure 6) was largely attributed to differentiation in gene function among the three gene clusters (Figure 4). The C1 genes were largely enriched in membrane proteins and transporters, suggesting that these genes are the first responsive sensors to all types of environments (Figure 6A). The C2 genes shared a common decrease with increased growth (Figure 5) and a general stress response function (Figure 4), which plays a central role in cellular processes. The difference in negative correlation slopes may indicate a diversity of molecular mechanisms under the three environmental types; osmotic pressure might be regulated by two-component systems [39], growth at high temperatures might induce heat shock proteins [26], and growth under starved conditions might activate the stringent response [30, 40]. The genes clustered in C3 were positive correlated with growth rate (Figure 5) and were largely related to ribosome translation machineries (Figure 4). A correlation between the growth rate and the quantity of ribosomes was previously reported in cells growing under starvation conditions [41, 42]. A global view of the coordination of growth rate with transcriptional changes as presented here illustrates a vivid picture of the differentiated gene expression balance in sustaining life under diverse habitats.
Here, we focused on constant growth states (on a time scale of approximately 10 hours of exponential growth) rather than the stress response phase (Additional file 1: Figure S1). Despite the divergence in time scales between the two phases, both types of transcriptome reorganization presented relationships between transcriptional fluctuations and the degree or magnitude of stress. Some common results were found, such as similar changes in transcriptional networks (Figure 2 and Additional file 1: Figure S4). A few highly sensitive TFs were found, including purR and rcsB (Figure 2 and Additional file 1: Figure S4). Because these TFs were also found to be sensitive to genome reduction [15], it appeared that these TFs responded to all types of perturbations, both internal and external, and were highly sensitive to phases of stress response and exponential growth.
However, the direction of transcriptional changes in the three gene clusters exhibited weak similarity in terms of stress response and exponential growth. Using the reported data sets on the stress response [24], we found that only C3 genes experienced a common decrease in expression under all four stress conditions (Additional file 1: Figure S9); this finding is consistent with the positive correlation of C3 with growth rates (Figure 5). Furthermore, applying the same K-means clustering did not yield a clear correlation between growth rates and changes in gene expression during periods of stress response (Additional file 1: Figure S10), which is consistent with findings in yeast [25]. Taken together, survival strategies in bacteria faced with pulse-like perturbations and continuous growth in new environments were partially shared, but the coordination with growth rate was apparent only in exponentially growing cells and was not present in responsive cells during stress response.
Conclusions
Here, we provided the first experimental evidence for coordination between constant growth rates and changes in gene expression, which is a general phenomenon that applies to many environments. Growth rate-associated gene function differentiation and gene regulation task division were defined. This experiment was successful in categorizing 3,740 genes across the genome into three clusters and in matching the changes in gene expression patterns with the growth rate. This success resulted from using an experimental design that primarily targeted the exponential phase and from the use of a clean genome without any insertion sequences [43] that could have masked transcriptional change patterns.
Declarations
Acknowledgements
We thank Natsuko Yamawaki for technical assistance and analytical tools. This work was partially supported by Grants-in-Aid for Scientific Research 23241061 (to TY) and 25111715 (to BWY) from the Ministry of Education, Culture, Sports, Science and Technology, Japan.
Authors' Affiliations
(1)
Graduate School of Information Science and Technology, Osaka University, Suita, Japan
(2)
Graduate School of Life and Environmental Sciences, University of Tsukuba, Tsukuba, Japan
(3)
Graduate School of Frontier Biosciences, Osaka University, Suita, Japan
(4)
Exploratory Research for Advanced Technology (ERATO), Japan Science and Technology Agency (JST), Suita, Japan
Copyright
© Matsumoto et al.; licensee BioMed Central Ltd. 2013
This article is published under license to BioMed Central Ltd. This is an open access article distributed under the terms of the Creative Commons Attribution License (http://creativecommons.org/licenses/by/2.0), which permits unrestricted use, distribution, and reproduction in any medium, provided the original work is properly cited.