Methodology article
Open Access
MMDiff: quantitative testing for shape changes in ChIP-Seq data sets
Received: 22 April 2013
Accepted: 15 November 2013
Published: 24 November 2013
Abstract
Background
Cell-specific gene expression is controlled by epigenetic modifications and transcription factor binding. While genome-wide maps for these protein-DNA interactions have become widely available, quantitative comparison of the resulting ChIP-Seq data sets remains challenging. Current approaches to detect differentially bound or modified regions are mainly borrowed from RNA-Seq data analysis, thus focusing on total counts of fragments mapped to a region, ignoring any information encoded in the shape of the peaks.
Results
Here, we present MMDiff, a robust, broadly applicable method for detecting differences between sequence count data sets. Based on quantifying shape changes in signal profiles, it overcomes challenges imposed by the highly structured nature of the data and the paucity of replicates.
We first use a simulated data set to compare the performance of MMDiff with results obtained by four alternative methods. We demonstrate that MMDiff excels when peak profiles change between samples. We next use MMDiff to re-analyse a recent data set of the histone modification H3K4me3 elucidating the establishment of this prominent epigenomic marker. Our empirical analysis shows that the method yields reproducible results across experiments, and is able to detect functional important changes in histone modifications. To further explore the broader applicability of MMDiff, we apply it to two ENCODE data sets: one investigating the histone modification H3K27ac and one measuring the genome-wide binding of the transcription factor CTCF. In both cases, MMDiff proves to be complementary to count-based methods. In addition, we can show that MMDiff is capable of directly detecting changes of homotypic binding events at neighbouring binding sites. MMDiff is readily available as a Bioconductor package.
Conclusions
Our results demonstrate that higher order features of ChIP-Seq peaks carry relevant and often complementary information to total counts, and hence are important in assessing differential histone modifications and transcription factor binding. We have developed a new computational method, MMDiff, that is capable of exploring these features and therefore closes an existing gap in the analysis of ChIP-Seq data sets.
Keywords
Chip-SeqDifferential peak detectionKernel methodsMaximum mean discrepancyHistone modificationsH3K4me3Cfp1
Background
Chromatin immunoprecipitation followed by deep sequencing (ChIP-Seq) is rapidly becoming the main experimental technique in functional genomic and epigenomic studies. ChIP-Seq's ability to profile genome-wide patterns of transcription factor binding and histone modifications has led to its extensive use by the ENCODE consortium [1] in an endeavour to identify and characterise all functional elements encoded in the human genome.
Despite the widespread use of ChIP-Seq, data analysis is still a challenging task [2] and a typical computational pipeline includes a number of steps, each posing its own difficulties. An initial crucial step is the identification of regions with significant signal enrichment relative to a control sample in a process called peak calling. Over the last years, several tools for this task have been suggested and they have recently been compared in [3]. As a result of peak calling, genome-wide catalogues are obtained, which provide valuable snapshots of protein binding or histone modifications in a given cell or tissue.
However, to understand the dynamics of histone modifications and TF binding and their effects on cell-specific gene regulation it is necessary to quantitatively compare different ChIP-Seq samples. This is a surprisingly difficult task as the statistical assessment of differences is hindered by a number of factors: on the one hand, the data is digital, consisting of counts of DNA fragments (reads) mapped onto regions of the genome. This feature, common to all sequencing-based methods, raises the immediate issue of choosing a suitable noise model for both technical and biological noise. On the other hand, in most studies, only a very small number of replicate experiments are performed, making statistical testing an intrinsically difficult task. To compound both of these problems, ChIP-Seq produces spatially distributed patterns of binding or histone modifications localised to specific regions of the genome (peaks); this feature, in particular, renders standard differential testing methods unsuited for the comparison of ChIP-Seq data sets.
Currently, two strategies are predominantly followed for the differential analysis of ChIP-Seq data sets: The most naive approach is to identify overlaps in the sets of genomic peak intervals detected in the different samples, e.g., [4–6]. This simplifies the problem to a basic occupancy analysis which is insensitive to changes in the affinity of TF binding or in the prevalence of histone modifications. In addition, the results are strongly dependent on the thresholds which are set heuristically in the peak calling step and differences in the noise background may further confound the outcome of this analysis. An alternative strategy is to compute the total number of reads mapping to each peak in each data set and to test for significant fold-changes across multiple tissues or conditions, e.g., [7]. These count-based approaches have mostly advocated the adaptation of methods for RNA-Seq data analysis to the more structured ChIP-Seq data. For example, the frequently used methods DBChIP [8] and DiffBind [7] are based on the RNA-Seq methods DESeq [9] and EdgeR [10]. They employ a negative binomial distribution to model both biological and technical noise in the total counts of expressed genes. To circumvent the problems of low experimental replication, they apply an elegant approach in which information is shared across genes, effectively pooling together genes with similar total counts. An immediate problem arising for count-based methods is finding the right normalisation. Initially, data sets were rescaled according to the observed library size, which corresponds to the total number of reads in the whole data set [11–13]. However, it has been shown that this strategy is inadequate in most situations, and a number of alternatives have been suggested, including rescaling to the median of the ratios of observed counts [9, 14], locally weighted regression (LOWESS) [15] and more recently rescaling using common peaks across data sets (MANorm, [16]). All these methods make strong a priori assumptions about the relationship of the data sets that are to be compared. The choice of the normalisation method can therefore greatly influences the results of count-based differential analysis [14, 17, 18].
Perhaps a more severe limitation of count-based methods is the information loss inherent in representing a peak by a single integer (the total counts of reads mapping into the given peak region). Any higher order information that is conveyed in the peaks is ignored. However, a spatial structure of the ChIP-Seq signal is particularly evident in the case of peaks associated with epigenomic marks. For example, trimethylation of lysine 4 on histone H3 (H3K4me3) is known to form distinct bimodal peaks at transcription start sites (TSS), e.g. [19]. Interestingly, at a given genomic location the shape of observed enrichment peaks tend to be highly reproducible across biological replicates and increasing evidence hints towards a functional role of these profile structures [1, 20]. Focusing exclusively on total counts of reads associated with a peak might therefore be insufficient when investigating differences of epigenomic modifications between different samples and higher order features associated with the shape of an enrichment peak should also be taken into account.
In this paper, we introduce MMDiff, a multivariate non-parametric approach to testing significant differences in profile patterns between peaks in different conditions. In contrast to count-based methods, which make their decision by comparing a single number, i.e. counts, MMDiff exploits higher order features in the peak shapes. By focusing on shape differences, MMDiff accounts explicitly for the spatial structure of ChIP-Seq peaks; this also makes it more robust to normalisation effects and independent of the explicit definition of a noise model. The underlying idea is to treat each peak as a
distribution
over a finite space given by the starting positions of all reads. The problem of testing for differential binding is then reduced to testing whether two samples are generated by the same probability distribution (albeit unknown). In this context a sample consists of all the reads mapping to a given peak region in one data set. As there is a large variability of observed peak profiles at different genomic locations - some may weakly resemble a Gaussian distribution, however most are strongly skewed and/or multi-modal (see Figure
1
) - we cannot make any assumption about the type of distribution. We therefore adopt recent advances in machine learning research [
21
,
22
], which enable us to include features of any order in the prediction of differential binding without making assumptions of the underlying distributions. MMDiff is specifically designed to detect differences between different ChIP-Seq data sets, however, its main idea can also be used to address the more general problem of detecting differences in other sequencing based experiments, for example in DNase-Seq or CAGE-Seq data sets. Recently, a similar approach has been employed for the detection of differential RNA isoforms from RNA-Seq data [
23
].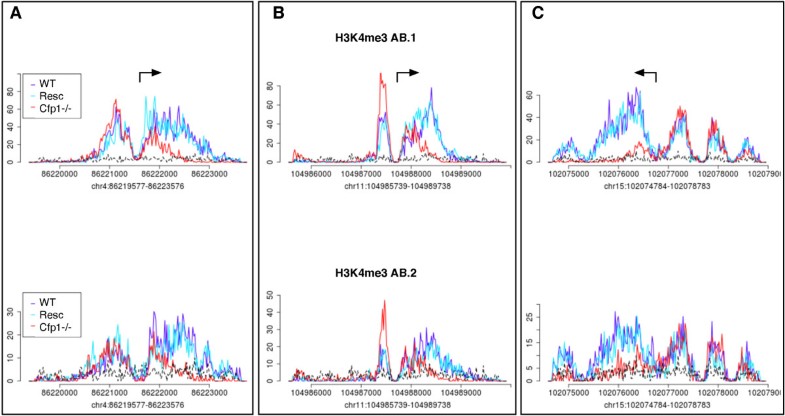 We illustrate and compare our method on a simulation study, and on three independent ChIP-seq data sets of both transcription factor binding and epigenomic modifications. Our results show that MMDiff can capture biologically meaningful changes and is highly complementary to count-based approaches. We propose that MMDiff provides an important new tool for bioinformaticians and biologists interested in epigenomic data analysis, conveniently available as a Bioconductor tool.
The rest of the paper is organised as follows: we start with a discription of the statistical foundations of our method and a discussion on how the MMD statistic of [21] is modified to account for biological variability. We complete the Methods section with a thorough simulation study which compares the results of our method to four different competitors in a controlled environment. This enables us to discuss the strengths and weaknesses of the various methods, and in particular highlights the complementarity of the MMDiff approach w.r.t. count-based methods. We then present results on three different data sets: we start with an in-depth analysis on the H3K4me3 data set of [24]. As this study constitutes our main biological motivation, we present multiple complementary analyses that demonstrate the functional significance of our results. To establish the broad applicability of our method, we also present results on two ENCODE data sets: a comparison of the histone mark H3K27ac across different human cell lines (K562 and GM12878), and a comparison of binding patterns of the transcription factor CTCF across different mouse tissues (cortex, cerebellum and liver). We conclude the paper with a broader discussion of the method in the context of NGS data analysis.
Methods
Kernel-based statistical tests
In order to incorporate shape features in a statistical testing procedure, we adopt a kernel-based non-parametric test, which allows us to retain information of any order within the testing procedure [21, 22]. We briefly review here the mathematical foundations of this procedure.
The statistical testing question we wish to address is the following: Suppose for a peak l we are given observations (i.e. reads) in data set s, and observations in data set s′, , where x s and are random variables with respective probability measures p and p′, and X s and are independently and identically distributed (i.i.d.) from p and p′, respectively. Can we decide at a given significance level to reject the null hypothesis p = p′?
In order to decide this question, we will first define a proper test statistic that summarise the observations while at the same time retaining higher order information of the distributions. We will therefore employ Kernel methods, and use positive definite kernels to capture non-linearity of the original data through the higher-order moments. As with all kernel-based methods, the starting point for this approach is to define a
feature map
ϕ
(
x
) which maps the data into a high dimensional reproducing Kernel Hilbert Space (RKHS). While the dimension of the RKHS is usually very high (or even infinite), all relevant quantities are determined in terms of inner products (in the RKHS) between feature vectors, and can be efficiently computed in terms of a finite number of evaluations of the
kernel function
In the RKHS, the mean element of a distribution
p
contains the information of all higher-order moments and we can compute the empirical estimates () of the mean elements for as
and respectively. Furthermore, we can use the distance between the mean elements of two distributions
p
,
p
′
, (
the maximum mean discrepancy, MMD
) as test statistics. Intuitively, the greater the distance, the more different the two distributions are. For a given peak
l
, the dissimilarity between data set
s
and
s
′
can therefore be expressed in terms of the MMD value:
A modelling issue of central importance is the choice of the features and the kernel function k. In our case, we wish to preserve the spatial information contained in the peak profile. We therefore used the estimated mid positions of the mapped reads as observed features and the radial basis function (RBF) as kernel k(x,x′) = exp[-(x - x′)2/(2σ2)]. The (hyper)-parameter σ controls the length scale of the kernel, i.e. the distance (along the genome) at which fragment counts decorrelate. In our experiments, we used a heuristic suggested in [22] such that , where is the median distance of all observations in X s and .
Accounting for biological variability
The bootstrap procedure for computing MMD statistics proposed in [21] has strong theoretical guarantees for discriminating between different distributions, given sufficient number of samples (i.e. reads mapped to a peak). A simulation study shows that the procedure appears to be well calibrated when comparing technical replicates of ChIP-Seq data (see Additional file 1). However, biological variability implies that the histogram distributions of the same peak in different biological replicates will be more different than expected. This turns out to be true, and the testing procedure of [21] rejects the null hypothesis in almost all comparisons between biological replicates (see Additional file 1).
In order to avoid this problem, we adopt a data-driven method to estimate biological variability from biological replicates. In general, this is a difficult task, as for most experiments only very few replicates are available; for example the ENCODE consortium set a standard of two independent biological replicates per ChIP-Seq measurement [25]. A reliable estimate of biological variability on a peak by peak basis is therefore rarely possible. To obviate this problem, we pool peaks with similar total counts to generate robust estimates of p-values (this information sharing is similar in spirit to the regression approach of DESeq, [9]). Specifically, for each peak l we determine the number of reads mapping to it averaged across all considered samples. Peaks are then binned into quantiles determined on the averaged counts per peak. To obtain empirical p-values we compute the probability of observing an MMD value between biological replicates in the given bin, which is at least as large as the one observed for a given peak in the comparison between conditions. Raw p-values are subsequently corrected for multiple testing using the method of Benjamini and Hochberg [26].
Simulation study
To benchmark the performance of our method in a quantitative manner we initially resort to simulations. While simulations are necessarily limited in their biological realism, we think the availability of a ground truth is important for fair assessments, and the possibility of varying simulation parameters provides an excellent opportunity to explore the method's strengths and limitations. The strategy we follow to generate an artificial set of ChIP-Seq peaks is illustrated in Figure
2
: we consider a control set of 10,000 simulated peaks. To assign a total count to each peak, we follow the negative binomial (NB) generative model, as suggested elsewhere [
9
,
27
]. This commonly used hierarchical model effectively assumes that the between-sample variation follows a gamma distribution while the sequencing process leads to a Poisson distribution. We start by assigning a
true base affinity value
to each peak. These 'genomewide' affinity values are sampled according to the distribution of total counts in an ENCODE CTCF data set [
28
]. To simulate biological replicates, we generate sample-specific affinity values for each peak according to a Gamma distribution with mean value given by the true base affinity for that peak. The spatial structure of the peaks (peak profiles) is assumed to be bimodal, modelled as a mixture of two Gaussians with varying base means, variances and mixing parameters. The 'biological noise' in the peak profiles is modelled by sampling means, variances and mixing parameters from Gaussian distributions with means given by the true base values. To generate a 'treatment' set, we randomly chose 100 peaks and introduce changes in their base affinity values (Figure
2
A). Likewise, we chose 100 peaks to change their base profile by varying the base mixing parameter (Figure
2
B). We again create 'biological replicates' for the treatment condition. To obtain resulting 'affinity profiles' for a given peak, we have to multiply the local distributions given by the peak profile with the peak's affinity value. To simulate the sequencing process, reads mapping to a peak are then sampled according to a Poisson distribution. For simplicity, we assume the same library size for each sample and also that the overall enrichment of all peaks relative to the genomic background is identical in all samples. To assess the robustness of the methods' predictions, we repeated this procedure 10 times.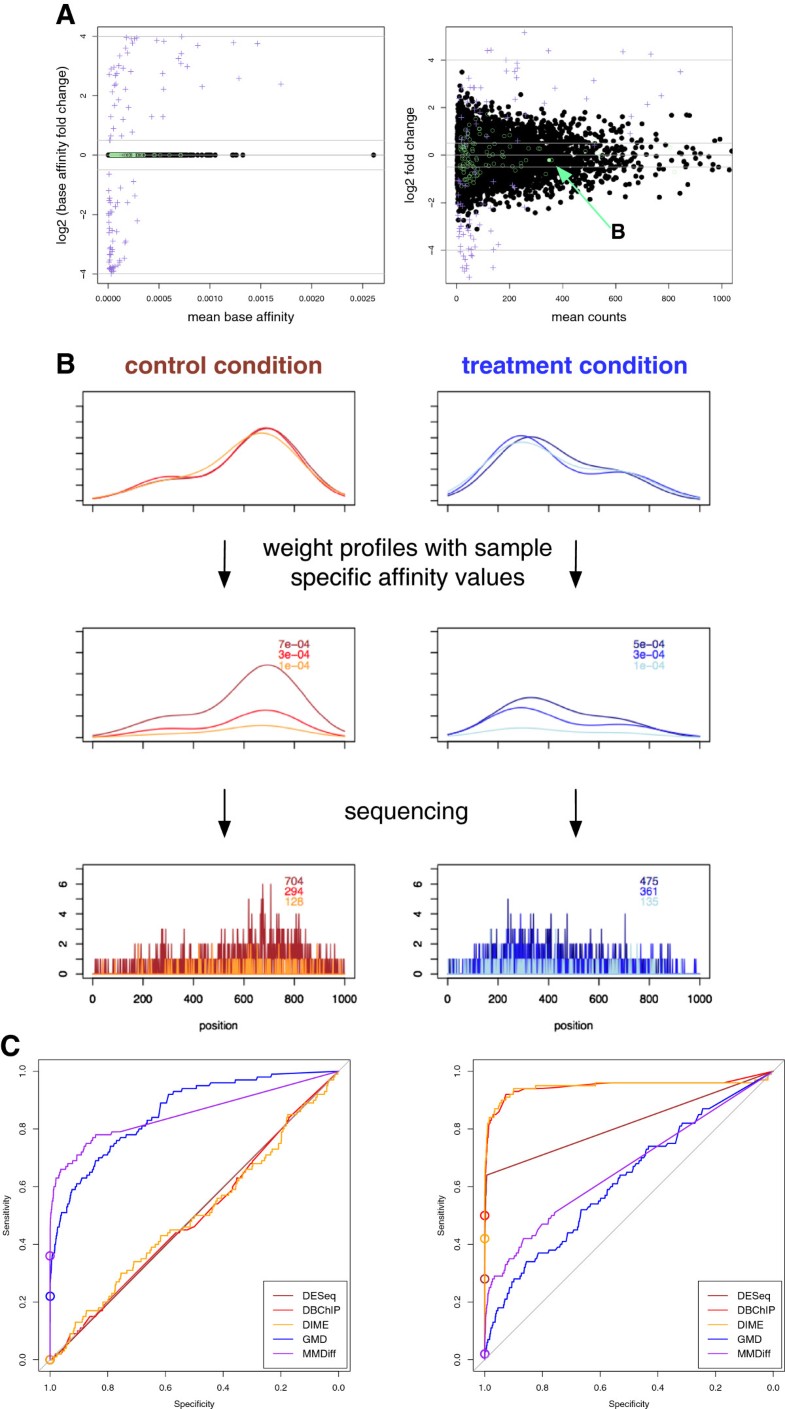 As competitors for our method, we selected three count-based methods, DESeq [
9
], DBChip [
8
] and DIME [
15
]. Additionally, we investigate another shape-based method, where we suggest to replace the MMD distance in our method with the Generalised Mover Distance (GMD) which was recently suggested as a measure of the distance between histograms [
29
]. In Table
1
, we report results on the affinity changes and on the profile changes separately. We summarize performances at false discovery rate (FDR) of 0.05, and also report the area under the Receiver Operating Characteristic (auROC) curve (Figure
2
C). As expected, count-based methods cannot capture shape-based changes, with DESeq, DBChip and DIME all calling very few peaks essentially at random. On the contrary, MMDiff's performance is overall very good, with a very low number of false positives. Interestingly, GMD is seen to perform globally as well as MMDiff, however its performance at the selected operating point (very high specificity) is considerably worse. When we consider affinity changes all three count-based methods achieve very good results (particularly so for DIME and DBChip). MMDiff's performance is considerably worse, while still significantly better than random; in particular, the number of false positives called is very limited (c.f. GMD's high number of false positives). Therefore, MMDiff appears to be well calibrated, with good power to capture profile changes and avoiding type I errors when dealing with count changes. In summary, MMDiff proves to be complementary to count-based methods, as expected. For a most exhausted analysis of differential regions that captures both types of changes we therefore suggest to combine MMDiff with a count-based method.
Table 1
Differential peak calling on simulated data
Profile changes

TP

FP

FN

TN

eFDR (%)

SN (%)

SP (%)

auROC (%)

DESeq

0 + 0.0

0.7 + 0.8

100 + 0.0

9799.3 + 0.8

NaN

0 + 0.0

100 + 0

50 + 0

DBChIP

0.1 + 0.3

2.4 + 1.7

99.9 + 0.3

9797.6 + 1.7

NaN

0.1 + 0.3

100 + 0

50 + 0

DIME

0 + 0.0

1.4 + 1.0

100 + 0.0

9798.6 + 1.0

NaN

0 + 0

100 + 0

50 + 0

GMD

17.8 + 9.1

5.5 + 2.9

82.2 + 9.1

9794.5 + 2.9

26 + 10

17.8 + 9.1

99.9 + 0

83 + 0

MMDiff

34.6 + 4.1

0.7 + 0.8

65.4 + 4.1

9799.3 + 0.8

2 + 0

34.6 + 4.1

100 + 0

83 + 0

Affinity changes

TP

FP

FN

TN

eFDR (%)

SN (%)

SP (%)

auROC (%)

DESeq

27.0 + 5.6

0.7 + 0.8

73.0 + 5.6

9799.3 + 0.8

2 + 0

27.0 + 5.6

100 + 0

81 + 0

DBChIP

50.1 + 3.8

2.4 + 1.7

49.9 + 3.8

9797.6 + 1.7

4 + 0

50.1 + 3.8

100 + 0

94 + 0

DIME

45.3 + 4.1

1.4 + 1.0

54.7 + 4.1

9798.6 + 1.0

3 + 0

45.3 + 4.1

100 + 0

95 + 0

GMD

2.1 + 2.1

5.5 + 2.9

97.9 + 2.1

9794.5 + 2.9

73 + 30

2.1 + 2.1

99.9 + 0

60 + 10

MMDiff

2.5 + 1.5

0.7 + 0.8

97.5 + 1.5

9799.3 + 0.8

NaN

2.5 + 1.5

100 + 0

70 + 0
Conclusions
ChIP-Seq is one of the most widely employed experimental techniques in functional genomic and epigenomic studies, yet statistical analysis of ChIP-Seq data still poses many challenges. In this paper, we address the problem of statistical testing in ChIP-Seq data sets, and propose a non-parametric methodology which is capable of accounting for the highly structured nature of this type of data. Compared with techniques based on total counts, MMDiff can identify localised changes which alter the shape of a peak. The identification of such changes is particularly relevant in the light of recent findings that suggest a functional significance of the shape of histone modifications. For example, an analysis of H3K27me3 patterns around CTCF peaks, carried out as part of the ENCODE project, reported that the observed asymmetric shapes of H3K27me3 support the role of CTCF sites in delimiting active and polycomb-silenced domains [1]. Furthermore, chromatin signatures have recently been associated with other biologically relevant features such as first exon length [20]. MMDiff's ability to capture shape changes in peaks may therefore enable the analysts to capture functionally significant changes in patterns of histone modifications or transcription factor binding which would not be retained by methods which only use total counts for testing. From the practical point of view, focusing on peak shape largely circumvents problems arising from choosing the right normalisation, and MMDiff is also independent of the definition of a suitable noise model.
Methodologically, MMDiff belongs to the family of Kernel based methods; these have a long history in bioinformatics, and have had a considerable influence in the analysis of high throughput sequencing data. An approach which is related to ours has been recently proposed for the purpose of alternative isoform detection from RNA-Seq data [23]. While the methodology proposed in that paper also relies on MMD, the application domain is significantly different, as is the treatment of biological noise.
In the context of ChIP-Seq data, our empirical results, both on simulations and on three independent data sets, demonstrate that our approach is complementary to count-based methods such as DESeq. A practically advisable strategy may be to couple the two methods within an analysis pipeline, allowing analysts to detect both peaks that change in shape and peaks that only exhibit changes in total counts of reads, while maintaining the overall shape of the peak. As for all statistical testing methods, it is worthwhile to emphasize that multiple biological replicates are necessary to get a reliable estimate of the biological variance.
To strengthen our claim that our approach can provide a different perspective in the analysis of ChIP-Seq data, and can be an effective tool for hypothesis generation, we have carried out an in-depth analysis of results of using MMDiff on the data presented in [24]. We demonstrated that MMDiff reproducibly yields biologically meaningful results. We were able to suggest mechanisms that link molecular observations of altered H3K4me3 patterns to phenotypes observed in Cfp1-/- ES cells [37]. In particular, we find that a large number of genes playing a functional role in protein synthesis are potentially targeted by Cfp1. Effects on Pol II binding - and thus potentially transcription - at each individual affected gene seem to be very small; however, taking all affected genes together, we find a significant decrease of Pol II binding at these genes which is in agreement with the observation that Cfp1-/- ES cells show a reduction in translation initiation. Furthermore, the mild effect of Cfp1 deletion on Pol II binding at most promoters is in strong contrast to the observation at the promoter of Jade-1. Here, the lack of H3K4me3 in the Cfp1 depleted cell leads to a complete abolishment of Pol II binding. In this specific case, H3K4me3 seems to act as a switch directly regulating primary transcriptional mechanisms. Jade-1 is of particular interest as it is a key player in H4 acetylation at active genes [45]. It was earlier shown that in the presence of the human tumour suppressor proteins ING4 and ING5, Jade-1 targets the chromatin through interaction with H3K4me3 modifications [46]. Our finding may therefore hint to an epigenomic feed-forward loop based on cross-talk between H4 acetylation and H3K4 methylation.
Our results demonstrate the potential of non-parametric kernel methods to lead to novel biological insights from the analysis of ChIP-Seq data. It is an interesting direction for further research to investigate how the structured nature of NGS data can be exploited in predictive models for more general tasks than statistical testing.
Endnotes
a alternative hypothesis "true location ≠ to 0".
b About half of the TSSs were discarded prior to the analysis due to the absence of H3K4me3 enrichment. Additionally, regions overlapping with more than one TSS were excluded resulting in a set of 4148 promoter regions.
c Also note, that the high spatial resolution of the peaks is achieved by showing histograms of the corrected midpoints of the reads as opposed to coverage plots. Corresponding UCSC Genome Browser views are shown in the Additional file 1.
Abbreviations
ChIP-Seq:

Chromatin immunoprecipitation followed by massively parallel DNA sequencing
ES cells:

Embryonic stem cells
TSS:

Transcription start site
H3K4me3:

Trimethylation of Lysine 4 on histone 3
HMT:

Histone methyltransferase, FDR: False discovery rate
DMP:

Differentially modified promoters (as detected on a H3K4me3 ChIP-Seq data set)
GMM:

Gaussian Mixture Model
BIC:

Bayesian Information Criterion
GO:

Gene ontology.
Declarations
Acknowledgements
We would like to thank Arthur Gretton and Gunnar Rätsch for helpful discussions. Shaun Webb is thanked for computing support.
Funding
GSch acknowledges support from the Wellcome Trust, from the University of Edinburgh through its iDEA lab program and from the EU FP7 Marie Curie Actions. GS is funded by European Research Council through grant MLCS306999. BC is supported by BBSRC under the Sysmo SUMO2 project.
Authors' Affiliations
(1)
School of Informatics, University of Edinburgh, Edinburgh, UK
(2)
Wellcome Trust Centre for Cell Biology, University of Edinburgh, Edinburgh, UK
(3)
CNRS UMR 5088, LBCMCP, Université Paul Sabatier, Toulouse cedex, France
Copyright
© Schweikert et al.; licensee BioMed Central Ltd. 2013
This article is published under license to BioMed Central Ltd. This is an Open Access article distributed under the terms of the Creative Commons Attribution License(http://creativecommons.org/licenses/by/2.0), which permits unrestricted use, distribution, and reproduction in any medium, provided the original work is properly cited.