Research article
Open Access
The genome of Romanomermis culicivorax: revealing fundamental changes in the core developmental genetic toolkit in Nematoda
Received: 7 May 2013
Accepted: 17 December 2013
Published: 27 December 2013
Abstract
Background
The genetics of development in the nematode Caenorhabditis elegans has been described in exquisite detail. The phylum Nematoda has two classes: Chromadorea (which includes C. elegans) and the Enoplea. While the development of many chromadorean species resembles closely that of C. elegans, enoplean nematodes show markedly different patterns of early cell division and cell fate assignment. Embryogenesis of the enoplean Romanomermis culicivorax has been studied in detail, but the genetic circuitry underpinning development in this species has not been explored.
Results
We generated a draft genome for R. culicivorax and compared its gene content with that of C. elegans, a second enoplean, the vertebrate parasite Trichinella spiralis, and a representative arthropod, Tribolium castaneum. This comparison revealed that R. culicivorax has retained components of the conserved ecdysozoan developmental gene toolkit lost in C. elegans. T. spiralis has independently lost even more of this toolkit than has C. elegans. However, the C. elegans toolkit is not simply depauperate, as many novel genes essential for embryogenesis in C. elegans are not found in, or have only extremely divergent homologues in R. culicivorax and T. spiralis. Our data imply fundamental differences in the genetic programmes not only for early cell specification but also others such as vulva formation and sex determination.
Conclusions
Despite the apparent morphological conservatism, major differences in the molecular logic of development have evolved within the phylum Nematoda. R. culicivorax serves as a tractable system to contrast C. elegans and understand how divergent genomic and thus regulatory backgrounds nevertheless generate a conserved phenotype. The R. culicivorax draft genome will promote use of this species as a research model.
Keywords
NematodeGenomeEvolutionDevelopmentCaenorhabditisMermithidaRomanomermis
Background
Nematodes have a generally conserved body plan. Their typical form is dictated by the presence of a single-chamber hydroskeleton, where longitudinal muscles act against an inextensible extracellular cuticle. The conservation of organ systems between nematode species is even more striking, with, for example, the nervous system, the somatic gonad and the vulva having very similar general organisations and cellular morphologies across the phylum. It might be thought that these similarities arise from highly stereotypical developmental programmes, but comparative studies challenge this "all nematodes are equal" view.
Embryonic development of the nematode
Caenorhabditis elegans
has become a paradigmatic model for studying developmental processes in animals, including early soma-germline separation, fate specification including inductive interactions, and tissue-specific differentiation. The particular mode of development of
C. elegans
is distinct within the major metazoan model organisms, but much of the regulatory logic of its development is comparable to that observed in other phyla. One key aspect in which
C. elegans
differs from vertebrate and arthropod models is that
C. elegans
shows a strictly determined development [
1
], with a largely invariant cell-lineage giving rise to predictable sets of differentiated cells [
2
]. Inductive cell-cell interactions are, nevertheless, essential for its correct development [
1
].
C. elegans
is a rhabditid nematode, one of approximately 23,000 described and 1 million estimated nematode species. Molecular and morphological systematics of the phylum Nematoda identify two classes: Chromadorea (including Rhabditida, and thus
C. elegans
), and Enoplea (subdivided into Dorylaimia and Enoplia) [
3
,
4
] (Figure
1
).
C. elegans
is a chromadorean, and most investigation of developmental biology of nematodes has been carried out on Chromadorean species. The first description of the early embryonic cell-lineage of a nematode, that of
Ascaris
(Spirurina within Chromadorea) in the 1880's [
5
,
6
], conforms to the
C. elegans
model. Early development across all suborders of the Rhabditida is very similar [
7
,
8
]. In general, only minor variations of the division pattern observed in
C. elegans
have been described in these nematodes [
9
,
10
], including heterochrony in the timing of cell divisions, and restrictions in cell-cell interaction due to different placement of blastomeres in the developing embryo. From these observations it might be assumed that all nematodes follow a
C. elegans
-like pattern of development. However, deviations from the
C. elegans
pattern observed in other rhabditid nematodes show that the strictly determined mode of development is subject to evolutionary change, making it particularly attractive for the study of underpinning regulatory logic of developmental mechanisms. Indeed, a greater role for regulative interactions in early development has been demonstrated in another rhabditid,
Acrobeloides nanus
(Tylenchina) [
11
,
12
].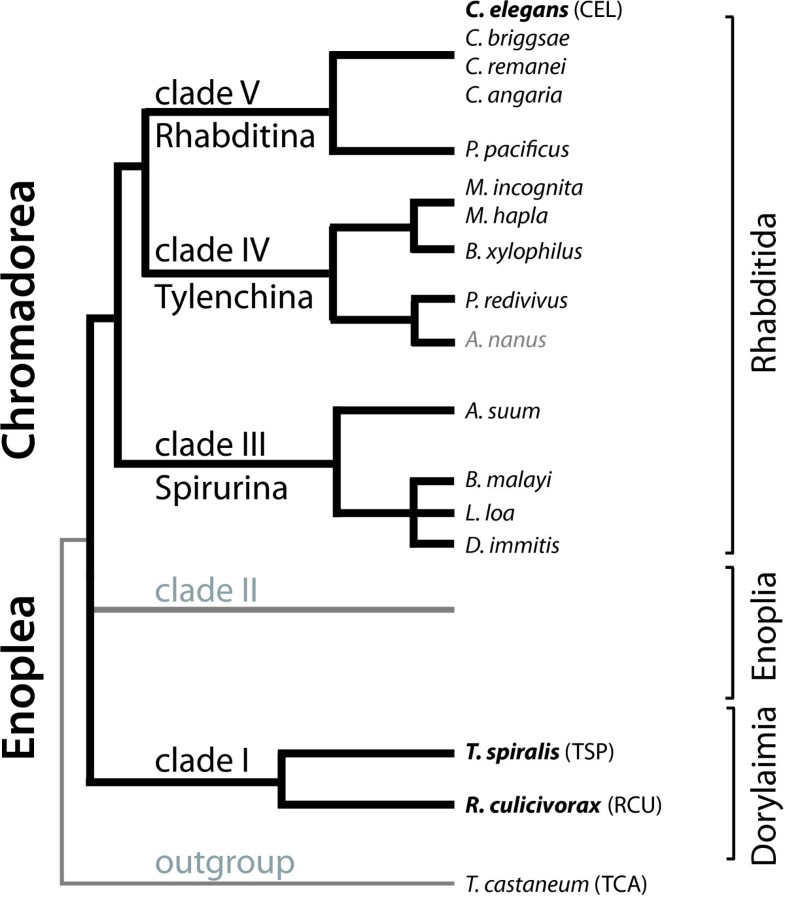 Table 1
Genome statistics
| Species | Approximate # | Estimated | Median † | Median † | GC | Source |
| --- | --- | --- | --- | --- | --- | --- |
| | genome size | repeat content | exon length | intron length | content | |
| C.elegans | 100Mb | 17% (16.5%) | 145bp | 69bp | 38% | |
| P. pacificus | 165Mb | 15.3% (17%) | 85bp | 141bp | 42% | |
| A. suum | 334Mb | 4.4% | 144bp | 907bp | 37.9% | |
| B. malayi | 95Mb | 16.5% (15%) | 140bp | 219bp | 30% | [22] |
| B. xylophilus | 69Mb | 22,5% | 183bp | 69bp | 40% | [25] |
| M. incognita | ∼200Mb | 36,7% | 136bp | 82bp | 31% | [24] |
| T. spiralis | 63Mb | 19.8% (18%) | 128bp | 283bp | 34% | [27] |
| R. culicivorax | >270Mb | 48.2% | 161bp | 405bp | 36% | this work |
Regulative development is common among Metazoa, and is also observed in other Ecdysozoa, including Arthropoda. Indeed, in several enoplean species, early embryos have been found to not display polarised early divisions, arguing against a strongly determined mode of development in this group [13, 14]. The determined mode found in C. elegans is thus likely to be derived even within Nematoda [15], implying that the core developmental system in Nematoda has changed, while maintaining a very similar organismal output. This phenomenon, termed "developmental system drift" [16], reveals independent selection on the developmental mechanism and the final form produced.
To explore the genetics of development of enoplean and other non-rhabditid nematodes requires tractable experimental systems with a suitable set of methodological tools and extensive genomic data. While C. elegans and its embryos are relatively easily manipulated and observed, and the C. elegans genome has been fully sequenced [17], embryos from the Enoplia and Dorylaimia are much harder to culture and manipulate. Few viable laboratory cultures exist and obtaining large numbers of embryos from wild material is difficult. Functional molecular analysis of most nematodes, in particular Enoplea, is further hindered by the lack of genetic tools such as mutant analysis or gene-knockdown via RNAi. Performing detailed comparative experimental embryology on a phylogenetically representative set of species across the phylum Nematoda thus remains a distant goal.
The genetic toolkit utilised by a species is represented in its genome, and direct assessment of the genetic capabilities of an organism can thus be assessed through analysis of genome data. Using the background knowledge of pathways and modules used in other taxa, the underpinning logic of a species' developmental system can be inferred from its genome, and the developmental toolkits of different species can be compared. These comparisons can reveal changes in developmental logic between taxa by identifying gene losses during evolution that must result in changed pathway functioning, and similarly identify genes recruited to developmental regulatory roles in particular lineages.
Efficient generation of genomic resources for non-model species, and the inference of developmental regulatory pathways from the encoded gene sets, is now possible. The majority of the fifteen nematode genomes published to date have been from Rhabditida (Figure 1) [18–26]. The single enoplean genome sequences is from the mammalian parasite Trichinella spiralis (Dorylaimia; order Trichocephalida) [27]. T. spiralis is ovoviviparous, proper development requires intrauterine environment, and early blastomeres are extremely transparent [28] such that individual nuclei are hard to identify (E.S., unpublished observations). Hence, this species is of very limited value for light microscopical image analysis and experimental investigation correlating cell dynamics with the molecular circuitry regulating early development.
Although the genomes of many additional nematode species are being sequenced [29, 30], even in this wider sampling of the phylum, Enoplea remains neglected. The enoplean Romanomermis culicivorax (order Mermithida within Dorylaimia) has been established in culture for decades. It infects and kills the larvae of many different mosquito species [31], and is being investigated for its potential as a biocontrol agent of malaria and other disease vectors [31, 32]. R. culicivorax and T. spiralis differ fundamentally in many life-cycle and phenotypic characters. R. culicivorax reproduces sexually. A single female can produce more than a thousand eggs, and embryos are easily studied under laboratory conditions. They display a developmental pattern that differs markedly from C. elegans. As in other Enoplea [14, 33] the first division is equal, and not asymmetric as in C. elegans. R. culicivorax also shows an inversion of dorso-ventral axis polarity compared to C. elegans, while a predominantly monoclonal fate distribution indicates fewer modifying inductions between blastomeres [33, 34]. Generation of the hypodermis involves repetitive cell elements extending from posterior to anterior over the remainder of the embryo, a process distinct from that observed in C. elegans[34].
We here catalogue the R. culicivorax developmental toolkit derived from annotation of a draft genome sequence. We contrast genes and proteins identified in R. culicivorax and T. spiralis with those of C. elegans, and other Ecdysozoa, represented by the arthropod Tribolium castaneum. We conclude that major changes in the regulatory logic of development have taken place during nematode evolution, possibly as a consequence of developmental system drift, and that the model species C. elegans is considerably derived compared to an ecdysozoan (and possibly metazoan) ground system. However, we are still able to define conserved gene sets that may act in "phylotypic" developmental stages.
Conclusions
To be useful as a contrasting system to the canonical C. elegans model, any nematode species must be accessible to both descriptive and manipulative investigation. The reference genome for R. culicivorax lays bare the core machinery available for developmental regulation, and we have demonstrated that in situ hybridisation approaches are feasible for this species. Along with the long established, robust laboratory cultures, this makes R. culicivorax an attractive and tractable alternative model for understanding the evolutionary dynamics of nematode development. By combining the R. culicivorax genome with that of T. spiralis, we have been able to explore the molecular diversity of Dorylaimia, and provide robust contrasts with the intensively studied Rhabditida. Particularly surprising are the differences between R. culicivorax and T. spiralis. The R. culicivorax genome is much larger than that of T. spiralis, and contained a high proportion of repetitive sequence, including many transposable elements. Despite the phylogenetic and lifestyle affinities between the two dorylaims compared to C. elegans, the R. culicivorax genome retained many more genes in common with C. elegans than did T. spiralis. We suggest that T. spiralis may be an atypical representative of dorylaim nematodes, perhaps due to its highly derived life cycle.
Our analyses identified many genes apparently absent from the dorylaim genomes, despite relaxed analysis parameters. In particular, for genes identified as critical to C. elegans development but apparently absent from the dorylaims, we were unable to identify credible orthologues using sensitive search strategies. In this phylum-spanning comparison, inferences of gene orthology can be obscured by levels of divergence. In addition, the gene family birth rate in the chromadorean lineage leading to C. elegans is high [25, 27], and therefore C. elegans was expected to have many genes absent from the dorylaim species. Thus, we might not have found a R. culicivorax orthologue for a specific gene for three reasons: it may have arisen in the branch leading to C. elegans; its sequence divergence may be too great to permit clustering with potential homologs; or it was not assembled in the draft dorylaim genomes. The case of C. elegans PAR-3 and D. melanogaster bazooka illustrate some of these difficulties: the possible R. culicivorax orthologue was highly divergent. Whether or not we have been able to identify all the orthologues of the key C. elegans genes present in the R. culicivorax and T. spiralis genomes, the absence of an identified orthologue maximally implies loss from the genome, and minimally implies significant sequence divergence. In the latter case this would most likely cause changes in the networks and pathways in which genes interact to deliver biological function.
Between the model nematode C. elegans and arthropod models such as T. castaneum many key mechanisms governing early cell patterning are divergent [76]. Our data strongly support the view that major variation also exists within Nematoda. T. spiralis and R. culicivorax both lack orthologues of genes involved in core developmental processes in C. elegans, and many of these C. elegans genes appear to be restricted to the Rhabditida. It is thus doubtful that these processes are regulated by same molecular interactions across the phylum. We suggest that developmental system drift has played a major role in nematode evolution. The phenotypic conservatism associated with the vermiform morphology of nematodes [107] has fostered unjustified expectations concerning the conservation of genetic programmes that determine these morphologies. Despite this divergence in developmental systems, we were able to define two sets of conserved genes possibly active in a taxon-specific phase of ventral enclosure and cuticle formation in Nematoda, and in a potential phylotypic stage of Ecdysozoa. The advent of robust, affordable and rapid genome sequencing also opens the vista of large-scale comparative genomics of development across the phylum Nematoda [29] to better understand the diversity of the phylum and also place the remarkable C. elegans model in context of its peers. It will next be necessary to extend these studies to a broader sampling of developmental pathway genes from a wider and representative sampling of nematode genomes across the full diversity of the phylum. We have highlighted a few of the possible avenues a research programme could follow: early axis formation and polarisation, the specification of hypodermis, sex determination, vulva formation, the roles of epigenetic processes in developmental regulation and the confirmation of potential "phylotypic stage genes" with expression analysis in R. culicivorax.
Declarations
Acknowledgements
We are indebted to E. Platzer, Riverside, for the continuous supply with R. culcivorax nematodes. We thank J. Schulze, Cologne, for advice on nematode cultivation and C. Becker and K. Konrad for expert technical assistance in the genome sequencing experiments. We are also grateful to H. Oezden, Cologne for assistance with In-situ hybridisations. We thank J. Parkinson, Toronto, for providing a conserved NEMBASE4 protein set, Elizabeth Martínez Salazar, Zacatecas, Mexico, for Feulgen C-value data and A. H. Jay Burr, Vancouver, Canada for sharing preliminary results on phototaxis in R. culicivorax.
Assemblies and other computations were conducted on the HPC cluster "CHEOPS" at the University of Cologne (http://rrzk.uni-koeln.de/cheops.html).
Funding
This work was partly funded through the SFB 680: "Molecular Basis of Evolutionary Innovations". Philipp H. Schiffer is funded by the VolkswagenStiftung in the "Förderinitiative Evolutionsbiologie". Gerogios D. Koutsovoulos is funded by a UK BBSRC Research Studentship and an Overseas Reasearch Studentship from the University of Edinburgh. Additional Funding came through the BMBF-Projekt "NGSgoesHPC".
Accession numbers
Raw genome and transcriptome sequence data reported in this manuscript have been deposited in the ERA under accession ERP002111 (http://www.ebi.ac.uk/ena/data/view/ERP002111), and assembled genomic contigs deposited in the ENA INSDC database under accession numbers CAQS01000001-CAQS01062537. Annotation information and additional data are available through (http://romanomermis.nematod.es).
Authors' Affiliations
(1)
Zoologisches Institut, Universität zu Köln, Cologne, Germany
(2)
Institute of Evolutionary Biology, School of Biological Sciences, The University of Edinburgh, Edinburgh, Scotland, UK
(3)
Institute für Entwicklungsbiologie, Universität zu Köln, Cologne, Germany
(4)
Hubbard Center for Genome Studies, University of New Hampshire, Durham, USA
(5)
Cologne Center for Genomics, Universität zu Köln, Cologne, Germany
Copyright
© Schiffer et al.; licensee BioMed Central Ltd. 2013
This article is published under license to BioMed Central Ltd. This is an Open Access article distributed under the terms of the Creative Commons Attribution License (http://creativecommons.org/licenses/by/2.0), which permits unrestricted use, distribution, and reproduction in any medium, provided the original work is properly cited.