GWIS - model-free, fast and exhaustive search for epistatic interactions in case-control GWAS
BMC Genomics
2013
14(Suppl 3):S10
Abstract
Background
It has been hypothesized that multivariate analysis and systematic detection of epistatic interactions between explanatory genotyping variables may help resolve the problem of "missing heritability" currently observed in genome-wide association studies (GWAS). However, even the simplest bivariate analysis is still held back by significant statistical and computational challenges that are often addressed by reducing the set of analysed markers. Theoretically, it has been shown that combinations of loci may exist that show weak or no effects individually, but show significant (even complete) explanatory power over phenotype when combined. Reducing the set of analysed SNPs before bivariate analysis could easily omit such critical loci.
Results
We have developed an exhaustive bivariate GWAS analysis methodology that yields a manageable subset of candidate marker pairs for subsequent analysis using other, often more computationally expensive techniques. Our model-free filtering approach is based on classification using ROC curve analysis, an alternative to much slower regression-based modelling techniques. Exhaustive analysis of studies containing approximately 450,000 SNPs and 5,000 samples requires only 2 hours using a desktop CPU or 13 minutes using a GPU (Graphics Processing Unit). We validate our methodology with analysis of simulated datasets as well as the seven Wellcome Trust Case-Control Consortium datasets that represent a wide range of real life GWAS challenges. We have identified SNP pairs that have considerably stronger association with disease than their individual component SNPs that often show negligible effect univariately. When compared against previously reported results in the literature, our methods re-detect most significant SNP-pairs and additionally detect many pairs absent from the literature that show strong association with disease. The high overlap suggests that our fast analysis could substitute for some slower alternatives.
Conclusions
We demonstrate that the proposed methodology is robust, fast and capable of exhaustive search for epistatic interactions using a standard desktop computer. First, our implementation is significantly faster than timings for comparable algorithms reported in the literature, especially as our method allows simultaneous use of multiple statistical filters with low computing time overhead. Second, for some diseases, we have identified hundreds of SNP pairs that pass formal multiple test (Bonferroni) correction and could form a rich source of hypotheses for follow-up analysis.
Keywords
Single Nucleotide Polymorphism
Receiver Operating Characteristic
Graphic Processing Unit
Exhaustive Search
Epistatic Interaction
Background
Genome-wide association studies (GWAS) have discovered many underlying genetic causes of disease, but have also raised important questions about standard approaches to modelling complex traits [1]. While commonly-used univariate analysis techniques have been able to detect a number of significantly associated loci, for many conditions these discovered variants do not account for a majority of the theoretical estimates of genetic heritability. Multivariate approaches may help to alleviate this issue of "missing heritability" [2]. Theoretically, it has been shown that 2-way and 3-way single nucleotide polymorphism (SNP) interactions can explain up to ~ 50% and ~ 100% of trait variance while each SNP involved explains none [3], indicating that critical SNP pairs may be ignored by univariate analysis predominantly applied to GWAS so far. It is hypothesised that systematic detection methods may assist discovery of such potentially epistatic interactions between DNA loci.
Motivation
To date there exists little experimentally-validated evidence of SNP interactions in humans, largely due to the complexity of multivariate GWAS analysis. Even in only bivariate analysis, the number of possible SNP interactions that need to be searched is extremely large, as there are 125 billion possible SNP pairs in a GWAS of 500,000 SNPs. The scale of the problem produces significant computational and statistical challenges. Numerous approaches proposed to address these challenges are unable to scale to this large number of tests, due to both performance and accuracy (a large number of false-positive results are expected from so many tests, generating concerns about the effectiveness of multiple-test correction). This has led to claims that finding epistatic interactions via exhaustive search is infeasible [4, 5]. While these pessimistic claims have recently been proven wrong (e.g. [6–10]), techniques that do scale to exhaustive search currently require weeks or months to process GWAS of 5 million SNPs, which are becoming increasingly common. As GWAS studies continue to grow in size, faster analysis techniques will be needed. This paper aims to offer solutions that meet these ever-increasing requirements.
Epistatic interactions
Our goal is to present a system capable of exhaustive search through all SNP pairs in an entire GWAS, detecting all significant epistatic interactions. As discussed in [11], both the terms "significant" and "epistatic interaction" have diverse definitions when used by biologists, epidemiologists, statisticians and geneticists and are often not made explicit. We specify the precise meanings of these terms as used in this paper, presenting a verbal description now and a more specific elaboration in the Methods section. We say that two SNPs have an epistatic interaction if using both of them allows discrimination between Cases and Controls with significantly higher sensitivity and specificity than is possible using any one of them individually. The significance is quantified as a p-value for rejection of a well specified null hypothesis (see Methods for details). This rejection implies in particular, that the improvement cannot be explained by biased sampling from a population pre-classified by any one of the SNPs in the pair. In the Discussion section we argue that our generic formal definition of epistasis captures some biological aspects of epistasis that Fisher's popular definition of interaction [12] misses.
GWIS approach
The definitions given above can be directly converted into computational methods, suitable for scanning trillions of SNP pairs in a modern GWAS and providing an alternative to widely-used regression based approaches. In this work, we present a platform called Genome Wide Interaction Search (GWIS), that is based on classification, and novel rigorous statistical tests based on receiver operating characteristic (ROC) curve analysis [13]. Our proposed method is genuinely "model free", since we do not assume any interaction model between SNP genotypes. In this sense we are close to other model free approaches, in particular Multifactor Dimensionality Reduction (MDR) [14–16], although we rely on analytical solutions to hypothesis-based testing rather than slower, computationally-costly cross-validation and permutation testing.
We demonstrate that exhaustive search of all possible pairs in standard GWAS is feasible and fast on a desktop computer and that our proposed technique is faster than currently available exhaustive techniques. Aside from the computational challenges mentioned above, there are a number of statistical challenges that also need to be resolved. Principled methods are needed that allow for significance-correction of the billions of SNP-pair and genotype combinations, and that are able to cope with characteristics of real-world data, e.g. confounding factors due to strong univariate signals, examining significance in the far tail of distributions where the central limit approximation does not hold, and SNPs with low minor allele frequency giving rise to very low genotype counts.
We introduce a novel and theoretically well-founded, model-free hypothesis test specifically designed for multivariate GWAS analysis. It is based on relating the sensitivity and specificity observed in the sampled data to the sensitivity and specificity that could be achieved in the 'true' population. The test, named gain in sensitivity and specificity (GSS), is designed to detect epistatic SNP interactions, and computes exact p-values, without using large sample normal approximations. Each application of the GSS test to a pair of SNPs involves solving a number of min-max optimisations, which are pair specific and are therefore impractical for scanning trillions of putative SNP-pairs. Hence, we introduce two extra tests, referred to as sensitivity and specificity (SS) and difference in sensitivity and specificity (DSS), that act as practical fast proxies for the GSS test.
Validation
Algorithms for detecting epistatic SNP interactions are typically evaluated using simulated data, for reasons of both scalability and interpretation [17–19]. However, the creation of realistic structure in simulated data is problematic as much is unknown about the nature and existence of epistasis in humans [20, 21]. Therefore, we primarily focus on seven GWAS datasets from the Wellcome Trust Case-Control Consortium (WTCCC) [22]. These data include various real GWAS challenges that are not always represented in simulated data. Although the set of true SNP interactions is not yet known for WTCCC data, analysis of this data using multiple types of analysis provides evidence on the properties of the epistatic interactions that can be observed, reveals confounding factors not generally modelled in synthetic data, and demonstrates the advantages and limitations of different statistical filtering approaches. The efficiency of our methods is demonstrated by comparing timings of our methods on various size datasets to those reported in several recent publications. The proposed statistical filters are further benchmarked by confirming their theoretically advantageous properties and validation of their power and false positive rates over an extensive collection of synthetic datasets available from [23]. We show the importance of exhaustive search without which heuristics may miss significant SNP pairs. We demonstrate that our GSS test is able to identify a number of interesting SNP pairs that show significant epistatic effects. Detected results are compared to those from existing literature, showing that GWIS repeats many known results, as well as suggesting many novel interactions.
Contributions
This paper makes several contributions. First, we use an operational definition of epistasis based on classification of individuals into Cases or Controls to develop a set of robust, principled methods for explicitly detecting significant epistatic interactions in GWAS data. Second, we demonstrate that our proposed methods scale well and are fast enough to permit exhaustive analysis of current and near-future GWAS data. Third, we have applied GWIS to a diverse range of both simulated and real life benchmark data, and detected many significant associations in addition to confirming many associations previously reported. Finally, our analysis of real data indicates the limitations of conventional statistical methods such as Pearson's test for detecting epistatic interactions in the presence of strong main effects.
Results
An exhaustive evaluation of all possible SNP pairings is the most powerful strategy to detect epistatic interactions [24] but to date remains a computationally challenging task. Most methods have been unable to scale exhaustive methods to entire GWAS without performing some reduction in the number of pairs to be evaluated [5], or requiring special hardware such as a compute cluster [25–27].
Discussion
Improved efficiency allows analysis on current and future datasets
In recent years, there have been several proposals that exploit the inherently parallelisable structure of GWAS data to provide reasonably fast solutions capable of processing a WTCCC dataset in several hours. However, SNP arrays currently being used in GWAS studies are an order of magnitude larger [39], resulting in two orders of magnitude increase in the number of pairs and a pressing need for ever more efficient processing of GWAS. Moreover, datasets are often processed repeatedly as data and parameters are altered, quality control measures applied or to correct for population and batch effects, meaning that effective research demands rapid processing. The analysis of higher-order interactions will also dramatically increase the computational burden of epistasis detection. Combined, these points indicate that multivariate GWAS analysis is still a computational challenge.
Our method provides faster discovery of epistatic interactions, which enables more effective, interactive usage. The tool provides an efficient and fast screening capabilities that can be run locally on researchers' desktop computers rather than expensive computing clusters. The reported results can then be refined with more computationally expensive methods such as logistic regression or permutation testing, or in combination with additional biological reference material.
Feasibility of exhaustive search removes the need for ad-hoc constraints
As indicated by several previous publications [21, 24, 40], there is a need for exhaustive search over all bivariate associations in Case-Control studies. While there are several established heuristics that aim to reduce the number of pairs considered, they all have corresponding weaknesses.
A popular strategy is to consider only pairs containing univariately strong SNPs [
38
,
40
] or pairs that have been ranked highly by feature selection techniques [
14
,
41
]. The obvious drawback with this approach is that some SNPs with strong epistatic association in pairs may show little association with phenotype individually, and therefore this constraint is likely to remove many of the pairs we want to identify (see examples in Figure
4
and Additional File Figures 7-10 and 13).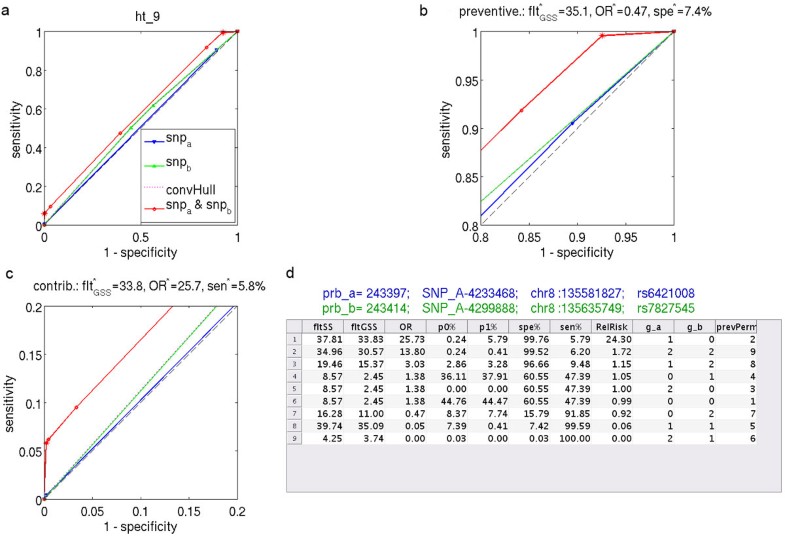 An alternative strategy is the use of known biological data. Here, the number of SNPs examined is reduced to those with prior evidence of possible epistatic effects [42] or that can be mapped to known biological networks [35]. These strategies are likely to be hindered by a lack of epistasis understanding in complex organisms.
Distance constraints, in which SNP pairs are discarded if they are too close together [10, 24, 32], are commonly used with some evidence [26, 43] indicating that such pairs may be linked to genotyping errors. However, it is not always clear that all closely located SNP pairs are due to genotyping errors [26]. Moreover, some recent methods [44] have been designed specifically to look for pairs that were closely located, in order to find associations caused by non-typed SNPs.
The feasibility of exhaustive search as demonstrated in this work removes the need for such constraints. Exhaustive search can examine all possible SNP pairings and, if a robust statistical filter is used, will greatly reduce the set of epistatic interactions requiring follow-up analysis. Further filtering can then be applied to remove those SNP pairs that are not relevant for a given experiment.
Comments on the definition of epistasis
Our prime goal in this paper is to present a practical system capable of exhaustive search through all SNP pairs in real, full scale GWAS, detecting all pairs evidencing significant epistatic effects. This requires a robust definition of epistasis which can be translated into an actionable mathematical algorithm [11].
Operationally, epistatic interaction means in this paper two things:
(i)

that there exists a scoring function of genotype calls for the pair of SNPs and a decision threshold such that a substantial subset of subjects scoring above the threshold is significantly enriched (biased) in either Cases or Controls, and the split of the sample according to this threshold results in OR significantly different from 1;

(ii)

for any scoring function depending on a single SNP of the pair only, such an enrichment is highly unlikely to be achievable by re-sampling data from the population.
In particular, our definition captures three examples of penetrance tables for "non-standard" epistatically interacting loci discussed by Cordell [11, Tables 1, 2, 3], and moreover, this can be done with a suitable choice of "purely additive" scoring functions and appropriate decision thresholds (no need for any cross-terms). In that respect our generic formal definition of epistasis is closer to its biological counterpart than Fisher's definition of interaction [12], which focuses on fitted models' deviation from additivity. Note that even the original review of Fisher's paper pointed out that his definition does not capture a number of biologically plausible aspects of epistatic interaction, see [11]. However, Fisher's definition is mathematically sound and thus widely used in analysis of contingency tables in statistical literature [28], in quantitative genetics [21] and has been applied in a number of GWAS analysis papers using model based regression approaches [10, 26, 35, 37, 45–47].
Analysis of real datasets may improve simulated data
Despite advances in speed, the most common benchmark for epistasis remains simulated data, where a single epistatic interaction embedded in a small number of SNPs is used to judge a method's power and false positive rate under various parameter settings. In this work, we evaluate the power of a standard and our proposed DSS filter over many such datasets. In conjunction, we also extensively and exhaustively examined multiple real life GWAS, revealing complexities such as confounding signals generated by highly associated univariate SNPs and multiple epistatic signals of varying strength. Such complexities are rarely modelled together in a single epistasis simulation and indicates limitations in the ability of simulated data to be indicative of true power or false positive rates. We believe that further analysis of real data may help better characterise the complexities of GWAS which can be used to create more realistic simulated data. Broader scenarios with multiple epistatic, non-epistatic and univariate signals may better emulate the complexities which we believe are still hidden in real datasets.
Univariate associations can have a confounding effect on standard tests for association
Using the statistic as a filter to detect epistatic SNP pairs, we discovered that top-ranked SNP pairs were almost always driven by univariately strong SNPs. If a dataset contains a SNP with strong univariate association its pairings with random SNPs will cause the filter to report many thousands of SNP pairs that show an association with phenotype but do not show epistatic-like effects according to our definition.
Studying pairwise associations in GWAS data is necessarily a filtering process, reducing the billions of possible interactions by several (5 or 6) orders of magnitude down to a small number that can be analysed in detail. In order to have any chance of discovering epistatic interactions, the majority of pairs of SNPs that show little improvement over their univariate associations must be explicitly discarded; in other words, we must specifically look for pairs of SNPs that together show improved association with phenotype.
Empirical evidence showing the impact this confounding has on the statistic provided in this paper is intrinsically interesting. Indeed, filtering has been used in bivariate analysis of GWAS in the past using the standard test directly [25, 29, 30] or some variant of it [27, 32, 48, 49]. It is also likely that the same confounding will affect other standard tests for association. Such confounding has been previously observed but has rarely been dealt with in a rigorous manner that is not based on regression. Our GSS/DSS test, explicitly searching for gains in specificity and sensitivity, is a new, efficient alternative in this regard.
Multivariate analysis increases the need for stringent quality control and follow-up analysis
GWIS is a model-free method for detecting epistatic SNPs, designed to be sensitive to any associations in the data that separate Cases and Controls. However, this separation may be due to signals other than that caused by phenotype. It has been noted that pairwise SNP analysis may be more susceptible to noise caused by genotyping errors, population structure or batch effects [26, 43] compared to univariate analysis and reported interactions may be a product of these sources of noise. Given that these will vary between experiments follow-up analysis of reported interactions, especially quality control of genotype calls, remains critical for determining their validity.
Methods
In this section we outline various filtering procedures used in this paper for detection of putative epistasis loci. We shall focus particularly on the receiver operating characteristic (ROC) analysis method, which is part of the novelty of this paper. More details and formal descriptions have been shifted to the Additional File 2 Materials and forthcoming papers will contain the full details and formal proofs.
List of abbreviations
DoO:

Difference of Odds
DSS:

Difference in Sensitivity and Specificity
FE:

Fishers Exact
FPR:

False positive rate
GPU:

Graphics Processing Unit
GWAS:

Genome wide association studies
GWIS:

Genome Wide Interaction Search
GSS:

Gain in Sensitivity and Specificity
OR:

Odds Ratio
ROC:

Receiver operating characteristic
SNP:

Single nucleotide polymorphism
SS:

Sensitivity and Specificity
TPR:

True positive rate
WTCCC:

Wellcome Trust Case-Control Consortium.

WTCCC Datasets
BD:

Bipoloar Disorder
CAD:

Coronary Artery Disease
CD:

Crohn's Disease
HT:

Hypertension
RA:

Rheumatoid Arthritis
T1D:

Type I Diabetes
T2D:

Type II Diabetes.
Declarations
Acknowledgements
We would like to thank our colleagues for generous assistance in the preparation of this paper:
Gad Abraham, Leon Gor, Izi Haviv, Eder Kikianty, Andrew Kowalczyk, Geoff Macintye, John Markham and Armita Zarnegar.
This study was supported by National ICT Australia (NICTA). NICTA is funded by the Australian Government's Department of Communications, Information Technology and the Arts, the Australian Research Council through Backing Australia's Ability, and the ICT Centre of Excellence programs.
This study has also used resources provided by the Multi-modal Australian Sciences Imaging and Visualisation Environment (MASSIVE) through the National Computational Merit Allocation Scheme supported by the Australian Government.
Sections of the data used here were generated by the Wellcome Trust Case-Control Consortium. A full list of the investigators who contributed to the generation of the data is available from http://www.wtccc.org.uk. Funding for the project was provided by the Wellcome Trust under award 076113 and 085475.
AK, MI and BG were partially supported by NHMRC grant 1033452.
This article has been published as part of BMC Genomics Volume 14 Supplement 3, 2013: SNP-SIG 2012: Identification and annotation of SNPs in the context of structure, function, and disease. The full contents of the supplement are available online at http://www.biomedcentral.com/bmcgenomics/supplements/14/S3
Declarations
The publication costs for this article were funded by the above grants.
Authors' Affiliations
(1)
National ICT Australia Victorian Research Lab, The University of Melbourne, Parkville, Australia
(2)
Computing and Information Systems, The University of Melbourne, Parkville, Australia
(3)
Electrical and Electronic Engineering, The University of Melbourne, Parkville, Australia
(4)
Pathology, The University of Melbourne, Parkville, Australia
(5)
Microbiology & Immunology, The University of Melbourne, Parkville, Australia
References
Makowsky R, Pajewski NM, Klimentidis YC, Vazquez AI, Duarte CW, Allison DB, de los Campos G: Beyond missing heritability: Prediction of complex traits. PLoS Genet. 2011, 7 (4):Google Scholar
Zuk O, Hechter E, Sunyaev SR, Lander ES: The mystery of missing heritability: Genetic interactions create phantom heritability. Proc Natl Acad Sci USA. 2012, 109 (4): 1193-1198. 10.1073/pnas.1119675109.PubMed CentralView ArticlePubMedGoogle Scholar
Culverhouse R, Suarez BK, Lin J, Reich T: A perspective on epistasis: limits of models displaying no main effect. Am J Hum Genet. 2002, 70 (2): 461-471. 10.1086/338759.PubMed CentralView ArticlePubMedGoogle Scholar
Greene CS, Sinnott-Armstrong NA, Himmelstein DS, Park PJ, Moore JH, Harris BT: Multifactor dimensionality reduction for graphics processing units enables genome-wide testing of epistasis in sporadic ALS. Bioinformatics. 2010, 26 (5): 694-695. 10.1093/bioinformatics/btq009.PubMed CentralView ArticlePubMedGoogle Scholar
Ritchie MD, Hahn LW, Roodi N, Bailey LR, Dupont WD, Parl FF, Moore JH: Multifactor-dimensionality reduction reveals high-order interactions among estrogen-metabolism genes in sporadic breast cancer. Am J Hum Genet. 2001, 69: 138-147. 10.1086/321276.PubMed CentralView ArticlePubMedGoogle Scholar
Kam-Thong T, Pütz B, Karbalai N, Müller-Myhsok B, Borgwardt K: Epistasis detection on quantitative phenotypes by exhaustive enumeration using GPUs. Bioinformatics. 2011, 27 (13): i214-i221. 10.1093/bioinformatics/btr218.PubMed CentralView ArticlePubMedGoogle Scholar
Yung LS, Yang C, Wan X, Yu W: GBOOST: a GPU-based tool for detecting gene-gene interactions in genome-wide case control studies. Bioinformatics. 2011, 27 (9): 1309-1310. 10.1093/bioinformatics/btr114.PubMed CentralView ArticlePubMedGoogle Scholar
Hemani G, Theocharidis A, Wei W, Haley C: EpiGPU: exhaustive pairwise epistasis scans parallelized on consumer level graphics cards. Bioinformatics. 2011, 27 (11): 1462-1465. 10.1093/bioinformatics/btr172.View ArticlePubMedGoogle Scholar
Hu X, Liu Q, Zhang Z, Li Z, Wang S, He L, Shi Y: SHEsisEpi, a GPU-enhanced genome-wide SNP-SNP interaction scanning algorithm, efficiently reveals the risk genetic epistasis in bipolar disorder. Cell Res. 2010, 20 (7): 854-857. 10.1038/cr.2010.68.View ArticlePubMedGoogle Scholar
Wan X, Yang C, Yang Q, Xue H, Tang NLS, Yu W: Detecting two-locus associations allowing for interactions in genome-wide association studies. Bioinformatics. 2010, 26 (20): 2517-2525. 10.1093/bioinformatics/btq486.View ArticlePubMedGoogle Scholar
Cordell HJ: Epistasis: what it means, what it doesn't mean, and statistical methods to detect it in humans. Hum Mol Genet. 2002, 11 (20): 2463-2468. 10.1093/hmg/11.20.2463.View ArticlePubMedGoogle Scholar
Fisher RA: The correlation between relatives on the supposition of Mendelian inheritance. Trans R Soc Edin. 1918, 52: 399-433.View ArticleGoogle Scholar
Krzanowski WJ, Hand DJ: ROC Curves for Continuous Data, Volume 111 of CRC Monographs on Statistics and Applied Probability. 2009, Chapman & Hall/CRCView ArticleGoogle Scholar
Hahn LW, Ritchie MD, Moore JH: Multifactor dimensionality reduction software for detecting gene-gene and gene-environment interactions. Bioinformatics. 2003, 19 (3): 376-382. 10.1093/bioinformatics/btf869.View ArticlePubMedGoogle Scholar
Moore JH, Gilbert JC, Tsai CT, Chiang FT, Holden T, Barney N, White BC: A exible computational framework for detecting, characterizing, and interpreting statistical patterns of epistasis in genetic studies of human disease susceptibility. J Theor Biol. 2006, 241 (2): 252-261. 10.1016/j.jtbi.2005.11.036.View ArticlePubMedGoogle Scholar
Moore JH, Barney N, Tsai CT, Chiang FT, Gui J, White BC: Symbolic modeling of epistasis. Hum Hered. 2007, 63 (2): 120-133. 10.1159/000099184.View ArticlePubMedGoogle Scholar
Chen L, Yu G, Langefeld CD, Miller DJ, Guy RT, Raghuram J, Yuan X, Herrington DM, Wang Y: Comparative analysis of methods for detecting interacting loci. BMC Genomics. 2011, 12: 344-10.1186/1471-2164-12-344.PubMed CentralView ArticlePubMedGoogle Scholar
Wang Y, Liu G, Feng M, Wong L: An empirical comparison of several recent epistatic interaction detection methods. Bioinformatics. 2011, 27 (21): 2936-2943. 10.1093/bioinformatics/btr512.View ArticlePubMedGoogle Scholar
Shang J, Zhang J, Sun Y, Liu D, Ye D, Yin Y: Performance analysis of novel methods for detecting epistasis. BMC Bioinformatics. 2011, 12: 475-10.1186/1471-2105-12-475.PubMed CentralView ArticlePubMedGoogle Scholar
Ritchie MD: Using biological knowledge to uncover the mystery in the search for epistasis in genome-wide association studies. Ann Human Genet. 2011, 75: 172-182. 10.1111/j.1469-1809.2010.00630.x.View ArticleGoogle Scholar
Cordell HJ: Detecting gene-gene interactions that underlie human diseases. Nat Rev Genet. 2009, 10 (6): 392-404.PubMed CentralView ArticlePubMedGoogle Scholar
The Wellcome Trust Case-Control Consortium: Genome-wide association study of 14,000 cases of seven common diseases and 3,000 shared controls. Nature. 2007, 447 (7145): 661-678. 10.1038/nature05911.PubMed CentralView ArticleGoogle Scholar
Velez DR, White B, Motsinger A, Bush WS, Ritchie MD, Williams SM, Moore JH: A Balanced Accuracy Function for Epistasis Modeling in Imbalanced Datasets using Multifactor Dimensionality Reduction. Genet Epidemiol. 2007, 315 (4): 306-315.View ArticleGoogle Scholar
Prabhu S, Pe'er I: Ultrafast genome-wide scan for SNP-SNP interactions in common complex disease. Genome Res. 2012, 22: 2230-2240. 10.1101/gr.137885.112.PubMed CentralView ArticlePubMedGoogle Scholar
Wang Z, Wang Y, Tan KLKLL, Wong L, Agrawal D: eCEO: an efficient Cloud Epistasis cOmputing model in genome-wide association study. Bioinformatics. 2011, 27 (8): 1045-1051. 10.1093/bioinformatics/btr091.View ArticlePubMedGoogle Scholar
Liu Y, Xu H, Chen S, Chen X, Zhang Z, Zhu Z, Qin X, Hu L, Zhu J, Zhao GP, Kong X: Genome-Wide Interaction-Based Association Analysis Identified Multiple New Susceptibility Loci for Common Diseases. PLoS Genet. 2011, 7 (3): e1001338-10.1371/journal.pgen.1001338.PubMed CentralView ArticlePubMedGoogle Scholar
Fang G, Haznadar M, Wang W, Yu H, Steinbach M, Church TR, Oetting WS, Van Ness B, Kumar V: High-order SNP combinations associated with complex diseases: efficient discovery, statistical power and functional interactions. PloS ONE. 2012, 7 (4): e33531-10.1371/journal.pone.0033531.PubMed CentralView ArticlePubMedGoogle Scholar
Agresti A: Categorical Data Analysis. 2002, WileyView ArticleGoogle Scholar
Zhang X, Zou F, Wang W: FastChi: an efficient algorithm for analyzing gene-gene interactions. Pacific Symposium on Biocomputing. 2009, 14: 528-539.Google Scholar
Zhang X, Huang S, Zou F, Wang W: TEAM: efficient two-locus epistasis tests in human genome-wide association study. Bioinformatics. 2010, 26 (12): i217-i227. 10.1093/bioinformatics/btq186.PubMed CentralView ArticlePubMedGoogle Scholar
Wan X, Yang C, Yang Q, Xue H, Fan X, Tang NLS, Yu W: BOOST: A fast approach to detecting gene-gene interactions in genome-wide case-control studies. Am J Hum Genet. 2010, 87 (3): 1-4.View ArticleGoogle Scholar
Brinza D, Schultz M, Tesler G, Bafna V: RAPID detection of gene-gene interactions in genome-wide association studies. Bioinformatics. 2010, 26 (22): 2856-2862. 10.1093/bioinformatics/btq529.PubMed CentralView ArticlePubMedGoogle Scholar
Bell JT, Timpson NJ, Rayner NW, Zeggini E, Frayling TM, Hattersley AT, Morris AP, McCarthy MI: Genome-wide association scan allowing for epistasis in type 2 diabetes. Ann Human Genet. 2011, 75: 10-19. 10.1111/j.1469-1809.2010.00629.x.View ArticleGoogle Scholar
Zhang X, Zou F, Wang W: Fastanova: an efficient algorithm for genome-wide association study. Proceedings of the 14th ACM SIGKDD international conference on Knowledge discovery and data mining. 2008, KDD '08, New York, NY, USA: ACM, 821-829.View ArticleGoogle Scholar
Emily M, Mailund T, Hein J, Schauser L, Schierup MH: Using biological networks to search for interacting loci in genome-wide association studies. Eur J Hum Genet. 2009, 17 (10): 1231-1240. 10.1038/ejhg.2009.15.PubMed CentralView ArticlePubMedGoogle Scholar
Wan X, Yang C, Yang Q, Xue H, Tang NLS, Yu W: Predictive rule inference for epistatic interaction detection in genome-wide association studies. Bioinformatics. 2010, 26: 30-37. 10.1093/bioinformatics/btp622.View ArticlePubMedGoogle Scholar
Gyenesei A, Moody J, Semple CAM, Haley CS, Wei WH: High-throughput analysis of epistasis in genome-wide association studies with BiForce. Bioinformatics. 2012, 28 (15): 1957-1964. 10.1093/bioinformatics/bts304.PubMed CentralView ArticlePubMedGoogle Scholar
Jiang X, Barmada MM, Cooper GF, Becich MJ: A bayesian method for evaluating and discovering disease loci associations. PloS ONE. 2011, 6 (8): e22075-10.1371/journal.pone.0022075.PubMed CentralView ArticlePubMedGoogle Scholar
Illumina Inc: Genome-Wide DNA Analysis BeadChips. 2011, Data sheet, Illumni Inc, [http://www.illumina.com/documents/products/datasheets/datasheet_omni_whole-genome_arrays.pdf]Google Scholar
Marchini J, Donnelly P, Cardon LR: Genome-wide strategies for detecting multiple loci that influence complex diseases. Nat Genet. 2005, 37 (4): 413-417. 10.1038/ng1537.View ArticlePubMedGoogle Scholar
Jiang R, Tang W, Wu X, Fu W: A random forest approach to the detection of epistatic interactions in case-control studies. BMC Bioinformatics. 2009, 10 (Suppl 1): S65-10.1186/1471-2105-10-S1-S65.PubMed CentralView ArticlePubMedGoogle Scholar
Bochdanovits Z, Sondervan D, Perillous S, van Beijsterveldt T, Boomsma D, Heutink P: Genome-wide prediction of functional gene-gene interactions inferred from patterns of genetic differentiation in mice and men. PloS ONE. 2008, 3 (2): e1593-10.1371/journal.pone.0001593.PubMed CentralView ArticlePubMedGoogle Scholar
Lee SH, Nyholt DR, Macgregor S, Henders AK, Zondervan KT, Montgomery GW, Visscher PM: A simple and fast two-locus quality control test to detect false positives due to batch effects in genome-wide association studies. Genet Epidemiol. 2010, 34 (8): 854-862. 10.1002/gepi.20541.PubMed CentralView ArticlePubMedGoogle Scholar
Slavin TP, Feng T, Schnell A, Zhu X, Elston RC: Two-marker association tests yield new disease associations for coronary artery disease and hypertension. Hum Genet. 2011, 130 (6): 725-733. 10.1007/s00439-011-1009-6.PubMed CentralView ArticlePubMedGoogle Scholar
Marchini J, Donnelly P, Cardon LR: Genome-wide strategies for detecting multiple loci that influence complex diseases. Nat Genet. 2005, 37 (4): 413-417. 10.1038/ng1537.View ArticlePubMedGoogle Scholar
Evans DM, Marchini J, Morris AP, Cardon LR: Two-stage two-locus models in genome-wide association. PLoS Genet. 2006, 2 (9): e157-10.1371/journal.pgen.0020157.PubMed CentralView ArticlePubMedGoogle Scholar
Schüpbach T, Xenarios I, Bergmann S, Kapur K: FastEpistasis: a high performance computing solution for quantitative trait epistasis. Bioinformatics. 2010, 26 (11): 1468-1469. 10.1093/bioinformatics/btq147.PubMed CentralView ArticlePubMedGoogle Scholar
Ackermann M, Beyer A: Systematic detection of epistatic interactions based on allele pair frequencies. PLoS Genet. 2012, 8 (2): e1002463-10.1371/journal.pgen.1002463.PubMed CentralView ArticlePubMedGoogle Scholar
Gayán J, González-Pérez A, Bermudo F, Sáez ME, Royo JL, Quintas A, Galan JJ, Morón FJ, Ramirez-Lorca R, Real LM, Ruiz A: A method for detecting epistasis in genome-wide studies using case-control multi-locus association analysis. BMC Genomics. 2008, 9: 360-10.1186/1471-2164-9-360.PubMed CentralView ArticlePubMedGoogle Scholar
Eppstein MJ, Payne JL, White BC, Moore JH: Genomic mining for complex disease traits with\random chemistry". Genet Program Evolvable Mach. 2007, 8 (4): 395-411. 10.1007/s10710-007-9039-5.View ArticleGoogle Scholar
Kowalczyk A, Shi F, Kikianty E: Accuracy test for genome wide selection of bio-markers. 2011, [http://videolectures.net/nipsworkshops2011_sierranevada]Google Scholar
Hogg RV, Tanis EA: Probability and Statistical Inference. 2010, Prentice Hall, 2009, 7Google Scholar
Purcell S, Neale B, Todd-Brown K, Thomas L, Ferreira M, Bender D, Maller J, Sklar P, De Bakker P, Daly M et al: PLINK: a tool set for whole-genome association and population-based linkage analyses. The American Journal of Human Genetics. 2007, 81 (3): 559-575. 10.1086/519795.View ArticlePubMedGoogle Scholar
Copyright
© Goudey et al.; licensee BioMed Central Ltd. 2013
This article is published under license to BioMed Central Ltd. This is an open access article distributed under the terms of the Creative Commons Attribution License (http://creativecommons.org/licenses/by/2.0), which permits unrestricted use, distribution, and reproduction in any medium, provided the original work is properly cited.