The de novosequence origin of two long non-coding genes from an inter-genic region
BMC Genomics
2013
14(Suppl 8):S6
Published: 9 December 2013
Abstract
Background
The gene Polymorphic derived intron-containing, known as Pldi, is a long non-coding RNA (lncRNA) first discovered in mouse. Although parts of its sequence were reported to be conserved in rat and human, it can only be expressed in mouse testis with a mouse-specific transcription start site. The consensus sequence of Pldi is also part of an antisense transcript AK158810 expressed in a wide range of mouse tissues.
Result
We focused on sequence origin of Pldi and Ak158810. We demonstrated that their sequence was originated from an inter-genic region and is only presented in mammalians. Transposable events and chromosome rearrangements were involved in the evolution of ancestral sequence. Moreover, we discovered high conservation in part of this region was correlated with chromosome rearrangements, CpG demethylation and transcriptional factor binding motif. These results demonstrated that multiple factors contributed to the sequence origin of Pldi.
Conclusions
We comprehensively analyzed the sequence origin of Pldi-Ak158810 loci. We provided various factors, including rearrangement, transposable elements, contributed to the formation of the sequence.
Keywords
Overlapping transcriptsSequence Origin of Pldi and Ak158810 lociConserved ElementSubstitution rate
Introduction
Although pervasively transcribed, only 5%-10% of the human genome is covered by mRNA and spliced non-coding RNAs, and the majority of which does not encode proteins [1]. Long non-coding RNAs (lncRNAs) are defined as transcribed non-coding RNA larger than 200 nt in length, which plays an essential role in regulating gene expression, chromatin functions [2]. As lncRNAs act as biological building blocks, it is necessary to understand the process of developing new lncRNA genes [3].
The emergence of a functional lncRNA gene could be summarized into various evolutionary scenarios, including metamorphosis of a protein coding gene, derived from a genomic region previously devoid of exonic sequence, duplication by retro-transposition, and emergence following tandem duplication or insertion of transposable elements [1, 4]. For most of the scenarios, comprehensive studies have been established on specific lncRNA genes with well-known functions, such as XIST, HOTAIR [5, 6]. However, little was known about developing a new lncRNA gene from a non transcribed genomic region. The mechanism of the de novo origin of a lncRNA gene remains to be clarified.
Previous study on de novo protein has accounted for that those seemingly dispensable sequences in non-genic regions could generate adaptive functional proteins through evolution. The de novo birth and development of a potential protein coding gene is in line with increasing open reading frame (ORF) length and conservation through the natural selection benefited from random translation on genome [3, 7, 8]. Like proteins, the occasional transcription and changing events in non-genic sequences could provide raw material generating de novo lncRNAs [9]. Here, we focused on the sequence origin of a lncRNA in an intergenic region, demonstrating its sequence components and changes within species.
Pldi gene was previously identified and defined as an intergenic originated lncRNA gene, which is overlapped with a putative opposite-strand transcript, AK158810 (Additional File 1). Pldi locates within a 200 kb region that is free of annotated transcripts or expressed sequence tags (ESTs) in rat and humans, which raise the possibility of de novo emergence of the Pldi-AK158810 loci (about 20 kbps-long). Knocking out Pldi would reduce sperm motility and testis weight, indicating that Pldi has the ability in regulating the expression levels of other genes in testis [10]. Numerous functional non-coding RNAs have been demonstrated to regulate gene expressions through an antisense mechanism, playing an important role of gene overlapping in non-coding RNA functions [11–13]. On the contrary, few studies discussed the origin of overlapping non-coding RNAs due to lacking of clear markers, like ORF in protein.
In this study, we conducted a comprehensive analysis on the sequence origin of mouse Pldi-Ak158810 loci. We evaluated various factors that contribute to the origin, and gave adequate evidence to prove the de novo origin of this loci. Moreover, we found that Pldi-Ak158810 established its fixation from a specific overlapping region some time before emergence. We further discussed the potential role of the local element in the evolution and fixation of this orphan lncRNA gene loci.
Discussion
Various factors contribute to the formation of Pldi-Ak158810sequence
A new lncRNA gene could emerge through different scenarios, such as metamorphosis from a protein-coding gene, interrupted by tandem repeat and transposable elements, and de novo origin from an intergenic region. Our analysis further confirmed the inter-genic origin of Pldi-Ak158810 sequence without any clues of long genomic duplication in a recent past. Tracing back in history, both transposable events and chromosome rearrangements were found in the region. In conclusion, the formation of the Pldi-Ak158810 loci, which became a pair of lncRNA genes in mouse lineage, was affected by multiple factors.
Fixation of partial Pldi-Ak158810sequence before gene birth
A previous study indicates that the conservation of non-coding RNA is only slightly higher than that of inter-genic region [10]. In Pldi region, reduced polymorphism has been detected in specific mouse lineage, which suggests the present of purifying selection. Nevertheless, we found in our data that partial Pldi-Ak158810 sequence is conserved in all mammalians. It raises the possibility that purifying selection may be acquired in partial Pldi-Ak158810 region much earlier than the gene birth.
We checked factors that could be responsible to the early fixation. Our calculation of substitution rate change shows that the inversed
Ak158810
exon 1 was prone to decreasing the evolutional ability after inversion event, relative to surrounding genes (Table
3
& Additional File
7
). This trend may represent for an increasing natural selection [
25
–
27
]. We also checked DNA modification of the region in human. A series significant signals of demethylation in CpGs are highly correlated with the conserved inversed element, CE1 (Figure
6
& Additional File
3
) using Encode browser [
28
], CE1 is overlapped with the promoter region of
Pldi
's antisense gene,
Ak158810
, and the promoter sequence in mouse was found with low DNA methylations [
21
]. Furthermore, from the transcription factor binding site conserved tracks in UCSC, we find this CE1 homologue site is a potential transcription factor binding site of Chx10 conserved in both human and mouse (Figure
6
) [
24
]. This binding site exists both in human and mouse.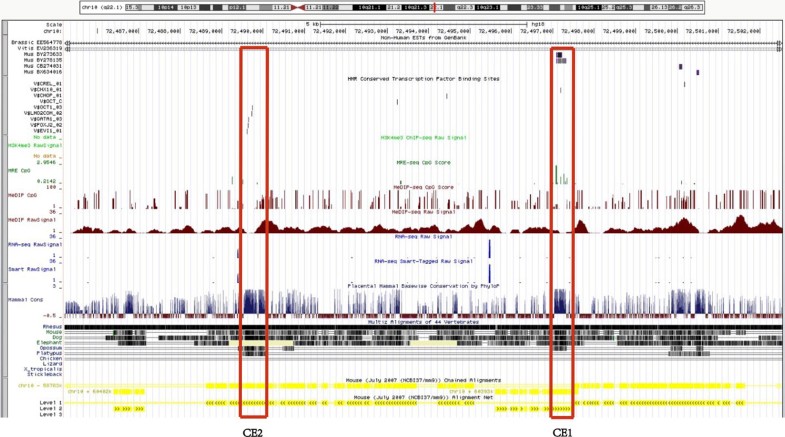 According to these observations, we suggested in species other than mouse, partial region of Pldi-Ak158810 loci could not be simply recognized as "non-functional" before the birth of Pldi.
Birth order of AK158810 and Pldi
It has been known that two neighboring genes may form a transcriptional unit [11], which is correlated with expression. As for this case, we assumed the earlier developed lncRNA might influence the birth of the other one by expression level. We attempted to detect the birth order of AK158810 and Pldi, According to previous studies, the birth order of Ak158810 and Pldi may not quite clear for the following reasons: first, testis where Pldi was born has been considered as an important organ for the emergence of a novel gene [4, 29]. According to RNA-seq data (CSHL) and previous study[10], Pldi is a testis-specific lncRNA, while Ak158810 is likely to have a wide expression range, such as heart, spleen and kidney (Additional File 8). That indicates that Ak158810 seems to be a not that young gene as Pldi [4, 30]; Second, considering northern blot experiment, Pldi exists in more species or lineages in mouse testis [10, 31], inferring that it is more likely to be older than Ak158810. The conflict result, together with the phenomenon, that the expressions of both lncRNAs are limited in mouse, demonstrated that AK158810 and Pldi were newly transcribed lncRNAs in a similar age after the divergence of mouse and rat.
Conclusion
In this study, we comprehensively analyzed the sequence origin of a lncRNA antisense gene pair, Pldi-Ak158810. We found out various factors, including rearrangement, transposable elements, contributed to the formation of the sequence. We also figured out partial sequence of the entire loci is highly conserved in mammalians before the birth and provided evidences and correlated factors for the early fixation of conserved elements.
Lists of abbreviation
Pldi :

Polymorphic derived intron-containing
lncRNA:

long non-coding RNA
ESTs:

expressed sequence tags
TEs:

Transposable elements
CE1:

Conserved Element 1
CE2:

Conserved Element 2
SINE:

Short interspersed nuclear elements
LINE:

Long interspersed nuclear elements
DNA:

DNA repeat elements
LTR:

Long terminal repeat elements, which include retroposons
TFBS:

Transcriptional factor binding site
CSHL:

Cold Spring Harbor Lab
HMR:

Human, mouse, rat.
Declarations
Acknowledgements
We thank Prof. Lei Liu, Dr. Guangyong Zheng, Dr. Zhen Wang, Jie Wang, and Tiancheng Liu, for their helpful comments and suggestions. This work was supported by the National Key Basic Research Program of China, known as 973 Program (grant number: 2011CB910204, grant number: 2010CB529206, grant number: 2010CB912702), the Research Program of The Chinese Academy of Sciences (grant number: KSCX2-EW-R-04, grant number: KSCX2-YW-R-190, grant number: 2011KIP204) and National Natural Science Foundation of China (grant number: 31070752).
Declarations
Funding for the publication fee comes from National Natural Science Foundation of China (grant number: 31070752).
This article has been published as part of BMC Genomics Volume 14 Supplement 8, 2013: Selected articles from the International Conference on Intelligent Biology and Medicine (ICIBM 2013): Genomics. The full contents of the supplement are available online at http://www.biomedcentral.com/bmcgenomics/supplements/14/S8.
Authors' Affiliations
(1)
Key Laboratory of Systems Biology, Shanghai Institutes for Biological Sciences, Chinese Academy of Sciences, Shanghai, PR China
(2)
Graduate School of Chinese Academy of Sciences, Beijing, PR China
(3)
Shanghai Center for Bioinformation Technology, Shanghai, PR China
(4)
School of Life Sciences, Fudan University, Shanghai, PR China
Copyright
© Dai et al.; licensee BioMed Central Ltd. 2013
This article is published under license to BioMed Central Ltd. This is an Open Access article distributed under the terms of the Creative Commons Attribution License (http://creativecommons.org/licenses/by/2.0), which permits unrestricted use, distribution, and reproduction in any medium, provided the original work is properly cited. The Creative Commons Public Domain Dedication waiver (http://creativecommons.org/publicdomain/zero/1.0/) applies to the data made available in this article, unless otherwise stated.