Research article

Open Access
Discovery of osmotic sensitive transcription factors in fish intestine via a transcriptomic approach
Received: 2 May 2014
Accepted: 9 December 2014
Published: 18 December 2014
Abstract
Background
Teleost intestine is crucial for seawater acclimation by sensing osmolality of imbibed seawater and regulating drinking and water/ion absorption. Regulatory genes for transforming intestinal function have not been identified. A transcriptomic approach was used to search for such genes in the intestine of euryhaline medaka.
Results
Quantitative RNA-seq by Illumina Hi-Seq Sequencing method was performed to analyze intestinal gene expression 0 h, 1 h, 3 h, 1 d, and 7 d after seawater transfer. Gene ontology (GO) enrichment results showed that cell adhesion, signal transduction, and protein phosphorylation gene categories were augmented soon after transfer, indicating a rapid reorganization of cellular components and functions. Among >50 transiently up-regulated transcription factors selected via co-expression correlation and GO selection, five transcription factors, including CEBPB and CEBPD, were confirmed by quantitative PCR to be specific to hyperosmotic stress, while others were also up-regulated after freshwater control transfer, including some well-known osmotic-stress transcription factors such as SGK1 and TSC22D3/Ostf1. Protein interaction networks suggest a high degree of overlapping among the signaling of transcription factors that respond to osmotic and general stresses, which sheds light on the interpretation of their roles during hyperosmotic stress and emergency.
Conclusions
Since cortisol is an important hormone for seawater acclimation as well as for general stress in teleosts, emergency and osmotic challenges could have been evolved in parallel and resulted in the overlapped signaling networks. Our results revealed important interactions among transcription factors and offer a multifactorial perspective of genes involved in seawater acclimation.
Keywords
Transcriptome
Fish osmoregulation
Intestine
Seawater acclimation
Transcription factors
CEBPB
CEBPD
SGK1
TSC22D3
Background
Osmoregulation is an important topic in fish physiology. Bony fishes maintain their body fluid osmolality approximately one-third that of seawater (SW) and therefore they constantly lose water and gain ions in SW but gain water and lose ions in fresh water (FW). Osmoregulation consumes a high proportion of daily energy expenditure in teleosts as they either actively excrete excess ions in SW or take up ions in FW against the respective concentration gradients [1]. The gills, kidney, and intestine are major osmoregulatory organs and play different roles to maintain body fluid homeostasis in both FW and SW [2, 3]. SW teleosts drink copiously and the gastrointestinal tract is responsible for water absorption to compensate for the water loss by osmosis [4, 5]. Although the intestine is an internal organ, its lumen directly contacts environmental water upon drinking in teleost fishes. Osmosensing in fish is accomplished by a combination of sensors in the central nervous system and peripheral osmoregulatory epithelia such as gill, nasal cavity, and intestine [6]. A reflex inhibition in drinking was demonstrated in eel intestine in response to Cl- ions (but not Na+) in ingested fluid, indicating the presence of a Cl- specific sensor in eel intestine [7].
Euryhaline fishes that are able to acclimate in both FW and SW transform their intestines dramatically to fulfill the appropriate osmoregulatory roles. When the eel is transferred from FW to SW, the intestinal wall decreases in thickness, and the anterior intestine became highly vascularized through angiogenesis within 1–2 days [8]. Monovalent ions (Na+, Cl-) in the imbibed SW are actively absorbed while divalent ions (Ca2+, Mg2+, SO42-) are precipitated to decrease luminal fluid osmolality [5, 9]. The composition of epithelial transporters is also reorganized extensively. An upregulation of mucosal Na-K-2Cl cotranspoter (NKCC2/ SLC12A1) remarkably increases the ion absorption rate, which is facilitated by the serosal Na-K-ATPase and Na+-bicarbonate exchanger [10]. The rapid and efficient ion absorption mechanism in teleost intestine is unique in vertebrates [11]. The SW teleost intestine is an absorptive epithelium that is similar to the thick ascending loop of Henle in mammalian nephron, and thus was often used as a comparative model for the study of kidney tubules, especially in the study of transporter mechanisms and cellular regulation in response to volume and salt stresses [12]. Several hormones such as cortisol, prolactin, growth hormone, atrial natriuretic peptide, arginine vasotocin, guanylin, and vasoactive intestinal peptide regulate transepithelial ion transport [13–20]. However, the transcription factors that govern hormone actions, cell proliferation, apoptosis, angiogenesis, transporter metabolism etc., are unclear.
Transcriptomic approaches have been used to investigate the dynamics osmoregulatory organ function of teleosts [21–24]. However, microarray- or pyrosequencing-based transcriptomic reads do not provide sufficient depth and coverage for the detection and quantitation of low expression genes, which may result in a biased discovery towards high expression genes. In the present study, the objective was to discover the transcription factors that are responsive to the SW challenge in medaka intestine. Illumina HiSeq Sequencing was selected to provide a deep coverage of identified genes as the large number of reads allows quantification of gene expression by mapping to reference genome, and is usually sufficient to detect most expressed gene even at low expression level [25], which is an ideal choice at a cost-performance perspective. Medaka was used owing to the relative completeness of the genome data, which can streamline the RNA-seq analysis and guarantee high accuracy and reliability. Medaka is also a euryhaline species that can survive a direct FW to 50% SW (ca. twice hypertonic to plasma) transfer [26]. We combined physiological and bioinformatic approaches in the experimental design, in which FW medaka was challenged by 50% SW transfer and time-dependent changes in intestinal transcriptome were analyzed by RNA-seq. We focused on the early upregulated transcription factors that could initiate subsequent intestinal transformations and lead to altered function from FW to SW.
Conclusion
Our work for the first time investigated quantitatively the transcriptome of fish intestine in response to SW transfer in a time-course manner. This bottom-up approach has allowed the discovery of novel transcription factors involved in the osmoregulatory response to SW challenge. Results of GO analysis showed that the transcriptome analysis revealed representative changes and the data sets are valuable for discovering novel genes involved in salinity acclimation in fish. The protein interaction networks of the salinity- and stress-related genes indicate overlapping of the transcription factors between emergency and SW acclimation (see Figure
5
for summary). The newly-discovered salinity-related transcription factors provide important directions on the studies in osmoregulation and its regulation in fishes.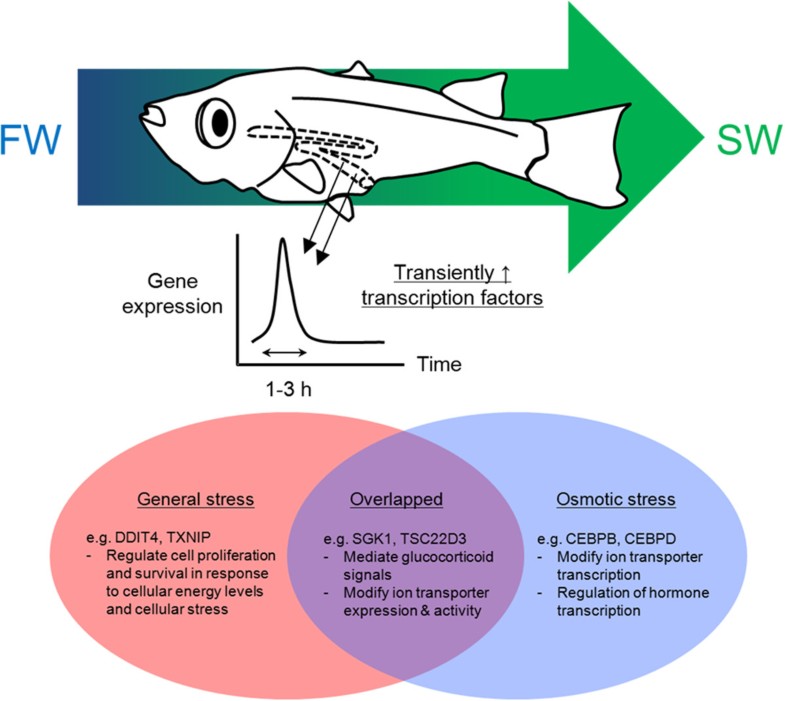 Methods
Animal husbandry
Medaka (Oryzias lapties), HdrR strain, were bred and kept in a freshwater (FW) recirculating aquarium system in the Atmosphere and Ocean Research Institute, The University of Tokyo. The aquarium system was controlled at 26°C with a photoperiod of 14 h/10 h light/dark cycle. Fish were fed daily with freshly hatched brine shrimp. Individuals (1.0 - 1.2 g body weight) were randomly divided into nine experimental tanks (N = 6 in each group). Four groups were transferred to FW (control-transfer) and another four groups were transferred to 50% seawater (SW) for 1 h, 3 h, 1 d, and 7 d, respectively. One group remained undisturbed to serve as a pre-transfer control. In sampling, the experimental fish was anaesthetized in 0.1% tricaine methanesulfonate (MS-222) and then sacrificed by spinal transection. The intestine was immediately dissected, snap-frozen in liquid nitrogen, and stored at -80°C until use. Experiments were repeated twice to obtain sufficient RNA samples for transcriptome and real-time PCR analyses. All animal experiments were carried out according to the ethical guidelines and protocols approved by the Animal Experiment Committee of the University of Tokyo.
RNA sequencing
Total RNA was extracted from the intestine samples using Isogen (Nippon Gene, Toyama) according to the manufacturer's protocols. RNA quality was monitored using an Agilent 2100 Bioanalyzer system (Agilent Technology, CA ) and only RNA samples with RNA integrity number values over 7.0 were used for sequencing. The cDNA libraries were prepared from the RNA samples of 5 treatment groups (FW, SW 1 h, 3 h, 1 d, and 7 d; N = 5 in each case) using TruSeq RNA Sample Preparation v2 (Illumina Inc., CA), and were sequenced by Illumina HiSeq 2500 (101 bp, paired-end) in the Laboratory of Functional Genomics, The University of Tokyo, according to the manufacturer's protocols. From the Illumina chastity filter analysis, the percentages of reads that passed the filter (PF reads), the percentage of bases with > = Q30 in the PF reads, and the mean quality score of the PF reads were of 96.06 ± 0.59, 93.78 ± 0.83, and 36.23 ± 0.26, respectively. We performed the FastQC analysis on the PF reads, uniquely mapped reads, and unmapped reads. The percentage of reads with mean sequence quality > = Q30 was 94.32 ± 1.21, 96.76 ± 1.02, and 83.52 ± 1.58, respectively, indicating that the quality of the unmapped reads was lower than that of the uniquely mapped reads (Additional file 3: Table S2).
Reference genome sequence and annotation data
The medaka HdrR genome sequence was obtained from UCSC Genome Browser [oryLat2, http://genome.ucsc.edu/]. The annotated gene models (NCBIM37) and the annotation of rRNAs were taken from Ensembl [release 69, http://www.ensembl.org/]. The annotations of tRNAs were retrieved from UCSC Genome Browser [http://genome.ucsc.edu/].
RNA-seq data analysis
The RNA-seq data were mapped to the medaka genome using TopHat (version 2.0.9) with default parameters [66]. Sequence reads that were mapped to multiple genes or positions were removed. HTSeq (version 0.5.3p9) were used to count the number of reads mapped on each gene [67]. For normalization, the count for each gene was divided by the number of million uniquely mapped reads in each sample (RPM; read per million mapped reads). Genes that did not have more than five normalized counts in at least two samples were removed from further analyses.
Gene ontology (GO) analysis
The GO terms of all transcripts in SW 1 h group were compared with those of FW group using topGO package (version 2.14.0) in Bioconductor [http://www.bioconductor.org/] with the weight01 algorithm to calculate an enrichment score for each gene ontology term [68]. Significantly-enriched GO terms were ranked using the p-values with threshold at p < 0.05.
Gene expression profile analysis
To extract the transcription-related genes that are involved in the SW acclimation in the intestine, genes with early transient increase in expression were screened. Early transient increase is defined as significant increase in gene expression (one-way ANOVA, Tukey; p < 0.05) in 1 h and/or 3 h post-transfer groups compared to those of 0 h, 1d, and 7d. As the number of genes that fell in this category was too large for further analysis, we further narrowed the candidates by filtering genes with <20 RPM at 1 h or 3 h post-transfer. The expression profile of a representative gene (TSC22D3) in the early transient increase category was used to search for co-expressed genes in the transcriptome using Pearson's correlation and genes that exhibited r >0.8 among the 25 samples were selected for further analysis. Gene description and GO annotation of these genes were obtained at Uniprot Knowledge Database. Genes with "transcription" and/or "DNA-binding" in the description or GO terms were screened and further analyzed by real-time PCR.
Real-time PCR
To validate the hyperosmotic effects that were discovered in transcriptome analysis, we performed real-time PCR on the selected genes using a separate set of RNA samples from a duplicate experiment as described in the previous section. We included control transfer (FW to FW) samples to check whether the observed effects are salinity-specific or are due to simply the physical transfer (N = 6 at each time point). Total RNA was extracted and subsequently treated with DNase I (Life Technologies, CA) to remove genomic DNA and 1 μg of the treated RNA was reverse-transcribed with Iscript cDNA Synthesis Kit (Bio-Rad, CA) according to the manufacturer's protocols. Real-time PCR was performed in 10 μL reactions using Kappa SYBR 2X PCR mix (Kappa Biosystems, MA) and ABI 7900HT Fast Real Time PCR System (Life Technologies, CA). The amplification of a single amplicon was confirmed by analyzing the melting curve after the real-time cycling. Elongation factor 1 alpha (EEF1A) was used as an internal control to normalize the gene expressions among different samples. Our transcriptome data also indicated a stable expression of EEF1A among all samples (data not shown), as expected for an internal control housekeeping gene. Ion transporters such as Na-K-Cl co-transporter (SLC12A1) and aquaporin (AQP1) were included as positive controls for SW transfer effects on the intestine. Relative expression of target genes was quantified by the 2–[delta][delta]Ct method where [delta][delta]Ct = [delta]Ct,target - [delta]Ct,EEF1A. Real time PCR primer sequences are listed in Additional file 4: Table S3.
Gene expressions in intestine at various times following FW-FW and FW-SW transfers were analyzed by two-way ANOVA followed by Bonferroni's multiple-comparison test. Time-matched group comparison was made and groups with p < 0.05 were considered as significantly different (GraphPad Prism Ver. 5.0 for Windows, CA). Genes with increased expression in respond to SW transfer but not FW transfer 1 h and/or 3 h while insignificant changes at other time points were considered as salinity-specific. Genes with increase expression in respond to both FW and SW transfer at 1 h and/or 3 h while insignificant changes at other time points were considered as stress-related.
Protein-protein interaction by STRING analysis
After validation of transiently upregulated genes by real-time PCR, the selected transcription factors were further divided into 3 categories (see real-time PCR results). The transcription factors specific to handling stress or SW challenge were searched for potential interacting proteins using the Known and Predicted Protein-Protein Interaction Database (STRING 9.05). The interacting proteins were extracted from the database using human as the model organism since the database coverage is higher than those of medaka or zebrafish. Protein interaction networks were constructed by connecting the overlapped genes among the query genes and interacting proteins.
Data availability
The sequencing data sets for the RNA-seq are available from the DDBJ/EBI/NCBI databases with accession number DRP002295.
Abbreviations
AQP1:

Aquaporin 1
ATXN1:

Ataxin 1
cAMP:

cyclic-AMP
CD44:

CD44 Molecule
CEBP:

CCAAT/Enhancer Binding Protein (C/EBP)
CEBPB:

CCAAT/Enhancer Binding Protein (C/EBP), Beta
CEBPD:

CCAAT/Enhancer Binding Protein (C/EBP), Delta
CFTR:

Cystic Fibrosis Transmembrane Conductance Regulator
CREBBP:

CREB Binding Protein
DDIT4:

DNA-Damage-Inducible Transcript 4
EEF1A:

Eukaryotic Translation Elongation Factor 1 Alpha 1
EP300:

E1A Binding Protein P300
GO:

Gene Ontology
HIF1A:

Hypoxia Inducible Factor 1, Alpha Subunit
HIF3A:

Hypoxia Inducible Factor 3, Alpha Subunit
HSP90:

Heat Shock Protein 90
IP3:

Inositol trisphosphate
KLF1:

Kruppel-Like Factor 1 (Erythroid)
KLF13:

Kruppel-Like Factor 13
LDB1:

LIM Domain Binding 1
MS-222:

Tricaine methanesulfonate
NKCC2/SLC12A1:

Na-K-2Cl Cotransporter
Solute Carrier Family 12:

Member 1
NR0B2:

Nuclear Receptor Subfamily 0, Group B, Member 2
RAD54L2:

Androgen Receptor-Interacting Protein 4
RELA:

V-Rel Avian Reticuloendotheliosis Viral Oncogene Homolog A1
RNA-seq:

RNA sequencing
SGK1:

Serum/Glucocorticoid Regulated Kinase 1
TP53:

Tumor Protein P53
TSC22D3:

TSC22 Domain Family, Member 3
TXNIP:

Thioredoxin Interacting Protein
UBC:

Ubiquitin C.
Declarations
Acknowledgement
This work is supported by Grant-in-Aid for Scientific Research on Innovation Areas "Genome Science" (221S0002) from Ministry of Education, Culture, Sports, Science and Technology of Japan to YT, and Grant-in-Aid for Scientific Research (23247010) and (23710231) from Japan Society for the Promotion of Science to YT and WI respectively. We appreciate the technical assistance provided by Kiyomi Imamura, Terumi Horiuchi and Makiko Tosaka of the Laboratory of Functional Genomics, the University of Tokyo. The super computer resource was provided by National Institute of Genetics (NIG), Research Organization of Information and Systems (ROIS). MW, HO, and IW were supported by Centers of Research Excellence in Science and Technology (CREST).
Authors' Affiliations
(1)
Atmosphere and Ocean Research Institute, The University of Tokyo, Tokyo, Japan
(2)
Department of Computational Biology, Graduate School of Frontier Sciences, The University of Tokyo, Tokyo, Japan
(3)
Department of Biological Sciences, Graduate School of Science, The University of Tokyo, Tokyo, Japan
Copyright
© Wong et al.; licensee BioMed Central. 2014
This article is published under license to BioMed Central Ltd. This is an Open Access article distributed under the terms of the Creative Commons Attribution License (http://creativecommons.org/licenses/by/4.0), which permits unrestricted use, distribution, and reproduction in any medium, provided the original work is properly credited. The Creative Commons Public Domain Dedication waiver (http://creativecommons.org/publicdomain/zero/1.0/) applies to the data made available in this article, unless otherwise stated.