Research article

Open Access
Association of G-quadruplex forming sequences with human mtDNA deletion breakpoints
Received: 11 April 2014
Accepted: 4 August 2014
Published: 13 August 2014
Abstract
Background
Mitochondrial DNA (mtDNA) deletions cause disease and accumulate during aging, yet our understanding of the molecular mechanisms underlying their formation remains rudimentary. Guanine-quadruplex (GQ) DNA structures are associated with nuclear DNA instability in cancer; recent evidence indicates they can also form in mitochondrial nucleic acids, suggesting that these non-B DNA structures could be associated with mtDNA deletions. Currently, the multiple types of GQ sequences and their association with human mtDNA stability are unknown.
Results
Here, we show an association between human mtDNA deletion breakpoint locations (sites where DNA ends rejoin after deletion of a section) and sequences with G-quadruplex forming potential (QFP), and establish the ability of selected sequences to form GQ in vitro. QFP contain four runs of either two or three consecutive guanines (2G and 3G, respectively), and we identified four types of QFP for subsequent analysis: intrastrand 2G, intrastrand 3G, duplex derived interstrand (ddi) 2G, and ddi 3G QFP sequences. We analyzed the position of each motif set relative to either 5' or 3' unique mtDNA deletion breakpoints, and found that intrastrand QFP sequences, but not ddi QFP sequences, showed significant association with mtDNA deletion breakpoint locations. Moreover, a large proportion of these QFP sequences occur at smaller distances to breakpoints relative to distribution-matched controls. The positive association of 2G QFP sequences persisted when breakpoints were divided into clinical subgroups. We tested in vitro GQ formation of representative mtDNA sequences containing these 2G QFP sequences and detected robust GQ structures by UV–VIS and CD spectroscopy. Notably, the most frequent deletion breakpoints, including those of the "common deletion", are bounded by 2G QFP sequence motifs.
Conclusions
The potential for GQ to influence mitochondrial genome stability supports a high-priority investigation of these structures and their regulation in normal and pathological mitochondrial biology. These findings emphasize the potential importance of helicases that subsequently resolve GQ to maintain the stability of the mitochondrial genome.
Keywords
G-quadruplex
mtDNA deletions
Mitochondrial disease
Mitochondrial genome instability
Non-B DNA
Nucleic acid structures
Background
The mitochondrial genome (mtDNA) is a multicopy DNA molecule that encodes essential components of the respiratory chain. A broad spectrum of human diseases [1, 2] stem from mtDNA mutations, which cause mitochondrial dysfunction and multisystem disorders [3, 4]. The most severe mtDNA mutations are deletions, which cause respiratory dysfunction at a lower mutation load than point mutations (reviewed in [1]). Based on epidemiological studies, single mtDNA deletions cause ~13-30% of primary mitochondrial disease [3, 5] and can arise from matrilineal transmission or sporadically during oogenesis. Multiple mtDNA deletions may also arise in a small proportion of patients afflicted with mitochondrial disease [6], and frequently occur due to mutation in one of several nuclear genes that influence mtDNA synthesis [7]. Multiple mtDNA deletions also occur in somatic tissue of all individuals and accumulate with age [8–11].
MtDNA deletion breakpoints show non-random distributions that presumably reflect the mechanisms underlying the formation of deletions. Several studies have attempted to identify sequence-related mechanisms for mtDNA deletion formation. The first sequence features identified were short direct repeats that contain or flank the deletion junction [12–14]. MtDNA deletion breakpoints can contain direct repeats of 3–13 bp, but these motifs are not universal features of deletions [14]. Direct repeats remain the most commonly hypothesized sequence-based mechanism for forming mtDNA deletions (ex. [15]), but leave unexplained a significant proportion of these mutations.
MtDNA contains numerous sequences with the potential to form non-B DNA structures, which may interfere with efficient DNA replication and repair. Supporting this notion, mtDNA fragments that contain deletion hot spots show altered electrophoretic mobility [16], possibly due to formation of stable non-B form secondary structures. Sequences predicted to form stable stem-loop or cruciform structures in single-stranded DNA overlap only a subset of the total documented 5′ and 3′ deletion breakpoints [17, 18], indicating the potential involvement of other non-B form structures in mtDNA instability.
Among non-B forms of DNA, G-quadruplex (GQ) structures exhibit characteristics that could implicate them in mitochondrial genome instability. GQs are stable secondary structures composed of two or more stacked planar guanine tetrads stabilized by cations such as potassium. These structures can occur in a single strand of DNA or RNA (intramolecular) or among two or more single-strands (intermolecular) [19]. A subset of intermolecular GQs has been speculated to form between runs of guanines derived from each strand of duplex DNA (duplex-derived intermolecular) [20]. In the nucleus, GQ structures can hinder DNA replication [21] and cause genome instability [21, 22], and sequences with quadruplex forming potential (QFP) have been associated with deletions and duplications in the genomic DNA of cancer cells [23]. Sequences with QFP are prevalent in yeast mtDNA [24] and the promoters of prokaryotic genes [25], but little is known about QFP sequences in the mammalian mitochondrial genome. In mammals, mitochondrial RNA containing the conserved sequence block 2 (CSB2) forms a GQ in vitro [26]. This GQ structure is predicted to affect the formation of a stable RNA primer [27, 28] used both in the formation of D-loop structures thought to associate mtDNA with the inner mitochondrial membrane [29, 30], and in priming first strand mtDNA replication initiation [31]. To date, only three-guanine (3G) QFP have been described in mtDNA [24, 26, 32].
The abundance of QFP sequences in yeast mtDNA [24] and potentially in mammals (this study), coupled with described effects of GQ on nuclear genome stability, make GQ structures of particular interest as potential agents in human mtDNA deletion formation. The potential for GQ structures to associate with mtDNA deletions has previously been suggested for a limited number of 3G QFP [32]. Here, we performed an examination of multiple categories of QFP sequences in human mtDNA. We analyzed enrichment across small distances between QFP and 5′ or 3′ breakpoints, and developed a reciprocal proximity method to analyze QFP and other sequence motifs for systematic association with 5′ and 3′ mtDNA breakpoints. Our results demonstrate that mtDNA QFP sequences show significant association with deletion breakpoints and are enriched with breakpoints over short distances at least as well as direct repeat sequences. All other structures tested failed to show such association. Not previously reported, the two-guanine (2G) QFP motif set is the only QFP motif that is systematically associated with both 5′ and 3′ breakpoints. We further show the capacity of selected 2G QFP to form GQ structures in vitro.
Methods
Identification of QFP sequences
The intrastrand QFP sequences in the heavy and light strands of the human mitochondrial genome (NC_012920) were extracted using our own QFP predicting program (available upon request). This program analyzed the genome as a circular sequence. We selected a QFP length of 33 to allow the analysis of the maximum number of non-overlapping QFP clusters in the mitochondrial genome. The parameters were 33 nt maximum motif length, loop size 1 or larger, and minimum length of G-runs at two or three (2G or 3G QFP, respectively). In cases where overlapping QFP elements were found, only one element was chosen; to select the QFP element most likely to form a stable GQ, we used two methods based on previous studies: select the QFP with shorter length, and select the QFP with greater numbers of G tetrads [
33
–
36
]. The results are similar to the online QGRS Mapper [
36
]. Lists of midpoint positions for each QFP set were made by identifying the middle position of the QFP sequence, or by using the median of midpoints of remaining overlapping QFPs (i.e. overlapping QFP sequences with same length and same number of G tetrads; illustrated in Additional file
1
: Figure S1). Midpoints of intrastrand 3G and 2G QFP are shown in Figure
1
. Duplex-derived interstrand QFP (ddi QFP) sequences were identified by locating four G-runs where each run could be on either strand of mtDNA within a 33 nt analysis window, with intrastrand QFP sequences removed to avoid overlap between intra- and interstrand sets [
20
]. These would include GG-CC-GG-CC, GG-CC-CC-GG, and GG-GG-CC-CC, among multiple other arrangements.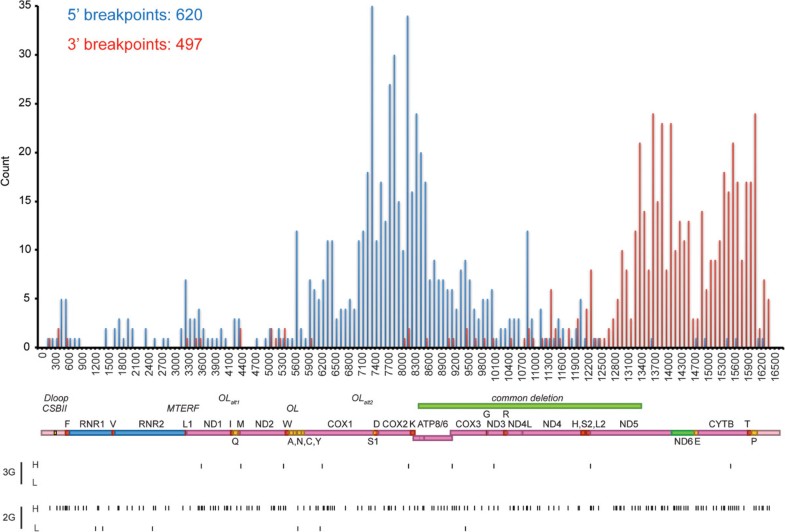 Identification of stem-loop/cruciform structures and repeat sequences
The prediction of stem-loop, cruciform and other hairpin-containing features across human mtDNA was carried out using the hybrid-ss-min core program of the UNAFold 3.8 software package [37]. For the sake of simplicity, the abbreviation SC will be used to define any of these different structural elements. The folding of single-stranded DNA was simulated at 37°C in 1 M sodium and no magnesium, using 100 nucleotides as the maximum distance between paired bases in each structure. The circular nature of the mtDNA was considered in the folding prediction. Python scripts were created for the identification of direct repeats (e.g., ATC-ATC), inverted repeats (e.g., ATC-CTA), complementary repeats (e.g., ATC-TAG) and inverted complementary repeats (e.g., ATC-GAT) in human mtDNA. Midpoints were used in all calculations. The circular representation of mtDNA was made using the Circos software package, version 0.62 [38].
Minimal Distance Analysis (MDA)
The significance of association between structural motifs and either 5′ or 3′ mtDNA deletion breakpoints was determined by minimal distance analysis (MDA). Rather than simply asking if the number of events where the number of breakpoints with minimal distances smaller than a given value was significantly larger than chance for a given set of motifs (this was done by testing individual enrichment, explained in the next section), we wanted to know if a set of breakpoints as a whole (a "breakpoint set") was in proximity to a set of motifs (a "motif set"). To determine the significance of the proximity, we tabulated the average minimal distance for each member of a breakpoint set (all 5′ or all 3′ are considered separate sets) to its closest neighbor that is a member of a motif set and compared this actual value to that of control sets. Control sets were generated by rotating the motif set around the circular genome in 1-nucleotide (nt) increments relative to the breakpoint set. These control sets allow the determination of probability (p-value) that a breakpoint set is close to a motif set (b-p to motif). It is important to understand that the average minimal distance from a motif set to a breakpoint set is by definition not the same as the average minimal distance from the breakpoint set to the motif set. The reciprocal analysis (motif to b-p) determines the probability that the set of motifs are significantly close to the set of breakpoints. The difference between b-p to motif and motif to b-p is illustrated in Figure
2
. The motif to b-p MDA is important for motif sets with a low number of entries (such as 3G QFP sequences) because such a small number of motifs cannot be near every breakpoint. Therefore, even in cases that do not show a significant association by b-p to motif MDA, there may be a subset of breakpoints closely associated with the rare motifs, which would be significant in motif to b-p MDA. The p-value in MDA was calculated as the fraction of controls that had average minimal distances smaller than or equal to the value determined for a given sequence motif set.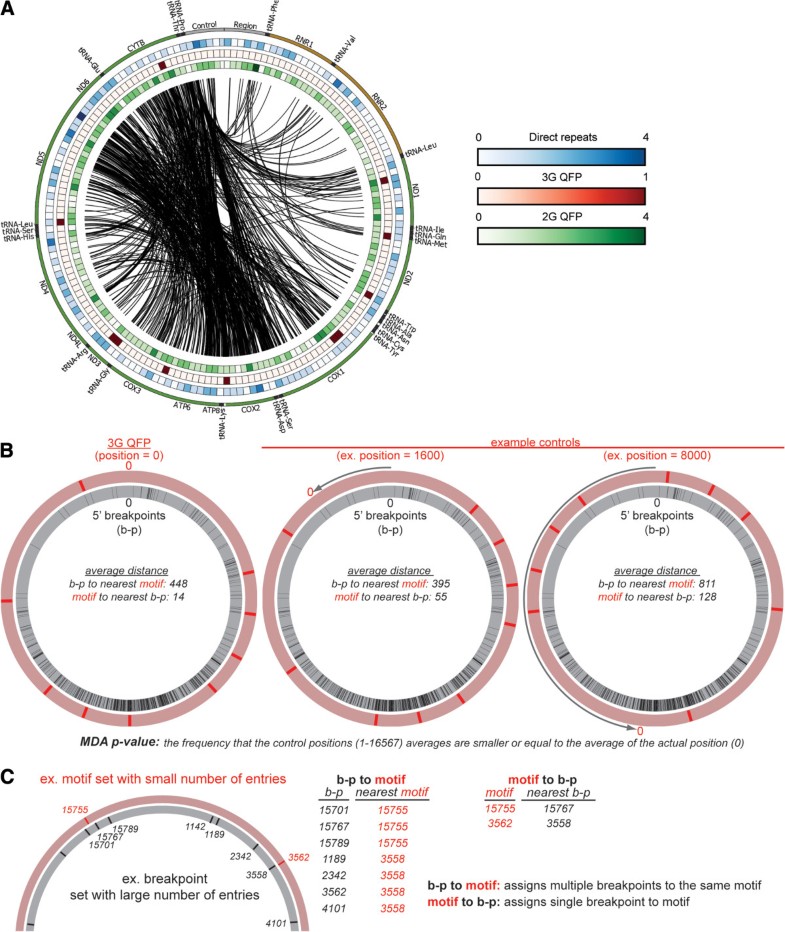 Individual enrichment analysis
As in MDA, we used the minimal distance between breakpoints and a motif set to determine enrichment for individual motifs; however, here we are asking if the number (K) of the breakpoints with distances smaller than or equal to a given value (D) was significantly larger than chance. The chance probability (P) is calculated from rotational controls, i.e., for all possible position of a breakpoint relative to a motif set, the portion of b-p to motif distances smaller than or equal to the given value D. Note that this is different from MDA. In MDA, the b-p to motif distances is averaged over the b-p set. But here, individual distance is counted without averaging. For a total number of N breakpoints, the p-value is simply
1 - F(K;N,P)
, in which F(K;N,P) is the binomial.
Thus, a small p-value signifies an enrichment. Similarly, we can evaluate the enrichment of the number of structural motifs at close distances to mtDNA deletion breakpoints.
Enrichment of motifs with both mtDNA deletion breakpoints
Simultaneously for both breakpoints, mtDNA deletions could be associated with 2G QFP or direct repeat sequences. To test this, the distance of the nearest 2G QFP sequence to each end of a deletion is measured. If both of the distances are less than or equal to 10 nt, the deletion is considered to be close to 2G QFP motifs. The actual number of deletions close to 2G QFP motifs is compared to the control, which is calculated by rotating the 2G QFP set relative to the deletion set for all controls. The p-value is calculated from binomial distribution, as is the case for single-end enrichment. For direct repeat sequences, this is performed by two types of calculations. The first type is identical to that done for 2G QFP sequences, by considering all direct repeat sequences as equivalent entries. For the second type, each deletion is compared with each direct repeat pair. The distance from the 5′ end of the deletion to the 5′ end of the direct repeat pair, and the distance from the 3′ end of the same deletion to the 3′ end of the same direct repeat pair, are calculated. If both distances are less than or equal to 10 nt, the deletion is considered to be close to the direct repeat pair.
Spectroscopic studies
All reagents were molecular biology grade or better from Sigma (Sigma-Aldrich, St. Louis, MO) and oligonucleotides were synthesized by IDT (Coralville, IA) with standard purification. All spectroscopic analyses were performed as previously reported [39, 40]. In brief, ~5.0 μM DNA samples were annealed by heating to 95°C for 5 min followed by slow cooling to room temperature. Thermal difference spectra (TDS) were collected on a Cary 300 Varian Spectrophotometer equipped with a Peltier-thermostated cuvette holder. Circular dichroism (CD), thermal melting and wavelength scans were performed on an AVIV 410 spectropolarimeter equipped with a Peltier heating unit. While monitoring the signal at 264 nm, DNA samples were heated from 5 to 95°C at a rate of 10°C/min with an equilibration time of 1 min, an averaging time of 10 s, and a bandwidth of 1 nm in 10 mM lithium cacodylate buffer, pH 7.2, supplemented with 150 mM KCl. The data were analyzed using a two-state Van't Hoff equation assuming constant enthalpy, ΔH. CD wavelength scans were collected on samples both before and after melting. Three scans, over a wavelength range of 220 to 350 nm, were recorded at 4°C with a bandwidth of 1 nm, an averaging time of 1 s, and a wavelength step of 1 nm. These scans were averaged, baseline corrected, smoothed and converted to molar ellipticity. All data analysis was done in Origin 8.1 (OriginLab, Northampton, MA).
Discussion
This study is the first to establish 2G QFP sequence prevalence in mammalian mtDNA, demonstrate their association with mtDNA breakpoints, and illustrate the capacity of 2G QFP mtDNA sequences to form quadruplex secondary structures. Because 3G QFP sequences have also been found within a few nucleotides of nuclear DNA deletion breakpoints [23], we suggest that both 2G and 3G GQ could contribute broadly to deletion formation in humans through a mechanism common to both nuclear and mitochondrial genomes.
Our work also significantly improves upon previous findings that 3G QFP are associated with mtDNA deletions [32]. The Oliveira study utilized a different QFP-determining protocol to identify five 3G QFP sequences (we report nine) and examined the relative enrichment of 5′ + 3′ pooled breakpoints identified from the Mitomap database (http://www.mitomap.org) to these motif sequences. Two of the 3G QFP were located in the regions with prevalent 5′ or 3′ breakpoints and thus showed a high density of breakpoints within 100 bp, but not with random or partially randomized breakpoint sets. The authors concluded that these two 3G QFP were significantly associated with breakpoints; however, they did not exclude the effects of the non-random distribution of the breakpoints in their random controls. Our study improves upon these findings by expanding the 3G QFP sequences tested, using non-redundant separated 5′ and 3′ breakpoints, examining association from the motif and from the breakpoint, and using distribution matched controls.
One attractive potential mechanism for GQ contribution to deletion formation is that GQ structures contribute to mtDNA deletions during replication. Strong evidence supports replication-dependent deletion formation in the nucleus of cancer cells and yeast. The separation of DNA strands during replication is thought to leave the lagging strand vulnerable to GQ structure formation [19]. In yeast, when GQ structures are encountered by the replisome, DNA elongation is slowed [48]. The hallmarks of replication pausing were reversed by expression of PIF1 helicase, which has strong G-quadruplex resolving activity [49]. Repeat tandem arrays containing 3G QFP sequences are inherently unstable in yeast, but this sequence instability is prevented by expression of PIF1 [22]. The absence of PIF1, or exposure to G-quadruplex stabilizing compounds (ligands), slows replication and increases sequence instability at GQ repeat sequences [21]. Finally, the sites of nuclear genome instability in cancer cells frequently contain QFP, with a strong presence of 2G QFP sequences [23].
In mtDNA, the displaced heavy strand contains the majority of 2G QFP sequences (this study), which could be exposed by structural transitions induced by transcription, replication, or topological stress. It is worth noting that heavy strand DNA can be found at low levels as a single stranded DNA-RNA hybrid [50, 51] or bound by mtSSB [52], whose displacement or processing would allow exposed single-stranded DNA to fold into intramolecular GQ structures. RNA-DNA hybrids containing a GQ structure in the DNA have been suggested as mechanism of genome instability [53]. However they might arise, unresolved GQ structures in mtDNA may lead to collapsed replication forks, similar to those observed in the nucleus near stabilized GQ sequences [48]. If failed replication intermediates are repaired rather than degraded, the opportunity may arise to create recombinant mtDNA molecules [54]. We suggest that the increased density of predicted GQ structures in a region such as the boundaries of the common deletion or the deletion "hot spot" near the D-loop 3' end [17, 18] (Figure 4) would increase the incidence of replication stalling, leading to the formation of single-stranded DNA or double-strand breaks, the latter of which are known to cause mtDNA deletion formation [55, 56] presumably through a non-homologous end joining (NHEJ) repair mechanism. SC structures have also been postulated to cause replication pausing, and have been associated with specific deletion breakpoints [18].
Circumstances that enhance the likelihood of replication fork collapse could increase mtDNA deletion formation rates. Besides structural interference by folded GQ DNA, nucleotide imbalances, defective polymerase, or oxidative damage could contribute to premature replication termination, the repair of which could lead to mtDNA deletions. Moreover, gene mutation or changes in expression levels during aging could also contribute to mtDNA deletion formation. Consistent with a role for replication in mtDNA deletion formation, the few known genes whose mutation is known to cause mtDNA deletion can be grouped into core replication subunits (POLG, POLG2, and Twinkle), nucleotide metabolism (TP and RRM2B), and nucleotide transport (ANT1, DNC, and potentially MPV17 [57]) (reviewed in [58, 59]). Altogether, these findings support replication pausing as a potential first step in mtDNA deletion formation.
Although the significant association of QFP sequences with breakpoints inspires the mechanisms proposed above, our results do not exclude others. The QFP sequences might also stimulate deletion formation during DNA repair through the formation of distant trans interactions. In addition, QFP might work in parallel with direct repeats or SC sequences, which have long been proposed to facilitate deletion formation during DNA repair [18, 54]. Interestingly, among all of the DNA motifs tested in this study, direct repeat is the only other sequence type significantly associated with breakpoints. To further demonstrate the significance of the association, we asked what the chances are that both ends of a deletion are in close vicinity to QFP or direct repeat sequences. Both p-values are small, p < 10-14 (QFP) and p < 10-12 (direct repeat) for the number of deletions with both ends within a 10 nt distance to the midpoint of the motifs (Additional file 9: Figure S6). For direct repeat sequences, we further determined the association of a deletion with a direct repeat pair, which decreases the p-value to <10-14 for the 10 nt distance. These findings strongly support the significant association of both QFP and direct repeat sequences with individual, or in the case of direct repeats, paired, deletion breakpoints.
GQ structures are surprisingly stable, and their resolution requires the action of specific proteins. In the nucleus, ATP-dependent helicases are dedicated to resolving these structures, and replication through QFP sequences is decreased in their absence [22, 48]. The presence of dedicated activities to manage the resolution of these structures suggests that GQ cause replication interference. In the nucleus, stabilization of GQ triggers the ataxia telangiectasia and Rad3-related protein (ATR) DNA damage response, consistent with single-stranded DNA formation at stalled replication forks [60] and exposure of single-stranded DNA gaps behind the replication fork [61]. As multiple different nuclear helicases are required to maintain nuclear genome stability and thus prevent disease, the maintenance of mtDNA stability likely requires multiple helicase activities in mitochondria, including Twinkle primase/helicase (PEO1) [62, 63], the 3′-5′ helicase RECQL4 [64], and the 5′-3′ helicase PIF1 [65–67]. Future studies describing interplay among replication, DNA repair, helicases, and GQ-forming sequences are likely to provide important insights into mitochondrial genome stability.
Conclusion
In summary, our findings support the hypothesis that sequences predicted to form GQ structures in mtDNA are enriched with mtDNA deletion breakpoints. Among these multiple types of QFP, the 2G QFP motif set are in closest proximity to the largest number of breakpoints and overlap the most common breakpoints. The prediction that sequences of this motif set have the ability to form GQ was validated on a subset of sequences using in vitro structural analysis. Together, these findings suggest that GQ structures could be a major contributor to human mtDNA instability. Further experiments are needed to confirm these structures in vivo and establish their contribution to normal and pathological mitochondrial biology.
Declarations
Acknowledgements
We would like to thank Sion Williams for his thoughtful comments on this manuscript. DWD is supported by a grant from the University Research Foundation, University of Pennsylvania. FBJ was supported by NIH R01-AG021521 and FBJ and KC were supported by NIH P01-AG031862. BAK and JEK were supported by NIH P30-DK050306. FP and JD are supported by the Portuguese Foundation for Science and Technology (FCT), Fundo Social Europeu and Programa Operacional Potencial Humano [PTDC/CVT/100881/2008 and Investigator FCT program]; LAY was supported by funds from Swarthmore College.
Authors' Affiliations
(1)
Department of Animal Biology, University of Pennsylvania School of Veterinary Medicine, Philadelphia, USA
(2)
Penn Genome Frontiers Institute, University of Pennsylvania, Philadelphia, USA
(3)
Institute of Molecular Pathology and Immunology, University of Porto, Porto, PORTUGAL
(4)
Interdisciplinary Centre of Marine and Environmental Research (CIIMAR/CIMAR), University of Porto, Porto, PORTUGAL
(5)
Department of Chemistry and Biochemistry, Swarthmore College, Swarthmore, USA
(6)
Department of Cell and Developmental Biology, University of Pennsylvania Perelman School of Medicine, Philadelphia, USA
(7)
Department of Pathology and Laboratory Medicine, University of Pennsylvania Perelman School of Medicine, Philadelphia, USA
Copyright
© Dong et al.; licensee BioMed Central Ltd. 2014
This article is published under license to BioMed Central Ltd. This is an Open Access article distributed under the terms of the Creative Commons Attribution License (http://creativecommons.org/licenses/by/4.0), which permits unrestricted use, distribution, and reproduction in any medium, provided the original work is properly credited. The Creative Commons Public Domain Dedication waiver (http://creativecommons.org/publicdomain/zero/1.0/) applies to the data made available in this article, unless otherwise stated.