Research article
Open Access
Assessment of clusters of transcription factor binding sites in relationship to human promoter, CpG islands and gene expression
Received: 19 May 2003
Accepted: 23 February 2004
Published: 23 February 2004
Abstract
Background
Gene expression is regulated mainly by transcription factors (TFs) that interact with regulatory cis-elements on DNA sequences. To identify functional regulatory elements, computer searching can predict TF binding sites (TFBS) using position weight matrices (PWMs) that represent positional base frequencies of collected experimentally determined TFBS. A disadvantage of this approach is the large output of results for genomic DNA. One strategy to identify genuine TFBS is to utilize local concentrations of predicted TFBS. It is unclear whether there is a general tendency for TFBS to cluster at promoter regions, although this is the case for certain TFBS. Also unclear is the identification of TFs that have TFBS concentrated in promoters and to what level this occurs. This study hopes to answer some of these questions.
Results
We developed the cluster score measure to evaluate the correlation between predicted TFBS clusters and promoter sequences for each PWM. Non-promoter sequences were used as a control. Using the cluster score, we identified a PWM group called PWM-PCP, in which TFBS clusters positively correlate with promoters, and another PWM group called PWM-NCP, in which TFBS clusters negatively correlate with promoters. The PWM-PCP group comprises 47% of the 199 vertebrate PWMs, while the PWM-NCP group occupied 11 percent. After reducing the effect of CpG islands (CGI) against the clusters using partial correlation coefficients among three properties (promoter, CGI and predicted TFBS cluster), we identified two PWM groups including those strongly correlated with CGI and those not correlated with CGI.
Conclusion
Not all PWMs predict TFBS correlated with human promoter sequences. Two main PWM groups were identified: (1) those that show TFBS clustered in promoters associated with CGI, and (2) those that show TFBS clustered in promoters independent of CGI. Assessment of PWM matches will allow more positive interpretation of TFBS in regulatory regions.
Keywords
promotertissue-specific gene expressionposition weight matrixregulatory motif
Background
Understanding the regulation of gene expression is a crucial issue in molecular biology. Since gene expression is mainly regulated by transcription factors (TFs), the elucidation of relationships among TFs, their binding sites (TFBS) and their controlling genes, is of great importance.
Although TFBS can be predicted by computer searches on DNA sequences, false positives (FP) are often produced. Several computer programs use position weight matrices (PWMs) [1] to predict TFBS in silico, including MatInspector [2], MATCH [3], and TFBS perl modules [4]. PWMs represent positional base preferences or frequencies constructed by a set of experimentally determined TFBS, and typically correspond to a single TF. The transcription factor database, known as TRANSFAC, is a widely used collection of PWMs [5]. TRANSFAC provides several PWMs for single TFs with different quality levels. Computer programs predict TFBS from DNA sequences, which are the same or similar to known TFBS. The low information contents in the matrices leads to many false positives, due to the weak preference or shortness of the site length (6–30 bp). Various strategies have been proposed to allow correct identification of true positives (TPs) from predicted TFBS. One approach is to employ information from conserved regions in DNA sequences between different species, known as phylogenetic footprinting. Bayes block aligner (BBA) is a tool used to extract conserved regions from an alignment of two DNA sequences [6]. It was demonstrated that it could identify binding sites of muscle-specific transcription factors [6]. Another approach is to identify multiple TFBS that form a structural cluster on a DNA sequence coordinate. This seems a reasonable technique because the density of predicted TFBS in promoter sequences is reported to be higher than non-promoter sequences, especially in the region 300 bp upstream from the transcription start site [7]. Genes are regulated by interactions with multiple functional TFs in metazoans [8]. Therefore, many promoter prediction programs, such as promoterscan [9], TSSG, and TSSW [10], have been developed based on the density of TFBS. The identification of genuine TFBS by searching clusters of predicted TFBS has been successful; however, these studies were evaluated with only specific genes and TF sets, such as those found in Yeast[11], Drosophila (early developmental enhancer) [12–14], liver [15], LSF and muscle specific regulatory regions [16, 17]. It is unknown whether this method is applicable to other species, or genes. Although many vertebrate promoter sequences have CpG islands (CGI), the relationship between clusters of predicted TFBS and CGI is often underestimated [18]. Another strategy for the identification of putative TFBS includes a combinatorial approach that uses both phylogenetic footprinting and cluster analysis [12, 15, 19]. The program rVISTA utilizes information from conserved regions between human and mouse, in addition to clusters of TFBS predicted by the MATCH (BIOBASE) program [19]. This approach was evaluated using several known TFs (AP-1, NFAT, and GATA-3) and genes from the cytokine gene cluster. It remains unclear whether the properties used for clusters of TFBS are general and can be applied to other TFs or regulatory regions. Several reports have described methods for determining the statistical significance of predicted TFBS [11, 12, 17, 20–22]. These studies assume the use of appropriate PWMs to identify clustered TFBS. To determine if a particular cluster is genuinely related to the promoter, it is important to assess clusters of predicted TFBS for each individual PWM. This is done using real non-promoter sequences for the appropriate selection of the PWM and for the interpretation of clusters of predicted TFBS. Most of these studies use specific sets of coregulated genes to identify common predicted TFBS clusters, and therefore cannot be applied directly to the study of general properties of promoters.
In this study, we developed a measure that evaluates the degree of concentration of predicted TFBS to clarify whether predicted TFBS have a tendency to cluster in human promoter sequences rather than in non-promoter sequences for each PWM. We identified some PWMs in which predicted TFBS clusters occur more significantly in promoter than non-promoter sequences and vice versa. Using partial correlations among three properties (promoters, CGI and clusters of predicted TFBS), we identified two PWM groups, (1) those in which TFBS cluster in promoters as a result of the presence of CpG islands, and (2) those in which TFBS cluster in promoters independent of CpG islands. We show that transcription factors corresponding to the latter PWM group tend to be tissue-specific. In summary, this analysis is useful for the interpretation of predicted TFBS in regulatory regions.
Discussion
Clusters of TFBS are an important property of regulatory regions [7, 8, 19, 28]. To determine if this is a general tendency for PWM matches and all protein coding genes, we have developed a measure that evaluates the correlation between predicted TFBS concentrations and promoter sequences. We then examined the correlation for individual PWMs using an unbiased sequence set. Our results show that not all TFBS are clustered in promoter sequences. We found that TFBS clusters corresponding to 47% of PWMs are positively correlated with promoter sequences, and that TFBS clusters corresponding to around 11% of PWMs are negatively correlated with promoter sequences.
It is important to ascertain the relationship between cluster scores of PWMs and CGI, because CGI are a prominent feature of promoter sequences. The consensus sequences of the top-ranked PWMs (Table 1) are, 'ANNGACGCTNN' (WHN_B), 'TTTCSCGC' (E2F1DP1_Q6), 'NSGGGGGGGGMCN' (MAZR_01), and 'GGGGAGGG' (MAZ_Q6), where S represents C or G, M represents A or C, and N represents any bases. The sequence logos of the PWMs are depicted in Fig. 2-(a). The G+C % of base composition of each matrix is 70%, 56%, 91%, and 86%, respectively. The sequences with high cluster scores appear to be GC-rich. Larsen et al found that 57% of human genes are associated with CGI, that all housekeeping genes have CGI covering transcription start sites (TSS), and that 40% of tissue specific genes have CGI [25]. Therefore, the association of PWM-PCP with CGI may be significant, and CGI-related PWMs may play important roles in housekeeping regulation.
To evaluate the relationship between PWM-PCP and CGI, we calculated the partial correlation coefficient for each PWM. In general, if a correlation coefficient r XY is not small and r XY.Z (defined in Methods) ≈ 0, the probable hypotheses concerning cause and effect will be either 1) the correlation of X and Y is a consequence of Z, or 2) Z intervenes between X and Y. For the PWMs in the top circle in Fig. 4, r IC.P is high and r PC.I is approximately zero. This suggests that the correlation between promoters and TFBS clusters is attributable to the presence of the CGI and that while they do not directly correlate they appear to because both independently correlate with CGI. The characteristic PWMs in Table 2 are NMYC_01 (M00055:0.25), AHRARNT_01 (M00235:0.23), and HIF1_Q5 (M00466:0.22), where parentheses include the accession number referred to in TRANSFAC and the recorded r IC.P (Y-value in Fig. 4). Sequence logos are depicted in Fig. 2-(b). The PWMs in the middle right circle in Fig. 4 have an r IC.P of approximately zero and a high r PC.I r PC.I value showing that the cluster is correlated with promoters independent of CGI. The predicted TFBS clusters corresponding to these PWMs could not be explained by the presence of CGI. Some of these PWMs have thresholds T less than 1.0 indicating that even the single occurrence of a predicted TFBS is more discriminative than clusters. Particular examples with high recorded r PC.I values and values for r IC.P < 0.1 are TFIII_Q6 (M000706), MYOGNF1_01 (M00056) and CREL_01 (M00053). Sequence logos are depicted in Fig. 2-(c). TFIII_Q6 is a matrix associated with a general transcription factor II-I with the consensus sequence RGAGGKAGG, where the K represents G or T. The matrix TFIII_Q6 contains many 'G', and 'C' is allowed only the fourth position with low frequency. MYOGNF1_01 is a matrix associated with myogenin, nuclear factor 1 or related factors, and is therefore involved in the regulation of differentiation. CREL_01 is a matrix associated with the C-Rel proto-oncogene protein (C-Rel protein). An understanding of the function of these factors is important to this study. The PWM groups described above may be involved in tissue-specific gene regulation. If all housekeeping genes have CGI [25] then genes without CGI can be assumed to be tissue-specific or rarely expressed. Thus, genes with a cluster of predicted TFBS not associated with CGI might be associated with tissue-specific regulation. Further analysis of extractions of tissue specific genes, shown in Results, supports the hypothesis.
Results from this analysis provide a solution to the promoter prediction problem. Hannenhalli et al. used additional information, including profiles of TF binding sites, for promoter prediction based on CGI [29], with no significant improvement to prediction performance. The report using 7 manually selected PWMs confirmed that CGI are the most dominant feature. Our results show that Sp1 and ATF have a strong correlation with CGI; a result consistent with their result that information including both PWM did not improve prediction accuracy. This observation is consistent with other PWMs. More stringent selection of PWMs is required for an improved accuracy of promoter prediction. One strategy is to utilise the CGI-independent PWMs identified in this study. Another problem is exemplified by the under-representation of Oct-1 (M00138) in the (-600:600) region of the human promoter and the absence of positional preferences [29]. This under-representation was not expected but is observed in 10% of known PWMs. OCT1_04 (M00138) is not in the high quality list of TRANSFAC, OCT1_01 (M00135) and OCT1_C (M00210) was found to have minus cluster scores (-0.63 and -2.89) in our table (additional file 1).
It is noteworthy that Fig.
5
shows TFBS (AP2_Q6) in non-promoters to occur randomly under a certain distribution. This distribution can be modelled by a binomial probability distribution. A model of Poisson distribution, which is an approximation of binomial probability distribution for a certain condition, was proposed in [
11
] as the probability distribution of TFBS density. Although we have not tested the goodness-of-fit, our observation does not contradict the Poisson distribution model.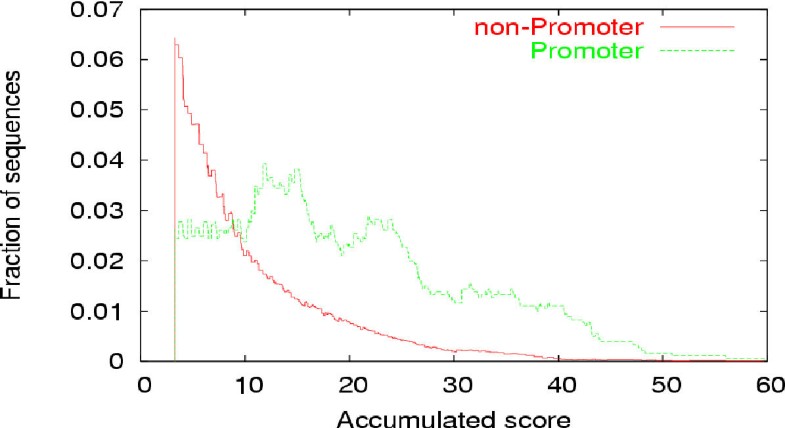 To assess the robustness of the cluster score, we compared cluster scores for different datasets from chromosomes 20, 21 and 22 (Fig. 3). The correlation coefficients were 0.91 (a) and 0.93 (b), proving that the significance would be similar if we utilized the whole human genome dataset in the analysis. The scale of the figures between the Y-axis and X-axis are different because of the different number of sequences taken from each chromosome.
Conclusions
We have developed a measure that statistically evaluates the degree of concentration of predicted TFBS in promoter sequences. Using this strategy to analyse various PWMs we have determined that predicted TFBS tend to cluster in human promoter sequences rather than in non-promoter sequences. Our results show that local concentrations of predicted TFBS in human promoter sequences are not a general characteristic of PWMs. Only a portion of identified PWM matches corresponded to TFBS occurring in clusters in promoter sequences. By computing partial correlation coefficients, we identified PWM sets associated with CGI and others that are independent of CGI. Transcription factors and binding sites associated with CGI-independent PWMs are likely to be involved in tissue-specific gene regulation. Indeed, using the CGI-related/dependent PWM sets, we extracted tissue-specific genes with high accuracy by detecting clusters of predicted TFBS. These results will be useful to interpret predicted transcription factor binding sites and to further understand the role of their formation into clusters. Ultimately, these findings will further elucidate the various functions of promoters, genes and transcription factors.
Authors' Affiliations
(1)
RIKEN Genomic Sciences Center, Yokohama, Kanagawa, JAPAN
Copyright
© Murakami et al; licensee BioMed Central Ltd. 2004
This article is published under license to BioMed Central Ltd. This is an Open Access article: verbatim copying and redistribution of this article are permitted in all media for any purpose, provided this notice is preserved along with the article's original URL.