Research article

Open Access
In silico characterization of the family of PARP-like poly(ADP-ribosyl)transferases (pARTs)
Received: 13 May 2005
Accepted: 04 October 2005
Published: 04 October 2005
Abstract
Background
ADP-ribosylation is an enzyme-catalyzed posttranslational protein modification in which mono(ADP-ribosyl)transferases (mARTs) and poly(ADP-ribosyl)transferases (pARTs) transfer the ADP-ribose moiety from NAD onto specific amino acid side chains and/or ADP-ribose units on target proteins.
Results
Using a combination of database search tools we identified the genes encoding recognizable pART domains in the public genome databases. In humans, the pART family encompasses 17 members. For 16 of these genes, an orthologue exists also in the mouse, rat, and pufferfish. Based on the degree of amino acid sequence similarity in the catalytic domain, conserved intron positions, and fused protein domains, pARTs can be divided into five major subgroups. All six members of groups 1 and 2 contain the H-Y-E trias of amino acid residues found also in the active sites of Diphtheria toxin and Pseudomonas exotoxin A, while the eleven members of groups 3 – 5 carry variations of this motif. The pART catalytic domain is found associated in Lego-like fashion with a variety of domains, including nucleic acid-binding, protein-protein interaction, and ubiquitylation domains. Some of these domain associations appear to be very ancient since they are observed also in insects, fungi, amoebae, and plants. The recently completed genome of the pufferfish T. nigroviridis contains recognizable orthologues for all pARTs except for pART7. The nearly completed albeit still fragmentary chicken genome contains recognizable orthologues for twelve pARTs. Simpler eucaryotes generally contain fewer pARTs: two in the fly D. melanogaster, three each in the mosquito A. gambiae, the nematode C. elegans, and the ascomycete microfungus G. zeae, six in the amoeba E. histolytica, nine in the slime mold D. discoideum, and ten in the cress plant A. thaliana. GenBank contains two pART homologues from the large double stranded DNA viruses Chilo iridescent virus and Bacteriophage Aeh1 and only a single entry (from V. cholerae) showing recognizable homology to the pART-like catalytic domains of Diphtheria toxin and Pseudomonas exotoxin A.
Conclusion
The pART family, which encompasses 17 members in the human and 16 members in the mouse, can be divided into five subgroups on the basis of sequence similarity, phylogeny, conserved intron positions, and patterns of genetically fused protein domains.
Keywords
Catalytic DomainDiphtheria ToxinAmino Acid Sequence SimilarityIntron PositionpART Family
Background
ADP-ribosylation is a posttranslational protein modification in which the ADP-ribose moiety is transferred from NAD onto specific amino acid side chains of target proteins [1–4]. ADP-ribosylation was originally discovered as the pathogenic principle of Diphtheria toxin, a multidomain secreted protein which inactivates elongation factor 2 by ADP-ribosylation after translocation into eucaryotic cells [5]. Subsequently, numerous other bacterial toxins were shown to ADP-ribosylate target proteins in host cells. Moreover, endogenous toxin-like ADP-ribosylating enzyme activities were detected in eucaryotic cells. Several of these enzymes were purified to homogeneity, sequenced, expressed as recombinant proteins, and crystallized.
Sequence and structural analyses revealed the existence of two distinct families of toxin-related ADP-ribosyltransferases in mammals [6, 7]: The RT6 family of GPI-anchored and secretory mono-(ADP-ribosyl)transferases (mARTs) catalyzes mono-ADP-ribosylation of cell surface and secretory proteins [8]. The PARP family of nuclear and cytoplasmic poly(ADP-ribosyl)transferases (pARTs) catalyzes poly-ADP-ribosylation of nuclear and cytosolic proteins [9–12]. While mARTs have been implicated to mediate signalling functions of extracellular NAD, pARTs have been shown to play important roles in DNA repair and maintenance of genome integrity [8, 9, 12].
In this paper we use the term pART (poly ADP-ribosyltransferase) rather than the more established term PARP (poly-ADP-ribosyl-polymerase) for various reasons. Firstly, to emphasize the structural and functional similarities of the poly- and mono-ADP-rib syltransferase subfamilies. Secondly, with respect to the biochemical classficiation of enzymes the term transferase is more appropriate than polymerase: ADP-riboslytransferases belong to the family of glycosyltransferases; the term polymerase is more commonly used for template-dependent DNA or RNA synthesizing enyzmes. Thirdly, use of the term PARP would have confounded comparison of our results with those of the recent review by Ame et al. [11], who used the term PARP and a numbering system without regard to structural similarities among gene family members.
The 3D-structures of rat ART.2 (PDB accession number 1og3), chicken PARP-1 (1a26, 3pax), mouse PARP-2 (1gs0), and numerous ADP-ribosylating toxins uncovered a common NAD binding fold with a conserved core of five β strands arranged in two abutting β sheets [
13
–
19
]. These two β sheets form the upper and lower jaws of a Pacman-like active site crevice (Figure
1
). Remarkably, only a single amino acid residue, the catalytic glutamic acid residue at the front edge of the fifth conserved β-strand, is strictly conserved in all known 3D structures of enzymatically active mARTs and pARTs. In a seminal study, Collier and co-workers pinpointed the corresponding glutamic acid residue in PARP-1 (before its 3D structure was solved) on the basis of barely detectable sequence similarity to Diphtheria toxin [
20
,
21
]. More recently, the 3D structures of anthrax lethal factor, VIP2, and iota toxin have been discovered to harbour ART-domains that lack a corresponding glutamic acid residue and may represent inactivated enzymes [
16
,
22
,
23
].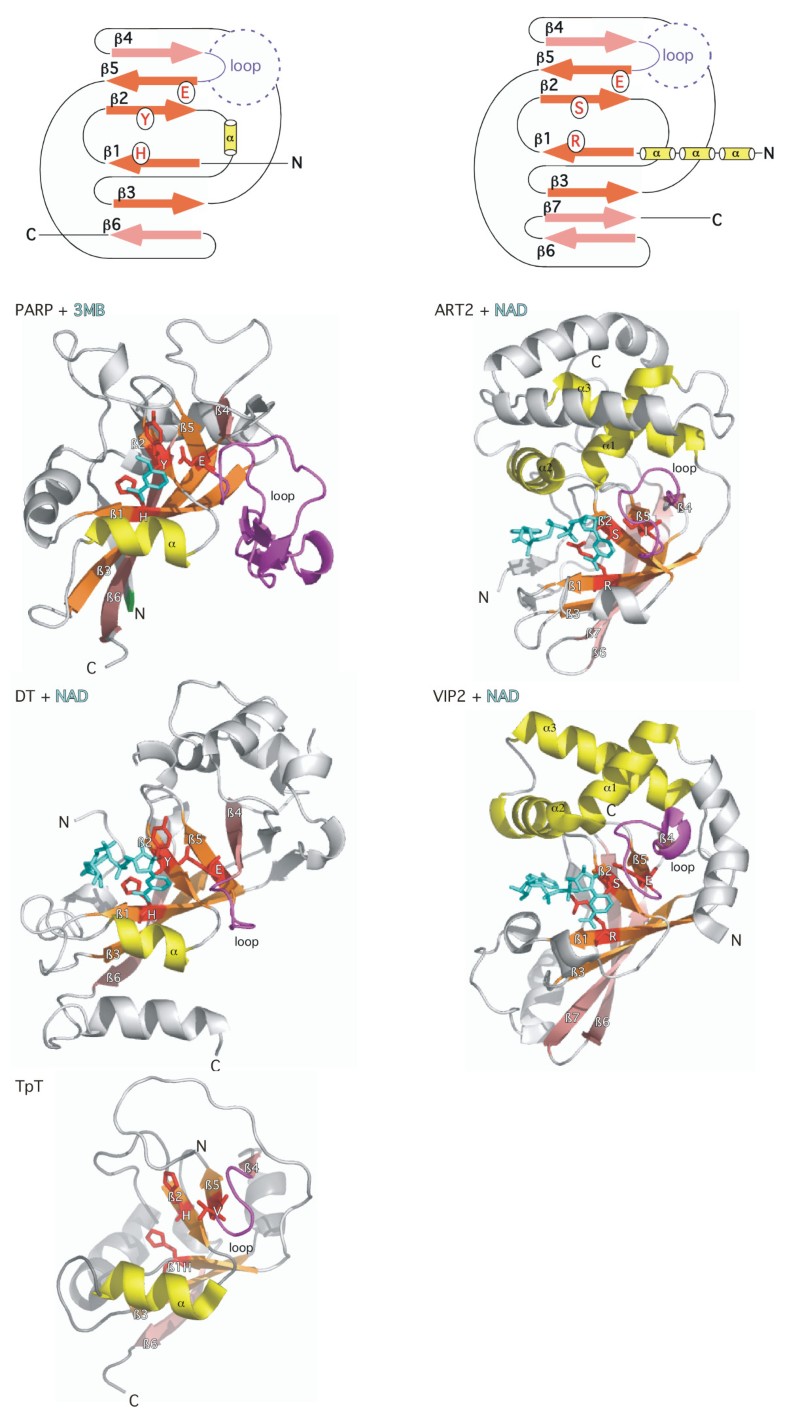 Comparative structure and amino acid sequence analyses revealed that PARP-1 and PARP-2 share additional secondary structure and conserved amino acids with Diphtheria toxin and Pseudomonas exotoxin A, which evidently are not conserved in other mARTs (Fig. 1) [6, 7]. These additional elements include a sixth β strand, an alpha helix between β strands 2 and 3, and a trias of amino acids, the so-called H-Y-E motif, encompassing a histidine resdiue in β strand 1, a tyrosine residue in β strand 3 and the catalytic glutamic acid residue at the front edge of β strand 5. These features, highlighted in the 3D structures of PARP-1 and Diphtheria toxin in Figure 1, clearly distinguish the structures of PARP-1, PARP-2, and DT/ETA from those of a second major ART subfamily that includes rat ART2 and the Bacillus cereus VIP2 toxin. Distinguishing features of the ART2/VIP2 subfamliy include a seventh β strand that displaces β strand 6, three conserved alpha helices preceding β strand 1, and an R-S-E trias of amino acid residues in place of the H-Y-E motif of PARP-1 and DT. Interestingly, the recently reported 3D-structure of a prototype member of the family of tRNA:NAD 2' phosphotransferases (TpT) [24] revealed a striking resemblance to the structures of the PARP-1/DT subfamily rather than to those of the ART2/VIP subfamily, including the sixth β strand, the alpha helix between β strands 2 and 3, and a variant H-Y-E motif (H-H-V). These enzymes catalyze removal of a splice junction 2' phosphate from ligated tRNA. This reaction resembles the reaction catalyzed by ARTs but yields ADP-ribose 1"-2" cyclic phosphate rather than ADP-ribosylated proteins [25].
The remarkable degree of plasticity of ART amino acid sequences poses a challenging problem for genome data base mining [7] and even the most sensitive database search programs fail to connect all known members of the ART gene family. Notwithstanding, the results of such in silico analyses can provide important insight into the structural and phylogenetic relationship of ART subfamilies. We have previously demonstrated that the known members of the mART gene family in the human and mouse could be faithfully connected with many known bacterial ADP-ribosylating toxins, but not with pARTs or Diphtheria toxin [26, 27]. These analyses also pointed out the presence of mART-encoding genes in the genomes of many but not all other model organisms. Of note, no mART-encoding genes could be detected in plants, fungi, or archaea. Here we provide an in depth analysis of the pART gene family.
Discussion
The results of our study illustrate the great power and utility of the public genome databases and database search programs. Moreover, they provide important novel insights into the molecular structure and evolution of the pART gene family.
Our results differ in some details from those of a recent report by Ame and coworkers [11]. These discrepancies can be explained by errors in the draft sequence of the human genome available at the time of the previous report. For example, the database entry AK023746 given by Ame et al. for PARP-5c evidently represents a truncated cDNA for pART6 (alias tankyrase 2 or PARP-5b). This entry contains two point mutations and a 65 bp deletion in the 3' utr vs. the cDNA and genomic sequences of pART6. Blast analyses of the high quality sequence of the human genome and of the EST database with the AK023746 sequence provide no evidence for a distinct copy of this gene in the human genome. We conclude that the PARP-5c gene identified by Ame et al. represents an allelic variant or cloning/sequencing error rather than a genuine pART gene family member; i.e. that the total number of human pART genes is 17 rather than 18 suggested in the previous report. Large discrepancies exist also in the number of amino acids assigned in the two reports for pART7/PARP-15 (444 vs. 989) and for pART16/PARP-8 (854 vs. 501). The earlier database entries for PARP-8 (XM_018395) and PARP-15 (XM_093336) have hence been removed as a result of standard genome annotation processing because these entries evidently contained frameshift mutations and/or fused cDNA sequences that led to erroneous amino acid assignments. Similarly, the small differences in assignments for five other PARPs/pARTs can be accounted for by differences in the draft vs. high quality sequence of the human genome (Ame et al./our study): pART2/PARP2 (583/570), pART3/PARP3 (540/533), pART10/PARP10 (1020/1025), and pART14/PARP7 (657/680).
We assigned the 17 human pARTs into five distinct subgroups (Fig. 2). This assignment is supported by several independent lines of evidence: Firstly, members of a particular subgroup show higher amino acid sequence identities to one another than to members of other subgroups (Fig. 6). This is reflected in the tiling paths of PSI-Blast searches, where members of the same subgroup were detected in the first iteration, whereas members of other subgroups generally were detected in later iterations (Fig. 4). Secondly, members of a particular subgroup typically share one or more associated domains not found in members of other subgroups (Fig. 8); pARTs 8, 10 and 15 pose exceptions to this rule. Thirdly, members of a particular subgroup typically share one or more intron positions not found in members of other subgroups (Fig. 3); pARTs 1–4 pose notable exceptions to this rule. Fourthly, when genes of two or more pARTs are physically linked in a cluster on the same chromosome, they belong to the same subgroup – possibly reflecting regional duplications (Fig. 2). Finally, results of all phylogenetic analysis converged in topologies with clearly distinct clades for each of the subgroups (Fig. 7). Members of subgroups 1 and 2 evidently are more closely related to one another than to other subgroups (Figs. 6 and 7). Similarly, members of subgroups 3 and 4 are sister-groups to one another, indicating a close relationship.
Members of the pART family are found fused to a striking variety of associated domains (Fig. 8). It is not farfetched to hypothesize that the associated domains direct the respective pARTs to subcellular structures and/or target proteins. Genetic fusion of group 1 and group 2 pARTs with DNA-binding domains is in line with their established roles in DNA-repair, chromosome remodeling, and mitotic spindle formation [9, 11, 12]. Moreover, the SAM and ankyrin domains of pARTs 5 and 6 have been shown to mediate interactions with target proteins in telomere-associated protein complexes [45]. Similarly, the C-terminal domain of pART4 evidently plays a role in targeting pART4 to the major vault particles [46]. A flurry of domains implicated in the ubiquitination pathway point to a possible connection between ubiqutitination and ADP-ribosylation. Indeed, it has recently been reported that ADP-ribosylation of TRF1 by tankyrase (pART5) results in the release of the protein from telomers and its subsequent ubiquitination [47]. Strikingly, pARTs from the microfungi G. zea and A. nidulans provide examples for the genetic fusion of two enzyme domains catalyzing these post-translational protein modifications into a single polypeptide.
So far, only a single example of a 'naked' pART catalytic domain akin to the isolated catalytic domain of the vertebrate ecto-ARTs 1–5 [27] was recovered from the public database. This putative pART from Chilo iridescent virus clusters with the mammalian pARTs of subgroup 1 (Fig. 7), suggesting that this large double stranded DNA virus [48] may have acquired its pART by horizontal gene transfer.
The definition of the pART catalytic domain proposed in this paper is somewhat smaller than that commonly used in the field [11]. We used the position of the common phase 0 intron upstream of the first conserved β sheet to set the N-terminal end of the catalytic domain (e.g. see Figs. 1 and 3B). The pARTs of subgroup 1 are extended N-terminally of this position by an alpha helical domain (Fig. 8) which is often included as part of the PARP-1 catalytic domain. However, since other pART family members lack this region, we propose to omit it from the proper pART catalytic domain. Moreover, this N-terminal delineation of the catalytic domain corresponds well to the N-terminus of the 'naked' pART of Chilo iridescent virus as well as to those of Diphtheria toxin and Pseudomonas exotoxin A after proteolytic processing of the signal sequence or translocation domain (Fig. 1).
With the exception of pART4, the group 1 pARTs are extended upstream of this helical region by another domain named after its conserved motif of tryptophane (W) – glycine (G) – arginine (R) residues. This WGR domain is found also in poly-A-polymerases, its function is unknown. Many group 1 pARTs from distantly related organisms, e.g. plants, insects, nematodes, and microfungi, also contain these two domains. Interestingly, in Drosophila melanogaster pARTa these three domains (WGR, helical, catalytic) are encoded by a single, large exon (Fig. 10). Human pARTs 5–17 lack the WGR and helical domains. However, pART5/6 (tankyrase)-like pARTs from C. elegans (Ce.pARTc) and D. discoideum (Dd.pARTb) contain the WGR and helical domains whereas a SAM domain is found at this position in human pARTs 5 and 6 (Fig. 8).
A puzzling finding is the lack of conservation of the classic H-Y-E motif found in the catalytic cores of PARP-1, PARP-2, Diphtheria toxin and Pseudomonas Exotoxin A (Fig. 1). This motif is conserved only in members of subgroups 1 and 2. All other human pARTs carry notable variations from this motif. In particular, all other pARTs carry a replacement of the glutamic acid residue in β 5, i.e. the residue that was shown to be critical for the catalytic activities of DT, PARP-1 and many other pARTs and mARTs [6, 7, 20, 21]. In six cases, this glutamic acid is replaced by an isoleucine residue, in two cases by leucine, and in one case each by threonine, valine, or tyrosine. Enzyme activity has been reported recently for two of the six pARTs that carry an H-Y-I motif instead of the H-Y-E motif (pARTs 10 and 14) [32, 34]. Thus, it is not unlikely that the four other pARTs carrying the H-Y-I motif turn out to be active enzymes (pARTs 11, 12, 16, and 17). Mouse pART8 also carries an H-Y-I motif, whereas its human orthologue, like pART7, carries an H-Y-L variant motif. H-Y-I and H-Y-L variant motifs are also found in pARTs from the slime mold (Dd.pARTg) and amoeba (Eh.pARTf) (Fig. 8). Human pART15 carries an H-Y-Y variant motif, which is conserved in its orthologues from mouse and the malaria mosquito (Fig. 8). It will be interesting to determine whether and how site directed mutagenesis of the H-Y-E motif in pARTs 1–6 to the variant motifs of pARTs 7–17 – and vice versa – affects their enzyme activities. Moreover, it remains to be determined whether the most striking variation of the H-Y-E motif – to Q-Y-T in human and mouse pART9 is compatible with enzyme activity.
The results of our PSI-BLAST and PSIPRED analyses (Figs. 4, 5, 9 and additional files 3, 4, 5, 6, 7, 8) support the conclusions that the pART gene family described here and the mART gene family described in our previous study [27] constitute two distinct ART subfamilies, and further, that the family of tRNA:NAD 2'-phosphotransferases [24, 25] constitutes a branch that is more closely related to the pART subfamily than to the mART subfamily. Our results illuminate the power and limits of PSI-BLAST searches: PSI-BLAST readily connected members of the pART subfamily in many different species, while DT, ETA and TpTs were found at or below the threshold. In contrast PSI-BLAST searches never connected pART family members with members of the mART subfamily or vice versa. The results of PSI-BLAST searches, thus, are in accord with insights gained from the known 3D structures of representative ADP-ribosyltransferases (Fig. 1), i.e. that certain conserved structural features clearly distinguish these two subfamilies. Is it possible that some of the pART gene family members described here actually possess mono-ADP-ribosyltransferase rather than poly-ADP-ribosyltransferase activity? Given the structural similarity to DT/ETA this is a possibility. Moreover, it cannot be excluded that some family members may have lost enzyme activity and have acquired a new function. In any case, the respective proteins clearly are more closely related to the pART than to the mART gene family, in line with the nomenclature proposed here. Have all ARTs encoded in the human genome been identified? A number of ADP-ribosylation reactions have been described in mammalian cells that cannot yet be accounted for by the ARTs identified in this study or our previous study, e.g. mono-ADP-ribosylation of actin, rho, glutamate dehydrogenase, and of the alpha and beta subunits of heterotrimeric G proteins [3, 4, 8]. Given the fact that the pART subfamily described here and the mART subfamily described in our previous study [27] could not be interconnected by PSI-BLAST, it reamins an intriguing possibility that other ART subfamilies in the human genome still await to be identified.
Conclusion
The family of proteins containing a PARP-like catalytic domain consists of 17 members in the human and 16 in the mouse, rat, and pufferfish. The vertebrate pART family can be divided into five subgroups on the basis of sequence similarity, phylogenetic relationships, conserved intron positions, and patterns of genetically fused protein domains. The four members of group 1 and the two members of group 2 each contain a conserved trias of residues (H-Y-E motif) also observed in Diphtheria toxin and Pseudomonas exotoxin A. The eleven other pART proteins carry variants of this motif (six H-Y-I, two H-Y-L, and one each Q-Y-T, Y-Y-V, H-Y-Y). All human pARTs are multi-domain proteins in which the pART catalytic domain is associated in a Lego-like fashion with other putative protein-protein interaction, DNA binding and ubiquitination domains. In all but one case (pART4) the catalytic domain represents the C-terminal end of the multi-domain protein. Most of the domain associations observed in human pARTs appear to be very ancient inventions since they can be found also in insects, plants, microfungi, and amoeba.
Methods
Database searches
Protein databases were searched using PSI-BLAST [35]. Genome databases were searched using BLASTn and tBLASTn [49]. Tissue distributions of pART-ESTs were analyzed using Electronic Northern calculations at the GeneCard website [50].
Structure and sequence analyses
Amino acid sequence alignments were performed with T-Coffee [36]. Secondary structure predictions were performed with PSIPRED [37]. Threading of amino acid sequences onto known 3D structures in PDB were performed with GenTHREADER [37]. Sequence analyses were performed using DNA-Star software, 3D-images were prepared with PyMol [51] software.
Phylogenetic analyses
Phylogenetic analyses were applied to the 36 catalytic core amino acid sequences using the dataset in Figure 6. Phylogenetic analyses were performed on the computational cluster of the College of Biology and Agriculture at Brigham Young University by using maximum parsimony and Bayesian Markov chain Monte Carlo approaches http://babeast.byu.edu. The topologies were reconstructed using equally weighted maximum parsimony (MP) analysis as implemented in PAUP* 4.0b10 [52], maximum likelihood (ML) with simultaneous adjustment of topology, and branch length as implemented in PhyML [53], as well as Bayesian methods coupled with Markov Chain Monte Carlo inference (BMCMC, MrBayes) [54]. The best fit likelihood model for amino acid evolution was determined based on the lowest Akaike Information Criterion (AIC) or Bayesian Information Criterion (BIC) score as implemented in ProtTest 1.2.6 [53, 55, 56].
The MP analysis was run using 5000 random addition replicates and tree bisection-reconnection branch swapping. Nonparametric bootstrap values were calculated for MP and ML analyses (10.000/100 bootstrap replicates, 100/1 heuristic random addition replicates) to assess confidence in the resulting relationships. ML analysis was run implementing the RtREV+I+G+F model of amino acid evolution (AIC= 4907.73; -lnL= 2800). The a priori information obtained by ProtTest 1.2.6 was incorporated into the BMCMC analysis. Bayesian phylogeny estimation was achieved using random starting trees, run for 3 × 106 generations, with a sample frequency of 1000, and ten chains (nine heated, temperature= 0.2). Analyses were repeated three times to check for likelihood and parameter mixing and congruence. Likelihood scores were plotted against generation time to determine stationery levels. Sample points before reaching stationery were discarded as "burn-in". Repeated analyses were compared for convergence on the same posterior probability distributions [57]. The maximum a posteriori tree (MAP) is presented in this paper, showing to percentage converted posterior probabilities (pP%).
Abbreviations used
ART = ADP-Ribosyltransferase:

BLAST = basic local alignment search tool, 3MB = 3-methoxybenzamide, NAD = nicotinamide adenine dinucleotide, PDB = protein database.
Declarations
Acknowledgements
This work was supported by grant No310/3 from the Deutsche Forschungsgemeinschaft to FKN. HO was a grantee of the Studienstiftung des Deutschen Volkes. KD is funded by the NSF grants DEB-0120718 and DEB-9983195. DNAX is fully funded by the Schering Corporation. We thank Sahil Adriouch, Bernhard Fleischer, Stefan Kernstock, and Stefan Rothenburg (University Hospital Hamburg) for critical reading of the manuscript.
Authors' Affiliations
(1)
Institute of Immunology, University Hospital Hamburg-Eppendorf, Hamburg, Germany
(2)
DNAX Research Institute, Palo Alto, USA
(3)
Dana-Farber Cancer Institute, Harvard University, Boston, USA
(4)
Depts. of Molecular Biology and Protein Engineering, Genentech, USA
(5)
Department of Integrative Biology, Brigham Young University, Provo, USA
Copyright
© Otto et al; licensee BioMed Central Ltd. 2005
This article is published under license to BioMed Central Ltd. This is an Open Access article distributed under the terms of the Creative Commons Attribution License (http://creativecommons.org/licenses/by/2.0), which permits unrestricted use, distribution, and reproduction in any medium, provided the original work is properly cited.