Research article

Open Access
Genetic mapping of putative Chrna7 and Luzp2 neuronal transcriptional enhancers due to impact of a transgene-insertion and 6.8 Mb deletion in a mouse model of Prader-Willi and Angelman syndromes
Received: 14 July 2005
Accepted: 09 November 2005
Published: 09 November 2005
Abstract
Background
Prader-Willi and Angelman syndrome (PWS and AS) patients typically have an ~5 Mb deletion of human chromosome 15q11-q13, of opposite parental origin. A mouse model of PWS and AS has a transgenic insertion-deletion (TgPWS/TgAS) of chromosome 7B/C subsequent to paternal or maternal inheritance, respectively. In this study, we define the deletion endpoints and examine the impact on expression of flanking genes.
Results
Using molecular and cytological methods we demonstrate that 13 imprinted and 11 non-imprinted genes are included in the TgPWS/TgAS deletion. Normal expression levels were found in TgPWS brain for genes extending 9.1- or 5.6-Mb centromeric or telomeric of the deletion, respectively. Our molecular cytological studies map the proximal deletion breakpoint between the Luzp2 and Siglec-H loci, and we show that overall mRNA levels of Luzp2 in TgPWS and TgAS brain are significantly reduced by 17%. Intriguingly, 5' Chrna7 shows 1.7-fold decreased levels in TgPWS and TgAS brain whereas there is a ≥15-fold increase in expression in neonatal liver and spleen of these mouse models. By isolating a Chrna7-Tg fusion transcript from TgAS mice, we mapped the telomeric deletion breakpoint in Chrna7 intron 4.
Conclusion
Based on the extent of the deletion, TgPWS/TgAS mice are models for PWS/AS class I deletions. Other than for the first gene promoters immediately outside the deletion, since genes extending 5.6–9.1 Mb away from each end of the deletion show normal expression levels in TgPWS brain, this indicates that the transgene array does not induce silencing and there are no additional linked rearrangements. Using gene expression, non-coding conserved sequence (NCCS) and synteny data, we have genetically mapped a putative Luzp2 neuronal enhancer responsible for ~33% of allelic transcriptional activity. The Chrna7 results are explained by hypothesizing loss of an essential neuronal transcriptional enhancer required for ~80% of allelic Chrna7 promoter activity, while the Chrna7 promoter is upregulated in B lymphocytes by the transgene immunoglobulin enhancer. The mapping of a putative Chrna7 neuronal enhancer inside the deletion has significant implications for understanding the transcriptional regulation of this schizophrenia-susceptibility candidate gene.
Keywords
Imprint Gene
Angelman Syndrome
Deletion Breakpoint
Evolutionary Breakpoint
Imprint Domain
Background
Prader-Willi and Angelman syndrome (PWS and AS) are complex neurobehavioral disorders associated with loss of function of a cluster of differentially expressed imprinted genes in chromosome 15q11-q13 [1]. PWS is characterized by a neonatal stage of failure to thrive, hypotonia and respiratory distress followed by hyperphagia in early childhood with development of severe obesity, as well as short stature, hypogonadism, small hands and feet, mild to moderate mental retardation, and obsessive-compulsive behavior [2, 3]. In contrast, AS patients have a more pronounced neurological disease including developmental delay, severe mental retardation with lack of speech, hyperactivity, seizures, aggressive behavior and excessive inappropriate laughter [2]. Most PWS and AS cases (~70%) are due to ~5 Mb de novo deletions spanning a 2 Mb imprinted domain and several adjacent non-imprinted genes [1]. There are two classes of deletions in PWS/AS patients, one from breakpoint 1 (BP1) to BP3 and the other from BP2 to BP3 [4]. Additionally, paternal or maternal uniparental disomy (pat or matUPD) explain 25% of PWS and 5% of AS cases, respectively, while 2–5% of PWS and AS cases result from imprinting defects (ID). In each mechanism, PWS arises from loss of ten paternally expressed loci, while AS arises from loss of function of the maternally expressed UBE3A gene [1].
Mouse models of PWS with either matUPD [
5
], an ID [
6
] or a paternally-inherited chromosome deletion [
7
] share a similar phenotype with failure to thrive, hypotonia and early postnatal lethality, modeling the first stage of the human syndrome [
9
,
10
]. Similarly, mouse models of AS have a patUPD [
10
], maternally-inherited chromosome deletion [
7
], or a maternal mutation of
Ube3a
[
11
,
12
]. In the transgenic (Tg) deletion mouse model, an Epstein Barr Virus
LMP2A
transgene integrated with ~80 copies into mouse chromosome 7B/C and created an ~5 Mb deletion of the mouse region homologous to the human PWS/AS genes (see Fig.
1A,B
) [
7
]. As in human, the phenotype of the deletion mouse model depends on the parental origin: paternal or maternal inheritance of the Tg-deletion, respectively, results in the TgPWS mouse model characterized by severe neonatal hypoglycemia and early lethality [
9
] or in TgAS mice with a mild neurobehavioral phenotype and late onset obesity [
7
].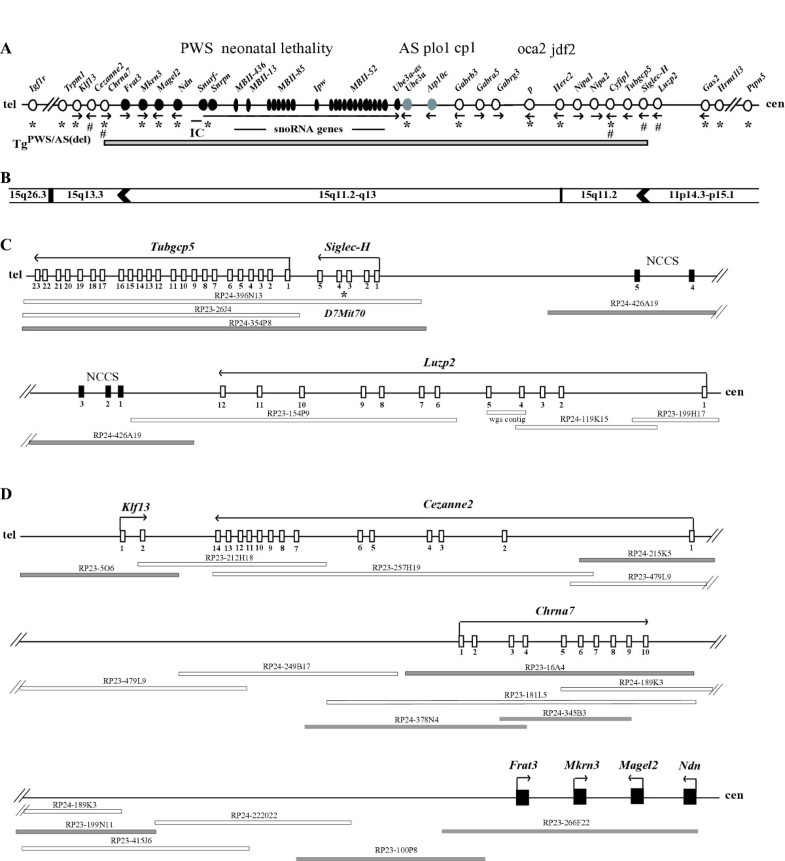 Previous imprinted gene expression studies and fluorescence in situ hybridization (FISH) showed that the Tg insertion-deletion comprised all of the orthologs of PWS and AS imprinted genes and of several flanking non-imprinted genes [Fig. 1A; [7, 13, 14]]. In addition, brain microarray and quantitative gene expression analyses confirmed the loss of expression of several imprinted genes (Snurf-Snrpn, Ndn, Magel2, Mkrn3) and 50% reduced expression of two non-imprinted loci (Herc2, Cyfip1) in TgPWS mouse brain, and demonstrated that an unidentified non-imprinted locus within the deletion acted in trans to regulate a chromosome 18B3 gene expression domain [15]. To define the exact characteristics of the transgene insertion-deletion TgPWS/TgAS mouse model, we have now determined the extent of the deletion and the effect of the Tg-insertion and deletion on expression of flanking genes. We delineated the deletion breakpoint positions between Siglec-H and Luzp2 at the centromeric end and within intron 4 of Chrna7 at the telomeric end. Most importantly, we describe tissue-specific positional effects of the Tg insertion and/or deletion on Luzp2 and Chrna7 expression which are likely due to the presence or absence of specific enhancer elements.
Discussion
A mouse model of PWS/AS class I deletions
The TgPWS and TgAS mouse models were created by insertion of an LMP2A transgene array of ~80 copies [7] that fortuitously generated a deletion equivalent to those that occur in PWS and AS in the human. Although the mouse deletion was previously estimated as being ~5 Mb in length, genome sequence analysis indicates that the deleted segment could be as large as 6.8 Mb (Siglec-H to Chrna7 distance). However, there are a few gaps in the sequence, particularly in several duplicated genomic regions throughout the imprinted domain, and so the exact size of this interval remains unknown. Nevertheless, our previous [7, 13–15] and present studies allow the conclusion that 13 imprinted and 11 non-imprinted genes are included within the mouse PWS/AS-deletion region (see Fig. 1A). In addition to spanning all the PWS- and AS-homologous paternally and maternally expressed genes, respectively, the TgPWS/TgAS deletion in mice also includes the homologs of typically deleted non-imprinted genes (ie., Gabrb3, Gabra5, Gabrg3, p/Oca2, and Herc2) as well as those of the PWS/AS genes (Nipa1, Nipa2, Cyfip1 and Tubgcp5) that define the deletion as equivalent to human class I deletions [1, 4]. Although the classic PWS or AS clinical phenotype is similar in both class I and class II deletions, respectively, a more severe neurobehavioral phenotype has been described for class I compared with class II deletion patients as well as for deletion vs. UPD patients in each syndrome [23, 24]. The TgPWS and TgAS deletion mouse models may therefore prove useful to compare the neurobehavioral phenotype to the UPD or ID PWS [5, 6] or Ube3a gene mutation AS [11, 12] mouse models.
Although the TgPWS/TgAS mouse models show reduced expression of several other genes, including Siglec-H, Luzp2 and Chrna7, as compared to the human PWS and AS class I deletions, none of these additional genes are likely to contribute to the TgPWS and TgAS phenotypes. For example, since Siglec-H is a recent evolutionary addition in the rodent genome [20], its 50% reduction in expression levels due to hemizygosity at the centromeric end of the deletion is unlikely to have a phenotypic effect. Likewise, the ~17% reduction in overall expression of Luzp2 observed in brain of TgPWS/TgAS mice is unlikely to be functionally important, since complete loss of Luzp2 does not lead to any specific phenotype [25]. Although Chrna7 is another gene partially deleted in TgPWS/TgAS mice and the human ortholog maps in 15q13, the latter is outside the PWS/AS deletions and the TgPWS/TgAS phenotype is unlikely to be affected by Chrna7 hemizygosity, since Chrna7 heterozygous knockout mice show no abnormal phenotypes and even Chrna7-/- null mice have only mild skin and reproductive phenotypes [26–29].
Implications for evolutionary acquisition of new genes and breakpoint mechanisms
Our study also characterized expression of a recently identified gene, Siglec-H, which belongs to the Siglec gene family encoding immunoglobulin-like lectins that act as extracellular receptors for sialic acid residues of glycan chains [20, 21]. The majority of Siglec genes map in a single CD33 (Siglec-3)-related cluster in human 19q13 and the syntenic mouse chromosome 7B2 region [20, 21]. In contrast, we show here that Siglec-H, which is rodent-specific and has no primate ortholog [21], lies adjacent to the mouse PWS/AS-homologous region at a position 12.3 Mb from its ancestral location. It seems likely that Siglec-H has similar postnatal immunological functions as other Siglecs, given its robust expression in spleen. However, in contrast with the restricted expression of most other Siglec genes to the haematopoietic and immune systems, Siglec-H is also transcribed at high levels in postnatal brain. Although conjectural, it is tempting to speculate that neuronal expression of Siglec-H may have arisen due to an evolutionary positioning adjacent to single (Luzp2) [25] or clustered (ie., Tubgcp5, Cyfip1, Nipa2, Nipa1) [14] genes expressed at high levels in the nervous system, such that Siglec-H transcription may be under control of a neuronal enhancer for one or more of these genes.
Intriguingly, both the centromeric and telomeric TgPWS/TgAS deletion breakpoints map at or close to the positions of chromosomal evolutionary breakpoints, and at each of the latter two positions there are also rodent-specific gene duplication-insertions. At the centromeric end, the TgPWS/TgAS deletion breakpoint lies immediately adjacent to Siglec-H, which as discussed above arose in rodents by a genomic duplication from a precursor gene located ~12 Mb away. The evolutionary insertion of Siglec-H between Tubgcp5 and Luzp2 occurs right at the boundary of synteny with human chromosome 15q11.2-q13 and 11p14.3-p15.1, respectively (Fig. 1B). Moreover, the TUBGCP5 ortholog also lies within a few kilobases of a primate evolutionary breakpoint that translocated the TUBGCP5 – CYFIP1-NIPA2-NIPA1-HERC2-duplicon cluster to 15q11.2 from an ancestral 15q13 location [14]. Although the telomeric TgPWS/TgAS deletion breakpoint within Chrna7 is not right at an evolutionary breakpoint, this gene also lies adjacent to an evolutionary breakpoint separating genes whose human orthologs map to the PWS imprinted domain in 15q11.2 and a point 8.7 Mb away in 15q13.3 (Fig. 1B). At this position also, there are species-specific duplications in mouse and human, with the retrotransposed Frat3 limited to rodents [13] or the HERC2- and flanking duplicons in primates [5, 14]. Other authors have also noted the apparent congruity of chromosome rearrangement and evolutionary breakpoints [14, 30–32], suggesting that currently unknown chromosomal structural features in these regions may play recombinogenic roles.
Effect of the transgene or deletion on gene expression: mapping of putative neuronal enhancers
Transgene insertions may be accompanied by other chromosomal rearrangements such as deletions (this paper; [
33
]), duplications [
34
], inversions [
35
], translocations [
36
], or combinations of rearrangements [
36
,
37
]. These events can induce alterations of gene expression over large chromosomal regions [
33
], or the transgene itself can do so [
38
]. Extensive analysis of genes flanking the TgPWS/TgAS transgene insertion demonstrated no other rearrangements other than the PWS/AS-region deletion and that gene expression over large regions outside the immediate flanking genes was not affected. In contrast, expression from the first gene promoter outside either end of the transgene insertion-deletion was affected. For example, the 5' promoter and 3' end of
Luzp2
are ~600 kb and 110–140 kb centromeric to the
LMP2A
transgene array-deletion breakpoint, respectively, and this gene shows a significantly reduced expression in TgPWS and TgAS mice. Although at present we cannot fully exclude three models that might lower the
Luzp2
transcriptional level
in cis
in brain, which invoke either (i) a non-specific disruption of chromatin, (ii) a weak silencing effect from the transgene tandem array [
45
], or (iii) extended antisense transcripts from the transgene array given that the 5'-3' orientation of the
LMP2A
array is opposite to the
Luzp2
direction of transcription, we feel that these are less likely than a fourth model that has additional experimental support. We propose that the 33% reduction in expression of
Luzp2
from the deletion allele is most likely explained by deletion of a neuronal enhancer (Fig.
6A
). Consistent with this model, we identified two NCCS elements (NCCS4 and NCCS5) conserved in all eutherian mammals sequenced to date and deleted in TgPWS and TgAS mice, that represent strong candidates to be the neuronal enhancer. As noted above, these elements map to the homologous chromosome location in human but are almost 4 Mb from the next most centromeric gene (
Gas2
) while other flanking genes in mouse are non-syntenic (
Tubgcp5
) or not present (
Siglec-H
) in human (Fig.
1B
). Numerous NCCSs occur within mammalian genomes [
39
,
40
], and while the majority of these have no known function, many do act as enhancer elements [
41
–
43
]. Future
in vitro
and
in vivo
studies [
44
] will be able to examine this enhancer model for
Luzp2
.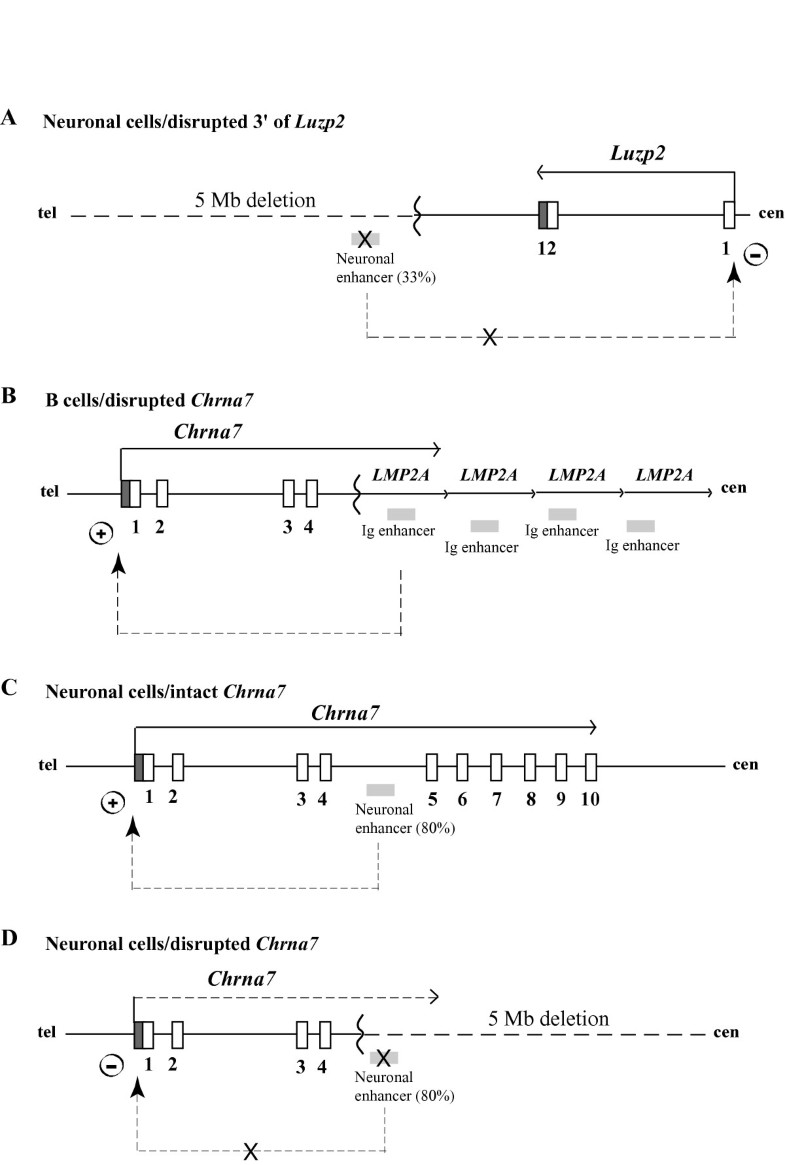 At the telomeric end of the deletion, expression of Chrna7 was dramatically upregulated in liver and spleen, but not brain, due to a tissue-specific positional effect of the transgene. We propose that the transgene immunogobulin Mu enhancer acts in B cells to promote transcription in cis from the heterologous Chrna7 promoter (Fig. 6B). Similarly, transgene regulatory elements 1 Mb away have been shown to activate Sox9 [38]. Moreover, our data combined with cloning of a 5'-Chrna7-LMP2A fusion transcript clearly demonstrates that the Chrna7 promoter is intact and fully capable of high levels of enhancer driven activity on the deletion allele in TgPWS/TgAS mice.
Perhaps the most intriguing finding of this study was our serendipitous discovery that a putative neuronal enhancer for the Chrna7 gene maps within the telomeric end of the TgPWS and TgAS deletion. In TgPWS and TgAS mice, the Chrna7 mRNA level in brain from the deletion chromosome 7 falls to 20% of normal levels despite the fact that the 5' promoter is not deleted. Non-enhancer models appear unlikely to explain this data: for example, models invoking (i) non-specific disruption of chromatin or (ii) a silencing effect from the transgene tandem array [45] are unlikely to account for the specific ~80% reduction in cis expression levels in TgPWS and TgAS mouse brain, while allowing a dramatic activation of the same promoter in immune tissues, and, finally (iii) Chrna7 is transcribed from upstream and in the same orientation as the transgene array, so that an antisense mechanism is not valid. Therefore, we propose that sequences that map 3' of the deletion breakpoint in Chrna7 intron 4 are critical for Chrna7 expression in neurons (Fig. 6C), and it is the deletion of this putative neuronal enhancer that accounts for the reduced Chrna7 expression in brain of TgPWS and TgAS mice (Fig. 6D). Similar analyses of Chrna7 gene expression in other tissues of TgPWS and TgAS mice, such as the neuromuscular junction, heart, and skin, will allow further assessment of the tissue specificity of the proposed enhancer. Interestingly, our data in brain and other tissues also imply that the Chrna7 promoter in vivo only has basal transcriptional activity whereas for high levels of transcription, Chrna7 requires activation by a tissue-specific enhancer(s). In support of this model, we recently identified as candidate enhancer elements two NCCSs within Chrna7 intron 4, whereas no other conserved non-coding sequences other than the minimal promoter occur in a 412 kb domain starting 18 kb 5' of Chrna7 and extending 3' of the gene towards the mouse PWS-region imprinted domain (R.D.N., K.C., and M.S., unpublished data). We are currently mapping the Chrna7 NCCS elements against the TgPWS/TgAS deletion endpoints, while in vitro and in vivo approaches will be needed for analysis of function as candidate neuronal transcriptional enhancers and/or for other cell types.
Conclusion
In this study, we used a variety of molecular cytological and genetic technologies to map the transgene insertion-chromosome deletion breakpoints of a mouse model of PWS and AS to ~38 kb regions between the Luzp2 and Siglec-H genes at the centromeric end and within Chrna7 intron 4 at the telomeric end, respectively. Gene expression analyses then allowed us to demonstrate that genes extending out a further 9.1- or 5.6-Mb centromeric or telomeric of the deletion, respectively, are not affected by either the deletion or insertion of the transgene tandem array. In contrast, transcription of genes at (Chrna7) or flanking (Luzp2) the transgene insertion-deletion breakpoints are affected by the disruption of normal chromosome architecture, with positional effects leading to up- or down-regulation dependent on the tissue-specificity and locations of enhancers within the transgene or putatively removed by the TgPWS/TgAS chromosome deletion. Using Luzp2 as an example, we demonstrate that analysis of phylogenetically conserved sequences and consideration of synteny allows the fine mapping of a putative neuronal enhancer element(s), while a similar model likely also applies for Chrna7. In human, CHRNA7 is of significant interest as a schizophrenia candidate gene with both genetic and functional support [46–48]. Nevertheless, the molecular basis of its candidacy remains uncertain since rare coding and in vitro characterized promoter variants in CHRNA7 [49, 50] may be insufficient to account for deficient function in vivo [51], particularly in light of our observations that expression of Chrna7 in vivo requires a major participation of enhancer function. Identification of a neuronal enhancer and further studies in the human to examine for genetic variation and potential mutations might provide an explanation for a role of CHRNA7 as a schizophrenia-susceptibility gene.
Declarations
Acknowledgements
We thank Brande Latney for technical assistance and Dr. Toni Portis for provision of tissues from EμLMP2A transgenic mice. This work was funded by grants to R.D.N. from the National Institutes of Health (HD31491 and ES10631) and from the Foundation for Prader-Willi Research (FPWR). R.L. is supported by Public Health Service grants CA62234, CA73507, and CA93444 from the National Cancer Institute and DE13127 from the National Institute of Dental and Craniofacial Research. M.S. was supported by a fellowship from the American Heart Association.
Authors' Affiliations
(1)
Center for Neurobiology and Behavior, Department of Psychiatry, University of Pennsylvania, Philadelphia, USA
(2)
Department of Genetics, University of Pennsylvania, Philadelphia, USA
(3)
Division of Hematology, Department of Medicine, Albert Einstein College of Medicine, The Bronx, USA
(4)
Department of Microbiology and Immunology, Feinberg School of Medicine, Northwestern University, Chicago, USA
(5)
Birth Defects Laboratories, Children's Hospital of Pittsburgh, Pittsburgh, USA
(6)
Health Science University of Hokkaido, Hokkaido, Japan
(7)
Department of Pediatrics, Children's Hospital of Pittsburgh, Pittsburgh, USA
Copyright
© Stefan et al; licensee BioMed Central Ltd. 2005
This article is published under license to BioMed Central Ltd. This is an Open Access article distributed under the terms of the Creative Commons Attribution License (http://creativecommons.org/licenses/by/2.0), which permits unrestricted use, distribution, and reproduction in any medium, provided the original work is properly cited.