Research article
Open Access
Functional analysis and comparative genomics of expressed sequence tags from the lycophyte Selaginella moellendorffii
Received: 05 March 2005
Accepted: 06 June 2005
Published: 06 June 2005
Abstract
Background
The lycophyte Selaginella moellendorffii is a member of one of the oldest lineages of vascular plants on Earth. Fossil records show that the lycophyte clade arose 400 million years ago, 150–200 million years earlier than angiosperms, a group of plants that includes the well-studied flowering plant Arabidopsis thaliana. S. moellendorffii has a genome size of approximately 100 Mbp, as small or smaller than that of A. thaliana. S. moellendorffii has the potential to provide significant comparative information to better understand the evolution of vascular plants.
Results
We sequenced 2181 Expressed Sequence Tags (ESTs) from a S. moellendorffii cDNA library. One thousand three hundred and one non-redundant sequences were assembled, containing 291 contigs and 1010 singletons. Approximately 75% of the ESTs matched proteins in the non-redundant protein database. Among 1301 clusters, 343 were categorized according to Gene Ontology (GO) hierarchy and were compared to the GO mapping of A. thaliana tentative consensus sequences. We compared S. moellendorffii ESTs to the A. thaliana and Physcomitrella patens EST databases, using the tBLASTX algorithm. Approximately 60% of the ESTs exhibited similarity with both A. thaliana and P. patens ESTs; whereas, 13% and 1% of the ESTs had exclusive similarity with A. thaliana and P. patens ESTs, respectively. A substantial proportion of the ESTs (26%) had no match with A. thaliana or P. patens ESTs.
Conclusion
We discovered 1301 putative unigenes in S. moellendorffii. These results give an initial insight into its transcriptome that will aid in the study of the S. moellendorffii genome in the near future.
Keywords
Gene OntologyLate Embryogenesis Abundant ProteincDNA Library ConstructionAverage Insert SizeUnigene Sequence
Background
Our understanding of biology has been greatly improved by studying genome structure and gene function of a broad sampling of model organisms such as Mus musculus (mouse), Drosophila melanogaster (fruit fly), Danio rerio (zebrafish), Caenorhabditis elegans (nematode), and Arabidopsis thaliana [1–5]. Comparative genomics has made it clear that orthologs of many proteins that act as signal transduction components, transcriptional regulatory factors, and metabolic enzymes can be identified between and among these model organisms [6]. As a result, the knowledge gained from comparative and evolutionary studies of these species can provide insights into homologous processes in a wide range of other organisms, varying from crop plants to humans [7]. Within plants however, most of the efforts in genomics have been focused on crop plants or economically important plants such as Oryza sativa (rice), Zea mays (maize), and Lycopersicon esculentum (tomato) [8–10]. Thus, coupled with the sequencing of the A. thaliana genome, these efforts have provided data on only a single branch of the plant evolutionary tree, namely members of the Monocotyledonae and Dicotyledonae, collectively termed the angiosperms and commonly known as flowering plants. As a result, the community of plant scientists has little sequence data on other plant lineages that could provide insights into common mechanisms of how plants develop and survive in a terrestrial environment, nor do they have any kind of evolutionary benchmarks that might reveal how angiosperms have come to dominate most world ecosystems [11].
Clear evidence for the existence of angiosperms is present in the fossil record of the lower Cretaceous (140 million years ago), and some evidence suggests their existence 60 million years earlier, around the same time that conifers and ginkgos arose [
12
]. In contrast, fossil evidence for the lycophytes is found in strata dated to approximately 420 million years ago [
13
]. Thus, this clade diverged very early from the lineage that led to all other vascular plants (Figure
1
), and has existed on earth over twice as long as plants that are the most common subjects of current laboratory and agricultural research. As such, the study of lycophytes may provide novel insights into plant biology that would not be provided by research that focuses only on flowering plants.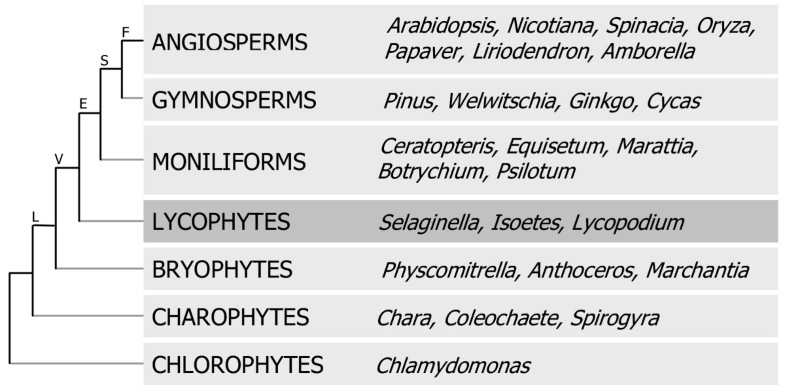 Selaginella
is an extant genus of the lycophyte clade. It is sometimes referred to as a 'seed-free' plant to highlight the fact that it has not evolved flowers and seeds in the time since its divergence from other plant lineages. It has a number of characteristics that would make its study convenient for, and valuable to, the plant biology community [
11
,
14
]. For example, like many other species of
Selaginella
,
S. moellendorffii
(Figure
2
) is a small diploid plant that can be easily grown in the laboratory. Further, it has an approximate genome size of 100 Mbp [
14
], smaller than that of
A. thaliana
, and among the smallest published genome sizes for 'seed-free' genera. Because of these attributes,
S. moellendorffii
was recently chosen as one of the non-crop plants for BAC library construction in a NSF funded Green Plant BAC library Project [
15
]. More importantly, the Department of Energy Joint Genome Institute (JGI) has officially announced that it will sequence the
S. moellendorffii
genome [
16
], making this species a target of extreme interest for research into comparative plant genomics, biochemistry, and development.

Expressed sequence tag (EST) sequencing has been used as an efficient and economical approach for large-scale gene discovery [17]. It has also successfully provided frameworks for many genome projects [18, 19]. Recently, a large number of ESTs have been generated from various plant species and deposited in GenBank, including both model and crop plants like A. thaliana, rice, wheat, and maize as well as species representative of clades other than angiosperms, such as gymnosperms, cycads, and mosses [20–23]. Although over 1000 ESTs from another Selaginella species S. lepidophylla, also known as the resurrection plant, have also been deposited in GenBank [20], no manuscript has been published reporting on their analysis. In this paper, we describe 2181 ESTs generated from a S. moellendorffii cDNA library. These ESTs were assembled into 1301 clusters, annotated using the BLASTX algorithm, surveyed for their abundance within the dataset, and classified into functional groups according to the Gene Ontology (GO) hierarchy. Finally, a comparative genomics approach was used for comparing S. moellendorffii ESTs with those of A. thaliana and Physcomitrella patens to look for genes unique to S. moellendorffii.
Conclusion
We sequenced 2181 ESTs from the lycophyte S. moellendorffii, putatively representing 1301 unigenes. Our data showed that a large proportion of the genes had homologous genes in the well-studied model plant A. thaliana and other plant species. By browsing the putative functional annotations of these ESTs, researchers will be able to choose S. moellendorffii genes of interest and compare them to their othologs in other species. We also found a substantial number of putative Selaginella- specific genes that do not share similarity with known genes, with some of them even representing very highly expressed genes. Considering the complexity of the plant kingdom and a time span more than 150 million years between the divergences of lycophytes and angiosperms, it will not be surprising to identify gene functions in S. moellendorffii that are not present in A. thaliana. When the draft genome sequence of S. moellendorffii is completed and released, this EST resource will also play an important role in the mapping and annotation of the genome. As a member of a clade that arose after the bryophytes and before all other vascular plants, S. moellendorffii will provide new opportunities in studying plant evolution, particularly those adaptations relating to fundamental traits that facilitated the transition of green plants to the land, such as lignification in vascular plants, root/stem/leaf organography, complex patterns of sporophyte branching, and the elaboration of reproductive structures.
Declarations
Acknowledgements
This research was supported by a grant from the National Science Foundation to C.C. and a pilot project grant from the Department of Biochemistry, Purdue University. This is journal paper number 2005-17677 from the Purdue University Agricultural Experiment Station. We thank Dr. Jo Ann Banks for critically reading the manuscript.
Authors' Affiliations
(1)
Department of Biochemistry, Purdue University, West Lafayette, USA
(2)
Department of Botany and Plant Pathology, Purdue University, West Lafayette, USA
(3)
Cold Spring Harbor Laboratory, Cold Spring Harbor, USA
Copyright
© Weng et al; licensee BioMed Central Ltd. 2005
This article is published under license to BioMed Central Ltd. This is an Open Access article distributed under the terms of the Creative Commons Attribution License (http://creativecommons.org/licenses/by/2.0), which permits unrestricted use, distribution, and reproduction in any medium, provided the original work is properly cited.