Research article

Open Access
High precision multi-genome scale reannotation of enzyme function by EFICAz
Received: 04 August 2006
Accepted: 13 December 2006
Published: 13 December 2006
Abstract
Background
The functional annotation of most genes in newly sequenced genomes is inferred from similarity to previously characterized sequences, an annotation strategy that often leads to erroneous assignments. We have performed a reannotation of 245 genomes using an updated version of EFICAz, a highly precise method for enzyme function prediction.
Results
Based on our three-field EC number predictions, we have obtained lower-bound estimates for the average enzyme content in Archaea (29%), Bacteria (30%) and Eukarya (18%). Most annotations added in KEGG from 2005 to 2006 agree with EFICAz predictions made in 2005. The coverage of EFICAz predictions is significantly higher than that of KEGG, especially for eukaryotes. Thousands of our novel predictions correspond to hypothetical proteins. We have identified a subset of 64 hypothetical proteins with low sequence identity to EFICAz training enzymes, whose biochemical functions have been recently characterized and find that in 96% (84%) of the cases we correctly identified their three-field (four-field) EC numbers. For two of the 64 hypothetical proteins: PA1167 from Pseudomonas aeruginosa, an alginate lyase (EC 4.2.2.3) and Rv1700 of Mycobacterium tuberculosis H37Rv, an ADP-ribose diphosphatase (EC 3.6.1.13), we have detected annotation lag of more than two years in databases. Two examples are presented where EFICAz predictions act as hypothesis generators for understanding the functional roles of hypothetical proteins: FLJ11151, a human protein overexpressed in cancer that EFICAz identifies as an endopolyphosphatase (EC 3.6.1.10), and MW0119, a protein of Staphylococcus aureus strain MW2 that we propose as candidate virulence factor based on its EFICAz predicted activity, sphingomyelin phosphodiesterase (EC 3.1.4.12).
Conclusion
Our results suggest that we have generated enzyme function annotations of high precision and recall. These predictions can be mined and correlated with other information sources to generate biologically significant hypotheses and can be useful for comparative genome analysis and automated metabolic pathway reconstruction.
Keywords
Hypothetical ProteinEnzyme FunctionEnzyme CommissionEnzyme Commission NumberAlginate Lyase
Background
Genome sequencing, gene identification and the functional annotation of gene products are the basic first steps towards understanding the wide spectrum of biological processes taking place in a living organism. Although each of these steps presents its own difficulties, the experimental determination of protein function is probably the most challenging [1]. It is practically impossible to perform functional assays for all the uncharacterized proteins provided by the hundreds of genome sequencing projects that are currently underway. Computational tools are clearly necessary to assist in a task of such great magnitude [2]. In fact, the functional descriptions associated with the vast majority of genes in newly released genomes are not experimentally determined but are simply inferred from similarity to previously characterized sequences [3–5]. The basic assumption of this strategy, often (and misleadingly) referred to as "annotation transfer by homology" [6], is that sequence similarity implies functional similarity. However, the transfer of function based on sequence similarity is complicated by a technical issue: the lack of consistent annotation strategies, and by two other main factors: functional divergence and the domain organization of proteins.
Functional divergence of highly similar sequences has been detected in many protein families [7, 8]. In these cases, the use of permissive criteria to assess the significance of the similarity between proteins can easily lead to wrong annotations. For example, detailed biochemical function is not completely conserved between similar proteins even at 60% [9] to 70% pairwise sequence identity [10]; however, much lower thresholds have been used in the functional annotation of some genomes [11]. On the other hand, the modularity of proteins and the fact that different domains of the same protein may have different functions [12] can also lead to wrong functional assignments, for example, when the domain structure of a best database hit is overlooked [13]. These two factors associated with functional annotation based on sequence similarity represent the most important sources of error in genome annotation [13–15]. The consequences of these misannotations are far reaching because they propagate in public databases [15], leading to their systematic deterioration, a process termed error percolation [16]. Genome reannotation, i.e. the annotation of a previously annotated genome using better bioinformatics algorithms and more complete databases [3], provides more accurate and up-to-date functional information and can mitigate the effects of error percolation when the higher quality annotations reach the databases [16]. Genome reannotation projects can provide improved gene structure, refinement of function annotation, benchmarking or comparison of different annotation strategies, and evaluation of annotation reproducibility [3]. In this spirit, we focus here on the reannotation of biochemical function as a more quantifiable aspect of this general problem.
The biological function of a protein can be defined in a physiological, developmental, cellular or biochemical context, among others [5]. From a biochemical point of view, the most important group of proteins is constituted by enzymes. Enzymes are responsible for the majority of biochemical functions, catalyzing the chemical reactions involved in the metabolism of all living organisms and represent a significant fraction of a proteome [17]. Enzymes are organized according to the Enzyme Commission (EC) system, a hierarchical classification that assigns unique four-field numbers to different enzymatic activities [18]. The first field of an EC number indicates the general class of catalyzed reaction: 1. oxidoreductases, 2. transferases, 3. hydrolases, 4. lyases, 5. isomerases and 6. ligases. The second and third fields depend on different criteria related to the chemical features of the substrate and the product of the reaction, and the fourth field is a sequential number without any special meaning. An EC number is assigned solely based on the global reaction that is catalyzed and does not provide information about a specific catalytic mechanism, evolutionary family or structural fold associated to the classified enzyme [19]. New schemes that overcome these problems of the EC system are under development [20, 21]; however, their impact on the biological community is very low compared to the widespread recognition and the universal use of the EC classification. For example, all the main databases focused on enzymes (e.g. BRENDA [22] and ENZYME [23]) or metabolic pathways (e.g. KEGG, the Kyoto Encyclopedia of Genes and Genomes [24] and MetaCyc [25]) rely on the EC classification.
In our previous work [26], we presented EFICAz (Enzyme Function Inference by a Combined Approach), an engine for large-scale enzyme function inference that addresses the limitations of annotation approaches based on sequence similarity alone. EFICAz combines different methods based on family-dependent sequence similarity thresholds, the presence of patterns in functionally relevant domains, and the identification of functionally discriminating residues, all carefully optimized to generate highly precise predictions (see Methods and our previous article [26] for a detailed description of EFICAz). In this work, we present the results of a multi-genome scale reannotation of enzyme function, using an updated version of EFICAz.
Many genome reannotation efforts have been dedicated to individual species [3, 27–30]; here, we investigate 245 genomes, in a very consistent way, and obtain EC number annotations for more than 200,000 coding sequences predicted to be enzymes by EFICAz; more than 14,000 of these are novel functional predictions.
Freilich and collaborators have recently conducted a survey and analysis of enzymes in 85 genomes [17]; however, they have inferred enzyme function using strategies based on sequence similarity alone, which suffer from the problems mentioned above. On the contrary, in this study, we employ EFICAz, a method that we specifically designed and optimized to generate high quality predictions [26]. The ultimate purpose of our multi-genome reannotation project is to provide detailed enzyme function assignments, i.e. four-field EC numbers when possible or at least three-field EC numbers, that permit the reconstruction of metabolic pathways. Accordingly, we have generated a detailed, precise and standardized biochemical function annotation of genome sequences that satisfy the strong requirements of automated methods for metabolic pathway reconstruction [31]. In fact, based on the results of the present reannotation study, we have initiated our own multi-genome scale metabolic pathway reconstruction project, where we demonstrate that novel EFICAz assignments permit the connection of a significant number of disjointed subpathways that occur systematically in certain groups of bacterial species (manuscript in preparation). However, we believe that the up-to-date enzyme function annotations obtained from this large-scale analysis, all available on our website [32], will also be of great utility to researchers interested in comparative genome analysis or the general understanding of biochemical processes occurring in particular species.
This manuscript is organized as follows: in the Results and Discussion section, we first present a reassessment of enzymatic content in organisms from the three domains of life. Second, we compare our predictions with enzyme function annotations from two releases of KEGG. Third, we estimate the precision of our novel assignments by comparing EFICAz predicted and experimentally derived biochemical functions of 64 previously hypothetical proteins. Fourth, we provide examples that highlight the potential of novel EFICAz predictions as a source of biologically relevant hypotheses. In the Conclusions section, we summarize the present work, stress its significance, and discuss its limitations. Finally, in the Methods section, we briefly describe EFICAz, introduce the data sources of our analysis, present the results of an extensive benchmark in a scenario of periodic updates, and describe the procedure we followed to identify recently characterized hypothetical proteins.
Conclusion
The reannotation effort presented in this work provides up-to-date enzyme function information corresponding to 245 genomes. Based on the fact that more than double the number of genomes considered in previous analyses are now available [17, 34], and using EFICAz, our highly precise approach for enzyme function prediction, we have confirmed the existence of a linear relationship between the number of enzymes and proteome size and provided up to date estimations of the fraction of enzymes in genomes from each domain of life (Figure 1).
Precision was the highest priority of our analysis; accordingly, our results suggest that by using EFICAz [
26
], we have generated annotations of good quality. First, the comprehensive series of benchmarks of EFICAz show that we can expect a mean precision of 94% regardless of the sequence similarity between testing and training enzymes (Figure
4A–C
). Second, by comparing our predictions with KEGG annotations available a year later (which can take advantage of updated databases and new experimental results available in the literature), we find that most of the newly added KEGG enzyme function annotations agreed with our earlier EFICAz predictions (Figure
2
). Third, by way of illustration, we identified a set of 64 previously hypothetical proteins whose biochemical functions have been recently characterized and found that in 96% of the cases, we correctly identified their three-field EC numbers, and in 84% of the cases, we could provide their fully detailed enzymatic activities (Tables
1
,
2
,
3
). Achieving this level of precision is not trivial, considering that: (i) hypothetical proteins are the most difficult targets for automated function prediction [
77
], and (ii) the maximal sequence identity between the 64 hypothetical proteins and the EFICAz training enzymes has a median value of 25% (Figure
3
). We were surprised to find a few cases among this set of 64 hypothetical proteins, where the annotation lag in databases was more than two years. It is difficult to estimate the full dimension of this problem; nevertheless, a systematic rescue of those annotations lost in the literature is very much needed, given the low number of experimentally verified functional assignments in the current databases [
78
].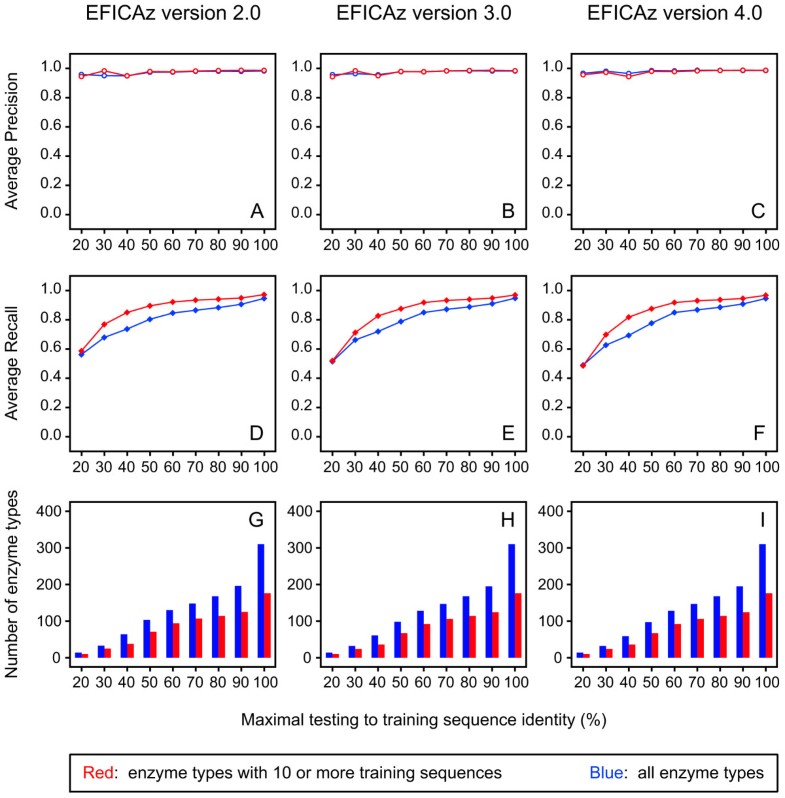 There always exists a trade-off between precision and recall in the implementation of a predictive method. A consequence of our priorization of precision over recall is that the enzyme contents calculated based on our EFICAz predictions are lower-bound estimates (Figure 1D). However, EFICAz is still sensitive enough as to generate thousands of novel annotations. We believe that our novel predictions can be mined and correlated with other information sources to generate biologically significant hypotheses. As a proof of principle of this strategy, we have presented two examples, selected because of their potential impact on human health. Using the EFICAz based database on our website [32], we are confident that experts in different fields of biology will be able to discover many more such cases. To facilitate this task, the enzyme function assignments can be browsed on our website [32] according to species name, gene name, level of detail of the enzyme function prediction and EC number. Agreeing, disagreeing, or unique KEGG and EFICAz annotations, as well as EFICAz assignments for hypothetical proteins can also be selected and retrieved.
The main drawback of our analysis is the fact that we can only predict biochemical functions that are represented in our set of training enzymes by at least one sequence. Because of this requirement, the prediction of orphan enzymes is beyond the capabilities of both our approach and of all the current computational approaches for enzyme function inference. Orphan enzymes are defined as enzymatic activities that have been experimental measured, but not yet mapped to a gene product, i.e., EC numbers without known associated sequences [79, 80]. According to a recent survey, the number of different orphan enzymes exceeds fifteen hundred, i.e. more than 39% of the known enzymatic activities [81].
We plan to periodically repeat the reannotation of all available genomes using updated versions of EFICAz and maintain all the annotations in a web-accessible database. By using the same version of EFICAz to reannotate all the available genomes simultaneously, rather than only the newly released genomes, we will keep the consistency of the annotations between genomes. This feature together with the full standardization of our annotations (EFICAz always reports EC numbers rather than enzyme names; although the latter are also provided) will be very useful for comparative genome analysis and automated metabolic pathway reconstruction, and will also facilitate the incorporation of EFICAz predictions to other functional databases.
Declarations
Acknowledgements
This research was supported in part by NIH grant number GM-48835 of the Division of General Medical Sciences of the National Institutes of Health.
Authors' Affiliations
(1)
Center for the Study of Systems Biology, School of Biology, Georgia Institute of Technology, Atlanta, USA
(2)
Department of Biological Chemistry and Molecular Pharmacology, Harvard Medical School, Boston, USA
Copyright
© Arakaki et al; licensee BioMed Central Ltd. 2006
This article is published under license to BioMed Central Ltd. This is an Open Access article distributed under the terms of the Creative Commons Attribution License (http://creativecommons.org/licenses/by/2.0), which permits unrestricted use, distribution, and reproduction in any medium, provided the original work is properly cited.