Methodology article
Open Access
A DArT platform for quantitative bulked segregant analysis
Received: 03 April 2007
Accepted: 28 June 2007
Published: 28 June 2007
Abstract
Background
Bulked segregant analysis (BSA) identifies molecular markers associated with a phenotype by screening two DNA pools of phenotypically distinct plants for markers with skewed allele frequencies. In contrast to gel-based markers, hybridization-based markers such as SFP, DArT or SNP generate quantitative allele-frequency estimates. Only DArT, however, combines this advantage with low development and assay costs and the ability to be deployed for any plant species irrespective of its ploidy level. Here we investigate the suitability of DArT for BSA applications using a barley array as an example.
Results
In a first test experiment, we compared two bulks of 40 Steptoe/Morex DH plants with contrasting pubescent leaves (mPub) alleles on chromosome 3H. At optimized levels of experimental replication and marker-selection threshold, the BSA scan identified 433 polymorphic markers. The relative hybridization contrast between bulks accurately reflected the between-bulk difference in the frequency of the mPub allele (r = 0.96). The 'platform noise' of DArT assays, estimated by comparing two identical aliquots of a DNA mixture, was significantly lower than the 'pooling noise' reflecting the binomial sampling variance of the bulking process. The allele-frequency difference on chromosome 3H increased in the vicinity of mPub and peaked at the marker with the smallest distance from mPub (4.6 cM). In a validation experiment with only 20 plants per bulk we identified an aluminum (Al) tolerance locus in a Dayton/Zhepi2 DH population on chromosome 4H with < 0.8 cM precision, the same Al-tolerance locus that had been mapped before in other barley populations.
Conclusion
DArT-BSA identifies genetic loci that influence phenotypic characters in barley with at least 5 cM accuracy and should prove useful as a generic tool for high-throughput, quantitative BSA in plants irrespective of their ploidy level.
Keywords
DArT MarkerBulk Segregation AnalysisArray FeatureLoess CurveDArT Array
Background
Bulked Segregation Analysis (BSA) is a widely used method for rapidly identifying molecular markers linked to a trait of interest. It involves genotyping two pools (bulks) of DNA samples from individual plants originating from an experimental cross. Plants are assigned to one of the two bulks based on the trait of interest. The bulks are screened with a large number of markers to identify those that distinguish the bulks and, by inference, must be genetically linked to the trait locus [1].
The success of the BSA approach relies on the dramatic reduction in the number of marker assays when compared to building a genetic map for the purpose of identifying markers associated with a phenotype. BSA 'collapses' the two-dimensional matrix of marker assays (DNA samples × markers) into a one-dimensional vector of genotypic differences between two DNA bulks. With gel-based marker technologies this vector is largely built up sequentially. Highly multiplexed, hybridization-based marker technologies such as SFP, DArT and SNP have the potential to further 'collapse' the vector of genotypic differences between bulks into a single (perhaps replicated) whole-genome assay [2–5].
Application of hybridization-based marker technologies to BSA not only reduces the genotyping effort, but has the additional benefit of producing quantitative raw data (hybridization intensities) which are only subsequently converted into discrete genotypes (allele calls) in the case of non-BSA applications. The raw hybridization data are a quantitative measure of allele frequencies [6–8] and thus should increase the accuracy of mapping a trait locus with BSA. Others have used this feature when performing BSA experiments using SFP typed on Affymetrix GeneChips [9, 10].
While SFP are a powerful research tool for species with sufficient sequence information, their utility in the context of agricultural research and (pre)breeding appears to be fairly limited, not only because of technology-establishment and per-sample assay costs but also because polyploidy poses a serious barrier to any whole-genome hybridization approach. Polyploidy and the costs of technology establishment for new species are also limiting the widespread deployment of SNP among the approximately 150 crop species cultivated worldwide, many of which have large and/or polyploid genomes [11, 12]. By contrast DArT arrays, already available for two dozens of plant and fungal species [4, 13–18], can be rapidly developed for new species of any ploidy level for a small fraction of the investment required for SFP or SNP arrays [19].
In this paper we investigate the suitability of the DArT platform for BSA, using as an example a polymorphism-enriched barley array with 2,304 clones [20]. We first test 'DArT-BSA' using a DH population that segregates for a morphological marker with known map position (our model target trait). In this experiment we explore several technology features that are likely to be critical for routine deployment of DArT-BSA. In a subsequent validation experiment we deploy the optimized method to a different DH population segregating for Al tolerance to test the performance of DArT-BSA in a practical application.
Results and discussion
Test experiment
The Steptoe/Morex DH population segregates for 'pubescent leaf blades' (mPub), a morphological marker that has been incorporated into the genetic map of chromosome 3H in this population [21]. We used mPub to assemble contrasting bulks for a trait with known genetic location in order to evaluate the performance of DArT when applied to BSA. The bulks were compared by simultaneously assaying them on the same DArT array (replicated up to eight times) and measuring the contrast of hybridization intensity for markers that were identified as polymorphic in a comparison between the two parents on separate replicated arrays.
Validation experiment
Having established that DArT-BSA accurately identifies the known genomic location of a model trait, we continued to validate the method by attempting to map an Al-tolerance locus in a Dayton/Zhepi2 DH population (Wang et al., submitted). For this purpose we 'relaxed' the conditions of analysis in two ways to accommodate more typical experimental designs. First, we pooled genomic-DNA samples (for a comparison against pooled genomic representations). Second, we only pooled 20 plants per bulk, not an uncommon bulk size in this sort of experiments.
Genomic-DNA samples can be bulked directly
Because DArT-BSA compares the abundance of alternative alleles between bulks in a quantitative manner (Figure 1), it is important to make sure that individual plants contribute equally to bulks, particularly when working with small bulk sizes. Presumably, the most robust way to achieve this is to bulk representations derived from individual samples of genomic DNA. Direct bulking of genomic-DNA samples, however, produces virtually identical estimates of allele-frequency differences (r = 0.91; Additional File 2). It may well be tolerable to bulk equal amounts of plant material before DNA extraction, although we did not test this method experimentally.
DArT-BSA identifies an Al-tolerance locus on chromosome 4H
The DArT-BSA scan for Al tolerance in the Dayton/Zhepi2 population revealed a highly significant peak on chromosome 4H, despite the elevated 'pooling-noise' threshold (50%; p < 0.05) due to the small bulk sizes used (Figure 5). The position of the peak is consistent with the location of an Al-tolerance locus (Alt) on 4HL, which appears to mediate Al-activated citrate secretion from roots, and has already been identified in several barley populations [24–30].
The
Alt
locus was previously mapped between SSR markers Bmag490 on the proximal side and HVM68 on the distal side [
29
,
30
]. These two SSR markers have also been incorporated into a DArT linkage map of the Dayton/Zhepi2 population where they span a small 0.8-cM region (see Additional File
2
in [
20
]). The marker that showed the greatest allele-frequency difference in the DArT-BSA scan (101.7%; bPb-6872) co-segregated with Bmag490, which implies that it must have been closer than 0.8 cM from the
Alt
locus. The Loess curve peaked another 4.2 cM proximal of the Bmag490/bPb-6872 locus (Figure
5
).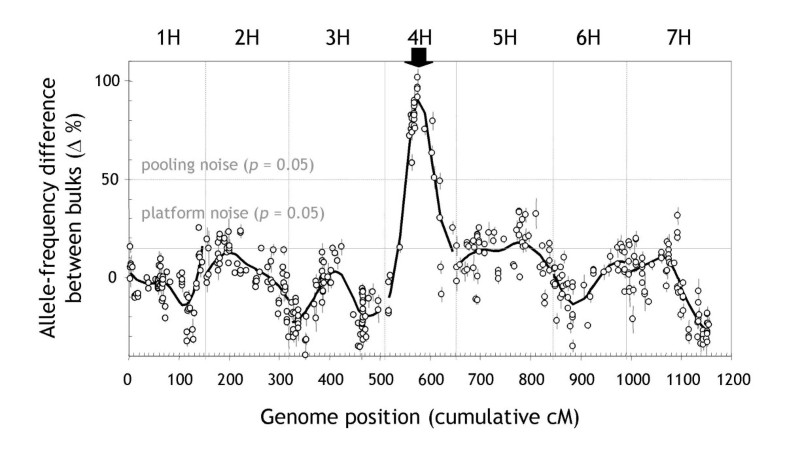 These results are consistent with the performance of DArT-BSA in the Steptoe/Morex model experiment conducted under technically more stringent experimental conditions (Figure 3). In both experiments the position of the target locus was mapped with at least 5 cM precision. A third experiment not reported here identified markers linked to a disease-resistance locus that was subsequently confirmed by conventional linkage analysis.
Conclusion
Given that DArT arrays are already available for two dozens of plant and fungal species [4, 13–18] and can be rapidly developed for new species of any ploidy level with limited resources [19], we extrapolate from the results of this study that DArT should prove useful as a generic platform for quantitative BSA in plants. DArT markers in established arrays for a number of important crops are being sequenced, thus providing instant access to sequence anchor(s) for any DArT-BSA-tagged character when sufficient genomic resources become available in the future.
Methods
Populations and targeted traits
Two DH populations derived from the F1 of bi-parental crosses between barley cultivars were used for this study. The Steptoe/Morex population segregated for the morphological marker 'pubescent leaf blades' (mPub) [21]. The Dayton/Zhepi2 population segregated for Al tolerance (Wang et al., submitted). DNA was prepared from individual plants using a CTAB method [31, 32].
Bulks
Individual DH plants derived from the Steptoe/Morex cross were classified as 'pubescent' and 'hairless' according to their mPub allele [33] and assigned to two pairs of contrasting bulks (20 or 40 plants each). The DH progeny from the Dayton/Zhepi2 cross was assessed for Al tolerance using a nutrient solution-culture method [26]. The roots were exposed to 15 μM of Al for 3 days and stained with 0.1% (w/v) eriochrome cyanine R. The seedlings were then visually scored as 'sensitive' or 'tolerant' as described previously [29] and assigned to one of two contrasting bulks of 20 plants each.
'Representation bulks' were prepared by mixing the genomic representations prepared from individual genomic DNA samples (see section entitled DArT assays below). 'Genomic bulks' were prepared by mixing the genomic DNA samples (~1 μg each) themselves (Dayton/Zhepi2 population only).
Experimental design
A BSA experiment typically comprised four comparisons between individual DNA samples or DNA pools. First, phenotypically contrasting bulks (either of the 'genomic' or the 'representation' type) were compared by simultaneously assaying them on the same DArT array. Second, representations prepared from the two parents were compared on a separate array. Third, a pair of 'representation bulks' derived from two randomly assorted DNA pools ('random bulks') were assayed on another array to evaluate the impact of stochastic effects associated with bulking. Fourth, two identical aliquots of a 1:1 mixture of the two parents ('parent mixture') were compared against each other to quantify the platform (technical) noise of the DArT assays. Each pair of samples ('genomic bulks', 'representation bulks', 'parents', 'random bulks', 'parent mixture') was independently analyzed up to eight times on separate arrays. Half of these replicate assays were performed by swapping the cy3 and cy5 fluorescent dyes used to label the representation pairs compared against each other (see next section).
DArT assays
Pst I/Bst NI representations of genomic DNA samples (from individual plants or 'genomic bulks') were prepared as described previously [4]. The representations produced from individual DNA samples were either bulked according to mPub or Al tolerance ('representation bulks') or pooled randomly ('random bulks'). All representations and 'representation bulks' were purified, labeled with cy3 or cy5 and hybridized to DArT arrays together with the FAM-label polylinker of the vector that had been used to clone the fragments printed on the arrays [3, 14]. The DArT arrays contained 48 sub-arrays with 2,304 polymorphism-enriched clones printed in duplicate and 384 control clones, each printed six times (6,912 array features in total) [20]. The arrays had been printed with a MicroGrid II arrayer (Biorobotics, Cambridge, UK) on SuperChip poly-L-lysine slides (Erie Microarray, Portsmouth NH, USA) using DArT-spotter, a thoroughly optimized buffer for heavy-duty microarray printing (Wenzl et al. in preparation). After an overnight hybridization at 62°C, the arrays were washed and scanned with 10-μm resolution at 543 nm (cy3), 633 nm (cy5) and 488 nM (FAM) on a LS300 confocal laser scanner (Tecan, Grödig, Austria) [3, 14].
Array-data analysis
Array images were analyzed with DArTsoft 7.4 (Diversity Arrays Technology P/L, Canberra, Australia). The program automatically recognized array features using a seeded-region-growth algorithm and reported, for each fluorescent channel, the average and SD of pixel intensities within and around each array feature, the fraction of saturated pixels within each feature and the number of pixels of each feature, amongst other parameters (Cayla et al. in preparation). The logarithm of the ratio between the two background-subtracted averages of feature pixels in the cy3 and the cy5 channel (log2 [cy3/cy5]) was used as a measure of the difference in abundance of the corresponding DNA fragment in the two representations hybridized to an array. The log2 [cy3/FAM] and log2 [cy5/FAM] values, approximate measures of the amount of hybridization signal per amount of DNA spotted on the array, were used for quality-control purposes (see next section).
Whole array quality-filtering
Arrays were rejected if the average correlation of either the log2 [cy3/FAM] or log2 [cy5/FAM] values of non-polymorphic clones (as identified below) with the corresponding values from all other arrays in an experiment was smaller than 0.9. One out of 68 arrays (1.5%) was removed this way.
Array feature quality-filtering
Some array features hybridized weakly in both fluorescent channels, either because of an insufficient amount of DNA printed on the array or because the corresponding DNA fragments were not captured in the genomic representation of either parent. Therefore, features with signal-to-noise ratios (the background-subtracted average of feature pixels divided by the SD of local-background pixels) below 5 in both fluorescent channels were removed from further analysis. The remaining features were accepted if the coefficient of variation of their pixel intensities was smaller than 70% in at least one of the two channels, if less then 20% of feature pixels were saturated in both channels, if the SD of background pixels was smaller than 5 times the array median in both channels, and if their size (pixel number) was at least 30% of the array median. Overall, this quality-filtering procedure removed 12.3 ± 0.7% of all array features (mean ± SD across all experiments).
Hybridization-intensity normalization and averaging
The SD of the central 90% of all log2 [cy3/cy5] feature values on an array was scaled to the average SD of the group of arrays hybridized to the same type of DNA samples or pools. The average of the central 90% of all features on each array was adjusted to zero. Subsequently, the normalized/scaled log2 [cy3/cy5] values of replicate features (both within and across arrays hybridized with identical sample pairs) were averaged to obtain clone values (values derived from dye-swap arrays were multiplied by -1). For clones with at least 6 remaining replicate features, only the central 66% of values were averaged. Clones with less than 25% of replicate features left and the 3% of clones with the highest across-replicate-feature SD of log2 [cy3/cy5] were removed from further analysis. In this manner the best 92.9 ± 0.1% of all clones on the array were selected as potential markers for BSA analysis (mean ± SD across all experiments).
Polymorphic marker identification
Polymorphic clones (markers) were selected from the set of quality-filtered clones, using a two-tiered approach. In step one, a normal distribution-based significance threshold for log2 [cy3/cy5] clone values was established (typically at p < 0.0001) to detect outliers in the comparison between two aliquots of the parent mixture. Polymorphic markers were identified in the comparison between the parents based on this log2 [cy3/cy5] threshold, after it was adjusted by the ratio of the mean between-replicate-feature SD in the two types of comparisons. Potentially unstable polymorphic clones were identified by searching for polymorphic clones that were present in the tails of the log2 [cy3/cy5] distribution in the comparison between two aliquots of the parent mixture (p < 0.05). They were excluded from further analysis.
For step two, the log2 [cy3/cy5] values obtained in the 'representation/genomic bulks', 'random bulks' and 'parent mixture' comparisons were referenced against (divided by) the corresponding values measured in the comparison between parents. Ratios between two groups of log2 [cy3/cy5] values (derived from replicated array features) were computed using weighted jackknifing [34]. The resulting values for relative hybridization contrast (i.e., the hybridization contrast as a percentage of the contrast between the parents) were accepted if their standard error was smaller than 10%. The values obtained in the comparison of two aliquots of the parents mixture were screened for outliers using a normal distribution-based significance threshold of p = 0.05. Outlier markers were excluded.
Allele-frequency determination and simulation
A subset of the markers that were identified as polymorphic in the Steptoe vs. Morex comparisons had previously been incorporated into a linkage map for this population [20]. For each of these markers, the difference in the frequency of the Steptoe allele between the contrasting mPub bulks of 40 plants was calculated from the segregation data after inferring missing data and removing likely genotyping errors (see section entitled Distance of DArT markers from mPub below).
The probability of detecting spurious linkages when analyzing bulks of limited size was estimated by evaluating the distribution of the maximum difference in allele frequency in 10,000 comparisons between random bulks consisting of varying numbers of simulated barley DH genotypes (10, 20, 40 and 80). The latter were generated by randomly seeding seven chromosome telomeres with one of the two parental alleles, followed by propagating the seeded genotypes along 59 additional chromosomal loci based on a Markov chain with a constant 3% transition probability (i.e., assuming 60 equidistant loci on 7 chromosomes of approximately 180 cM length each).
Marker positions on linkage maps
Distance of DArT markers from mPub
Segregation data of DArT markers previously mapped to chromosome 3H in the Steptoe/Morex population were combined with the segregation pattern of mPub [20, 33]. The 3H map was then re-optimized using the RECORD algorithm [35] and missing data were inferred from neighboring markers. Potential genotyping errors were identified as described previously [36] (LODerror > 4) and replaced with missing data (< 0.2% of allele calls). Map distances between mPub and all other markers on chromosome 3H were then computed by adding Kosambi cM distances between adjacent markers.
Genome-scan display
The relative contrast in hybridization intensity of a subset of markers that had previously been incorporated into a DArT consensus map for barley [20] were plotted against the markers' positions in the barley genome. A Loess curve was fitted to each of the chromosomes to visualize changes in allele frequency across chromosomes.
List of abbreviations
AFLP:

amplified fragment length polymorphism
Al:

aluminum
Alt :

aluminum-tolerance locus
BC:

backcross
BSA:

bulked segregant analysis
CTAB:

cetyl trimetyl ammonium bromide
DArT:

diversity arrays technology
DH:

doubled haploid
FAM:

5,6-carboxy-fluorescein
LODerror:

logarithm of odds value for genotyping error
Loess:

locally-weighted scatterplot smoothing
mPub :

pubescent leaf blades locus
QTL:

quantitative trait locus/loci
RAPD:

random amplified polymorphic DNA
RIL:

recombinant inbred line(s)
SD:

standard deviation
SFP:

single feature polymorphism
SNP:

single nucleotide polymorphism
SSR:

simple sequence repeat
Declarations
Acknowledgements
We thank the Australian Grains Research and Development Corporation (GRDC) for ongoing financial support and the Value Added Wheat Cooperative Research Centre (VAWCRC) for their commitment to our Triticarte P/L partnership.
Authors' Affiliations
(1)
Diversity Arrays Technology P/L, Yarralumla, Australia
(2)
Triticarte P/L, Yarralumla, Australia
(3)
NSW Agricultural Genomics Centre and NSW Department of Primary Industries, Wagga Wagga Agricultural Institute, PMB, Wagga Wagga, Australia
(4)
Tasmanian Institute of Agricultural Research, University of Tasmania, Kings Meadows, Australia
Copyright
© Wenzl et al; licensee BioMed Central Ltd. 2007
This article is published under license to BioMed Central Ltd. This is an Open Access article distributed under the terms of the Creative Commons Attribution License (http://creativecommons.org/licenses/by/2.0), which permits unrestricted use, distribution, and reproduction in any medium, provided the original work is properly cited.