Annotated Expressed Sequence Tags (ESTs) from pre-smolt Atlantic salmon (Salmo salar) in a searchable data resource
Received: 01 March 2007
Accepted: 02 July 2007
Published: 02 July 2007
Abstract
Background
To identify as many different transcripts/genes in the Atlantic salmon genome as possible, it is crucial to acquire good cDNA libraries from different tissues and developmental stages, their relevant sequences (ESTs or full length sequences) and attempt to predict function. Such libraries allow identification of a large number of different transcripts and can provide valuable information on genes expressed in a particular tissue at a specific developmental stage. This data is important in constructing a microarray chip, identifying SNPs in coding regions, and for future identification of genes in the whole genome sequence. An important factor that determines the usefulness of generated data for biologists is efficient data access. Public searchable databases play a crucial role in providing such service.
Description
Twenty-three Atlantic salmon cDNA libraries were constructed from 15 tissues, yielding nearly 155,000 clones. From these libraries 58,109 ESTs were generated, of which 57,212 were used for contig assembly. Following deletion of mitochondrial sequences 55,118 EST sequences were submitted to GenBank. In all, 20,019 unique sequences, consisting of 6,424 contigs and 13,595 singlets, were generated. The Norwegian Salmon Genome Project Database has been constructed and annotation performed by the annotation transfer approach. Annotation was successful for 50.3% (10,075) of the sequences and 6,113 sequences (30.5%) were annotated with Gene Ontology terms for molecular function, biological process and cellular component.
Conclusion
We describe the construction of cDNA libraries from juvenile/pre-smolt Atlantic salmon (Salmo salar), EST sequencing, clustering, and annotation by assigning putative function to the transcripts. These sequences represents 97% of all sequences submitted to GenBank from the pre-smoltification stage. The data has been grouped into datasets according to its source and type of annotation. Various data query options are offered including searches on function assignments and Gene Ontology terms. Data delivery options include summaries for the datasets and their annotations, detailed self-explanatory annotations, and access to the original BLAST results and Gene Ontology annotation trees. Potential presence of a relatively high number of immune-related genes in the dataset was shown by annotation searches.
Keywords
Gene Ontology
Atlantic Salmon
Suppression Subtractive Hybridisation
Annotation Pipeline
Contig Assembly
Background
The role of aquaculture in world food industry has rapidly become more important in the last 20 years. Atlantic salmon is an important aquaculture species with an interesting biology. It spawns in fresh water and develops through several stages before migrating to the sea to feed, a dramatic change of habitat that requires physiological, morphological and behavioural changes. In addition the salmonids did undergo a duplication event 25–100 Myr ago [1] and show residual tetraploidity. Atlantic salmon also shows a very different recombination rate between females and males with females having normal recombination while males show a significantly reduced recombination rate [2, 3]. As an important aquaculture species it is crucial to understand the biology of Atlantic salmon, its associated diseases, as well as environmental impact of salmon farming, e.g. effects of escaped fish on wild populations and health issues of interactions of farmed and wild fish. The fact that Atlantic salmon is a species that can yield both biologically revealing and practically important results makes it an important species for research, including genomic research.
The major goal of all farm animal genome projects is to identify the genetic mechanisms responsible for important and commercially interesting traits, such as disease resistance, growth, meat colour, fat deposition etc. in order to implement these results in the breeding and management programmes. Compared to most other farmed animals there is still a large stock of wild fish for most aquaculture species. This means that there is also a great need for managing the wild populations. To identify these genetic mechanisms one needs access to various tools such as a genetic and physical map, polymorphic markers (both microsatellites and SNPs), cDNA libraries, ESTs and full-length gene sequences, and preferably the whole genome sequence. In addition bioinformatics tools and databases are needed to extract biologically meaningful results from this large amount of data.
For Atlantic salmon some of these resources have been developed. They include genetic markers and maps [2–4], a BAC library [5] and the corresponding physical map [6]. Another important genomic resource are cDNA libraries from different tissues and developmental stages, and their relevant sequences (ESTs or full length sequences). Such libraries make it possible to identify a large number of different transcripts and can also give valuable insight into which genes are expressed in which tissue/library at a specific developmental stage. The existing cDNA resources include the EU funded SALGENE (Generation of a genetic body map for Atlantic Salmon) [7], the Canadian GRASP (Genomics Research on Atlantic Salmon Project) [8, 9] and the Norwegian Salmon Genome Project (SGP) [10–12]. The three projects have used different strategies to construct and sequence the various libraries. While GRASP has developed mainly mixed tissue normalised libraries that has been sequenced from both the 5' and 3' ends, SALGENE and SGP developed tissue specific libraries and sequenced mainly from the 5' end. GRASP and SALGENE constructed most of their libraries from adult fish that has been adapted to the saline environment while SGP focused on the pre-smolt stage, i.e. on fish that were still living in fresh water.
There are currently in the order of 430,000 Salmo Salar EST sequences in GenBank, of these 55,118 EST sequences have been generated and submitted as part of the Salmon Genome Project. The DFCI (TIGR) annotated Atlantic salmon Gene Index (AsGI) [13] comprises 236,009 ESTs, 598 ETs (Expressed Transcripts) which after contig assembly yielded 29,544 TC (Tentative Consensus) sequences and 33,697 singlets. Such a resource is essential when constructing a microarray chip and identifying SNPs in coding regions, furthermore it provides a backbone for identifying genes in the future genomic sequence. Recently more than 2,500 putative SNPs have been identified in Atlantic Salmon of which a set of 65 were validated [14]. In addition, the EST sequences and the corresponding clones have been used to develop various microarray chips based on spotted cDNA clones [9].
This paper describes a combined biological and bioinformatics resource and database dedicated to EST sequences from tissue specific pre-smolt Atlantic salmon cDNA libraries. The resource combines a clone as well as a sequence repository and the results derived from data processing. In addition, this includes amplified stocks of libraries from each of the tissues used, which can be used for further studies.
Utility and discussion
cDNA libraries and sequencing
From 23 libraries constructed from 15 different tissues we picked and stored approximately 155,000 clones in 384 well microtiterplates. Nineteen libraries were constructed from normal tissues and 4 libraries were constructed from gills and intestine using Suppression Subtractive Hybridisation (SSH) after intra-peritoneal injection of infectious salmon anaemia virus (ISAV) [15]. All libraries were constructed using fish from the pre-smolt stage. In addition, one library from each of the 15 tissues was also amplified in order to screen these for other genes in the future. From each library 50 tubes containing 1 ml each were stored at -80°C for use by anyone interested in this resource.
We performed 5' sequencing for approximately 75,000 pre-smolt cDNA clones from these libraries. Approximately 68,500 sequences (raw data) were loaded into the Salmon Genome Project (SGP) database as described in Construction and content. After loading, all sequences were subjected to pre-processing in order to clean out poor quality sequences and to trim off vector and linker sequences. After pre-processing there remained 58,109 (84%) high quality sequences, which have been marked as pre-processed ("passed") in the SGP database. The pre-processed sequences were submitted to the GenBank dbEST [26] after removal of the mitochondrial sequences (55,118 ESTs). The accession numbers are [GenBank: CK873405–CK900547, CN181049–CN181464, CO469580–CO472623, DN138771–DN140628, DN162055–DN167138, DN550291–DN550634, DV105941–DV107615, DW005391–DW007928, DW338860–DW340703, DW177413–DW183431, DW468731–DW473883]. Table 1 lists the total number of sequences, number of failed sequences, number of sequences submitted to GenBank and number of sequences used in the clustering from each of the 23 libraries.
Clustering and contig assembly
The project relies heavily on bioinformatics data processing and analysis and we have constructed the SGP data resource (Construction and content), which was used for the sequence processing, contig assembly, annotation, and project data hosting. All sequences, as well as other data and results, can be accessed through the SGP data resource as described in Table
2
. Links in most of the web-based displays and tables show the results of online queries on the SGP database executed every time the table or link is accessed, i.e. they represent current "snapshots" of the SGP database. The SGP database and web site are updated on a regular basis with new data. Clustering and contig assembly was performed on 57,212 EST sequences from the 23 libraries shown in Table
1
. The dataset contained raw sequences, for which the pre-processed sequences passed the preAssemble [
11
] processing criteria of sequence quality and vector contamination (Construction and content). Contig assembly resulted in 20,119 unique sequences, consisting of 6,424 contigs (32%) and 13,595 singlets (68%). This is a somewhat lower ratio of contigs compared to the GRASP results for Atlantic salmon [
9
] and our previous results of clustering of the combined GRASP and SGP ESTs [
14
]. The number of reads in each contig ranged from 2 to 508 with 49% of the contigs containing only 2 reads, 40% contained from 3 to 9 reads and 11% contained more than 10 reads. The length of the contigs varied from 3862 (4 contigs) to 103 (3 contigs) nucleotides with 67% of the contigs comprising between 600 and 1,500 nucleotides. A table listing number of contigs and average length for each observed number of reads per contig can be accessed as shown in Table
2
, Clustered data summary. Contigs pre-sorted by length and number of reads as well as an option to sort into user defined intervals are available in the Clustered data summary menu, Contigs and best annotation hits, Figure
2
.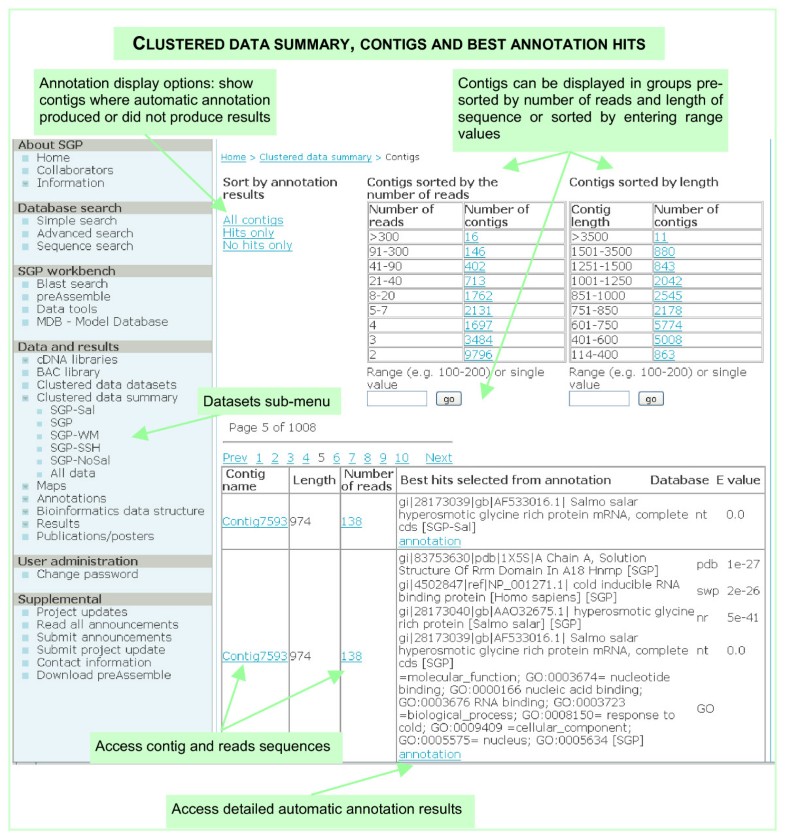 Annotation
The detailed annotation output format includes length of the matched segment of the query and per cent identity with the aligned sequence (Figure 3). Therefore a tentative selection of sequences for protein structure modelling can be made directly on the basis of annotation data. Since all SWISS-PROT sequences for which a similarity model can be built are modelled by the SWISS-MODEL automatic server [27] with results available from the SWISS MODEL Repository [28], a fairly good estimate of the quality and biological significance of modelling for these sequences can be made. As an example of such annotation, most of the larger SGP contigs (Clustered data summary > SGP > Contigs and best annotation hits) display hits in PDB and are suitable for modelling of at least part of their sequences.
Conclusion
We have constructed 23 tissue specific cDNA libraries from pre-smolt Atlantic salmon (Salmo salar). Subsequent EST sequencing and clustering yielded 6,424 contigs and 13,595 singlets, resulting in a total of 20,119 unique sequences.
Putative annotation was assigned to 50.3% of the sequences showing similarity to known genes, mostly from other species, in one or more of the databases used for automatic annotation. 30.5% of sequences were further annotated using annotation transfer procedure for Gene Ontology (GO) terms for molecular function, biological process and cellular component.
All data on ESTs, clustering and annotation can be accessed via the SGP data resource [10]. There is a variety of data access options such as database searches on annotation including gene assignments and GO terms as well as access to self explanatory web-based detailed annotation archives. Annotation searches on biologically important putative functions showed that the [GO: immune response] term is over-represented in the SGP dataset, suggesting the presence of a relatively high number of immune-related genes.
On the whole, annotation searches in the SGP database and access to annotations as datasets summary or as detailed results offer a powerful tool for exploring, at different levels of granularity, biological features reflected in the EST data. A database search, which can be done using sophisticated keywords search options, will produce an overview of the highly reliable sequence similarities ("best hits") and their gene and function annotations including GO assignments. For each of the "best hits" displayed in the overview, a separate link will produce a detailed annotation output presented in a user-friendly format, listing all significant hits in all databases used in the annotation. Users wishing to explore further annotation details can do this via links to the source EST sequences, dissected alignments in the original BLAST format, target (hit) sequences in the source databases, and the original GO annotation tree.
Availability and requirements
The Salmon Genome Project (SGP) data resource is available at http://www.salmongenome.no.
The web access is optimised for Netscape 8 and Internet Explorer.
Declarations
Acknowledgements
The authors would like to thank Agate Noer, Kristin Vekterud and Sigbjørn Lunner for their assistance with library construction and sequencing. This work was supported by grant 139617/140 "Salmon Genome Project (SGP)" by the Research Council of Norway.
Authors' Affiliations
(1)
The Biotechnology Centre of Oslo, University of Oslo, Blindern, Norway
(2)
Norwegian School of Veterinary Science, BasAM-Genetics, Norway
(3)
Engelhardt Institute of Molecular Biology, RAS, Moscow, Russia
(4)
Centre for Molecular Biology and Neuroscience (CMBN) and Institute of Medical Microbiology, Rikshospitalet-Radiumhospitalet Medical Centre, Norway
Copyright
© Adzhubei et al; licensee BioMed Central Ltd. 2007
This article is published under license to BioMed Central Ltd. This is an Open Access article distributed under the terms of the Creative Commons Attribution License (http://creativecommons.org/licenses/by/2.0), which permits unrestricted use, distribution, and reproduction in any medium, provided the original work is properly cited.