Research article

Open Access
The trypanosome transcriptome is remodelled during differentiation but displays limited responsiveness within life stages
Received: 03 March 2008
Accepted: 23 June 2008
Published: 23 June 2008
Abstract
Background
Trypanosomatids utilise polycistronic transcription for production of the vast majority of protein-coding mRNAs, which operates in the absence of gene-specific promoters. Resolution of nascent transcripts by polyadenylation and trans-splicing, together with specific rates of mRNA turnover, serve to generate steady state transcript levels that can differ in abundance across several orders of magnitude and can be developmentally regulated. We used a targeted oligonucleotide microarray, representing the strongly developmentally-regulated T. brucei membrane trafficking system and ~10% of the Trypanosoma brucei genome, to investigate both between-stage, or differentiation-dependent, transcriptome changes and within-stage flexibility in response to various challenges.
Results
6% of the gene cohort are developmentally regulated, including several small GTPases, SNAREs, vesicle coat factors and protein kinases both consistent with and extending previous data. Therefore substantial differentiation-dependent remodeling of the trypanosome transcriptome is associated with membrane transport. Both the microarray and qRT-PCR were then used to analyse transcriptome changes resulting from specific gene over-expression, knockdown, altered culture conditions and chemical stress. Firstly, manipulation of Rab5 expression results in co-ordinate changes to clathrin protein expression levels and endocytotic activity, but no detectable changes to steady-state mRNA levels, which indicates that the effect is mediated post-transcriptionally. Secondly, knockdown of clathrin or the variant surface glycoprotein failed to perturb transcription. Thirdly, exposure to dithiothreitol or tunicamycin revealed no evidence for a classical unfolded protein response, mediated in higher eukaryotes by transcriptional changes. Finally, altered serum levels invoked little transcriptome alteration beyond changes to expression of ESAG6/7, the transferrin receptor.
Conclusion
While trypanosomes regulate mRNA abundance to effect the major changes accompanying differentiation, a given differentiated state appears transcriptionally inflexible. The implications of the absence of a transcriptome response in trypanosomes for both virulence and models of life cycle progression are discussed.
Keywords
Unfolded Protein Response
Tunicamycin
Bloodstream Form
Variant Surface Glycoprotein
Clathrin Heavy Chain
Background
Trypanosoma brucei is the causative agent of sleeping sickness in humans and N'gana in cattle, and has a major economic and morbidity impact across much of Africa [1]. The principal mechanism of immune evasion in the mammalian host is antigenic variation, sequential expression of immunologically distinct variant surface glycoproteins (VSGs) at the cell surface [2], but additional mechanisms, including manipulation of the host immune system and antibody clearance from the surface also participate [3–5]. The full impact of these mechanisms on virulence is not understood at this time. The mammalian part of the life cycle is complex, involving penetration of multiple tissue spaces in the mammalian host, encompassing the bloodstream, lymphatic system and central nervous systems. Despite morphological similarities between mammalian forms, it is unknown if a developmental stimulus is required for tissue tropism or if this results from stochastic events. Further, differentiation to the procyclic insect form on entering the tsetse fly vector is accompanied by massive cellular remodeling, including replacement of the VSG coat with procyclins, a family of acidic glycoproteins, activation of the mitochondrion, changes to cellular and organelle morphology, altered cell cycle checkpoints and attenuation of endocytic activity [6–10]. Multiple stages have been described during fly infection, with clear changes in morphology and surface antigen expression [7, 11, 12]. How these alterations are controlled at the transcriptional level remains unclear; for example each form could represent a distinct developmental stage, implying stimulus-driven differentiation, or result from transcriptome flexibility, allowing modulation of levels of certain transcripts in response to altered conditions.
Polycistronic transcription in trypanosomes [13] precludes promoter-driven control of transcription, while specific degradation appears to be the major mechanism underpinning regulation of mRNA steady state levels. Microarray hybridization and real time (RT) PCR methods can monitor steady-state RNA levels, and are independent of mechanisms controlling mRNA abundance. An earlier whole genome microarray study [14] identified ~2% of ORFs as developmentally regulated, but several developmentally regulated factors, including the clathrin heavy chain and Rab11 [10, 15, 16] were not detected in that analysis.
Membrane trafficking is a defining characteristic of eukaryotic cells, playing major roles in nutrient uptake, turnover, signalling, immune defence, apoptosis and many other processes. Mechanisms regulating transport remain only partly understood in any organism, but transcriptional, post-transcriptional and post-translational processes are all implicated, with changes in transcription [17], complex kinase integration [18], and formation of multiple protein-protein interactions [19, 20] contributing to control. Further, copious evidence implicates small GTPases in regulating distinct aspects of transport, including Rabs in vesicle fusion [21], ARFs in regulation of membrane coat systems [22] and Rho-related proteins in cytoskeletal interactions [23, 24]. Expression profiling for multiple human and mouse tissues indicates correlations between expression of certain Rabs and the SNAREs, adaptors, and other proteins with which they interact [17] and facilitates construction of potential interaction hubs and prediction of novel pathways.
Understanding of membrane transport is comparatively advanced in trypanosomes [25, 26], and various cellular changes are associated with life cycle progression [6], most notably an order of magnitude increase in endocytic activity in the mammalian infective bloodstream form (BSF) versus the insect procyclic (PCF) stages [10]. Increased endocytic activity in the BSF is likely related to immune evasion [4, 26, 27]. By contrast, knowledge of trypanosome signal transduction is poor [28]. Few Ras-like GTPases or their corresponding regulatory factors are present in trypanosomes, heterotrimeric GTPases are absent and there are no obvious receptor-type tyrosine kinases [29–31]. There is a complex predicted trypanosome kinome [31] but limited understanding as to how signaling is mediated via these factors [32–34]. There is evidence for phosphatidylinositol-mediated signaling, but this is comparatively unexplored [35], and a large novel family of receptor-coupled adenylate cyclases in kinetoplastids argues for significant environmental sensing via novel mechanisms [36, 37].
We selected the trypanosome trafficking system as a clear example of a developmentally regulated process, where sufficient data are available for meaningful investigation of transcriptome changes. Using microarray analysis and quantitative RT-PCR, we assessed developmental regulation of trypanosome membrane transport and transcriptional flexibility by targeted genetic manipulation and altered environmental conditions designed to modulate trafficking pathways. From work in other organisms, we anticipated the involvement of protein kinases, small GTPases and, in the case of the unfolded protein response (UPR), a system that responds to increased concentrations of non-native polypeptides within the endoplasmic reticulum, clear evidence for a transcriptional mechanism. Our data indicates developmental remodeling of the transcriptome, but essentially no response to altered conditions.
Discussion
Coordinate control of gene expression is critical for life cycle progression in trypanosomes, and extensive remodeling of the parasite cell is well documented. Here we used the intracellular trafficking system as a model for transcriptome changes. We selected this process on account of well documented alterations to endocytosis accompanying developmental progression, a good level of characterization in trypanosomes, together with, by analogy to higher eukaryotes, the expectation that many gene products will collaborate in regulation. Endomembrane transport involves ~10% of the protein coding potential within the eukaryotic genome [119, 120] and position and time-dependent targeting, assembly of macromolecular complexes and cytoskeletal interactions all participate in controlling a system demanding high fidelity in delivery of molecules to specific subcellular destinations. Further, in higher eukaryotes, transcriptional flexibility and coordination are associated with intracellular transport [17, 121]. Due to the polycistronic mode of transcription in trypanosomes, changes in relative levels of mRNAs result primarily from alterations in the efficiency of nascent RNA processing or half-life [13]. Here we detected clear evidence for developmental alterations to the trypanosome transcriptome, but found very little flexibility within a given life stage.
Firstly, ~6% of transport-associated transcripts are developmentally regulated, a greater fraction than reported for genome-wide transcription [14]. These data indicate that developmental remodeling of endomembrane transport is underpinned by alterations to mRNA abundance, as expected. We also observed prominent differential expression of transport-associated mRNAs between trypanosomes cultured in vitro and those isolated from a mammalian host. A greater proportion of mRNAs were upregulated in the bloodstream stage compared to the insect form, correlating with increased endocytic activity. Prominent upregulated factors include Rab GTPases and SNAREs; significantly, simple upregulation of Rab and/or SNARE proteins is sufficient to augment specific transport pathways [116, 122–124]. While the cohort of upregulated mammalian stage mRNAs is consistent with increased endocytic activity, there is evidence that the Rab5/Rab11 VSG endocytosis and recycling system [25, 122, 125] is only part of the developmental change. For PCFs, the upregulated cohort is consistent with lysosomal degradative pathways playing a more prominent role [26]. Direct examination of several of the gene products implicated here is clearly required for a more detailed understanding of trypanosome differentiation.
Secondly, and in clear contrast, extremely limited changes to mRNA levels were encountered in response to a wide variety of altered states, including major changes to culturing conditions, insult with agents disrupting protein folding and RNAi of critical mRNAs encoding factors essential for endocytosis and cell surface maintenance. Despite polycistronic transcription, a priori there is no compelling reason to assume that turnover of mRNA is uncoupled from signaling systems and, moreover, the observation that iron-deficiency leads to increased expression of the ESAG6/7 transferrin receptor mRNAs and protein provides a potential example of signal-mediated changes to mRNA abundance [45, 65, 105]. Analysis of a large gene cohort indicates that the transferrin receptor is a special case, and we were unable to find compelling evidence for alterations to levels of most mRNAs. The transferrin receptor genes are located in an RNA Pol I-transcribed subtelomeric array [126] and thus may be regulated differentially from most genes that are transcribed by RNA Pol II [127]. We also observed mRNA level alterations in a further Pol I-derived transcript, procyclin, in response to several challenges, but we note that procyclin expression is unusually sensitive to many factors (for example [128]). Regardless of these exceptions, our data indicate that the vast majority of trypanosome mRNAs are unmodulated, suggesting that, for most messages, transcription and turnover are unaffected by signaling pathways. This implies that the trypanosome has a very limited capacity to respond to altered circumstances in vivo, except via pre-programmed differentiation pathways.
The absence of transcriptome responsiveness to environmental cues has several consequences. Firstly, lack of a classical UPR indicates ER insensitivity to increased concentrations of non-native polypeptides, and implies that changes in biosynthetic output similarly will not be sensed. This is consistent with extreme sensitivity to concentrations of DTT that are well tolerated in higher eukaryotes. Whether the UPR is absent from additional excavates is unknown, but preliminary evidence suggests that Giardia also lacks the pathway [112]. Secondly, failure to modify the transcriptome following gene knockdown or over-expression, but where a major impact on transport is found, suggests that modulation of trafficking, and potentially other systems, within a given life stage is restricted to proteomic changes [117]. Thirdly, and most significantly, the data indicate an inability of the trypanosome endomembrane system to adapt to altering conditions and, coupled with the possibility that such unresponsiveness extends to additional cellular functions, has profound implications.
Limited transcriptional flexibility is clearly a restriction for the trypanosome, but is in agreement with a modest small GTPase signaling network [
30
], which may indicate a rather limited signal transduction capacity. As each life stage exists within a highly controlled environment the trypanosome's ability to modulate the trafficking system has likely been lost. The environment within the insect host is poorly understood, but the bloodstream pH range in
H. sapiens
is 7.35 – 7.45, blood glucose is at 4 – 8 mM and transferrin concentration is maintained at ~300 ± 50 μg/dl [
129
]; major alterations to these parameters are lethal, and hence there is little need for the parasite to retain mechanisms for responsiveness. By contrast, a new transcriptome would be triggered by appropriate signals when the trypanosome enters a new compartment or host. Hence the trypanosome life cycle may be viewed as a set of inflexible, sequential transcriptional profiles that serve to adapt the parasite to each new environment (Figure
6
). The
in vitro
cultured BSF is a convenient model for the mammalian bloodstream trypomastigote but, during infection, trypanosomes also invade tissue spaces, the lymphatic system and, in later disease stages, the cerebral spinal fluid [
1
]. Each environment differs greatly from the bloodstream in composition and hence transcriptome inflexibility suggests that a differentiation event may be required for adaptation. Further, the major transcriptome differences between cultured and animal-isolated trypanosomes underscores the potential for currently uncharted, but dramatic, adaptations associated with mammalian infection.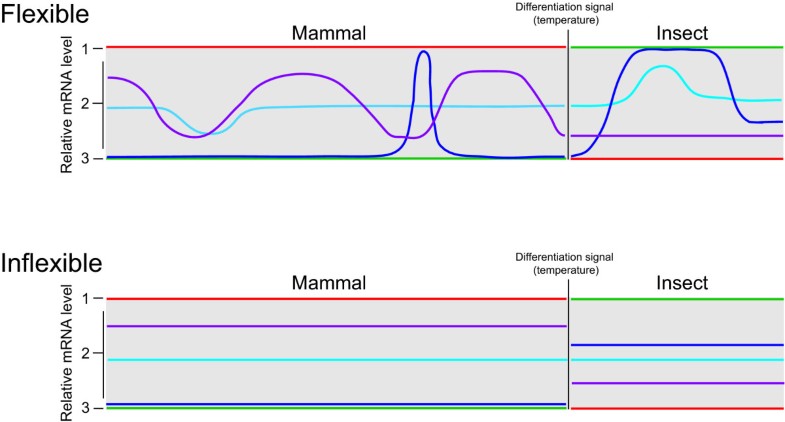 A similar transcriptional rigidity is suggested for the intra-erythrocytic stages of the malaria parasite, Plasmodium falciparum, possibly also related to the fact that Plasmodium enjoys a homeostatic host environment [130–132]. Trypanosomatids (Excavata) and Plasmodia (Chromalveolata) are highly divergent and separated by many non-parasitic or free-living species, and thus transcriptome unresponsiveness most likely is the result of independent secondary loss accompanying adoption of the parasitic life style. Consistent with this view, environmental stress treatments do induce transcriptional responses in Euglena gracilis [133], a free-living protist closely related to kinetoplastids. Further, as Plasmodium utilises a more conventional promoter-mediated mechanism for transcription, this also rules out a trivial explanation that transcriptome inflexibility is simply the result of polycistronic transcription. Examination of transcriptome regulation in more free-living organisms related to both Plasmodium and trypanosomes would be highly informative.
Finally, these data indicate that knockdown of a specific mRNA does not alter the transcript levels of additional gene products coordinated functionally with the RNAi target. Therefore, in T. brucei RNAi is unlikely to suffer from off target effects as seen in higher eukaryotes [134–136], and hence is, in this regard, unusually clean. Secondary effects are likely mediated via proteome changes, and could explain the similar phenotypes observed for many knockdowns [61]. This is particularly prominent for cell cycle/cytokinesis defects that frequently emerge rather late following knockdown. Such effects may be the result of generic loss of the normal proteome, rather than absence of specific factors.
Conclusion
The life cycle of T. brucei includes a dramatic differentiation event as the parasite progresses from the insect to the mammalian host. Differentiation encompasses considerable remodeling of the membrane trafficking system, which is also a vital component of the host-parasite interface. Using a subgenome microarray targeting the T. brucei trafficking systems together with qRT-PCR analysis, we find clear evidence for developmental alteration to ~6% of the trypanosome transport-associated transcriptome. This indicates that developmental remodeling of endomembrane transport is underpinned by alterations to mRNA abundance, and that such changes may be analysed by microarray. Most protein-coding mRNAs in trypanosomatids are produced by polycistronic transcription, with specific rates of decay as the major mechanism controlling steady state transcript levels. Multiple stimuli, including major changes to culturing conditions, insult with agents disrupting protein folding, and RNAi of critical mRNAs encoding factors essential for endocytosis and cell surface maintenance, elicited extremely limited changes to the transcriptome. Besides alterations in expression of the transferrin receptor upon iron stress, which is transcribed by Pol I, the vast majority of trypanosome chromosomal Pol II-derived mRNAs are unmodulated. These findings imply a very limited capacity of trypanosomes to respond to altered circumstances in vivo, except via pre-determined differentiation pathways (Figure 6). Hence mRNA levels are insensitive to external stimuli and most responses are mediated at the proteome level. These data suggest a new view of the trypanosome life cycle as a progression through sequential, inflexible transcriptional profiles that serve to adapt the parasite to each new host environment. As similar transcriptional rigidity is suggested for the malaria parasite, Plasmodium falciparum, but transcriptional flexibility is found in the closely related and free-living protist, Euglena gracilis, it is likely that loss of transcriptional flexibility arose through the parasitic lifestyle.
Declarations
Acknowledgements
We are grateful to the following for assistance with ORF selection: Amanda O'Reilly, Carme Gabernet-Castello, Sara Melville, Mark Carrington and Jeremy Mottram. We also thank Sergio Callejas and Anthony Brown for assistance with array design, Krystyna Kelly and Rob Furlong for advice with data analysis and Karl Hoffmann and Jennifer Fitzpatrick for help with qRT-PCR. Special thanks to Clare Allen for production of the antibody to TbδAd and to Derek Nolan for providing mRNA from MITat1.1 trypanosomes. We also thank Joel Dacks and Mark Carrington for comments on the manuscript. This work was supported by program and project grants from the Wellcome Trust (to MCF). The microarray designs used in this study as well as the relevant experimental data have been deposited in ArrayExpress under accession numbers: A-MEXP-963, A-MEXP-1068, E-MEXP-1528, E-MEXP-1529, E-MEXP-1530, E-MEXP-1533, E-MEXP-1539, E-MEXP-1540.
Authors' Affiliations
(1)
The Molteno Building, Department of Pathology, University of Cambridge, Cambridge, UK
Copyright
© Koumandou et al; licensee BioMed Central Ltd. 2008
This article is published under license to BioMed Central Ltd. This is an Open Access article distributed under the terms of the Creative Commons Attribution License (http://creativecommons.org/licenses/by/2.0), which permits unrestricted use, distribution, and reproduction in any medium, provided the original work is properly cited.