Research article

Open Access
Analysis of expressed sequence tags from Actinidia: applications of a cross species EST database for gene discovery in the areas of flavor, health, color and ripening
Received: 25 March 2008
Accepted: 27 July 2008
Published: 27 July 2008
Abstract
Background
Kiwifruit (Actinidia spp.) are a relatively new, but economically important crop grown in many different parts of the world. Commercial success is driven by the development of new cultivars with novel consumer traits including flavor, appearance, healthful components and convenience. To increase our understanding of the genetic diversity and gene-based control of these key traits in Actinidia, we have produced a collection of 132,577 expressed sequence tags (ESTs).
Results
The ESTs were derived mainly from four Actinidia species (A. chinensis, A. deliciosa, A. arguta and A. eriantha) and fell into 41,858 non redundant clusters (18,070 tentative consensus sequences and 23,788 EST singletons). Analysis of flavor and fragrance-related gene families (acyltransferases and carboxylesterases) and pathways (terpenoid biosynthesis) is presented in comparison with a chemical analysis of the compounds present in Actinidia including esters, acids, alcohols and terpenes. ESTs are identified for most genes in color pathways controlling chlorophyll degradation and carotenoid biosynthesis. In the health area, data are presented on the ESTs involved in ascorbic acid and quinic acid biosynthesis showing not only that genes for many of the steps in these pathways are represented in the database, but that genes encoding some critical steps are absent. In the convenience area, genes related to different stages of fruit softening are identified.
Conclusion
This large EST resource will allow researchers to undertake the tremendous challenge of understanding the molecular basis of genetic diversity in the Actinidia genus as well as provide an EST resource for comparative fruit genomics. The various bioinformatics analyses we have undertaken demonstrates the extent of coverage of ESTs for genes encoding different biochemical pathways in Actinidia.
Keywords
Codon Usage
Quinic Acid
Tentative Consensus
Tentative Consensus Sequence
Ethyl Butanoate
Background
The genus
Actinidia
Lindl. is large, containing between 50 and 70 species of climbing plants originating mainly in southern China [
1
]. Over the past 30 years kiwifruit has developed into an important horticultural crop, firstly in New Zealand, and subsequently in other countries such as Chile, China and Italy [
2
,
3
]. Currently cultivars from three species are grown commercially; the green-fleshed kiwifruit,
Actinidia deliciosa
(A. Chev.) C.F.Liang et A.R.Ferguson, the closely related yellow-fleshed
A. chinensis
Planch. and the kiwiberry,
A. arguta
(Sieb. et Zucc.) Planch. ex Miq. Most of the kiwifruit cultivars grown commercially are seedling selections and there has been little systematic breeding [
2
]. Consequently there are still many characteristics within the genus (Fig.
1A
) that could be incorporated into commercial cultivars [
1
] and to do this efficiently requires a better knowledge of how these characteristics are regulated. For the consumer, critical desirable attributes of kiwifruit are flavor and fragrance, appearance, healthful components and convenience.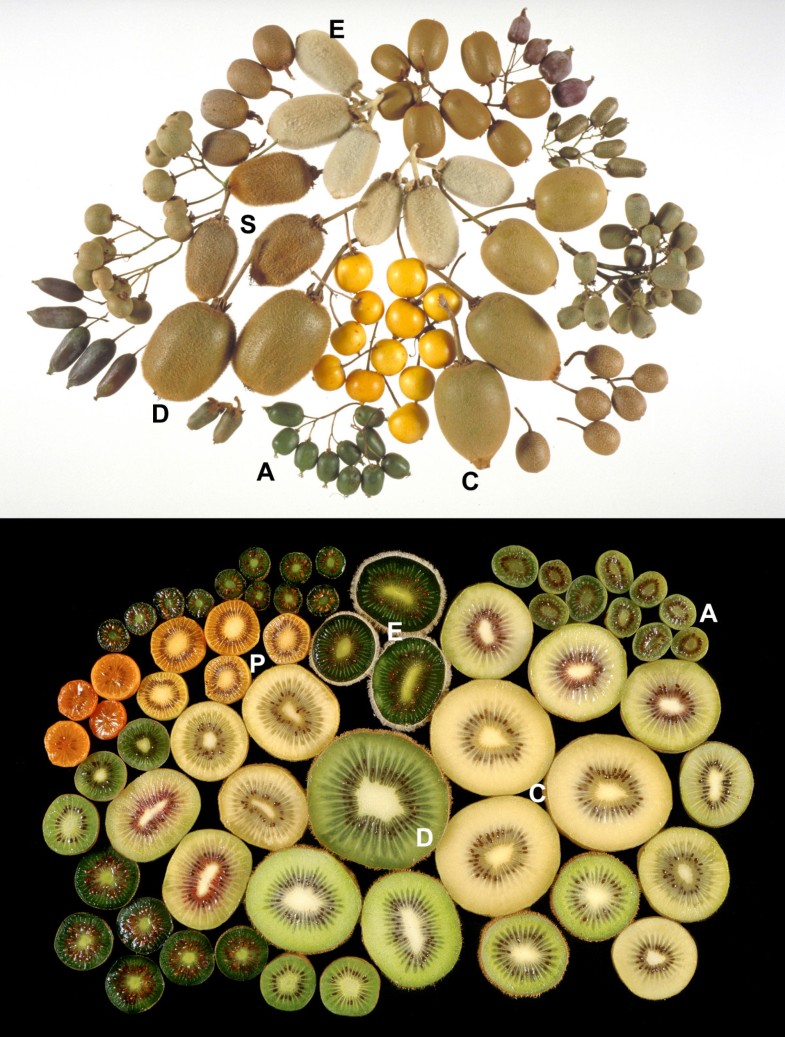 Flavor and fragrance are determined by the chemical composition of the fruit. A wide range of compounds has been detected within the Actinidia genus leading to distinct and different flavors in the fruit [4]. These compounds include polyphenolics, acids, alcohols and volatile compounds such as terpenes and esters. Flavor is also influenced by the sugar to acid balance, with some growers currently receiving a premium for sweeter fruit. Actinidia fruit color ranges from the original green kiwifruit, newer yellow varieties as well as red, purple and orange fruit (Fig. 1B). The extensive range of colors is caused by the presence or absence of chlorophyll, anthocyanins and carotenoids [4]. Healthful attributes of kiwifruit include its high ascorbic acid levels [2], quinic acid levels [5], and the presence of triterpenes and folic acid. On the other hand, allergens are identified as undesirable health attributes in kiwifruit and in many other fruit [4]. Convenience includes such factors as the ability to store the fruit for a long time [2] and a long shelf life, as well as easy determination of eating ripeness and having an edible or peelable skin. Little is currently known about the genetic diversity and gene-based control of these major attributes in kiwifruit.
EST databases as resources for uncovering genetic diversity have been established for many plant species (Additional file 1). Most comprehensively surveyed are Arabidopsis (Arabidopsis thaliana; 1,279,945 in GenBank) and rice (Oryza sativa; 1,211,418 in GenBank), both of which have been fully genome-sequenced. Fruit crops have been less extensively surveyed, but recently there have been reports on EST projects from fruit, including tomato (Lycopersicon esculentum [6], 258,408 sequences in GenBank), grape (Vitis vinifera, which has also had its genome fully sequenced [7]; [8, 9], 363,365 ESTs in GenBank), apple (Malus × domestica [10], 255,103 sequences in GenBank) and pineapple (Ananas comosus [11], 5649 ESTs in GenBank). However, there are few ESTs sequenced from the Ericales (the order to which Actinidia belongs) registered in GenBank (Additional file 1). These significant fruit EST resources have been used to identify genes likely to be involved in the ripening process in tomato [6] and in the generation of aroma in apple [12]. In addition, ESTs are useful sources of simple sequence repeats (SSRs) and single-nucleotide polymorphisms (SNPs), both of which are useful markers for creating genetic maps in plants [13–19].
Knowledge of the
Actinidia
genome or transcriptome is currently restricted to the 511 sequences available in GenBank (dbEST, January 2008). To improve and develop new varieties of kiwifruit with the desired flavor, health and convenience attributes, it is useful to use modern genomics techniques in conjunction with breeding tools such as marker-assisted selection and genetic transformation. For this reason, we undertook a major EST sequencing project in
Actinidia
to develop a basic genetic resource covering a range of different species and tissues. In this paper we analyze more than 130,000 ESTs, derived mainly from four species in the
Actinidia
genus (Table
1
). This information is presented with reference to the chemical composition of these species and using specific examples where we have increased our understanding of the genetic diversity and gene-based control of critical attributes.
Table 1
Numbers of ESTs obtained from different Actinidia tissues by species.
Species

Tissue

A. arguta

A. chinensis

A. deliciosa

A. eriantha

Othera

Totalb

Bud

c

15,689

3,4519

50,208

Celld

4,851

4,851

Fruit

5,421

8,453

13,282

11,259

38,415

Leaf

17,325

17,325

Petal

1,836

1,061

9,950

1,388

1,422

15,657

Root

5,101

5,101

Stem

1,020

1,020

Total

7,257

47,379

57,751

12,647

7,543

132,577
Discussion
We report on a significant resource of over 130,000 ESTs derived from a range of Actinidia species (Table 1). We targeted tissues and developmental stages in order to sample genes involved in physiological and biochemical processes including fruit ripening, flavor development, control of color and the synthesis of chemicals with health-related attributes. For this reason, the two most widely cultivated species of kiwifruit, A. chinensis and A. deliciosa, are well represented with together over 100,000 ESTs (Table 1). In addition, fruit and bud libraries are also well represented, with over 38,000 and 50,000 ESTs, respectively. A. chinensis and A. deliciosa are so closely related, as is A. setosa (Li) C.F. Liang et A.R.Ferguson, that they are variously treated as being distinct species or as varieties of the one species. The other two main species studied, A. arguta and A. eriantha Benth., also have commercial potential but are more distantly related [2].
The genus Actinidia is unusual in how much inter-taxal and intra-taxal variation in ploidy and in the wild, there is a structured reticulate pattern of diploids, tetraploids, hexaploids, and octoploids in diminishing frequency, associated, in at least some taxa, with geographic separation of ploidy races. A. deliciosa is hexaploid, A. setosa is diploid, and there are diploid and tetraploid races of A. chinensis, the tetraploids apparently coming from a restricted part of the natural distribution of the species. Most evidence suggests that diploid A. chinensis was a progenitor of tetraploid A. chinensis and hexaploid A. deliciosa but it is not clear whether genomes from other species have contributed. The basic chromosome number (n = 29) is high and it seems increasingly likely that diploid A. chinensis is itself a rediploidized palaeopolyploid [2].
As is common in EST sequencing projects (e.g., [6, 8, 10], there is a high degree of redundancy in the ESTs, with clustering reducing the number of unique sequences from over 132,000 to 41,858 NRs (18,070 TCs, 23,788 singletons). We would expect this number of NRs to be an overestimate of the number of genes in Actinidia, especially given that the database contains sequences from multiple species of Actinidia. Using the same correction used in the apple EST paper [10], we expect an Actinidia genome to have around 27,000 genes.
On average 20% (± 2% standard error) of the sequences from each library with over 1000 ESTs were singletons suggesting a high degree of novelty in these libraries. On average 28% (± 4%) of sequences did not have a homolog in the various public databases based on BLAST searches with an E value > 1.0e-10. An average of 16% (± 3%) of ESTs were identified as 3' UTR candidates based on the presence of a poly(A) tail within 40 bp of the start (taking into account reverse sequences). These 3' sequences would not be expected to be identified by BLAST searches and so would affect the novelty of a library. Less than 12% of NRs did not have BLAST matches (E > 10) in the Arabidopsis proteome, Uniref, NCBI ref or SwissProt databases.
There was only a small degree of overlap in NRs between libraries. Libraries from different species and different tissues showed a 5 to 9% overlap in NRs, libraries from different species but the same tissue showed an 8 to 10% overlap and libraries from the same species but different tissue showed a 7 to 13% commonality in NRs. These comparisons were made over five large libraries with more than 9,000 EST members each and an average of 2.1 ESTs per NR. These results suggest that there were more NRs in common between libraries made from the same tissue or from the same species, but this tendency was not particularly marked.
Detecting SNPs using an automatically assembled EST database is a cost effective way to discover new DNA polymorphisms and develop novel markers, although it can be a challenging task, especially in polyploid Actinidia species. A significant proportion of the sequence variants predicted from overlapping ESTs within an NR will correspond to "real" SNPs, which means the sequence differences found are allelic variants of a given locus and not sequencing errors or differences between paralogs, homoeologs or orthologs. Homoeolog SNPs could be particularly common in the polyploid accessions of species such as A. deliciosa and A. arguta that make up a large proportion of this database, but are also possible in diploids as a result of conserved gene pairs of paleopolyploid origin. Allelic SNPs can be used directly and converted into molecular markers for genetic mapping, population genetics and linkage disequilibrium studies or for marker-assisted selection. A SNP marker for determining the sex of kiwifruit seedlings [85] has already been successfully utilized. Since the database contains sequence data from multiple species, and ~40% of TCs are made up of more than one species, several SNPs were detected in the Actinidia EST database corresponding to sequence between orthologous loci from different Actinidia species. Hence, they cannot fully be considered as allelic SNPs, but more as species-specific variations. However, as kiwifruit breeding programs often use controlled crosses between different species, the interspecific SNPs will segregate in the progeny and be useful as markers.
The incidence of SSRs in NRs was higher in Actinidia (30%) than in apple (20%), and the frequency of di-nucleotide and tri-nucleotide SSRs differed between these two species. This increase was evident in all of the sequence classes but greatest in AG and AC (double the incidence among apple NRs). Even though the Actinidia genome EST resource represents several species, while apple came mainly from one species, this would not explain these differences. Perhaps the longer period of domesticity in apple, based on a narrow genetic basis compared to kiwifruit, may explain the difference. Alternatively it may reflect that a greater proportion of homoeologs have grouped into TCs in the polyploid kiwifruit data than in the apple dataset.
Overall the codon usage of the three Actinidia species shares many similarities with that of other dicotyledons represented in the codon usage database [86]. Comparisons with Arabidopsis codon usage showed that A. deliciosa and A. eriantha differ markedly for 15 and 17 amino acids, respectively, whereas A. chinensis differs in its preference for eight particular amino acids. Further comparisons with apple, grape, pear, peach, loblolly pine, tomato, citrus, potato and tobacco showed that the codon preference of the Actinidia species is most similar to that of apple [10]. A. deliciosa differs from apple only in its codon preference for aspartate, glycine, isoleucine and leucine. A. eriantha also differs from apple for these four amino acids and also serine. The codon preference for A. chinensis and apple also differ for only four amino acids, these being asparagine, glutamine, threonine and valine. CpG suppression is also evident in Actinidia species with an XCG/XCC ratio of between 0.68 and 0.71 for the three species evaluated. This modest level of suppression of the CpG di-nucleotides is similar to that of apple (0.64) and differs markedly from that of Arabidopsis which shows nearly no suppression (0.92) and from the high level found in grape (0.35). This may well reflect different levels of methylation in the coding sequences used by different species of plants.
Mapman was used to assign function to the Actinidia NRs and thus to their constitutive ESTs. Only 32% of the ESTs did not have an Arabidopsis homolog at E < 1.0e-10. In general, the functional distribution of NRs was very similar to the functional distribution of Arabidopsis proteins (Table 3) suggesting that the sampling of Actinidia ESTs well represented the major functional classes of plant genes. This is surprising given the biased selection of libraries with virtually no root ESTs sequenced. However, the high number of bud meristem libraries meant that genes expressed in metabolically active dividing tissue were sampled.
Fruit of the Actinidia genus show several characteristics that distinguish them from other fruit species. These include flesh color (green is the most common, but yellow, orange and red fruit also occur in the genus), chemical composition including high vitamin C and quinic acid contents, and a novel aroma composition (Additional file 7), characterized by the abundant esters. In addition, kiwifruit has been identified as a fruit with a potential to cause allergenicity among consumers, although this is a problem common to many other fruit. For this reason, we analyzed the Actinidia EST database to identify genes involved in these pathways and products. These analyses showed the depth and usefulness of the database for selecting candidate genes for most steps in the selected pathways. The other useful characteristic of the Actinidia EST database is the wide range of genetic and phenotypic diversity sampled across the Actinidia genus (Fig. 1) and the value of using this diversity to discover novel traits through functional genomics and through mapping and positional cloning approaches.
Conclusion
This paper describes an EST resource in the Actinidia genus and discusses many of the properties of this collection. However, there is still a tremendous challenge in understanding the molecular basis of the genetic diversity of this genus, and we expect putting this EST resource into the public domain will enhance future understanding of the genetic basis of the many divergent traits in this fruit.
Declarations
Acknowledgements
We thank Ian Ferguson and Richard Forster for support in this project. Libraries were sequenced by Genesis Research & Development Corporation Limited, Auckland, New Zealand. This analysis project was supported financially by the Foundation for Science, Research and Technology (contract C06X0403) and by HortResearch.
Authors' Affiliations
(1)
The Horticultural and Food Research Institute of New Zealand, Auckland, New Zealand
(2)
Max-Planck-Institute of Molecular Plant Physiology, Potsdam-Golm, Germany
Copyright
© Crowhurst et al; licensee BioMed Central Ltd. 2008
This article is published under license to BioMed Central Ltd. This is an Open Access article distributed under the terms of the Creative Commons Attribution License (http://creativecommons.org/licenses/by/2.0), which permits unrestricted use, distribution, and reproduction in any medium, provided the original work is properly cited.