Research article

Open Access
Genome sequencing and analysis reveals possible determinants of Staphylococcus aureus nasal carriage
Received: 25 April 2008
Accepted: 22 September 2008
Published: 22 September 2008
Abstract
Background
Nasal carriage of Staphylococcus aureus is a major risk factor in clinical and community settings due to the range of etiologies caused by the organism. We have identified unique immunological and ultrastructural properties associated with nasal carriage isolates denoting a role for bacterial factors in nasal carriage. However, despite extensive molecular level characterizations by several groups suggesting factors necessary for colonization on nasal epithelium, genetic determinants of nasal carriage are unknown. Herein, we have set a genomic foundation for unraveling the bacterial determinants of nasal carriage in S. aureus.
Results
MLST analysis revealed no lineage specific differences between carrier and non-carrier strains suggesting a role for mobile genetic elements. We completely sequenced a model carrier isolate (D30) and a model non-carrier strain (930918-3) to identify differential gene content. Comparison revealed the presence of 84 genes unique to the carrier strain and strongly suggests a role for Type VII secretion systems in nasal carriage. These genes, along with a putative pathogenicity island (SaPIBov) present uniquely in the carrier strains are likely important in affecting carriage. Further, PCR-based genotyping of other clinical isolates for a specific subset of these 84 genes raise the possibility of nasal carriage being caused by multiple gene sets.
Conclusion
Our data suggest that carriage is likely a heterogeneic phenotypic trait and implies a role for nucleotide level polymorphism in carriage. Complete genome level analyses of multiple carriage strains of S. aureus will be important in clarifying molecular determinants of S. aureus nasal carriage.
Keywords
Mobile Genetic ElementNasal CarriageNasal EpitheliumNasal ColonizationMLST Analysis
Background
Staphylococcus aureus is a versatile pathogen capable of a wide spectrum of etiologies ranging from benign colonization of epithelia to fatal cases of septicemia. S. aureus has been identified as a global risk with the emergence of multi-drug resistant (MDR) strains. The majority of staphylococcal infections are nosocomial or community-acquired, and for both types, there is a strong correlation between staphylococcal infection and its colonization of the human nasal epithelium. Asymptomatic carriage of S. aureus in the anterior nasal vestibule occurs in approximately a quarter of the population to different degrees of severity [1], and can be either temporary or persist over many years. Nasal carriage of S. aureus has been identified as a risk factor in the clinical treatment of diabetic foot ulcers [2], post-operative recovery from heart surgery [3], and hemodialysis [4] amongst others.
Nasal carriage of S. aureus is multifactorial and likely involves both host and bacterial determinants [5–8]. One primary determinant of nasal carriage is the permissibility of host nasal fluid for bacterial growth. Indeed, a single strain of S. aureus (502-A) was shown to differentially colonize various hosts, underscoring the importance of host factors in nasal carriage [9]. Apart from host factors, several studies, including ours [1, 10] and others [11, 12], attribute a role for bacterial factors in carriage. It is notable that carrier strains, but not non-carrier strains, of S. aureus were able to persist and replicate within nasal fluids from carrier donors and on the surface of organotypic nasal epithelia [13], suggesting that carrier strains of S. aureus elaborate factors to aid in their nasal colonization.
Our group has extensively characterized two strains of S. aureus, one a clinical nasal carriage strain isolated from a persistent carrier (strain D30) [1, 13, 14] and another was isolated from a burn victim (strain 930918-3) [1, 15–17]. Of these two strains, D30 was able to survive in the nasal fluid extracted from carrier host [1]. It was also shown to produce a capsular covering upon incubation with nasal fluid [1], which is likely a protective biofilm [14]. Contrarily, the strain 930918-3 was not capable of surviving in the nasal fluid of carriers and did not produce biofilms [1, 14]. Most importantly, we revealed that D30 suppressed the innate immune response by downregulating TLR expression and TLR-mediated signaling in primary nasal epithelial cells while 930918-3 did not [13].
Several bacterial genes have been identified, which can potentially influence colonization on nasal epithelia. Notable amongst them are sortase A (srtA) [18, 19], clumping factor B (clfB) [19–23] and tagX [24], which are involved in cell adhesion (srtA and clfB) and cell wall biosynthesis (tagX), respectively. In addition, studies implicating enterotoxins in S. aureus nasal carriage [11, 12, 25–28] show that enterotoxins were found in most but not all carrier strains. However, as we reveal herein, these collective genes may be necessary but not sufficient factors for nasal carriage. Taken together, these reports suggest that nasal carriage is a multifactorial process, although our knowledge of bacterial factors responsible for nasal carriage of S. aureus is still quite limited.
In this work, we have strived to bridge the genome level knowledge gap that exists in S. aureus nasal carriage. First, we assessed the lineage specific differences between carrier strains and non-carrier strains using multi-locus sequence typing (MLST) [29]. Subsequently, in order to determine the genome level differences between the model carrier strain and non carrier strain, we undertook a complete genome sequencing effort for our two highly characterized strains, D30 (carrier) and 930918-3 (non-carrier), and identified differential gene complements in both strains. Furthermore, for a specific subset of 76 genes that are non-fragmented and unique to either strain, we performed comparative PCR-based multi-locus genotyping. Notably, the results revealed the unique presence of genes in the carrier strain derived from bovine pathogenicity islands (SaPIBOV) [30, 31], possible constituents of the type VII secretion system (T7SS) [32] and various other genes that are likely involved in pathogenesis. These studies provide a foundation for genome level analyses of S. aureus specific to human nasal carriage and will be instrumental in furthering our understanding of the carriage trait.
Conclusion
We have completely sequenced and compared the genomes of a highly characterized clinical nasal isolate of S. aureus (D30) and a non-carrier S. aureus strain (930918-3). Comparison of ORF content of these two strains revealed the presence of several genes in D30 that might be critical determinants of nasal carriage. The presence of FtsK/SpoIIIE family member and an associated protein TraG uniquely in D30 implies a role for Type VII secretion systems in S. aureus nasal carriage. While our work suggests a possible role for a Type VII Secretion System in nasal carriage, a complete genomic analysis of a large number of carrier strains, properly stratified from both intermittent carriers and persistent carriers, will be necessary to confirm this and elucidate other bacterial determinants of S. aureus nasal carriage.
Methods
Bacterial Strains used in this study
S. aureus strains D20, D30, D37, D39, D85, D94, D98, 930918-3 are described in previous studies [1, 13–17]. Apart from these strains, we also used an opportunistic carrier strain (502-A) [60] in our analyses. 502-A has been shown to be capable of carriage in certain hosts [9] in both persistent and intermittent carriers. All strains were propagated on Trypticase Soy Agar (TSA) plates and liquid cultures in Trypticase Soy Broth (TSB). D30 and 930918-3 have been confirmed as being S. aureus by using S. aureus specific 16S-rRNA primers [61] and others by using a Staphyloslide kit (BD and Co., MD, USA) that has been previously validated [1].
MLST analysis of S. aureus strains
Primers reported by Enright and colleagues [29] were obtained from Invitrogen (Carlsbad, CA) and PCR performed using conditions reported therein. The amplicons were cloned into TOPO-4 (Invitrogen, Carlsbad, CA) and transformed into chemically competent Top10 E. coli cells. Transformants were selected on LB-Agar plates with 75 μg/mL Ampicillin and cultures of transformants grown overnight in LB broth with 75 μg/mL ampicillin at 37°C, shaken at 270 rpm. Plasmids were extracted from the overnight cultures using a QuickLyse kit (Qiagen, Valencia, CA) as per the manufacturer's instructions, and the extracted plasmid was assessed for quantity and purity by O.D. measurements using a SpectraMax spectrophotometer (Molecular Systems, Sunnyvale, CA). These plasmids were then sequenced by the dye-terminator Sanger double barrel sequencing method using standard T3 and T7-Forward primers, and the sequence was used to identify the allotype by querying the MLST database http://www.mlst.net.
Genomic DNA extraction from S. aureus strains
S. aureus was plated on to TSA plates and incubated overnight at 37°C. Single colonies were subsequently inoculated in 3 ml TSB and grown overnight at 37°C, diluted 1:200 in TSB, and incubated an additional 3 hrs to obtain cells in log phase growth. Cells were sedimented and genomic DNA was extracted using Genomic Tip kits (Qiagen, Valencia, CA). Lysostaphin (Sigma-Aldrich, St. Louis, MO) from S. staphylolyticus was used to lyse the cell wall of S. aureus. Genomic DNA from S. aureus strains D30 and 930918-3 were extracted and resuspended in Tris-EDTA (TE) to a final concentration of 382 μg/ml and 500 μg/ml respectively. Prior to genomic sequencing, the two strains were confirmed as being S. aureus by using species-specific 16S-rRNA primers [61].
Genome Sequencing, Assembly and Sequence Analysis
Genomic DNA from
S. aureus
strains D30 and 930918-3 were subjected to pyrosequencing [
62
]. De novo sequence assembly of the sequence reads into large contigs (>500 bases) was performed using Newbler. We created a non-redundant set of ORFs representing the staphylococcal pan-genome using bidirectional best hit. For this, each of the available
Staphylococcus
ORFs (12
S. aureus
genomes, two
S. epidermidis
genomes, and one
S. haemolyticus
genomes [
50
,
63
–
68
] – details given in Table
1
) were taken in chronological order and orthologs were identified in the remaining set using BLAST [
49
]. While the ORF itself was retained, the orthologs were removed from further consideration. We considered all the Staphylococcal plasmids that have been sequenced as separate genetic entities and analyzed them similarly. The staphylococcal pan-genome was then used to identify the core and variable genome constituents of the sequenced strains D30 and 930918-3. Further, the contig assemblies were subject to gene prediction using Glimmer trained on the staphylococcal pan-genome. These contigs were submitted to NCBI (ABFA00000000 and ABFB00000000 for D30 and 930918-3 respectively). The statistics of contig assembly are provided in Table
3
.
Table 3
Genome sequencing and contig assembly statistics.
| Parameters | D30 | 930918-3 |
| --- | --- | --- |
| Total No. of Reads | 818689 | 862963 |
| No. of Assembled Reads | 802249 | 839907 |
| No. of Large Contigs | 75 | 139 |
| Total No. of Bases | 2727791 | 2838563 |
| Average Contig size (bases) | 36370 | 20421 |
| N50 Contig size (bases) | 73183 | 42932 |
| Largest Contig size (bases) | 175032 | 148157 |
Figure
5
illustrates the method we adopted to identify ORFs. In brief, each ORF in the pan-genome was used to comparatively map and assemble matching raw sequence reads (using BLAST [
49
]) and in the first iteration, all the ORFs that could be tested affirmatively for consistency (no in-frame stop codons in at least one frame) and completeness (no gaps/read gaps) were pooled and designated "Tier 1". Further analysis included only those genes that were a part of the
S. aureus
common minimal genome (CMG). The CMG was derived from the pan-genome and is defined as the set of genes that are present in all
S. aureus
strains. For those CMG genes that were not present in Tier 1 (due to read gaps), we identified those with small (gap < maximum read length) and large gaps (gap > maximum read length). The former group was designated "Tier 2" while the latter was designated "Tier 3" (Table
2
). Those ORFs, which had at least 90% coverage were included in comparative analysis studies.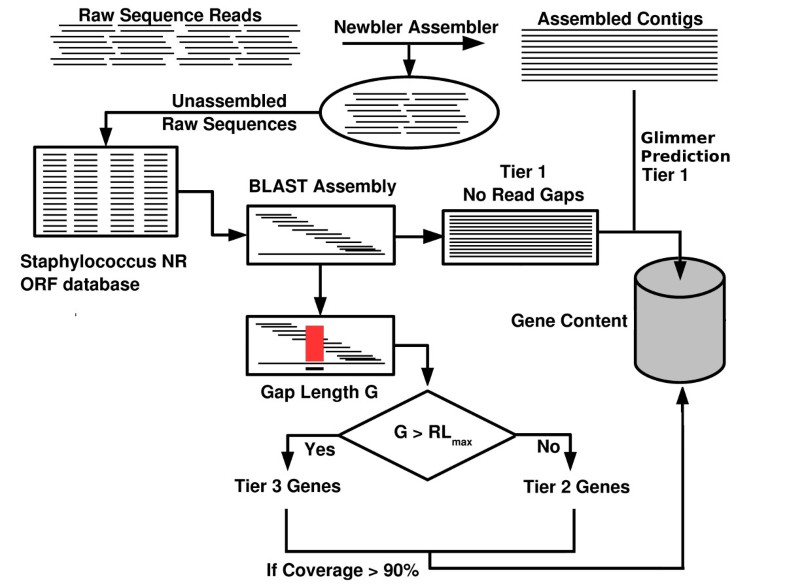 In order to define the set of Unique Non-Fragmented (UNF) genes, we used subtractive BLAST analysis on the raw sequence data sets and removed all matching sequences from both genomes. The remaining sequence reads were then searched using the staphylococcal pan-genome and genes were identified.
PCR for analyzing differential gene complement in carrier strains
All genes that were identified by sequence analysis to be a part of the UNF between strains D30 and 930918-3 were confirmed by PCR analysis. The primers and conditions for each gene are given in Additional file 3. The primers were designed using Primer-3 software at the MIT web server http://frodo.wi.mit.edu/cgi-bin/primer3/primer3_www.cgi and PCR was performed for the 76 unique genes using 10 different strains of S. aureus (D20, D20-2006, D30, D37, D39, D85, D94, D98, 930918-3 and 502-A). The amplicons were subject to electrophoresis in a 2% agarose gel in Tris-Borate EDTA buffer and visualized using Ethidium bromide stain in a Bio-Rad gel documentation system (Hercules, CA).
Statistical analysis to test significance of PCR genotyping
We created 1000 random S. aureus genomes using the core-genome (1792 genes) and 850 genes (average variable genome size) derived from the variable repertoire. Using these random genomes, we calculated the probability of accumulating all the 18 UNF genes within a single strain. All the raw probabilities were adjusted and Bonferroni correction applied to estimate the P-values. All statistical analyses were performed using R package on a Linux platform.
Declarations
Acknowledgements
This work was supported by NIH grant AI060753 to AMC.
Authors' Affiliations
(1)
Department of Molecular Biology & Microbiology, Biomolecular Science Center, Burnett School of Biomedical Sciences, College of Medicine, University of Central Florida, Orlando, USA
(2)
454 Life Sciences, Branford, USA
Copyright
© Sivaraman et al; licensee BioMed Central Ltd. 2008
This article is published under license to BioMed Central Ltd. This is an Open Access article distributed under the terms of the Creative Commons Attribution License (http://creativecommons.org/licenses/by/2.0), which permits unrestricted use, distribution, and reproduction in any medium, provided the original work is properly cited.