Research article
Open Access
Cross-species comparison of biological themes and underlying genes on a global gene expression scale in a mouse model of colorectal liver metastasis and in clinical specimens
Received: 27 March 2008
Accepted: 29 September 2008
Published: 29 September 2008
Abstract
Background
Invasion-related genes over-expressed by tumor cells as well as by reacting host cells represent promising drug targets for anti-cancer therapy. Such candidate genes need to be validated in appropriate animal models.
Results
This study examined the suitability of a murine model (CT26/Balb/C) of colorectal liver metastasis to represent clinical liver metastasis specimens using a global gene expression approach. Cross-species similarity was examined between pure liver, liver invasion, tumor invasion and pure tumor compartments through overlap of up-regulated genes and gene ontology (GO)-based biological themes on the level of single GO-terms and of condensed GO-term families. Three out of four GO-term families were conserved in a compartment-specific way between the species: secondary metabolism (liver), invasion (invasion front), and immune response (invasion front and liver). Among the individual GO-terms over-represented in the invasion compartments in both species were "extracellular matrix", "cell motility", "cell adhesion" and "antigen presentation" indicating that typical invasion related processes are operating in both species. This was reflected on the single gene level as well, as cross-species overlap of potential target genes over-expressed in the combined invasion front compartments reached up to 36.5%.
Generally, histopathology and gene expression correlated well as the highest single gene overlap was found to be 44% in syn-compartmental comparisons (liver versus liver) whereas cross-compartmental overlaps were much lower (e.g. liver versus tumor: 9.7%). However, single gene overlap was surprisingly high in some cross-compartmental comparisons (e.g. human liver invasion compartment and murine tumor invasion compartment: 9.0%) despite little histolopathologic similarity indicating that invasion relevant genes are not necessarily confined to histologically defined compartments.
Conclusion
In summary, cross-species comparison on a global gene expression scale suggests the validity of an animal model representing the human situation. The actual yield of potential target genes depends on several variables including the animal model, choice of inclusion criteria, inherent species differences and histologic assessment.
Keywords
Colorectal Liver MetastasisGlobal Gene ExpressionInvasion FrontPotential Target GeneBiological Theme
Background
Besides unrestricted proliferation and reduced apoptosis, unbalanced invasion is the third major prerequisite of malignant behaviour of the tumor cell. Invasion of tumor cells depends on a permissive host environment at the invasive site of the primary tumor as well as at the site of metastasis. The host participates in the induction, selection and expansion of neoplastic cells[1] to an extent that researchers are even raising the question of "who is invading whom?"[2]. Likewise, the tumor cells of the invasion front display features which differ from those in the inner parts of the tumor. We have recently reported on the host response of the liver tissue upon invasion by colorectal tumor cells as well as on the gene expression changes of invasive tumor cells in an immunodeficient murine xenograft model [3, 4]. As part of our ongoing attempts to acquire cross-compartmental biological themes and to generalize findings obtained in distinct animal models with respect to the clinical situation, we now examined global gene expression in a syngenic immunocompetent mouse model and in a set of five clinical samples of colorectal liver metastases. We analyzed histology and global gene expression data from four compartments, namely liver, distant from the invasion front (L), liver adjacent to the invasion front (LI), tumor adjacent to the invasion front (TI) and tumor distant from the invasion front (T) and we particularly concentrated on the following three questions:
1. What is the degree of cross-species overlap on the single-gene level?
2. How similar are biological themes and single-gene expression data in a cross-species comparison and can relations between these parameters in addition to histological assessment be used to explain cross-species overlap?
3. Which biological themes and selected marker genes can be considered typical for the different compartments?
Our data indicate that cross-species overlap on the single-gene level depends strongly on the type of analysis but is generally sufficient to justify utility of the animal model. Analysis of gene expression based biological themes reveals that some findings on the single-cell level can be predicted by histopathology while others cannot. Thereby, ontologies provide a necessary biological bridge between standardized and routine methods of histopathologic assessment and single-gene expression analysis.
Discussion
Murine models represent a necessary tool in cancer research. However, there is always uncertainty about the extent to which findings in the animal can be related to the human situation. In this study we examined whether global gene expression profiling in addition to standard histopathologic examination can assist in judging on the suitability of a murine model of colorectal liver metastases for the detection of invasion front target genes.
As a result from our study, it appears that the utilized animal model (CT26/Balb/C) represents the clinical situation to an extent that will allow successful mining of target genes. Among the potential target genes in the invasion front are thrombospondin-2 and procollagen V-alpha 2 that were confirmed with semi-quantitative real time PCR. Among gene ontology derived biological processes and molecular functions typical for invasion front were "extracellular matrix", "cell motility", "cell adhesion" and "antigen presentation". The same or similar GO-terms or underlying genes were found to be overrepresented in invasion front compartments in a nude mouse xenograft model of colorectal liver metastases as previously reported by us [3] as well as in other studies on clinical colorectal specimen [5, 6] and specimen from other tumor entities [7, 8] indicating that the invasion front compartment indeed constitutes a biologically defined compartment.
However, a number of variables seem to influence the extent of cross-species overlap and the yield of potential target genes which requires further discussion:
Conclusion
In summary, histology and gene expression based analysis of biological themes are valuable tools to understand cancer- relevant processes and to judge on the suitability of animal models. However, due to inherent species differences and functional redundancy, the number of actual target genes that are similarly regulated in the clinical situation and the animal model has to be determined individually in standard grafted models and is usually far below 100%. The outcome of interspecies comparisons on a global gene expression scale is further dependent of a considerate use of a selection criteria and histologic assessment.
Methods
Cell lines and animals
Liver metastases in Balb/C mice (n = 5, Möllegard und Bomholdgard Laboratories, Ry, Denmark) were induced by intrasplenic injections of CT-26 murine colon adenocarcinoma cells [16] as previously described [3]. The model produces extensive liver colonization (more than 20 deposits per animal liver) after a period of 2 to 4 weeks. At that time, the animals were euthanized, livers from 5 animals were removed and the material was processed for microdissection as previously described [3, 4].
Clinical specimen
Tissue was collected with informed consent of all patients (n = 5). Tissue collection was approved by the University of Heidelberg ethics committee.
Tissue preparation and laser microdissection (LMD)
Frozen tissue blocks were cut into 15 μm sections using a cryostat (Leica, Wetzlar, Germany) and stained using cresyl violet according to the Ambion (Austin, TX, USA) LCM staining kit protocol. Four distinct cell populations were separately microdissected with LCM equipment (Molecular Machines & Industries, Eching, Germany or PALM, Bernried, Germany): a) pure liver tissue at least 10 rows away from the invasion front, b) liver invasion front tissue extending 5 cell rows into the liver, c) tumor invasion front tissue extending 5 cell rows into the tumor and d) pure tumor tissue at least 10 rows away from the invasion front (Figure
2
, H1). These compartments were arbitrarily selected to due prior experience [
4
] and results from immunostaining of up-regulated genes (unpublished data). Microdissection was performed separately by two different scientists yielding material for human and mouse experiments.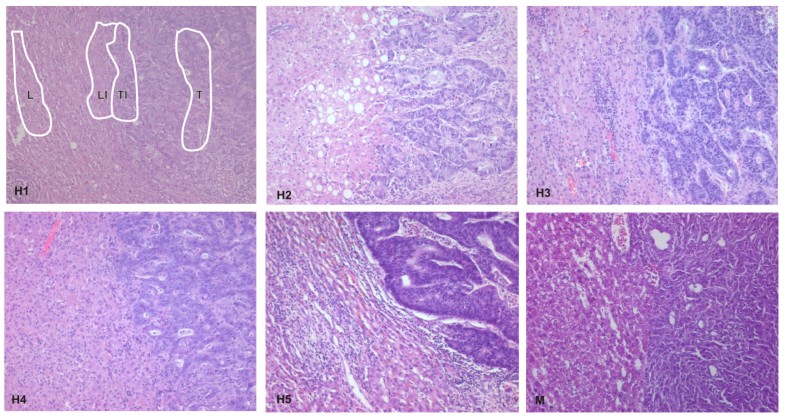 RNA amplification
Total RNA from microdissected samples was extracted (RNeasy Mini Kit, Qiagen, Hilden, Germany) and quality was evaluated by using an Agilent (Waldbronn, Germany) 2100 Bioanalyzer. For murine metastases, 30 ng of RNA corresponding to 2500–3500 cells from each microdissected group were amplified (RiboAmp HS RNA Amplification Kit, Arcturus, Sunnyvale, CA, USA), labelled and the resulting biotinylated cRNA targets were used to probe the GeneChip Mouse Expression Set 430 (A+B) (Affymetrix, Santa Clara, CA) as previously described [3, 4]. For human metastases, 250 ng RNA corresponding to 20000–30000 cells from five clinical specimens were pooled, amplified (Message Amp Biotion Kit, Ambion) and probed on the Human Genome U133 set (A+B). Hybridisation was performed in duplicates. Altogether, 32 chips were hybridized (4 compartments × 2 sub-chips (A+B) × 2 species × 2 (duplicates) = 32).
Data analysis
The scanned images from the chips were processed using Affymetrix GCOS and Excel (Microsoft, Seattle, USA) software. Statistical significance analysis of compartment-specific over-representation of GO-terms was performed with the GOSSIP program (Microdiscovery, Berlin, Germany [17]). For the determination of single-gene and GO-term overlaps, Netaffyx tools from the Affymetrix website ("orthologues" function, http://www.affymetrix.com/analysis/index.affx) and a newly developed Excel macro were applied.
Relative quantitative real time PCR
Microdissection and RNA isolation for relative qPCR were essentially performed as for hybridization experiments, however independent samples were used. 3 ng of total RNA, corresponding to 2500–3500 cells were used for quantification. Reverse transcription, qPCR, normalization (on 18S RNA) and efficiency correction (on 18S RNA) were performed essentially as described in [3]. Oligonucleotides for qPCR were designed using the Primer3 software (Whitehead Institute, Cambridge, MA, USA). The sequences for 18s RNA were: forward primer: 5'- AAA CGG CTA CCA CAT CCA AG -3', reverse primer: 5'- CCT CCA ATG GAT CCT CGT TA -3', for human apoplipoprotein F (gi:50659075) were: forward primer: 5'- TTC TGC ACC CAA AGT CAC TG -3', reverse primer: 5'- ATC AGC CTG ACA ACC AGC TT -3', for murine apoplipoprotein F (gi:19527215) forward primer: 5'- ATA CAG CCC AGC CGT CTA AA -3', reverse primer: 5'- CCA GGG ACA GAA AGG TTC AA -3', for human thrombospondin-2 (gi:40317627): forward primer: 5'- TAT TCC CGA GAC CAA CGA AG-3', reverse primer: 5'- ACA TCA TCG TCA CTC CCA CA-3', for murine thrombospondin-2 (gi:6755778): forward primer: 5'- GGG ACC ACA CAA ATT GAT CC -3', reverse primer: 5'-CCC AAA CTC GTC GAA ACC TA -3', for human procollagen, type V, alpha 2 (gi:86613789): forward primer: 5'- ACACACGTGCCCAGTAATGA-3', reverse primer: 5'-GGAAATCTATCCCAGCTTGC-3', and murine procollagen, type V, alpha 2 (gi|:89363016): forward primer: 5'- TGGAGAAGGTGGAAAACCAG -3', reverse primer:, 5'- TCTCCTCTTTCCCCAGGATT -3'.
Statistics
The statistical significance of differential representation of GO-terms between test group and reference group was analyzed by the GOSSIP software [17]http://gossip.gene-groups.net, which uses Fisher's exact test corrected for multiple testing effects. Single-test p-values are included for completeness whenever the term was significant in at least one experiment after multiple testing corrections (FDR, false discovery rate).
Declarations
Acknowledgements
The expert technical assistance of Ms. Annette Weninger and Ms. Gabriele Born in micro-array hybridizations is greatly appreciated. The authors would also like to thank Dr. Gerhard Mühlbauer for his help with Excel Macros. Funding for this work was supported by the European Union Framework Program 6; Grant number: LSHC-CT-2003-503297.
Authors' Affiliations
(1)
Institute of Pathology, University of Heidelberg, Heidelberg, Germany
(2)
Department of Surgery, University of Heidelberg, Heidelberg, Germany
Copyright
© Bandapalli et al; licensee BioMed Central Ltd. 2008
This article is published under license to BioMed Central Ltd. This is an Open Access article distributed under the terms of the Creative Commons Attribution License (http://creativecommons.org/licenses/by/2.0), which permits unrestricted use, distribution, and reproduction in any medium, provided the original work is properly cited.