Research article
Open Access
Microarray analysis identifies candidate genes for key roles in coral development
Received: 15 August 2008
Accepted: 14 November 2008
Published: 14 November 2008
Abstract
Background
Anthozoan cnidarians are amongst the simplest animals at the tissue level of organization, but are surprisingly complex and vertebrate-like in terms of gene repertoire. As major components of tropical reef ecosystems, the stony corals are anthozoans of particular ecological significance. To better understand the molecular bases of both cnidarian development in general and coral-specific processes such as skeletogenesis and symbiont acquisition, microarray analysis was carried out through the period of early development – when skeletogenesis is initiated, and symbionts are first acquired.
Results
Of 5081 unique peptide coding genes, 1084 were differentially expressed (P ≤ 0.05) in comparisons between four different stages of coral development, spanning key developmental transitions. Genes of likely relevance to the processes of settlement, metamorphosis, calcification and interaction with symbionts were characterised further and their spatial expression patterns investigated using whole-mount in situ hybridization.
Conclusion
This study is the first large-scale investigation of developmental gene expression for any cnidarian, and has provided candidate genes for key roles in many aspects of coral biology, including calcification, metamorphosis and symbiont uptake. One surprising finding is that some of these genes have clear counterparts in higher animals but are not present in the closely-related sea anemone Nematostella. Secondly, coral-specific processes (i.e. traits which distinguish corals from their close relatives) may be analogous to similar processes in distantly related organisms. This first large-scale application of microarray analysis demonstrates the potential of this approach for investigating many aspects of coral biology, including the effects of stress and disease.
Keywords
Lectin DomainDevelopmental Gene ExpressionPrimary PolypCarbonic Anhydrase GeneVirtual Northern Blot
Background
Cnidarians are the simplest animals at the tissue level of organization, and are of particular importance in terms of understanding the evolution of metazoan genomes and developmental mechanisms. Members of the basal cnidarian Class Anthozoa, which includes the sea anemone Nematostella and the coral Acropora, have proved to be surprisingly complex and vertebrate-like in terms of gene repertoire [1–3], and are therefore of particular interest. Scleractinian corals are also of fundamental ecological significance in tropical and sub-tropical shallow marine environments as the most important components of coral reefs. Surprisingly, both the general molecular principles of cnidarian development and many aspects of the functional biology of corals are only poorly understood. Whole genome sequences are now available for both the textbook cnidarian Hydra magnipapillata and the sea anemone Nematostella vectensis. However, corals are distinguished from Nematostella and other cnidarians by the presence of an extensive skeleton composed of calcium carbonate in the form of aragonite. The ability to carry out calcification on a reef-building scale is enabled by the obligate symbiosis between scleractinians and photosynthetic dinoflagellates in the genus Symbiodinium.
Expressed Sequence Tag (EST) projects carried out on Acropora millepora and Nematostella vectensis have provided insights into the evolution of animal genomes [2, 3]. The latter publication, based on ca 5800 unigenes from the coral Acropora and 10,500 unigenes from the sea anemone Nematostella, revealed the surprisingly rich genetic repertoire of these morphologically simple animals. The genomes of anthozoan cnidarians encode not only homologs of numerous genes known from higher animals (including many that had been assumed to be 'vertebrate-specific'), but also a significant number of genes not known from any other animals ('non-metazoan' genes; [3]). This picture of genetic complexity has been augmented by the recently completed whole genome sequence (WGS) of Nematostella vectensis [1], for which approximately 165,000 ESTs are now available. Similar resources exist for Hydra magnipapillata [4, 5] although the much larger genome size of this organism has consequences for the completeness of the assembly. Both of these other cnidarians not only lack a calcified skeleton, but also do not enter symbioses. Entry into a symbiosis can have profound effects on gene expression patterns, with changes to immune function, and to many metabolic functions including CO2 cycling, nutrient cycling, metabolite transfer and reactive oxygen quenching [6, 7]. The phylogenetic position of Nematostella makes this a particularly useful comparator because both Nematostella and Acropora are classified into the anthozoan subclass Hexacorallia (Zoantharia).
Information and resources relevant to microarray studies on corals have recently been summarised [
8
]. Few precedents exist for the approach used here; the most directly relevant previous study is an array experiment comparing symbiotic and aposymbiotic sea anemones [
9
]. To gain insights into the molecular bases of coral development, including nematocyst formation, metamorphosis, and the processes of symbiont uptake and calcification, developmental microarray experiments were carried out using 12000 spot cDNA arrays representing 5081
Acropora millepora
unigenes which, based on the EST sequence, are predicted to give rise to a bona fide protein. Four stages of coral development were compared, spanning the major transitions of gastrulation and metamorphosis (Figure
1
). These comparisons, which constitute the most comprehensive analysis of the development of any cnidarian to date, provide insights into the overall dynamics of the transcriptome during development as well as candidate genes for roles in metamorphosis, calcification and symbiont uptake. Spatial expression patterns were determined for many of the candidate genes identified in the array experiments. Comparisons with
Nematostella
,
Hydra
and other animals imply that nominally coral specific processes are executed by both conserved and novel (taxon-specific) genes, and suggest some intriguing parallels with other systems.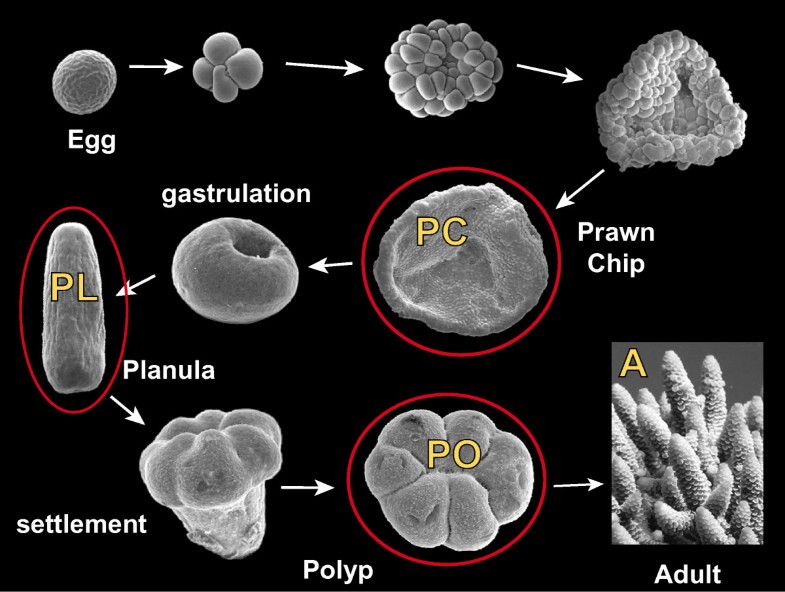 Discussion and conclusion
Methods
Microarray description
The microarrays used in this experiment consisted of 13,392 spots derived from 12,240 cDNA clones (1,152 clones are represented more than once) and 432 spots representing positive and negative controls. The cDNA clones spotted onto the array were randomly selected from cDNA libraries that had been constructed in Lambda ZAP (Stratagene), and include 3456 clones from the prawnchip developmental stage, 4608 clones from the planula larva stage [65], and 4128 clones from the primary polyp. All of the material used for making the libraries came from Nelly Bay, Magnetic Island, Queensland, Australia (19°08'S 146°50'E).
All cDNAs spotted onto the slides were derived from cDNA libraries of the appropriate developmental stages. They were isolated by TempliPhi (GE Life Sciences) on excised clones except for 2,000 postsettlement polyp clones which were PCR amplified directly from individual phage suspensions and 3,012 planula larva cDNAs which were isolated previously [2]
Generation and spotting of cDNAs
PCR (1× HotMaster Taq Reaction buffer, 0.25 mM each dNTP, 25 pmoles of each of M13 Forward and M13 Reverse primer, 1.25 units of HotMaster Taq Polymerase (Eppendorf) spiked with Pfu (Promega) in a 25 ul reaction) was used to generate DNA for spotting onto microarray slides. Phage suspension was used as template by adding 4 ul to the PCR mix. TempliPhi was used as a template by dipping a pin into the TempliPhi reaction and then into the PCR mix. PCR was carried out in 96-well plates (ABGene) under the following conditions: 94°C for 30 s, 50°C for 30 s and 72°C for 1 min, for 30–35 cycles. PCR products were purified using 96 well Multiscreen plates (Millipore).
Microarrays were generated by spotting the amplified cDNA onto GAPSII slides using a Biorad Chipwriter Pro, and then fixed by UV light exposure (150 mJ) followed by baking at 80°C for 3 hours. All cDNA clones represented on the arrays were sequenced from the 5' direction using standard Sanger (ABI Big Dye) sequencing technology.
EST analyses
After data filtering, ESTs were clustered using CAP3 [66]. The coding potential of the resulting unigenes was analysed using ESTScan [67]. 5081 were predicted to give rise to bonafide proteins, using the criterion of a coding potential of 25 or greater. The EST contigs which had predicted peptides were used to search the Uniprot database using BlastX [68] with a threshold of e = 1 × 10-5 in order to functionally classify the predicted proteins according to the scheme in [10].
Experimental design
To assay for changes in gene expression during
Acropora
development, mRNA was isolated from four different developmental stages: the pre-gastrula "prawn chip" stage (8 hpf), the planula larva stage (83 hpf), the post-settlement primary polyp (130 hpf) and the adult colony. The rationale for selecting these stages is that they span key developmental events including the establishment of tissue layers and body axes at gastrulation, the transduction of settlement cues, settlement and metamorphosis, and the initiation of calcification and uptake of symbionts. Prawn chips, planula larvae and primary polyps were the offspring of colonies collected from Nelly Bay, Magnetic Island (19°08'S 146°50'E). Adult tissue was obtained from a colony in the same bay. Pools of approximately 1000 embryos were made to create each biological replicate [
69
]. Total RNA was extracted from these for each of our stage specific 'targets'. Tissue from a single colony was used in the case of adult RNA extraction. The entire experiment was replicated on different days using separate collections of material thus giving two biological replicates. Within each biological replicate, each developmental stage was compared with every other twice; once in each dye orientation. Thus, there are two biological and two technical replicates for each comparison (Figure
7
). Since there are six possible comparisons with this design the entire experiment used 24 slides – 12 for each biological replicate.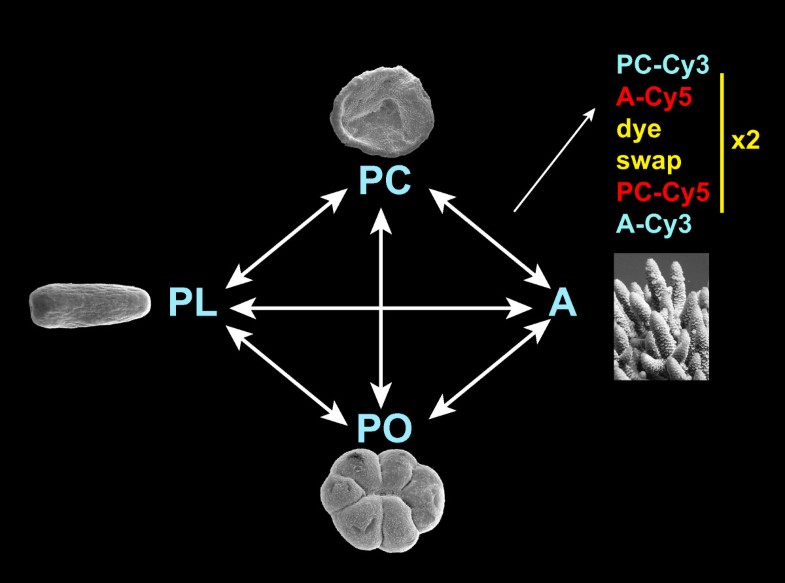 cDNA for probing arrays was produced from unamplified total RNA which was extracted using TRI Reagent (Ambion) according to the manufacturer's instructions. The quality was assessed using denaturing gel electrophoresis using standard methods [70]. For each hybridized sample, total RNA (80 ug) was reverse transcribed, labelled and hybridised using standard protocols [71].
Data analysis and verification
Slides were scanned using a GenePix 4200A scanner, and data extracted using Spot [72]. All further analyses were carried out using the limma package [73] for the R system [74]. Print-tip loess normalisation [75] was performed on each slide. Quantile normalisation was applied to mean log-intensities in order to make the distributions essentially the same across arrays.
The methodology used for statistical analysis is described in Smyth [76]. The prior probability of differential expression, for each pair of comparisons between stages, was taken as 0.1. The Benjamini and Hochberg method [77] was used to adjust the sequence-wise p-values, so that a choice of sequences for which the adjusted p-value is at most 0.05 identifies a set of differentially expressed genes in which 5% may be falsely identified as differentially expressed (see Additional File 4 for more detail). Array data have been deposited in the Gene Expression Omnibus (GEO) database (accession number GSE11251).
Results were also verified using M vs A plots, where M = the log ratio of the spot fluorescence intensity values and A = the log of the average spot fluorescence intensity. An example is given in Additional File 5. Spots for which no fluorescence was expected, including salmon sperm DNA, empty vector and primers, plotted near the origin of the MA plot, as expected. Negative controls for differential expression (i.e. spots expected to show hybridization but no differential expression), had an M value of or near to zero, but ranged in fluorescence intensity, also in accordance with expectations. Differentially expressed positive controls (i.e, spots expected to show both hybridization and differential expression between presettlement and postsettlement on the basis of virtual northern results) were positioned on either side of an M value of zero with a range of fluorescence intensities.
Cluster analysis was used to search for clusters of expression profiles in the data. K-means clustering was used to split the genes into 6 groups of differential expression profiles. Clustering was carried out using Cluster 3.0 [78] and the results viewed with Java TreeView [79]. Unigenes with protein coding potential > 25 and p-value < 0.05 in the test for differential expression between temporally sequential developmental stages were removed prior to cluster analysis.
Results for the microarray experiments were verified using "virtual northern blots" which were made using the Clontech SMART cDNA Synthesis Kit, according to the manufacturer's instructions using RNA from the same stages used in the microarray experiment. DNA used to probe the blots was generated by PCR (see section 2.5.4 PCR and spotting of cDNAs), purified using the Qiagen PCR Purification kit according to the manufacturer's instructions, and radiolabelled with 32P-dATP using the Prime-A-Gene Labeling System (Promega) according to the manufacturer's instructions. Hybridization was conducted according to standard protocols [70] and visualized by exposure to a Phosphorimager (Molecular Dynamics) cassette overnight. Digital images were viewed with Quantity One software.
Low-throughput sequencing
In order to obtain the entire open reading frame, some unigenes selected for in situ hybridization required further sequencing. This was done either as described for EST sequencing or using 300 ng of plasmid as template. Raw data were viewed and edited with Chromas Lite and sequences were aligned with LaserGene (DNASTAR). cDNA sequences for genes characterized by in situ hybridization have been deposited in GenBank under accession numbers EU863776–EU863788.
In situ hybridization
Templates for riboprobe production were generated by PCR. Riboprobe synthesis and in situ hybridization were performed as reported by [80]. In order to view further histological detail embryos stained in whole mount were embedded in LR White Resin sectioned at various thicknesses and counterstained with Saffranin O.
Declarations
Acknowledgements
The authors would like to thank Dr William Leggat for critically reading the manuscript. This work was supported by the Australian Research Council through the Centre for the Molecular Genetics of Development.
Authors' Affiliations
(1)
Centre for the Molecular Genetics of Development, Research School of Biological Sciences, Australian National University, Canberra, Australia
(2)
Centre for Mathematics and its Applications, Mathematical Sciences Institute, Australian National University, Australia
(3)
Turku Centre for Biotechnology, Turku, Finland
(4)
Centre for Molecular Genetics of Development & ARC Centre of Excellence for Coral Reef Studies, James Cook University, Townsville, Australia
Copyright
© Grasso et al; licensee BioMed Central Ltd. 2008
This article is published under license to BioMed Central Ltd. This is an Open Access article distributed under the terms of the Creative Commons Attribution License (http://creativecommons.org/licenses/by/2.0), which permits unrestricted use, distribution, and reproduction in any medium, provided the original work is properly cited.