In silico comparison of transcript abundances during Arabidopsis thaliana and Glycine max resistance to Fusarium virguliforme
BMC Genomics
2008
9(Suppl 2):S6
Published: 16 September 2008
Abstract
Background
Sudden death syndrome (SDS) of soybean (Glycine max L. Merr.) is an economically important disease, caused by the semi-biotrophic fungus Fusarium solani f. sp. glycines, recently renamed Fusarium virguliforme (Fv). Due to the complexity and length of the soybean-Fusarium interaction, the molecular mechanisms underlying plant resistance and susceptibility to the pathogen are not fully understood. F. virguliforme has a very wide host range for the ability to cause root rot and a very narrow host range for the ability to cause a leaf scorch. Arabidopsis thaliana is a host for many types of phytopathogens including bacteria, fungi, viruses and nematodes. Deciphering the variations among transcript abundances (TAs) of functional orthologous genes of soybean and A. thaliana involved in the interaction will provide insights into plant resistance to F. viguliforme.
Results
In this study, we reported the analyses of microarrays measuring TA in whole plants after A. thaliana cv 'Columbia' was challenged with fungal pathogen F. virguliforme. Infection caused significant variations in TAs. The total number of increased transcripts was nearly four times more than that of decreased transcripts in abundance. A putative resistance pathway involved in responding to the pathogen infection in A. thaliana was identified and compared to that reported in soybean.
Conclusion
Microarray experiments allow the interrogation of tens of thousands of transcripts simultaneously and thus, the identification of plant pathways is likely to be involved in plant resistance to Fusarial pathogens. Dissection of the set functional orthologous genes between soybean and A. thaliana enabled a broad view of the functional relationships and molecular interactions among plant genes involved in F. virguliforme resistance.
Keywords
Phenylpropanoid PathwayResistance PathwaySudden Death SyndromeSoybean GeneFunctional Orthologs
Background
Transcriptional changes play a major role in many plant defense processes [1]. Investigation of alterations in transcript abundance in functional genomics has provided unique opportunities to delve into gene functions by the comparison of species, tissue and time specific transcript accumulation for thousands of genes simultaneously [2–4]. The transcript abundances of the annotated genes of Arabidopsis, soybean and many other crops can be evaluated in parallel using high-density microarrays of sequenced cDNAs (AGI, 2000) or oligomers [5]. Microarray experiments have enabled the detection of significant variation in mRNA abundance and improved the understanding of the molecular mechanism of partial defense responses [6–9]. The host-pathogen interaction involved in incomplete, quantitative and partial resistance of soybean roots to F. virguliforme has been intensively investigated [9–11]. Transcription factors, chromatin remodeling proteins and transcript stabilizing factors are likely candidates to be involved. Regulated pathways are expected to include the synthesis of phytoalexins, signal molecules, cell wall deposition and carbon (C) and nitrogen partitioning.
Several studies suggested that disease resistance genes shared the same specificity across distantly related plant species [12–15]. The specificity of response was maintained, perhaps because of balancing selection, in lineages leading to multiple plant species [16]. However, it is difficult to conclude that a unified model of host-pathogen interactions has been determined because many of the genes underlying pathogen recognition were functional orthologs rather than the closest sequence homologous in different species.
Phytoalexins, phytoanticipins and signal molecules are three major natural products involved in plant defense with common precursors [17]. Phenylalanine ammonia-lyase (PAL; EC 4.3.1.5) expression has been associated with resistance to fungal pathogens in many plant species [18, 19]. PAL catalyzes the deamination of phenylalanine to produce trans-cinnamic acid, the first step in the phenylpropanoid pathway leading to phytoalexins, lignins or coumarins. Multiple isoforms of the pal gene were identified in plants [20]. Manipulation of PAL, the first enzyme of the phenylpropanoid pathway together with the downstream enzymes such as cinnamate 4-hydroxylase (C4H; EC 1.14.13.11), diphenol oxidase (laccase; EC 1.10.3.2) and 4-hydroxycinnamoyl CoA ligase (4CL; EC 6.2.1.12), revealed an association with resistance to viral and fungal infection [21–23]. Reduction of phenylpropanoid biosynthesis in tobacco via down-regulation of PAL reduced local and systemic acquired resistance to fungal or viral infection [24, 25]. Phenylpropanoid derived polymers like lignin also play an important role as a physical barrier against pathogen invasion [26]. Lignin, a complex racemic aromatic heteropolymer is the second most abundant cell wall polymer (after cellulose) and provides rigidity for the cell wall and a physical barrier against pathogens [27]. Lignin is synthesized from the phenylpropanoid metabolism reactions. These series of hydroxylation and O-methylation and conversion of side-chain carboxyl to an alcohol result in the building blocks of lignin, which is initiated by deamination of phenylalanine by the enzyme PAL where hydroxycinnamic acid esters play a central role [28, 29]. 4CL is responsible for the CoA esterification of p-coumaric acid. Down-regulation of isozymes of 4CLs may alter metabolite concentrations other than those involved in lignin production, with a secondary effect on growth as a consequence [30]. Laccase was the first enzyme demonstrated to be able to perform lignin polymerization in vitro. Over-expressed laccase in the roots caused cell wall lignin deposition increases in the developing xylem [31, 32, 23]. Therefore lignin might be involved in the disease resistance mechanism of plant cells where wall fortification occurred in response to many pathogens and would be especially useful against root rots.
In plant, SnRKs possess a catalytic domain similar to that of sucrose non-fermenting-1 (SNF1) of yeast (Saccharomyces cerevisiae) and AMP-activated protein kinase (AMPK) of animals. SnRK1, SnRK2 and SnRK3 are the key members of SnRKs family but the SnRK1 subfamily appears to share direct structural and functional homology with the SNF1/AMPK family. The SnRK1 protein complex can be further divided into 3 subunits: the α subunit which is SNF1-like protein; the β subunit that is composed of SIP1-, SIP2- and GAL83-like proteins; and the γ subunit that is SNF4-like protein based on sequence structure and expression patterns [33, 34]. Homologues of SnRKs occur in all kingdoms and they appear to be highly conserved among yeasts, animals and plants suggesting that they may play very similar roles across species [35]. SNF1 modulates the phosphorylation state of a number of metabolic enzymes whilst SnRK1 regulates several enzymes involved in sugar metabolism and cell energy metabolism [36, 33]. In yeast, the function of SNF1 is to coordinate about 600 genes to respond to lower cellular glucose concentrations. Hong et al. [33] identified GAL83 as mediating carbon partitioning during the plant response to herbivore Manduca sexta attack. GAL83, a β-subunit of a heterotrimeric SnRK1, showed a decrease in source leaves whereas the abundance of the catalytic α-subunit of SNF remained unaltered. The herbivore-induced changes in sink-source relations in Nicotiana attenuata was regulated by the β-subunit of SnRK1 (SNF1-related kinase) protein kinase, GAL83. GAL83 silenced plants were unable to enhance root reserves, delay senescence or prolonged flowering following herbivore attack during early stages of development. In turn, SnRK1 can be used to alter resource allocation thereby plants may be equipped to better tolerate the pest attack [37].
Partial resistance can often be subcategorized as rate reducing resistance for fungal infections of roots [
38
,
39
]. Partial resistance may result from a reduced infection frequency, an extended latent period of infection, a reduced sporulation of the pathogen, or a combination of these [
40
–
42
]. However, the defense pathways that are induced during partial resistance do not share the same temporal and spatial patterns of gene expression observed in complete resistance [
9
,
10
,
40
,
42
,
43
]. Sudden death syndrome (SDS) of soybean caused by
F. virguliforme
[
44
] results from two distinct interactions. SDS has the root infection component, where the fungus exogenously penetrates root cell walls and infect specific cells and causes root rot whilst leaf scorch component, where some of the toxins produced in the roots are translocated to leaves and cause the leaf scorch. The leaf symptoms only occur in soybean [
45
,
46
] but the root rot occurs in all legumes, most dicots and some cereals. Both root rot and leaf scorch contributes to yield losses [
38
,
47
].
Arabidopsis thaliana
is a host for many types of phytopathogens. We have observed that Arabidopsis is also an excellent model plant for
F. virguliforme
resistance (authors unpublished data). Arabidopsis was a host for
F. virguliforme
and the responses to the pathogen with nicely respect to the spore concentration (Figure
1
). Our date showed that this ecotype demonstrated a rate reduction resistance to the fungal pathogen. Thus,
A. thaliana
should be useful for studying the interactions between plant and
F. virguliforme
.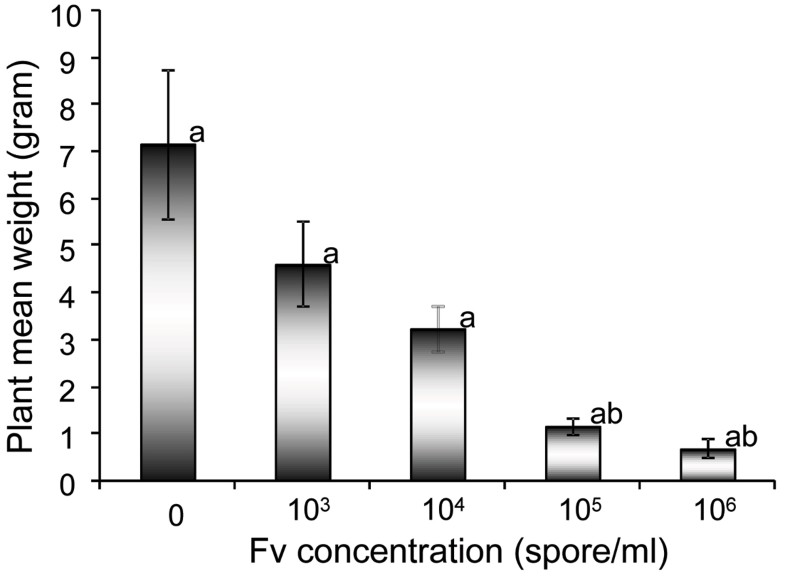 Iqbal et al. [9] measured changes in TAs of 192 known plant defense and biotic/abiotic stress related genes in soybean roots at five time points over a period of 10 days after F. virguliforme inoculation. The cDNA arrays used were chosen from a soybean root cDNA library [48] and a subtractive hybridization experiment [9]. The temporal and spatial response differed among soybean genotypes with different numbers of SDS resistance genes. The responses were different in the partial resistance and susceptible genotypes among genes involved in the plant defense, signal recognition and transduction and metabolic processes. For most of the responding genes and all genotypes, there was an initial decrease in TAs in the inoculated roots. However, by later stages of post inoculation, the inoculated roots of the partially susceptible cultivars failed to increase abundance of any transcripts of known defense-related genes. In the most resistant cultivar, a set of 35 genes maintained at least a two-fold higher abundance at all time points. The increase in TA in RIL23 was in contrast to that observed in Essex, susceptible parent, where most of the ESTs showed either no change or a decreased TA [9].
Here, we analyzed the changes that occurred in the abundance of transcripts corresponding to 10,560 A. thaliana expressed sequence tags (ESTs) after A. thaliana cv 'Columbia' was treated with F. virguliforme. Reverse labeled slides were used. An ortholog analysis was exploited to understand the evolutionary roles of the regulated genes based on investigation of orthologous relationship between soybean and Arabidopsis. A set of resistance pathways involved in response to the pathogen infection in A. thaliana has been proposed. The comparison of the transcriptional activity in the resistance pathways between soybean and Arabidopsis after F. virguliforme pathogenesis allows for the examination of evolution of the disease response in both species.
Discussion
It is well-known that over-expression PAL in tobacco plant can effectively be used against a virulent fungal pathogen Cercospora nicotiana infection and also altered the lesion phenotype inoculated with TMV [57]. Reduction of phenylpropanoid biosynthesis in tobacco via down-regulation of PAL reduces local and systemic acquired resistance to fungal or viral infection [27, 28]. The major function of PAL is to catalyze phytoalexins and phytoanticipins production and thereby reduce disease severity [58]. Constitutive over-expression of the PAL gene from the tropical pasture legume Stylosanthes humilis in tobacco plants provided resistance to Cercospora nicotianae and to pathogen Phytophthora parasitica pv. Nicotianae [59]. The key enzymes of phenylpropanoid pathway, PAL, C4L and CHS were all induced in soybean resistance to F. virguliforme [9]. The global expression analysis of the Arabidopsis plant challenged by F. virguliforme appeared to be different. The fungal pathogen affected the secondary metabolism not only in the phenylpropanoid pathway but also via pathways leading to other cellular functions (terpenes, phenolics, special N compounds metabolism). Transcripts of the PAL gene encode the key enzyme feeding all these branches. Therefore, the decreases in most key transcripts at the times when PAL and cinnamoyl-CoA reductase transcripts increases in abundance is a novel finding showing that the synthesis of PAL and cinnamoyl-CoA reductase transcripts is with negative correlation to the activity of the other genes during the pathogen stress response. Perhaps in A. thaliana, the phenylpropanoid pathway did not directly participate in the cascade of reactions elicited during the defense and probably, the biosynthesis of phytoalexins and phytoanticipins was regulated in different fashions in soybean and Arabidopsis. Transcripts of genes involved in the synthesis of lignin, flavonols, anthocyanins and proanthocyanidins (data not shown) seemed to be down-regulated during the periods of time when the genes involved in the synthesis of cinnamic acid was up-regulated. Arabidopsis lacks isoflavonoid and phytoalexins and produces mainly camalexin rather than a cocktail of isoflavonoids [60]. Therefore, in Arabidopsis the flavonoids (anthocyanins, proanthocyanidins, flavones and flavonols) may indeed not play a significant role in defense. In contrast, there was evidence that cinnamoyl alcohol dehydrogenase (CAD) was induced rapidly in Arabidopsis infected with Xanthomonas [61] and CAD is in the pathway that leads to lignin biosynthesis. In the phenylpropanoid pathway, key genes like PAL are encoded by a group of genes showing a great degree of sequence diversity. Significantly up-regulated PAL transcripts support for the hypothesis that in Arabidopsis expression of the PAL is significantly associated with pathogen infection. However, the PAL over-expression plants caused a significant reduction in growth and delayed flowering. These phenotypes may also be related to energy status or amino acid pool availability being altered by PAL.
It has been shown that the addition of sugar activates genes related to disease resistance [62]. The metabolic change in the pathogenesis could negatively affect cellular C content based on the expression of sugar-repressive nuclear genes and may be involved in the regulation of these genes [63]. Therefore, there should be other mechanisms for maintaining the cellular C concentrations. Moreover, metabolic movement should provide some explanation. Our results infer that the metabolite profiles may affect the status of disease resistance in the Arabidopsis plant. The response to C stresses is probably the key role of SnRK1 in eukaryotes [64]. SnRK1 may represent a primordial protein that in plants plays an important role in all resistances. It should be noted that SnRK1 interacts with 31 proteins, and each is located up- and down-stream of the gene in the interactome. Perhaps, the SnRK1 sequence has shared motifs with the rest of other proteins in the network. Interestedly, the presence of proteins in Arabidopsis related to three subunits of the SnRK1 protein might indicate an early duplication of these subunits in the process of evolution. To date, it is still not clear how, during the course of evolution of multicellular organisms, the SnRK1 system acquired the ability to be a signal system. One important implication is that SnRK1 serves as one of the hubs for the signal cascades in the plant. Although the relative specificity of SnRK1 in plants is yet unknown, it is possible that further investigation of such role may allow us to draw new resistance pathways based on energy status. Indeed, plant SnRK1 associated with herbivore tolerance was recently identified [53]. Our results suggest that interaction between SnRK1 with its network partners may be induced by the fungal pathogen. Further studies of the gene and the interacting partners should help to uncover important specific aspects of SNF1-mediated signaling during pathogen infection.
Orthologous genes are defined by direct evolutionary descent and should play similar developmental or physiological roles. Several gene groups were identified according to the outcome of functional orthologous analysis in this study, showing same functional orthologous relationships in these two species. In our primary results, the 1 to 1 ratio of the orthologous relationship was found among those several paired groups, indicating these gene groups were descended from a common ancestor and corresponded to well-conserved functions. These 1 to 1 ortholog classes are presumed to represent conserved functions in Arabidopsis and soybean, but they shared diverse bootstrapping value. Diversification following gene duplication may have occurred but the degree is still unknown. Twenty-eight pairs of the genes from both species were taxoned together and each pair possessed unique bootstrapping value and Kimura phylogenetic distance (data not shown). Based on phylogenetic analysis, the organization of soybean phenylalanine ammonia-lyase (PAL) proteins were very similar to that of the Arabidopsis PAL proteins, implying that the soybean and Arabidopsis PAL proteins analyzed here were all derived from a common ancestor. The fact that these clades were formed by both Arabidopsis and soybean PAL genes gave a suggestion that these PAL genes existed before the divergence of monocots and dicots. Interestingly, fair numbers of EST sequences were not found in the other organism, even in closely related gene families that were associated with the fungal resistance. However, detailed screening phylogenetic relationship among those resistance genes is necessary for detection of the gene evolution.
Plants possess an ability of resistance to most potentially pathogenic microbes. Gene transcriptional changes are critical for many plant defense processes [1]. Soybean SDS consists of root infection and leaf scorch. With the limitations in the study of solely predicted gene interactions, definite conclusions about the nature of the resistant response to F. virguliforme infection cannot yet be made. Investigation on differentially expressed genes of Arabidopsis and soybean in response to F. virguliforme can lead to better understanding of the mechanisms of resistant crops for certain disease. Microarray experiment allows interrogation of tens of thousands of genes simultaneously. To understand the molecular interactions involved in F. virguliforme resistance, we have integrated results from the soybean SDS resistance with Arabidopsis DNA microarray studies by in silico analyses. The results of this study can be used as a model system to facilitate the understanding of plant resistance to F. virguliforme.
Declarations
Acknowledgements
We thank Dr. Matt Geisler for the guidance on data analysis. This research was funded in part by the grant from the National Science Foundation, the Illinois Soybean Association and the United Soy Board.
This article has been published as part of BMC Genomics Volume 9 Supplement 2, 2008: IEEE 7th International Conference on Bioinformatics and Bioengineering at Harvard Medical School. The full contents of the supplement are available online at http://www.biomedcentral.com/1471-2164/9?issue=S2
Authors' Affiliations
(1)
Department of Plant, Soil Sciences and Agriculture System, Southern Illinois University at Carbondale, Carbondale, USA
(2)
Department of Plant Biology, Southern Illinois University at Carbondale, USA
(3)
Department of Computer Science, Southern Illinois University at Carbondale, USA
(4)
Harvard Medical School, Harvard University, Cambridge, USA
(5)
Plants and Microbes Genomics and Genetics lab, Department of Plant, Soil Sciences, and Agriculture System, Southern Illinois University at Carbondale, Carbondale, USA
Copyright
© Yuan et al; licensee BioMed Central Ltd. 2008
This article is published under license to BioMed Central Ltd. This is an open access article distributed under the terms of the Creative Commons Attribution License (http://creativecommons.org/licenses/by/2.0), which permits unrestricted use, distribution, and reproduction in any medium, provided the original work is properly cited.