Research article

Open Access
A RNA-seq approach to identify putative toxins from acrorhagi in aggressive and non-aggressive Anthopleura elegantissima polyps
Received: 31 October 2014
Accepted: 28 February 2015
Published: 21 March 2015
Abstract
Background
The use of venom in intraspecific aggression is uncommon and venom-transmitting structures specifically used for intraspecific competition are found in few lineages of venomous taxa. Next-generation transcriptome sequencing allows robust characterization of venom diversity and exploration of functionally unique tissues. Using a tissue-specific RNA-seq approach, we investigate the venom composition and gene ontology diversity of acrorhagi, specialized structures used in intraspecific competition, in aggressive and non-aggressive polyps of the aggregating sea anemone Anthopleura elegantissima (Cnidaria: Anthozoa: Hexacorallia: Actiniaria: Actiniidae).
Results
Collectively, we generated approximately 450,000 transcripts from acrorhagi of aggressive and non-aggressive polyps. For both transcriptomes we identified 65 candidate sea anemone toxin genes, representing phospholipase A2s, cytolysins, neurotoxins, and acrorhagins. When compared to previously characterized sea anemone toxin assemblages, each transcriptome revealed greater within-species sequence divergence across all toxin types. The transcriptome of the aggressive polyp had a higher abundance of type II voltage gated potassium channel toxins/Kunitz-type protease inhibitors and type II acrorhagins. Using toxin-like proteins from other venomous taxa, we also identified 612 candidate toxin-like transcripts with signaling regions, potentially unidentified secretory toxin-like proteins. Among these, metallopeptidases and cysteine rich (CRISP) candidate transcripts were in high abundance. Furthermore, our gene ontology analyses identified a high prevalence of genes associated with "blood coagulation" and "positive regulation of apoptosis", as well as "nucleoside: sodium symporter activity" and "ion channel binding". The resulting assemblage of expressed genes may represent synergistic proteins associated with toxins or proteins related to the morphology and behavior exhibited by the aggressive polyp.
Conclusion
We implement a multifaceted approach to investigate the assemblage of expressed genes specifically within acrorhagi, specialized structures used only for intraspecific competition. By combining differential expression, phylogenetic, and gene ontology analyses, we identify several candidate toxins and other potentially important proteins in acrorhagi of A. elegantissima. Although not all of the toxins identified are used in intraspecific competition, our analysis highlights some candidates that may play a vital role in intraspecific competition. Our findings provide a framework for further investigation into components of venom used exclusively for intraspecific competition in acrorhagi-bearing sea anemones and potentially other venomous animals.
Keywords
Phospholipase A2
Cytolysin
Sodium channel toxin
Potassium channel toxin
Acrorhagins
Venom
Cysteine
Neurotoxins
Intraspecific Competition
Background
Venomous animals use specialized structures to transmit a cocktail of noxious peptides into other organisms for defense or predation. Although the use of venom for intraspecific competition has been implied [
1
,
2
], specific examples of venom used on conspecifics via an intraspecific venom delivery system are rare [
3
]. Sea anemones are thus unique among venomous animals, as many species participate in intraspecific aggressive encounters using specialized structures to transmit venom [
4
-
7
]. Within the family Actiniidae, several species engage in aggressive intraspecific encounters using structures called acrorhagi [
5
,
7
]. Acrorhagi are inflatable structures at the tentacle-column margin that bear holotrichous nematocysts (reviewed in [
8
]). During an aggressive encounter, the acrorhagi inflate and adhere to the opponent (Figure
1
), leaving an acrorhagial peel on the opponent [
9
]. The whitish peel, aggressor's acrorhagi adhering to the victim (Figure
1
), is surrounded by necrotic tissue [
10
].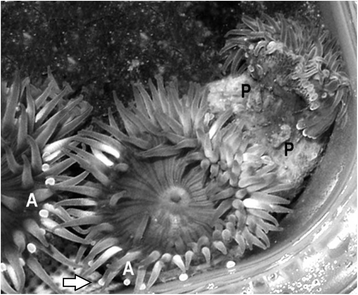 In the sea anemone Anthopleura elegantissima (Actiniaria: Actiniidae), fierce competition for space in the coastal intertidal zone may have selected for strategies and behaviors that provide an advantage in intraspecific aggressive encounters [11-13]. These animals form dense clonal aggregations of asexually produced polyps that are physically distinct but closely spaced. Those polyps at the boundary of a clonal aggregation have a high number of acrorhagi proportionate to body size and often show signs of localized necrosis from acrorhagial peels of nearby non-clonemate anemones [13]. Acrorhagi-induced necrosis in A. elegantissima may be the result of an autoimmune process by which the allogeneic acrorhagial peel is isolated and expelled or may be caused by acrorhagi-specific toxins and necrosis-inducing compounds. The frequency of acrorhagial application is greater in intraspecific interactions than in interspecific interactions [5], highlighting their importance in intraspecific competition. The ectoderm of an acrorhagus generally does not adhere to the body of its bearer and the structure is not activated during prey capture, suggesting that the stimulus for the reaction and the discharge of nematocysts is "not-self" chemical signals. The mechanism behind the localized necrosis at the molecular level remains unknown; however, acrorhagi have been shown to transmit venom [14] and other bioactive components [15].
Toxins that have been well characterized within sea anemones fall into three major classes: phospholipase A2s (PLA2s), cytolysins, and neurotoxins. Within each class, several types (or groups) have been described based on sequence similarity and pharmacological target [16-19]. PLA2 genes belong to a large gene family whose members play varied roles in membrane remodeling, localized inflammation, and cell membrane, lipid, and amino acid metabolism [20-23]. The functional role of PLA2s has been studied in several cnidarians [17,24,25]; in some of these cases, PLA2 activity is associated with skin irritation in humans (eg. Millepora sp., see [25]). Group I and II PLA2s have been labeled as functionally toxic; along with an unknown venom component, they hydrolyze phospholipids and disrupt the cell membrane [26,27].
Although classified into four paralogous groups, all cytolysins form pores in the cellular membrane, creating an ionic imbalance that results in cytolysis [18,28-31]. Unlike other classes of toxins discussed here, cytolysins do not have disulfide bonds, relying instead on several amino acid residues for proper folding [18,32]. In term of function, cytolysins are ideal candidate agents for the localized necrosis observed in the victim of an intraspecific aggressive encounter, however, they cannot form pores in cnidarian cells because cnidarians lack the target lipid sphingomyelin in their cell membranes [18,33,34].
Neurotoxins, specifically voltage gated potassium channel (VGPC) and voltage gated sodium channel (VGSC) toxins, target residues on voltage gated ion channels, disrupting the normal flux of ions in to or out of the cell [35,36]. Diverse animal toxin genes target components within the VGPC and VGSC, including the elements that filter, activate, and close these channels [37-40]. VGPC are the most diverse type of ion channel [41], regulating a variety of cellular processes and functions by permitting the efflux of potassium ions across the membrane in response to cellular depolarization [16]. VGSC are transmembrane complexes consisting of four homologous domains, each of which comprises six subunits that span the cellular membrane [42]. The VGSC enables the initiation and propagation of action potentials through a rapid release of sodium ions across the cell membrane [43].
Unlike other venomous animals, cnidarians lack a centralized venom gland. This may permit the evolution of specialized venom cocktails in association with specific tissues or structures. Adamsia carciniopados (Actiniaria: Hormathiidae) is the only sea anemone in which toxin activity was analyzed in multiple tissues; in this species, acontia showed higher phospholipase A2 activity than tentacles or whole body extracts [44]. Unfortunately, knowledge about the occurrence of functionally important venom in specific tissue types is rare: the majority of sea anemone toxins have been characterized from either whole animal or tentacle extracts (see Table six in reference [45]).
We characterize the diversity and abundance of toxins and potentially important peptides within the acrorhagi of A. elegantissima. Acrorhagi-specific toxins involved in intraspecific competition have been explored previously in Actinia equina (Actiniaria: Actiniidae) through a combined protein sequencing and RT-PCR approach [14], resulting in the identification of two candidate peptide toxins (acrorhagins). We sequenced RNA from acrorhagi of a single aggressive polyp and the (pooled) RNA from acrorhagi of several non-aggressive polyps. We screened each transcriptome for toxin genes using structural bioinformatics and phylogenetics. Gene networks of candidate toxin genes were used to investigate evolutionary patterns of gene diversity. We annotated candidate genes to highlight differences between the transcriptomes of acrorhagi from aggressive and non-aggressive polyps and provide insight into the putative function of acrorhagi.
Conclusion
Venoms are rarely used exclusively in intraspecific competition, being more commonly employed in defense or predation against other species. We used transcriptomes of the acrorhagi from aggressive and non-aggressive polyps of the sea anemone A. elegantissima to investigate the venom proteins and peptides in a tissue specifically used in intraspecific competition. We found a diversity of genes associated with types I – III VGPC/KPI toxins and PLA2s; cytolysins and VGSC toxins were comparatively less diverse. The high number of candidate toxin genes we found is likely not specific to A. elegantissima or to acrorhagi, but reflects our next-generation sequencing approach and relatively sparse prior knowledge of genetic diversity of toxins in sea anemones. We found high sequence divergence among these toxin genes and hypothesize that some toxin alleles with low divergence were incorporated into a single transcript. Our study of cytolysins, type II VGPC/KPI toxins, VGSC toxins, and type I acrorhagins all produced unexpected results in terms of the inferred pattern of sequence diversity, placement within the gene network, and/or levels of gene expression. Whether or not these toxins play an active role in intraspecific competition remains unknown but merits further investigation. Transcriptome annotation highlighted toxin gene abundance and identified new metalloproteases and CRISP candidate toxin genes based on toxin sequences from other venomous taxa. The functional GO groupings identified transcripts that may be more abundant during acrorhagi inflation and expansion, which occurs during an aggressive encounter. Additionally, semantic similarities of some GO groupings identified transcripts which may behave synergistically with other toxin peptides. Our results provide a baseline for future RNAseq analyses to investigate the role that various peptides may play in aggressive intraspecific encounters.
Abbreviations
RNA-seq:

RNA sequencing
CRISP:

Cysteine rich secretory protein
PLA2s:

Phospholipase A2s
VGPC:

Voltage gated potassium channel
VGSC:

Voltage gated sodium channel
APETx2:

Acid sensing channel toxin
BLAST:

Basic local alignment search tool
GO:

Gene ontology
CEGMA:

Core eukaryotic genes mapping approach
ORF:

Open reading frame
Declarations
Acknowledgments
We thank Jenna Valley for collecting polyps of A. elegantissima for this study and Joe Cora for assisting with installing components of this bioinformatic pipeline on the Ohio Biodiversity Conservation Partnership (OBCP) cluster. We thank Dr. Anthony D'Orazio for the use of Figure 1 and Figure 2 insert. We thank the editor and the anonymous reviewers for their feedback, which helped us improve this manuscript. This work was supported by US National Science Foundation DEB-1257796 to M. Daly.
Authors' Affiliations
(1)
The Ohio State University, Evolution, Ecology, and Organismal Biology, Columbus, USA
(2)
Sackler Institute for Comparative Genomics, Division of Invertebrate Zoology, American Museum of Natural History, New York, USA
(3)
Biological Sciences Department, NYC College of Technology (CUNY), Brooklyn, USA
Copyright
© Macrander et al.; licensee BioMed Central. 2015
This is an Open Access article distributed under the terms of the Creative Commons Attribution License (http://creativecommons.org/licenses/by/4.0), which permits unrestricted use, distribution, and reproduction in any medium, provided the original work is properly credited. The Creative Commons Public Domain Dedication waiver (http://creativecommons.org/publicdomain/zero/1.0/) applies to the data made available in this article, unless otherwise stated.