Methodology article

Open Access
An integrative approach to identify hexaploid wheat miRNAome associated with development and tolerance to abiotic stress
Received: 23 January 2015
Accepted: 26 March 2015
Published: 24 April 2015
Abstract
Background
Wheat is a major staple crop with broad adaptability to a wide range of environmental conditions. This adaptability involves several stress and developmentally responsive genes, in which microRNAs (miRNAs) have emerged as important regulatory factors. However, the currently used approaches to identify miRNAs in this polyploid complex system focus on conserved and highly expressed miRNAs avoiding regularly those that are often lineage-specific, condition-specific, or appeared recently in evolution. In addition, many environmental and biological factors affecting miRNA expression were not yet considered, resulting still in an incomplete repertoire of wheat miRNAs.
Results
We developed a conservation-independent technique based on an integrative approach that combines machine learning, bioinformatic tools, biological insights of known miRNA expression profiles and universal criteria of plant miRNAs to identify miRNAs with more confidence. The developed pipeline can potentially identify novel wheat miRNAs that share features common to several species or that are species specific or clade specific. It allowed the discovery of 199 miRNA candidates associated with different abiotic stresses and development stages. We also highlight from the raw data 267 miRNAs conserved with 43 miRBase families. The predicted miRNAs are highly associated with abiotic stress responses, tolerance and development. GO enrichment analysis showed that they may play biological and physiological roles associated with cold, salt and aluminum (Al) through auxin signaling pathways, regulation of gene expression, ubiquitination, transport, carbohydrates, gibberellins, lipid, glutathione and secondary metabolism, photosynthesis, as well as floral transition and flowering.
Conclusion
This approach provides a broad repertoire of hexaploid wheat miRNAs associated with abiotic stress responses, tolerance and development. These valuable resources of expressed wheat miRNAs will help in elucidating the regulatory mechanisms involved in freezing and Al responses and tolerance mechanisms as well as for development and flowering. In the long term, it may help in breeding stress tolerant plants.
Keywords
Abiotic stressDevelopmentDeep sequencingMiRNA predictionExpressed sequenced tags Triticum aestivum. L Vernalization
Background
Abiotic stresses such as cold, drought, salt and aluminum (Al) limit plant growth and development, causing reduction in crop yield and important economic losses for farmers. To tolerate these stresses, plants have evolved a broad spectrum of metabolic, physiological and developmentally adaptations. These adaptive changes are under the control of dynamic networks of genetic regulatory mechanisms that involve a large number of stress responsive genes. MicroRNAs (miRNAs), a major class of small non-coding RNAs, have emerged as key regulators of gene expression at the post-transcriptional level during plant growth and development [1-3]. Several studies have shown that many miRNA families are involved in response to different abiotic stresses in many species [4-7]. A large number of plant miRNAs and their targets have been identified in the plant model Arabidopsis thaliana and many other species. Recent results have shown that plant miRNA genes are dispersed throughout the genome [8] within protein coding genes [8,9], introns of protein coding and non-coding genes, and in intergenic regions [10,11]. Moreover, miRNAs may be produced from repetitive transposable elements [12,13]. To date, at the best of our knowledge, 2707 wheat miRNA candidates were identified by both bioinformatics and experimental approaches, using wheat expressed sequence tags (EST) database, the available genomic sequences of the hexaploid wheat genome, its individual chromosome arms and its ancestors [6,13-29]. Among the wheat miRNA published sequences, 237 are registered in miRBase, a database of experimental miRNAs [30], and 170 are registered in PMRD, a database of plant miRNAs identified using an in silico approach [31]. Although the wheat genome is completely sequenced, it is not yet possible to perform a thorough genome-wide study in the hexaploid wheat T. aestivum since the genome is not completely assembled and annotated. This is caused by its large and complex genome containing a high percentage of DNA repeats (hexaploid genome AABBDD with approximately 1.7 × 1010 bp with at least 80% of DNA repeats) [32]. In silico approaches for the prediction of miRNAs include screening genomic or EST databases for orthologous sequences of known miRNAs and analyzing their pre-miRNA hairpin structures. Although these approaches were successful in identifying conserved miRNAs in plants that have their genomes fully sequenced and annotated [10,33,34], they eliminate the potential of searching for low abundance miRNAs that are often lineage-specific [35] or condition-specific [36] or that appeared recently in evolution (young miRNAs). The challenge is bigger using polyploid species with partially sequenced and assembled genome such as the hexaploid wheat having a high content of repetitive DNA. To tackle this issue, one should develop conservation-independent techniques based on structure analyses and/or expression pattern of dicer cleavage products among pre-miRNAs [37].
Most computational approaches labeled as miRNA predictors are actually pre-miRNA predictors, in the sense that they identify candidate genomic regions that may form pre-miRNAs but rarely take into account the availability of candidate mature miRNA evidence within the pre-miRNA. Several tools such as miRDeep [37,38], miRanalyzer [39,40] and MiRdup [41] were developed to predict miRNAs from raw reads data and shown to be accurate in most cases. Furthermore, many factors that affect miRNA expression including genotypes, tissues, age, development stage, growth condition (soil, hydroponic solution, temperature, humidity and photoperiod), stress treatment, are rarely considered in previous wheat miRNA identification studies. All wheat reported miRNAs were identified in libraries produced from seedlings or plants grown under normal conditions [14,21,23,26,31], or tissue exposed to heat [15] or seedling [28] and pollen mother cells from plants [6] exposed to cold stress [6], or drought [16]. They were identified from different genotypes of winter or spring wheat in soil, or hydroponic solution and under different photoperiod conditions, or in field conditions. Since miRNA expression is tissue specific and regulated in response to plant development and growth conditions, the miRNA repertoire of hexaploid wheat is still incomplete. Although a large number of miRNAs associated with development or some abiotic stresses in wheat were previously identified, their functional diversity in Al, freezing tolerance, and floral transition in winter wheat is still unknown. Hence, the identification of miRNAs associated with tolerance to abiotic stress and floral transition is a first step towards the elucidation of their role in wheat.
To ensure an accurate identification of a large fraction of miRNAs associated with different physiological conditions in both stress sensitive and tolerant wheat, we conducted the present study to: 1) identify miRNAs from different tissues of plants from different genotypes grown under different stress conditions (cold, salt and aluminum) and at different development stages (vegetative and reproductive phases); 2) develop an integrative pipeline that combines bioinformatic tools, biological insights about known miRNA expression and dicer ligation patterns according to the universal plant miRNA criteria [
37
,
38
], miRNA expression profiles in deep sequencing data [
42
], functional classification and experimental approaches (Figure
1
). The bioinformatic tools include Mipred [
43
], HHMMiR [
44
], MirCheck [
45
] and MiRdup*, a plant updated version of our machine learning MiRdup [
41
] which validates the position of sequenced miRNAs in its corresponding folded pre-miRNA. Our integrative approach allows the discovery and profile of 165 novel hexaploid wheat abiotic stress responsive candidate miRNAs including ones associated with cold (52 miRNAs) and Al (27 miRNAs) tolerance as well as 99 developmentally responsive miRNAs with a high confidence level. It is the first study to report a large scale identification of hexaploid miRNome miRNAs from different tissues of sensitive and tolerant genotypes under normal conditions and short/long exposure to different abiotic stresses during vegetative and/or reproductive phase.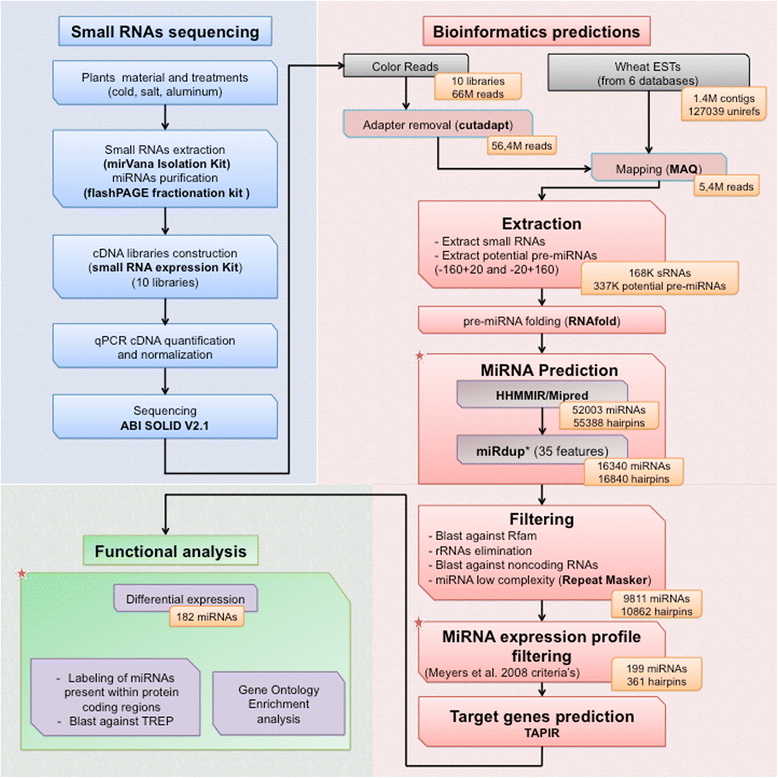 Discussion and conclusions
Declarations
Acknowledgement
We would like to thank Mathieu Blanchette for his useful comments and suggestions. Thanks also to all people and institutions who gave us access to their super computers, Alix Boc for the Trex cluster, Daniel Lemire in the Licef research center for the cluster Erasme at the TeluQ, the Clumeq (Supercomputer Consortium Laval UQAM McGill and Eastern Quebec) for the clusters Colosse and Guillimin, as well as HHMMiR and Tapir authors for providing source code for this project.
This work was supported by the Natural Sciences and Engineering Research Council of Canada (NSERC) Discovery Grants to FS, MH and ABD; NSERC fellowship for E.L. and M.A.R., as well as the Fond de Recherche du Québec-Nature et Technologie (FRQNT) to M.L and M.A.R.
Authors' Affiliations
(1)
Department of Biological Sciences, University of Quebec in Montreal, Montreal, Canada
(2)
Department of Computer Sciences, University of Quebec in Montreal, Montreal, Canada
(3)
School of Computer Science and McGill Centre for Bioinformatics, McGill University, Montreal, Canada
Copyright
© Agharbaoui et al.; licensee BioMed Central. 2015
This is an Open Access article distributed under the terms of the Creative Commons Attribution License (http://creativecommons.org/licenses/by/4.0), which permits unrestricted use, distribution, and reproduction in any medium, provided the original work is properly credited. The Creative Commons Public Domain Dedication waiver (http://creativecommons.org/publicdomain/zero/1.0/) applies to the data made available in this article, unless otherwise stated.