Research article
Open Access
Rapid evolutionary divergence of Gossypium barbadense and G. hirsutum mitochondrial genomes
Received: 26 March 2015
Accepted: 6 October 2015
Published: 12 October 2015
Abstract
Background
The mitochondrial genome from upland cotton, G. hirsutum, was previously sequenced. To elucidate the evolution of mitochondrial genomic diversity within a single genus, we sequenced the mitochondrial genome from Sea Island cotton (Gossypium barbadense L.).
Methods
Mitochondrial DNA from week-old etiolated seedlings was extracted from isolated organelles using discontinuous sucrose density gradient method. Mitochondrial genome was sequenced with Solexa using paired-end, 90 bp read. The clean reads were assembled into contigs using ABySS and finished via additional fosmid and BAC sequencing. Finally, the genome was annotated and analyzed using different softwares.
Results
The G. barbadense (Sea Island cotton) mitochondrial genome was fully sequenced (677,434-bp) and compared to the mitogenome of upland cotton. The G. barbadense mitochondrial DNA contains seven more genes than that of upland cotton, with a total of 40 protein coding genes (excluding possible pseudogenes), 6 rRNA genes, and 29 tRNA genes. Of these 75 genes, atp1, mttB, nad4, nad9, rrn5, rrn18, and trnD(GTC)-cp were each represented by two identical copies. A single 64 kb repeat was largely responsible for the 9 % difference in genome size between the two mtDNAs. Comparison of genome structures between the two mitochondrial genomes revealed 8 rearranged syntenic regions and several large repeats. The largest repeat was missing from the master chromosome in G. hirsutum. Both mitochondrial genomes contain a duplicated copy of rps3 (rps3-2) in conjunction with a duplication of repeated sequences. Phylogenetic and divergence considerations suggest that a 544-bp fragment of rps3 was transferred to the nuclear genome shortly after divergence of the A- and D- genome diploid cottons.
Conclusion
These results highlight the insights to the evolution of structural variation between Sea Island and upland cotton mitochondrial genomes.
Keywords
Mitochondrial genomeComparative genomicsDNA rearrangementDuplicated copySequence transfer
Background
Plant mitochondrial genomes are remarkable from both evolutionary and comparative genomics stand-points. Like their animal counterparts, plant mitochondrial genomes generally are characterized as circular chromosomes [1] (barring notable exceptions, e.g., [2, 3]) that contain a variable number of genes interspersed within non-coding DNA; however, this simplistic generalization belies the dynamic and complex nature of plant mitochondrial genomes [4]. Not only is the overall structure mitochondrial genomes an oversimplification of their possible morphologies [5–7], but recent comparative analyses among flowering plants have demonstrated extensive fluidity in plant mitochondrial genomes [2, 8, 9]. The structure and evolution of angiosperm mitochondrial genomes are driven by extremely high rates of recombination and rearrangement, with major rearrangements detected even in hybrid plants [10]. Paradoxically, mitochondrial genes are among the slowest evolving, and this rate paradox can be partially explained by DNA repair mechanisms [11]. DNA repair in the coding regions of the mitochondria is biased toward gene conversion, reducing the mutation rates within genes, whereas the more inaccurate break-induced replication (BIR) is common in the noncoding regions, leading to the expansions and rearrangements observed outside of genes [12–15]. Consequently, plant mitochondrial genomes vary remarkably both in size and composition within plant families and genera [7, 9, 16, 17], with genome sizes ranging from 30 kilobases in some algae to several megabases in certain angiosperms [2, 3, 18]. Intraspecies comparisons suggest that plant mitochondrial genomes can be highly divergent even among different varieties of the same species [19, 20], and together with the observed genomic diversity within a single order of angiosperms [21], further indicates the remarkable diversity in mitochondrial genomes among green plants [22].
Perhaps the two most surprising recent realizations regarding plant mitochondrial genome evolution are the extensive variability in mitochondrial genome size and the compositional changes that have led to this variability. Plant mitochondrial genomes vary by an amazing 870-fold, from the ultra-compact, 12 kb (12,998 bp) genome (Accession Number: NC 010357) of the alga Polytomella capuana [23] to the spectacularly bloated 11,319 kb genome (11,318,806 bp) of Silene conica [2]. The evolutionary dynamics that underlie this remarkable variation are not fully understood; however, it is clear from several analyses that plant mitochondrial genomes are repositories for DNA from myriad sources [24]. These not only include the nucleus and chloroplast genomes of the host species itself, but may also include sequences derived from the chloroplast and mitochondrial genomes of other species [3]. Much of this sequence is large (>1 kb) and repetitive in nature [25], providing sufficient tracts of homology to promote the highly dynamic recombination evident in plant mitochondrial genomes [25–27]. Indeed, it is the high rates of sequence acquisition/loss and recombination that give plant mitochondrial genomes their reputation for rapid intergenic evolution, leading to low levels of non-genic homology among even closely related species [2, 8, 28]. Furthermore, this propensity for recombination can have additional intriguing consequences, such as the generation of substoichiometic recombinant molecules [29, 30], variable chromosomal structures [7, 31, 32], and novel cytoplasmic male sterility (CMS)-inducing open reading frames (ORFs) [19, 20, 33, 34].
Despite the extensive variation in sizes and structures of plant mitochondrial genomes, their coding sequences rank among the most slowly evolving genes known [35, 36]. Although considerable gene- and lineage-specific variation in rates of gene retention/loss exist for both protein and tRNA genes [37], most sequenced angiosperm mitochondrial genomes have ~50–60 genes, including subunits of respiratory complexes, ribosomal RNAs (rRNAs), and transfer RNAs (tRNAs) [37], and a variable number of pseudogenized forms and/or copies of mitochondrial genes [38–42].
Sea Island cotton (Gossypium barbadense L.) is a New World allotetraploid (2n = 52) grown in many countries because of its superior quality fiber [43]. Upland cotton (G. hirsutum), however, is more commonly grown because it is earlier maturing and has a higher yield potential, and accordingly it now accounts for about 90 % of world fiber production. Sea Island cotton (G. barbadense) accounts for only approximately 5 % of present global commerce [44]. In addition to its superior spinning performance and unique high quality fiber characteristics, Sea Island cotton is a potential source of genes for resistance to Verticillium wilt [45, 46]. The objective of the present study was to complement earlier efforts [47, 48] to generate a high-quality sequence of the mitochondrial genome of G. barbadense. We provide this sequence and compare it to the mitogenome of G. hirsutum [41], resulting in insights to the evolution of structural variation and new fields into mtDNA duplicated copy gene.
Methods
Plant materials and mitochondrial DNA extraction
Mitochondria were isolated from week-old etiolated seedlings of "Pima 90–53", a variety of Sea Island cotton (
G. barbadense
L.) whose seeds were obtained from Hebei Agricultural University [
40
,
49
]. Mitochondrial DNA was extracted from isolated organelles as reported [
40
,
41
]. Briefly, the extraction protocol for the mtDNA of Sea Island cotton was as follows:
(1)

The seeds were planted in sand and the seedlings were kept in darkness to obtain etiolated seedlings. From these, 7 d-old etiolated seedlings were ground and used to isolate mitochondria.

(2)

Ground seedlings were collected and further purified by centrifugation in a discontinuous sucrose-density gradient (60 %, 52 %, 36 % and 20 % M/V) in purification buffer (10 mM Tris–HCl pH 7.4 and 20 mM EDTA) (Additional file 1: Figure S1)

(3)

The mitochondria band from the interface between 52 % and 36 % was carefully collected and washed with 0.3 mol · L−1 sucrose buffer to obtain the intact mitochondrial fractions.

(4)

The mitochondrail fraction was lysed in cetyltrimethyl ammonium bromide (CTAB) for release of mtDNA, and further purified by proteinase K digestion, phenol-chloroform extraction, and ethanol precipitation.
The plastid band was located in the interface between 36 % and 20 % sucrose, while the nuclei were precipitated to the bottom. PCR validation failed to detect nuclear contamination, but did detect partial contamination from plastid DNA (Additional file 2: Figure S2). To avoid contamination from chloroplast, we filtered the reads based on the sequence of Gossypium barbadense chloroplast genome before assembly.
Mitochondrial genome sequencing and assembly
Isolated Sea Island cotton mitochondrial DNA was cloned into whole-genome shotgun libraries using CopyControl Fosmid Library Production Kit (Epicentre, Cat. No. CCFOS110) and sequenced to about 700 × coverage with Solexa using paired-end, 90 bp read at Beijing Genomics Institute (BGI). Adaptor and contaminant sequences were removed from the raw reads and the clean reads were assembled using ABySS [50]. Since nuclear and chloroplast contamination is possible in the extraction procedure, BLASTn [51] against nt/nr database was used to identify and remove contaminant contigs. In addition, known mitochondrial genome sequences of G. hirsutum [41] and G. harknessii (unpublished) were also used to identify mitochondrial-type contigs. Contigs were ordered/oriented and gaps were closed via additional fosmid and BAC sequencing. Primers representing both conserved mitochondrial genes and scaffold terminals were used to screen both a fosmid library [40] and a BAC library [48, 49]. Twenty fosmid clones (also previously associated with G. barbadense mitochondria; see Fig. 5 in [40]) and two BAC clones were selected by this PCR screen and independently sequenced by Solexa and 454 sequencing methods in BGI and Shanghai Majorbio Bio-pharm Biotechnology, respectively. The resulting clones were assembled with SOAPdenovo [52] and Newbler (Version 2.53), respectively; these were then used to anchor and orient the previously assembled mitochondrial contigs into supercontigs. To close the remaining gaps, the known relationships of the fosmids were used to predict the order and orientation of contigs, and the remaining gaps were filled by LA-PCR (Long and Accurate Polymerase Chain Reaction) using the primers listed in Additional file 3: Table S1. These primers were also used to verify each contig joined.
Genome annotation and sequence analysis
Mitochondrial genes were annotated as reported [
16
], using the genes annotated in the
G. hirsutum
mtDNA as references. Functional genes (other than tRNA genes) were identified by local blast searches against the database, whereas tRNA genes were predicted
de novo
using tRNAscan-SE [
53
]. A genome map (Fig.
1
) was generated using OGDRAW [
54
] and the repeat map was drawn by Circos [
55
].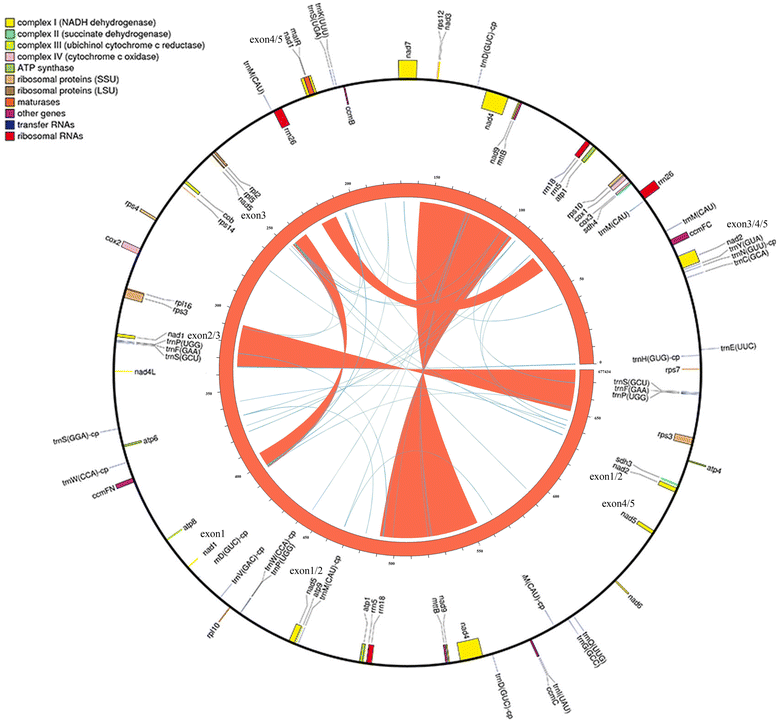 The newly generated G. barbadense sequence was aligned to the published G. hirsutum mitochondrial sequence [41], and the values of dS and dN/dS were evaluated with PAML4 [56]. PipMaker was used to identify repeated sequences within G. barbadense [57], and repetitive DNA from nuclear sources was identified using RepeatMasker (http://www.repeatmasker.org) and a custom, Gossypium-enriched repeat database. Dot matrix comparisons were generated between the mitochondrial genome of G. barbadense and those of Arabidopsis thaliana, Carica papaya, and G. hirsutum using the nucmer program of MUMmer with the parameters: 100-bp minimal size for exact match and 500-bp minimal interval between every two matches [58]. We used Circos plots [55] to show the collinear relationships between G. barbadense and G. hirsutum mitochondrial genome sequences. Possible pseudogenes and non-functional tRNAs were predicted using previously published mitochondrial genomes, and the distribution of pseudogenes was drawn by program pheatmap in R. A phylogenetic tree was constructed based on 17 conserved mitochondrial genes (nad1, nad2, nad3, nad4, nad4L, nad5, nad6, nad9, cob, cox1, cox2, cox3, atp1, atp4, atp6, atp8, atp9) using maximum likelihood (ML) method with the model GTR + G + I in MEGA5.05 [59].
Conclusion
Mitochondrial genomes of plants are evolutionarily intriguing because of their highly conserved genic content and slow rates of genic evolution [11–13], features which contrast sharply with their highly labile genomic structure, genome size, DNA repair mechanisms and recombination induced by different types and origins of repeated sequences. Common evolutionary modifications of mitochondrial genomes include gene loss [75, 76]; intracellular, intergenomic transfers [37, 75, 77, 78]; sequence acquisitions, horizontal transfers from other, sometimes distantly related species [3]; multiple sequence rearrangements [21] and DNA repair mechanisms [11–13]. Here we compare the mitochondrial genomes of two closely related allopolyploid cotton species, which diverged only 1–2 mya and share the same organellar ancestry [70, 79]. Despite the short divergence time separating G. barbadense and G. hirsutum, many of the hallmark features of mitochondrial genome evolution are evident, including differential genic content, gains/losses of multiple small and large repeats, and genome rearrangements, horizontal transfer, and the evolution of duplicated genes. We illustrate how phylogenetic analysis combined with divergence data can illuminate the timing of duplicated gene formation and of differences in mitochondrial tRNA and protein coding gene content. Increasing insight into the mechanisms and functional consequences of mitochondrial gene and genome variation are expected as additional plant mitochondrial genome sequences become available.
Availability of supporting data
The data sets supporting the results of this article are included within the article and its additional files.
Abbreviations
Gossypium barbadense :

G. barbadense
Gossypium hirsutum :

G. hirsutum
CMS:

Cytoplasmic male sterility
ORFs:

Open reading frames
rRNAs:

Ribosomal RNAs
tRNAs:

Transfer RNAs
CTAB:

Cetyltrimethyl ammonium bromide
mtDNA:

Mitochondrial DNA
LA-PCR:

Long and accurate polymerase chain reaction
HGT:

Horizontal gene transfer
Declarations
Acknowledgments
We are indebted to Prof. Yingguo Zhu and Dr. Shaoqing Li (College of Life Sciences, Wuhan University, China) for supplying the experimental platform and helpful discussion. We also thank Professor Shu-Miaw Chaw (BRCAS, Taiwan, China) for suggestions and helpful discussions. We thank Longfei Xue, Aiguo Su and Binbin Lei for participating in assembling the mitochondrial genomes. This work was supported by a grant from the National Natural Science Foundation of China (31171591) to J. Hua.
Open AccessThis article is distributed under the terms of the Creative Commons Attribution 4.0 International License (http://creativecommons.org/licenses/by/4.0/), which permits unrestricted use, distribution, and reproduction in any medium, provided you give appropriate credit to the original author(s) and the source, provide a link to the Creative Commons license, and indicate if changes were made. The Creative Commons Public Domain Dedication waiver (http://creativecommons.org/publicdomain/zero/1.0/) applies to the data made available in this article, unless otherwise stated.
Authors' Affiliations
(1)
Department of Plant Genetics and Breeding /Key Laboratory of Crop Heterosis and Utilization of Ministry of Education /Beijing Key Laboratory of Crop Genetic Improvement, China Agricultural University, Beijing, China
(2)
Department of Ecology, Evolution and Organismal Biology, Iowa State University, Ames, USA
(3)
Institute of Cash Crops, Hubei Academy of Agricultural Sciences, Wuhan, China
(4)
College of Agronomy, Hebei Agricultural University, Baoding, China
(5)
Present address: Saskatchewan Cancer Agency, Division of Oncology, Department of Biochemistry, University of Saskatchewan, Saskatoon, Canada
(6)
Present address: Department of Breeding Research, Leibniz Institute of Plant Genetics and Crop Plant Research (IPK), OT Gatersleben, Stadt, Germany