Research article

Open Access
Optimizing and benchmarking de novo transcriptome sequencing: from library preparation to assembly evaluation
Received: 6 April 2015
Accepted: 3 October 2015
Published: 18 November 2015
Abstract
Background
RNA-seq enables gene expression profiling in selected spatiotemporal windows and yields massive sequence information with relatively low cost and time investment, even for non-model species. However, there remains a large room for optimizing its workflow, in order to take full advantage of continuously developing sequencing capacity.
Method
Transcriptome sequencing for three embryonic stages of Madagascar ground gecko (Paroedura picta) was performed with the Illumina platform. The output reads were assembled de novo for reconstructing transcript sequences. In order to evaluate the completeness of transcriptome assemblies, we prepared a reference gene set consisting of vertebrate one-to-one orthologs.
Result
To take advantage of increased read length of >150 nt, we demonstrated shortened RNA fragmentation time, which resulted in a dramatic shift of insert size distribution. To evaluate products of multiple de novo assembly runs incorporating reads with different RNA sources, read lengths, and insert sizes, we introduce a new reference gene set, core vertebrate genes (CVG), consisting of 233 genes that are shared as one-to-one orthologs by all vertebrate genomes examined (29 species)., The completeness assessment performed by the computational pipelines CEGMA and BUSCO referring to CVG, demonstrated higher accuracy and resolution than with the gene set previously established for this purpose. As a result of the assessment with CVG, we have derived the most comprehensive transcript sequence set of the Madagascar ground gecko by means of assembling individual libraries followed by clustering the assembled sequences based on their overall similarities.
Conclusion
Our results provide several insights into optimizing de novo RNA-seq workflow, including the coordination between library insert size and read length, which manifested in improved connectivity of assemblies. The approach and assembly assessment with CVG demonstrated here would be applicable to transcriptome analysis of other species as well as whole genome analyses.
Keywords
RNA-seqTranscriptome sequencing de novo assemblyCompleteness assessmentLibrary insert lengthCVG (core vertebrate genes)Madagascar ground gecko
Background
Transcriptome sequencing (RNA-seq) has become a standard strategy to capture the spatiotemporal expression of a genome. It has been applied to diverse organisms including those with limited prior sequence information, usually denoted as 'non-model' species [1–3]. RNA-seq targets transcribed regions that account for a minor fraction of whole genomes, at least in metazoans [4]. This compactness enables economical and rapid processing of sequencing and data analysis, which could be further improved via the optimization of various of parameters present in sample preparation, de novo short read assembly, and assembly product evaluation.
Modern high-throughput sequencers provide diverse sequencing modes with variable read lengths, read types (single read or paired-end read), and data sizes per run. Obviously, the choice of which sequencing mode to use influences the coverage of the transcriptome in de novo sequencing projects targeting sequence discovery, as well as influencing expression profiling in differential gene expression analyses. However, sample preparation protocols for many existing commercial kits do not provide practical instructions about their suitability for individual purposes and sequencing modes. For RNA-seq library preparation, there are few that introduce a choice of insert lengths with variable conditions for RNA fragmentation. For example, the standard protocol for Illumina TruSeq RNA Sample Prep Kit recommends intensive RNA fragmentation, which results in a high proportion of library molecules with the middle of their inserts sequenced from both ends. To maximize the potential of obtaining longer reads, it is preferable to prepare libraries with longer inserts using moderate RNA fragmentation.
Several computational programs employing short reads have been developed for producing de novo transcriptome assemblies [5–8]. Typical challenges in de novo transcriptome assembly include large variation of expression levels among transcripts, sequencing bias, and alternative splicing [6]. Merging multiple assemblies based on different k-mer lengths is an effective way of improving transcriptome assemblies because each transcript has different degrees of abundances [5, 9]. Thus, many of the transcriptome assemblers implement the multiple k-mer approach. On the other hand, Trinity, one of the most widely used transcriptome assemblers, allows only a fixed k-mer value (k = 25) when it is employed as a full program package [6]. So far, both Trinity and the multiple k-mer approaches have provided reasonable assembly results [10, 11]. De novo transcriptome assemblies are sometimes used as references to which short reads are mapped when transcriptome profiles are compared between multiple samples [12–14]. In such differential expression analyses, the mapping target, usually called the 'reference' assembly, is made from short reads from multiple sample sources, which requires a process that merges the sequences into one assembly. This merging can be hindered by among-sample variation of expression levels of individual genes and genetic backgrounds. To cope with these difficulties, it is worthwhile to analyze multiple methods for merging assemblies, provided that the merged assemblies are compared and evaluated on reasonable grounds (see [11]).
Evaluating de novo assembly products requires a multi-faceted assessment [15]. N50 length, a weighted median of assembly sequence lengths, is a widely used metric but does not give any clue about the completeness of the contents of the assembly, such as protein-coding genes. This aspect of assembly evaluation could be satisfied through the use of the pipeline CEGMA (Core Eukaryotic Genes Mapping Approach) [16, 17]. CEGMA makes use of 458 core eukaryotic genes (CEGs), with each gene consisting of orthologs that are conserved among six eukaryotic species (Arabidopsis thaliana, Saccharomyces cerevisiae, Schizosaccharomyces pombe, Caenorhabditis elegans, Drosophila melanogaster, and Homo sapiens), and reports the coverage of protein-coding genes in a particular set of assembled sequences [16]. Intuitively, executing CEGMA referring to a rigorously selected 248 gene subset of the 458 CEGs, which is composed of conserved genes with no or minimal paralog(s) from, is expected to yield accurate completeness assessment [17]. In reality, however, our preliminary analysis has shown that some CEGs have paralogs potentially misidentified as orthologs.
In this study, we reconstructed embryonic transcriptomes of the Madagascar ground gecko (
Paroedura picta
) (Fig.
1a
). This species has a variety of benefits for use in developmental biology, including the availability of an elaborate embryonic staging system, feasibility of
in ovo
operational experiments, and non-seasonal high reproductivity [
18
–
21
]. In the reptilian order Squamata, large-scale sequence information is publicly available for anole lizard, Burmese python, and king cobra. Within Squamata, the lineage leading to Gekkonidae, to which the Madagascar ground gecko belongs, diverged from the lineage containing the above mentioned species approximately 200 million years ago (Fig.
1b
) [
22
]. The phylogenetic position emphasizes the importance of producing sequence information for this animal lineage.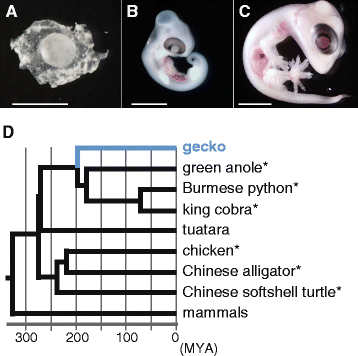 For efficient data production, we introduced modifications to a standard library preparation protocol to increase insert length, and exerted paired-end reads whose lengths were 150 nucleotides (nt) or more [23]. Developing technology could allow us to obtain much longer reads. To take advantage of this anticipated improvement, it could be useful to explore the coordination of the library preparation and sequence read length, as demonstrated in this study. To evaluate transcriptome assemblies with higher accuracy and resolution, we performed a careful examination of molecular phylogenies of genes in 29 vertebrate genomes, which resulted in the new reference gene set we designated CVG.
Discussion
Coordination between library insert size and read length
In this study, we modified the library preparation protocol for RNA-seq on the Illumina platform to keep up with further developing sequencers. Although the protocol modifications increased the connectivity of the transcriptome assemblies, there still remains room for further improvement. The fragment size distribution of the library prepared with modifications shifted towards the fraction of small-sized fragments (Fig. 2). This shift was notable for the size distribution of Library B: the average size of the actually sequenced fragments was more than 300 bp shorter than that of the fragments in the prepared libraries. This shift of the size distribution was observed regardless of the choice of sequencer models (Fig. 2; Additional file 2). One possible explanation for this is insufficient size selection with AMPure beads. Although its volume was reduced to retain only fragments longer than 300 bp, those shorter than that may not have been sufficiently removed (Fig. 2). The other possible explanation is that 'clusters' in Illumina chemistry might not be generated evenly on a flow cell because of variable fragment lengths, although the total size of the output does not differ among sequencer runs for libraries with different fragment length distributions. The Rapid SBS kit v2, which has been released recently, improves robustness against high cluster density through the use of an upgraded HiSeq Control Software (HCS).
Improved completeness assessment based on the 233 CVGs
CEGMA has been a standard for assessing genome assembly and is now widely used for assessment of transcriptome assemblies [30]. However, the presence of the paralogs in the 248 CEGs potentially results in overestimation of the completeness assessment. To improve the accuracy and resolution of the completeness assessment of the gecko transcriptome assemblies, we derived a new gene set composed of one-to-one orthologs of vertebrates (CVG). More conservative completeness scores were computed with CEGMA referring to the 233 CVGs than to the 248 CEGs, suggesting more accurate assessment based on the former (Fig. 3c; Additional file 6). Indeed, none of the CEGMA executions on the 13 assemblies produced false-positive orthologs to the CVGs, as shown in the example of G6PD tree. In contrast, each assessment based on the CEG had approximately 2–5 % of such false positives. False positives in completeness assessment are considered to be more problematic in evaluating transcriptome assemblies than genome assemblies. This is because an absence of a particular transcript in transcriptome assemblies can be caused by no or extremely low gene expression in addition to insufficient sequence read numbers. Establishing a set of one-to-one orthologs for a particular taxonomy group, as demonstrated in the present study, would be applicable to other taxonomic groups.
Members of a one-to-one ortholog group of a specific taxon consequently share high sequence similarity, leading to fewer false positives caused by ancient paralogs being misidentified as orthologs. CEGMA detects genes homologous to a given reference gene sequence and recognizes those satisfying the HMMER score cutoff for the given gene as orthologs. The 233 CVGs have higher HMMER score cutoffs (median, 151.8) for ortholog detection than the 248 CEGs (median, −68.76) since their members are widespread across eukaryotes (Fig. 3b). In addition, orthologs of longer sequences result in a complete assessment with higher resolution because contigs with more than 70 % coverage in length to the HMMER profiles are recognized as 'complete' by CEGMA [17]. The larger the lengths of the HMMER profiles are, the less likely the contigs satisfying the 'completeness' are reconstructed. Indeed, the HMMER profiles of the CVGs had larger length than those of the 248 CEGs (medians, 557 aa and 379 aa, respectively), leading to the higher resolution of the assessment based on CVG. This high resolution can also be achieved by high sequence similarity among members in a CVG because truncated sequences result in lower HMM scores than the given thresholds, leading to exclusion from ortholog candidates. It is noted that the completeness score of Assembly 13 based on the CVG almost reached 100 %, demonstrating that low completeness scores of the CVG (Fig. 3c) is not caused by the absence of the expression of orthologs in transcriptomes. This suggests that the set of the 233 CVGs better assesses the contents of embryonic transcriptomes of vertebrates, at least.
The new tool, BUSCO, will provide versatile solutions for completeness assessment at various levels. In our analysis, completeness assessment using BUSCO referring to the CVG, which also showed the highest completeness score for Assembly 13, performed similarly to the assessment using CEGMA (Additional files 6 and 8). BUSCO originally offers a vertebrate ortholog set (3,032 groups). This gene set generally performs with similar resolution in completeness assessment to CVG (Additional file 6). In addition, CVG and the BUSCO's vertebrate ortholog set showed similar performances to identify orthologs in comprehensive transcript sequence sets of diverse bony vertebrates (Additional file 9). Running BUSCO using CVG as a reference has two advantages. The first is that the CVG set includes a cartilaginous fish and a cyclostome, providing a wide taxonomic range for completeness assessment of high sensitivity. Secondly, the fewer components of the CVG allow a much more rapid computation by BUSCO. For public uses, we included the BUSCO-compatible CVG data set in the CVG suite.
Transcriptome assembly of Madagascar ground gecko
Among the five integrated assemblies, Assembly 13 and 10 showed markedly high completeness, connectivity, and accuracy (Fig. 3c; Table 2; Additional files 6 and 7). On the other hand, it was demonstrated that the other assemblies failed to reconstruct considerable numbers of transcripts, which were retained in the individual assemblies (Fig. 3c). Assembly 13 was a merger of the individual assemblies, while Assembly 10 was one of the all-in-one assemblies with different k-mer lengths. Employing multiple k-mer lengths is advantageous in transcriptome assembly because different k-mer lengths show different effective ranges of sequence depths for transcriptome assembly and cover different parts of a transcriptome [5, 9]. The superiority of clustering of individual assemblies to all-in-one assemblies can be explained by variation of expression profiles among samples. This variation of sequence depths for a transcript should increase the possibility of reconstructing a full-length transcript sequence, even based on a single k-mer length.
In general, when typical de novo transcriptome assembly programs are used, the number of resultant contigs constantly increases along with the number of reads fed into the program [30] (Table 2). One possible reason for this is the abundance of so-called 'leaky' transcripts from intergenic regions [31] and unprocessed mRNA [32] in addition to contaminated genomic DNA [13]. Such molecules can be contained in the starting materials of library preparation, which will eventually result in low counts of reads after sequencing. To combat this, we excluded contigs with mapping counts of fewer than five in the assembly procedure (see Methods), which reduced the number of contigs of Assembly 13 down to 64 % (Additional file 1). In addition, N50 length of the filtered assembly increased by 336 bp compared with that of Assembly 13. Importantly, the completeness scores of this filtered assembly remained unchanged, suggesting that contigs with low mapping counts rarely include sequences derived from protein-coding genes conserved across vertebrate species. Indeed, in Assembly 13, only 5.6 % of the contigs homologous to the vertebrate genes were included in the discarded contigs. The representative assembly, Assembly 13, is available in the online gateway Reptiliomix linked from our laboratory website (http://www2.clst.riken.jp/phylo/reptiliomix.html), allowing data downloading and similarity searches.
Conclusions
Our modified library preparation protocol for RNA-seq increased the sequence insert sizes, which adapts to the recent upgrades of sequence read length in high throughput sequencers. In addition, this protocol improved connectivity of de novo transcriptome assemblies. Our study showed that assembly integration based on the assembly and clustering approach by Trinity and the all-in-one approach based on multiple k-mer lengths by SOAPdenovo-trans produced assemblies of high quality. Because the degree of variations in expression levels and genetic backgrounds differs in each experiment, it is useful to assess multiple approaches of assembly integration. If a computational resource is limited, the assembly and clustering approach will be reasonable: it takes comparable computational time to the multiple k-mer lengths by SOAPdenovo-trans but requires less memory space. Lineage-specific one-to-one ortholog sets will be of help for performing completeness assessment in a uniform framework across diverse species. Our approaches to library preparation and assembly completeness evaluation would also be applicable to de novo genome assemblies.
Availability of supporting data
The raw reads are available at DRA under the BioProjet ID PRJDB4004. The transcriptome assembly, the CVG datasets for CEGMA and BUSCO, and the extended CEGMA scripts are available at Reptiliomix and our laboratory web site (http://www2.clst.riken.jp/phylo/reptiliomix.html). The other data sets supporting the results of this article are included within the article and its additional files.
Abbreviations
CEGMA:

Core Eukaryotic Genes Mapping Approach
CEG:

Core Eukaryotic Genes
CVG:

Core Vertebrate Genes
dpo:

days post oviposition
G6PD:

Glucose-6-phosphate dehydrogenase
H6PD:

Hexose-6-phosphate dehydrogenase
nt:

Nucleotides
aa:

Amino acids
PCR:

Polymerase chain reaction
PE:

Paired-end
Declarations
Acknowledgements
We thank all other members of Phyloinformatics Unit of RIKEN CLST and Shinichi Aizawa of Laboratory for Vertebrate Body Plan of RIKEN CDB for insightful discussion. Our gratitude extends to Munazah Andrabi and Sean Keeley for critical reading of the manuscript. A part of sequence analyses was performed using the supercomputing system provided by National Institute of Genetics (NIG), Research Organization of Information and Systems (ROIS). This work was supported by RIKEN and MEXT KAKENHI Grant Number 26650110.
Open AccessThis article is distributed under the terms of the Creative Commons Attribution 4.0 International License (http://creativecommons.org/licenses/by/4.0/), which permits unrestricted use, distribution, and reproduction in any medium, provided you give appropriate credit to the original author(s) and the source, provide a link to the Creative Commons license, and indicate if changes were made. The Creative Commons Public Domain Dedication waiver (http://creativecommons.org/publicdomain/zero/1.0/) applies to the data made available in this article, unless otherwise stated.
Authors' Affiliations
(1)
Phyloinformatics Unit, RIKEN Center for Life Science Technologies, Kobe, Japan
(2)
Laboratory for Vertebrate Body Plan, RIKEN Center for Developmental Biology, Kobe, Japan
(3)
Animal Resource Development Unit, RIKEN Center for Life Science Technologies, Kobe, Japan
(4)
Genetic Engineering Team, RIKEN Center for Life Science Technologies, Kobe, Japan