MycoBASE: expanding the functional annotation coverage of mycobacterial genomes
Received: 13 October 2015
Accepted: 15 December 2015
Published: 24 December 2015
Abstract
Background
Central to most omic scale experiments is the interpretation and examination of resulting gene lists corresponding to differentially expressed, regulated, or observed gene or protein sets. Complicating interpretation is a lack of functional annotation assigned to a large percentage of many microbial genomes. This is particularly noticeable in mycobacterial genomes, which are significantly divergent from many of the microbial model species used for gene and protein functional characterization, but which are extremely important clinically. Mycobacterial species, ranging from M. tuberculosis to M. abscessus, are responsible for deadly infectious diseases that kill over 1.5 million people each year across the world. A better understanding of the coding capacity of mycobacterial genomes is therefore necessary to shed increasing light on putative mechanisms of virulence, pathogenesis, and functional adaptations.
Description
Here we describe the improved functional annotation coverage of 11 important mycobacterial genomes, many involved in human diseases including tuberculosis, leprosy, and nontuberculous mycobacterial (NTM) infections. Of the 11 mycobacterial genomes, we provide 9899 new functional annotations, compared to NCBI and TBDB annotations, for genes previously characterized as genes of unknown function, hypothetical, and hypothetical conserved proteins. Functional annotations are available at our newly developed web resource MycoBASE (Mycobacterial Annotation Server) at strong.ucdenver.edu/mycobase.
Conclusion
Improved annotations allow for better understanding and interpretation of genomic and transcriptomic experiments, including analyzing the functional implications of insertions, deletions, and mutations, inferring the function of understudied genes, and determining functional changes resulting from differential expression studies. MycoBASE provides a valuable resource for mycobacterial researchers, through improved and searchable functional annotations and functional enrichment strategies. MycoBASE will be continually supported and updated to include new genomes, enabling a powerful resource to aid the quest to better understand these important pathogenic and environmental species.
Keywords
Mycobacteria
Annotation
Database
Background
Mycobacterium species represent both environmental and pathogenic organisms that fall into two major groups: tuberculosis complex such as M. tuberculosis and M. bovis (MTBC), and Non-tuberculous mycobacteria (NTM) such as M. avium complex, M. abscessus and M. smegmatis. It is estimated that across the world 9.6 million people are infected with tuberculosis every year, 3.6 million of these people are not given proper treatment, and 1.5 million people die from infection [1]. NTM infections have become a growing concern as more people with lung infections have positive cultures for NTM species [2], with cystic fibrosis patients representing a disproportionate amount of detected infections [3]. The prevalence of NTM disease, while relatively rare at 86,244 cases in 2010 in the United States [4], is increasing throughout the world [5, 6], with incidence of NTM exceeding that of tuberculosis in the United States [6]. Treatment of NTM disease also presents a problem due to the chronic nature of the disease, antibiotic treatments lasting up to 18 months, and the cost of treatment being higher than that of multi-drug resistant tuberculosis [4]. Better understanding of gene function for these species allows for better interpretation of clinical experiments, leading to an increased understanding of gene roles and potential drug targets.
Predictive functional annotation methods are a standard practice in analyzing genome sequencing data [7]. Current gene annotation and protein functional annotations are the result of both manual curation and prediction based upon machine-learning tools such as GenemarkS [8], RAST [9] and various homology-based methods such as FASTA [10]. Over the past few years, there has been a development of methods that take into account orthology, protein-protein interactions, and text mining, such as eggNOG [11, 12], a tool used to better annotate the M. tuberculosis genome. There have also been improvements to homology-based methods, allowing for both improved accuracy and the assigning of GO terms to genes [13]. Improvements in common methodology for annotation prediction has allowed for both better understanding of genomic content and improved analyses performed on genomic and transcriptomic data.
While there are a couple of well curated databases for M. tuberculosis data through TBDB [14, 15] and TubercuList [16] and a database devoted to M. abscessus in MabsBASE [17], there remains a lack of well-curated databases for mycobacterium genomes as a whole. One early attempt to fill this gap was made by GenoMycDB [18], a collection of six mycobacterial genomes; however, this database has not been updated to include more genomes. TubercuList was later extended into MycoBrowser [19]. This website contains a comprehensive genomic and proteomic database for three additional mycobacterial species; although, it still lacks commonly studied NTM such as M. avium complex and M. abscessus. While TBDB [14, 15] has grown to include other NTM species, annotations for these species remain limited. PATRIC [20] contains a wide array of annotated genomes, including mycobacteria, however their functional annotations do not perform well for genomes with large amounts of pseudo genes such as M. leprae, leading to 3607 extra genes being annotated despite validation of these as pseudogenes [21]. The MycoBASE database was created to extend the functional annotation knowledge of mycobacteria in general, allowing for a better genomic understanding of both a highly prevalent group of infectious agents, tuberculosis complex, and a group of emerging pathogens, NTM.
Utility and discussion
Exploration in genome variability
Predicted genes from MAB and MBOL were compared for sequence homology to differentiate between shared and unique genes between two
Mycobacterium abscessus
genomes. From this analysis we have discovered a 37KB insertion sequence in
Mycobacterium abscessus
ATCC19977, as seen in Fig.
5
. Using predicted GO terms for both of these genomes and the Java-based enrichment program, we have found that this insertion sequence contains a cassette of 8 genes associated with biphenyl and aromatic hydrocarbon degradation enzymes, including a group of ferredoxin reductases that are necessary for iron-catalyzed hydroxylation [
30
,
31
]. These enzymes allow for degradation of carbon sources such as plant lignin, crude oil, and natural gases, and environmental contaminants such as petroleum products, PCBs, and PAHs. This degradation activity has been observed in a variety of environmental microbes including mycobacteria [
30
–
34
]. This style of analysis has been used to analyze content of deletions in
Mycobacterium abscessus
[
35
].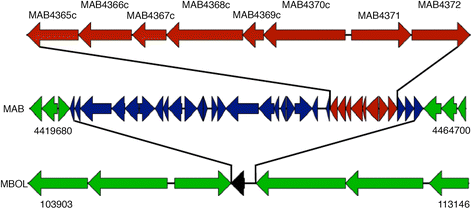 Gene ontology term taxonomy
Creating GO term taxonomy allows for identifying both conserved function across multiple mycobacterium and identifying species-specific functions. Slightly more than half of GO terms are shared by the 11 species, with 73 % of terms being shared by more than half of the species, as shown in Table
2
. This shows that the majority of function is conserved across mycobacterium species. Of the GO terms associated with MLEPRAE, 91 % of them occur in the 10 other species, suggesting that MLEPRAE contains a fundamental set of functions that define the mycobacterium species. Only 12 % are unique to a single species, with MSMEG accounting for 62 % of one taxa terms (Fig.
6
). Much of MSMEG's unique terms are carbon-based metabolism and synthesis related, suggesting that its larger genome size allows it to both utilize and create additional carbon sources relative to other mycobacterium [
36
]. However, 61 % of GO terms for MSMEG are still shared across all mycobacterium. While MSMEG has more genes and one taxa GO terms, most of the function within MSMEG is conserved across species suggesting that the increased genome size is due to gene duplication [
37
]. MTB and MBOVIS share the most 2 taxa terms with 25 % of the total, owing to their similar genome size and their pathogenesis.
Table 2
Gene ontology term taxonomy
| Taxa | Terms | Percent |
| --- | --- | --- |
| 1 | 545 | 11.8 % |
| 2 | 171 | 3.7 % |
| 3 | 123 | 2.7 % |
| 4 | 175 | 3.8 % |
| 5 | 210 | 4.6 % |
| 6 | 146 | 3.2 % |
| 7 | 97 | 2.1 % |
| 8 | 89 | 1.9 % |
| 9 | 67 | 1.5 % |
| 10 | 559 | 12.1 % |
| 11 | 2428 | 52.7 % |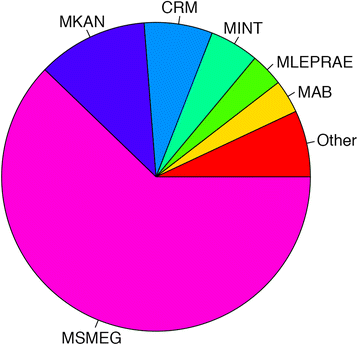 Gene ontology term enrichment between genomes
To evaluate characteristics of mycobacteria, GO term enrichments were performed on select mycobacteria, as shown in Tables
3
and
4
. Backgrounds for these comparisons were the combination of both of the genomes being compared. The
M. abscessus
and
M. tuberculosis
clades acted as controls for the enrichments due to their similar phenotypes and pathogenicity. Upon analysis, there were no enriched GO terms within these sets, affirming the similarity between the genomes and the validity of the method. The other genome pairs represent differences in growth, pathogenicity and clade. Figure
7
shows the ratio of genes associated with enriched GO terms between the genome pairs. While enriched GO terms in MLEPRAE had lower gene ratios than other genomes, there were a higher proportion of these genes in the genome. This suggests that not all GO functions scale with genome size and that genome size differences are an important consideration when performing enrichments.
Table 3
GO term enrichment genomes
| Genome | Genes | Growth | Type | Clade |
| --- | --- | --- | --- | --- |
| MBOV | 3920 | Slow | Obligate Pathogen | MTBC |
| MLEP | 1605 | Slow | Obligate Pathogen | Ungrouped |
| MTB | 4018 | Slow | Obligate Pathogen | MTBC |
| MKAN | 5449 | Slow | Environmental-Opportunistic Pathogen | Kansasii |
| CRM | 4750 | Fast | Environmental-Opportunistic Pathogen | M. abscessus group |
| MAB | 4942 | Fast | Environmental-Opportunistic Pathogen | M. abscessus group |
| MBOL | 4923 | Fast | Environmental-Opportunistic Pathogen | M. abscessus group |
| MMAS | 5193 | Fast | Environmental-Opportunistic Pathogen | M. abscessus group |
| MSMEG | 6716 | Fast | Environmental | Ungrouped |
Table 4
Gene enrichment comparisons
| Genome1 | Genome2 | Gene difference | Enriched GO terms | Type |
| --- | --- | --- | --- | --- |
| MAB | MSMEG | 1774 | 1-35 | Different |
| MAB | MKAN | 507 | 52-1 | Different |
| MSMEG | MLEP | 5111 | 15-270 | Different |
| MTB | MAB | 924 | 48-15 | Different |
| MTB | MSMEG | 2698 | 74-37 | Different |
| MTB | MLEP | 2413 | 0-26 | Different |
| MTB | MKAN | 1431 | 59-0 | Different |
| MAB | MMAS | 251 | 0-0 | Same |
| MAB | MBOL | 19 | 0-0 | Same |
| MAB | CRM | 192 | 0-0 | Same |
| MMAS | MBOL | 270 | 0-0 | Same |
| MTB | MBOV | 98 | 0-0 | Same |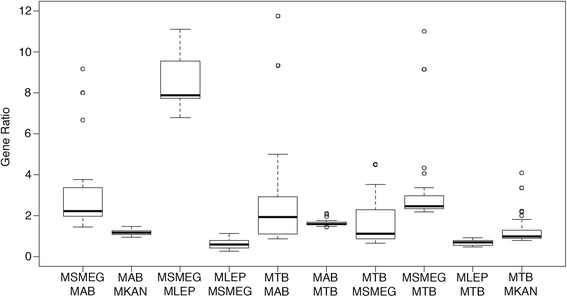 Enrichment of host-pathogen GO terms occurred in all of the pathogen-environment comparisons except MTB-MKAN; however, in this pair, these terms barely failed to meet significance (p-value ~0.07), suggesting these terms are still likely an important distinction between the pair. MSMEG had enrichments in carbohydrate transporters over both MAB and MTB. This is related to the fact that MSMEG can metabolize a broader range of carbohydrates relative to other mycobacterium [36] and is supported by the number of one taxa GO terms related to carbon metabolism.
Conclusion
MycoBASE currently contains 11 mycobacterial genomes with functional and GO term annotations. Our genomes are based off of NCBI gene annotations, allowing for a well-accepted genome leading to consistency across studies. These annotations allow for improved understanding of the genetic content of these genomes, leading to more coverage in analyses involving differential gene content (insertion/deletion of genes, differences in genes across species), genes that are understudied but have homology to genes of known function, and functional analyses of transcriptomics and genomics data using GO terms (the modified Fisher's program being available for download on our server). These annotations will be available for download, allowing for a wide variety of analyses. Our future plans include adding a greater diversity of genomes to our database, such as M. africanum [38], M. chelonae [39], and other studied mycobacteria, greatly increasing the number of species in the database.
Availability and requirements
This database and GO enrichment is available for academic and other non-commercial uses at the website: strong.ucdenver.edu/mycobase.
Abbreviations
GO:

Gene Ontology
MAB:

M. abscessus sub. abscessus ATCC19977
MTB:

M. tuberculosis H37Rv
MBOVIS:

M. bovis AF2122/97
MAV:

M. avium 104
CRM:

M. abscessus sub. massiliense CRM0020
MMAS:

M. abscessus sub. massiliense CCUG48898
MBOL:

M. abscessus sub. bolletii CIP108541
MLEPRAE:

M. leprae TN1
MINT:

M. intracellulare ATCC13950
MKAN:

M. kansasii ATCC12478
MSMEG:

M. smegmatis MC2 155
Declarations
Acknowledgement
BG acknowledges support from a NIH Biomedical Informatics training grant 2T15LM009451-06; RD and MS acknowledge support from the National Jewish Health NTM Center of Excellence funded in part by the Amon G. Carter Foundation; M.S. acknowledges support from the Colorado Bioscience Discovery Program, the Eppley Foundation, and the Boettcher Foundation Webb-Waring Biomedical Research Program. We thank Sonia Leach for assisting with the setup and installation of software and libraries and David Farrell for helping set up the website server.
Open AccessThis article is distributed under the terms of the Creative Commons Attribution 4.0 International License (http://creativecommons.org/licenses/by/4.0/), which permits unrestricted use, distribution, and reproduction in any medium, provided you give appropriate credit to the original author(s) and the source, provide a link to the Creative Commons license, and indicate if changes were made. The Creative Commons Public Domain Dedication waiver (http://creativecommons.org/publicdomain/zero/1.0/) applies to the data made available in this article, unless otherwise stated.
Authors' Affiliations
(1)
Computational Bioscience Program, University of Colorado Denver, Anschutz Medical Campus, Aurora, USA
(2)
Center for Genes, Environment, and Health, National Jewish Health, Denver, USA