Research article
Open Access
Systematic identification and analysis of frequent gene fusion events in metabolic pathways
Received: 22 December 2015
Accepted: 26 May 2016
Published: 24 June 2016
Abstract
Background
Gene fusions are the most powerful type of in silico-derived functional associations. However, many fusion compilations were made when <100 genomes were available, and algorithms for identifying fusions need updating to handle the current avalanche of sequenced genomes. The availability of a large fusion dataset would help probe functional associations and enable systematic analysis of where and why fusion events occur.
Results
Here we present a systematic analysis of fusions in prokaryotes. We manually generated two training sets: (i) 121 fusions in the model organism Escherichia coli; (ii) 131 fusions found in B vitamin metabolism. These sets were used to develop a fusion prediction algorithm that captured the training set fusions with only 7 % false negatives and 50 % false positives, a substantial improvement over existing approaches. This algorithm was then applied to identify 3.8 million potential fusions across 11,473 genomes. The results of the analysis are available in a searchable database at http://modelseed.org/projects/fusions/. A functional analysis identified 3,000 reactions associated with frequent fusion events and revealed areas of metabolism where fusions are particularly prevalent.
Conclusions
Customary definitions of fusions were shown to be ambiguous, and a stricter one was proposed. Exploring the genes participating in fusion events showed that they most commonly encode transporters, regulators, and metabolic enzymes. The major rationales for fusions between metabolic genes appear to be overcoming pathway bottlenecks, avoiding toxicity, controlling competing pathways, and facilitating expression and assembly of protein complexes. Finally, our fusion dataset provides powerful clues to decipher the biological activities of domains of unknown function.
Keywords
Gene fusions Escherichia coli B vitamin pathwaysMetabolic modelingEssential reactionsBottlenecks
Background
As soon as a handful of whole genomes had been sequenced in the late nineties, the power of using gene fusions to deduce functional associations between gene families was demonstrated [1, 2]. In what is defined here as a true gene-fusion event, gene products which are separate entities in a given genome are joined together in a single multifunctional polypeptide in another genome. Such fusions, which have been called 'Rosetta stone' proteins [1], are often found between genes that are functionally related [3], e.g. genes specifying proteins that catalyze consecutive steps in a metabolic pathway, or genes encoding components of molecular complexes. These fusion events are conceptually different from multi-domain proteins, where the individual domains are never encoded separately while retaining the same functional roles [4–6]. For brevity and convenience we refer throughout this article to protein and domain fusions and use protein names although technically it is not the proteins but the genes that are fused.
Fusion identification methods were first developed to predict protein-protein interactions [
1
,
2
] but because fusion events are relatively infrequent, other
in silico
tools have been more widely used for this purpose (see Table
1
in [
7
] as well as [
8
] for recent reviews). The use of fusions has, however, been successful in gene function discovery as part of functional association networks. A recent survey catalogued 30 cases where gene fusion analysis led to a correct functional prediction [
9
], and several more examples can be given just from our own work [
10
–
14
]. The analysis of gene fusion and fission events has also turned out to be an effective way to identify deep-branching evolutionary relationships [
15
–
17
]. Finally, correct identification of fusion events is critical for assigning accurate functional annotations because many automated function-calling pipelines call only one of the two functional roles encoded by the fused polypeptide [
3
,
18
,
19
]. Hence, because of the multiple uses of fusions, many efforts have been made to accurately identify fusion events across an ever-increasing number of sequenced genomes (Table
1
).
Table 1
Previous analyses of gene fusions
| No. of genomes | Organisms analyzed | No. of detected fused proteins | No. of predicted functional linkages** | Ref | Website | Fusion detection method*** | Homology or orthology-based? *** |
| --- | --- | --- | --- | --- | --- | --- | --- |
| 2 | EC, SC | - | 6,809 in EC 45,502 in SC | [62] | - | Gene fusion (BLAST) & domain fusion (ProDom) | All homologs (5 % most promiscuous domains removed) |
| 3 | EC, PH, SC | - | 854 in EC 107 in PH; 918 in SC | [63] | - | Gene fusion (BLAST) | All homologs |
| 4 | EC, HI, MJ, SC | 64 | - | [2] | List of fusions a | Gene fusion (BLAST & S-W) | All homologs |
| 17 | Bact, Arch | 229 | - | [64] | - | Gene fusion (S-W) | Orthologs only (BBH) |
| 24 | Bact, Arch (+SC) | 2,365 (621 families) | - | [65] | - | Gene fusion (BLAST, component overlap <10 %) | All homologs |
| 30 | Bact, Arch (+SC) | 4,515 | - | [3] | DB (not maintained) b; Fusion stats c | Gene fusion (BLAST) | Orthologs only (one link between each COG) |
| 89 | Bact, Arch | ∼20,000 | - | [66] | FusionDB (not maintained) d | Gene fusion (BLAST) | Orthologs only (BBH) |
| 184 | Bact, Arch, Eukar | 130,229 | 2,192,019 | [25] | Results for download e | Domain fusion (Pfam) | All homologs (promiscuous domains removed) |
| 20 | Bact, Arch, Eukar | 49 | - | | SAFE software; FED DB (not maintained) f | Gene fusion (BLAST) | All homologs (promiscuous domains removed) |
| 30 | Bact, Arch | 2,490 by MF 5,339 by FT | - | [69] | MosaicFinder; FusedTriplets software g | Gene fusion (BLAST) | Graph topology of seq. similarity network is used for scoring |
| 1,895* | Bact, Arch | user set-dependent, 2,193 in EC | - | [70] | MicroScope h | n/a | Synteny based fusion detection |
| 2,031* | Bact, Arch, Eukar | user set-dependent | - | | String DB i | n/a | n/a |
| 2,291* | Bact, Arch (+SC) | - | 2,209,622 | [72] | Prolinks j | Gene fusion (BLAST) | All homologs (promiscuous domains removed) |
| 31,442* | Bact, Arch, Eukar | user set-dependent,397 in EC | - | | JGI IMG k | Gene fusion (USEARCH) | All homologs (as in [2]) |
| user set | Eukar | - | user set-dependent | [24] | CODA software l | Domain fusion (Pfam) | All homologs (scoring immune to promiscuous domains) |
| 2 | Eukar (HS, SC) | 235 in HS; 189 in SC | - | [74] | Domain Fusion DB m | Domain fusion (Pfam) | All homologs (promiscuous domains removed) |
| 1 | Eukar (TT) | 80 in TT | - | [17] | DeFuser n | Domain fusion (KOG) | Compares N and C termini of query sequence to KOG DB |
The automated detection of fusions in thousands of genomes is not trivial, and the difficulty derives from the very mechanisms driving protein evolution. Proteins evolve by gene elongation (fusion of duplicated gene copies) [6] or fusion and/or rearrangement of separate domains [20]. A high proportion of proteins in a given genome accordingly contain more than one domain (e.g. 39 % of the proteins in Escherichia coli have multiple domains). These multi-domain proteins can be separated into different categories. The first contains cases where the multi-domain protein has only one functional role such as peptidoglycan glycosyltransferase (EC 2.4.1.129); such proteins should not be considered as bona-fide Rosetta stone proteins, as these proteins fail the functional definition of a fusion. Depending on how these are treated in the fusion search algorithm, this category can artificially inflate the fusion count. The second category is the set of modular proteins where functional domains can be found in different combinations. These include the phosphotransferase transport system (PTS) proteins, the ubiquitous ABC transporter families [21], or the two component regulator system families [22] that are very widespread in bacterial genomes. These are technically fusion proteins with the caveat that their different domains belong to large paralogous families whose members differ mainly in the substrate or ligand they recognize. Such 'promiscuous domains' lead to many genes that contain multiple non-overlapping domains. These – although technically fusions – are not the most interesting types of fusions and are not part of the third group corresponding to the Rosetta stone proteins defined above, which are the most informative in terms of functional associations.
Previously, fusions have been identified computationally using two primary strategies. In the earliest strategies (Table 1), BLAST or Smith Waterman based sequence alignment algorithms were applied to align all proteins across all known sequenced genomes, systematically identifying every case where two non-homologous proteins in one genome aligned to non-overlapping regions of a third protein in another genome. This third protein would then be labeled a fusion. This approach was applied extensively prior to 2005, when the number of genomes, and by extension known protein sequences, was still relatively small (<100 genomes) (Table 1). Today, there are >60,000 sequenced genomes (7,000 complete), containing >50 million proteins, making this all-versus-all sequence alignment approach infeasible.
Currently, the most common approach involves using Hidden Markov Models (HMM) of protein domains [23] to robustly align a database of unique protein domains against all known proteins and identifying fusions as proteins that align to multiple non-overlapping domains [24]. The use of HMMs in combination with a database of unique domains serves to massively reduce redundancy in the query sequences for this analysis, making this approach computationally tenable even for tens of thousands of genomes and millions of proteins. The challenge in this approach is that it can lead to many false positives, because of the 'promiscuous domains' problem discussed above. To eliminate these false positives, two filters are often applied: (i) elimination of 'promiscuous domains' that co-occur in many different proteins with many different domains; (ii) elimination of domains that are not a full-length match to a protein in another genome. While these filtering approaches do reduce false positives, they do not eliminate them entirely [25].
Today, significant progress has been made in defining a set of conserved protein domains that covers much of the current genomic diversity [26] and in compiling a large set of consistently annotated genome sequences [27]. In principle, this set could be used to generate a revised dependable fusion dataset. The accessible identification of fusions in modern genome databases presents a great opportunity for statistical and evolutionary analysis of fusion events on a scale and with a depth that has never been previously possible. Fusion events can be classified, categorized, and analyzed for how commonly they occur. Fusion prediction methods can make better use of machine learning approaches, as datasets are large enough now to enable these approaches. Most importantly, the occurrence of fusions can give insights into the functions of the fused domains.
Several hypotheses have been put forward regarding the selective pressures that drive the formation of fusions. The initial postulates were: (i) that in the case of consecutive steps in metabolic pathways, fusions improve kinetic efficiency by favoring channeling of intermediates between fusion partners, and (ii) that in the case of complexes, fusions ensure identical expression levels of the subunits [1, 2, 28]. The channeling hypothesis was recently challenged as simply fusing genes did not promote channeling whereas protein conglomerates did [29]. The fact that the great majority of fusions (~90 %) occur in only one order (i.e. AB, never BA) also suggests that fusions could optimize complex assembly [30]. Finally, it seems likely that fusions reveal cases of instability/toxicity of pathway intermediates that would fit with the recent proposal by Danchin and colleagues that chemical reactivity shapes many aspects of metabolism and cellular structure [31].
In this study we combined the use of the Conserved Domain Database (CDD) [26] and the SEED [32] together with current computational strategies to create an accurate fusion detection algorithm and then a revised dependable fusion dataset. Compared to existing methods summarized in Table 1, our pipeline combined multiple filter criteria and used manually created training sets to fine-tune the parameters to better circumvent the problem of false positives. We focused on prokaryotic genomes because metabolic annotations and models are better for prokaryotes and paralog expansions complicate fusion data for eukaryotes [25]. We also analyzed our updated fusion dataset in order to improve our understanding of where and why gene fusion events have occurred, and of what gene fusions can tell us about the functions of their constituent domains.
Discussion and conclusions
In this work, we made multiple strides to enhance our understanding of protein fusions. First, we developed a highly curated training set of known fusions in E. coli, and more broadly in the B. vitamin pathways for a wide range of genomes. This work revealed the many difficulties involved in classifying genes in fusions, even in a well-studied organism like E. coli. No single previous approach or database provided a comprehensive list of fusions, and all previous datasets included numerous false positives. However, based on this analysis, we were able to use our curated training set to develop an improved fusion prediction algorithm that combines many of the strengths of previous approaches (see additional discussion in supplementary material). We then applied our new fusion prediction algorithm to predicting fusions for over 12 K genomes, permitting a global analysis of fusion events across all these genomes. This analysis showed that a large fraction of fusions involving metabolic enzymes. Many fusions involved two reactions with a shared substrate, pointing at either channeling [44] or coordination of complex formation [30] around a problematic intermediate metabolite. In other cases, we found fused enzymes at branch points in pathways, where fusion events could facilitate improved control of flux through such branch points. We also found many fusions comprised of subunits of multi-protein complexes. Our analysis also revealed enrichment for transport and regulatory proteins among gene fusion events, which could explain why potassium metabolism was specifically enriched in fusions, as it mainly contains transporter proteins. Finally, we found common fusion events in metabolism that revealed unexpected links between disparate metabolic pathways. Such fusions should be investigated as they might reflect cryptic relationships between metabolic functions. A deeper analysis of all of these findings, along with examples, are provided in the supplemental material.
Lastly, we found many cases where gene fusions events can provide insights into the function of previously un-annotated proteins. Many fusions have domains labeled only with COG (Clusters of Orthologous Groups) or DUF (Domain of Unknown Function) identifiers, yet something – perhaps much – about their function can be inferred from their strong association to a known functional role. As shown in Table
4
, there are multiple cases where fusions between genes of unknown function and genes in a vitamin pathway led to the discovery of a novel function. We describe several examples in the supplementary material and in Fig.
7
.
Table 4
Cases where a fusion of a domain of unknown function to a B vitamin gene led to a functional discovery
| Domain | Vitamin pathway | Molecular function | ref |
| --- | --- | --- | --- |
| COG3236 | Riboflavin | N-glycosidase | [14] |
| DUF89 | CoA | Phosphatase | [93] |
| DUF1537 | PLP | Kinase | [94] |
| Tnr3/Nudix | Thiamin | Pyrophosphatase | [13] |
| COG1058 | Niacin | Pyrophosphatase | [95] |
| Human CoaD | CoA | Adenyl transferase | [10] |
| TenA-HAD | Thiamin | Hydrolase | unpublished |
| HAD-IA | Thiamin | Hydrolase | [96] |
| HAD-IB | Thiamin | Hydrolase | [96] |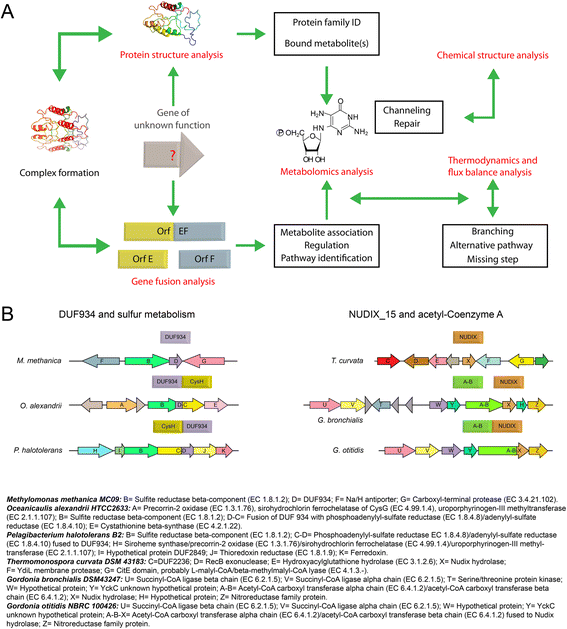 Abbreviations
OTU, operational taxonomic unit; CDD, conserved domain database
Declarations
Acknowledgements
We thank the students of the Fall 2013 PCB5530 class (Kelly Balmant, Yuanyuan Chen, Jonathan Jasinski, Ramkrishna Kandel, Camila Ribeiro, Maria Angelica Sanclemente, Natasha J Sng and Xiping Yang) for manually identifying fusions in B vitamin pathways.
Funding
This work was supported by the US National Science Foundation (awards no. MCB-1153413 and MCB-1153357).
Authors' contributions
CSH, CLO, SYG, ADH, and VdC-L together wrote the manuscript. CSH and VdC-L gathered and refined the curated set of 121 known fusions in E. coli. SG, CLO, OF, TN, RZ, GH, ADH and VdC-L gathered and refined the curated set of 131 known fusions in the B vitamin pathways. CSH, JM, RC, and JT developed the new fusion prediction algorithm; and CSH, JM, and RC applied the algorithm to the PubSEED genome database. AZ wrote the fusionS.py code. NC built the online web resource. CSH analyzed the results of the fusion prediction, including performing all metabolic modeling used in the fusion analysis. CSH, ADH, and VdC-L conceived of and oversaw the project. All authors read and revised and approved the final manuscript.
Competing interests
The authors declare that they have no competing interests.
Consent for publication
Not applicable.
Ethics approval and consent to participate
Not applicable.
Open AccessThis article is distributed under the terms of the Creative Commons Attribution 4.0 International License (http://creativecommons.org/licenses/by/4.0/), which permits unrestricted use, distribution, and reproduction in any medium, provided you give appropriate credit to the original author(s) and the source, provide a link to the Creative Commons license, and indicate if changes were made. The Creative Commons Public Domain Dedication waiver (http://creativecommons.org/publicdomain/zero/1.0/) applies to the data made available in this article, unless otherwise stated.
Authors' Affiliations
(1)
Mathematics and Computer Science Division, Argonne National Laboratory, Argonne, USA
(2)
Computation Institute, The University of Chicago, Chicago, USA
(3)
Horticultural Sciences Department, University of Florida, Gainesville, USA
(4)
Microbiology and Cell Science Department, University of Florida, Gainesville, USA